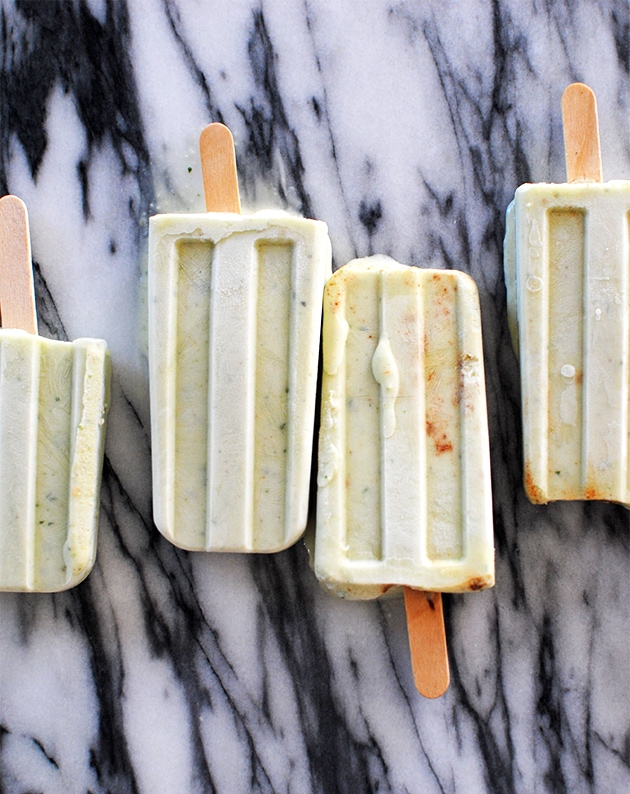 Oooof. Today, I woke up with a massive hangover. Not the best way to start the day ever, but it was a fun night of going out and about in West Hollywood, so I guess that means it was worth it? For most of the morning my cat Loki and I were twinsies, lying on the bed like a bump on a log. But, finally, knowing I had to snap some shots of these yummy Basil Lime Popsicles, I managed to pull myself together, chug a coconut water, and face the day.
My inspirations for recipes come from all sorts of places and these Lime Basil Popsicles were inspired by the Spicy Mama cocktail I had last week at the Brixton in Santa Monica. It's a tequila-based drink blended with lime, basil simple syrup, and the poured into a highball glass that's been garnished with a fresno chile salt rim. I would happily drink a mocktail version of this all day.
Or eat these popsicles. Because while it's in the 70s and 80s here in Los Angeles, my friends and family have not been shy about reminding me how stupid hot it is not on the West Coast. So hot that turning on the oven feels like a no good very bad idea. So popsicles. They don't require the oven. They only require a blender (or food processor), and some molds, and a freezer!
…