Whether or not you keep up with celebrity gossip, it's been pretty hard to avoid the Adam Levine affair drama. If you've somehow escaped it, congratulations! But, if you want to understand these hilarious memes and tweets, hold on for a speedy recap.
Adam Levine (singer of Maroon 5) is married to Behati Prinsloo (former Victoria's Secret model) and they have two kids together, plus one on the way. Recently, Sumner Stroh (another model) shared a TikTok saying that she had a year-long affair with Levine. In that video, she shared a few DMs that Levine had allegedly sent her.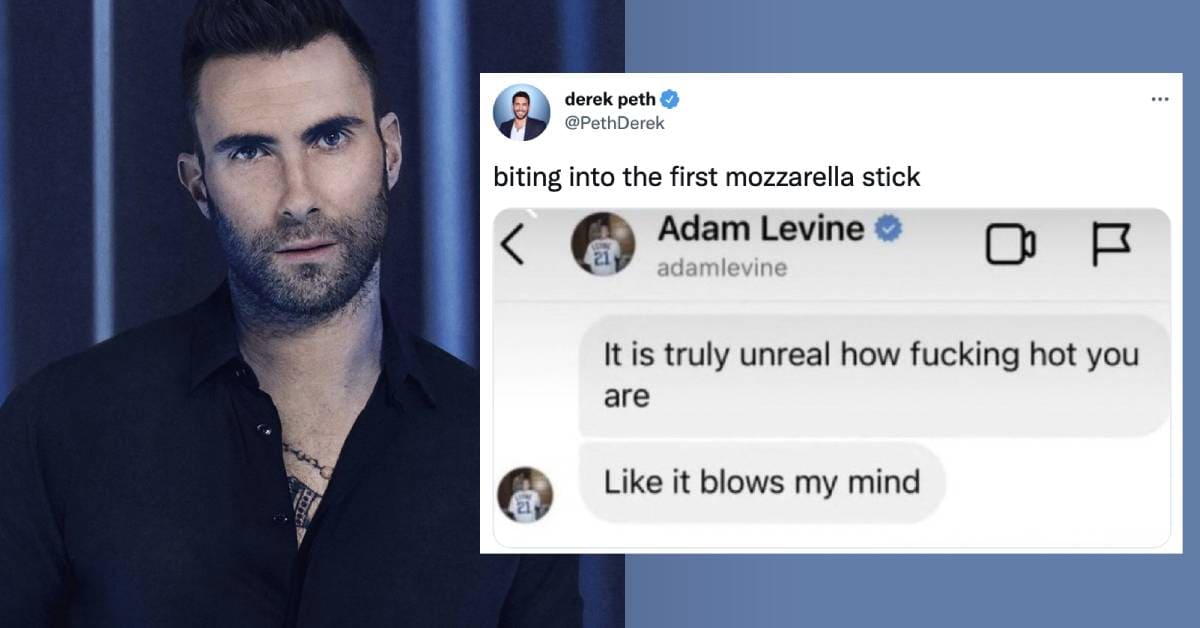 Now, it's those DMs where things really start to get wild. Because the man who gave us poetic lines like, "it's not always rainbows and butterflies, it's compromise that moves us along," apparently texts like a teenager who's never done the deed. They are so cringy, and therefore, perfect meme material.
It didn't take long for Twitter to do its job, giving us tons of Adam Levine text memes. For such an unruly section of the Internet, it really can make art out of sorrow. Sure, Maroon 5, you can use that line for your next song.
The 25 Funniest Adam Levine Text Memes
1. This does in fact, make sense.
Adam Levine's sexual DMs are the Maroon 5 of sexual DMs, if that makes sense

— Joe Bernstein (@Bernstein) September 21, 2022
2. Wait, did you study abroad in Paris?
albert camus: pic.twitter.com/8nDUN5ORJi

— claire trần (@clairevtran) September 21, 2022
3. When it hits just right.
4. Again we ask: did you study abroad in Paris?
5. RIP our thighs.
6. Those climate change seminars are really *heating up.*
scientists talking to the climate pic.twitter.com/IoV4wb3uCa

— indie (@INDIEWASHERE) September 21, 2022
7. At least they're asking politely.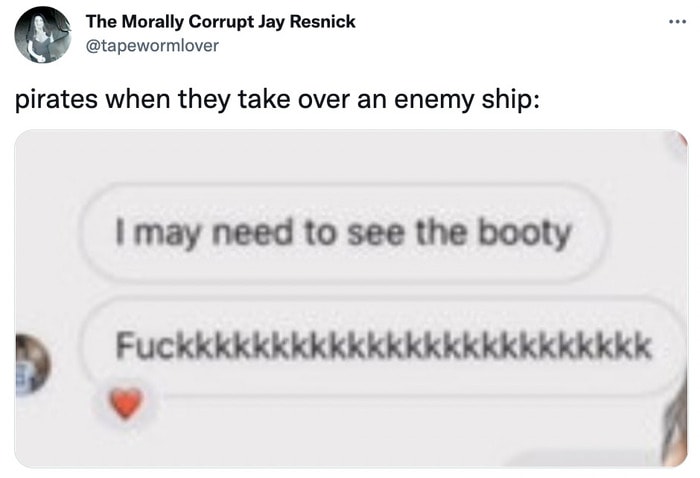 8. Now where's that wine?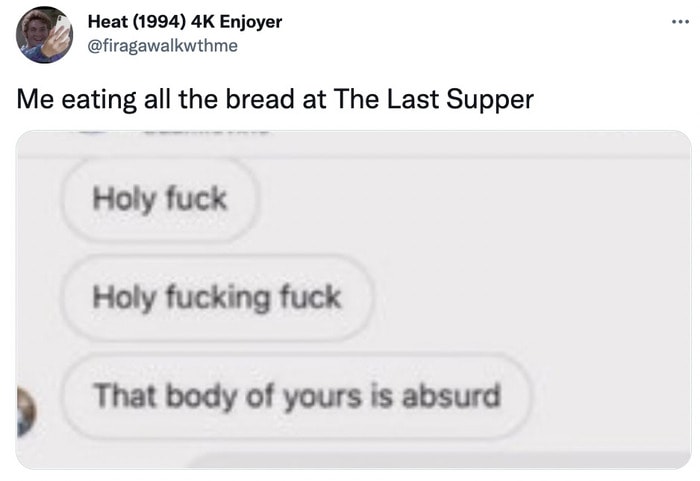 9. Anything…except for sharing our own sexts.
Me when I see a Klondike Bar pic.twitter.com/n44N0yNetH

— Meech (@MediumSizeMeech) September 21, 2022
10. That sentence structure tho.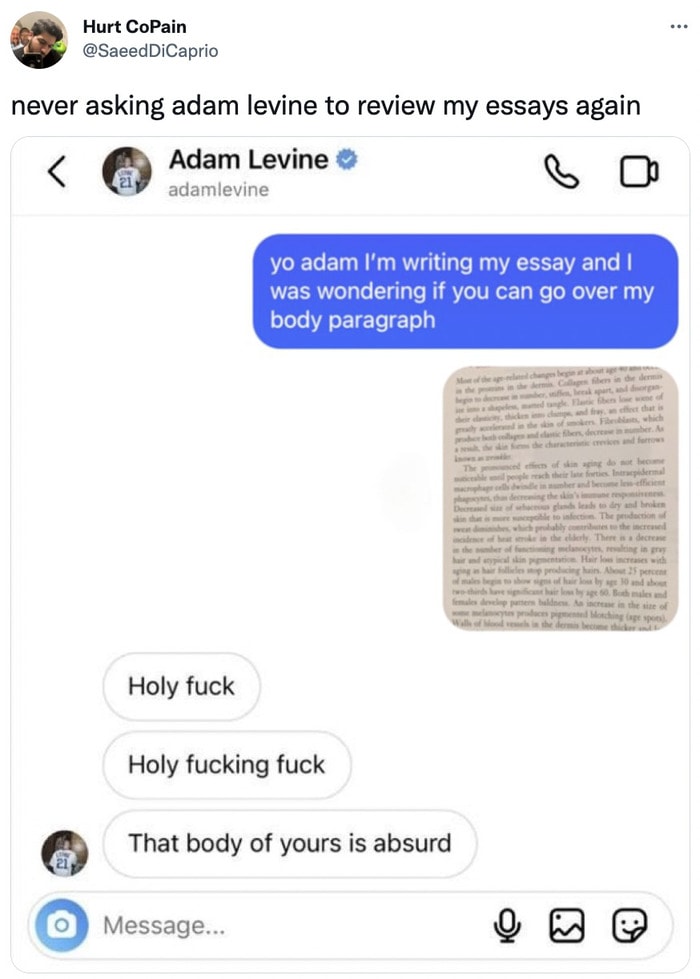 11. Dirty talk, but make it 1920s.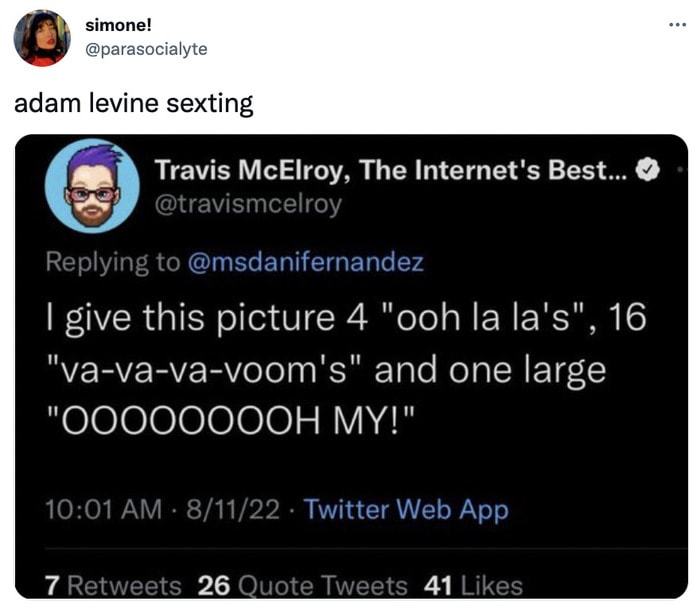 12. Good thing we learned how to stop, drop, and roll in elementary school.
when you get a DM from Adam Levine pic.twitter.com/JOsluhhgFk

— Ryan Perry (@rynprry) September 21, 2022
13. Here we go again with unrealistic body standards.
More Adam Levine DMs have leaked. pic.twitter.com/8sryypTkTd

— Lee (@JustifyMyLee) September 21, 2022
14. Let's keep politics out of the bedroom. Unless its Abraham Lincoln role play.
these adam levine dm's are wild! pic.twitter.com/TZeezvwT7l

— lydia chitwood (@lydiacatherinec) September 21, 2022
15. Goodbye, dear taste buds.
biting into the first mozzarella stick pic.twitter.com/OxLq5BTEeX

— derek peth (@PethDerek) September 21, 2022
16. Honestly, they are the apex predator. Of our HEARTS.
me the first time i saw a platypus pic.twitter.com/FdfziHx6Ne

— Lara Parker (@laraeparker) September 21, 2022
17. You're counting down the seconds, too, right?
these Adam Levine dms are so honest and correct i relate with them pic.twitter.com/wIeQbBklRH

— midnights by ts protector (@Ridds_chauhan) September 22, 2022
18. They know how to make an entrance.
when you see the fajitas coming pic.twitter.com/Q7r5CrRUHP

— slate (@PleaseBeGneiss) September 21, 2022
19. Can you blame him?
Adam Levine actually was cheating with him pic.twitter.com/W7fpQ5dyvp

— Kate | Reylo is the waylo | (@FERAL__REY) September 21, 2022
20. Coming soon to elevators near you!
mock adam levine all you want… you're gonna feel pretty silly when he uses all this as inspiration to write one of the worst hit songs of all time

— Robert Schultz (@_RobertSchultz) September 20, 2022
21. Give us a moment while we break out the whiteboard.
Me explaining My bf trying to
the Adam Levine watch Monday
mistress drama Night Football pic.twitter.com/SJ7M2KppUn

— Maybe: Allison (@ayeecox) September 20, 2022
22. The writing was on the walls the whole time…
Adam Levine said SHE will be loved. Didn't specify WHO. Pay attention people!

— Phillip (@MajorPhilebrity) September 20, 2022
23. Raise your hand if you thought Adam Levine was a solo artist.
What do you think the other Maroon 4 are saying

— Hanna Dickinson (@hansdickie) September 21, 2022
Is this the DM you're all talking about https://t.co/WOl4z9DfZg

— broti gupta (@BrotiGupta) September 21, 2022
25. And finally:
NEWS ALERT: deadline for all jokes involving Adam Levine is today at 6pm Pacific Standard Time

— Megh Wright (@megh_wright) September 21, 2022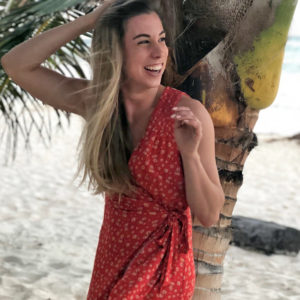 Latest posts by Hannah Rex
(see all)