There are a ton of things to love about autumn. There's the gorgeous colors of dying leaves, pumpkin spice flavored everything (and we do mean everything), and an aesthetic that's some folks' entire personality.
Whether you're ready to go rummage through the pumpkin patch or just want to cozy up in an oversized blanket, your hands will look great rocking these fall nails.
At the end of our fingertips are 10 god-given canvases that welcome respite from summer's neon colors and seashell graphics. They long to say "hello, old friend" to deeper colors and fall nail art designs, just before being stuffed into winter gloves.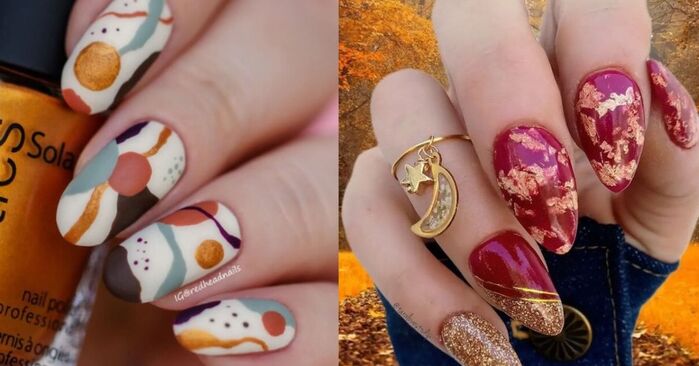 <
25 Fall Nails To Honor Autumn
1. Orange and Glittery Gold Nails
Can't choose between a simple color or going extra with gold? Lucky for you, you don't have to! This design weaves them both together with ease. Unlucky for you, the economy is in shambles. But your nails look great.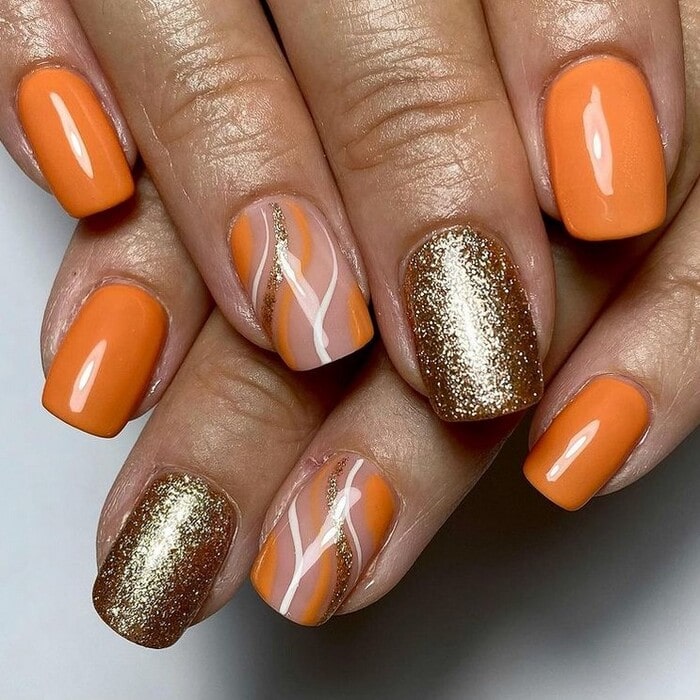 2. Red and Gold Nails
This deep red with gold, leaf-like flecks keeps the whole aesthetic from feeling too "Christmas." Not that there's anything wrong with Christmas! We just want to justify waiting to do our shopping.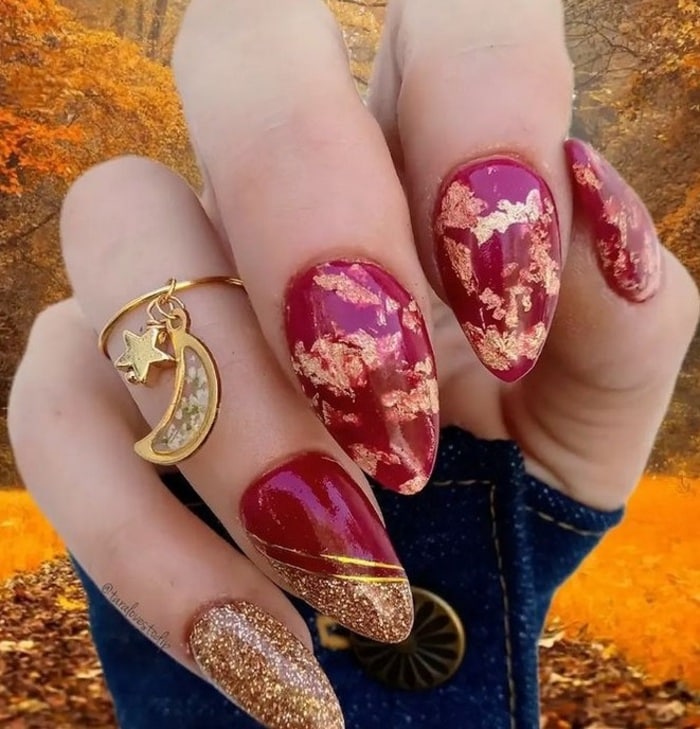 3. Orange, Black, and Gold Acrylics
This takes classic Halloween colors and expertly jazzes it up. Is that a trumpet we hear?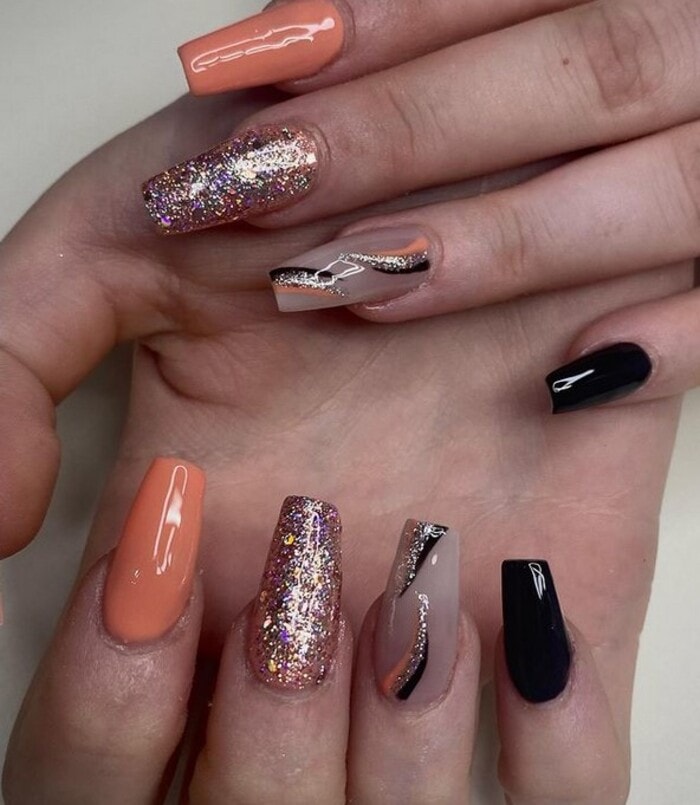 4. Autumn Leaves
These give us "Paint With All The Colors Of The Wind" vibes. You're welcome to your eyes for sharing these nails…and to your ears for definitely getting that song stuck in your head.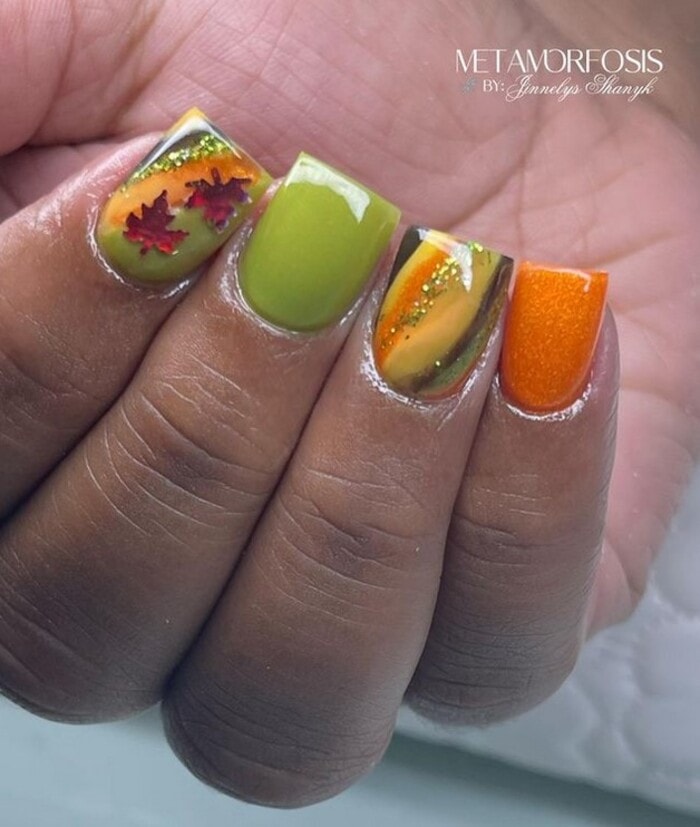 5. Tiger Stripes and Maple Leaves
This is what the tigers look like in our dreams. No we don't have anxiety, why do you ask?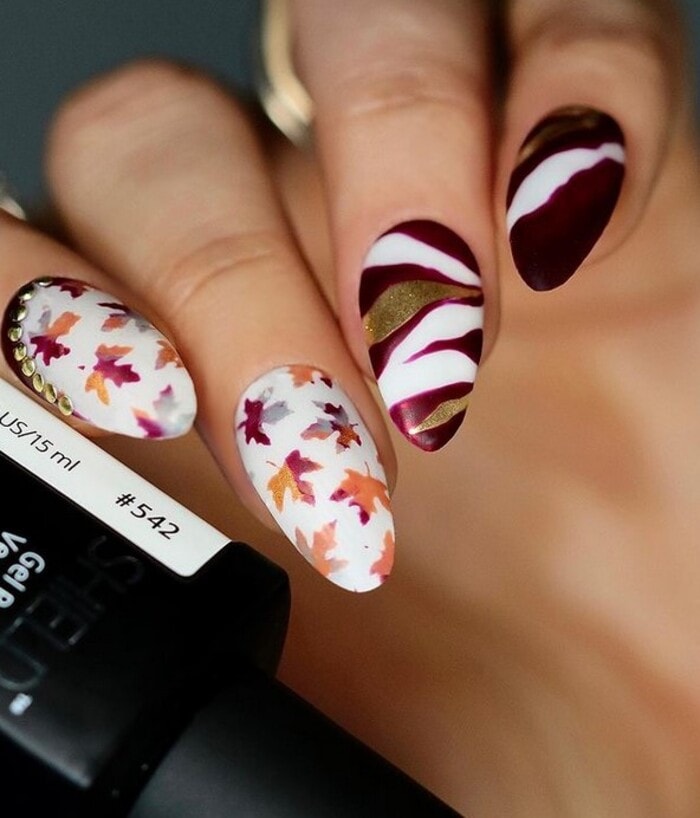 6. Pumpkin Spice Latte Nail Art
Just imagine holding your pumpkin spice latte with this hand that has fall nail art of a hand holding a pumpkin spice latte. Inception II, coming Fall 2022!
7. Matte Abstract Nails
Is it a Southwestern sunset? Is it a fall-colored pattern we want to see on ceramic plates? Is it an egg dish at an overpriced restaurant? Either way, we now know what we want for our birthday. (Pretty ceramic plates of a Southwestern sunset and brunch at Bouchon.)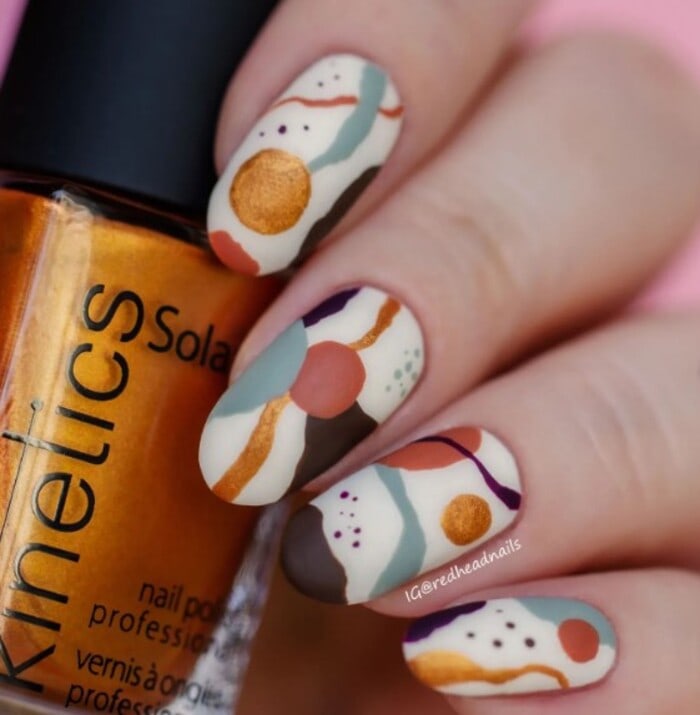 8. Black and White Nails
The best way to make a black and white design exciting? Take a page out of that 90s goth aesthetic. It was never a phase!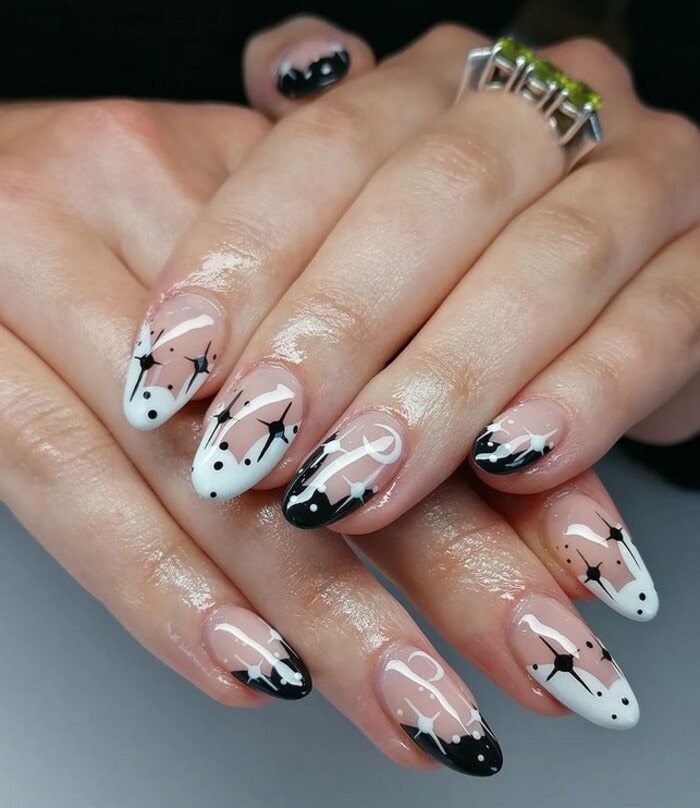 9. Dark Colors and Abstract Leaves
These leaves may not use the classic fall colors, but the dark colors and strategic use of glitter has us feeling autumnal nonetheless. And wondering where our Kaboodle is these days.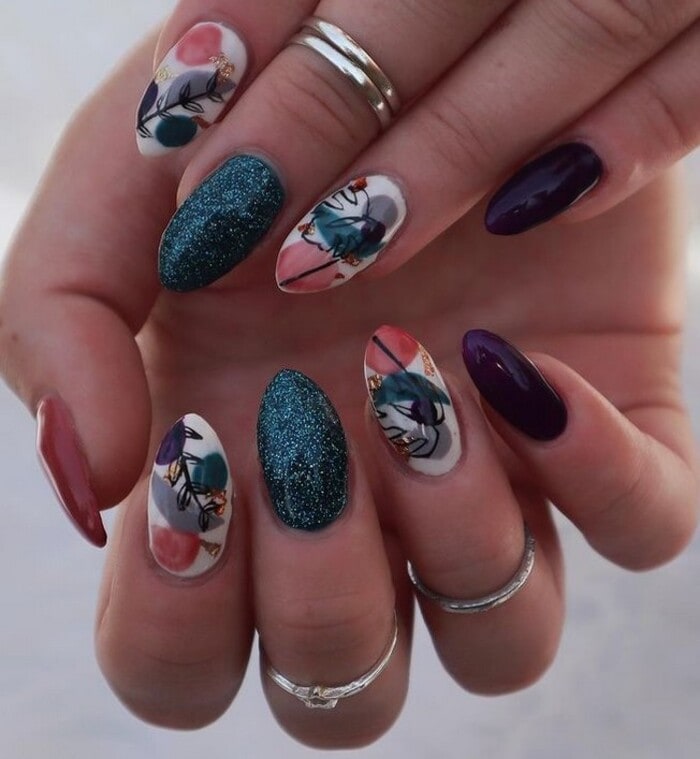 10. Fiery Orange and Gold Nails
When it comes to a classic orange, a little extra goes a long way. Especially when it comes to scurvy!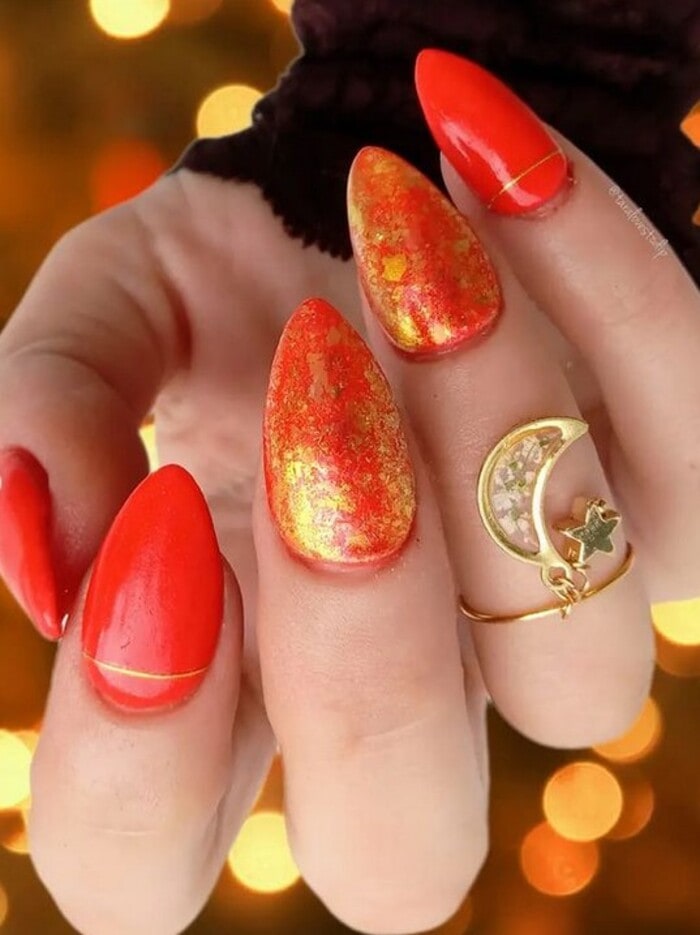 11. Fall Flowers
These nails will have you looking excellent as you wave bye to summer and hello to fall. And no thank you to winter.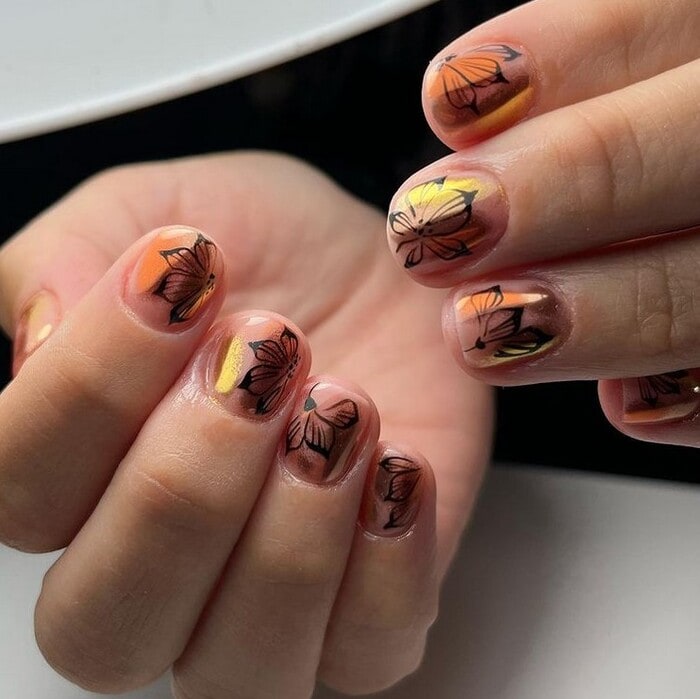 12. Glitzy Stiletto Nails
Stilettos are terrible to wear in an apple orchard, but these nails are great for picking apples. And keeping everyone else away from your bushel.
13. Fall Branch Nail Art
These 3D nail art branches let you experience all the beauty of fall trees and none of the raking.
14. Cute but Goth Nails
Don't go telling us that goth can't be cute and cute can't be goth, or else we'll give you the finger. Specifically, these fingers, to prove you wrong.
15. Plum Nails
Simple. Gorgeous. Makes us want plums. We see no problems here.
16. Ghost Nails
If you're ever stuck in a room by yourself, you can imagine these little ghosties on your nails having a conversation with each other! Unless you're doing an escape room, in which case you should stop wasting time. They won't help you and you paid for that experience.
17. Green and Gold Nails
We know what life feels like before coffee, but there's no need to grumble parseltongue at us. Paint your nails green and gold to show off your Slytherin vibes instead.
18. Deep Red Nails with Leaf Art
Nothing like a beautiful set of nails to offset the frustration of dropping your coffee beans everywhere.
19. Shades of Purple Acrylic Nails
Shades of purple >>>> Shades of Gray. At least before 9am.
20. Green Tips and Gold Accent
The description sounds like an AI-generated personal ad for a leprechaun, but we swear your nail salon will understand.
21. Tortoise Shell Nails
We wish these nails would last as long as a tortoise, but we'll take them for any amount of time.
22. Autumn Nail Bed Leaves
Plants in flower beds are cool but have you heard of plants on your nail beds? Bonus: they require slightly less watering.
23. Cracked Marble Nails
When you want to look like a statue. Or a fancy countertop.
24. Blue, White, and Gold nails
Amazing how changing just one color in the "red, white, and blue" scheme can take you from burgers and potato salad to butternut squash and apple cider.
25. Green Plaid Nails
Sometimes it's not enough to just bust out your favorite fall flannel, you need it on your nails, too.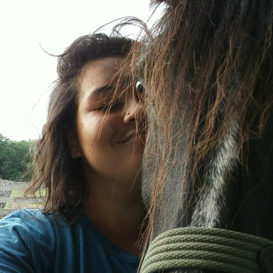 Latest posts by Hebba Gouda
(see all)