Just when you thought The Bachelor producers had nothing new up their sleeves, they give us two Bachelorettes at the same time. And just when you thought the Internet didn't care about this franchise any more, it gives us all of these Bachelorette 2022 memes. (Production also gave us guy who *literally* had no sleeves, but we'll get to Shirtless Jacob later.)
The Bachelorette's Season 19 leading ladies are Gabby Windley and Rachel Recchia, who made it to the top three in season 26 of The Bachelor, starring Clayton Echard.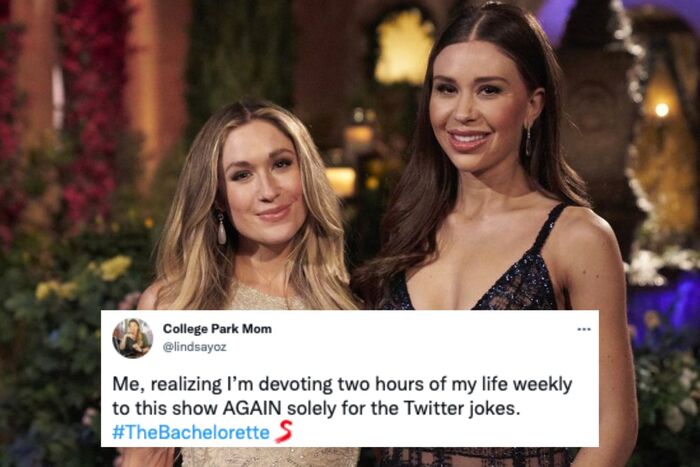 We thought we had sworn all of this nonsense off for good, but we got roped back in… if for nothing else than to laugh at the funny Bachelorette 2022 memes and tweets all season long. Yeah, okay, the oiled up bare-chested dudes help too.
Since the two leading ladies are used to competing for the attention of one man with a gaggle of women, sharing the attention of 38 of them will be a breeze. And if the July 11 premiere revealed nothing else, it's that Gabby and Rachel put sisters before misters, Twitter never disappoints, and we really need to bring back chest oil.
27 Funny Bachelorette 2022 Memes, Tweets, and Reactions
1. And then, what if Mars crashes into us and dinosaurs return?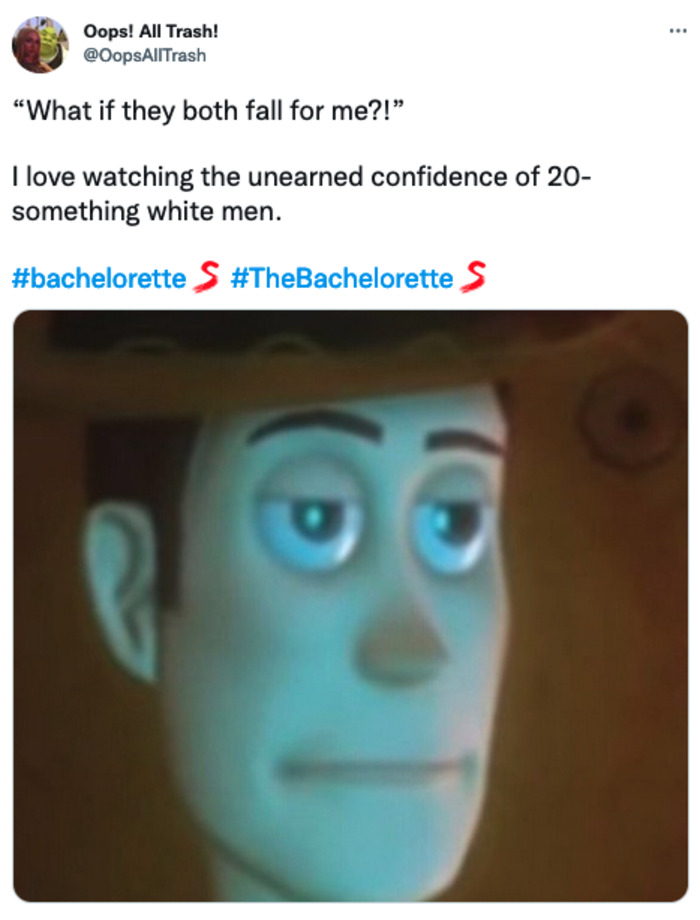 2. New emoji unlocked: resting uninterested face.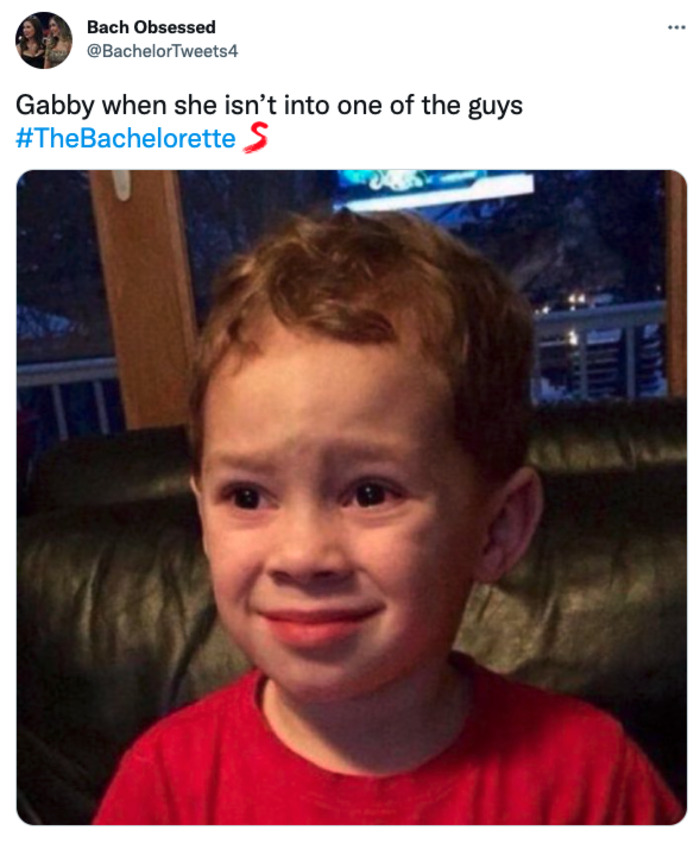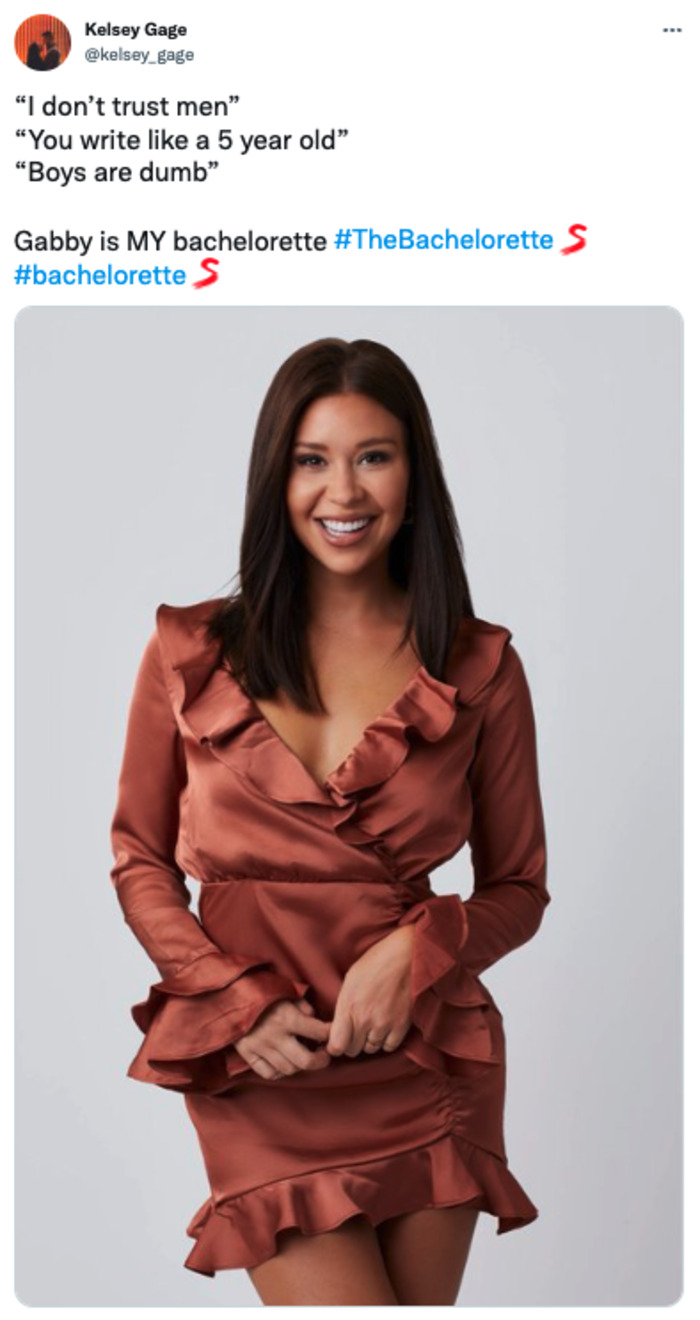 4. Wait…Mom? What are you doing here?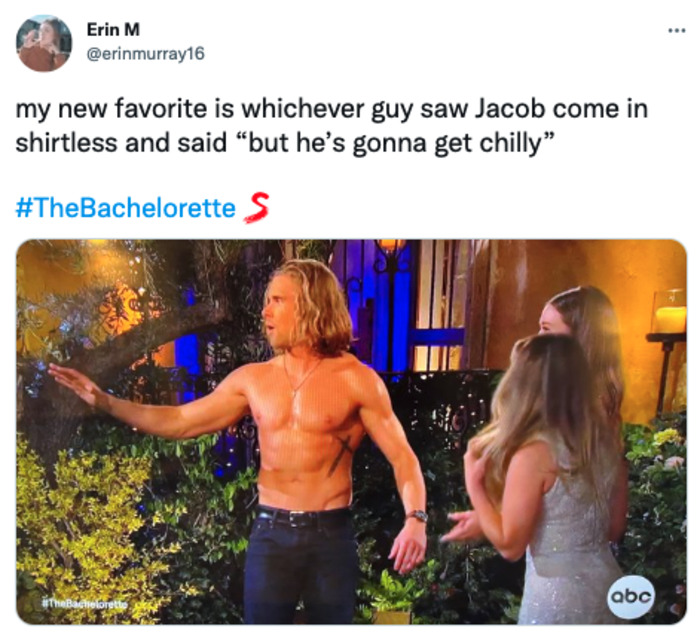 5. We're also here for the snacks. Pass the Pinot, please.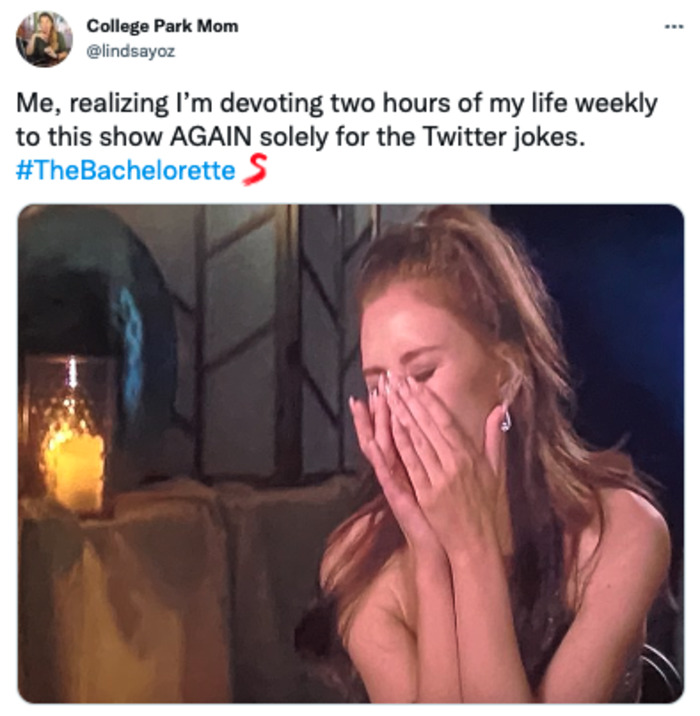 6. Told you we'd get back to Shirtless Jacob.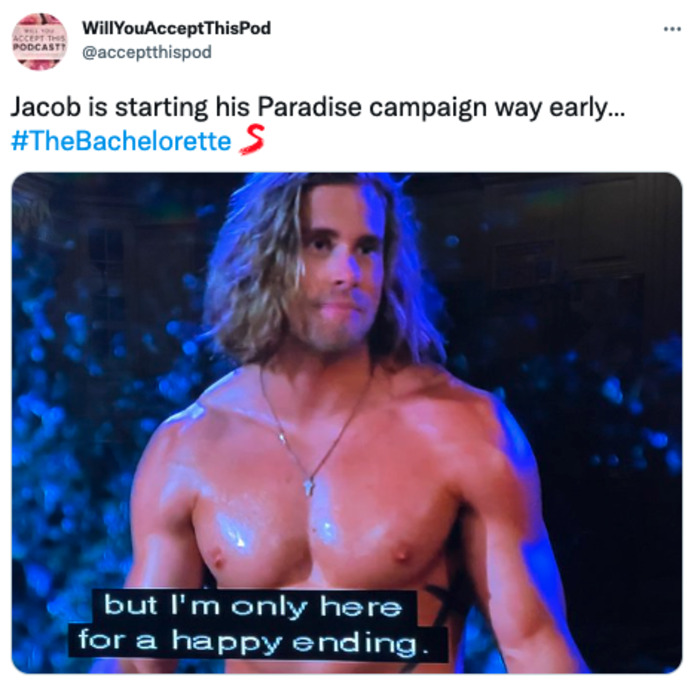 7. Wait. You guys got meatball sandwiches and no one thought to tell us?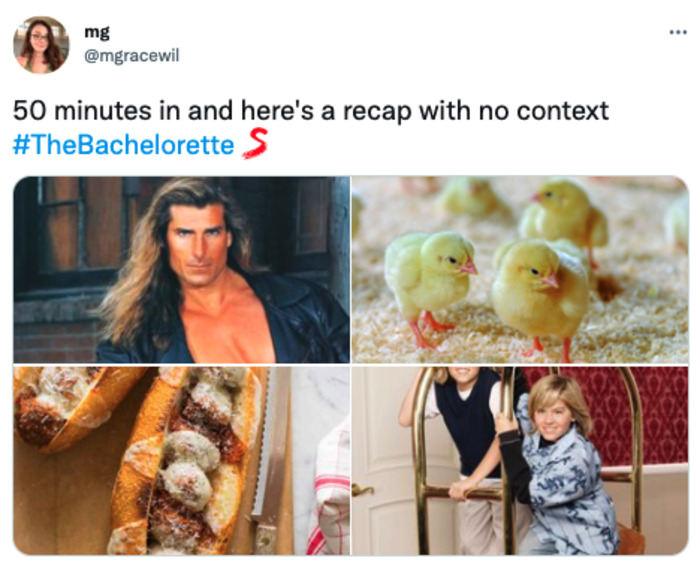 8. There's always three weeks from now!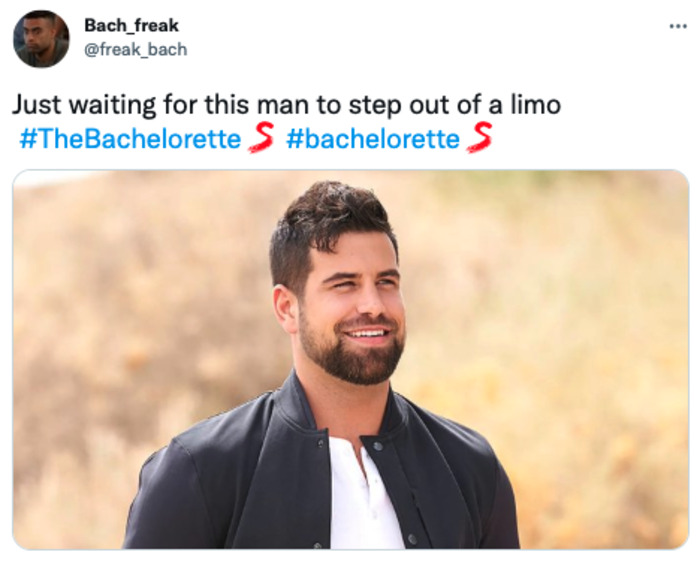 9. Impatiently waiting for the episode where this information is revealed.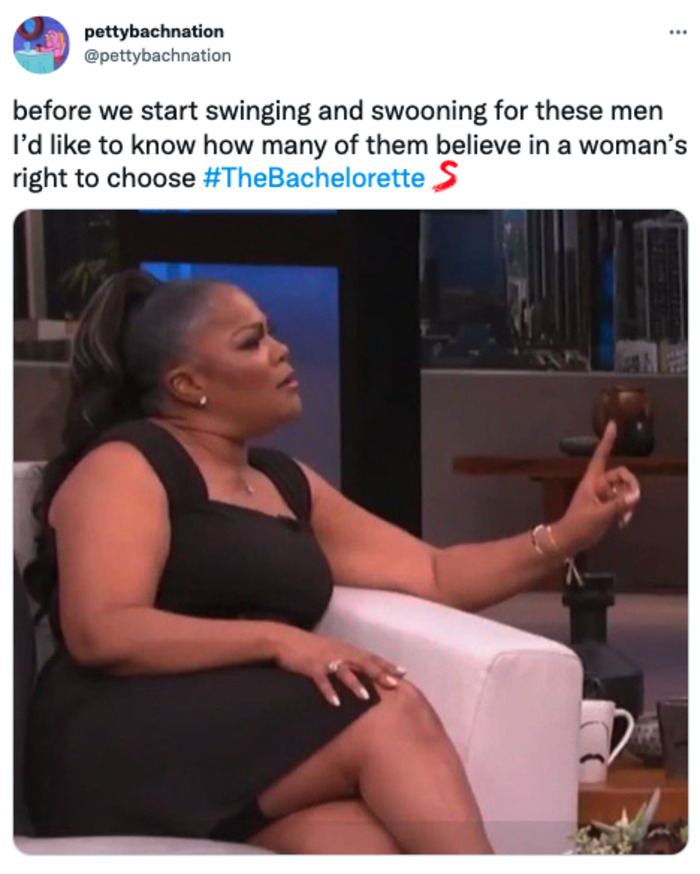 10. May the odds be ever in your favor.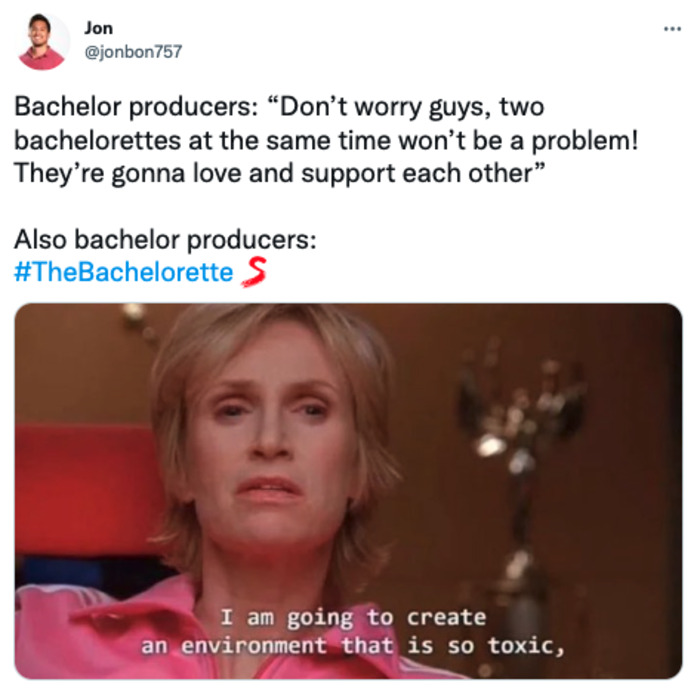 11. We've learned enough over the last 19 seasons to not get too excited just yet. RIP Greg.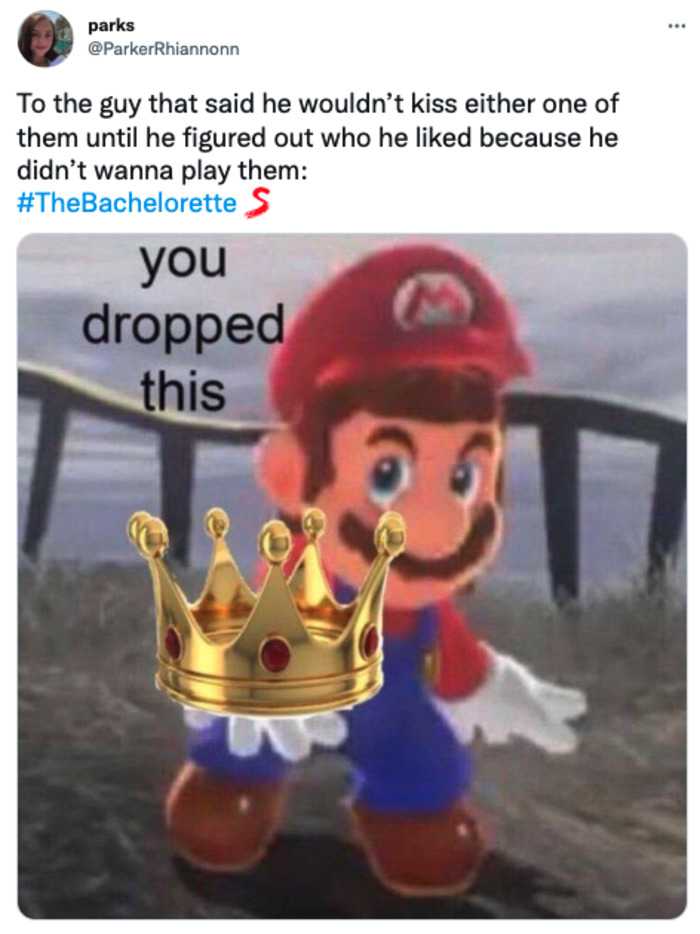 12. The ever-loving audacity.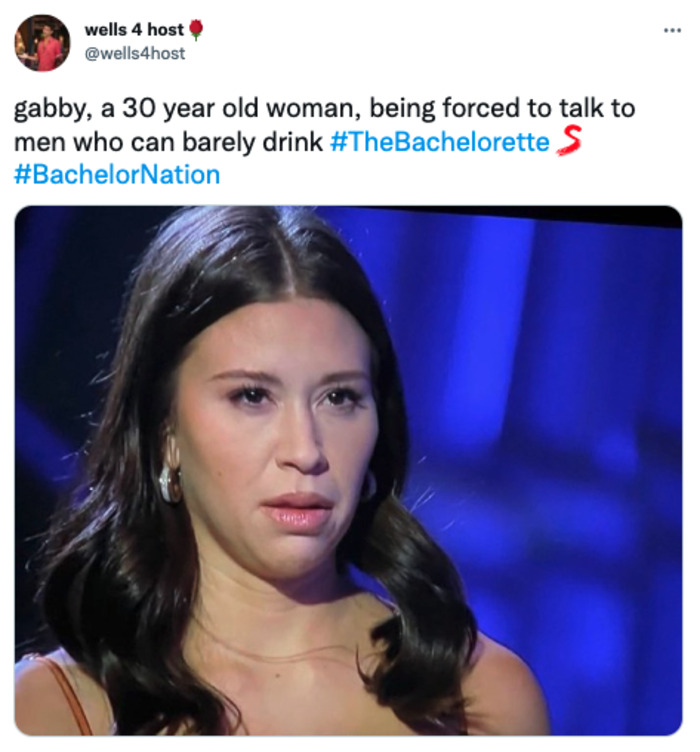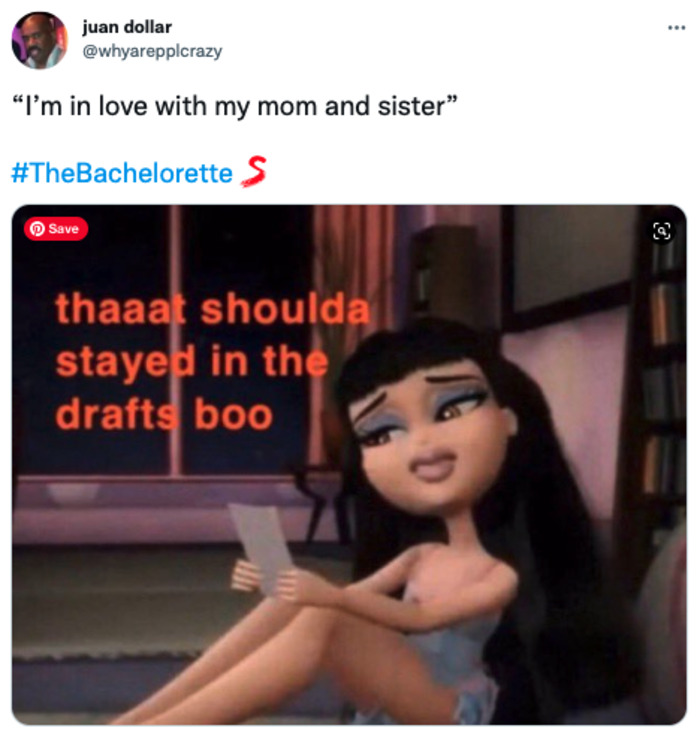 14. Is it too soon to say we're tapping out?
NOT THE MAGICIAN PLEASE TAKE THE TWINS BUT NOT THE MAGICIAN #TheBachelorette #bachelorette pic.twitter.com/Wf6LmMocSM

— beeswax (@wepopchampagne) July 12, 2022
15. Well that makes one of us!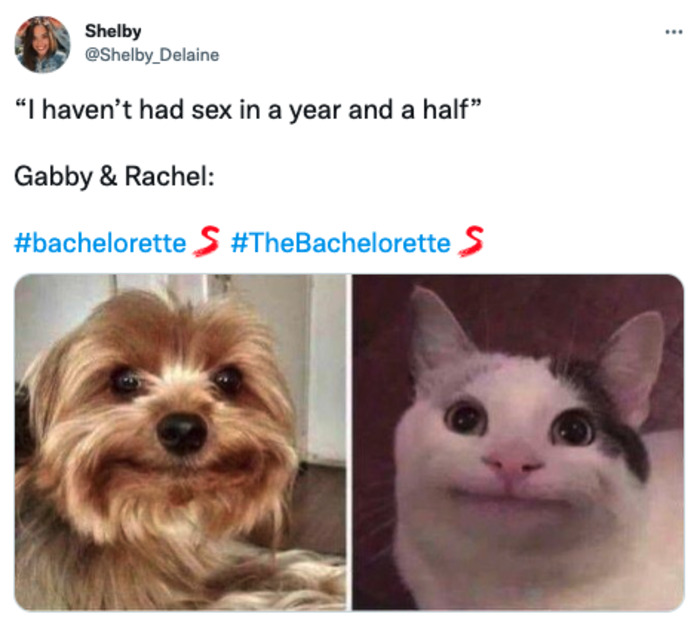 16. Oooh, now give them the drunk contestants.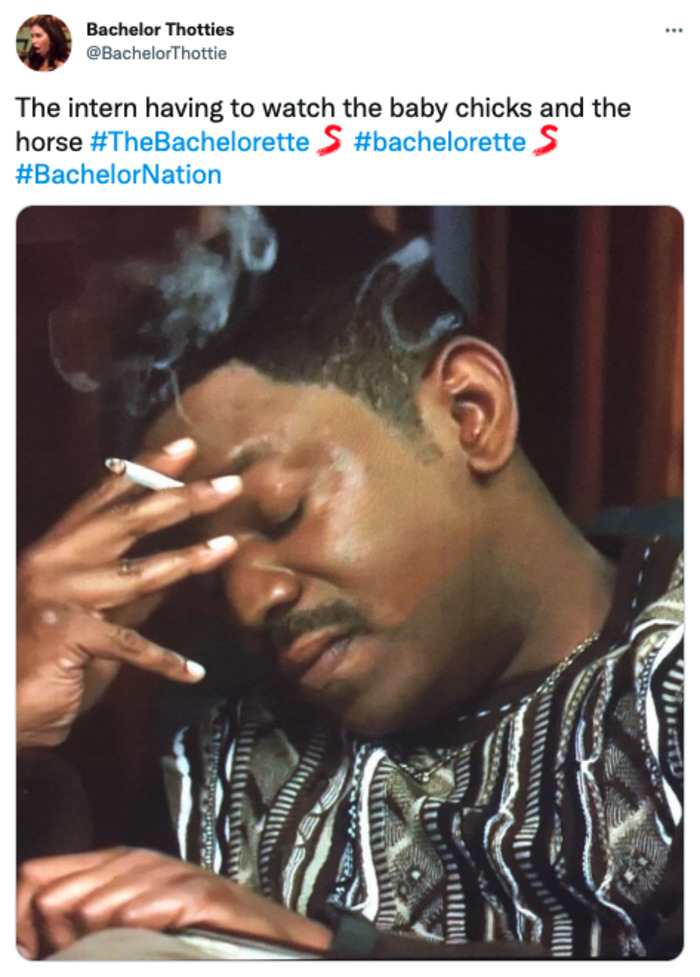 17. We've seen this movie before. Not sure if it ends in love, but it definitely ends in a wicked hangover.
Getting ready for this all to go down like #TheBachelorette pic.twitter.com/ubivO5gmqu

— Rachel Recchia (@pilot__rachel) July 12, 2022
18. Us too. And now we keep finding an engagement ring behind our ears.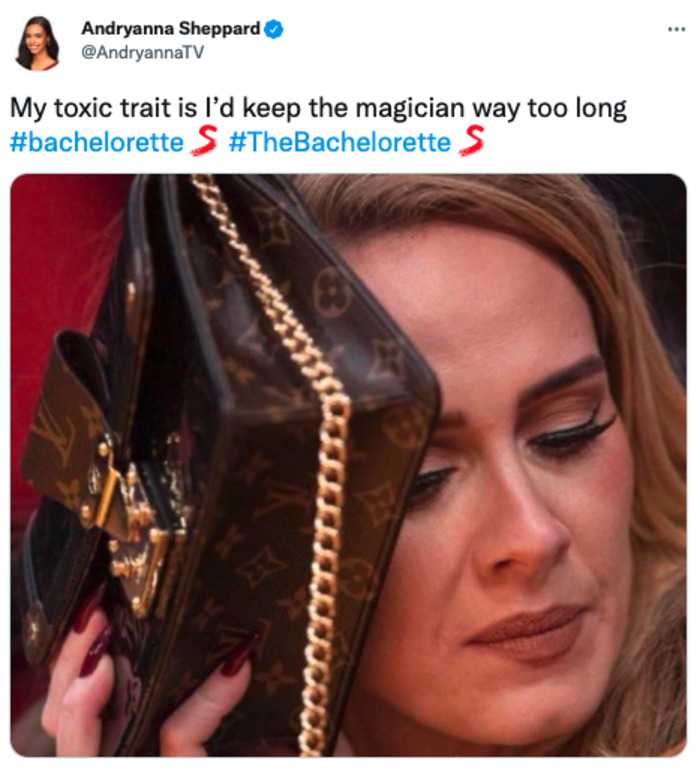 19. There's no such thing as a stupid question, but there is a such thing as a terrible answer.
'I'm a lot like Clayton'
Gabby:
#TheBachelorette pic.twitter.com/oPvopqaVJN

— another.rose 🌹 (@anotherrose5) July 12, 2022
20. Happy to be part of the "girls supporting girls" era of television.
Why they didn't let the fun friend girl duo host the fun friend girl duo, I will never understand. #TheBachelorette pic.twitter.com/sU1a9L782Z

— Bracketology.tv (@bracketologytv) July 12, 2022
21. He's a keeper. Also, can we have a copy? Of the spreadsheet. Not the man.
Thought my boyfriend was working, but he's making a spread sheet of all the men and who they hug first. #TheBachelorette pic.twitter.com/UsjUky3dAx

— Hillary Timlin (@HillaryTimlin) July 12, 2022
22. Still a 10. You gotta admire the confidence.
he's a 10 but he's kinda pissed that he didn't get the first impression rose after speaking with the bachelorettes for like fifteen minutes #TheBachelorette pic.twitter.com/7qUa4mmpMT

— opossum fan (@altitudinarians) July 12, 2022
23. Things you shouldn't expect when you become the Bachelor: peace. But hey, enjoy the Instagram followers, though.
clayton trying to get a moment of peace during this episode #bachelorette #thebachelorette pic.twitter.com/S1wS2Qft44

— all knowing bachelor witch (@BachelorScholar) July 12, 2022
24. We still can't shake the nickname "bagel girl" from first grade. Three weeks is nothing.
How are ya'll calling these guys by name already.

They'll be shirtless dude, chick guy, and headphone man for at least the next 3 weeks for me #TheBachelorette

— TheBachBabes (@TheBachBabes) July 12, 2022
25. Kinda?? We're already in love. Sorry Gabby and Rachel.
Don't hate this gimmick. That was kinda cute. #TheBachelorette pic.twitter.com/fguMOAKiJD

— Dan Emerson (@dscapp) July 12, 2022
26. The only ending we'll accept, tbh.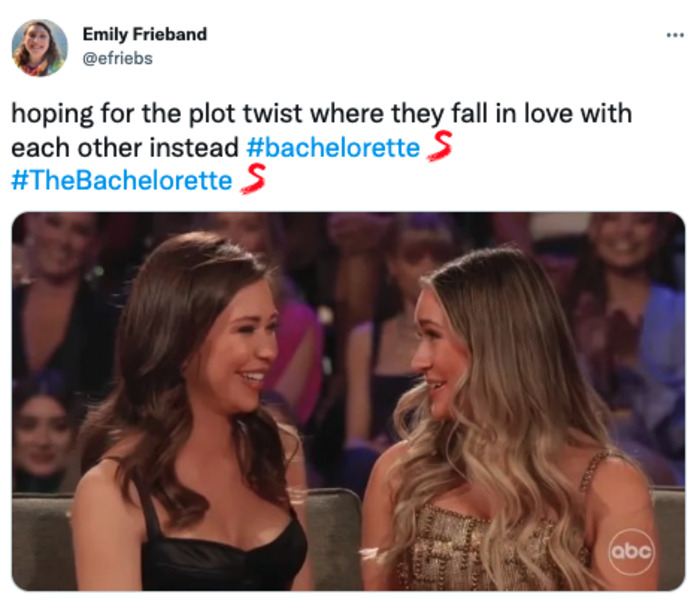 27. Ariana Grande is a Bachelor producer now?
WHAT IN THE UNHINGED HELL WAS THIS?!? #TheBachelorette #bachelorette pic.twitter.com/jRXkNicBdt

— Alex "Not Me Watching Bachelorette Again" (@IndyAWiseguy) July 12, 2022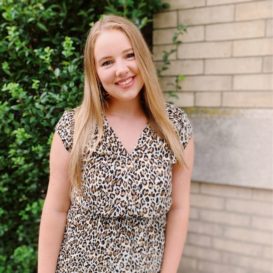 Latest posts by Laura Davis
(see all)