Halloween is right around the corner, and although we'd love to wear a sexy Squid Game costume every day to build up the hype, some people told us that was weird. Instead, we'll pay homage to another eerie pop culture classic with a flashy set of Beetlejuice nails.
Sure, Tim Burton's pestering poltergeist annoys the living (and the dead), but his purple and green color palette is to die for and Lydia Deetz's goth aesthetic doesn't disappoint either. Plus there's enough iconic scenes in the film to make for a whole host of possibilities.
Whether you prefer sharp claws that could slash a tire, or something short and sweet, these nail art ideas are a creative way to pay homage to the 1988 film. They go great with all your Halloween Beetlejuice decor.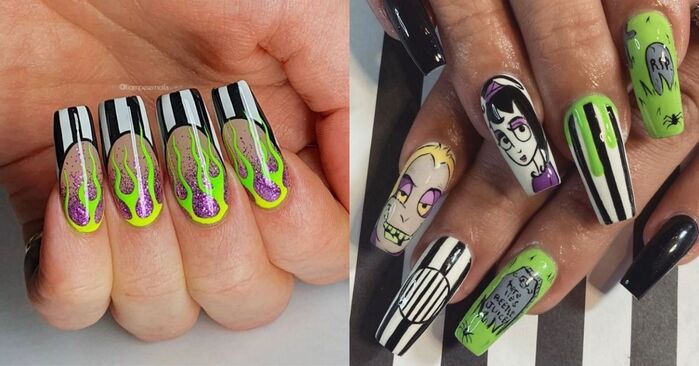 10 Beetlejuice Nails That Are Just Strange and Unusual Enough
1. Black And White Beetlejuice Nails
Keep things classic with a black and white color palette that reflects Lydia's monochromatic wardrobe. These nail decals that feature Lydia, Beetlejuice, and the Maitlands are just understated enough to pass by a family reunion unnoticed.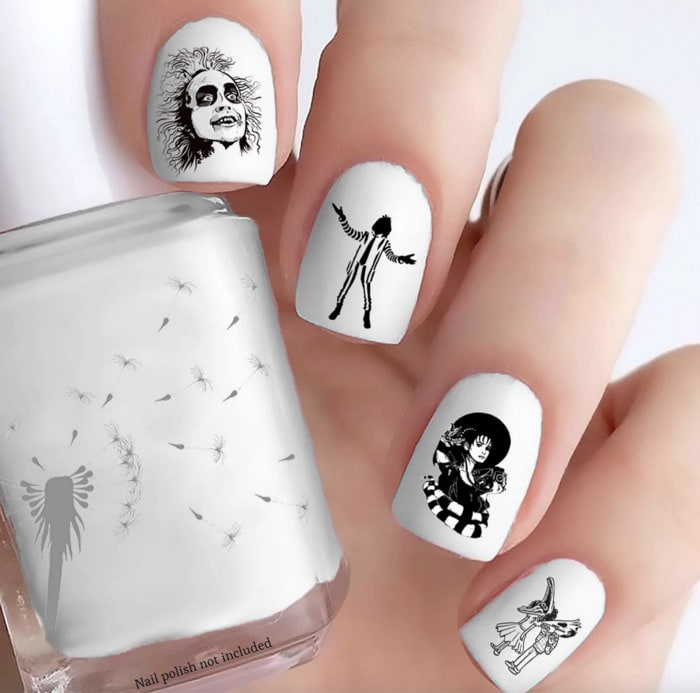 Available on Etsy.
2. Stripes And Slimy Drips
Drippy nails, simple stripes, and a little pop of purple glitter give these Beetlejuice press-ons a glam update. Personally, we think that Michael Keaton could have benefited from a little glitter too.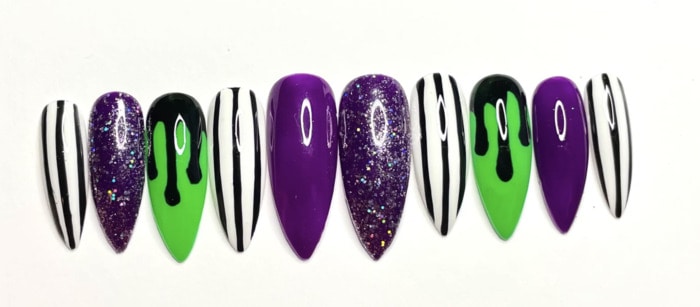 Available on Etsy.
3. Cartoon Beetlejuice Nails
Let everyone know that you were a 90s kid with the cartoon version of Beetlejuice and Lydia on your nails. Since it's still not streaming anywhere, you can make up scenes using these nails. Just like we made up having friends as a kid.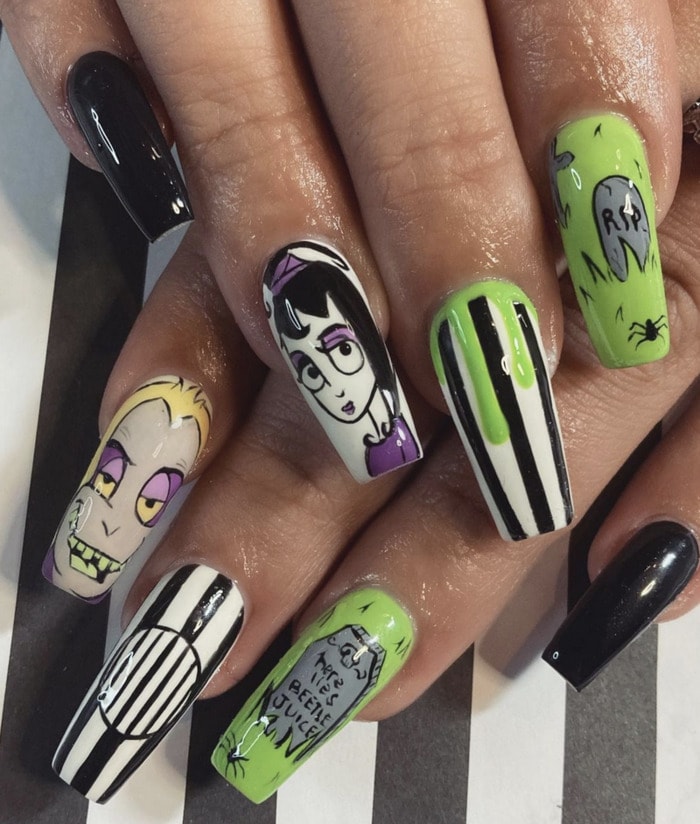 4. Beetlejuice Color Palette
This subtle ode to the movie says, "I'm a lady in the streets but a freak in the Essie aisle at Walgreens."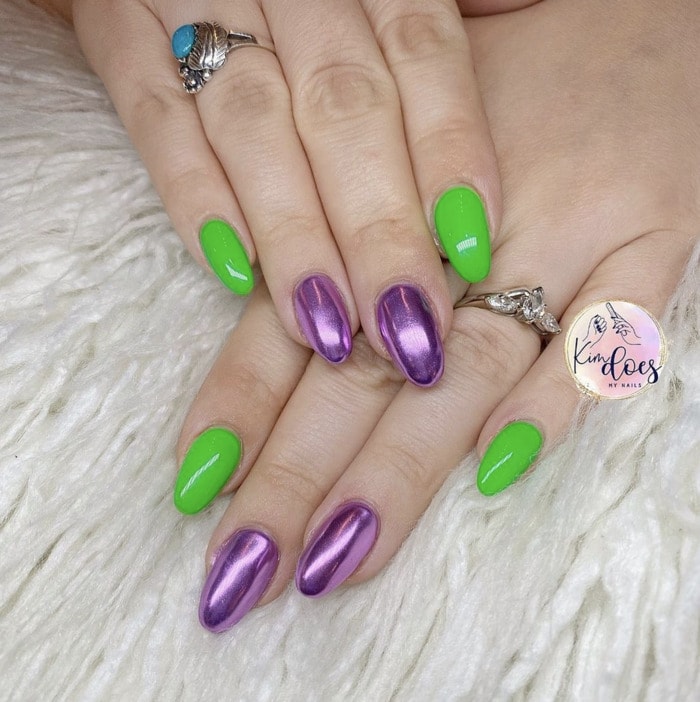 5. Beetlejuice Strips and Flame Nails
These nails are fire. Like, wildfire. (GOT fans? Anyone?) Add some of these neon flames to your fingertips, and then say "careful, those are hot!" every time someone tries to shake your hand. It's never too early to start on your dad jokes.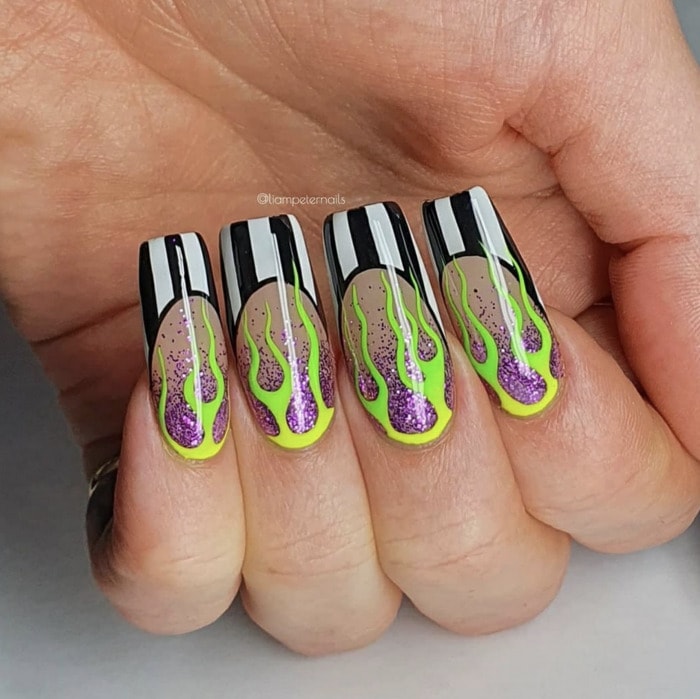 6. Graphic Beetlejuice Nail Wraps
These nails wraps featuring all the main characters are perfect for the person who wants an intricate manicure without having to sit at a salon and pay an electric bill's amount of money for it. Oh wait, that's all of us, right?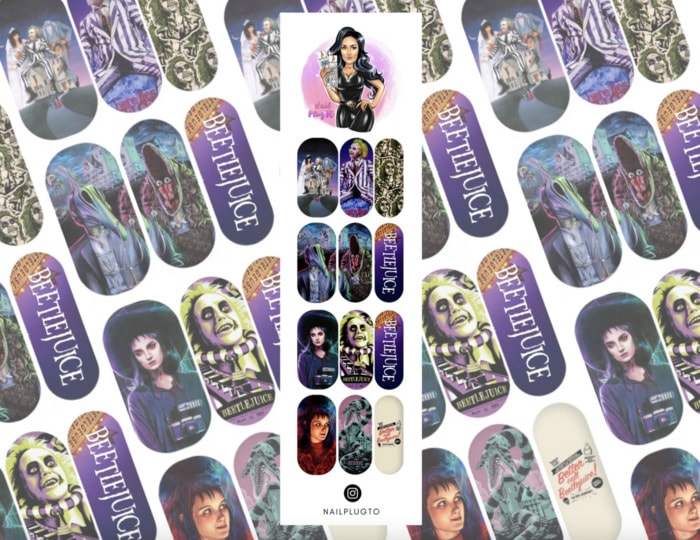 Available on Etsy.
7. Barbara and Adam Maitland Nails
If you love to go all out with your mani, go for this one featuring the scary distorted faces of Barbara and Adam Maitland. It says, "if you come any closer, you will find out if my nails actually bite." (They missed breakfast.)
8. Glow-in-the-Dark Beetlejuice Nails
Planning on going camping or to a bonfire this spooky season? Take a hands-on flashlight with these bright glowing nails! It'll make it much easier for your friends to find you in the woods when you take a wrong turn and encounter Mr. Voorhees.
9. Simple, Subtle Stripes
If you're looking for something a little more understated, these simple black and white stripes have understood the assignment. It says, "the monster isn't here yet, but I do have Michael Keaton on speed dial."
10. Extra Long and Pointy Beetlejuice Nails
It's Halloween, so there's no better time to opt for these long, witchy nails. Just keep the Sandworm away from Beetlejuice unless you want a battle on your hands.
Latest posts by Leah Mulroney
(see all)