If you're planning a Disney trip and are over 21, we know what's on your mind: Where can I drink at Disney?
Inside the magical walls at Disneyland Park, unless you're Scrooge McDuck and can afford a membership to Club 33, the only place you can drink on site is at the brand-new Star Wars Cantina. (And you're going to want a stiff drink if you plan on standing in the epic lines to ride Smugglers Run.)
At Disney World in Florida, however, the liquor flows more freely — you can enjoy beer, wine, or a rum-infused Dole Whip at various locations in EPCOT, Animal Kingdom, and Hollywood Studios.
But what if you're just spending a day lounging by the pool in Orlando, Florida? Turns out there's a wide selection of Disney drinks at the Disney Resort hotels and at Disney Springs — and you don't need a park ticket to get to them. Just a magic carpet ride. Or a Lyft.
(To make your Disney bar crawl that much easier, we've added a handy-dandy map at the end! And, if you want to know where to relax for a second and avoid the Disney World crowds, we've got that too.)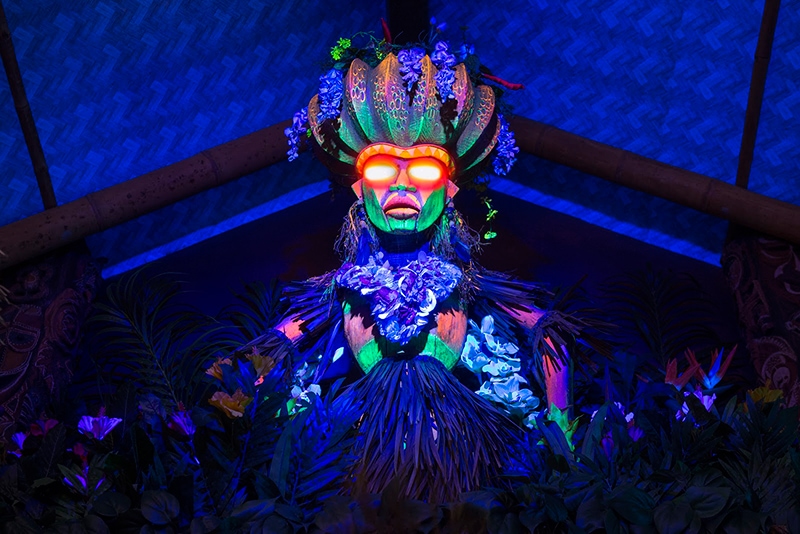 The 6 Bars at Disney Springs and Disney Resort Hotels You Have to Visit
Not sure what type of Disney cocktails you're in the mood for? Start your bar crawl at one of these six and follow our recommendations in the list below. Yeah, that means you'll have to scroll. The things we ask you to do!
The 10 Best Disney Drinks Outside the Park
What should you do once you're in the door at these bars? Order a few of these, of course. We've linked to the menu for each bar in case you want to send our recommendation back.
This might seem like something that would make a Master Sommelier roll in their grave, but this boozy Dole Whip was actually their idea. The Frozcato blends Pineapple Dole Whip mix, vodka, and moscato wine into something that is 99% sure to give you a hangover if you drink more than one. Yeah, throw that floater of prosecco on top for an extra two bucks.
Location: 610 East Buena Vista Drive, Lake Buena Vista, FL 32830
Phone: 407-490-1800
Hours: 11am-12am
Prepare to 🌊dive🌊 into Trader Sam's Grog Grotto with our new fleet! The latest edition of Nautilus is now available! #PolynesianResort pic.twitter.com/pfZY4ltftp

— Walt Disney World Today (@WDWToday) October 26, 2018
Served in a collectible tiki mug shaped like Captain Nero's ship from 10,000 Leagues Under the Sea, the Nautilus is intended to serve two — or just you if you can handle your booze very, very well. It's made with Barbancourt Pango Rhum, Appleton Estate Reserve Rum, Combier Crème de Peche de Vigne Liqueue, tropical juices, and falernum. It actually sets off interactive chain reactions around the tiny bar. And in your wallet!
Location: 1600 Seven Seas Drive, Orlando, FL 32830
Phone: 407-824-2000
Hours: 3pm-12am
Named after the Raiders of the Lost Ark pilot's pet snake — and named by the world's biggest Indiana Jones trivia nerd — the neon green Reggie's Revenge is a refreshing mix of orange vodka, Midori melon liqueur, white cranberry juice, and fresh lime juice. If you're worried about getting scurvy, this is the Disney drink for you. Also, maybe eat a vegetable once in a while.
Location: Pleasure Island Boat Dock, Lake Buena Vista, FL 32830
Phone: 407-824-2000
Hours: 12pm-12am (Sun-Wed), 12pm-2am (Thurs-Sat)
Northwest Iced Tea ($12.75 Geyser Point Bar & Grill, Wilderness Lodge Resort)
Nothing says hipster cocktail like a new twist on an Long Island Iced Tea. Still, the only slightly sweet Northwest Iced Tea is pretty tasty. It's made with Superior Rum, 44° North Idaho Potato Vodka, Aviation Gin, Cointreau and sweet and sour, Coca-Cola, and Ryan Reynolds's Aviation Gin. Singing cartoon bird available upon request.
Address: 901 Timberline Dr, Lake Buena Vista, FL 32830
Phone: 407-939-5277
Hours: 11am-12am
Turtle Krawl ($11.50, The Gurgling Suitcase, Old Key West Resort)
Made with Siesta Key White Rum, Parrot Bay Coconut Rum, Sailor Jerry Spiced Rum with Grenadine, pineapple, orange, and key lime juices, this Disney cocktail will have you singing Jimmy Buffet songs all night — which might inspire your roommates to "accidentally" lock you out of the hotel room.
Address: 1510 N Cove Rd, Lake Buena Vista, FL 32830
Phone: 407-827-7700
Hours: 11:30am-12am
South African Wine Flights ($15-$18, Jiko – The Cooking Place, Animal Kingdom Lodge)
If you actually like wine (and not just while watching the new season of Fleabag), Jiko has an extensive wine list and reportedly the most exclusive South African wine list in the U.S. Can't get a reservation? Grab a seat at the bar!
Address: 2901 W Osceola Pkwy, Orlando, FL 32830
Phone: 407-938-4733
Hours: 5:30pm-10pm
Sweet Tea Old Fashioned ($11, The Polite Pig, Disney Springs)
If you're at the Polite Pig and you're not ordering bourbon neat or on the rocks, something has clearly gone wrong. Until you figure out what that is, sit in the corner and sip on this boozy sweet tea made with sweet tea syrup, bitters, and yup, bourbon. It comes with a lemon slice and two Luxardo cherries on top.
Address: 1536 Buena Vista Dr, Orlando, FL 32830
Phone: 407-560-9197
Hours: 11am-11pm (Sun-Thurs), 11am-12am (Fri-Sat)
Mango Fire Margarita ($14, Frontera Cocina, Disney Springs)
So about those chile mango margaritas…the Mango Fire margarita blends Milagro blanco tequila, Ancho Reyes Chile liqueur, mango purée, and chamoy hot sauce in a way that'll make you text your ex faster than ever before.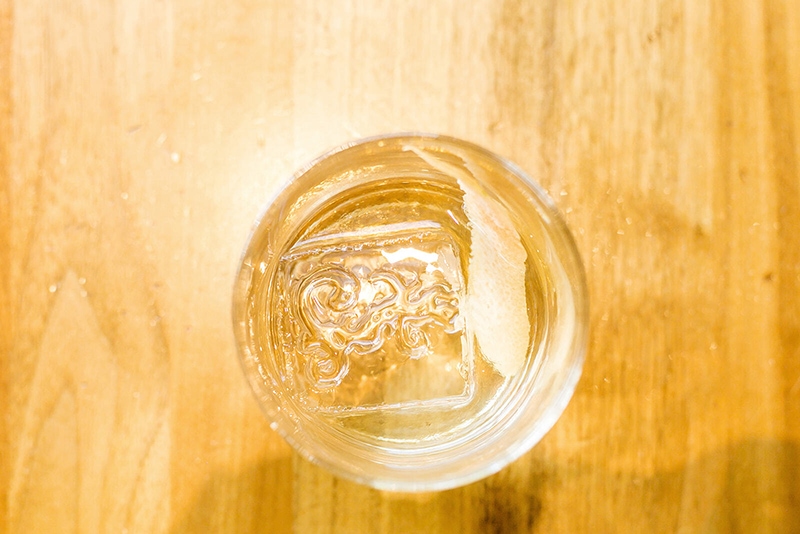 Cucumber Negroni ($16, Frontera Cocina, Disney Springs)
Not a margarita fan? Then order this refreshing cucumber negroni. Made with a mix of Mezcal illegal blanco, Italicus liqueur, dry vermouth, cucumber bitters, and grapefruit peel, this hand-crafted cocktail is perfect after a long, hot day in Florida — which is pretty much every day in Florida.
Address: 1604 Buena Vista Dr, Lake Buena Vista, FL 32830
Phone: 407-560-9197
Hours: 11am-11pm
The Sour Assistant ($12.50, AbracadraBar, Disney's BoardWalk Inn)
This classic whiskey sour is made with house-made sweet-and-sour and a cherry that's been stabbed with one too many cocktail swords. Enjoy the fact that you're imbibing this Disney drink at a former late-night haunt for magicians and aren't on the receiving end of anything pointy.
Address: 2101 Epcot Resorts Blvd, Orlando, FL 32830
Phone: 407-939-5277
Hours: 4pm-10:30pm (Su-Wed), 4pm-11pm (Thurs-Sat)
Smores shake! (@ Beaches & Cream Soda Shop – @waltdisneyworld in Lake Buena Vista, FL) https://t.co/EqFifosP5X pic.twitter.com/662gL7PGQ8

— Andrea Roberts (@andpes13) January 23, 2017
Smores Shake ($13.25, Beaches & Cream Soda Shop, Disney's Beach Club Resort)
This dessert cocktail combines all of our favorite things into one decadent milkshake. The S'mores Shake features chocolate and vanilla ice cream, Amarula Cream liqueur, and Bols Creme de Dark Cacao. Throw some marshmallow, chocolate sauce, and graham crackers on top and you've got yourself a party. A party that we're definitely going to pass out in the middle of, but a party nonetheless.
Address: 1800 Epcot Resorts Blvd, Orlando, FL 32830
Phone: 407-939-3463
Hours: 11am-11pm
And, as promised, here's your Disney bar crawl map to help you plan out your drinking adventure.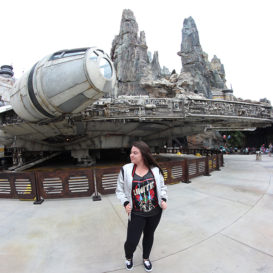 Megan is a Florida native with a love for all things Disney, Star Wars, Marvel, and running. She thinks you can tell a lot about someone by the name of their signature lipstick, and hers is NARS Dragon Girl. You can follow Megan on Twitter @megand513 and on Instagram @minglingwithmickey where she dishes out the most recent theme park news, updates, and tips!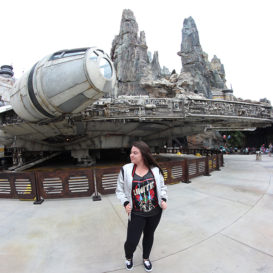 Latest posts by Megan DuBois (see all)