This morning, news organizations called the 2020 Presidential Election. Congratulations to President-Elect Joe Biden and Vice President-Elect Kamala Harris!

We found out when our entire neighborhood starting cheering without warning before 8am. Since hipsters don't generally wake up that early, we figured it was for a good reason. Either Biden had won the election or there was finally a sale on kombucha at Whole Foods. Turned out, it was both!
But, since you're probably more excited about the election… here's a roundup of tweets celebrating the Biden Harris win. We can't wait for new Biden memes and some Harris ones come January!
1. Heck yeah you did Vice President-Elect, Kamala Harris.
We did it, @JoeBiden. pic.twitter.com/oCgeylsjB4

— Kamala Harris (@KamalaHarris) November 7, 2020
2. Go Gritty!!!!
Doc Emrick with the call pic.twitter.com/jT3E2Ngcvh

— adam (@amc424) November 6, 2020
2. Wheeeeeeee!
I'm just going through my Twitter TL happy liking everything.

— NewDadNotes (@NewDadNotes) November 7, 2020
3. Bye bye now
Trump lost?
Okay, Bi-den.

— Holly Jolly Jasmine 🎄✨ (@astro_jaz) November 7, 2020
4. WOOHOO!
We must heal. But first, we must gloat.

Cc: @realDonaldTrump

— Kumail Nanjiani (@kumailn) November 7, 2020
5. This champagne hits different.
Finally, getting drunk at 9 am for a GOOD reason.

— Missy Baker (@TheMissyBaker) November 7, 2020
6. The sigh of relief is better than we thought.
My god it feels like I just took off a weighted blanket, unhooked my bra and taken out my extensions all at once

— chrissy teigen (@chrissyteigen) November 7, 2020
7. The wait was worth it.
It's amazing to find out that the guy who won the election did in fact win the election.

— Kashana (@kashanacauley) November 7, 2020
8. Comedy Twitter did it!
OUR JOKES WORKED

— Daley Haggar (@d_haggar) November 7, 2020
9. TBH this is us being respectful.
Not to gloat but HAHAHAHAHAHAHAHAHAHAHAHAHAHHAHAHAHAHAHAHAHAHAHAHAHAHAHAHAHA

— The Notorious B.E.V. 🌈 (@blade_funner) November 7, 2020
10. Also a few woooooooos!
Never texted so many WOOOHOOOs in my LIFE

— Tess Barker (@TesstifyBarker) November 7, 2020
11. What a way to wake up
After like 96 stupid hours in front of the television I found out in the best way possible: walking down the street and everyone starts screaming and honking

— Amanda Mull (@amandamull) November 7, 2020
12. Gotta go check it out
new president just dropped

— chuuch (@ch000ch) November 7, 2020
13. More like everyone
no one:

brooklyn rn: 🔈🔔📣🔊🎉🎉🎉🛎🛎🛎🚨🚨🚨🚨🚨🚗🚗🚗🥁🥁🥁🥁🥁🥁🎤🎤🎤🎤🎤🤸🏻‍♂️🤸🏻‍♂️🤸🏻‍♂️🍾🍾🍾🍾🍾🍾🍾🍾🍾🍾🍾🍾🍾🍾🍾🍾🍾🥂🥂🥂🥂🥂🌈🌈🌈🌈🌈🌈✨✨✨✨🦋🦋🦋🦋🗣🗣🗣🗣🗣🗣🗣🗣🗣🗣🗣🤘🏻🤯🥳🥳🥳🥳🥳🥳🥳🥳🥳🥳🥳

— rebecca jennings (@rebexxxxa) November 7, 2020
14. Also, is that a trombone?
I will say I did not expect to find out which of my neighbors owned tambourines today

— Joaquin Poblete (@joaqspoblete) November 7, 2020
15. We've never liked the mail more than this week.
Brooklyn and the USPS, cheering each other on. pic.twitter.com/RURUtadYEt

— Peter Kafka (@pkafka) November 7, 2020
16. That sounds not quite right.
advisor: it's over. he won

trump: actually i am joe biben

advisor: what

trump: ya common mistake

— slate (@PleaseBeGneiss) November 7, 2020
17. You know California is gonna be lit.
They did this shit on Saturday so we could get fuuuuuuuuuucked up.

— Seth Rogen (@Sethrogen) November 7, 2020
18. "I looked away for one moment and"
Trump at his golf course rn pic.twitter.com/gz2HLf30Yw

— Britni Danielle (@BritniDWrites) November 7, 2020
19. Cringe.
This is embarrassing dude delete this before anyone sees https://t.co/HgO99XmAze

— Sean Peecook (@seanmpeecook) November 7, 2020
20. Might we suggest Russia?
If Trump wants to pack his bags and leave the country I do not recommend Canada. #Election2020results https://t.co/dhDSQOZCKC

— Liz Plank (@feministabulous) November 7, 2020
21. THANK YOU.
You sure as fuck did 💙💙💙 pic.twitter.com/1Ee5OscUoY

— JAY JURDEN (@JayJurden) November 7, 2020
22. You're fired.
orange was sus all along pic.twitter.com/Wk1C6nKixc

— Living Morganism 🌱 (@ok_girlfriend) November 7, 2020
23. Finally, yes.
Is this,,,, joy scrolling????

— ananth (@ananthhirsh) November 7, 2020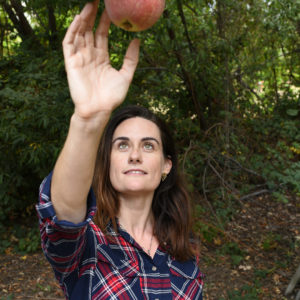 Latest posts by Rebecca Swanner
(see all)