Sweden is known for Kanelbullar or Cinnamon Buns. These soft and tender buns are great for breakfast, brunch, or feeding to your coworkers during a fika (coffee break) before you convince them to take on that project you've been avoiding.
This recipe is a cross between traditional Kanelbullar and kardemummabullar (cardamom buns). And that's all the Swedish we know! Bork bork bork!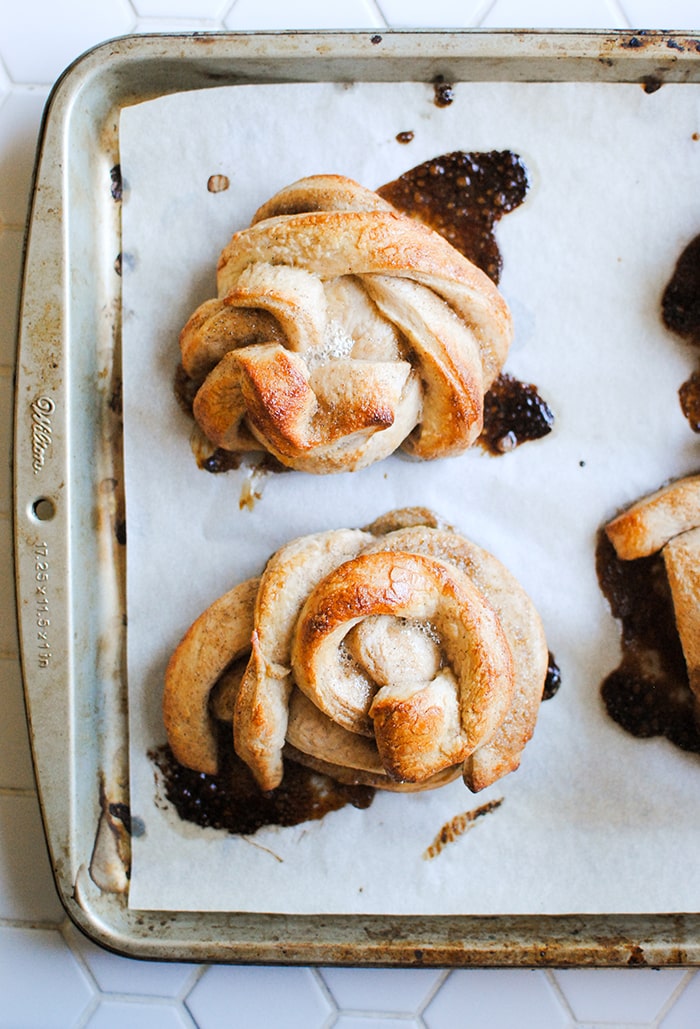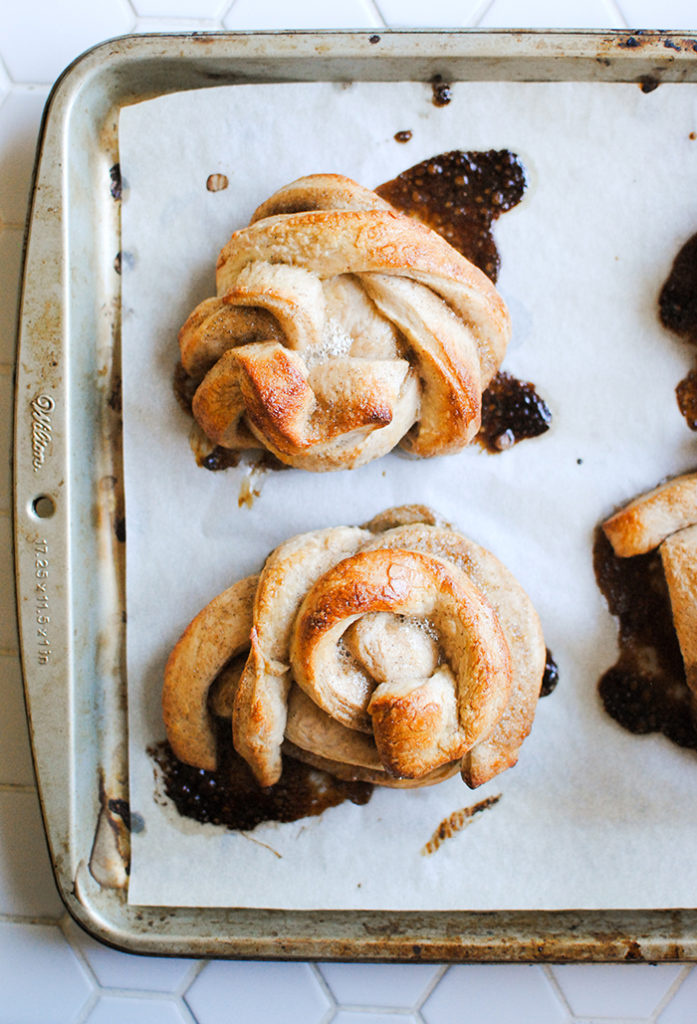 What Are Kanelbullar?
Kanelbullar or kanelbulle are Swedish Cinnamon Buns traditionally made with flour, sugar, cinnamon, and butter.
Kanelbullar is pronounced CAN-eel-BULL-are and they were invented around 1920, long before Cinnabon took over every mall in America. But Cinnamon rolls (or Cinnamon snails) aren't just popular in America. In fact, according to Sweden's official site, Swedes consume more than 300 kanelbullar each year.
Unfortunately, they don't just house them all food challenge style on October 4th, kanelbullens dag (Cinnamon Roll Day), a holiday invented in 1999 by the Swedish Home Baking Council to celebrate their 40th anniversary. Instead, they eat them as part of fika, their daily coffee break.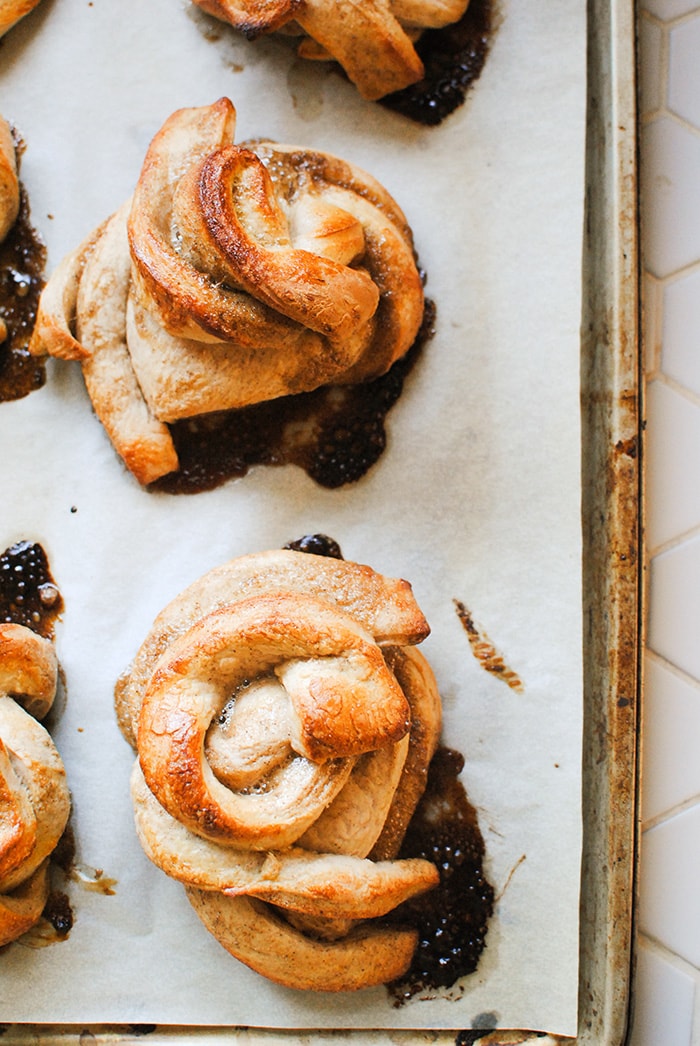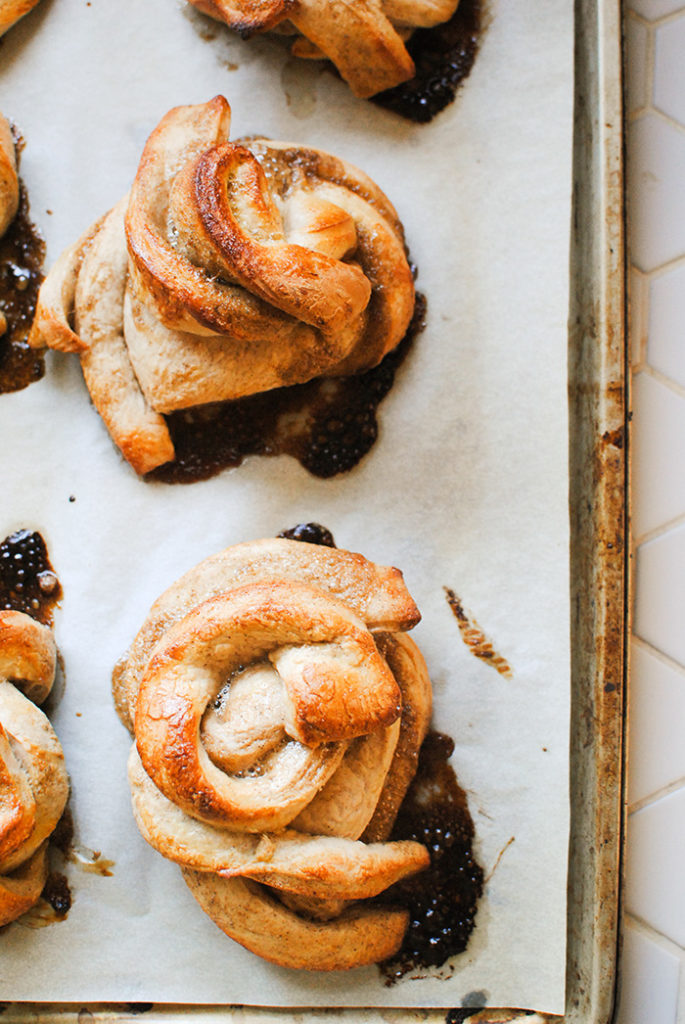 Most kanelbullar are 2″ to 4″ a piece, similar to the size of a croissant. However, Café Husaren in Haga, Sweden, are known for making extra large cinnamon rolls called hagabullar (meaning "Queen of the Kitchen") that are a full 12″ across. Take that, Subway.
The ones in the recipe below aren't quite that big, but they are larger than normal size. Feel free to reduce their size, just check on them through the oven door window as they bake.
How Do You Make Kanelbullar?
Go to IKEA. Pick up a box of KAFFEREP. Take home. Bake. Enjoy.
Or you can follow the Kanelbullar or kardemummabullar recipe below and not set foot in the giant blue box of relationship death.
This recipe was inspired by Apt. 2B, who adapted it from Fika: The Art of the Swedish Coffee Break. It requires making a yeasted bread that has to rise, then filling that bread with a cinnamon cardamom filling. It requires some finesse to shape the rolls, but even if they look like you dropped them, they'll still taste good. And if no one wants to eat them because of that, more for you! That's what we call in the biz a win-win.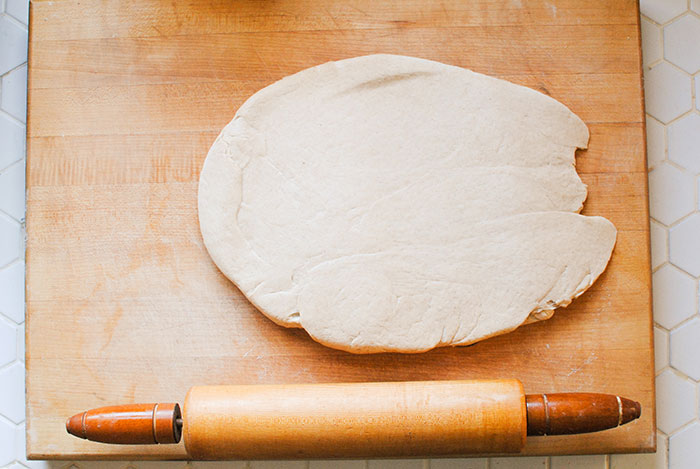 If you do want to shape your kanelbullar forms perfectly, follow the helpful video below.
Bullar Varieties
Kanelbullar are just one type of the bullar (roll) popular in Sweden. Other bullar varieties include:
Swedish Cinnamon Buns (Kanelbullar)
Print Recipe
Sweden is known for Kanelbullar or Cinnamon Buns. These soft, tender buns are great for breakfast, brunch, or dessert!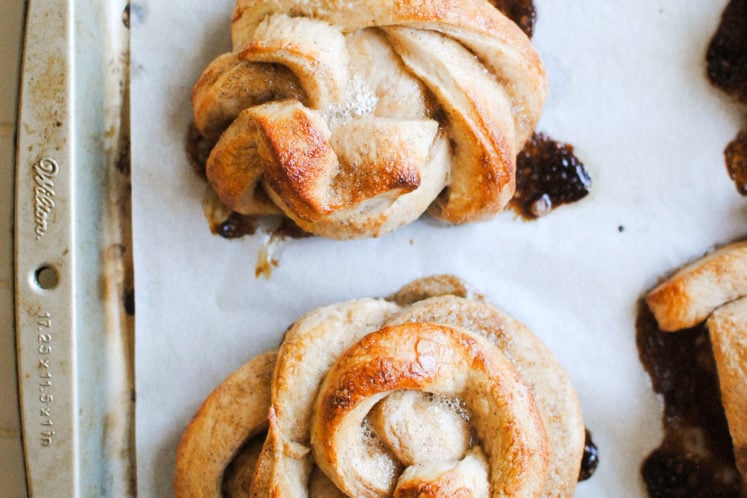 Prep Time: 2 hrs 30 mins
Cook Time: 10 mins
Total Time: 2 hrs 30 mins
Servings: 14 buns
Ingredients
Kanelbullar (Cinnamon Roll) Dough
7 Tbsp. unsalted butter
1½ cups whole milk
1 packet active dry yeast
4½ cups all-purpose flour
¼ cup sugar
1½ tsp. ground cinnamon
½ tsp. salt
Kanelbullar Filling
7 Tbsp. unsalted butter (room temperature)
1/3 cup light brown sugar
4 tsp. ground cinnamon
3 tsp. ground cardamom
1 pinch salt
1 large egg (beaten)
pearl sugar (optional)
sliced almonds (optional)
Instructions
Kanelbullar (Cinnamon Roll) Dough
Melt butter in small saucepan over medium heat. Add milk. Stir until the mixture is heated through.

Add 2 Tbsp. of the melted butter and milk mixture to a small bowl. Let cool until the mixture is warm (not hot) and sprinkle yeast over the top.

Gently swirl the small bowl to combine the milk and yeast. Let the mixture stand for 5 minutes, or until foamy.

Combine flour, sugar, cinnamon, and salt in the bowl of a stand mixer fitted with the paddle attachment.

Add the yeast mixture and the rest of the milk mixture. Stir until the mixture comes together as a clump of dough.

Transfer the dough to a working surface. Knead the dough with your hands for 3 to 5 minutes or until it is smooth and elastic.

Transfer the dough to a clean, lightly oiled bowl. Let it rise for 1 hour in a warm space until it has doubled in size.
Kanelbullar Filling
Line two baking sheets with parchment paper. Set aside.

Mix the butter, brown sugar, cinnamon, cardamom, and salt in a medium bowl until combined.

Roll the dough out onto a lightly floured surface until it is an 11x17-inch rectangle.

Spread the cinnamon filling evenly over the dough. Go all the way to the edges.

Fold the rectangle in half lengthwise.

Slice the dough into 15-18 strips. Slice each two-thirds of the way up so they resemble pants. Twist each pant leg three times, then wind the pant legs around each other.

Cover the Swedish cinnamon buns with a tea towel. Let them rise for 45 minutes.

Preheat the oven to 425º F.

Brush the rolls with egg wash.

Top with pearl sugar and/or sliced almonds (optional).

Bake for 8-10 minutes, rotating halfway through. Serve warm.
Notes
There are slight differences between kanelbullar (cinnamon buns) and kardemummabullar (cardamom buns) and this recipe lives somewhere in between. If you're strict about your recipes, here's how to make traditional Kanelbullar.
Swap the 1½ tsp. of ground cinnamon for 1½ tsp. of ground cardamom in the dough.
Do not use cardamom in the filling. Increase the ground cinnamon in the filling to 6 tsp.
Roll the dough into a log and slice to create the classic bun shape. See Johanna Kindvall's illustrations here for both variations.
Nutrition Facts
Swedish Cinnamon Buns (Kanelbullar)
Amount Per Serving (1 g)
Calories 292 Calories from Fat 117
% Daily Value*
Fat 13g20%
Carbohydrates 38g13%
Protein 5g10%
* Percent Daily Values are based on a 2000 calorie diet.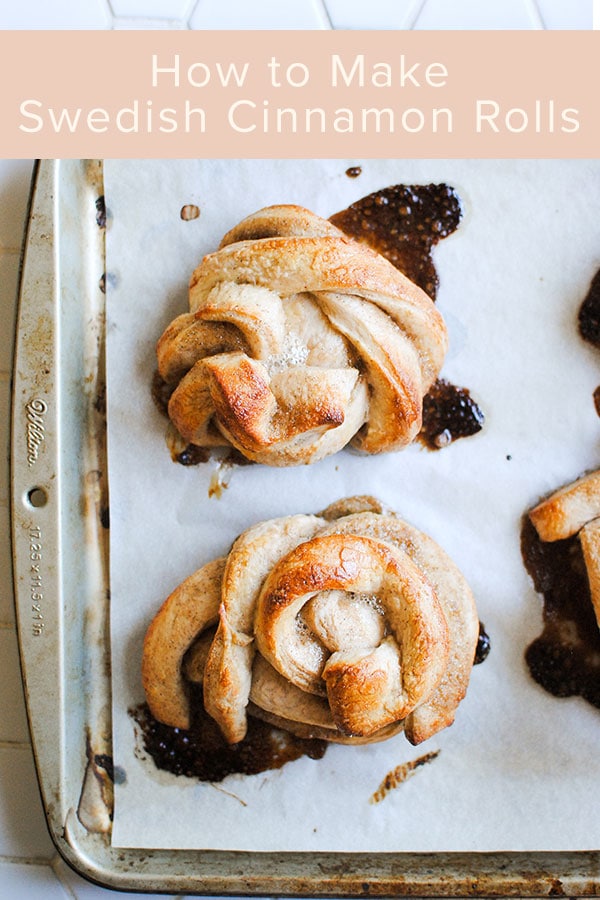 Save
Save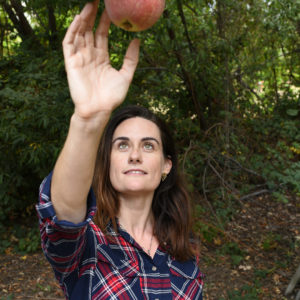 Pleased to meet you. I'm the founder and Editor-in-Chief of Let's Eat Cake: The world's first smart, funny lifestyle site for women.
My background is in publishing (I've worked at Parade, Men's Journal, Us Weekly, Stuff, Blender, Beachbody, and more), mostly with a focus in health, fitness, and entertainment. I've also run my own baking company and competed on Cupcake Wars, so hit me up with your baking questions!
For more details, check out my
full bio
or follow me on
Instagram
,
Twitter
, or
LinkedIn
.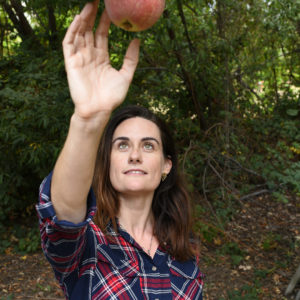 Latest posts by Rebecca Swanner (see all)