These Cherry Blueberry Popsicles an are all-natural take on Firecracker and Bomb Pops. Made with fresh fruit and yogurt, they're an easy Fourth of July dessert.
I also made them because it's Wit + Vinegar's Popsicle Week! This week is one of my favorites of the year as it's when bloggers virtually gather for a week and push the boundaries of creativity with their popsicle recipes.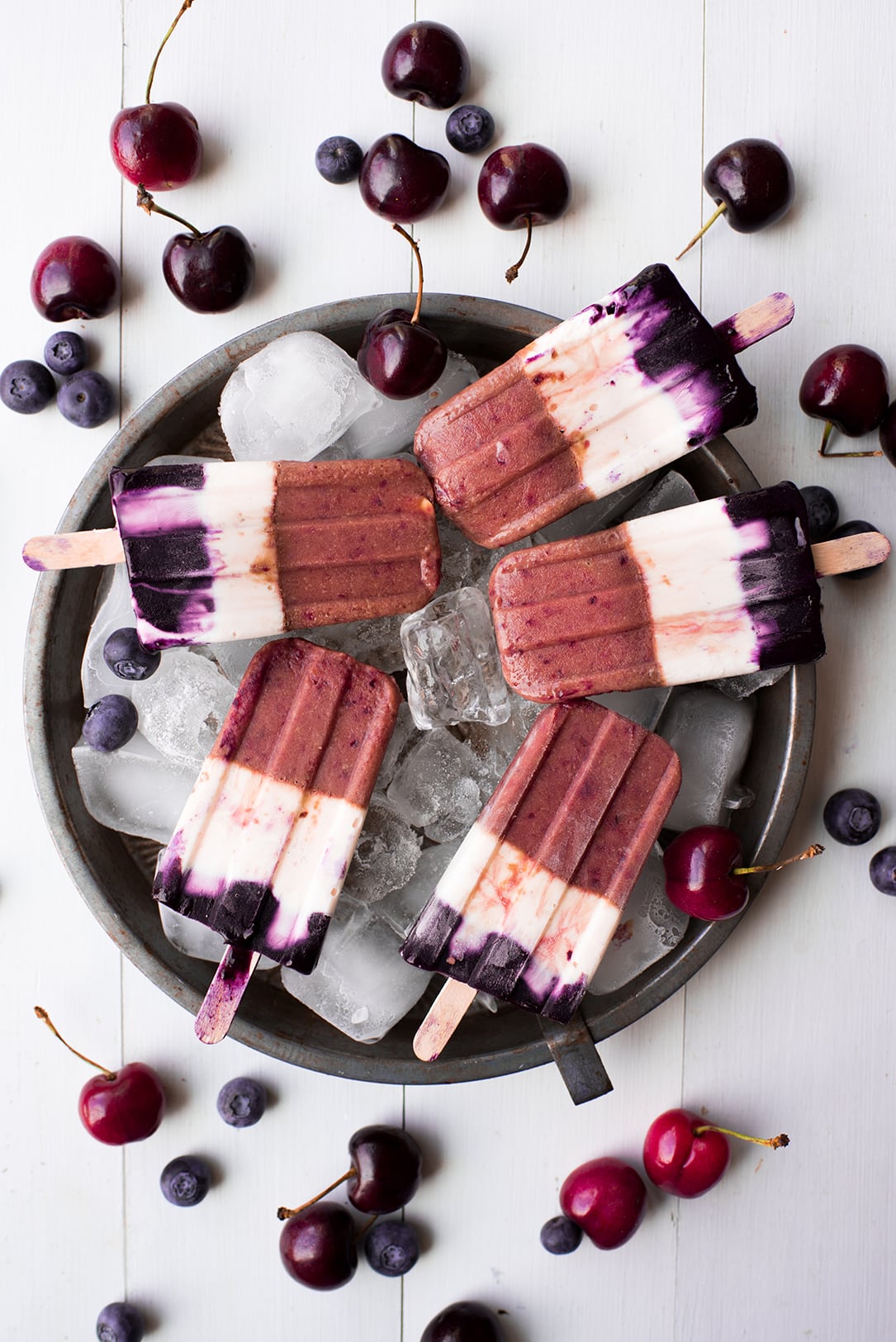 This is my third year participating, so here's a speed walk down memory lane:
– In 2016, I made Strawberry Dragon Fruit Popsicles and Spicy Lime Basil Popsicles and hadn't yet learned that shooting in direct sunlight would result in overexposed photos.
– In 2017 I created Cereal Milk Ice Cream Pops and Cookie Butter Pops, and discovered that if I have speculoos butter in the house I will straight up eat the whole jar within days.
How to Make Cherry Blueberry Popsicles
These could stand in for red, white, and blue popsicles for the Fourth, but they're more pink, white, and purple fruit pops. Using strawberry instead of cherry will result in a more traditional red, but the blueberries turn purple when you cook them, so that is what it is.
Blue Layer (Blueberries)
Since this layer is on the bottom it seems counter intuitive to start here, but doing so will give you the time you'll need for this layer to cool. Combine 2 cups of blueberries with 1 tablespoon of sugar, 1/4 cup water, and 1/2 tsp. vanilla extract and cook on medium heat stirring often for five minutes.
When the mixture is done, most of the berries should have burst and the mixture should be liquidy. Carefully transfer this to a food processor or blender and blend for 30 seconds. Pour the mixture into a bowl and set it aside.
Red Layer (Cherries)
As much as I love strawberries, juicy cherries are a close second. And, sometimes it's easier to find flavorful cherries!
I blended fresh sweet cherries in my food processor with 2 tablespoons honey, 2 tablespoons of sugar, and 1 tablespoon of heavy cream. I used both honey and sugar because the honey imparts a more nuanced sweetness where the sugar amps up the sweetness and makes the mixture actually taste like a dessert.
Pour this into your popsicle molds, add the wooden sticks, and let them freeze for 30 minutes.
White Layer (Greek Yogurt)
I love using cashew cream and coconut milk, but as the dish already wasn't vegan (see: honey), I went with yogurt. I stirred together 1 cup of whole milk yogurt with 4 teaspoons of honey, 1/2 teaspoon of vanilla extract, and the seeds of 1/2 a vanilla bean. What on earth do you do with the other half? Use it in this Strawberry Champagne Trifle!
When the cherry layer has frozen, add the yogurt on top and let this freeze for 30 minutes.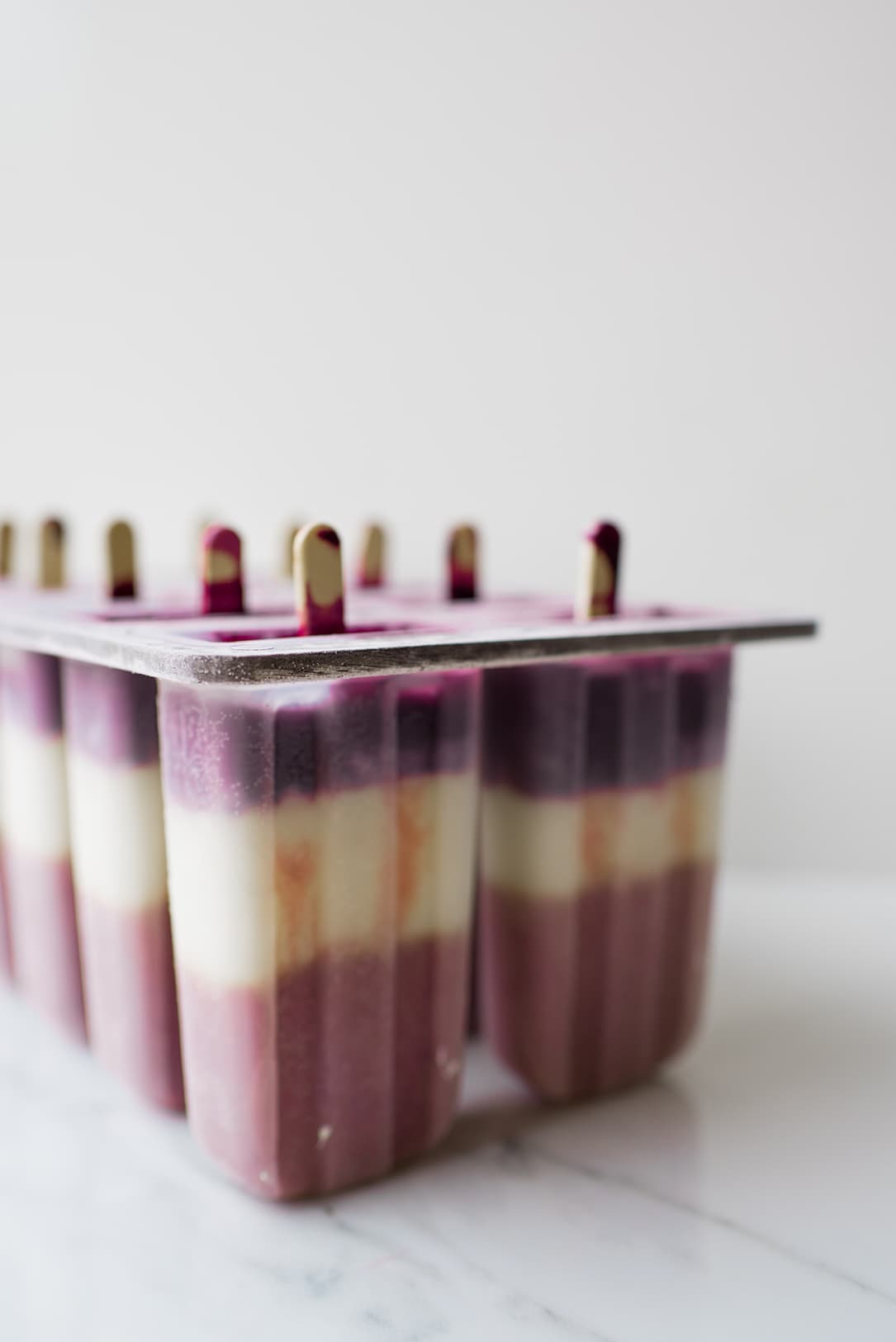 Popsicle Tips:
After 30 minutes, open your freezer and adjust the sticks as needed. Until the mixture has thickened, they have a bad habit of lying against the sides, but fixing them at this stage seems to solve the issue.
For neater divisions between the layers, wipe the inside of your popsicle molds clean after adding a layer or pipe them in using a bag fitted with a round tip.
To remove the pops from the mold, run the mold under warm water until they just begin to loosen. You may have to pull on the sticks relatively hard.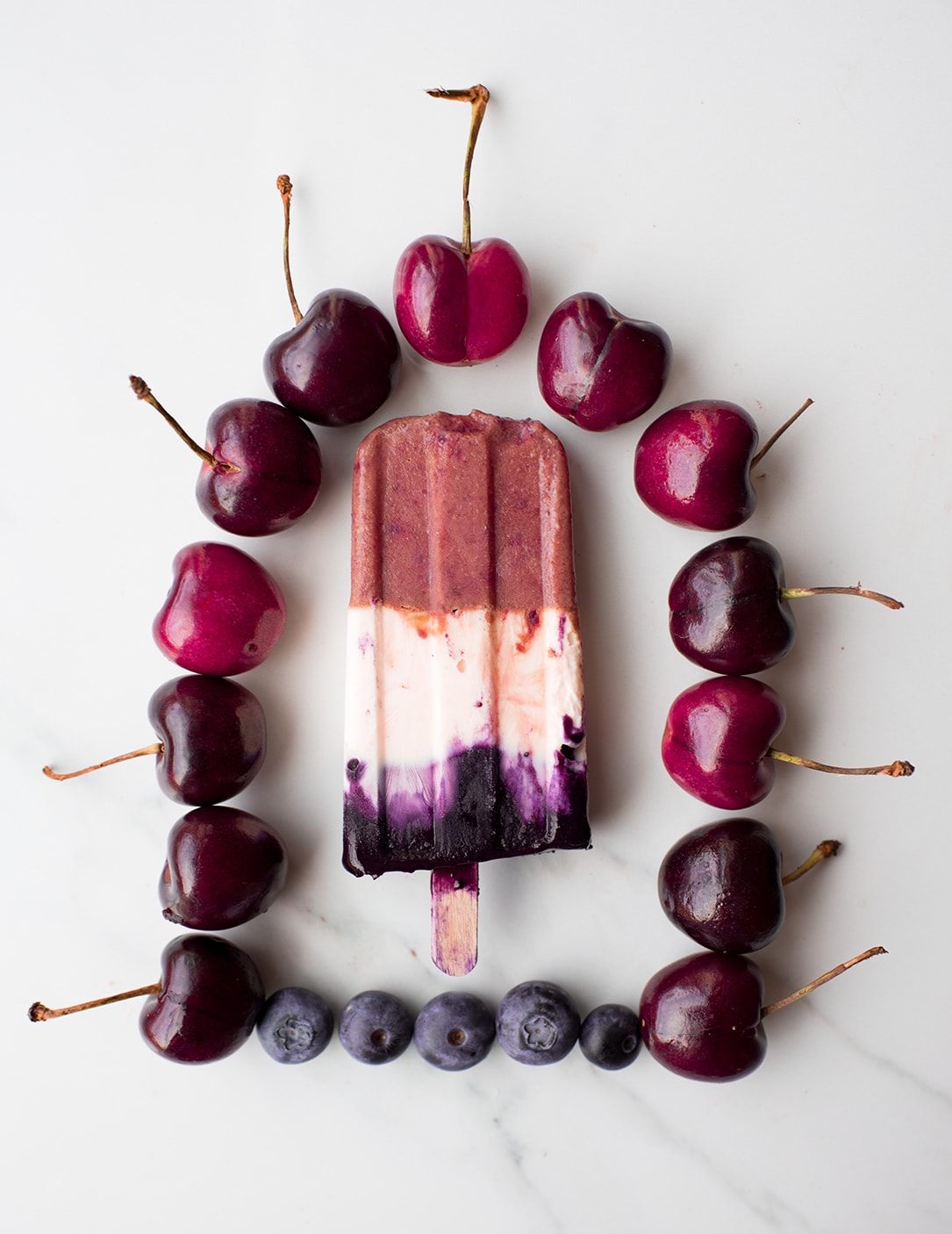 Variation Ideas If You Are Really Stuck on the Idea of a Red White and Blue Popsicle:
If cherries or blueberries aren't your thing, here's a list of red and blue fruits (as well as other options you can use for the middle layer) that may inspire you.
Red: Strawberries, cherries, pomegranate, raspberries, watermelon, pitaya (dragon fruit), or beets if you want all the popsicles for yourself.
White: Coconut milk, almond milk, heavy cream
Blue: Blueberries, blackberries, mulberries
Cherry Blueberry Popsicles
Print Recipe
Try these blueberry, yogurt, and cherry popsicles this summer! They're less than 75 calories each and great for the 4th of July or any outdoor BBQ!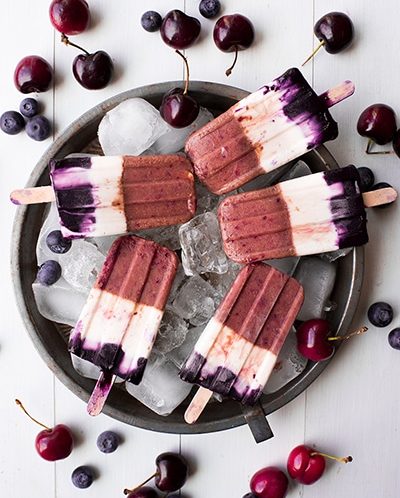 Servings: 12 popsicles
Ingredients
Cherry Layer
2 cups fresh cherries ((approx 38 cherries))
2 Tbsp. honey
2 Tbsp. sugar
1 Tbsp. heavy cream (optional)
Yogurt Layer
1 cup full-fat Greek yogurt
4 tsp. honey
½ vanilla bean (seeds only)
½ tsp. vanilla extract
Instructions
Blueberry Layer
Place blueberries, sugar, vanilla extract, and water in small saucepan.

Cook over medium heat for five minutes, stirring continually until most of the berries burst. Set aside.


Once the white layer has frozen, pour blueberry mixture on top and freeze until popsicles are completely frozen.

Cherry Layer
Place cherries, honey, sugar, and heavy cream in food processor or blender. Blend until smooth.

Pour cherry mixture into popsicle molds. Place in freezer and add wooden sticks. Let freeze for 30 minutes.


Adjust wooden sticks if necessary.

Yogurt Layer
Use spoon to combine Greek yogurt, honey, vanilla bean seeds, and vanilla extract in small bowl.


Once cherry layer is frozen, add yogurt layer on top. Freeze for 30 minutes or until solid.

Nutrition Facts
Cherry Blueberry Popsicles
Amount Per Serving (1 popsicle)
Calories 74 Calories from Fat 18
% Daily Value*
Fat 2g3%
Saturated Fat 1g6%
Cholesterol 4mg1%
Sodium 8mg0%
Potassium 66mg2%
Carbohydrates 14g5%
Fiber 1g4%
Sugar 12g13%
Protein 2g4%
Vitamin A 50IU1%
Vitamin C 5mg6%
Calcium 20mg2%
Iron 0.2mg1%
* Percent Daily Values are based on a 2000 calorie diet.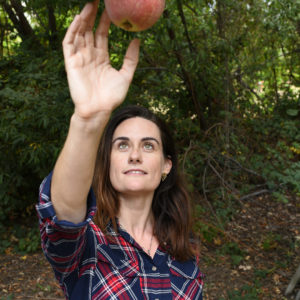 Latest posts by Rebecca Swanner
(see all)