The holidays came early to Hulu with the release of Welcome to Chippendales on November 22, 2022. It's truly the gift that keeps on giving, with the sexy male strippers, enviable 80's outfits, an all-star cast, and a whole lot of drama. But as great as the show is, the true Chippendales history is just as enthralling.
The series is inspired by true events, and stars Kumail Nanjiani, Murray Bartlett, and Annaleigh Ashford. It follows the creation of the now famous male striptease show, and the Chippendales dancers who walked – err, stripped? – so Magic Mike could run.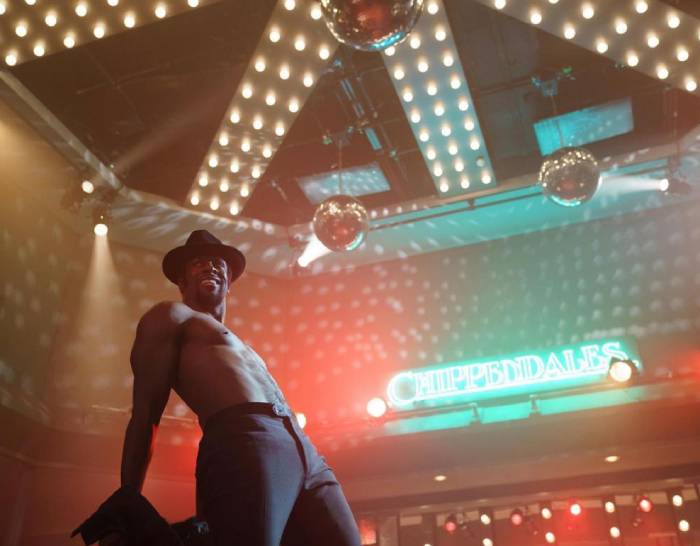 In the show, we see the story of ambition, corruption, and murder. But how much of that is actually true? In the pursuit of the facts, we dove into the dark side of Chippendales to see how the Hulu series aligns with this epic true crime story.
Inside the Chippendales History
Chippendales began as (and still is) a striptease show featuring male dancers. When it began in Los Angeles in the 1970s, it was the first of its kind. And it wasn't just successful – it was explosive.
As for the name "Chippendales?" This was inspired by the Chippendale-style wood furniture. Because apparently, "Mid-Century Modern" wasn't available.
Now, before we dive into all the salacious details of the Chippendales history, let's take a look at the key players in the club's creation.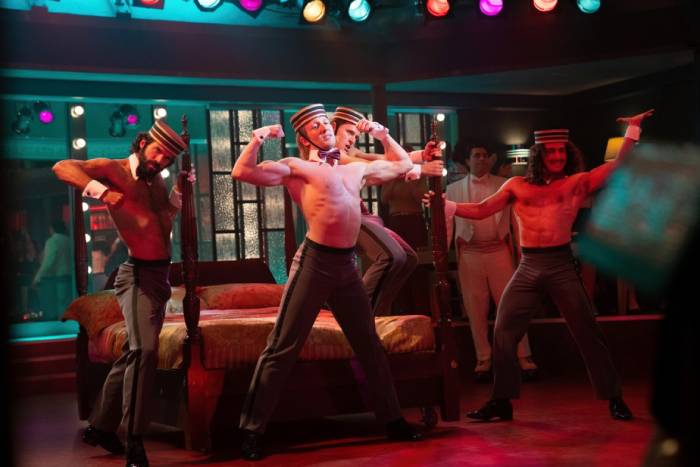 Steve Banerjee
The main man behind the magic was Somen Banerjee, aka Steve Banerjee. He migrated from India USA in the 1960s, where he first went on to run a gas station. However, his career goals changed after a few years.
Banerjee's heroes were Walt Disney and Hugh Hefner. So in pursuit of his new dreams, the only logical step was opening a nightclub. We must have missed that lesson in business school.
Kumail Nanjiani portrays Banerjee in Welcome to Chippendales.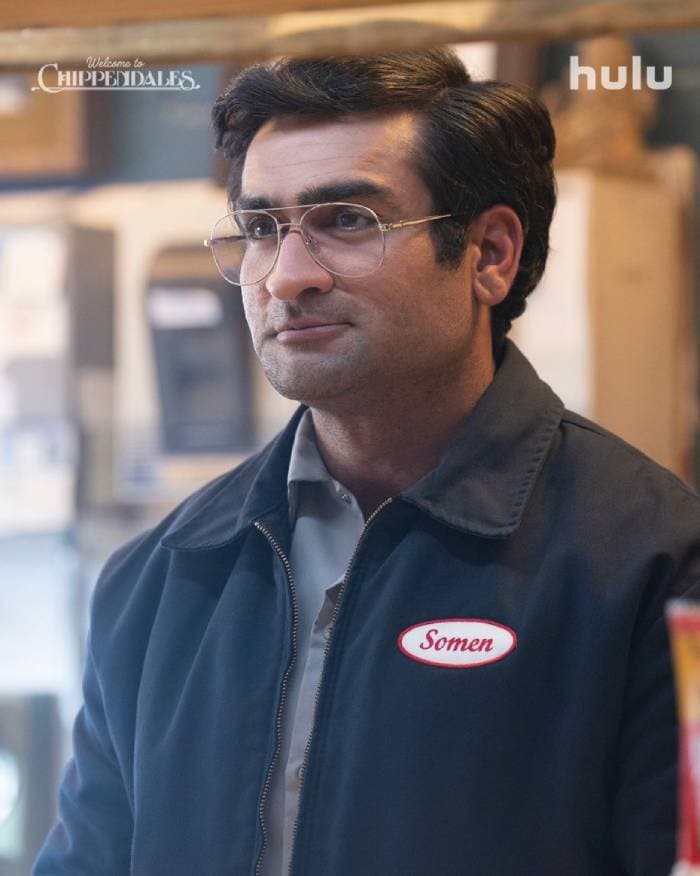 Paul Snider
When Banerjee was trying to get his club business to boom, he met Paul Snider. At the time, he was trying to make it as a club promoter. The idea for a male striptease show actually came from Snider himself. Banerjee was on board, and Snider served as the emcee in the club's early days.
Dan Stevens portrays Snider in Welcome to Chippendales.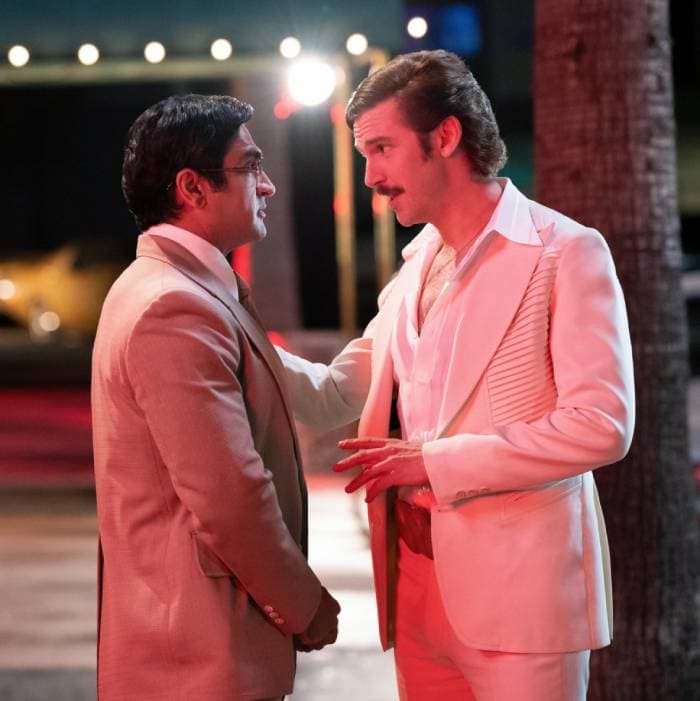 Nick De Noia
Director, screenwriter, and choreographer Nick De Noia entered the scene after Snider to polish up the Chippendales act. And although Welcome to Chippendales depicts the two men interacting, there's no evidence that Snider and De Noia ever met.
De Noia used his background in theater and TV production to help transform Chippendales from an unrefined, raunchy show to a more refined, but still pretty raunchy show. You know…butts, but make it classy!
Murray Bartlett portrays De Noia in Welcome to Chippendales.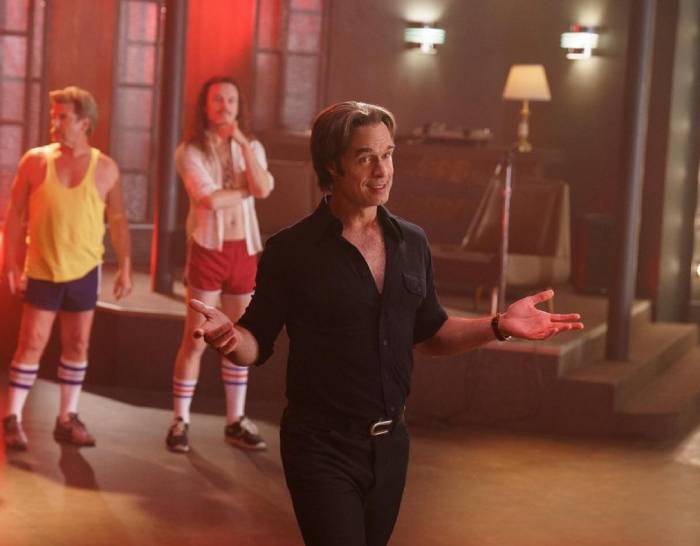 How Did Chippendales Start?
After Banerjee moved on from the gas station world, he opened a club called Destiny II. There was no Destiny I – this was just Banerjee's tactic to make people think it was an expansion from an already successful club. Business 101 could never.
In Welcome to Chippendales, Banerjee opened it with the idea that it would be a backgammon club. And according to clippings from the LA Times, backgammon games were actually promoted. Unfortunately, that didn't translate to success.
By 1978 they get backgammon in the mix and Destiny II becomes one of the city's go-to spots for it even though the space is said to be crowded, poorly-lit, and bad for concentration. (Backgammon continues there after they change the name from Destiny II to Chippendales.) pic.twitter.com/E0peWObNaE

— eleanor kagan (@eleanorkagan) February 14, 2021
After a few other failed ideas, Banerjee and Snider landed on the plan for male strip show. In a rebrand that would make even Taylor Swift proud, they launched Chippendales in 1979.
Context is important here. It's the '70s, going to the '80s. Playboy was huge. Porn was mainstream. Heck, it was chic. So when Snider had the idea for men to strip for women, they obviously tried it. After all, they had tried women wrestling in the mud. So what's a bit of male stripping?
Well, it turns out it's exactly what the people wanted. It drew crowds of women, week and week. Profits went up. And we imagine so did a few other things.
And Banerjee shined. He was living his American dream, and raking in the cash. But just a poorly paved street, there were some bumps in the road.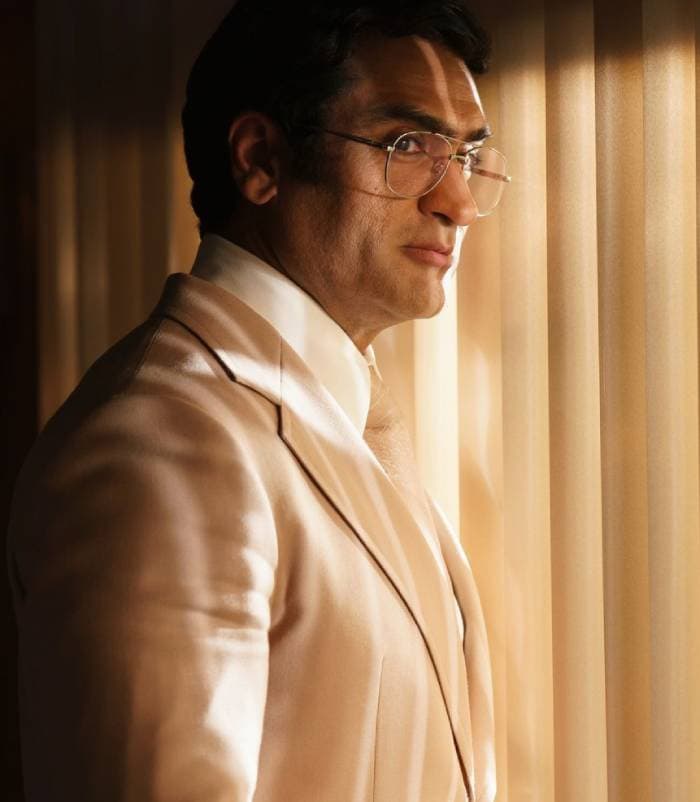 As the show became more popular, Snider's performance quality allegedly didn't keep up. So eventually, Snider lost his roll as emcee. Not long after, Snider murdered his wife, Playboy Playmate Dorothy Stratten, before killing himself.
That part isn't totally related to the Chippendales club itself, but butterfly effect believers might say otherwise.
Later on, De Noia came on board to bring a more artistic flair to the provocative performance. And it didn't take him long to convince Banerjee that he should direct the show. So they partnered up and created a contract on a napkin. We can only hope it was a clean one.
Not long after Chippendales took off as the show we know and love today. But don't let yourself get too drunk on all those warm and fuzzy feelings quite yet…
The Chippendales Murders
Banerjee and De Noia started to clash. De Noia's ideas were taking off with wild success, while Banerjee tried to maintain control behind the scenes.
In 1984, De Noia moved to New York and set up a new Chippendales show called "The Perfect Man." Later, he took the show on national and international tours, and they even appeared on daytime TV.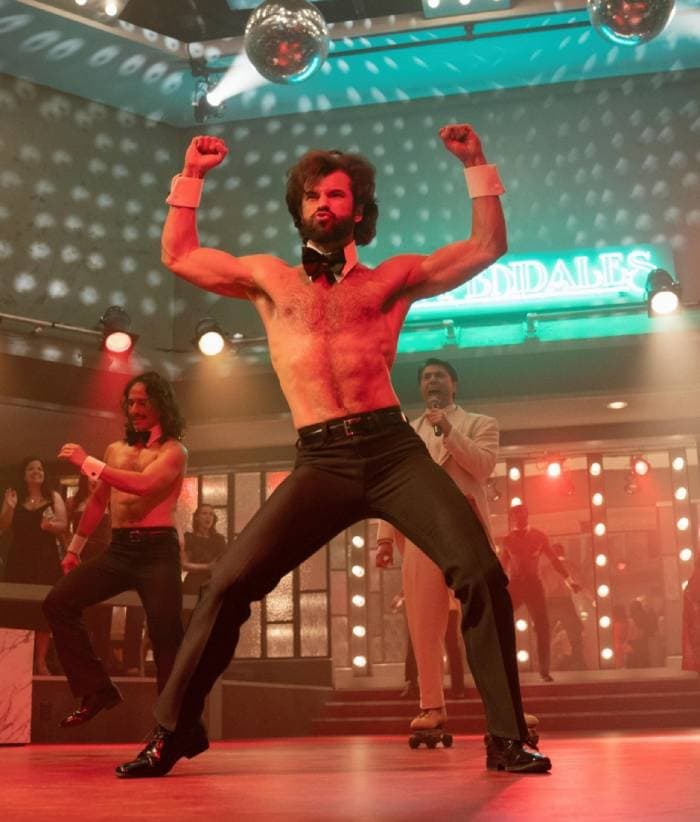 Although this brought in a lot of money for both men, people started to recognize De Noia as the face of the brand. And while we can't get into the mind of Banerjee, it's believed that this led to a growing jealousy of De Noia, paranoia that he was stealing from the company, and anger surrounding their napkin deal.
On April 7th, 1987, De Noia was shot to death in his Manhattan office.
The Fallout
Years passed and De Noia's murderer was still unknown. But that all changed in 1991.
That year, the FBI received a call from an informant called "Strawberry." They claimed that a man named Ray Colon had hired them to kill two former Chippendales dancers who started their own dance troupe in the UK.
The FBI got a hold of Colon and he admitted that Banerjee had ordered him to burn down rival clubs that were doing a similar thing to Chippendales.
Colon also told the FBI that Banerjee had offered him $25,000 and forgiveness of a $7,000 debt to kill De Noia. He initially refused, until Banerjee threatened to kill him, too. So, Colon brought in a man named Gilbert Rivera Lopez to help him do the deed.
And in a striking blow, the FBI used Colon as an informant who actually got Banerjee to confess to these crimes.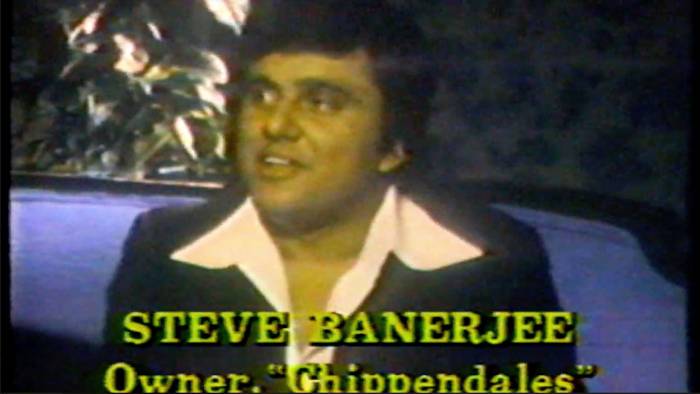 The Conviction
Colon received a reduced sentence for his cooperation with the FBI in helping to convict Banerjee. He pled guilty to murder for hire and conspiracy, and received a sentence for some jail time and house arrest.
Rivera Lopez was also convicted of second-degree murder for sentenced to 25 to life in prison.
Finally, in 1993, Banerjee was convicted of the murder of De Noia, in addition to arson and racketeering. He was sentenced to 26 years in prison, and committed suicide in 1994.
Chippendales Today
It's safe to say that Chippendales today is a far cry from what it was in the '80s. While it began as a one of a kind extravaganza, one might say it's nearly mainstream these days.
There are other male striptease shows on the market, like Thunder From Down Under. And the Chippendale dancers even adapted to quarantine life like the rest of us – working on zoom.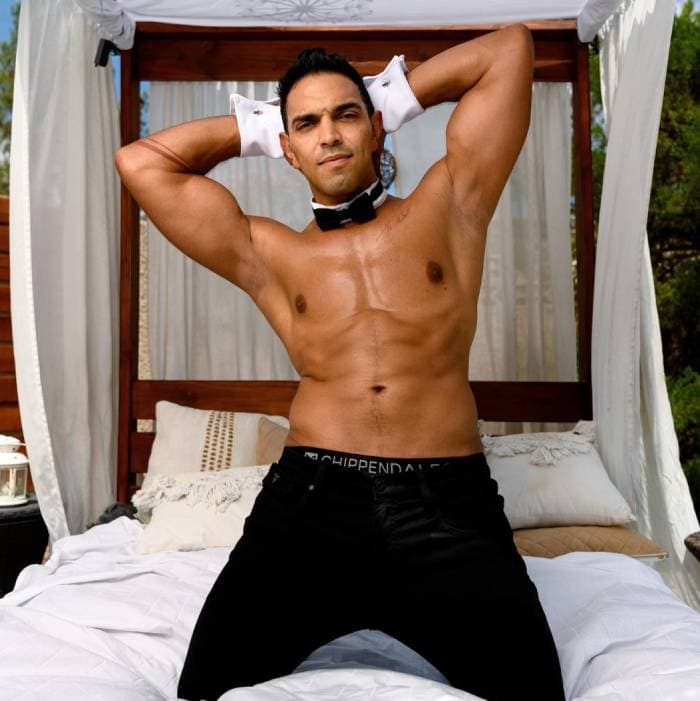 Chippendales have an award-winning residency and flagship in Las Vegas. And this year even featured Vinny from Jersey Shore.
Most of its dark history has been left in the '80s and now the focus is on the Chippendales dancers. But with the TV documentary series Curse of the Chippendales, the podcast documentary series Welcome to You Fantasy and now Hulu's Welcome to Chippendales, the allure certainly isn't gone.
But, you know, we may have to go check out a show ourselves to make sure. We can expense that, right?
Latest posts by Georgia Smith-Marr
(see all)