We love learning new things. Whether that's how many glasses of wine we can have without waking up hungover or what a cryptid is. Cryptids are supernatural creatures or animals that, despite multiple reported sightings, may or may not exist.
They've also been gaining in popularity, so it's no surprise that cryptid tattoos have too. From Scotland's Loch Ness Monster and Sasquatch to the Mothman and the Yeti, here are some of the coolest inked creatures we've seen.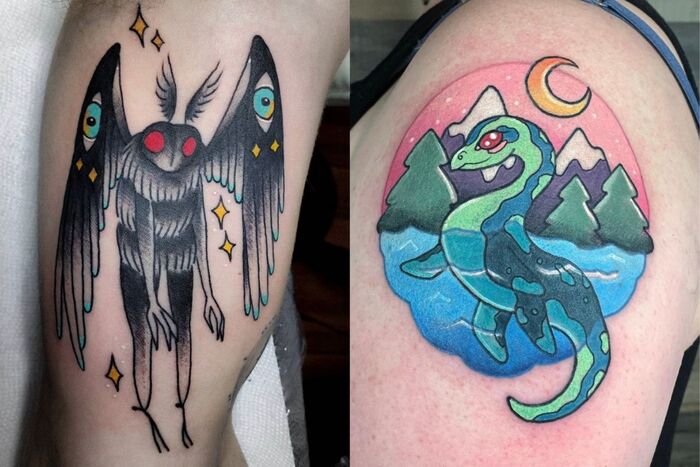 19 Cryptid Tattoos for Fans of the Supernatural
1. Mothman
If only we were born with eyes on our wings. You don't have wings? Thankfully, Trinitey Tattoos can fix that for you. Just stay away from the sun, ok?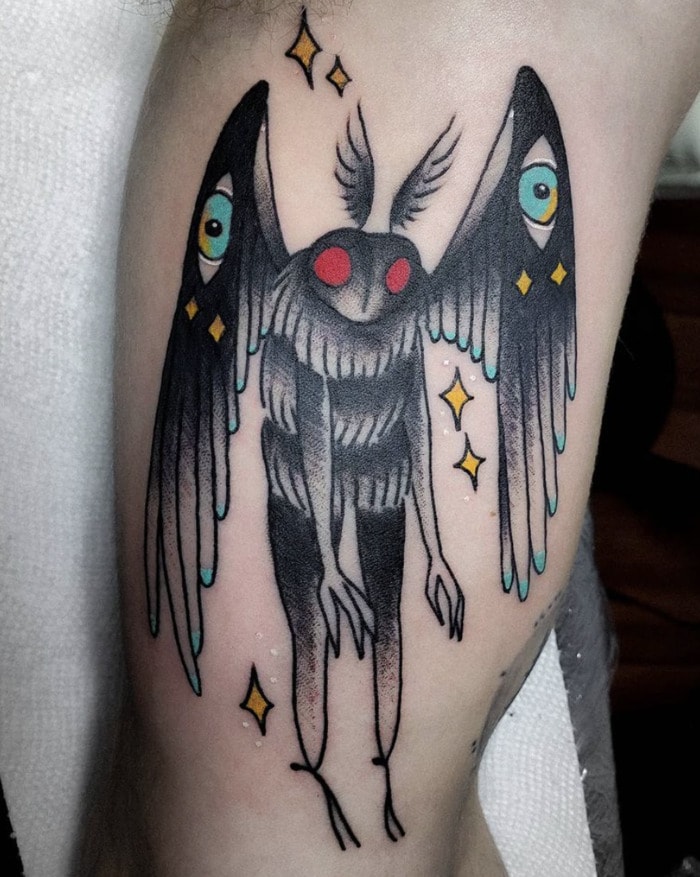 2. Jersey Devil
November Rush designed this glitchy Jersey Devil tattoo, and we just have one question. Do you have a video camera we can borrow?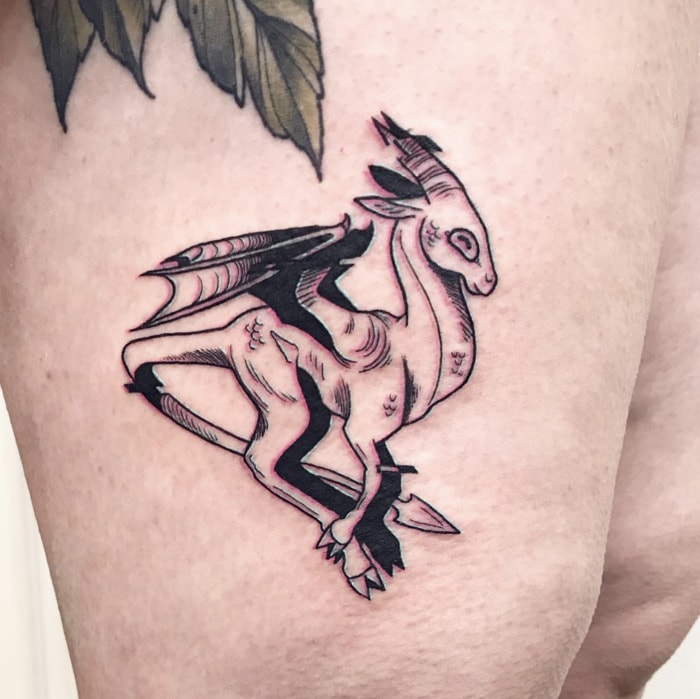 3. Rougarou
The Rougarou is a legendary werewolf-like cryptid that lives in Louisiana. This version by Stacey Colangelo looks bashful about waking up the whole neighborhood. If only our neighbor with the weed wacker would take notes.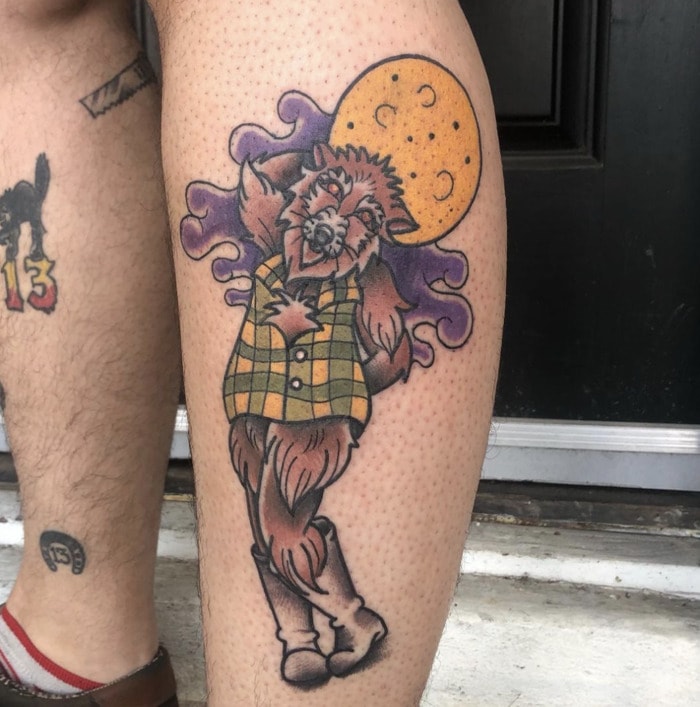 4. Wendigo
The Wendigo, depicted in this realistic tattoo by Ike Greca, is said to reside in forests in Minnesota, the Great Lakes region, and parts of Canada. It's a human-like creature that eats anything in sight, including animals, humans, and probably even Brussels sprouts. *shudder*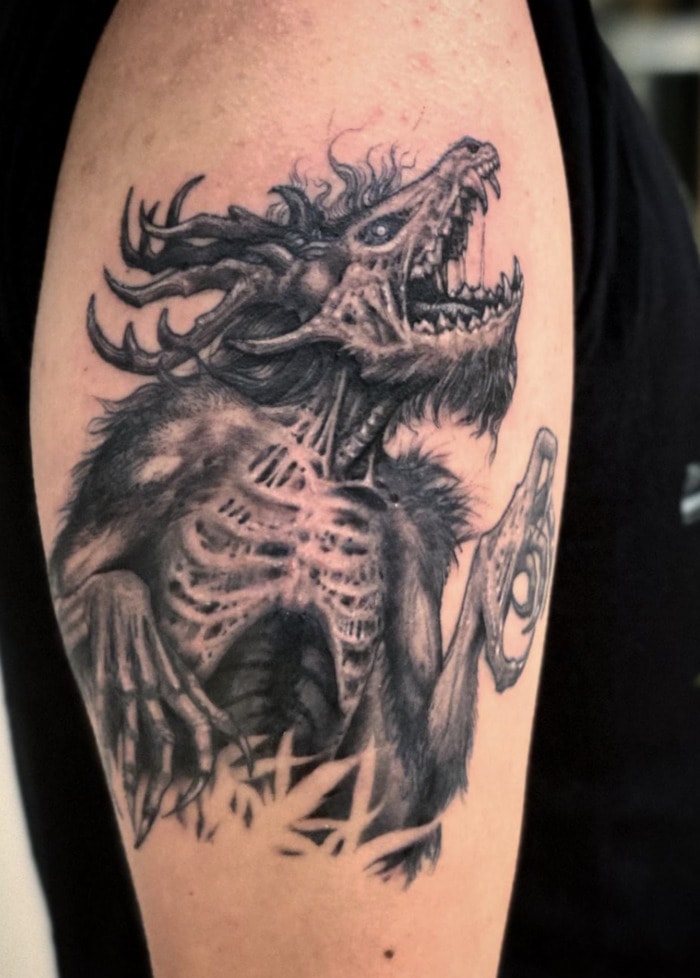 5. Jackalope
A jackalope is an adorable cryptid that's a cross between a jack rabbit and an antelope. This one by Trinity Renee looks like he wouldn't hurt a fly. He better not be eyeing our flower patch, though.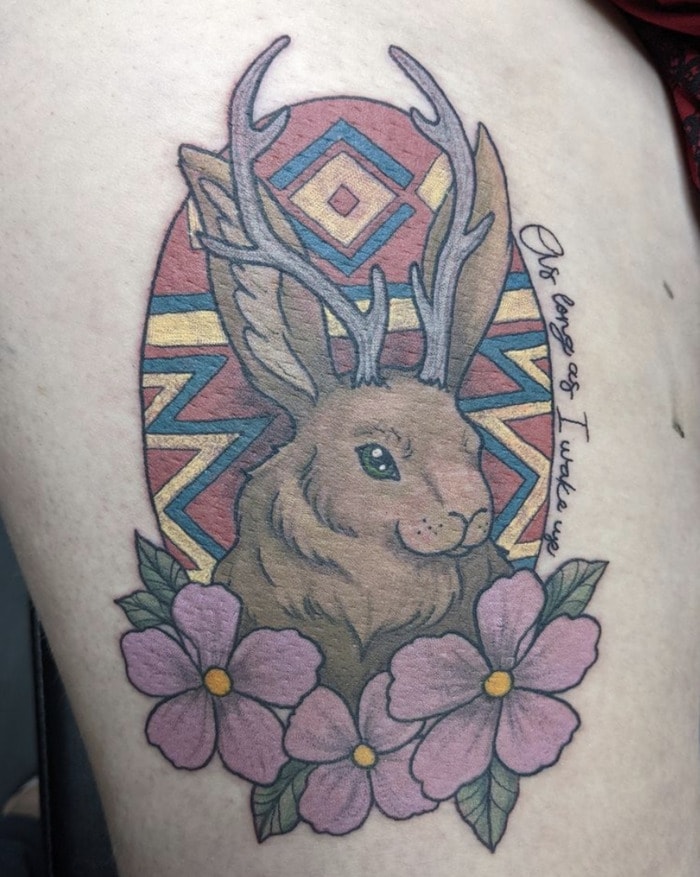 6. Bigfoot
TheBirdsKnow from Ace N Spades Tattoo created this glorious tribute to Sasquatch that might even be enough to bring him out of hiding. If not, here's a free foot pic you won't find on OF.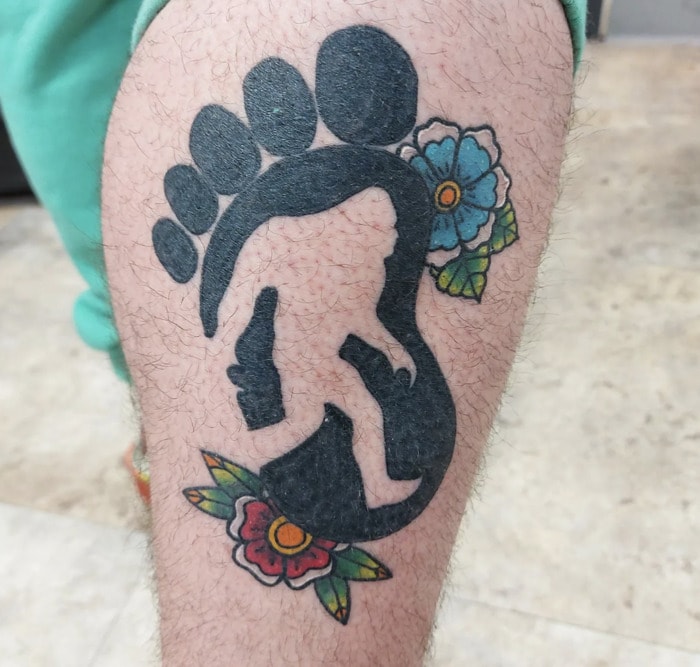 7. Loch Ness Monster
This colorful Loch Ness Monster tattoo by Molly McCollester makes us even more excited for hot girl summer. Nessie beats our favorite pool float by a mile.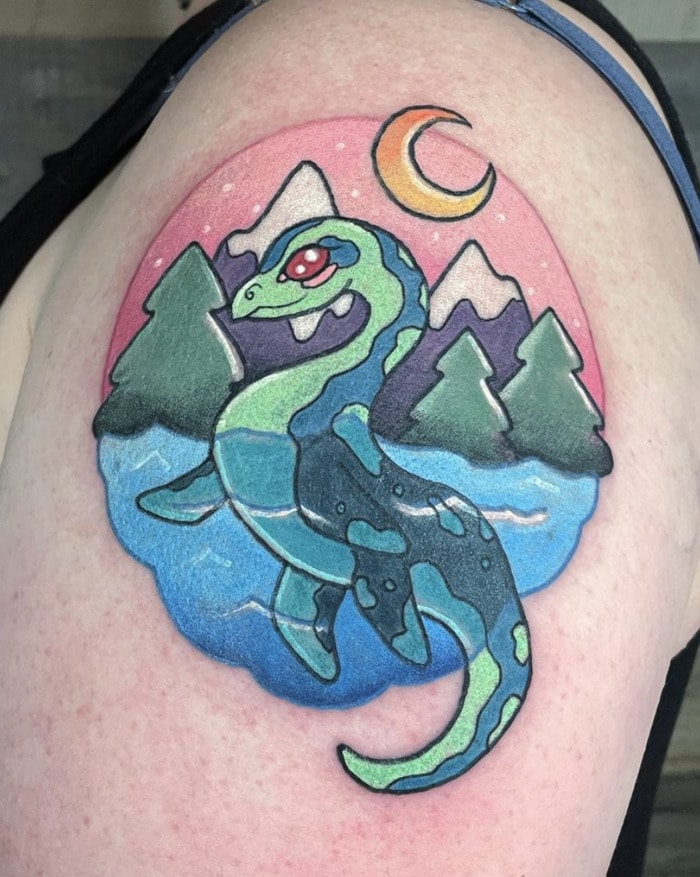 8. Chupacabra
One of the scariest, most menacing cryptids, the chupacabra (meaning "goat-sucker" in Spanish), is a bloodthirsty creature that terrorizes farmers in Mexico, Puerto Rico, and the United States when the find their livestock dead. And the craziest part? He does it all without losing his cowboy hat.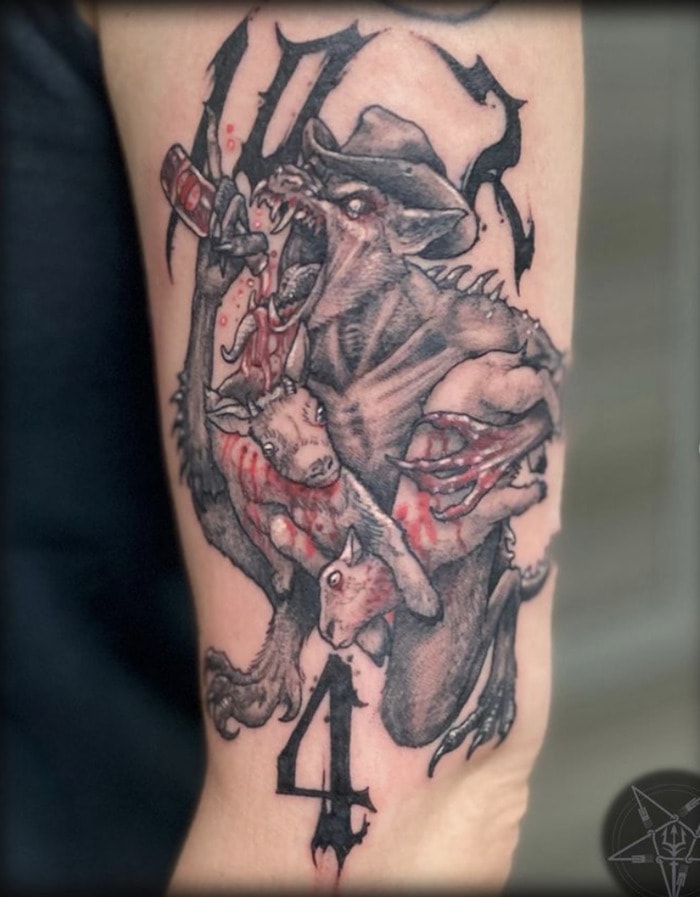 9. Mothman Tamagotchi
Finally, a Tamagotchi we won't kill in the form of a cryptid tattoo by by Victoria Elaine. What this Mothman's plans are for us, we're less sure about. Oh, a tea party? How delightful!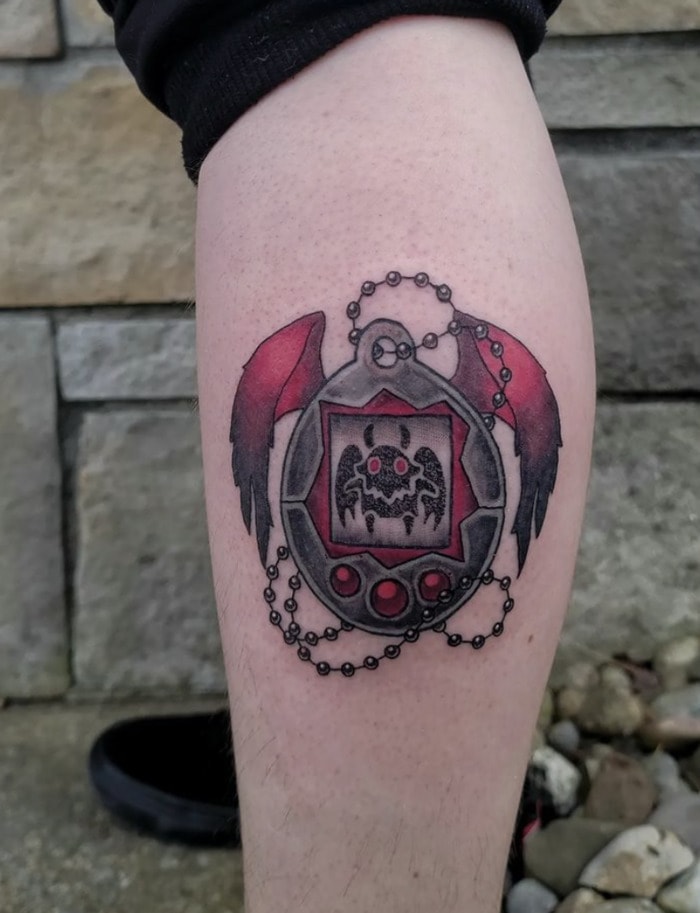 10. Frogman
The Frogman is said to be a four-foot-tall humanoid frog from Loveland, Ohio. Tattoo version by Poison Ivy Art.
11. Yeti Snowboarding
Cryptids are just like us. Yeti shreds snow, we shred cheese. We eat cheese too. Anyone have some cheese?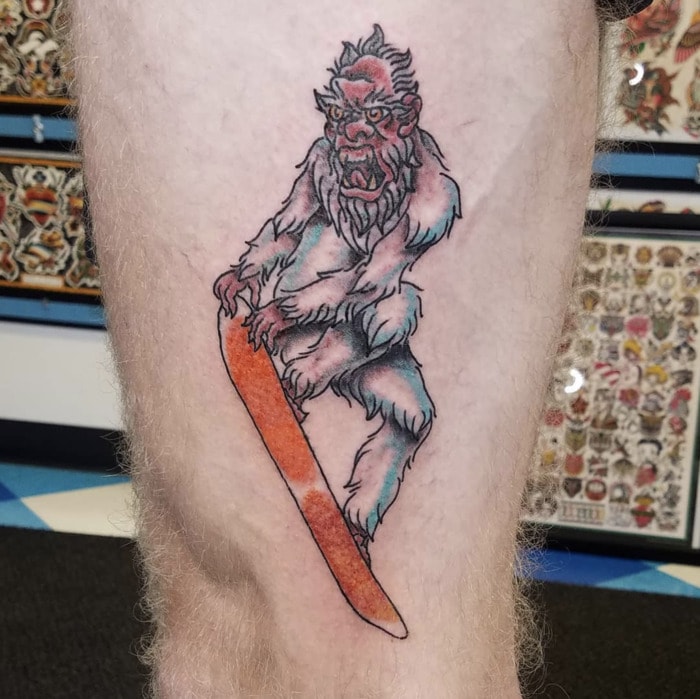 12. Alien
Take that, earthlings.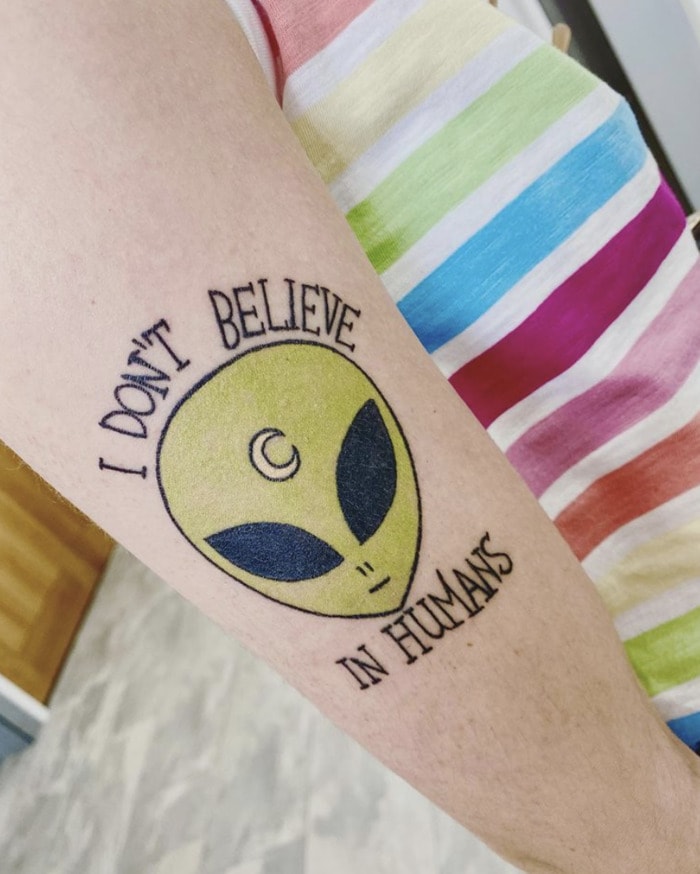 13. Kawaii Loch Ness Monster
A cryptid tattoo, but make it anime. This cute tattoo by Amelia Moore Tattoos does just that. No, of course we're not jealous of her eyelashes.
14. Pinup Mothwoman
This female version of the Mothman fable features pinup-style art. Gosh, these beauty standards are becoming so unrealistic.
15. Cthulhu
The Cthulhu is a winged octopus, created by H.P. Lovecraft. Gigi Tats pays homage to the ancient sea god that lives under the ocean and wants to end the whole planet with this tattoo. We'll take Words That Rhyme for $400. Just don't make us spell it again. Please.
16. UFO Cryptid Scene
This epic scene features a UFO beaming up a human with Bigfoot and Nessie looking on. A reminder to remain vigilant of your surroundings. We don't have time to go back to outer space this week.
17. Female Sasquatch
This female Sasquatch rendering by Samazon has us rethinking our opinion on the whole Furries kink.
18. Dragon Tattoo
Yep, dragons are cryptids too!
19. Cryptid Tattoo
And to think, all of this is going on while we're in bed. We really ought to take up a nocturnal sleeping schedule.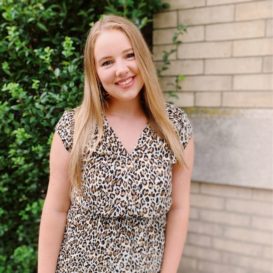 Latest posts by Laura Davis
(see all)