The 1990's had Clueless, the 2000's got Mean Girls, and now in the 2020's, we get Do Revenge. We're not really sure what we did to be blessed with such an iconic film (oh right, that whole year of 2020), but this film is one for the books. Even if you haven't seen it yet, these Do Revenge memes, tweets, and reactions will give you a look into its brilliance.
The Netflix hit follows Drea (Camila Mendes), the school's it-girl who has fallen from her throne. Then there's Eleanor (Maya Hawke), a new student who's trying to overcome a nasty rumor. The two team up to…well, do revenge…while wearing epic outfits and jamming out to Alanis Morissette.
What more could you want in a high school comedy?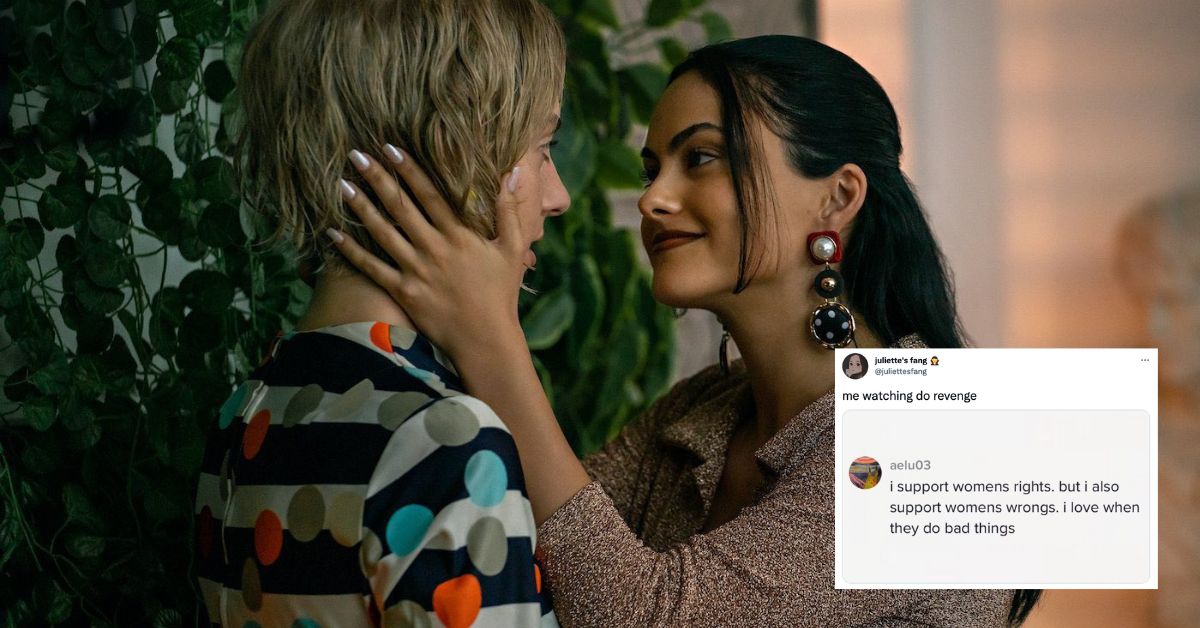 If you said "more," then do yourself a favor and head to Netflix right now. It has no shortage of soul crushing comebacks, emotional moments, and hilarious celebrity cameos. After you've watched your new favorite movie, then you'll fully enjoy these Do Revenge memes and tweets.
Or maybe before. We don't know your life. Maybe you love spoilers! Oh, because there are some light spoilers ahead.
The 19 Best "Do Revenge" Memes, Tweets, and Reactions
1. A well-executed revenge plan makes us all warm on the inside.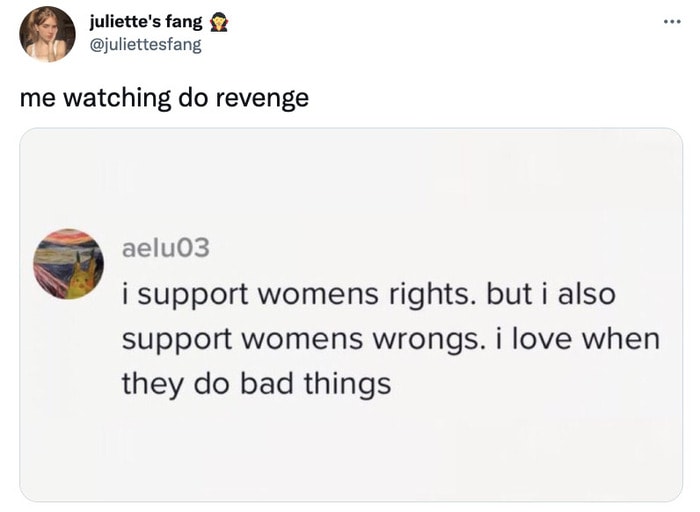 2. Don't make us explain the plot in too much detail, please.
"i watch do revenge for the plot"

the plot:

— Tata (@villaneluthvr) September 19, 2022
3. Our brown and orange high school uniform doesn't seem that cute anymore.
4. Dear Tina Fey, we have an idea…
do revenge just proved me that regina george would've been waaay more dangerous if they had made her a lesbian canon

— bela🦦aka erana (@belashalifoe) September 17, 2022
5. They did her dirty. Or…not dirty enough?
natalia dyer after seeing maya hawke kiss talia ryder in do revenge when shes been campaigning for a ronance kiss for years pic.twitter.com/8vugcsjB5d

— poppy! 💌💐 (@youcoullldstay) September 17, 2022
6. The Queen of the North should know her snow, okay?
sophie turner in do revenge https://t.co/NoO3rlr2qY

— ami (@lalisasyves) September 18, 2022
7. Did we stutter?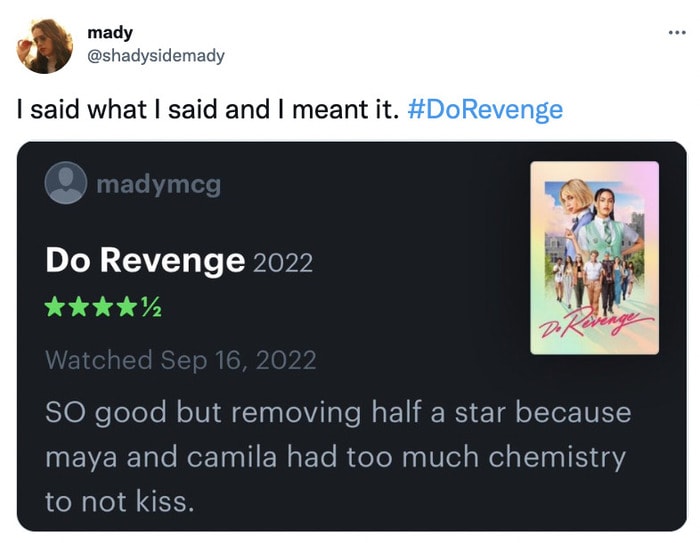 8. Okay so when is the musical version?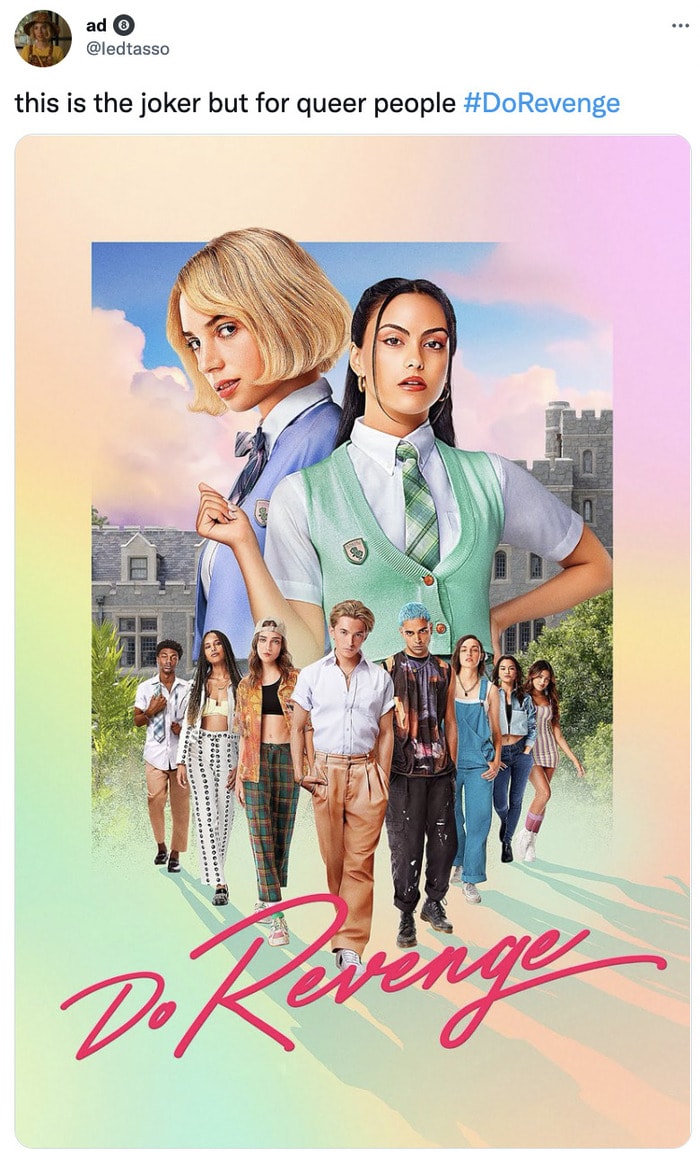 9. Justice for the queen!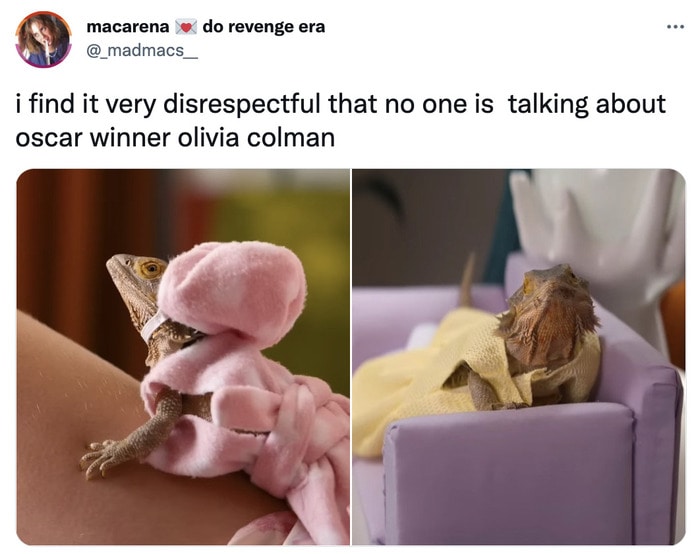 10. Nothing has been so good for the country since Pokemon GO!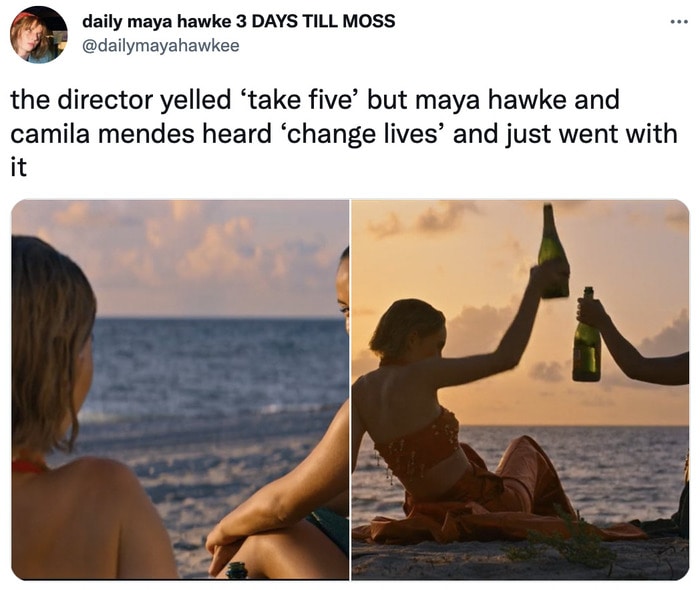 11. Please excuse our wheezing for the next five minutes.
x-men dark phoenix who? game of thrones who? this is sophie turner's best performance pic.twitter.com/9iZHgDrzW9

— magne (@paraasites) September 18, 2022
12. Can we also get this makeover?
who are you? im you but i kissed
maya hawke pic.twitter.com/6DtvD3DZoJ

— ish 📌 eleanordrea (@robinshawkins) September 18, 2022
13. Adds "slayage" to our daily vocabulary.
THIS DO REVENGE REVIEW LMAO pic.twitter.com/1rCl1ZyMFl

— rachael (@audreycressweIl) September 17, 2022
14. This one scene just healed us.
silk chiffon playing and a taylor swift reference in the same scene. do revenge is for the girls and the gays that's it

— shan (@afterglowbridge) September 17, 2022
15. Please, don't stop a genius at work.
maya hawke filming stranger things and do revenge while writing her album moss all at the same time to feed the starving sapphics pic.twitter.com/eOS4zFVmjM

— dallas (@buckleysbiotch) September 18, 2022
16. We're sure they'll get over it. Right? Yes? Please say yes?
natalia dyer when maya hawke steps onto set for season 5 pic.twitter.com/sSMmvH7HH3

— e (@rileysrue) September 16, 2022
17. Netflix needs to hear our thoughts.
i was hoping drea and eleanor would kiss in the movie pic.twitter.com/9ezXPQhVzQ

— robin / drea ★ (@FILMSDREA) September 17, 2022
18. Slayage AND Glennergy? Watch out Scrabble!
Petition to add Glennergy to the dictionary. DO REVENGE on Netflix now. pic.twitter.com/v7U0BK8Iba

— Most (@Most) September 19, 2022
19. Nothing but respect for our power couple.
sometimes the friendship between a mean lesbian and a lonely IT girl can be so personal #DoRevenge pic.twitter.com/2bwnYNwsmn

— oli | moss in 3 days (@ringofkeyz) September 16, 2022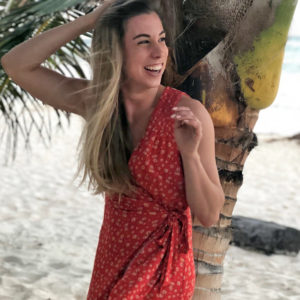 Latest posts by Hannah Rex
(see all)