Ever since we drew Fall Out Boy lyrics on each other with Sharpie markers we've wanted to experiment with temporary tattoos. But every time the markers stained our Juicy sweatsuits we wished there was a better way. Now there is, with Ephemeral semi-permanent tattoos.
These are real tattoos that are made to fade. And unlike the Sharpie art, they won't lead to a lecture from your mom about ink poisoning.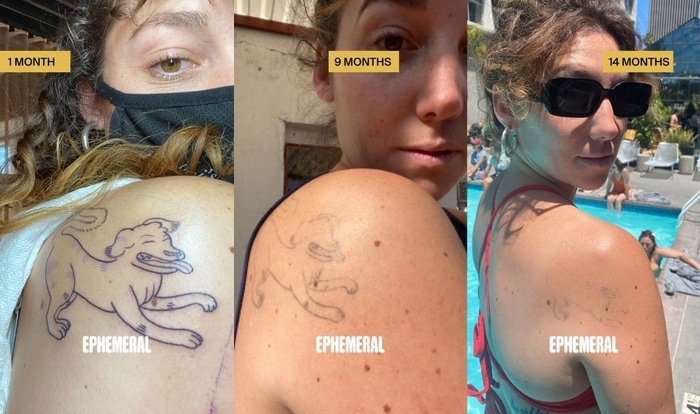 Ephemeral created a special kind of tattoo ink that is used like regular tattoo ink but is designed to fade over time. That means you can finally try out that tattoo you've been dying to get but aren't sure if you'll regret.
Too bad it wasn't invented before the tramp stamp craze.
FAQs About Ephemeral Semi-Permanent Tattoos
1. How does made-to-fade tattoo ink work?
When you get a tattoo, the tattoo needle inserts the skin into your dermis, the layer below your outer layer of skin. With a normal tattoo, your body can't break down the tattoo ink, so your skin cells wall off the area and keep the ink in place.
But Ephemeral's ink particles are biodegradable. So over time, the ink breaks down and disappears. Kind of like that one person who peaked in high school and couldn't quite recover from the offensive mascot being changed to something more considerate.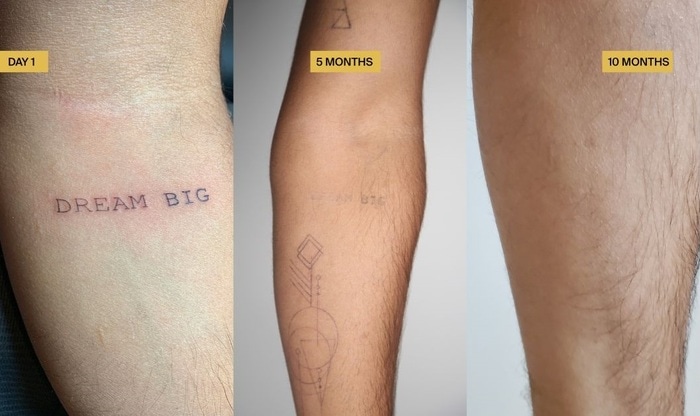 2. What is Ephemeral ink made of?
The ink is made from medical-grade polymers and dyes. It's vegan, gluten-free, and wheat-free. Sounds like an ideal Los Angeles dinner!
Now, the FDA doesn't regulate tattoo ink, but the ink is made from ingredients that are FDA-approved for other uses, like cosmetics. Apparently, they don't care about what you're injecting into your skin, just putting on it.
3. Does it work on all skin types?
Ephemeral tattoos can be used on all skin types the way regular black ink would be used. Bold lines are more visible on darker skin, and thicker lines will help your tattoo be visible longer.
If you have darker skin, your tattoo may appear to fade a bit faster. But they'll generally be visible for nine to 12 months. So, about as long as it takes you to remove your Halloween decorations…until you have to put them right back up.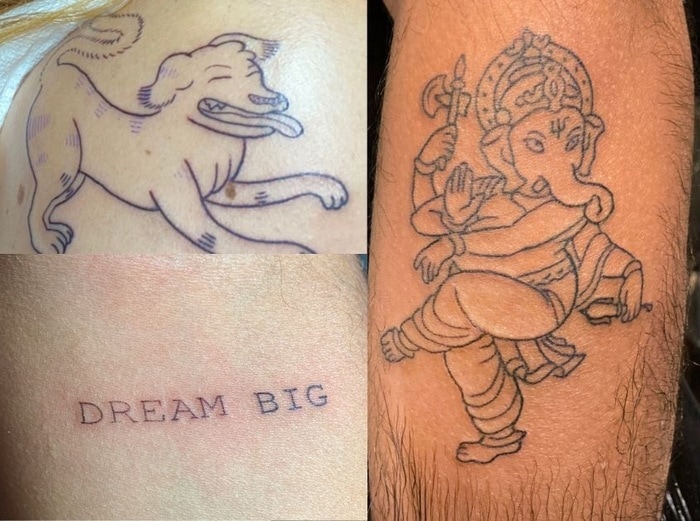 4. Where on my body can I get a made-to-fade tattoo?
"At this time, Ephemeral is able to tattoo anywhere on the body except for the face/hand/fingers.
We hope to be able to offer new placements by the end of 2022," says Jeff Liu, CEO of Ephemeral. Thankfully, our idea for Big Bird skateboarding down a rainbow will fit on our back.
5. Are color made-to-fade tattoos available?
We love a life in technicolor, but unfortunately Ephemeral ink is currently only available in black. Ephemeral says they're working on more colors, so don't give up on that My Little Pony tattoo yet.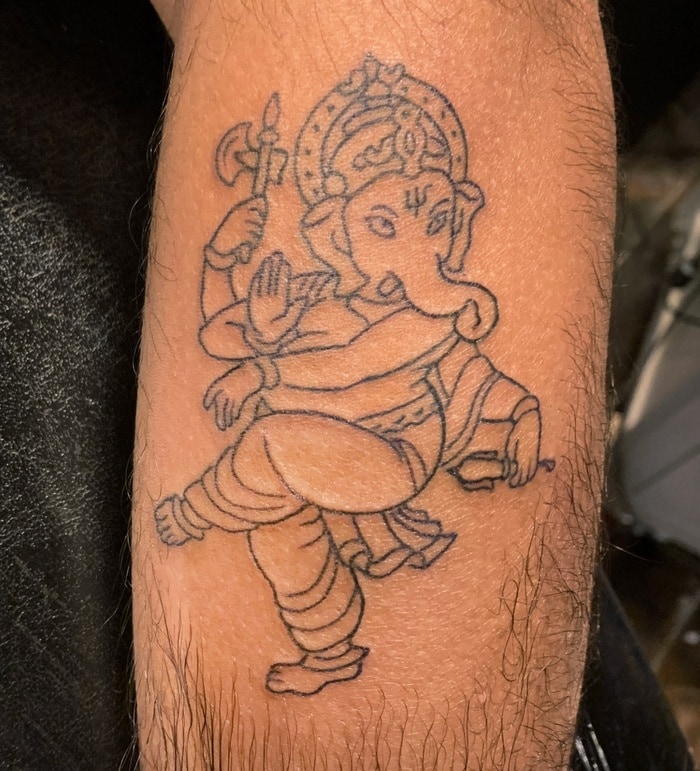 6. Do made-to-fade tattoos hurt?
Some who have gotten Ephemeral tattoos and regular tattoos have reported that Ephemeral tattoos are actually more painful than regular tattoos. And after all, fleeting beauty is pain in the eye of the beholder. Or something like that.
But according to Ephemeral, there shouldn't be a difference in pain level, since the tattooing process is the same regardless of the ink.
"Ephemeral tattoos are applied the same as a traditional tattoo – with a needle, through the skin. The pressure and passes are the same, but may vary depending on the size and placement of the design," says Liu. "Less pain may be experienced if you choose to get your tattoo on a part of your body with more fat or thicker skin, compared to the bonier parts of your body such as your ankle or wrist.
"Another thing to take into account is that each person's pain threshold varies – those previously inked may not even flinch, while first-timers are likely to experience more discomfort."
It's just like how some people don't cry during Sarah McLachlan animal commercials, and other people are heartless monsters.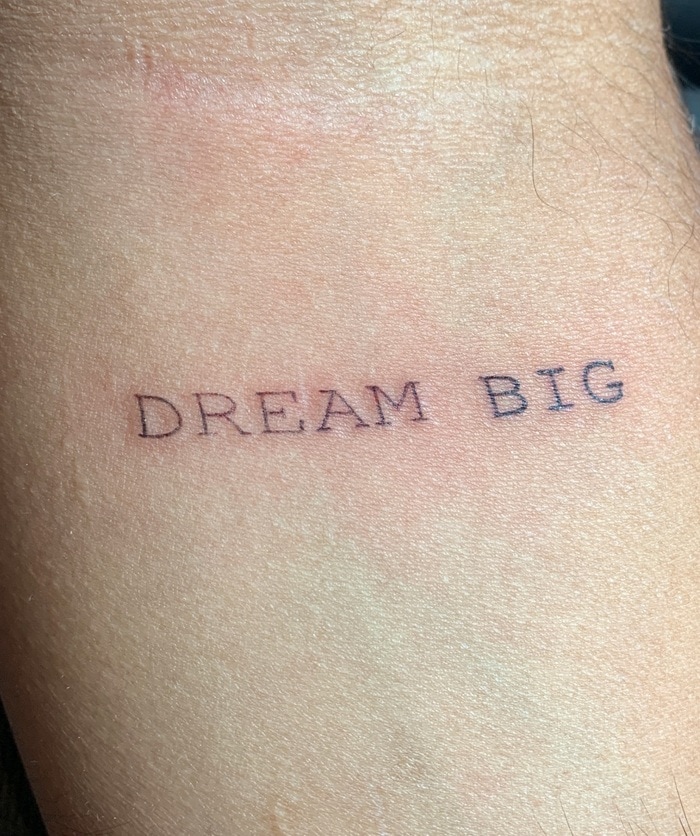 7. What is the healing process for made-to-fade tattoos?
"Following a tattoo appointment, each artist wraps their client's design in a hydrocolloid patch and proceeds to walk them through the aftercare process," says Liu.
The aftercare involves "keeping the tattoo covered for the first few days, keeping your ink out of the sun for the first month (and protected with SPF 50), staying out of the water during the first three to four weeks of healing, and avoiding itching, picking, or rubbing the tattoo."
If you wanted to get out of that family yacht trip, get an Ephemeral tat just beforehand as an excuse. And then let us take your place. Mykonos here we come!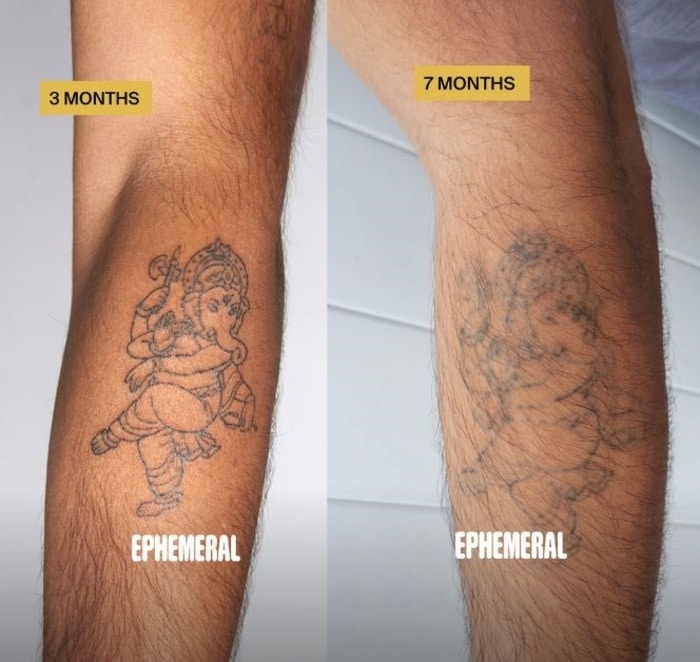 8. Do made-to-fade tattoos actually fade?
"All Ephemeral tattoos will fully fade given the known degradation rates of the components we use," says Liu.
Ephemeral says that clinical studies on the safety and effectiveness of the ink were approved by the Institutional Review Board. Ephemeral's public studios opened in early 2021, so it may be too early to say that nobody will ever have an issue. But so far, so good.

9. How long does the tattoo take to fade?
The tattoo will fade in nine to 15 months, depending on how badly your immune system wants those ink particles to GTFO. As the ink particles shrink, your tattoo lines will shrink and eventually disappear as the ink particles leave your body.
"The way the ink is formulated dictates that it will break down in a certain time frame. However, when placed in the body, there are different interactions that take place which cause variation in the fade," says Liu. "While our current ink formulation is designed to last nine to 15 months, the exact time may vary person to person.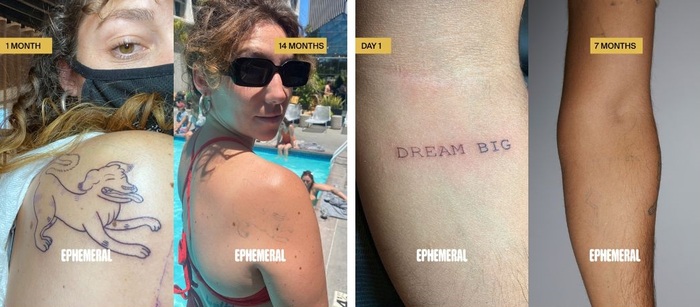 10. How much do made-to-fade tattoos cost?
The cost for Ephemeral tattoos are $195-$245 for small, simple tattoos and $350-$550 for larger, more complex tattoos. So if you stop buying coffee for a few months, you'll save up the cash in no time! And lose all your happiness. Congratulations.
11. Where can I get a made-to-fade tattoo?
Ephemeral ink tattoos are only available at Ephemeral studios, which has locations in Brooklyn, Los Angeles, Atlanta, and San Francisco. So if you don't live in one of those cities, you'll need to travel. But we hear a clam chowder bread bowl at Fisherman's Wharf will help you heal faster, probably.
A new studio is opening in Houston this September, and Ephemeral plans to announce more locations by the end of 2022. Otherwise…you'll have to stick with the Sharpies. Sorry, mom.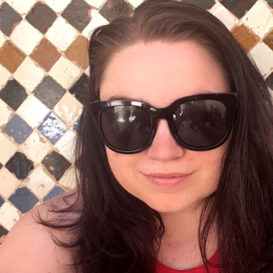 Latest posts by Madison Higgins Hwang
(see all)