Are you sweating in your sweaters and sipping your PSL in 80 degree weather? That's a pretty good sign you should plan a vacation to somewhere that's a little more "fall." To get the inspiration train rolling, we rounded up some of the best fall foliage Airbnbs in the United States.
Whether you head east, west, or just up into some mountains, there are tons of places that offer astounding views of dying – er, color changing – leaves. Unsurprisingly, many of these accommodations are treehouses.
Because why should you just look at beautiful trees, if you can be inside beautiful trees?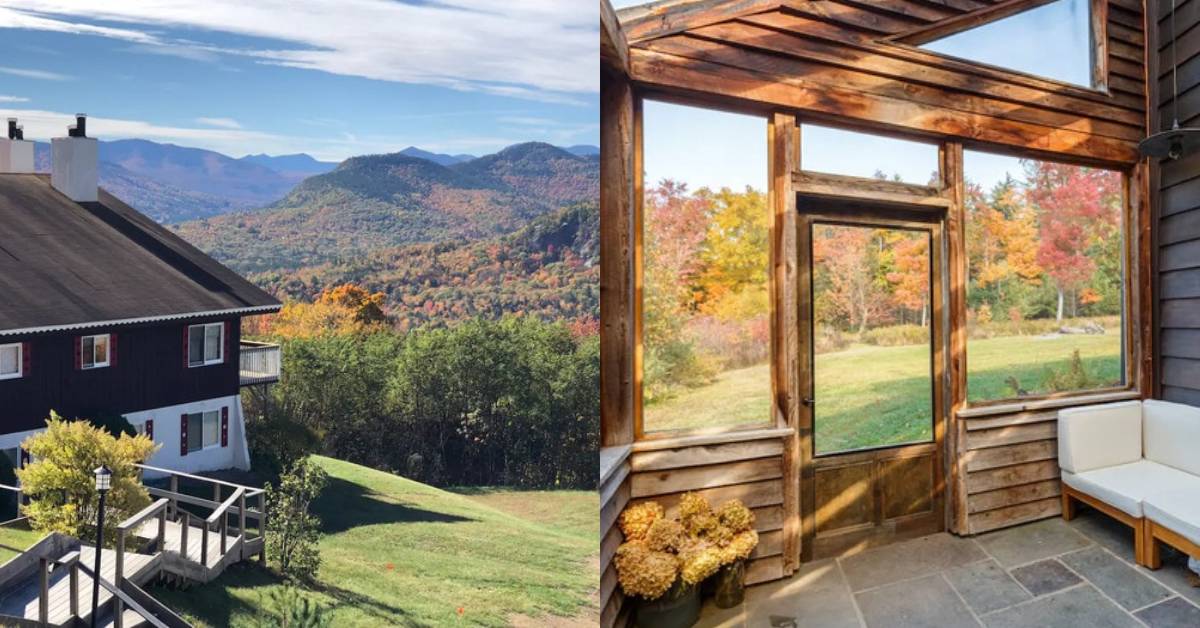 But they're not exactly the same as what your dad cobbled together when you were a kid. These are luxury treehouses. Or, if you prefer something on solid ground, you'll also find some quaint country cottages, gorgeous mountain homes, and a yurt for good measure.
From Vermont to the Poconos to Colorado, you'll get to experience prime leaf peeping in all of these fall-tastic Airbnbs. And conveniently, lots of saunas. This nature thing isn't so bad after all!
The Best Fall Foliage Airbnbs Across the Country
1. Cozy Urban A Frame, Brunswick, Maine
We give this first home an A+ rating! Its maine feature is not one, not two, but three outdoor seating areas. Hopefully the leaves don't get stage fright.
This house is close to downtown Brunswick, and has close access for kayaking, hiking, and cycling. Those are great perks, but we don't have any good puns for them.
Sleeps: 3
Book it on Airbnb.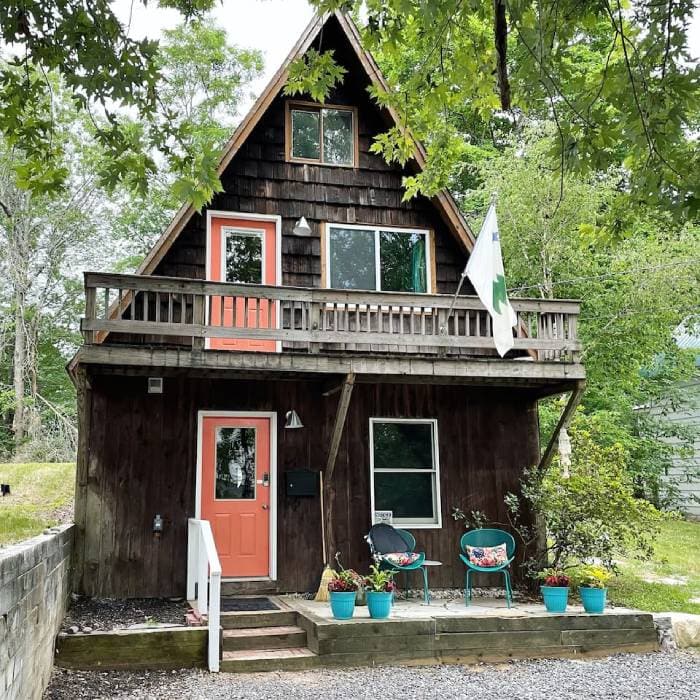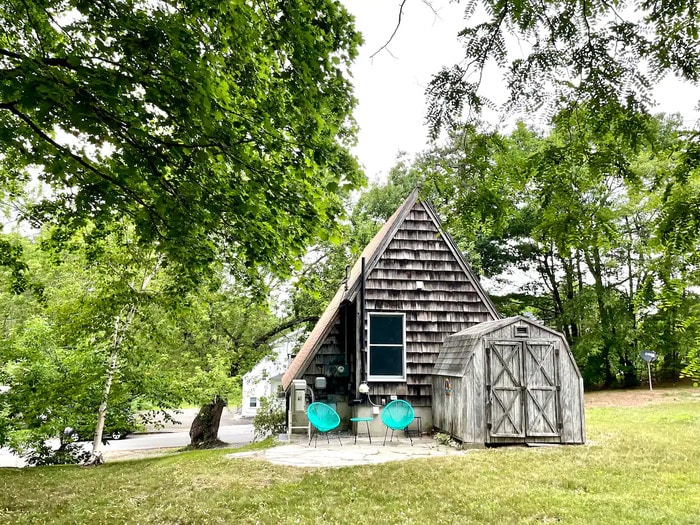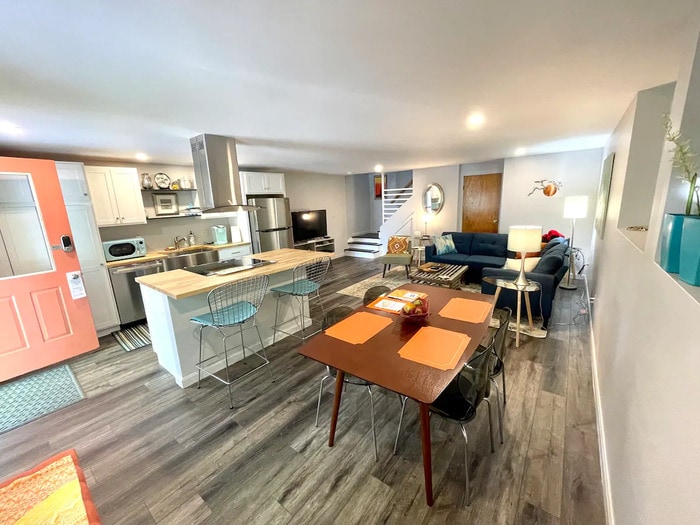 2. Architect's Brookside Cabin, Franconia, New Hampshire
This self-proclaimed chalet plops you down right in the middle of the woods. It may look moody on the outside, but the wood-burning stove makes the inside warm and inviting. And good thing, because you'll need to invite a few friends to fill it up.
Sleeps: 8
Book it on Airbnb.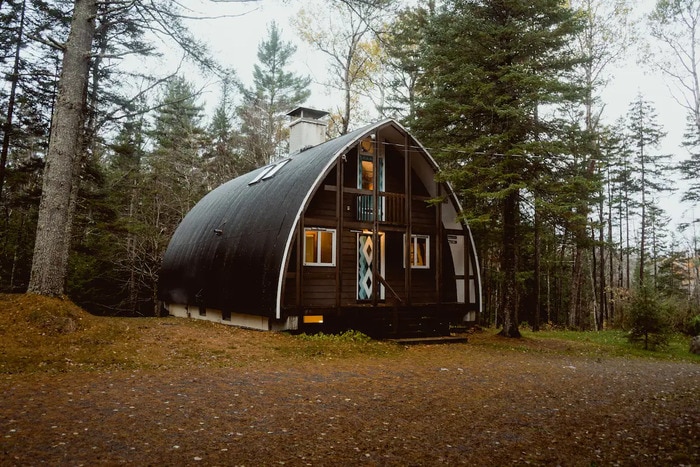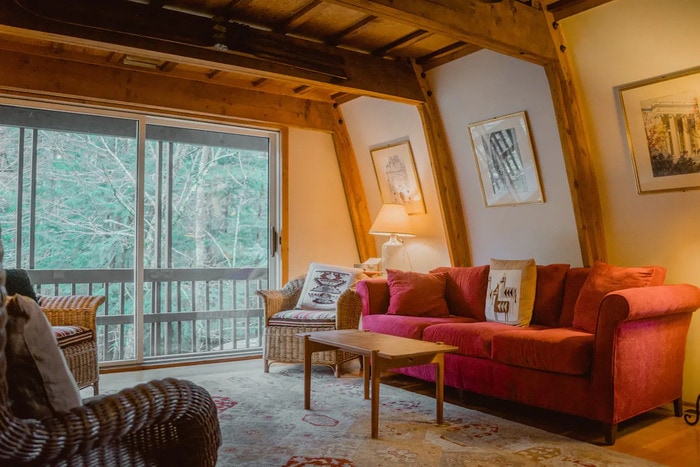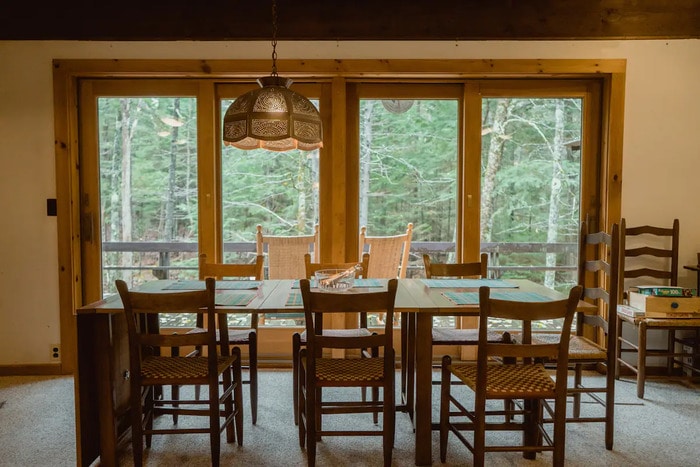 3. Upscale Retreat With Panoramic White Mountain Views, Intervale, New Hampshire
You'll be able to see the fall foliage from every angle in this Airbnb as panoramic mountain views greet you throughout the house. You know, in case you forgot why you went all the way to New Hampshire.
Sleeps: 6
Book it on Airbnb.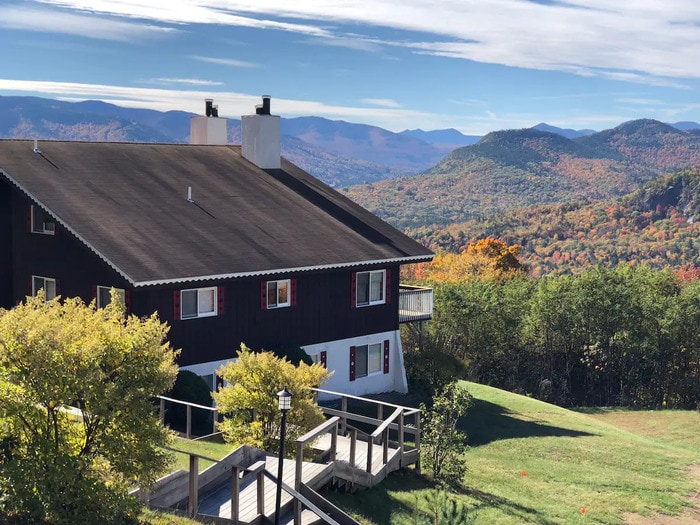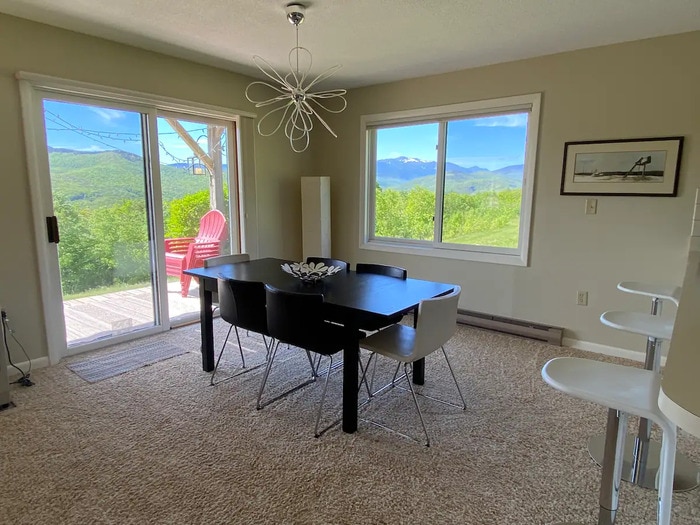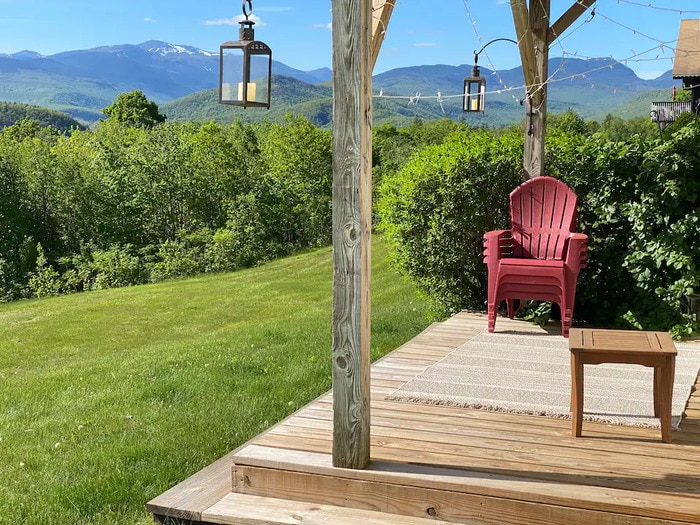 4. The Canopy House, Stowe, Vermont
This next pick was awarded as one of the top Airbnb's in New England by Condé Nast and Boston Globe. If you can time it right, Stowe is known for incredible foliage. So, pull yourself out of the impeccably designed interior, and enjoy the lovely leaves from the balcony and patio.
Or, as we would recommend, from the hot tub. Hey! We saw those bubbles…
Sleeps: 8
Book it on Airbnb.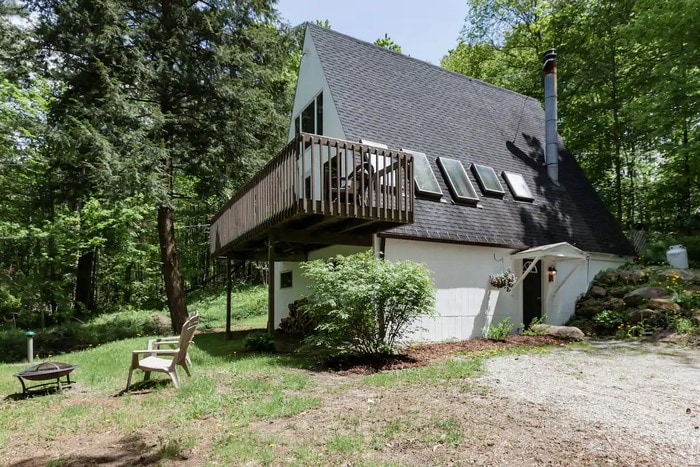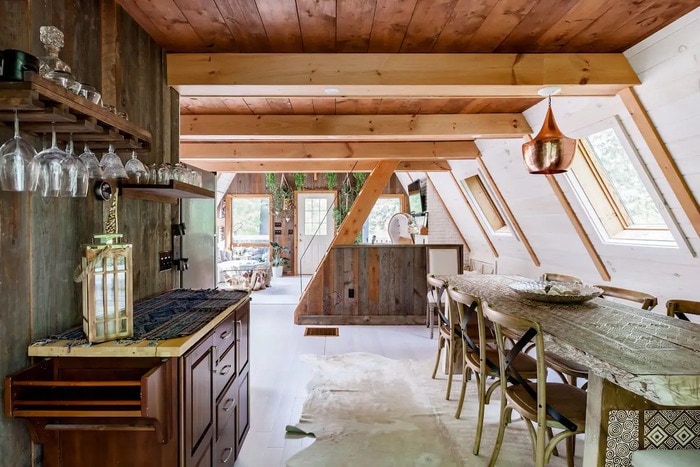 5. Cozy Vermont Cabin and Sauna, Marshfield, Vermont
For a more intimate affair, cozy up in this Nordic-inspired cabin that features a standalone sauna. The description says it best: "Glamping and leaf peeping fun! Rustic romantic, hobo hideaway, bohemian hermitage, Nordic nook."
We wouldn't want to play Scrabble with the owners, but we'd stay here any day.
Sleeps: 2
Book it on Airbnb.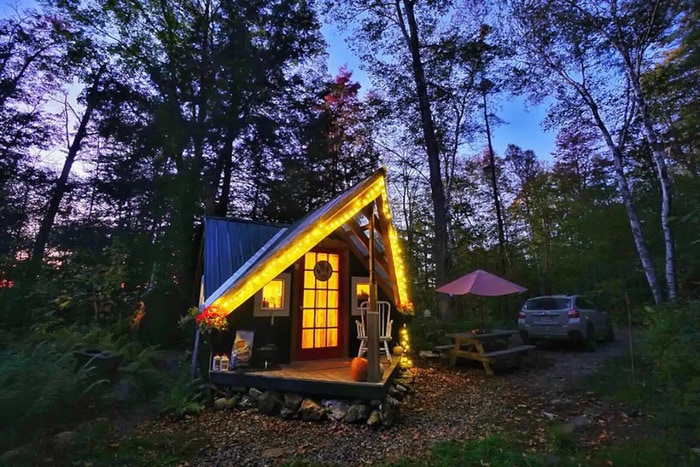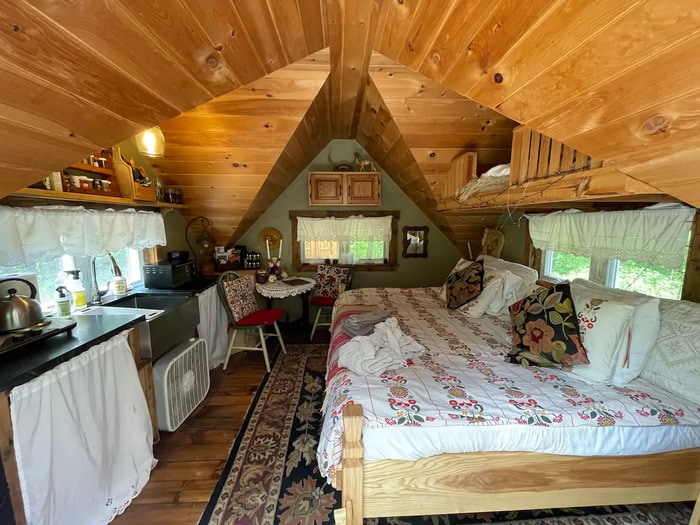 6. Vermont Tree Cabin on Walker Pond, Coventry, Vermont
And back we go up into the trees! Not only will you get foliage views in this Airbnb, you'll also get a stunning sight over the pond.
Enjoy some fall colors from a canoe, and then relax in the custom made cedar hot tub. Just because the leaves are dying, it doesn't mean you can't live a little.
Sleeps: 2
Book it on Airbnb.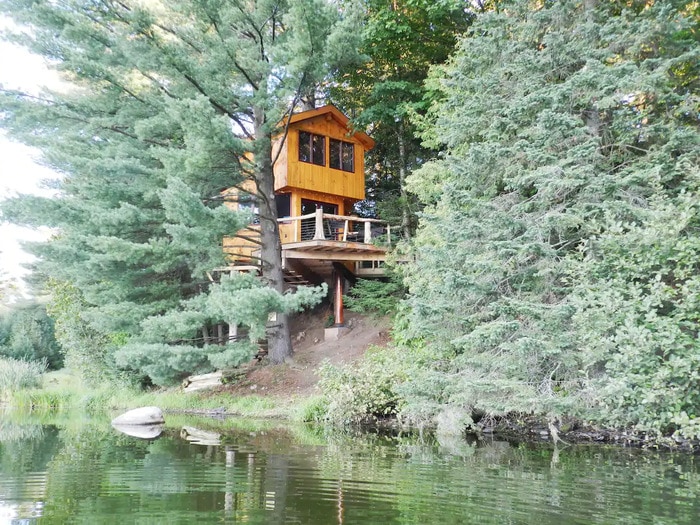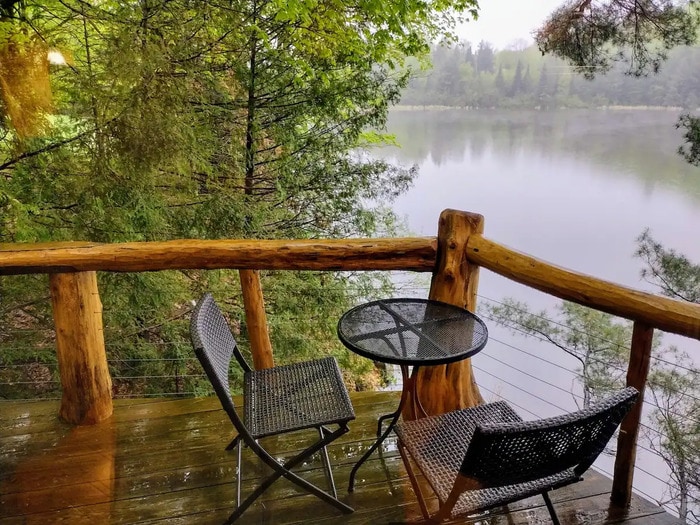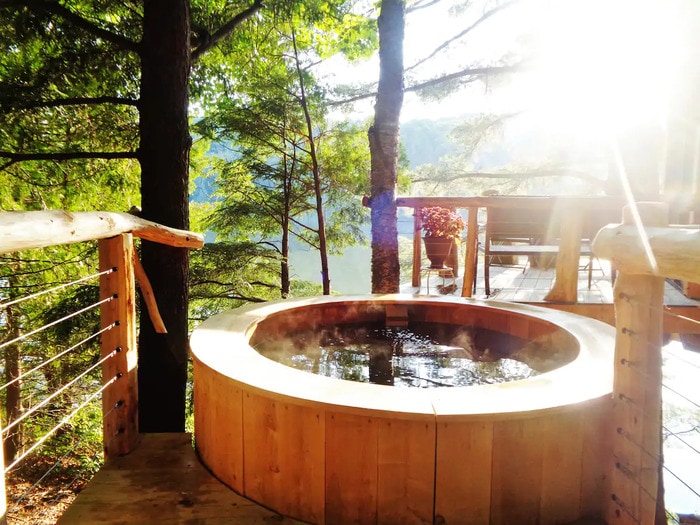 7. The Pondhouse, Ashfield, Massachusetts
Here, you don't even have to leave your bed to be immersed in the beauty of fall. The floor to ceiling screens in the bedroom give you all the perks of camping, without all the dirt, bugs, and possible bear encounters. Just a cool breeze, fresh air, and…wait what was that sound?
Sleeps: 5
Book it on Airbnb.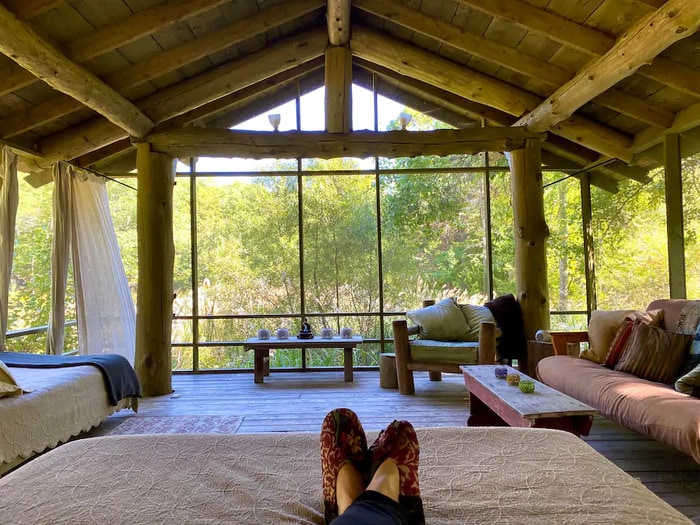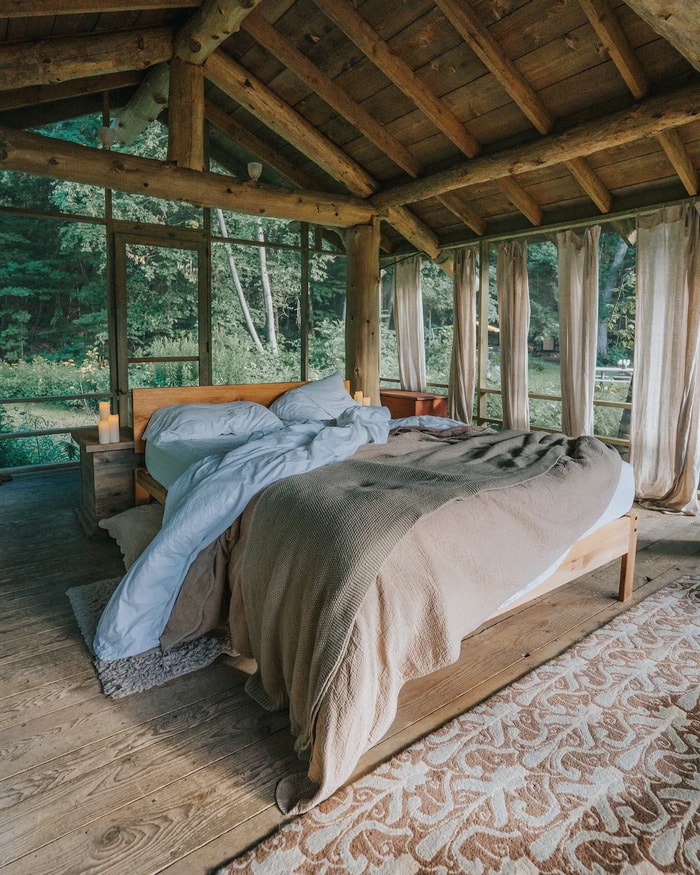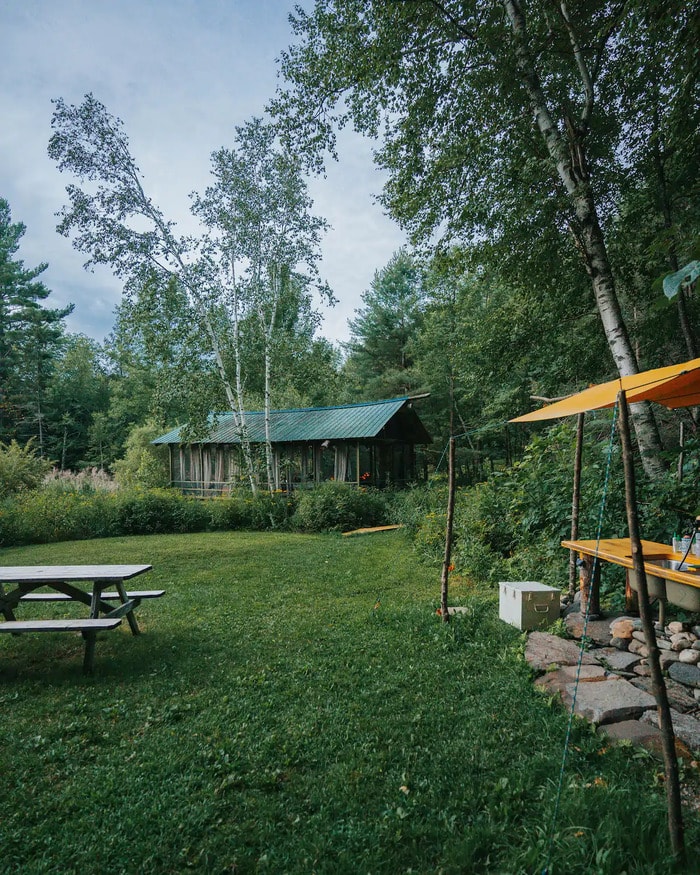 8. Willow Treehouse, Willow, New York
Welcome to New York! This treehouse has been waiting for you. And it's unlike anything you'll find in the city, which is what we think that song is actually talking about.
If you book this fall foliage Airbnb, just be warned that you do have to climb up a ladder to get to the sleeping loft. So, this probably isn't the trip to bring your chainmail PJs.
Sleeps: 2
Book it on Airbnb.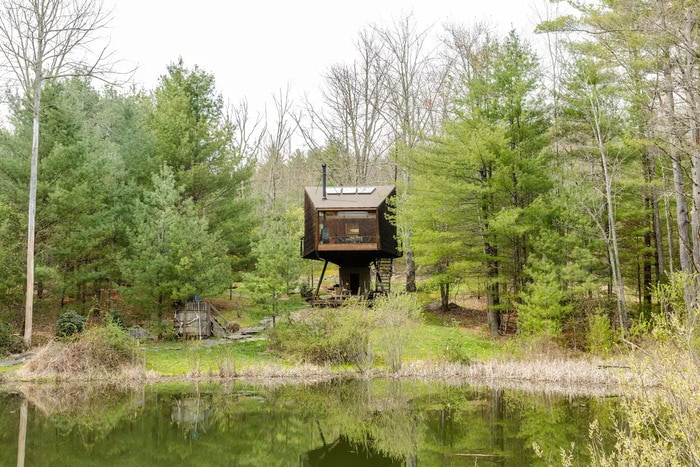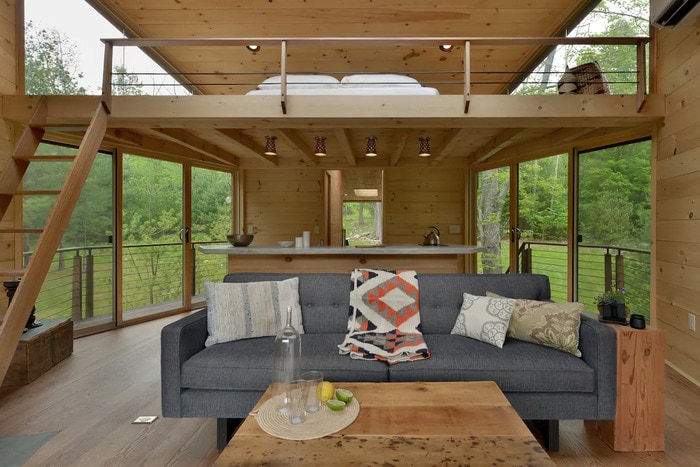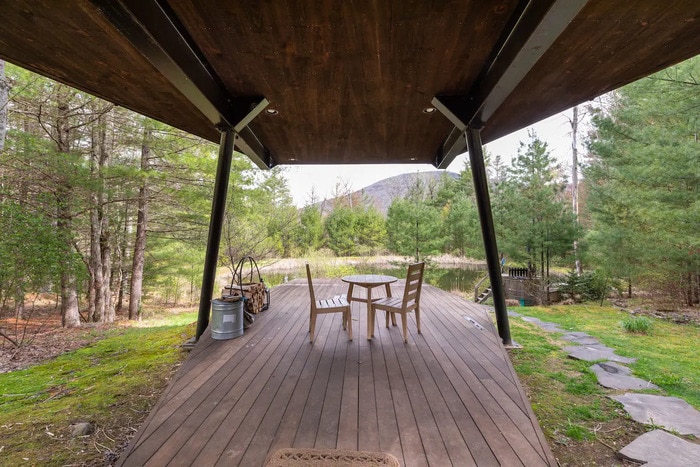 9. Ultra Luxury Treehouse, Adirondack, Remsen, New York
If you hate heights but still want the experiences of being in the trees, this is the spot for you. An accessible walkway leads you into the home, where you'll find a wraparound porch, chic furniture and appliances, and a bathroom that we would probably enjoy spending too much time in.
Oh, the enormous windows don't hurt either.
Sleeps: 4
Book it on Airbnb.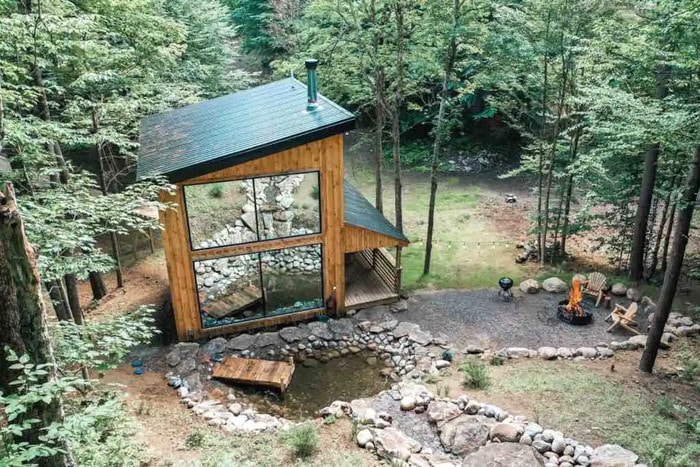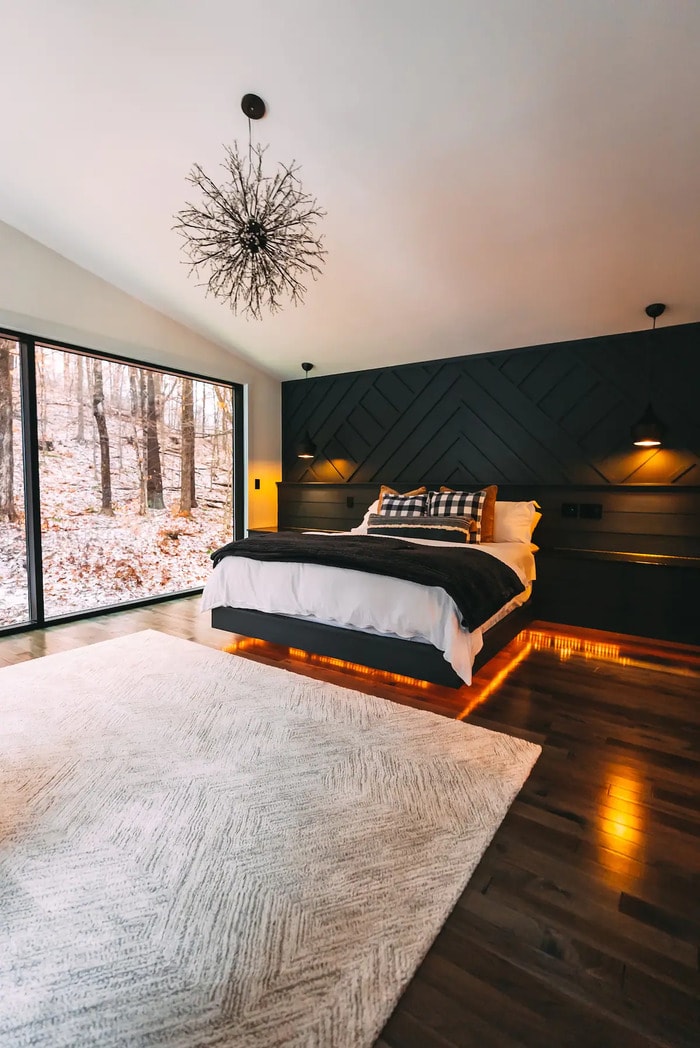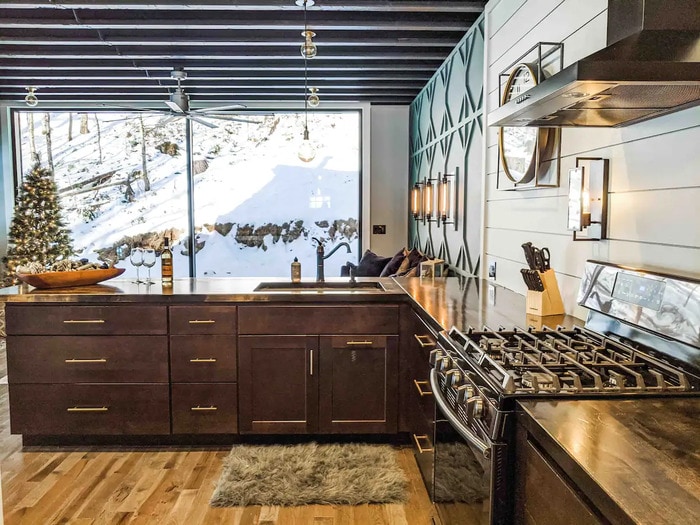 10. The Greenhouse, Tannersville, New York
Located in the heart of the Catskills, this quiet getaway is a hiker's paradise. Funny enough, it's also great for lounging and viewing the outdoors from the couch. If you go with a group, everyone can choose their own adventure. Just please don't put us in charge of directions this time.
Sleeps: 6
Book it on Airbnb.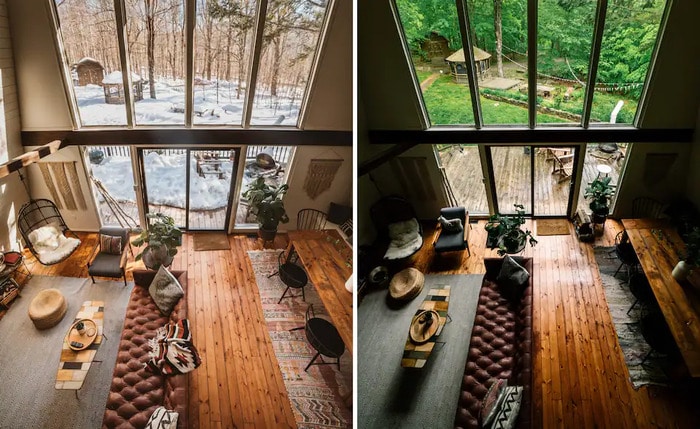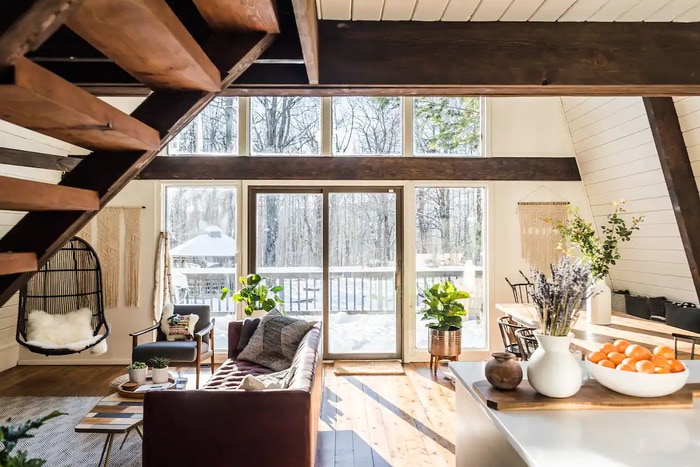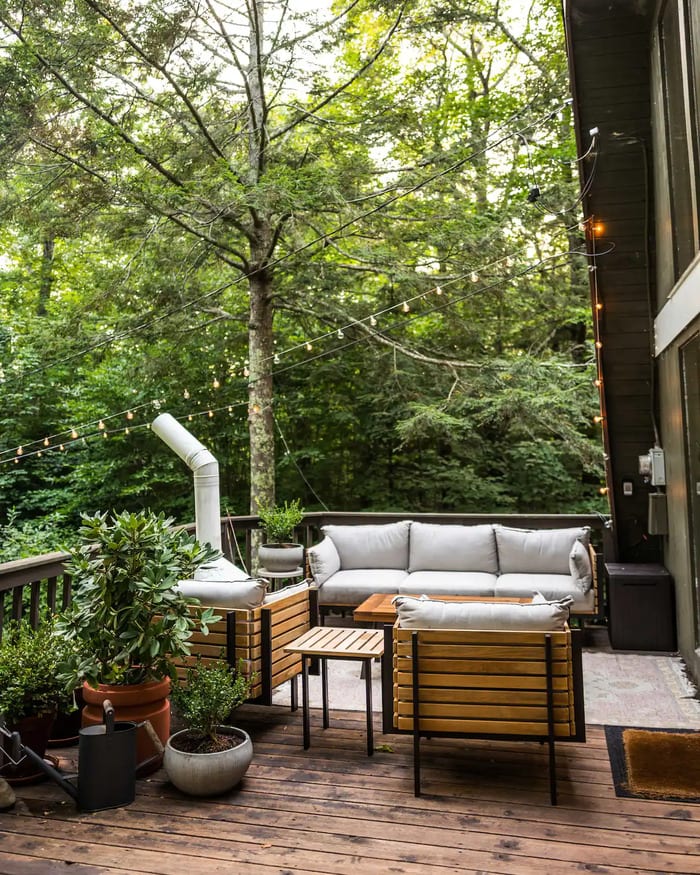 11. Glasco Woodstock, Saugerties, New York
Invite all your friends, family, neighbors, and neighbor's neighbors! This Airbnb has room for them all. The home dates back to the mid-1800's, but has been updated for all modern conveniences.
It's also located on 16 acres with unobstructed views of the Overlook Mountain, has hammocks strung between tall trees, and features thirty-foot ceilings in the living room. Who needs WiFi when you have all that? (Us. We do.)
Sleeps: 16
Book it on Airbnb.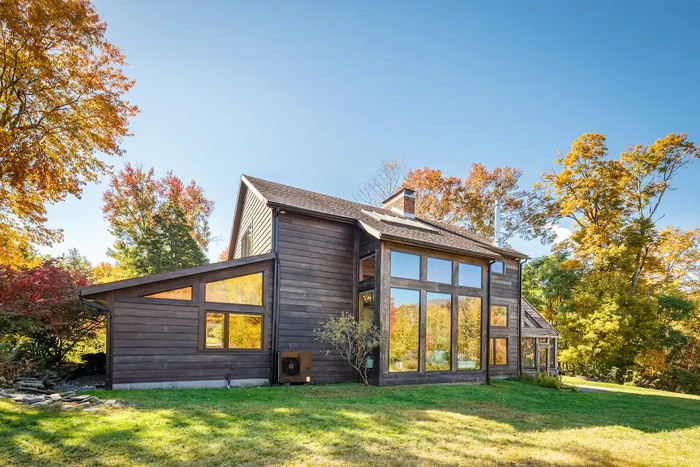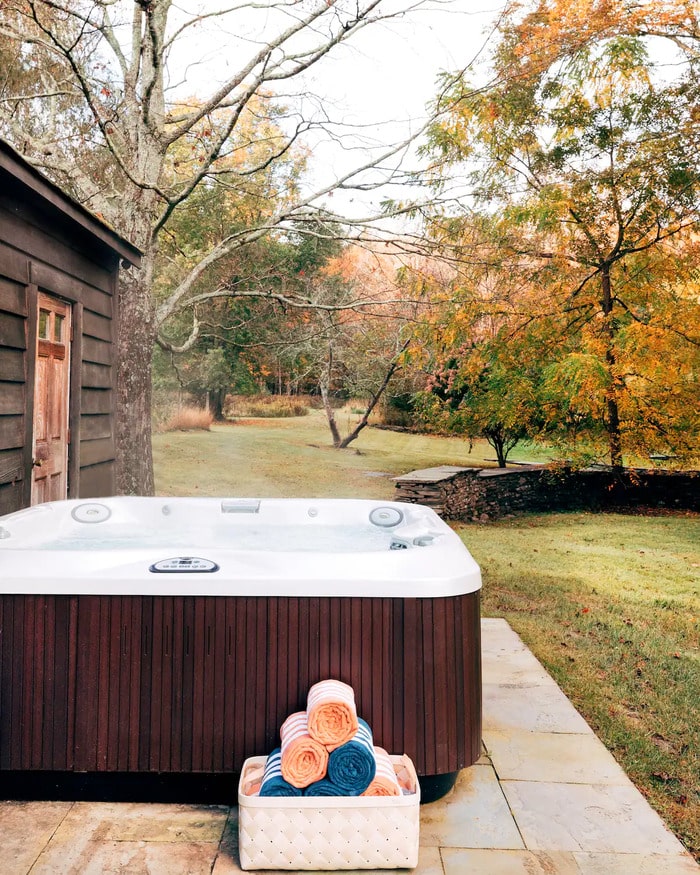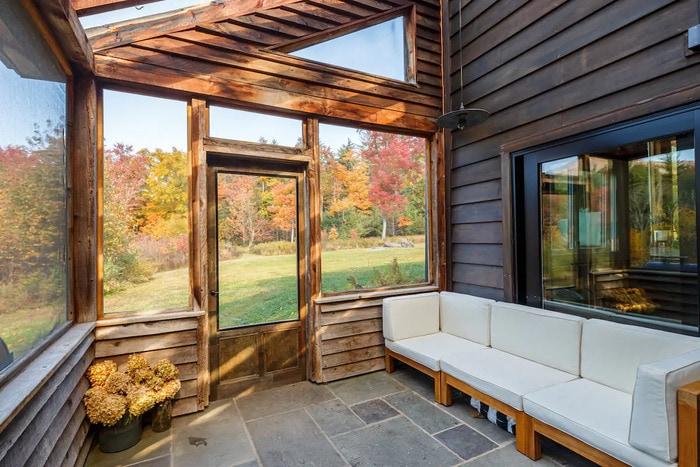 12. Pocono Mountains Romantic Getaway, Cresco, Pennsylvania
For a taste of something quieter, escape with the one friend you actually like to this secluded cabin in the Poconos. You might not think "fall foliage" when you think of Pennsylvania, but this mountain range gives New England a run for its money.
This location actually doesn't have WiFi, so it's a great place to disconnect, enjoy the outdoors, and remember why you hate playing Monopoly.
Sleeps: 2
Book it on Airbnb.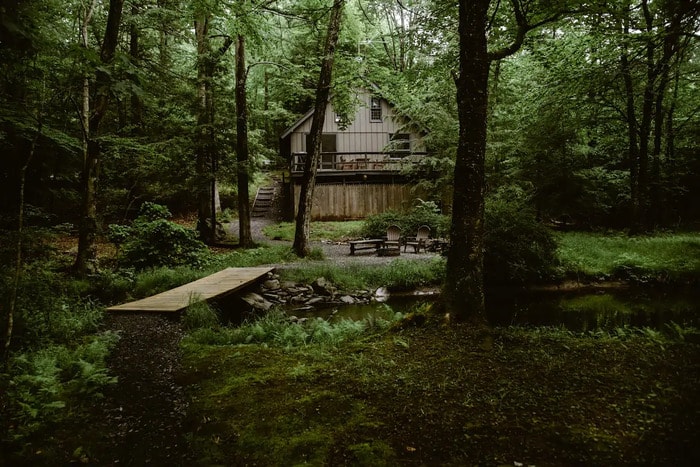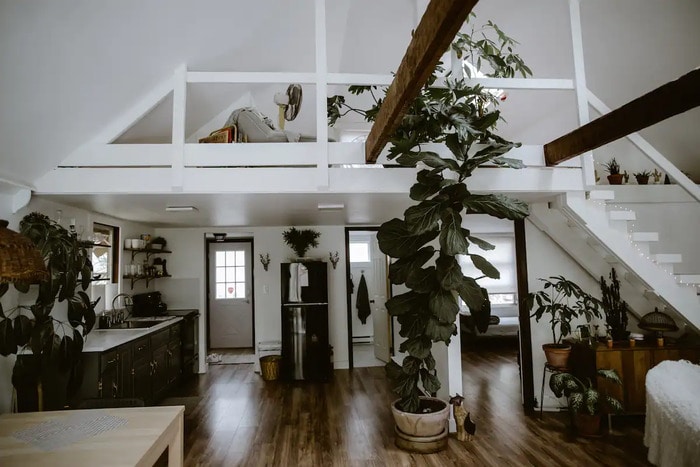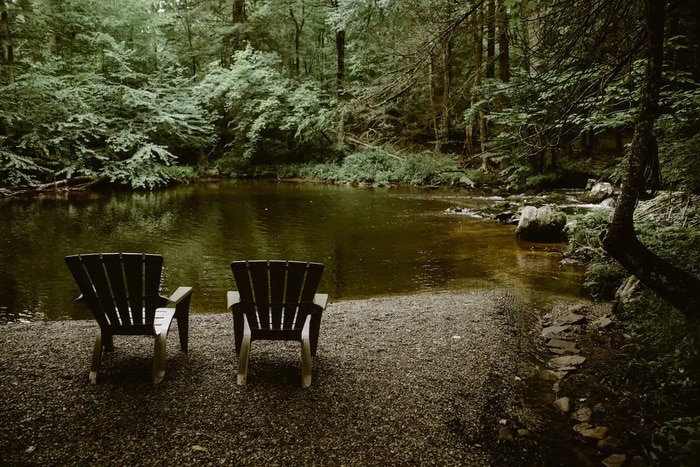 13. Asheville's Luxury Treehouse, Asheville , North Carolina
Asheville is another hidden gem when it comes to leaf peeping. In this spacious treehouse (yes, another one!) you can lounge on the patio, snooze in the hammock, and crunch leaves under your feet to your heart's content.
If you need a reprieve from all those calming activities, Ashville isn't too far of a drive so you can enjoy some city activities, too. But we highly suggest that you make it back for your afternoon hammock nap.
Sleeps: 4
Book it on Airbnb.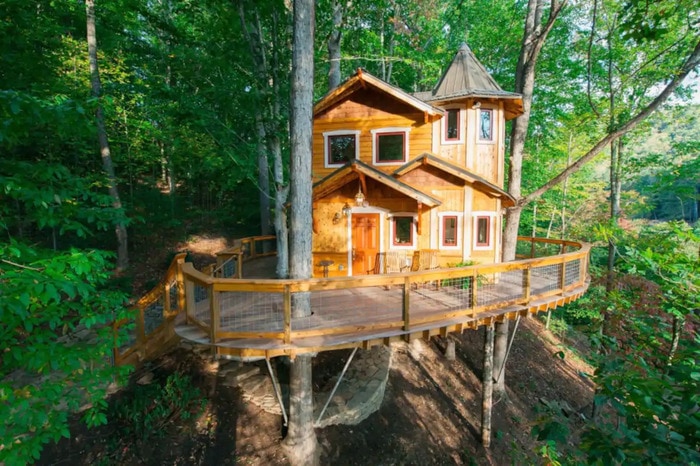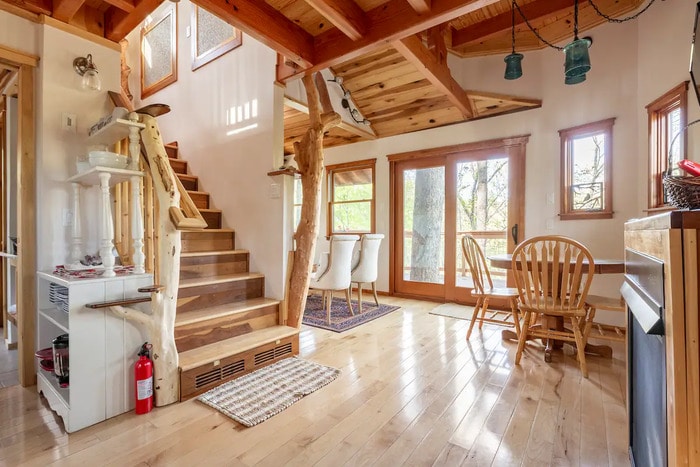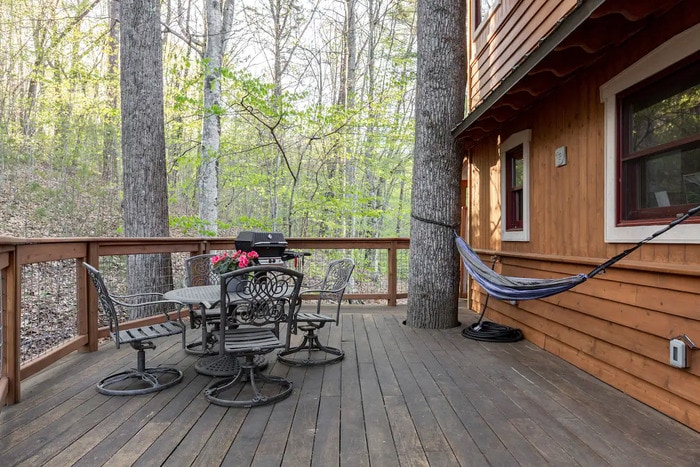 14. Franklin's Tower, Whitefish, Montana
It's a house, it's a tent, it's a…yurt? This circular sensation will give you an unforgettable fall foliage experience in Montana. And an appreciation for corners.
This Airbnb is located just outside of the town of Whitefish, and not too far from Glacier National Park. But you can forget about all of that as you wander around the 2.5 secluded acres that's right in front of you. Who knew quietness could feel so loud?
Sleeps: 4
Book it on Airbnb.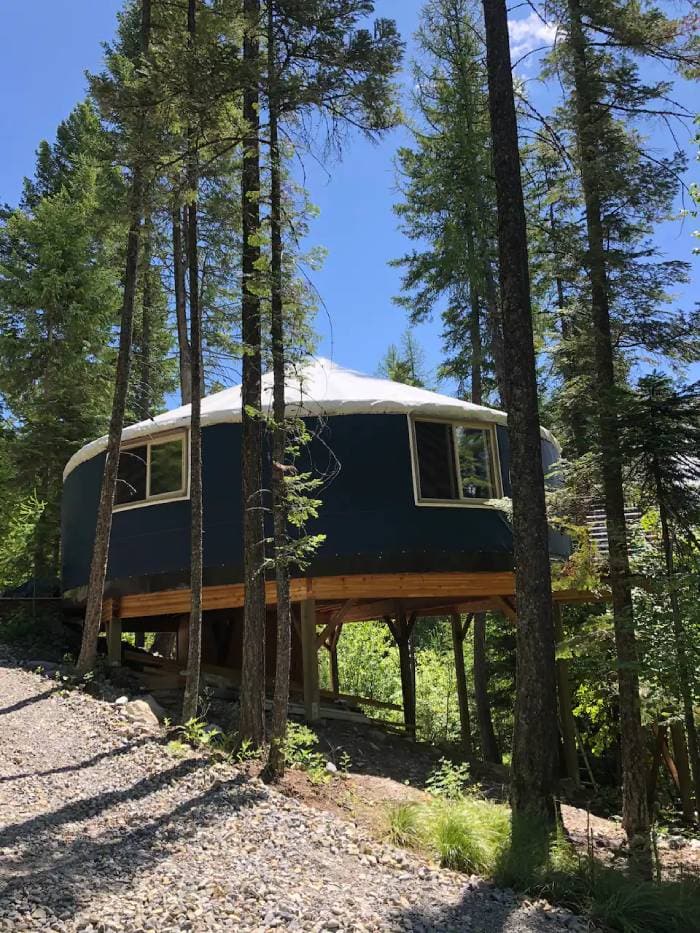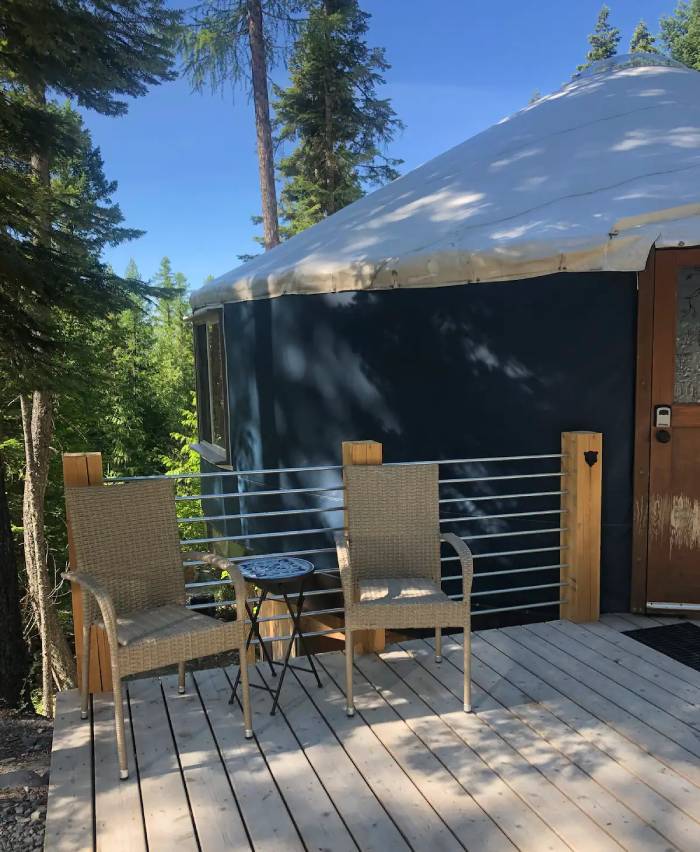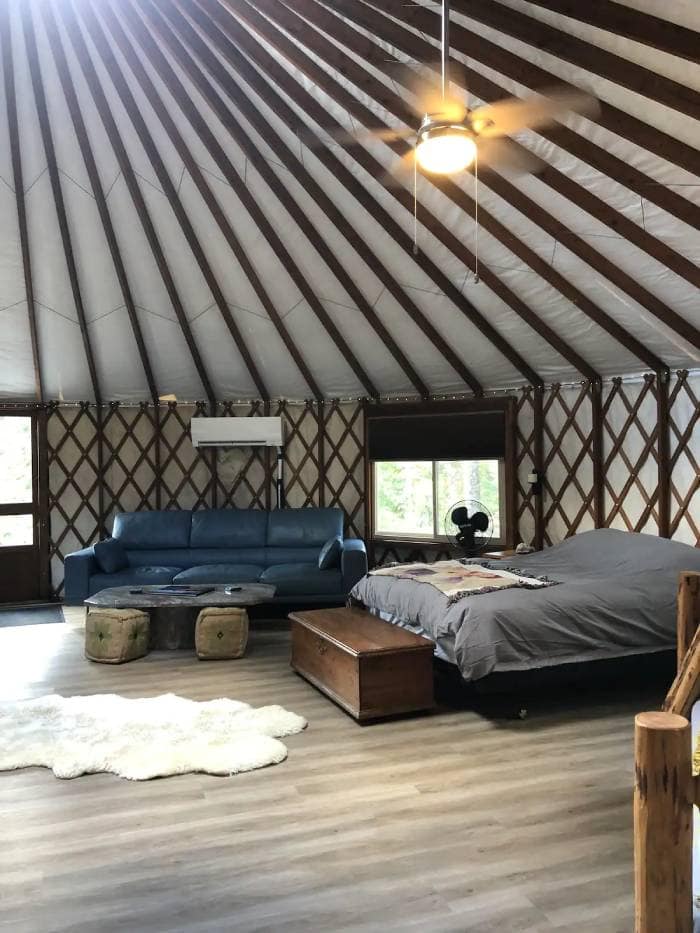 15. Mountain Condo With Great Views, Vail, Colorado
Vail may be famous for its ski resort, but its fall foliage is nothing to sneer at. No seriously, it gets really sad if you do that.
This bright and airy condo looks directly out onto the mountains so you can see the leaves changing before your eyes. Well, you might have to stay here a while to actually see them changing…but you're overdue for a long vacation anyway.
Sleeps: 4
Book it on Airbnb.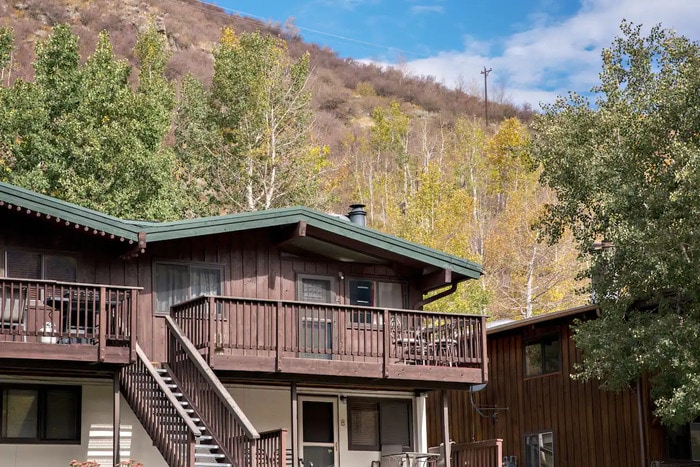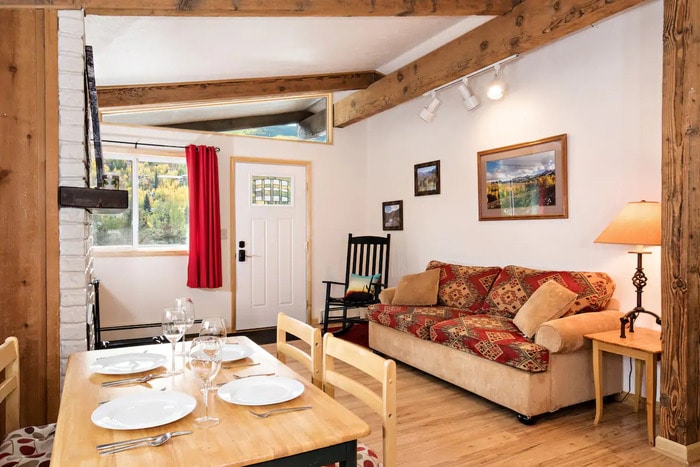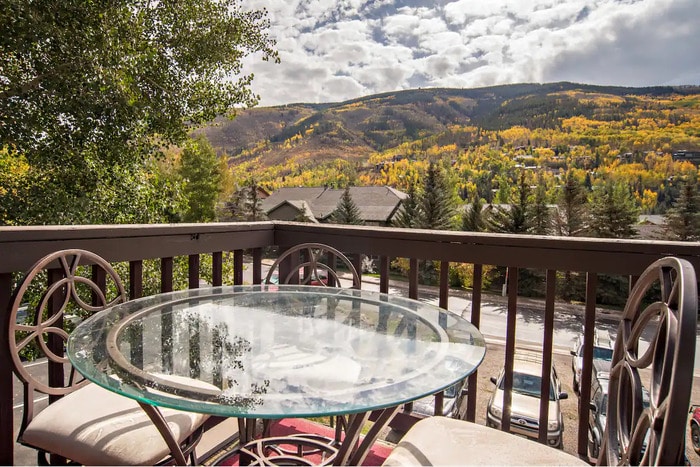 16. Dancing Pines on Fall River, Estes Park, Colorado
We honestly don't know whether we like the inside or the outside more. On one hand, the patio has a better table for entertaining than we do inside our own home, and it has a hot tub.
But on the other hand, there are snacks inside. If only there was a way to combine the two…
Sleeps: 8
Book it on Airbnb.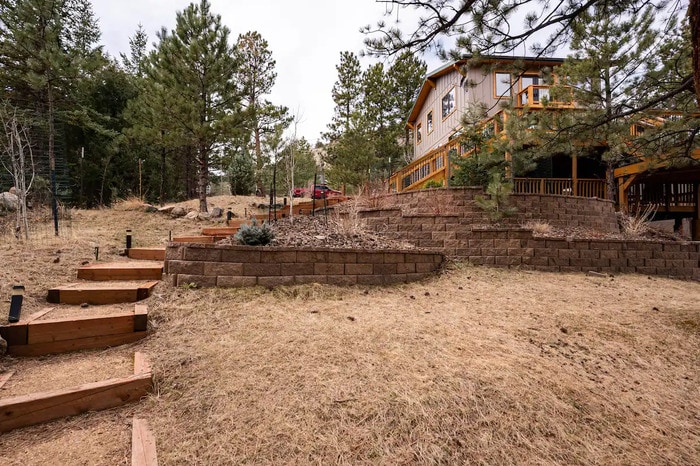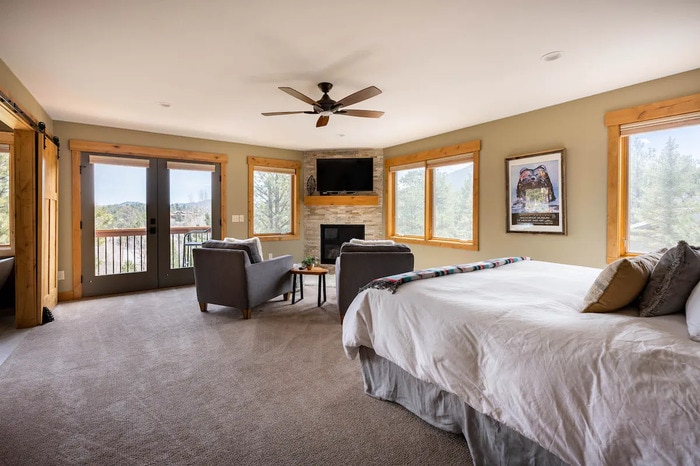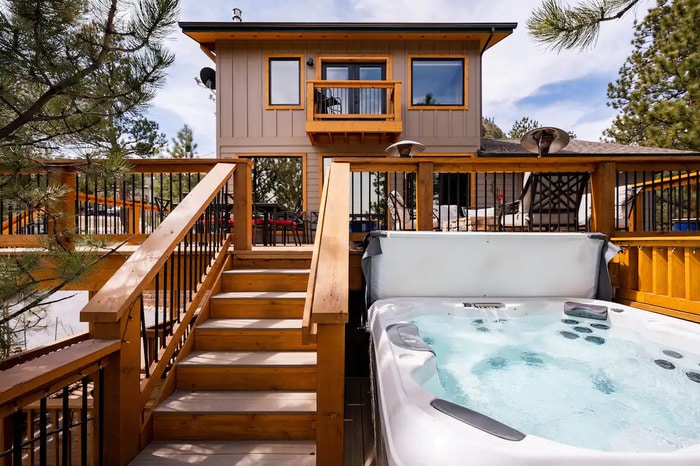 17. Cozy Tiny Mountain Log Cabin, Golden, Colorado
This quaint cabin is surrounded by aspen and pine trees, and offers beautiful mountain views. It's also located 30 minutes from both Golden and Boulder, so you can hike, ride a bike, go horseback riding, or relax while fishing. Well, assuming you knew how to do those things before.
Otherwise, the sauna is pretty nice.
Sleeps: 2
Book it on Airbnb.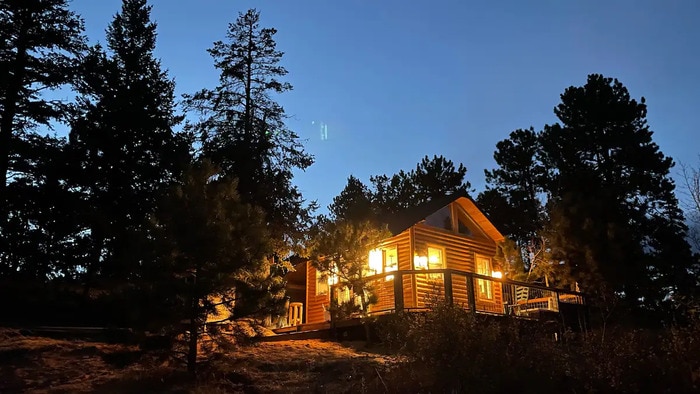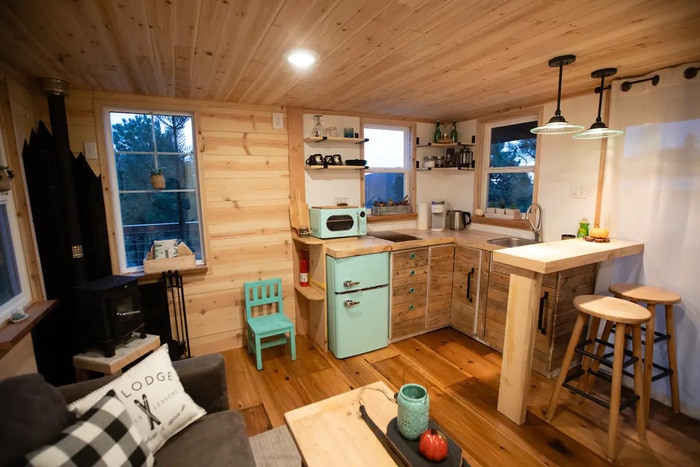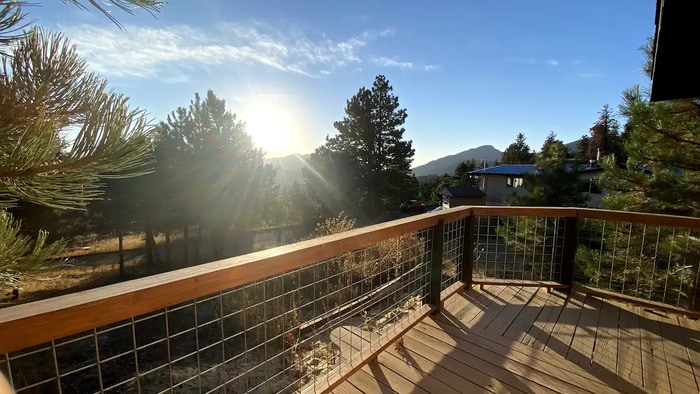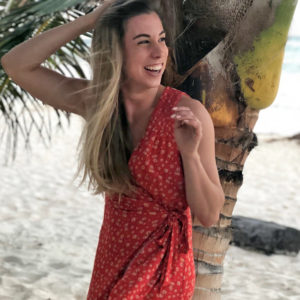 Latest posts by Hannah Rex
(see all)