If you like giving head, blowjobs are great. If you don't, flavored condoms come in many fruity, fun options and are one way to make sucking the lollipop a sweeter treat.
But are these condoms flavors better than the generic "lightly salted?" We're so glad you asked!
We taste tested and reviewed the most popular flavored condom brands to find out which will have you coming back for more, and which make you say "maybe we should just watch Netflix and chill."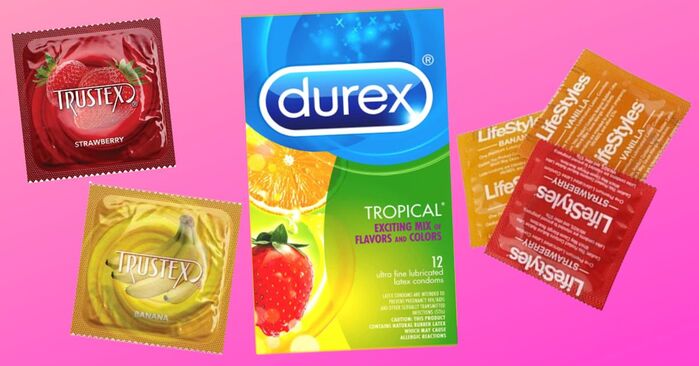 Why Should I Use Flavored Condoms During Oral Sex?
Flavored condoms are designed to be used during oral sex because they can help prevent the spread of STIs. And, some of them taste nice! But mostly it's to stop the spread of STIs.
Although one in three people say they never use condoms for oral sex, STIs like gonorrhea, genital herpes, syphilis, and HPV can be transmitted during oral. Many people think that if you stop at third base, you're safe from STIs. But infections don't care which hole you're using.
However, you should not use flavored condoms for penetrative sex. The glucose or glycerin used to flavor it can cause infections, so save that banana-flavored banana for the mouth. And the human-flavored banana for everything else.
While we're waiting for scientists to create a ranch-flavored condom, we tested the following flavored condom packs: Durex Tropical, Trustex Non-Lubricated Flavors, and Lifestyles Luscious Flavors.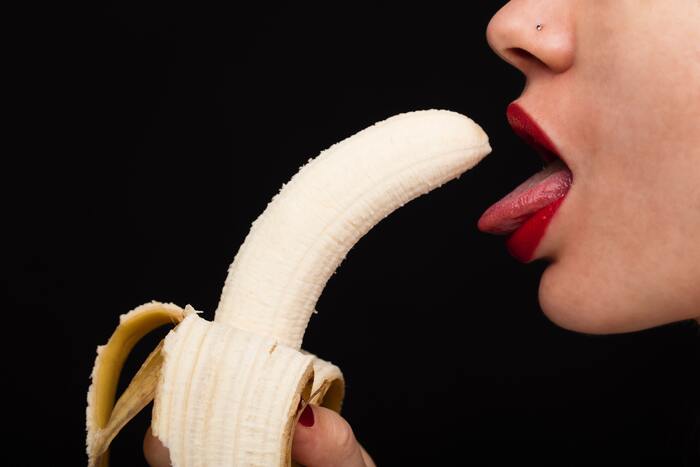 Flavored Condoms Reviewed and Ranked Worst to Best
13. Trustex Grape
Overall, Trustex was our favorite brand. And this flavor wasn't terrible, per se, but the smell alone sent us reeling. Upon opening the packet, the smell of 1,000 Grimace farts attacked our nostrils.
Even worse, the smell clung to our fingers long after we'd thrown away an amount of condoms that will have the trash collector asking questions. In other words, this is not the flavored condom for anyone trying to be discreet.
And as for the taste? It was like stale grape Runts candies that you left in your backpack since you last actually ate Runts.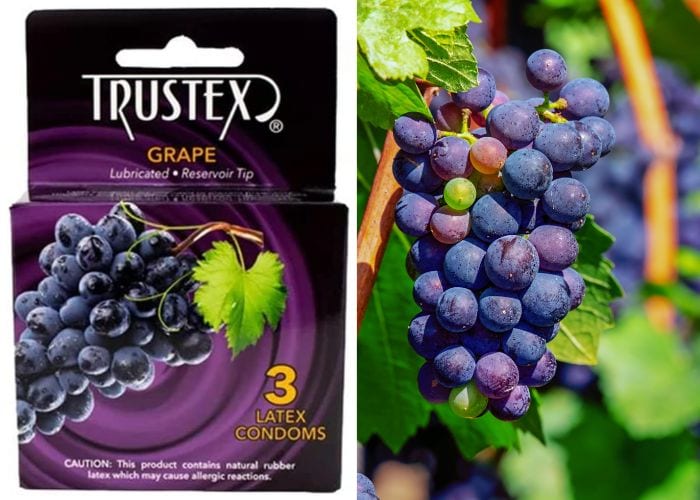 Available on Amazon.
12. LifeStyles Strawberry
Strawberry is a popular choice for flavored condoms, and this strawberry flavor was our least favorite of the pack. Mostly because it barely tasted like strawberry.
Many of these condoms in our non-edible taste test didn't have much lubrication, but the goop that coated this condom was thick and grainy. Maybe they were trying to go for the texture of the seeds? We'll save that for the actual fruit, thanks.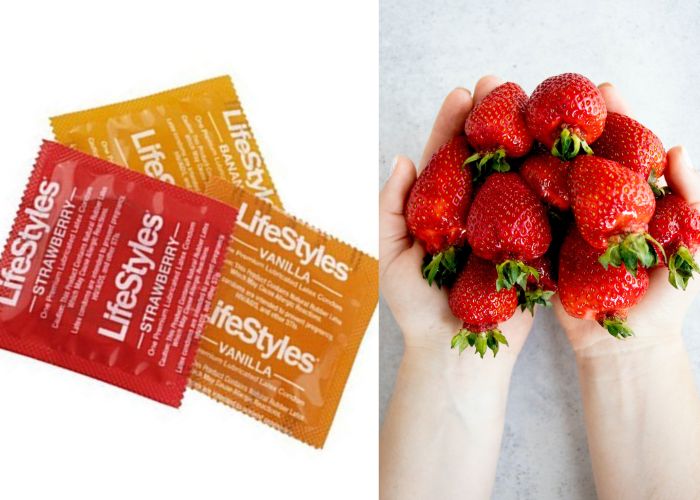 Available on Amazon.
11. LifeStyles Banana
The banana flavor of Lifestyles had the same, grainy flavor goop. It only beat out strawberry because it did technically taste somewhat like banana.
But it still didn't make us want to put anything banana-like in our mouths. So much for getting our daily dose of potassium.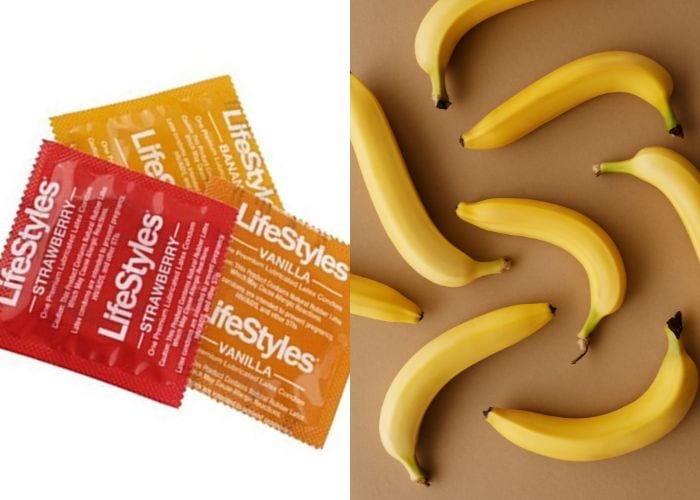 Available on Amazon.
10. Durex Banana
There were, unfortunately, several banana flavors, and none of them were winners. We would argue there is no good artificial banana flavor, and this one helped prove our case.
It tasted like what we imagine eating a banana scratch and sniff sticker would be like. We said imagine, right?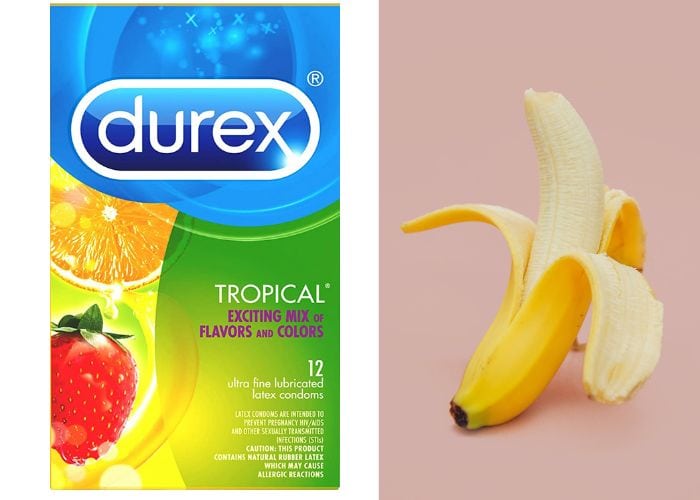 Available on Amazon.
9. Trustex Cola
True to its name, these condoms taste like cola. So if you've ever craved a flat, warm Coke while giving a blowjob, this one's for you.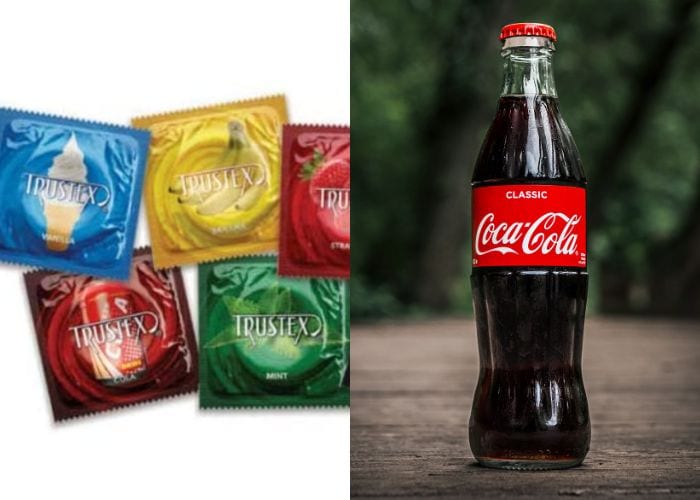 Available on Amazon.
8. Trustex Chocolate
How can chocolate be bad? If it's on a flavored condom. Or in a pack of Malted Milk Balls from Halloween of '99.
There was a strong chemical smell when opening this package, but the flavor itself was actually on point. Unfortunately, the chemical aftertaste took awhile to go away, no matter how much we drank to wash out our mouths and forget about this experiment.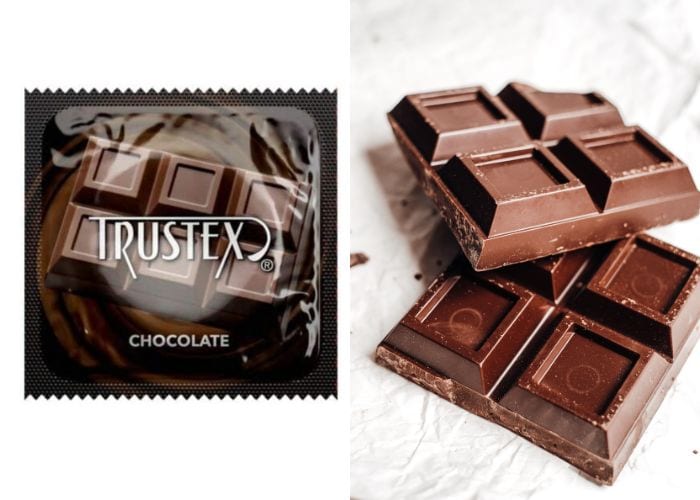 Available on Amazon.
7. Durex Strawberry
Nevertheless, the strawberry persisted. The Durex flavor tasted like drinking strawberry bubble bath, or eating one of the strawberry candies from the bottom of your grandma's purse.
Not terrible, but not sending us back for seconds. That bubble bath, on the other hand…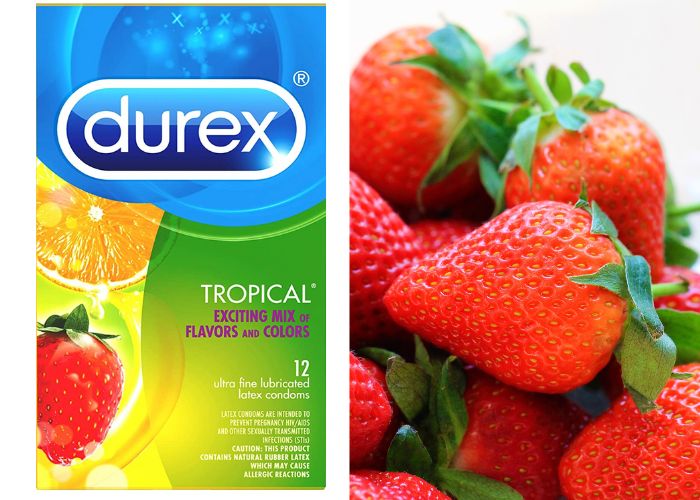 Available on Amazon.
6. Trustex Strawberry
Finally, we're free from the strawberry nightmares. Despite an initial weird smell, Trustex's strawberry flavor wasn't bad. It was kind of like strawberry bubble tape. Which honestly could be fun to use in the bedroom, too.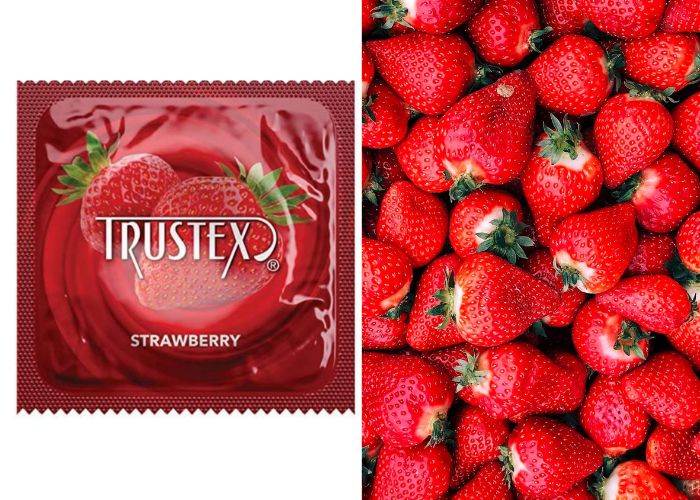 Available on Amazon.
5. Trustex Banana
If you are a person who likes fake banana flavor – we refuse to believe you exist – this is the banana-flavored condom to go with. It tasted like a banana Laffy Taffy, a candy people allegedly enjoy.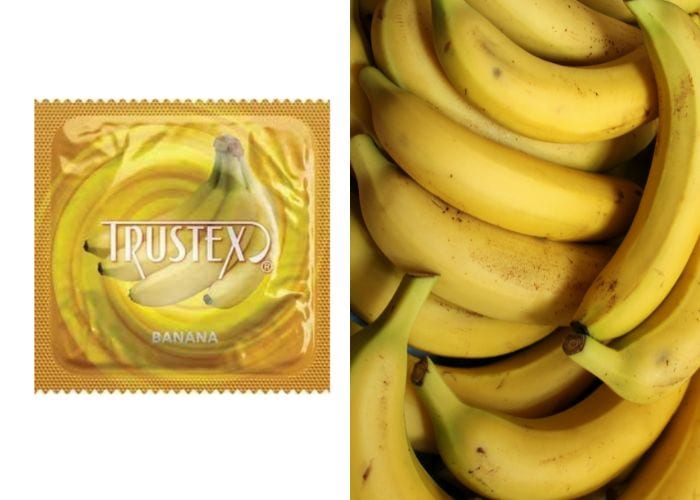 Available on Amazon.
4. Trustex Vanilla
This flavor was very subtle. You'd have to give a blowjob so long it becomes a blowcareer to actually taste anything. We hear there's openings in the Valley.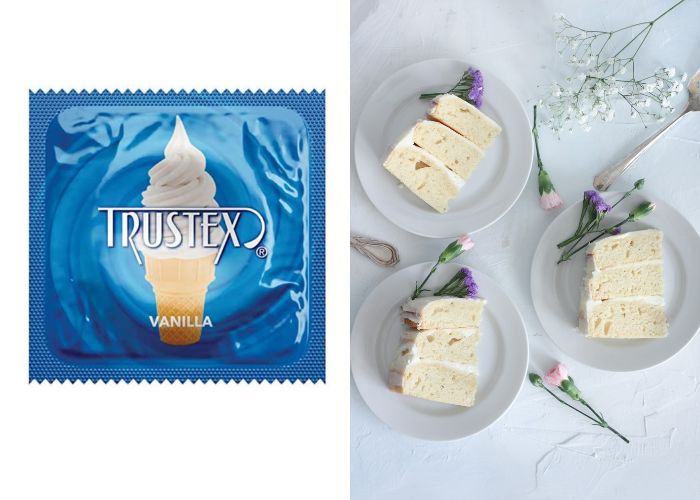 Available on Amazon.
3. Durex Apple
This is the first flavored condom we actually enjoyed. Green apple flavor can often be overly sour, but this flavor was light and subtle. Think of it as the La Croix of apple-flavored condoms.
Should Durex try pamplemousse next?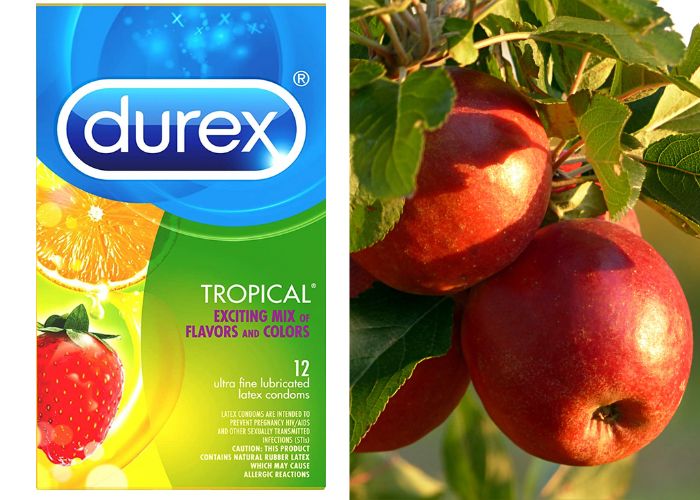 Available on Amazon.
2. LifeStyles Vanilla
With the flavor and texture of this condom, this is what we imagine it would be like if we gave into temptation and bit a vanilla candle. Just don't leave bite marks on these like you did at the store.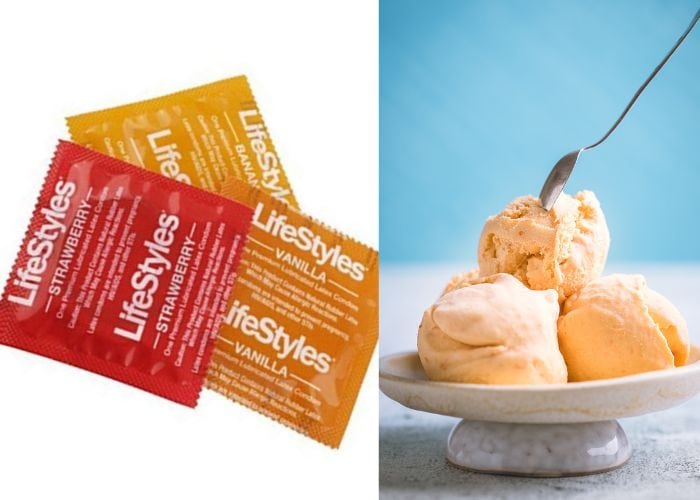 Available on Amazon.
1. Trustex Mint
And we have a winner! These condoms had a subtle, fresh mint flavor that actually covers the taste of latex. It was one of the few flavors that we actually wanted to go back for more.
If you use this condom for a blowjob, you'll end your blowjob with fresh breath and nobody asking you to swallow. Winner winner, minty chicken dinner.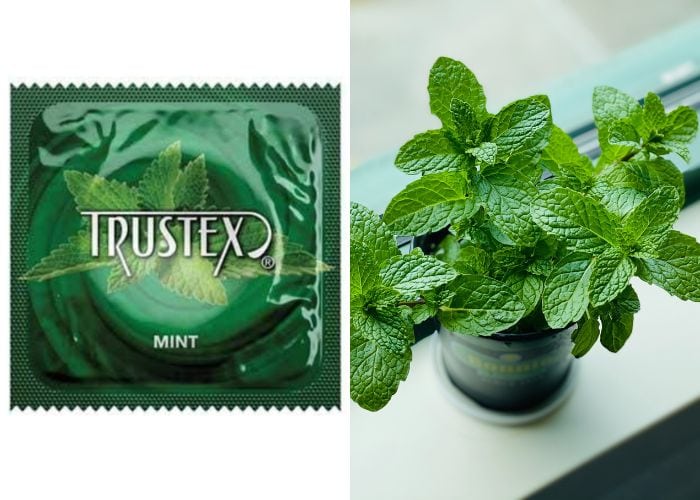 Available on Amazon.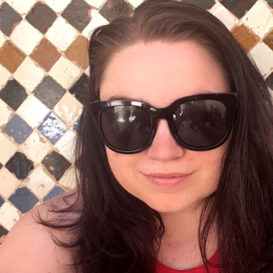 Latest posts by Madison Higgins Hwang
(see all)