Is there anything better than funny puns? Well, probably. But if you love wordplay, even a cheesy pun can still make you laugh — and sometimes the worse they are, the better. We love puns at Let's Eat Cake and we think the clever puns on this list take the cake.
They can bring it back anytime now.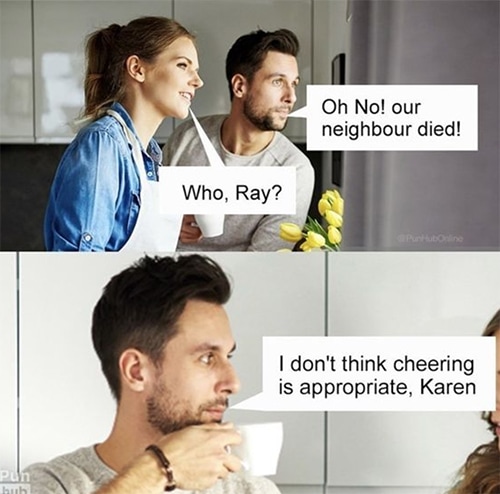 50 Funny Puns
People who lack the patience for calligraphy will never have properly formed characters.
She had a photographic memory but never developed it.
My math teacher called me average. How mean!
Why didn't the lifeguard save the hippie? Because he was too far out, man.
It was an emotional wedding. Even the cake was in tiers.

What would bears be without bees? Ears.
A dog gave birth to puppies at the roadside and was fined for littering.
Where did Noah keep his bees? In the ark hives.
What do you call an alligator in a vest? Investigator.
Never date a tennis player. Love means nothing to them.
I couldn't quite remember how to throw a boomerang, but eventually, it came back to me.
I hate Russian Dolls. They're so full of themselves.
To the guy who invented zero: Thanks for nothing!
I really wanted a camouflage cap, but I couldn't find one
I was wondering why the ball was getting bigger. Then it hit me.
What is the best thing about living in Switzerland? Well, the flag is a big plus.

I got a new pair of gloves today, but they're both 'lefts' which, on the one hand, is great, but on the other, it's just not right.
My boss is going to fire the employee with the worst posture. I have a hunch it might be me.
When I lose the TV controller, it's always hidden in some remote destination.
A termite walks into a bar and says, "Where is the bar tender?
Someone stole my toilet and I have nothing to go on.
German sausage jokes are just the wurst.
Why did the egg feel so good? Because she just got laid!

My Christmas cake has recently gone missing. I've reported it stollen.
Wherever the fireman went, he was greeted warmly.
Do you know how they make holy water? They boil the hell out of it!
Two WI-fi antennas got married last Saturday. The reception was fantastic.
What's the difference between a hippo and a Zippo? A hippo is really heavy, and a Zippo is a little lighter.
My friend told me to take these and now we're on a whole new level.

When it comes to baking, don't be afraid to take whisks.
How was Rome split in two? With a pair of Caesars.
I bet the person who created the door knocker won a No Bell prize.
Two birds are sitting on a perch and one says "Do you smell fish?"
After the accident, the juggler didn't have the balls to go on again.
What should you do if you're cold? Stand in the corner of the room – it's always 90 degrees.
What did the cake say to the fork? "You want a piece of me?!"

Available on TeePublic.