Every year, Starbucks doesn't fail to delight us with something spooky come the Halloween season. (The giant line of people ahead of us ordering a Pumpkin Spice Latte doesn't count.)
In years' past, that's included the Witches Brew and the Zombie Frappuccino. This year, Totally the Bomb noticed that the recipe wizards have gone above and beyond and created not one but three Hocus Pocus Frappuccinos — one for each of the Sanderson Sisters — and hidden them on the Starbucks secret menu. Each colorful, witchy beverage is inspired by the look and attitude of the Sanderson Sister it represents.
And, while we can't promise your barista won't want to play some tricks on you after you request one of these magical concoctions, what better drink is there to enjoy with these Hocus Pocus cookies?
How to Request a Hocus Pocus Frappuccino
Since the secret drinks are based on the customizations you request, it's important to know the recipe for each going in. So, here's what's in each of the Hocus Pocus Frappuccino. Remember to tip well if you're ordering any of these!
Winifed Frappuccino
Order a Matcha Green Tea Crème Frappuccino.
Ask for 1 pump of white mocha and 1 pump of peppermint syrup
Top with whipped cream and strawberry inclusions (freeze-dried strawberries)
The minty drink will be bright green with a red top, similar to her hair and the color this Sanderson Sister sees on glorious mornings.
Sarah Frappuccino
Order a Violet Drink.
Ask for coconut milk as the milk and request it to be double blended so it's extra smooth.
Top with whipped cream and ginger powder.
The not-so-sweet beverage will put a spell on you with it's purple hue. If you want extra blackberries, those are a great fruity addition.
Mary Frappuccino
Order a Strawberry Frappuccino.
Ask to replace the syrup with white mocha and to blend it with strawberry inclusions.
Ask for mocha drizzle and strawberry puree on the top and bottom.
This beverage reportedly tastes just like a chocolate-covered strawberry, just like this lovable Sanderson.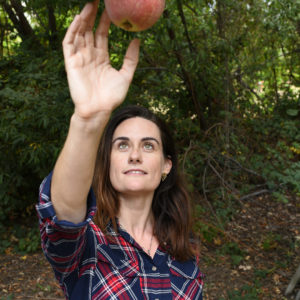 Latest posts by Rebecca Swanner
(see all)