Whether you call this light and soft lemon blueberry a cake or a bread, this lemony dessert is delicious! The Lemon Blueberry Loaf Cake is made with lemon juice, lemon zest, juicy blueberries, Greek yogurt, and topped with a sweet lemon glaze. And the best part? No mixer required!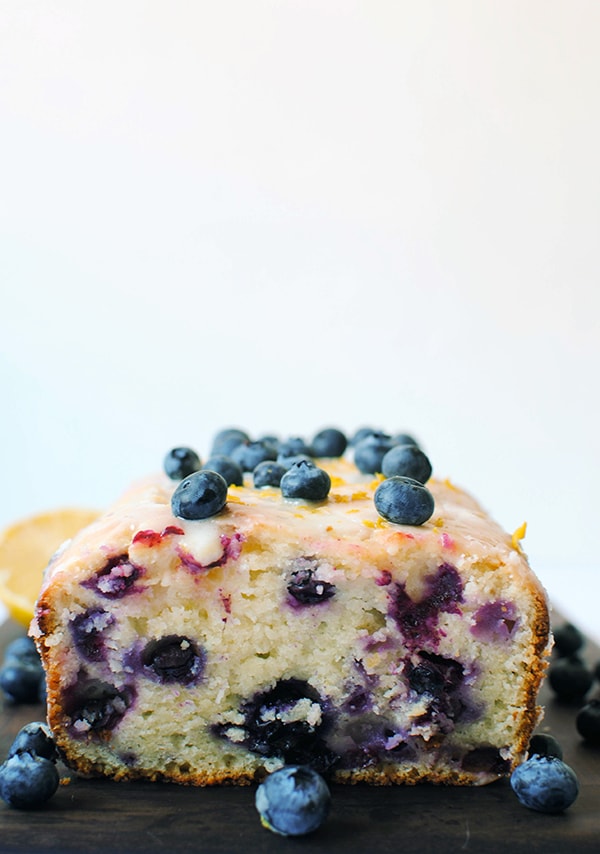 For a few weeks now, I have been hunting for rhubarb. I've gone to every grocery store in my area – and some on the other side of town and hit up the local farmer's markets, but so far, I haven't had luck locating rhubarb. So, no rhubarb recipes just yet. I've that it might be available at the Wednesday farmer's market in Santa Monica, so I'll see if I can get over there this week.
While I lay in wait for rhubarb to pop up, I wanted to share with you another spring recipe I think you'll love: Lemon Blueberry Cake. I'm a big fan of lemon and a few years ago my neighbors gifted me with a bounty of lemons from their tree. I used some to create a lemon pie, some to make lemon macarons, and the rest I used in this Bon Appetit recipe for French Yogurt Cake.
It was excellent. It was Light and soft and excellent with a little bit of whipped cream. It was one of those dishes you bring to brunch that is like the sleeper movie. It looks unassuming, but when guests start trying it, it's suddenly the dish everyone wants. So, I decided to make it again. Except this time, I added more lemon, a cup and a half of blueberries, lemon juice, and a lemon glaze. Because while the first version was fantastic, I craved a lemon blueberry bread that had a bit more lemon flavor. Also, blueberries and lemon are the perfect pairing, don't you think?
How to Make Lemon Blueberry Cake
If you're a fan of lemon desserts, light and tender cakes, or Starbucks' Lemon Loaf, I think you'll love it. The lemon cake recipe is a little different than other lemon blueberry cakes out there, though. It uses vegetable oil instead of butter and Greek yogurt instead of buttermilk. As a result, this lemon cake is moist, light, and airy. Butter tends to result in a denser cake, where oil gives a loaf more height and a lighter crumb.
Oh, and did I mention the recipe doesn't require a mixer? As much as I adore my 30-year-old KitchenAid, I love sharing recipes that don't require a mixer. They're great for thank you breakfasts if you've been staying with friends or family, or if you're just looking for a brunch recipe that doesn't require a lot of prep.
One tool I do recommend, however, is a zester. I use this handheld zester from Microplane because I was always really good at grating my knuckles on those box graters. Zest the lemons before juicing them. If you end up with too much zest, put it in a small Ziploc and put it in the freezer to be used later.
To make the Lemon Blueberry Bread, oil and flour one loaf pan and preheat the oven to 350°F. Whisk your dry ingredients together in a small bowl and set them to the side. Juice and zest your lemon, and place one tablespoon of the lemon zest in a large bowl. Add the sugar and work the lemon zest into the sugar with your hands until the sugar is moist and smells lemony. Then, add in all of the other wet ingredients (Greek yogurt, eggs, vanilla extract, lemon juice, blueberries) and whisk the mixture until no lumps remain. Gently stir in all of the dry ingredients, and once everything is fully combined, pour the batter into the prepared loaf pan. Pop into the oven and let bake for 50 minutes or until a cake tester or butter knife comes out clean.
When your Lemon Blueberry Bread is about 10 minutes from done, make the Lemon Glaze. Whisk together the confectioner's sugar, lemon zest, lemon juice, melted butter, and salt. Then, place this in the fridge. Once the cake has cooled, pour the glaze on top. If you begin pouring and find the glaze isn't sticking at all, pop it back in the fridge for another 10 minutes to let it set more.
Ok, without further ado, here's the recipe. Let me know if you have any questions in the comments!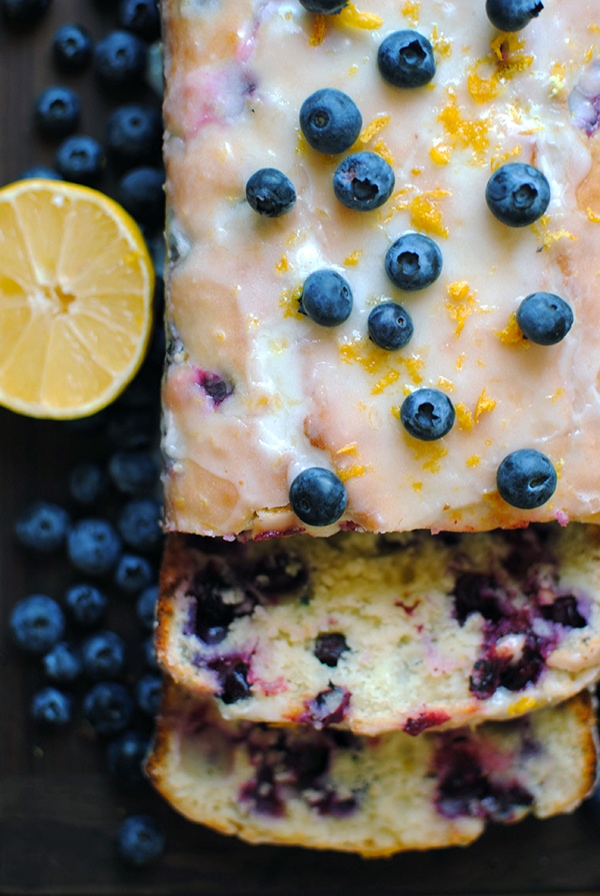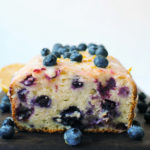 Lemon Blueberry Loaf Cake
This tender and moist Lemon Blueberry Loaf Cake is deliciously easy to make - no mixer required!

Total Time
1
hour
5
minutes
Ingredients
Lemon Blueberry Loaf Cake
Nonstick vegetable oil spray

1 3/4

cup

flour

divided

2

tsp.

baking powder

3/4

tsp.

coarse kosher salt

1

cup

sugar

1

Tbsp.

lemon zest

(from 2-3 lemons)

3/4

cup

whole-milk Greek yogurt

1/2

cup

vegetable oil

2

large eggs

1/2

tsp

vanilla extract

1/4

cup

lemon juice

1 1/2

cup

blueberries
Lemon Glaze
2

cups

confectioner's sugar

1/2

tsp.

lemon zest

(from 1 lemon)

3

Tbsp.

lemon juice

1

tsp.

butter

melted

1

pinch

fine salt
Instructions
Lemon Blueberry Loaf Cake
Preheat oven to 350°F. Coat pan with nonstick vegetable oil spray or vegetable oil and dust with flour. Shake out excess.


Zest and juice lemons for bread and glaze. Set aside.


Place flour, baking powder, and salt in small bowl. Whisk to blend. Set aside.


Place sugar and 1 Tbsp. of lemon zest in large bowl. Work zest and sugar together with your hands until sugar is moist and fragrant.

Add Greek yogurt, vegetable oil, eggs, vanilla extract, and lemon juice, to large bowl. Whisk to combine until no lumps remain. Add blueberries.


Add dry ingredient mixture to wet mixture and gently combine.


Pour batter into prepared loaf pan and bake for 50-55 minutes until cake tester or knife comes out clean. When the Lemon Blueberry Loaf Cake is 10 minutes from done, make the Lemon Glaze.
Lemon Glaze
Whisk confectioner's sugar, lemon zest, lemon juice, melted butter, and pinch of salt in large bowl until combined. Place in fridge to set.

Place loaf on cooling rack to cool for 10 minutes. Flip pan over and remove loaf, let continue to cool on rack.

When the Lemon Blueberry Loaf Cake has fully cooled, drizzle glaze on top.

Nutrition Facts
Lemon Blueberry Loaf Cake
Amount Per Serving (1 slice)
Calories 237
Calories from Fat 81
% Daily Value*
Total Fat 9g 14%
Cholesterol 27mg 9%
Sodium 89mg 4%
Potassium 37mg 1%
Total Carbohydrates 37g 12%
Protein 3g 6%
* Percent Daily Values are based on a 2000 calorie diet.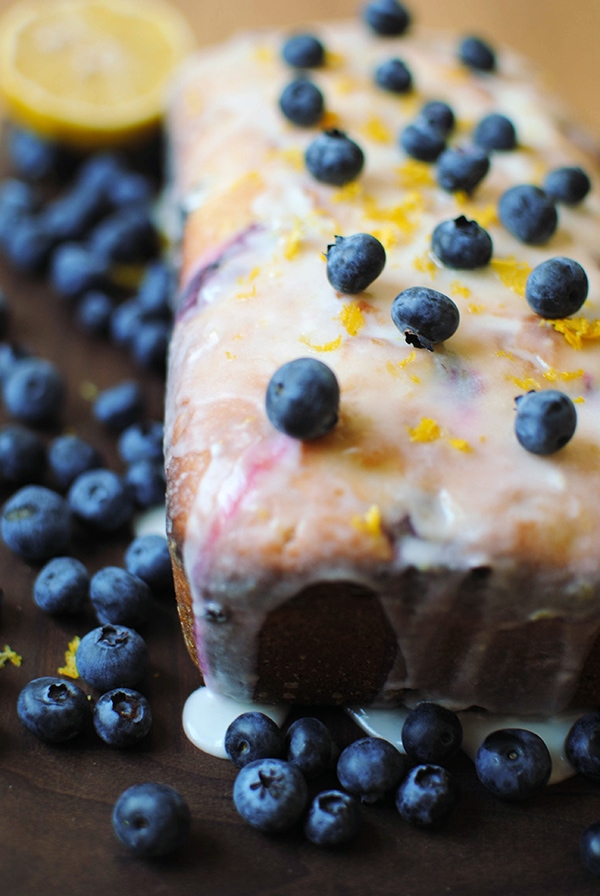 Save
Save
Save
Save
Save
Save