Folks, mercury is in retrograde. Do I know what that means? Not really, but it's bad. Really bad. And it's what I'm blaming all my problems on right now. And you can too!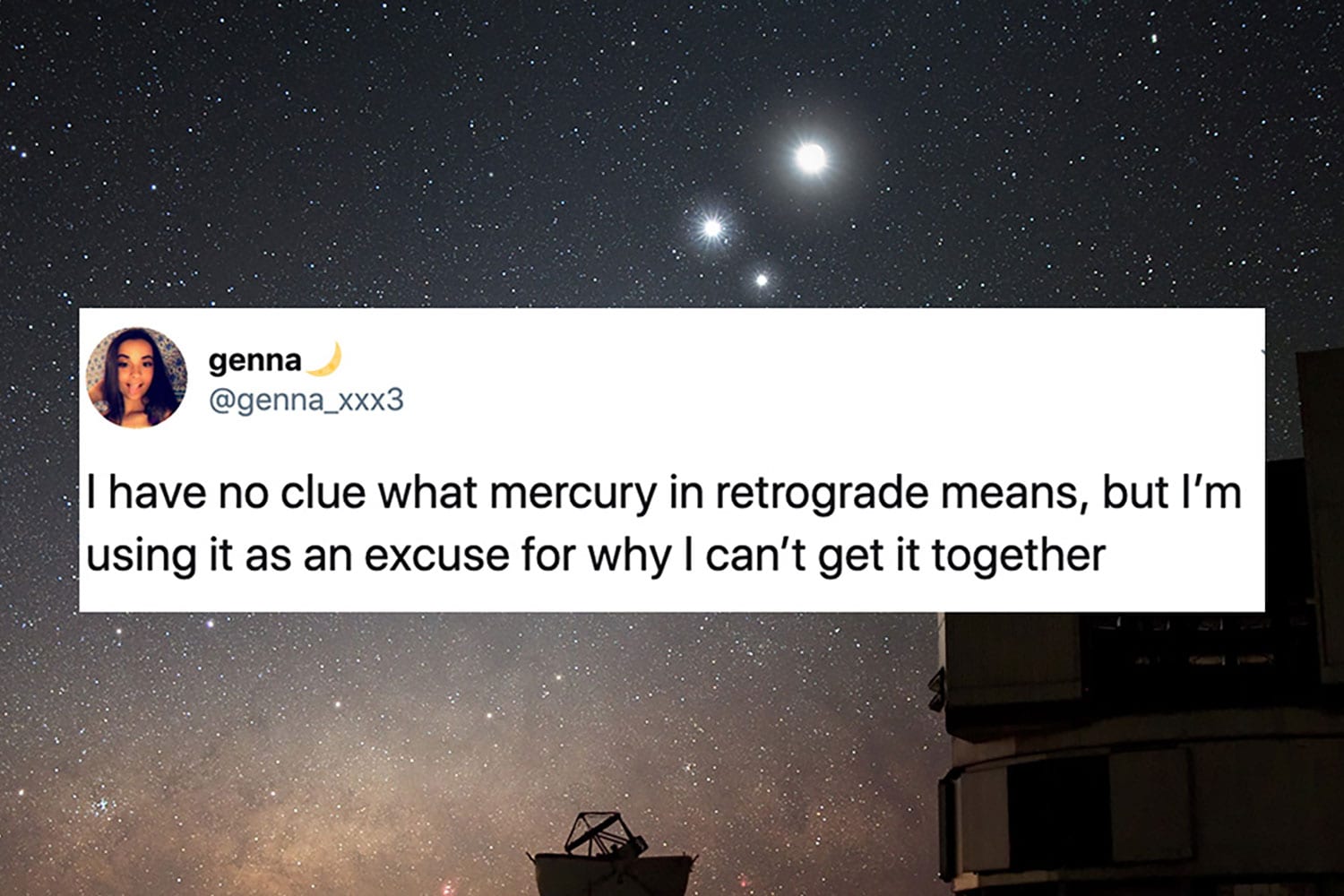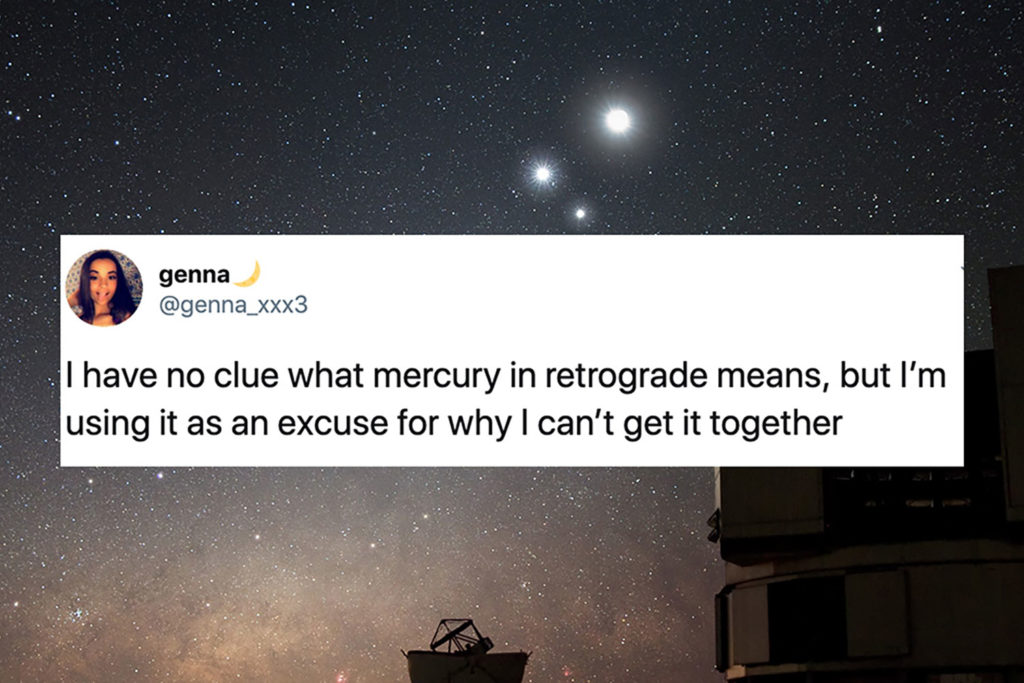 What Does It Mean That Mercury Is In Retrograde?
According to NASA, Mercury in retrograde isn't a real thing. Their official statement on the matter: "The planet does not physically start moving backwards in its orbit. It just appears to do so because of the relative positions of the planet and Earth and how they are moving around the Sun."
According to not-NASA, because Mercury — who in Greek mythology was the winged messenger to the gods — rules communication, when the planet appears to move backwards it messes with communication (not that the Gods ever actually listened to him).
As a result, astrologers generally advise not to start projects, sign contracts, or make big purchases. They warn that delays, complications, misunderstandings are all commonplace when Mercury is in retrograde. Is it scientific? No! Are we going to blame the fact that the airline lost our luggage on it? Yes!
(We will also be getting some these cute carry-on bags to replace the ones they lost.)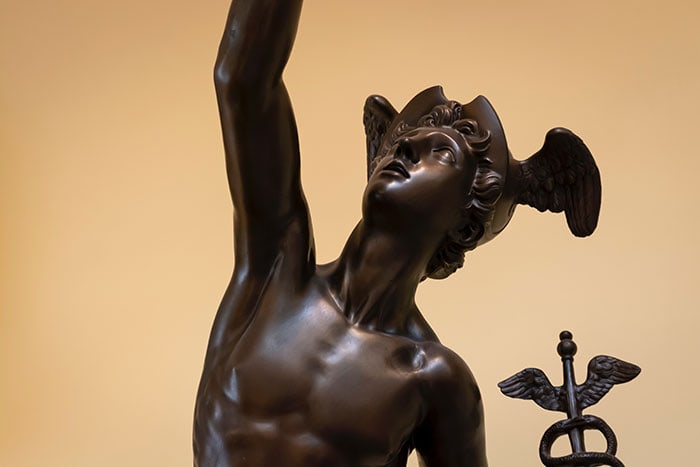 When Is Mercury in Retrograde?
Ok, ignoring NASA for a moment… here are the dates when "mercury is in retrograde" in 2019. Also, the entire purpose of this site is to tell you whether or not Mercury is or is not in retrograde. Here are your dates for the next few years. (And, for the record, we side with science.)
Retrograde Dates 2019:
March 5-28, 2019
July 7 – August 1, 2019
October 31 – November 20, 2019
Retrograde Dates 2020:
February 19 – March 9, 2020
June 17 – July 12, 2020
October 13 – November 3, 2020
Retrograde Dates 2021:
February 30 – February 20, 2021
May 29 – June 22, 2021
September 27 – October 18, 2021
Then again, we shouldn't let facts get in the way of good content! So enjoy these Tweets and memes until the universe gets its shit together again.
25 Accurate Tweets That Perfectly Describe Mercury in Retrograde
1. Maybe we should leave Mercury alone.
HUMANS: Oh no, Mercury is in retrograde.
MERCURY: *Literally just floating in space* Haha, I don't think I am, friends!
HUMANS: That's why everything is bad.
MERCURY: *Trying not to cry* WTF, you guys?

— MehGyver (@TheAndrewNadeau) July 27, 2018

2. Quench your thirst.
Mercury's in gatorade again.

— kelly oxford (@kellyoxford) December 18, 2009

3. I always get them confused.
ME: I was struck by a car.
OFFICER: Well, you can blame the Mercury Retrograde…
ME: I'm pretty sure it was the Subaru Outback.

— Sara Wren (@sarawrencomedy) April 4, 2018

4. The only logical explanation.

5. Mercury doesn't care about your facts.
me: i don't really believe in stars & shit
also me: mercury retrograde is here ring the alarm i've cracked the code this is why i feel crazy

— Adam J. Kurtz (@adamjk) December 19, 2016

6. Always good advice.
What the 12 signs need for Mercury Retrograde:

Aries: A nap
Taurus: A nap
Gemini: A nap
Cancer: A nap
Leo: A nap
Virgo: A nap
Libra: A nap
Scorpio: A nap
Sagittarius: A nap
Capricorn: A nap
Aquarius: A nap
Pisces: A nap

— ~Mai~ (@mai_gaia) July 8, 2019

7. Never Tweet.
Mercury Retrograde Season, also known as Type The Tweet/Post, Then Backspace The Whole Thing And Close The Tab Season

— jo gleason, Omen Watcher (@justjogleason) July 5, 2019

8. SAME.
I have no clue what mercury in retrograde means, but I'm using it as an excuse for why I can't get it together

— genna🌙 (@genna_xxx3) March 6, 2019

9. Ah, that's why I can't get it together.
Mercury has been in retrograde my whole life… next

— Justine Skye (@JustineSkye) March 10, 2019

10. This is a good boyfriend.
This morning I woke up crying cause I had a bad dream and my half asleep boyfriend hugs me and says "don't worry babe it's cause the planets are in Gatorade remember" LMAO 😩😂

— alyssa lauren (@_AlyssaLauren) July 9, 2018

11. Don't become too dependent on the planets.
i don't mean to brag, but i don't need a planet to be in retrograde to cry in a longhorn steakhouse parking lot at 2:11pm

— Greg Mania (@gregmania) July 13, 2018

12. This is my jam.
the boys (planets) are back in town (retrograde)

— robyn reynolds' big holiday name adventure (@depressionfan93) July 18, 2018

13. It's gotta be one of them, right?
Blame game: Mercury Retrograde or PMS?

— Astro Academic (@AcademicAstro) July 8, 2019

14. Hang in there.
Once these planets are out of retrograde it's over for you bitches

— Kendall boyd (@kendallboyyd) July 12, 2018

15. The planets can't block your shine.
"Mercury Retrograde will have past lovers re-emerging.. Be careful.."

So will posting a fine Instagram pic on a regular Tuesday lmao

— Agent of Chaos (@TheTrillAC) July 8, 2019

16. Oh, yeah, that too.
Thought I was anxious because Mercury is in retrograde but then I remembered everything is terrible.

— Kendra Alvey (@Kendragarden) March 26, 2018

17. Well played.
YOU: The Queen Bio-pic is stalled

ME: Freddy Mercury's in retrograde

— Jesse McLaren (@McJesse) December 5, 2017

18. Don't blame me.
me: *maybe eats once a day, drinks/eats food terrible for my system, sleeps 4 hours a night*
my body: *gets sick*
me: that goddamn mercury retrograde

— Princess Olive (@stopolive) December 5, 2017

19. These are related, right?
Mercury is in retrograde and I have the WEIRDEST boner

I don't know how astrology works

— wonder boy (@CdyRnkn) December 3, 2017

20. PREACH.
show mercury retrograde who's boss by sabotaging yourself. you don't even need it. *it* should be afraid of *you!*

— JuanPa (@jpbrammer) December 5, 2017

21. The harsh truth.
Adulthood is realizing that Mercury is just always in retrograde.

— Hannah Fergesen (@HannahFergesen) March 7, 2019

22. Makes you think.
If astrology isn't really, then why do Facebook/Instagram/WhatsApp always go down during Mercury retrograde/during the shadow period?

— S. (@Lesbomancer) July 3, 2019

23. Let me be.
*shuts my phone off until mercury retrograde is over*

— virgo (@allmenaintshit) December 3, 2017

24. Alright, I am a little worried.
we make a lot of jokes but mercury in retrograde actually strikes fear in my heart

— steph (@stephsstone) March 4, 2019

25. My bad, I'll stop now.
You know what's worse than Mercury being in retrograde? Being constantly told that Mercury is in retrograde.

— OMG, LaJethro (@LaJethroJenkins) December 5, 2017
Don't forget to follow us on Twitter! Follow @LetsEatCakeBlog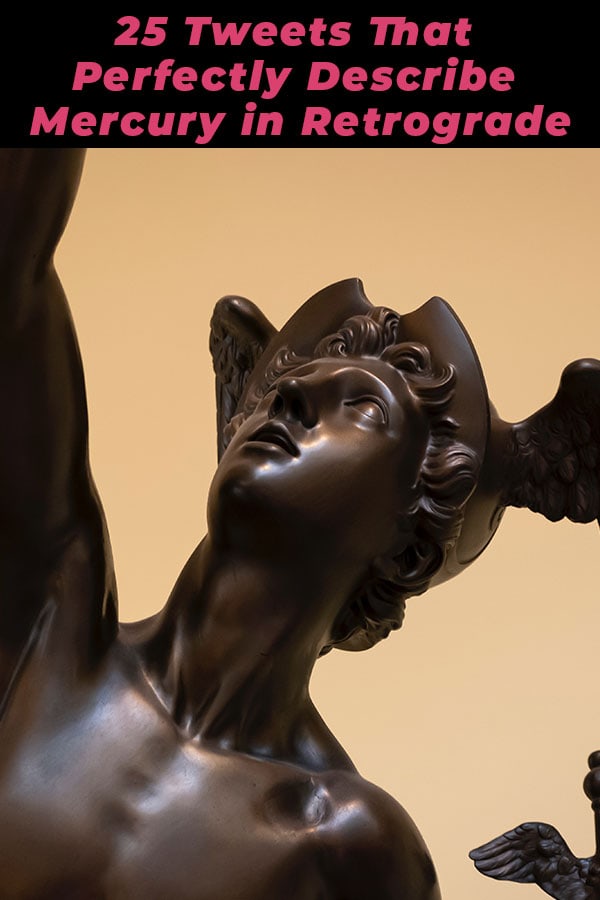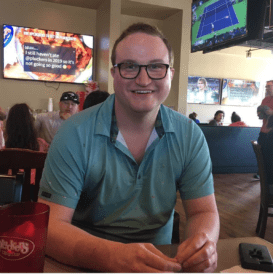 Latest posts by Mac McCann
(see all)