After last year's Oscars kerfuffle, we were all wondering how this year's were going to go.
And, while there weren't any "what just happened let's tweet about that immediately" moments at this year's Academy Awards held on March 12, there were a couple hilarious moments, thanks to Lady Gaga, Andrew Garfield, and Colin Farrell and his pal Jenny the Donkey. So, here's the best and funniest memes and tweets about the 2023 Oscars.
We can also thank Elizabeth Banks's bear, host Jimmy Kimmel, and Tems for some of these tweets, and Jamie Lee Curtis for others. (Sorry, Angela.) But, remember, when she wins an Oscar, we all do, so it's cool.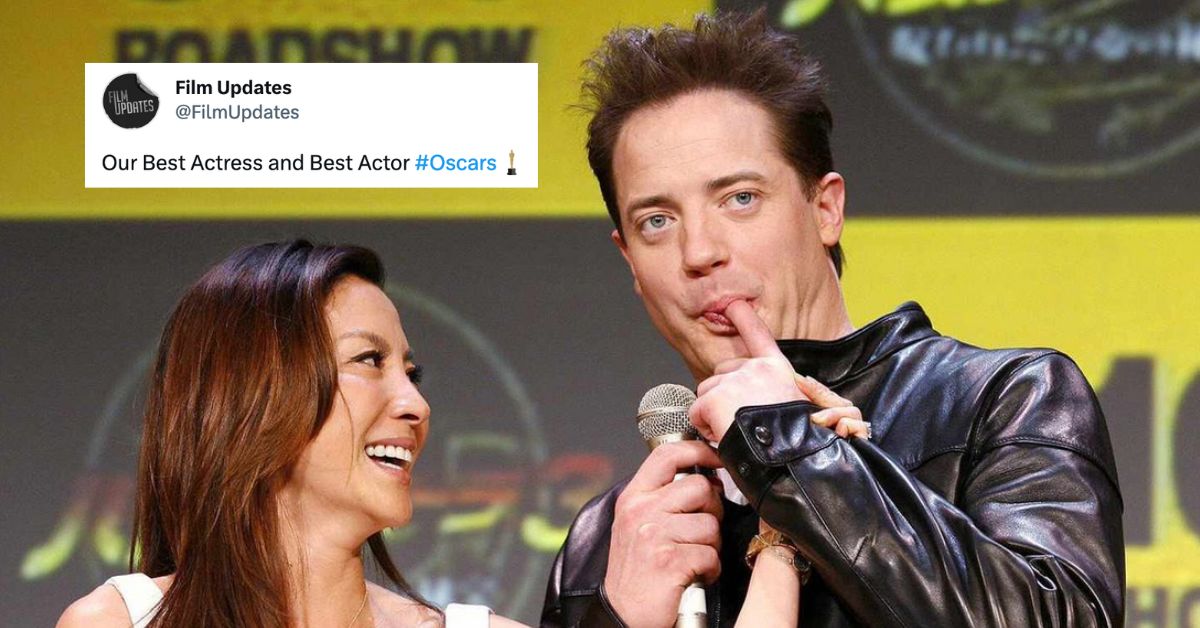 There were also some moving moments. Like, Michelle Yeoh's historic win for Best Actress, for one. Or, Daniel Kwan's Best Director speech for Everything Everywhere All at Once that had us leaking weird stuff from our eyeballs.
Or Lady Gaga's barefaced look that had us questioning whether we need a better makeup remover. But, for now, onto the Twitter reactions!
The Best Oscar 2023 Memes and Tweets
1. Hot dogs are the it accessory for 2023.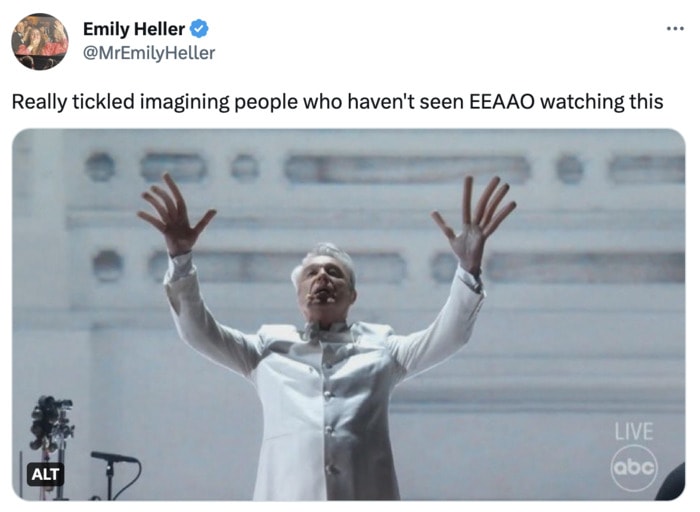 2. Lady Gaga can do it all.

3. Let the bear do everything it wants.

4. Looking at our Neutrogena wipes like…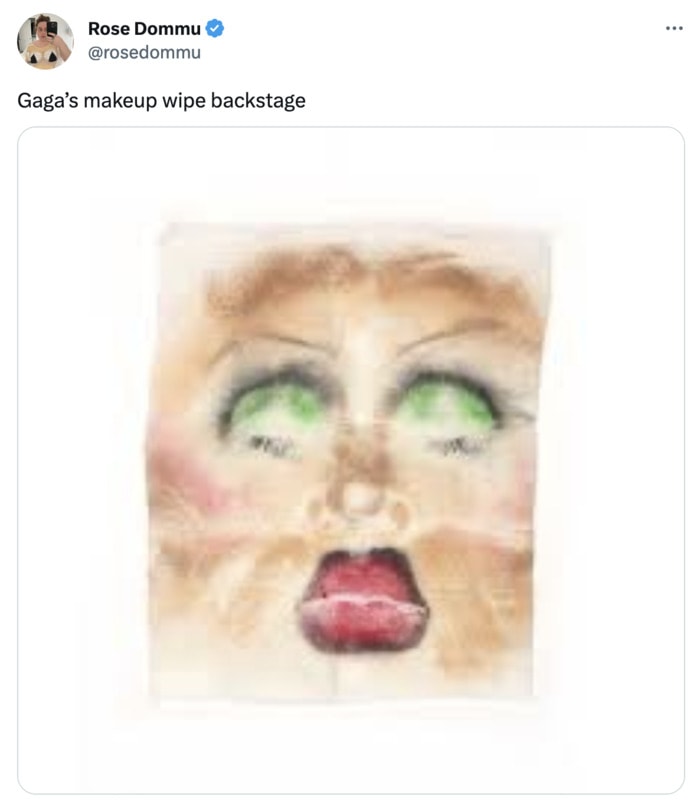 5. Tee-hee.

6. Who sang it better? Gaga or Mike?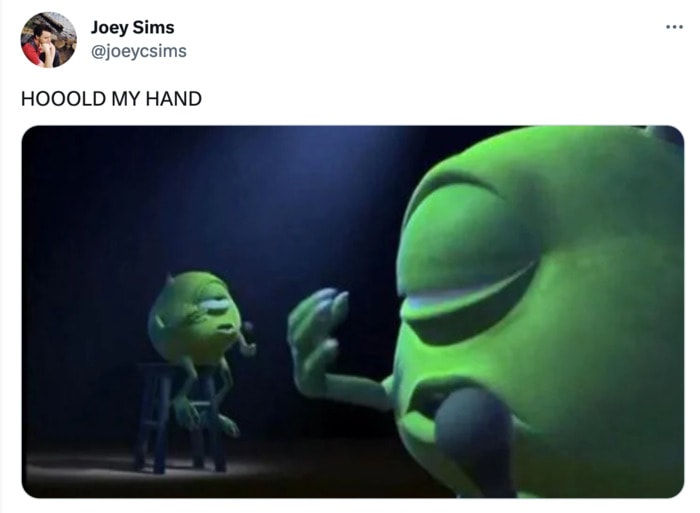 7. I don't think that meant what she thought it meant.

8. Well, technically everyone said they're rigged because of all the lobbying that goes on behind the scenes, but sure.

9. If Pedro is there, Baby Yoda is there. Those are the rules.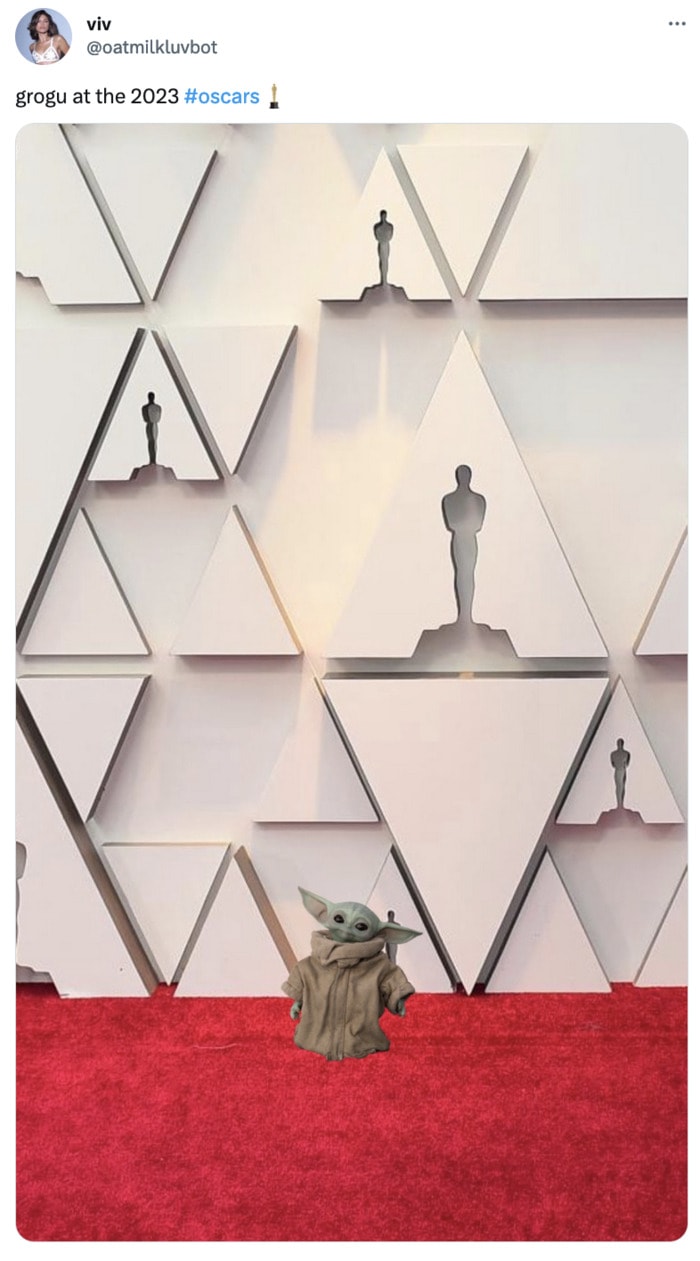 10. Taking it to its rightful owner, thank you.
Me stealing the oscar to give it to Angela Bassett #oscars pic.twitter.com/KfkLUJo0h9

— ♈︎ (@bvbhive) March 13, 2023
11. :pours teaspoon of beer:

12. Andrew Garfield is all of us listening to Jimmy Kimmel. Ok, minus the guacamole joke.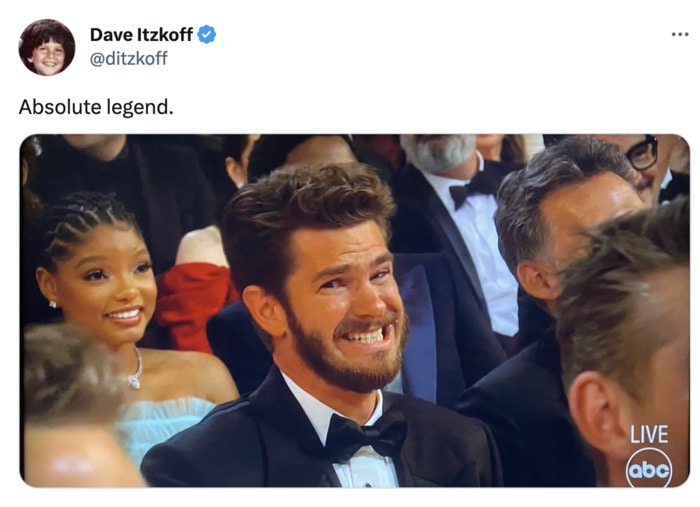 13. Excuse me, yes, Ms. Curtis? Um. You missed one.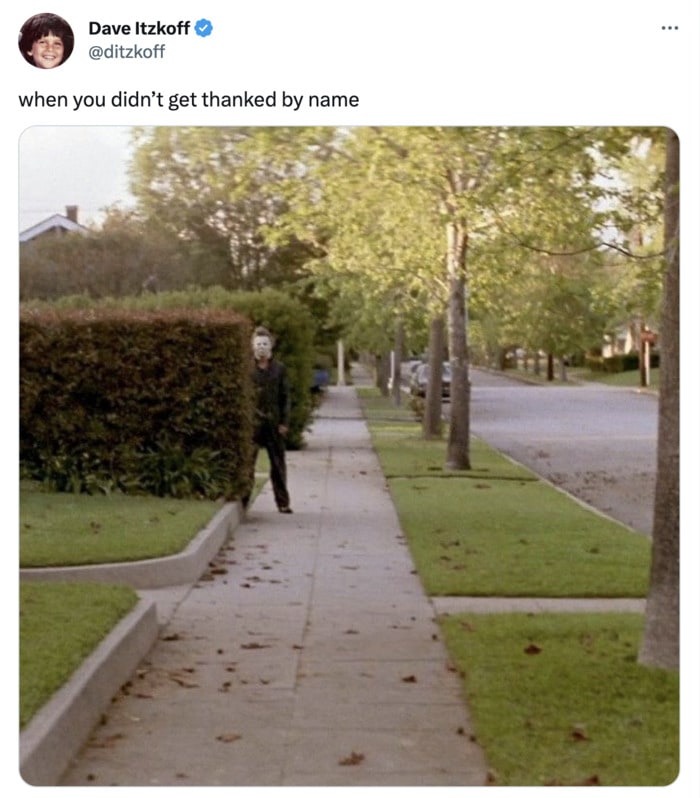 14. Love the look, Tems. Not so much the ability to not look through it.
what people sitting behind tems are seeing 😭 #Oscars #Oscars2023 pic.twitter.com/yBgi9ZQQxA

— lasulja (@lasulja) March 13, 2023
15. We nominate the Swedish Chef to host next year.
Let the muppets host the Oscars, you cowards https://t.co/jXTV55fbBz

— Anne Thériault (@anne_theriault) March 12, 2023
16. But can they both turn left?
Austin Butler and Vanessa Hudgens seeing each other on the #Oscars red carpet. pic.twitter.com/QxUFYudIov

— Austin (@AustinPlanet) March 12, 2023
17. :grinning uncontrollably: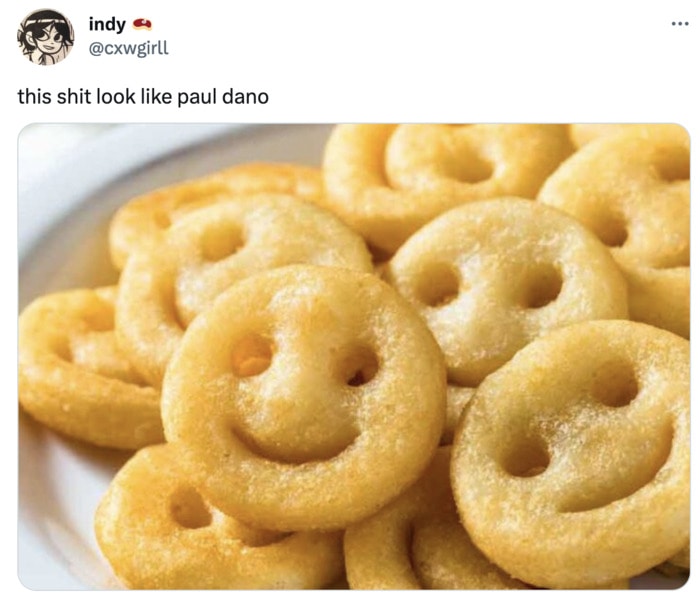 18. She's not bad, she's just not wearing makeup right now.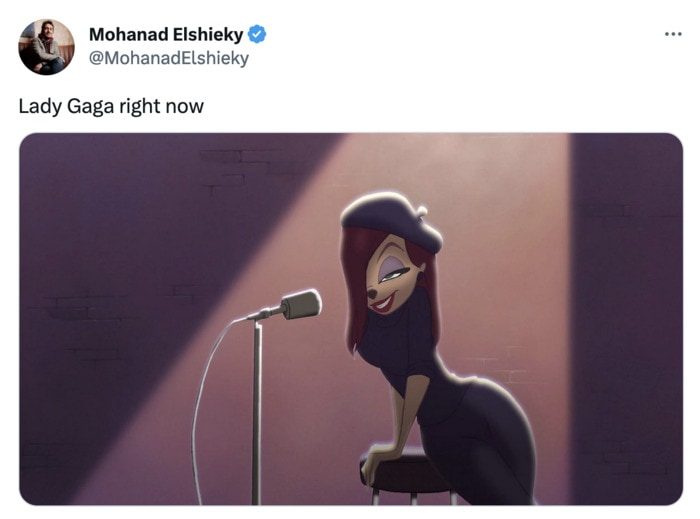 19. It's halfway on. That should count for something.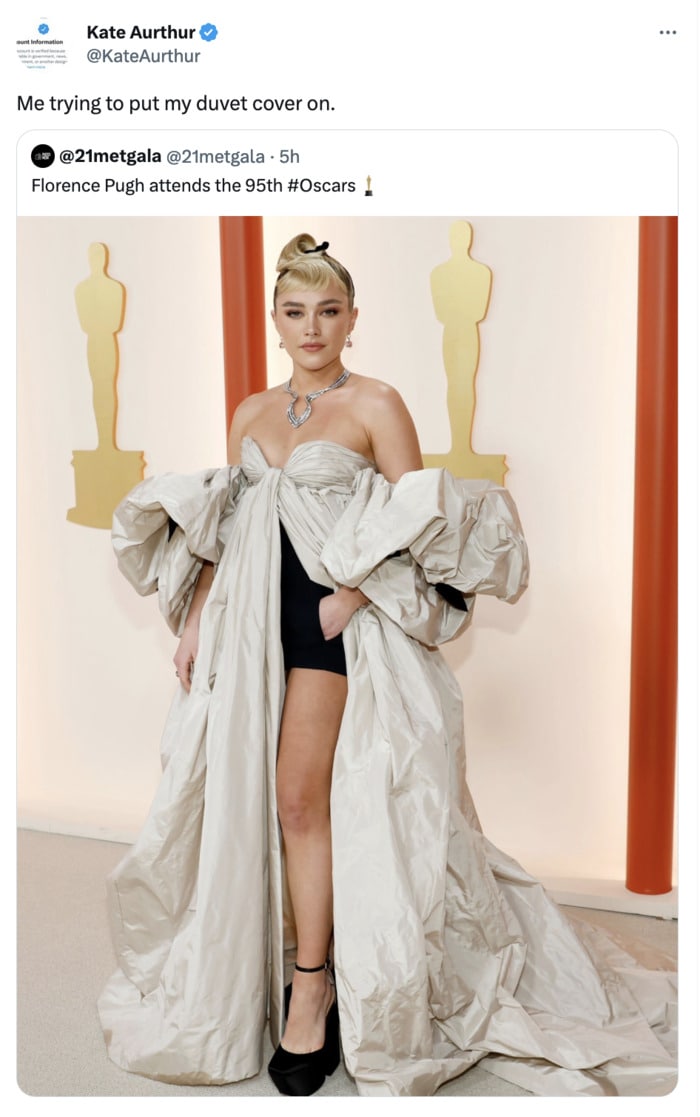 20. Austin who? He just goes by the King now.

21. And his craving for peanut butter.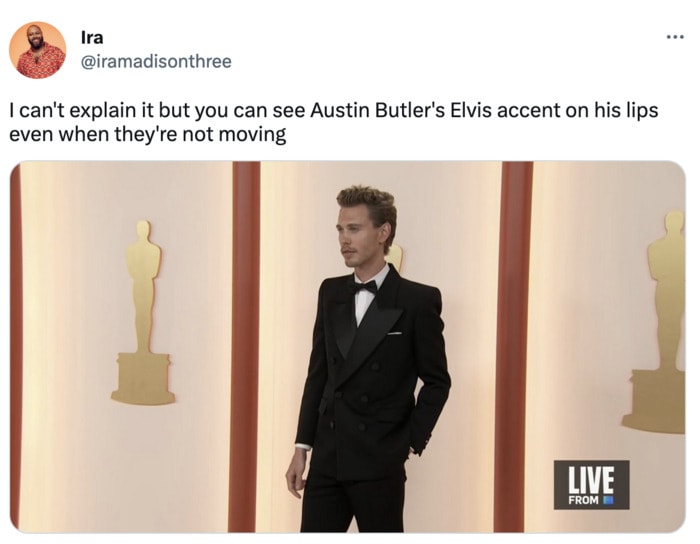 22. Nom.

23. Celebrities, they're human just like us. Well, ok, one of them is human.
Lady Gaga stops to help photographer who fell at the #Oscars. pic.twitter.com/4w4MNCO89X

— Pop Base (@PopBase) March 13, 2023
24. And the last?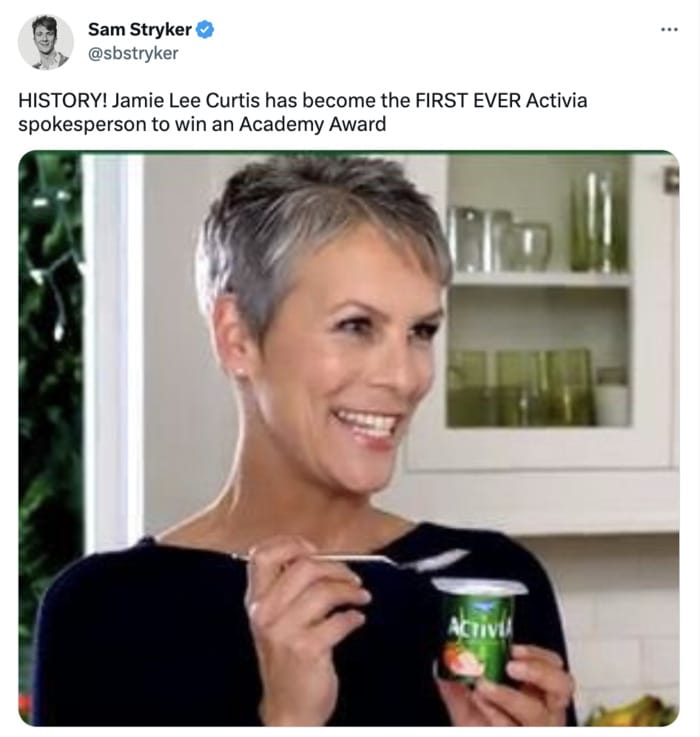 25. Production Design? Really? Really? Over Babylon? Really?

26. The audacity. And honesty.

27. Anyone got any they want to share?
live footage of Cocaine Bear exiting the Oscars pic.twitter.com/DLTAoYUV8e

— Complex Pop Culture (@ComplexPop) March 13, 2023
28. Gaga definitely was not using the CVS wipes.

29. Yes. Moving on.

30. Why dress up when you can be comfy.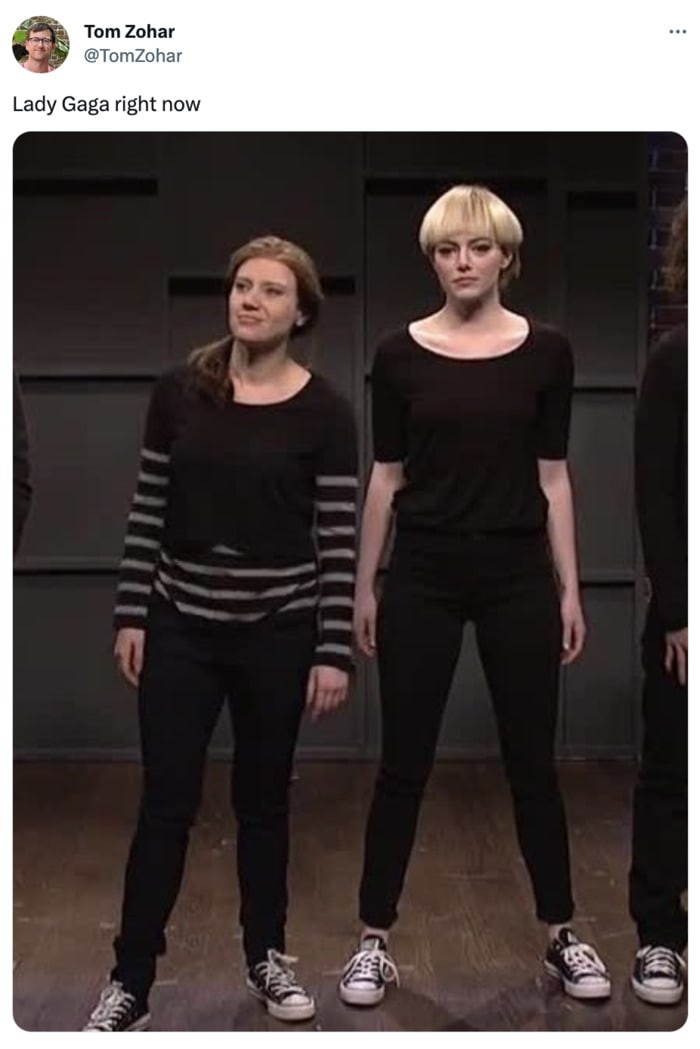 31. We stan the open mic vibes.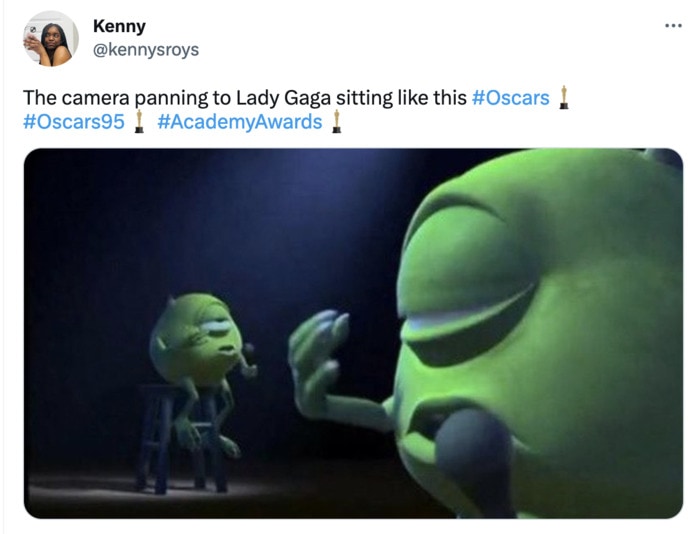 32. What is the dog's name tho.

33. Sorry, pillow.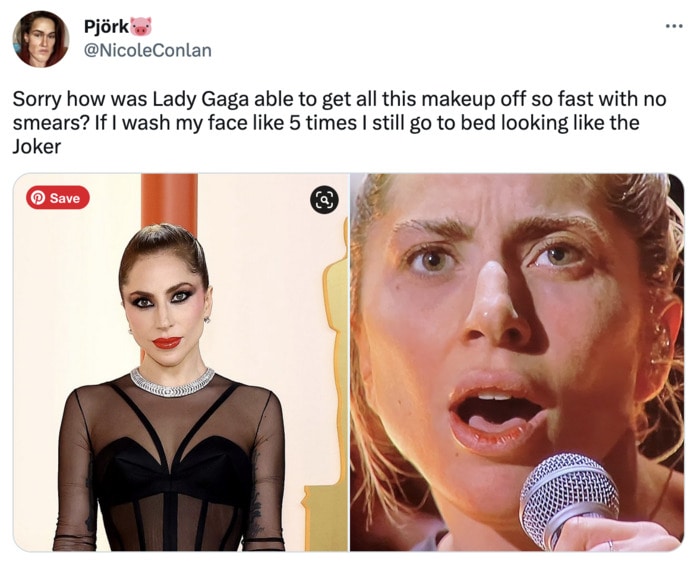 34. Wheeee!

35. Can we have this as a treat every year?

36. Who knew?

37. Somewhere A Quiet Place is cheering loudly.

38. Well there goes that Best Actor attempt.
*austin butler's voice suddenly changing back to normal like cinderella at midnight*

— Ben Rosen (@ben_rosen) March 13, 2023
39. Keeping in mind what matters.
Two actors from Encino Man won #Oscars tonight.

— Travon (@Travon) March 13, 2023
40. The award for our favorite pet of the night goes to:
Jenny the Donkey has just arrived at the #Oscars champagne carpet pic.twitter.com/7tOeTMO7FP

— Rafa Sales Ross (@rafiews) March 12, 2023
41. Yes but who else remembered to apply moisturizer tonight after Hugh Grant's comment?
And the Oscar for Best Actress goes to Ashley Graham telling Hugh Grant "it was nice to talk to you" pic.twitter.com/EhENpbME3r

— Rolling Stone (@RollingStone) March 12, 2023
42. Oh good, it wasn't just us.
The entire TL being horny for the editor of EEAAO, I love when film can bring us together

— Oscar Loser Lydia Tár (@shelbyboring) March 13, 2023
43. ICYMI, everyone, Paul Rogers.
Paul Rogers, editor of EEAAO is… whew… pic.twitter.com/OYe1FjVnIw

— Sam Meltzer (@SamTheParasite) March 4, 2023
44. Twitter is thirsty tonight.
Well thats the hottest editor ever

— sam greisman (@SAMGREIS) March 13, 2023
45. They did it!
Our Best Actress and Best Actor #Oscars pic.twitter.com/uJH7RjjXqq

— Film Updates (@FilmUpdates) March 13, 2023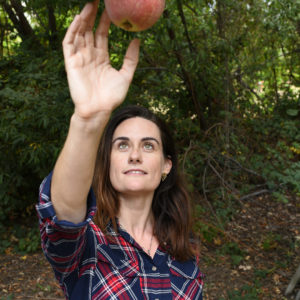 Latest posts by Rebecca Swanner
(see all)