Peppermint Bark might look fancy with its layers of semi-sweet chocolate, white chocolate, and crushed candy canes, it's one of the easiest holiday recipes ever!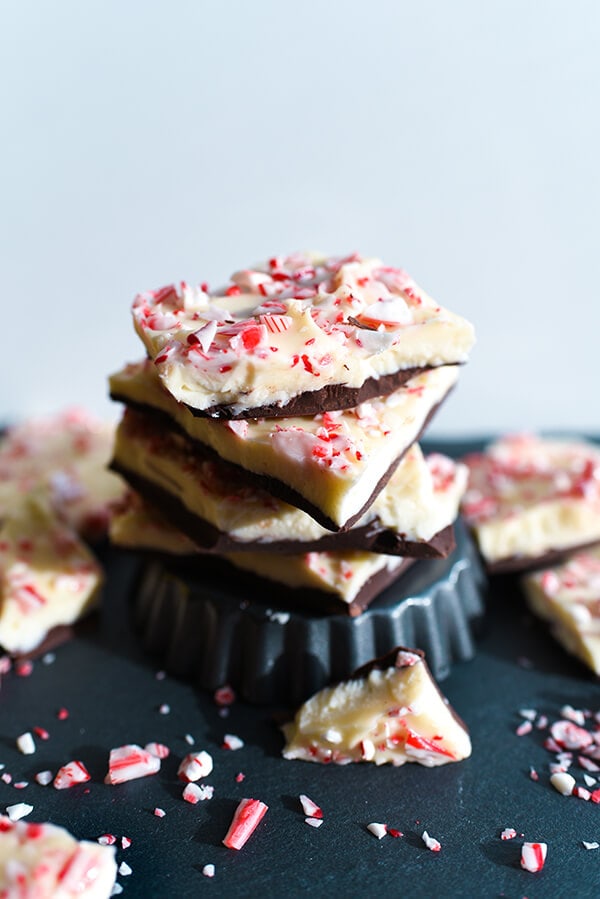 I love the idea of fancy holiday desserts, but when it comes right down to it, simple holiday dessert recipes are way more practical to pull off during one of the busiest times of the year! That's why I love this homemade Peppermint Bark recipe. Not only is peppermint bark candy a known crowd pleaser, it's super simple to make!
The only bad news? Peppermint Bark is crazy addictive! It's one of the desserts I have to take to friends or to work immediately after making it. I simply can't help reaching into the fridge and grabbing just one more small piece.
If you're like me, make up your Peppermint Bark just before a holiday party or give it as a holiday gift! Simply layer a batch of Peppermint Bark into a mason jar, tie a bow around the top and voila! Good to go.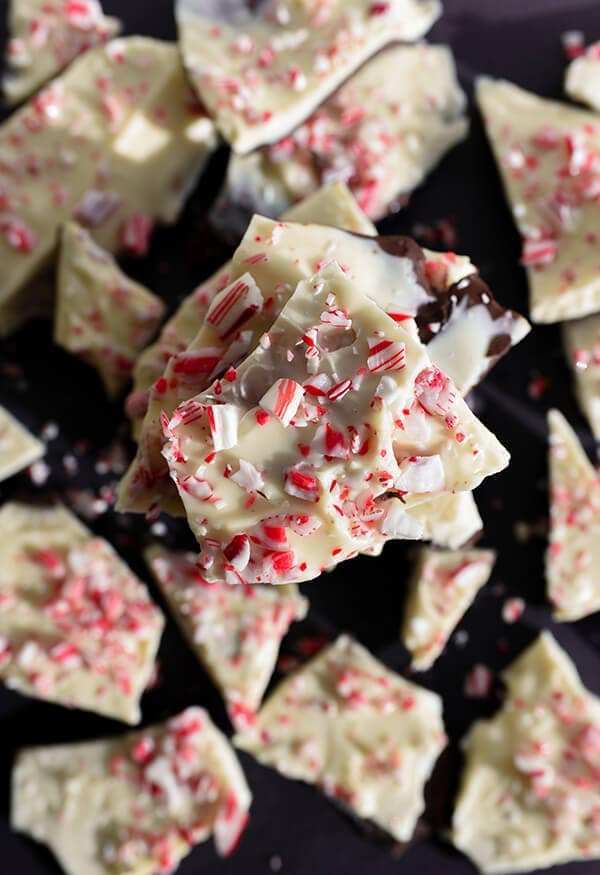 How to Make Peppermint Bark
I think you'll find this Peppermint Bark recipe to be really easy. First, you'll want to melt high-quality chocolate chips (milk or dark) in the microwave for 3 minutes at 50% pour. Stop and stir with a spatula every 30 seconds. Then, pour the melted chocolate into a 9×13 parchment-lined baking sheet and place it in the fridge until it is almost set.
While the chocolate is chilling, crush 5 candy canes. I like to put the peppermint sticks in a sealable bag then smash them with a rolling pin. Though it looks a little intense, I recommend banging the rolling pin against them instead of rolling the rolling pin over them. It breaks the peppermint sticks up faster and the bag helps prevent the candy canes from flying all over the kitchen.
Then, melt the white chocolate in the same way. If it threatens to seize up, add 1 Tbsp. of oil (vegetable or coconut). Add 1/2 teaspoon of peppermint extract. I really like Nielsen Massey's extract because is slightly less strong than other peppermint extracts on the market which makes it easier to add just enough without going overboard. (If you're using Nielsen Massey, I start with 1 teaspoon vs 1/2 teaspoon of peppermint extract). Taste the white chocolate and add more extract a 1/4 teaspoon at a time until it's just where you want it.
Pour the warm white chocolate on top of the dark or milk chocolate. By not allowing the dark or milk chocolate to fully set in the Peppermint Bark the layers are more likely to stick together. If the chocolate has fully set before you're able to pour the white chocolate on top, simply let it warm up a bit at room temperature, then pour the white chocolate on top and place back in the fridge.
Sprinkle candy cane pieces all over the top, then place the Peppermint Bark back in the fridge until set. Once the bark has hardened, break it into shards. Keep in the fridge* and enjoy through the season!
*If you temper the dark or milk chocolate you can keep the Peppermint Bark at room temperature.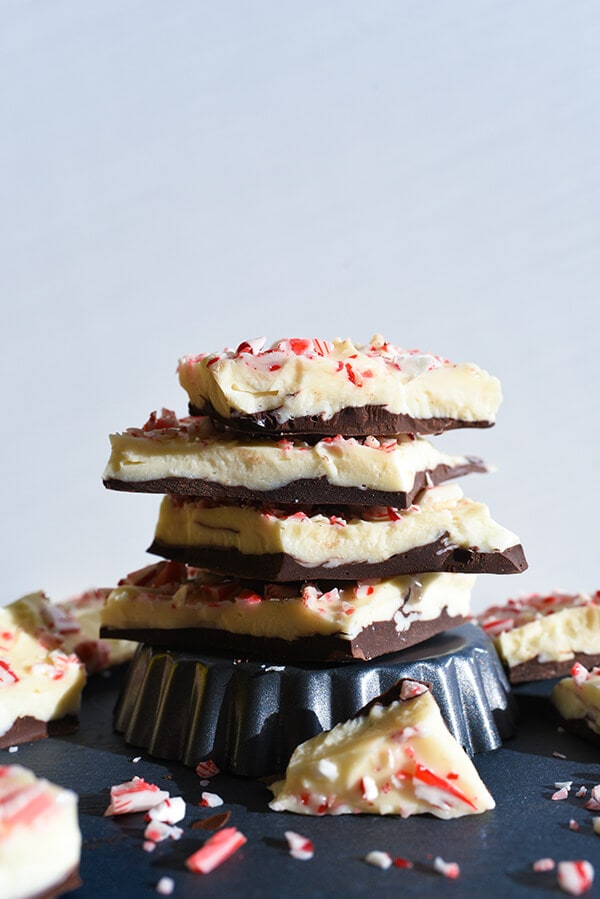 Peppermint Bark Recipe
Print Recipe
This Peppermint Bark recipe is so easy! Simply melt milk or dark chocolate and top with a layer of peppermint-infused white chocolate and crushed candy canes!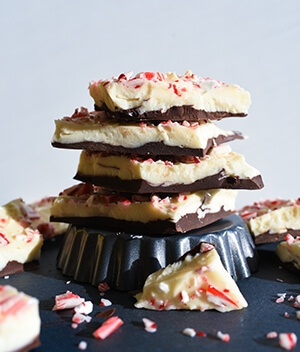 Prep Time: 10 mins
Cook Time: 6 mins
Total Time: 16 mins
Servings: 12 servings
Ingredients
12 oz. milk or dark chocolate chips
20 oz. white chocolate
½ tsp. peppermint extract (add more to taste)
5 candy canes
1 Tbsp. coconut oil (optional, as needed)
Instructions
Line 9x13" baking sheet with parchment paper.


Melt chocolate chips in microwave for 3 minutes at 50% power. Heat until fully melted, stopping to stir every 30 seconds.

Pour melted chocolate into pan and spread to make even layer. Place in fridge for 8 minutes until almost set.


Crush 5 candy canes with a rolling pin until they are in small chunks.


Melt white chocolate chips in microwave for 3 minutes at 50% power. Heat until fully melted, stopping to stir every 30 seconds. Add 1 Tbsp. oil if it begins to seize.


Stir peppermint extract into melted white chocolate. Add more peppermint extract to taste, 1/4 tsp. at a time.


Pour white chocolate onto milk or dark chocolate in pan. Spread to make even layer.


Top with crushed candy canes. Enjoy!

Notes
Keep Peppermint Bark in airtight container in fridge. If you temper the chocolate, it is ok to keep at room temperature.
Nutrition Facts
Peppermint Bark Recipe
Amount Per Serving (1 serving)
Calories 249
* Percent Daily Values are based on a 2000 calorie diet.
Here are a few more holiday recipes to this season: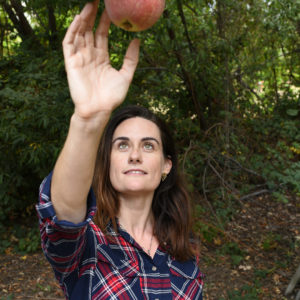 Pleased to meet you. I'm the founder and Editor-in-Chief of Let's Eat Cake: The world's first smart, funny lifestyle site for women.
My background is in publishing (I've worked at Parade, Men's Journal, Us Weekly, Stuff, Blender, Beachbody, and more), mostly with a focus in health, fitness, and entertainment. I've also run my own baking company and competed on Cupcake Wars, so hit me up with your baking questions!
For more details, check out my
full bio
or follow me on
Instagram
,
Twitter
, or
LinkedIn
.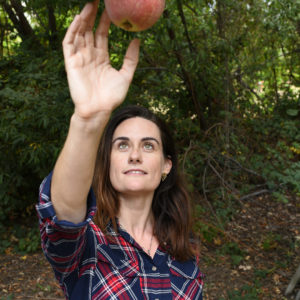 Latest posts by Rebecca Swanner (see all)