Is sexy Valentine's Day lingerie practical? That's debatable. But is it worth it to see your lover's jaw drop at the sight of you in a smokin' hot set? Absolutely.
Here's a napkin to wipe up that drool.
We totally support you splurging on a sexy Valentine's Day getup, even if it only sees the light – err, candlelight – of the bedroom once a year. So, we found the most stunning lingerie choices for everyone, every shape, and every desire.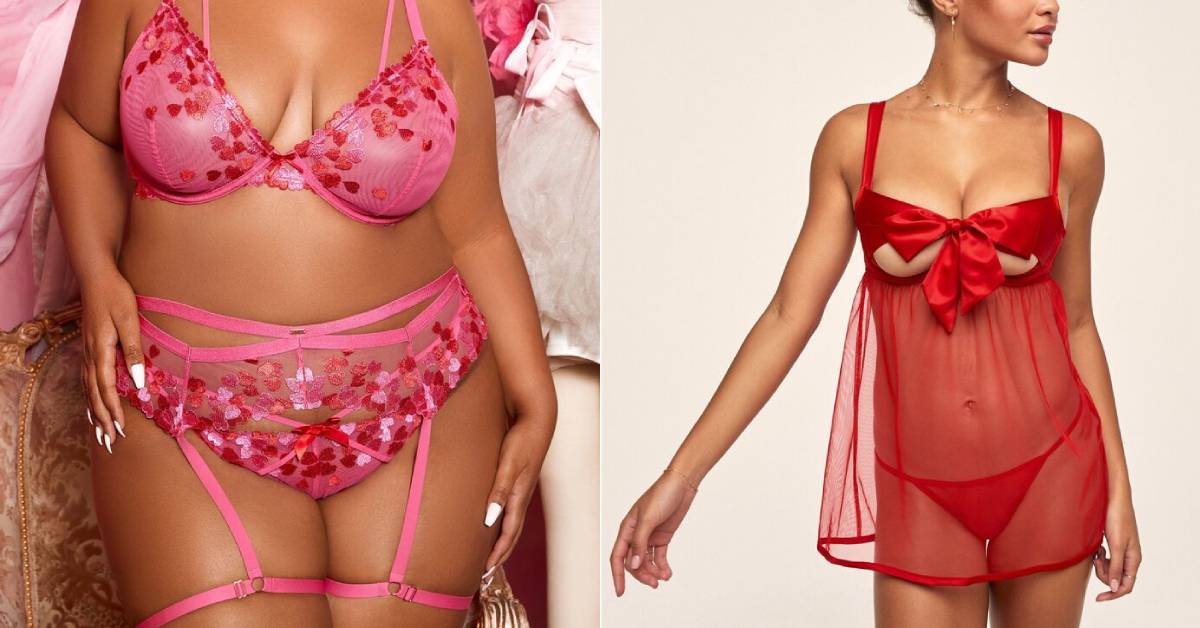 We've got classy black looks, strappy numbers that are like maze, and red hot outfits that won't last more than five minutes on your body. Wear these for a special Valentine's Day with your lover, or just because you want to feel sexy on a Tuesday.
What? Euphoria taught us that was totally acceptable!
25 Sexy Valentine's Day Lingerie Sets
1. Golden Body Chain Lingerie Set by Honey Birdette
Light up the room with this magnificent look. This golden Valentine's lingerie set comes accessorized with a chain top and bottoms, and it looks even better when it's styled with the Makara thong. Throw it on to spice up any situation. Except maybe going through TSA.
Available at Honey Birdette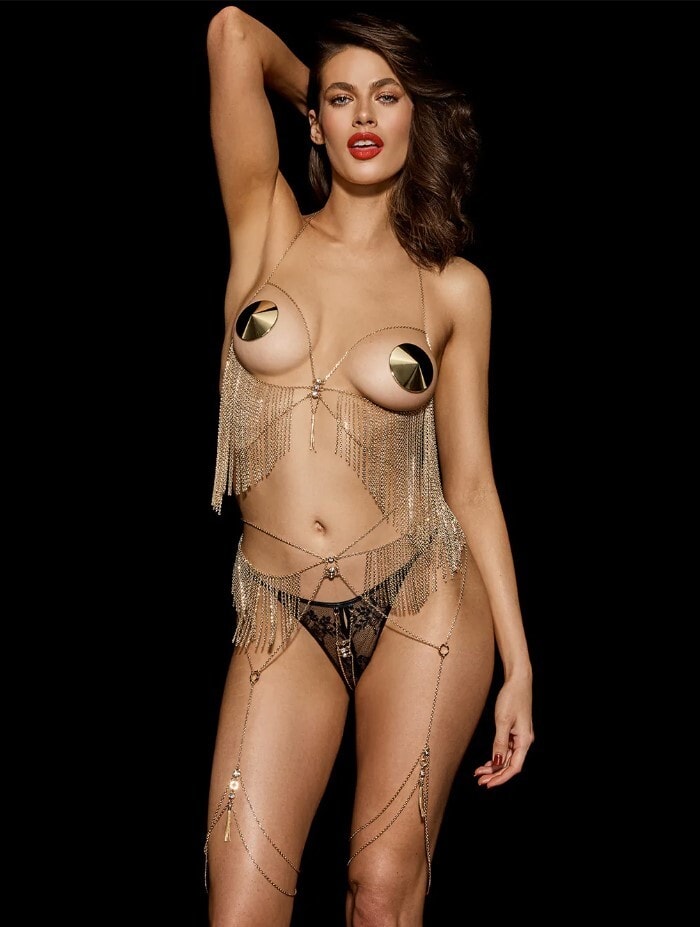 2. Red Full Figure Plunge Bra and Suspender Brief Set by Dita Von Teese Lingerie
All good things come in twos, and this classic red set is an all-time winner for a classic Valentine's Day. The supportive bra is embroidered with delicate sheer roses, and the lace suspender comes with six attachments.
We love the options! Even if they don't stay attached for that long.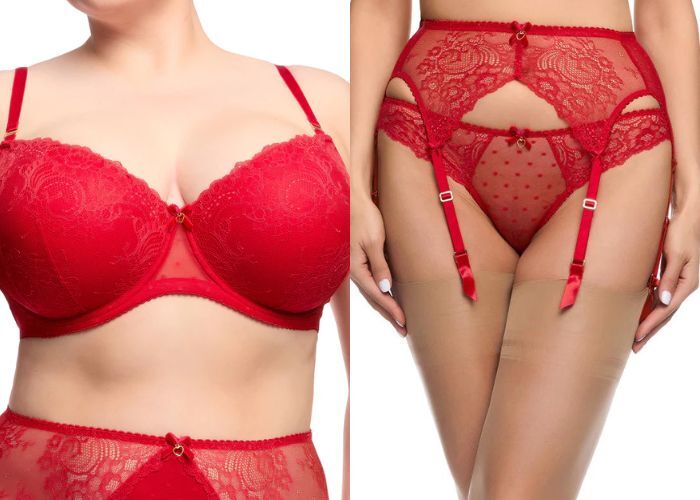 3. Red Bra and Thong Set by Bluebella
Delicate and super feminine, this tempting Valentine's Bluebella set has been designed with beautifully embroidered leaves and cut-out detailing in both the bra and the thong.
It'll look hot in the bedroom, and it can even double as camouflage in the rose bush. Just watch out for those thorns.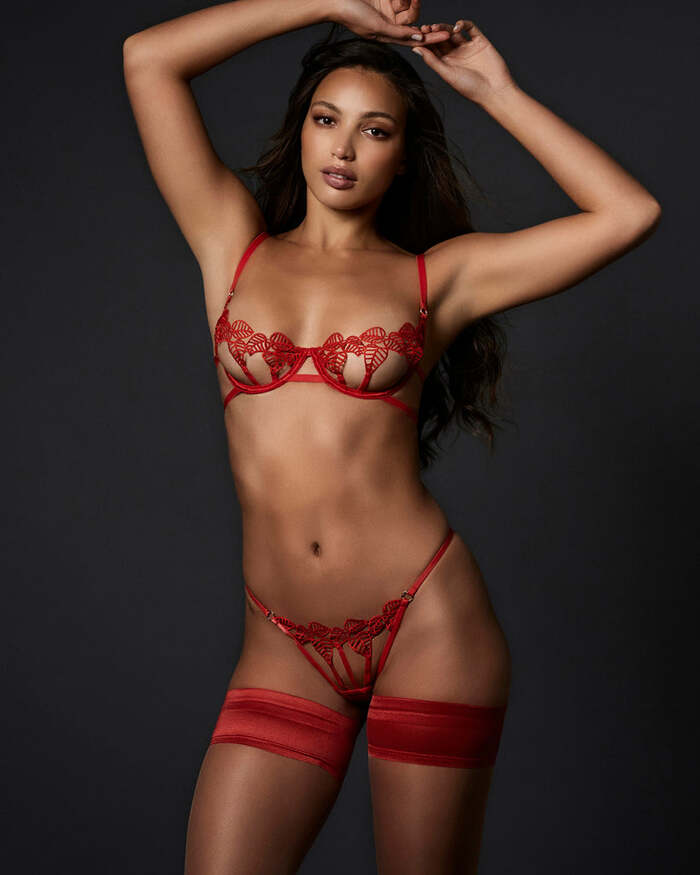 4. Black Plus Size Sheer Lace Bra Set by Yandy
This Desire's set from Yandy could not have a more accurate name. This curvy bra has been designed with sheer and open lace cups, strappy features, and a matching waistband thong. And we don't forget about the bows! Small packages? We don't think so.
Available at Yandy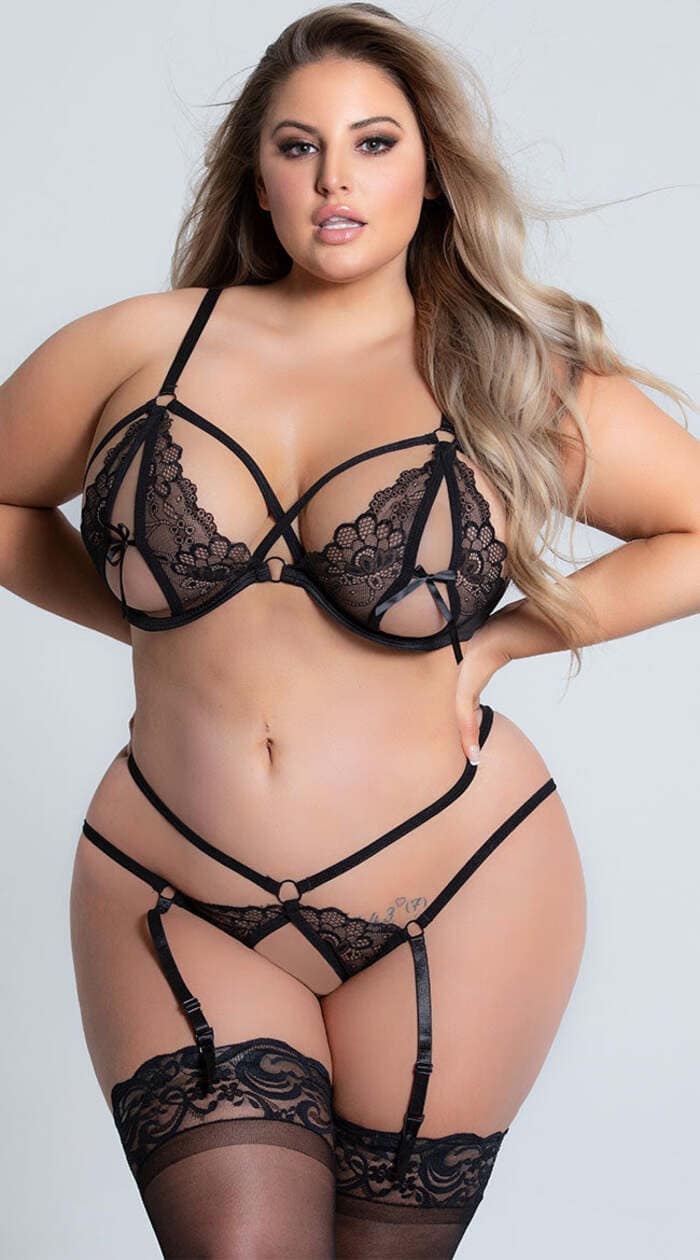 5. Red Chemise With Lace Detail by Adore Me
Speaking of bows, this stunning satin chemise wraps things up all nice and neat. Your bedsheets on the other hand? Not so much.
Available on Adore Me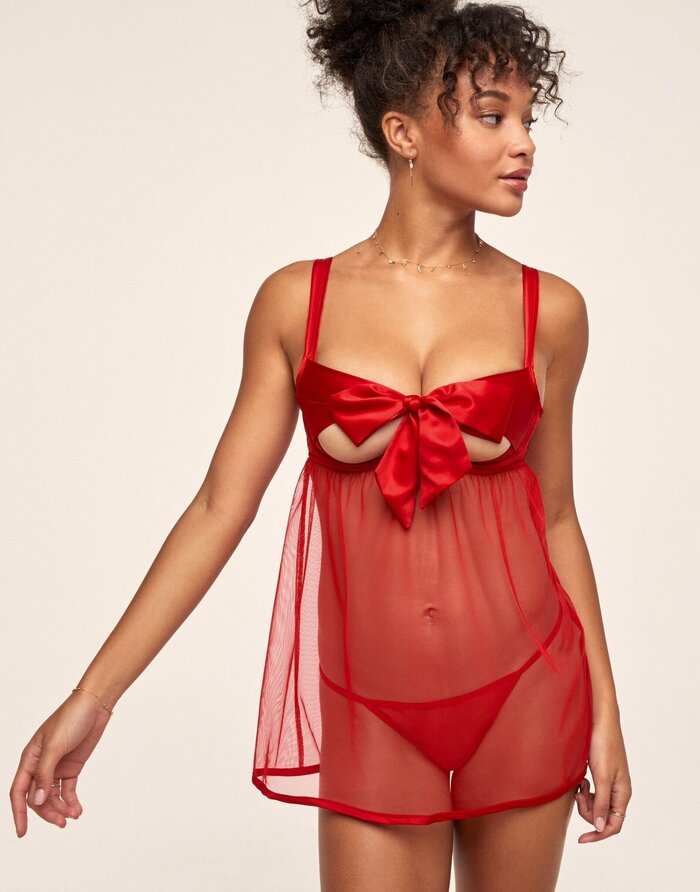 6. Black Strappy Bra and Panty Set by City Chic
This strappy set is made with a matching bra and panties, giving a sexy, empowering, and secure aesthetic. Wait, did we just describe our 401K?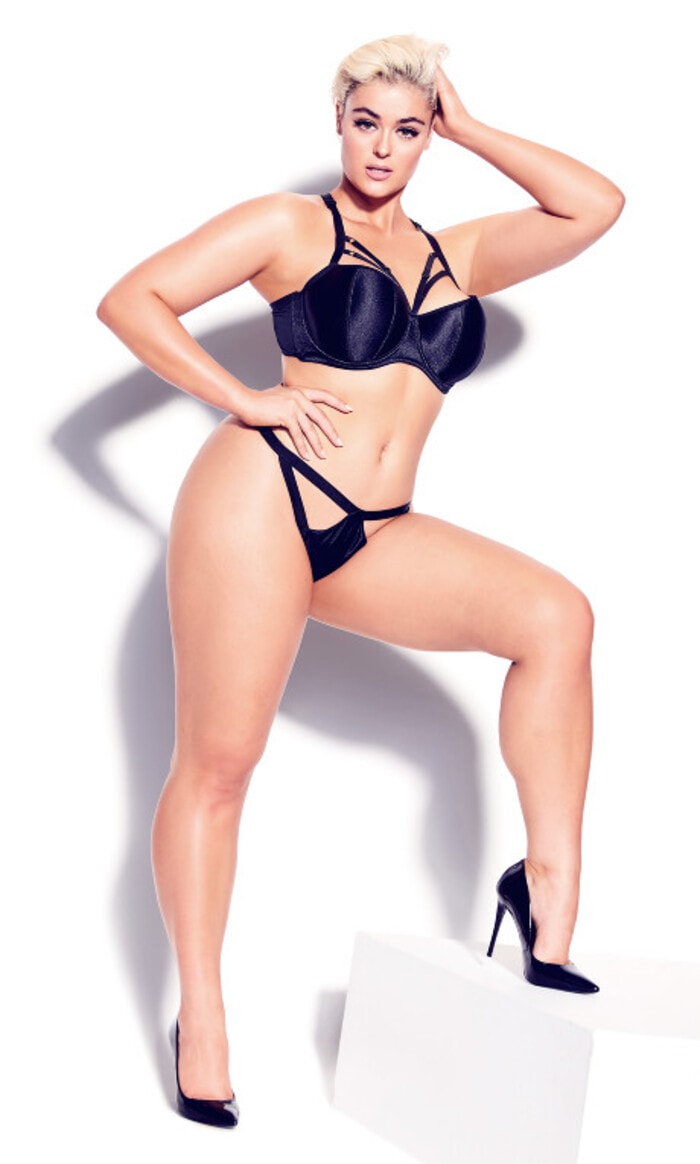 7. Red Curvy Chemise With Sheer Detail by Love Vera
This sheer chemise features a sexy cut-out front, a sultry lace-up back, and is dotted with mini hearts. The only way it could be better is if they were mini candy hearts. But we guess it's still alright, anyway.
Available at Love Vera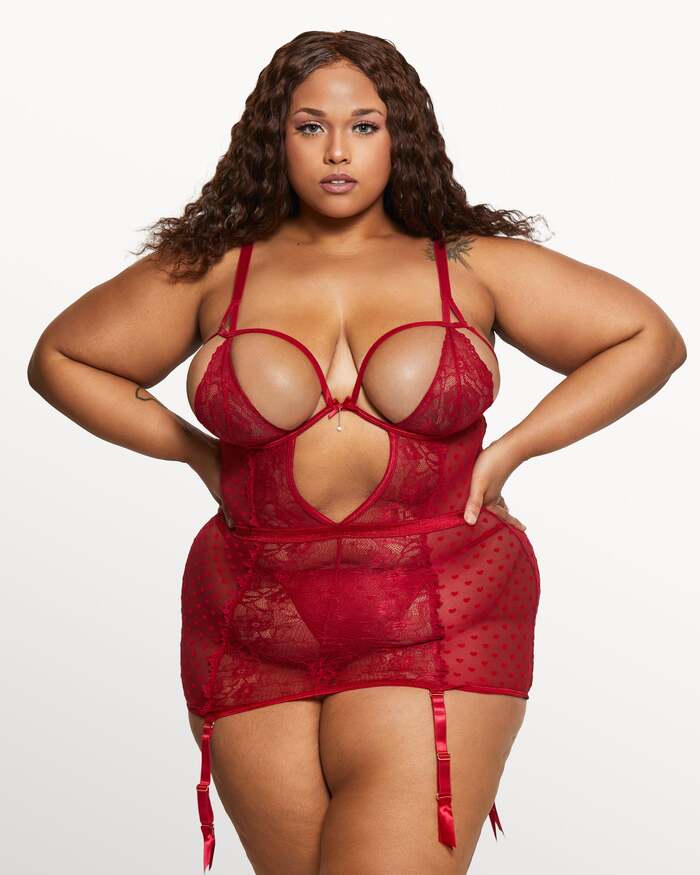 8. Red Lace Bodysuit by Cacique
If we could, we'd wear this red lacy bodysuit all day, every day. Wait, there's no rule that we can't? Our trip to the DMV is about to get a lot more exciting.
Available at Cacique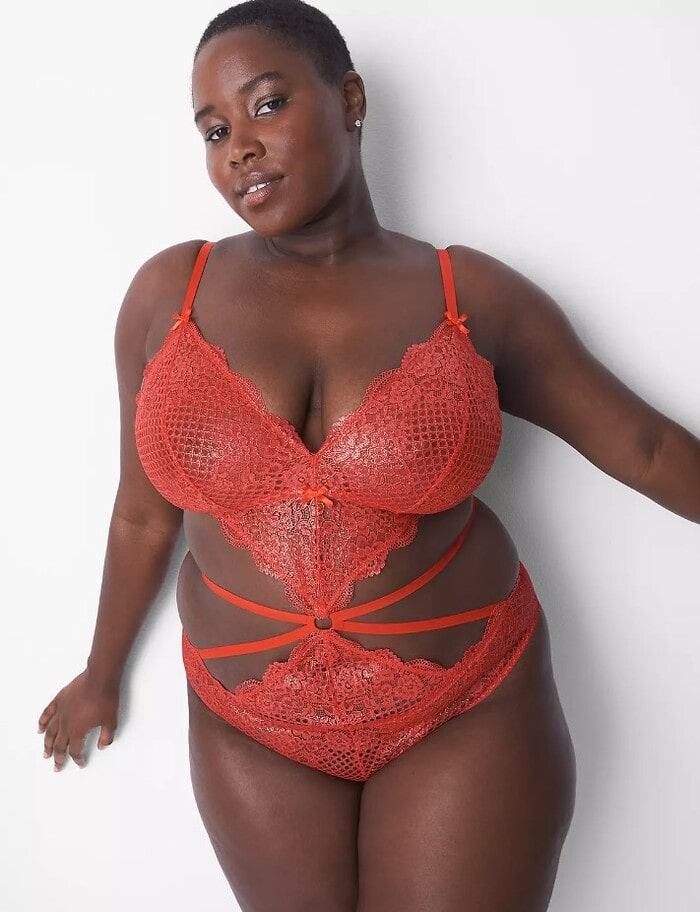 9. Pink Heart Underwire Bra and Thong Panty Set by For Love and Lemons
Cupid has arrived, and now with a change of uniform! We were expecting something closer to Katniss vibes, but we don't hate the hearts.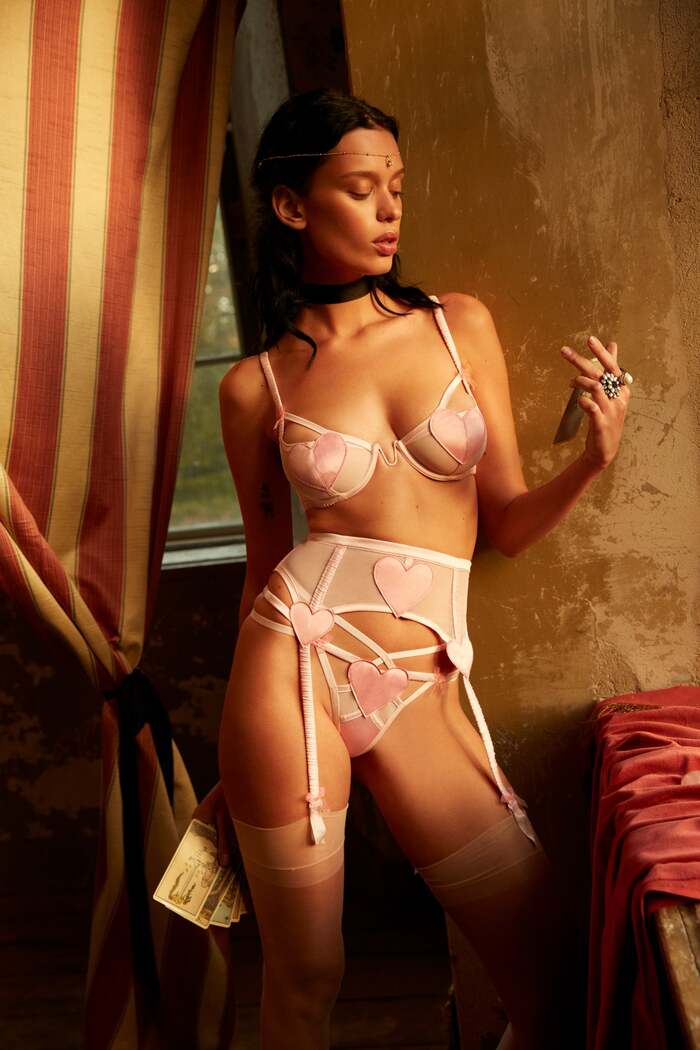 10. Plum Bralette, Strappy Waist and Thong Set by Uye Surana
Based in an NYC studio, Uye Surana creates handmade lingerie with limited editions, so every piece feels unique. This three-piece plum set has been gorgeously crafted with a dotted mesh bralette, a strappy waist cincher, and a daring thong to round out the look.
You may say that three's a crowd, but we like to have our hands full.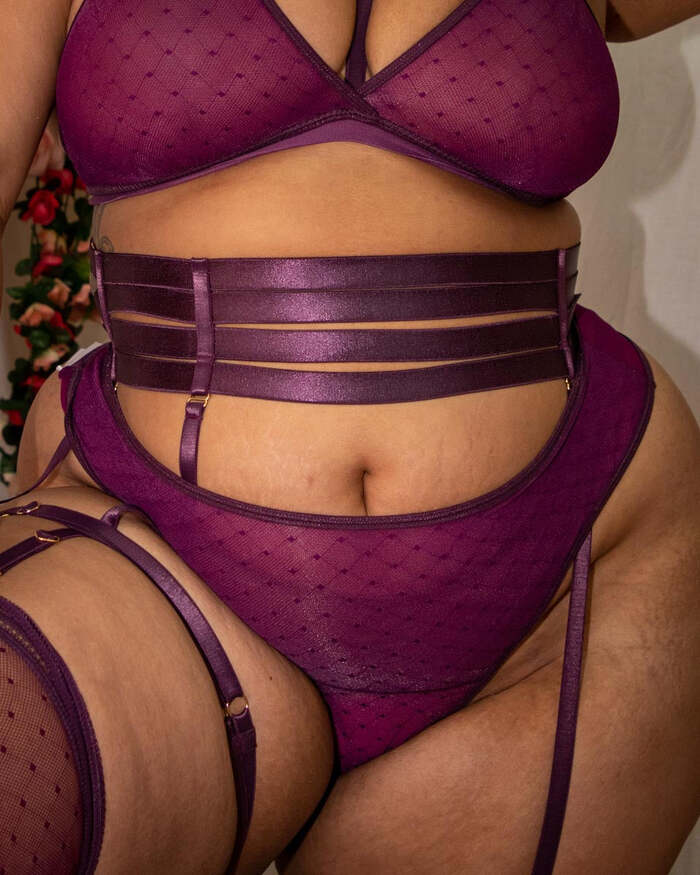 11. Coral Stretch Lace and Zipper Detailed Bralette and Panty Set by Dreamgirl
We're not usually the biggest fans of zippers. They're cold to the touch and our hair always gets caught in them. But when they're strategically placed like they are in this bold coral set designed by Dream Girl, we can't help but have a change of heart. And an even quicker change into our birthday suit.
Available at Dreamgirl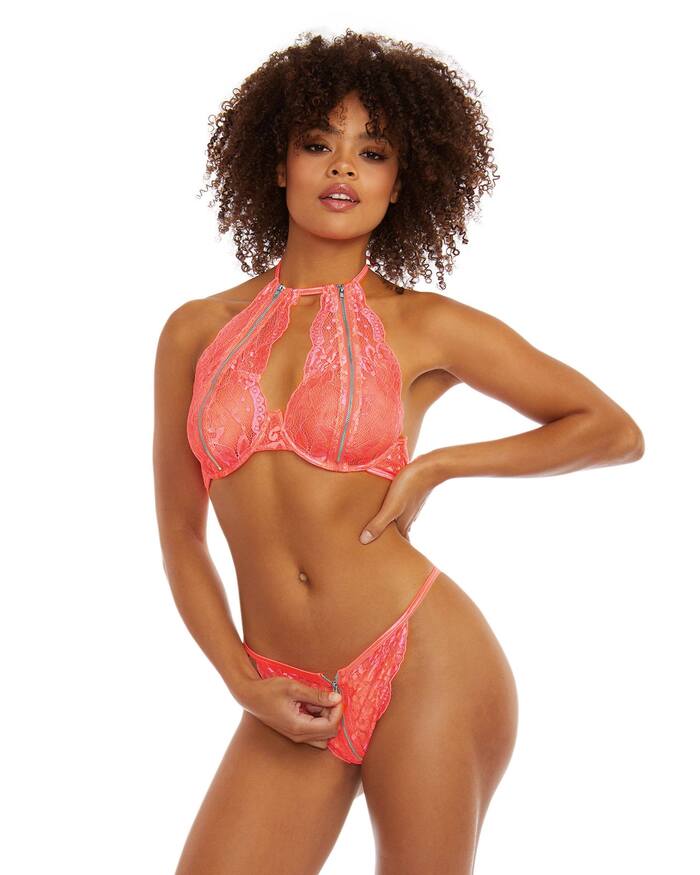 12. Red Triangle Bralette and Brazilian Thong Set by Cosabella
This underwear may not be edible, but it certainly encourages biting to untie the bows. Just don't bite too hard – that's what the bedside chips are for!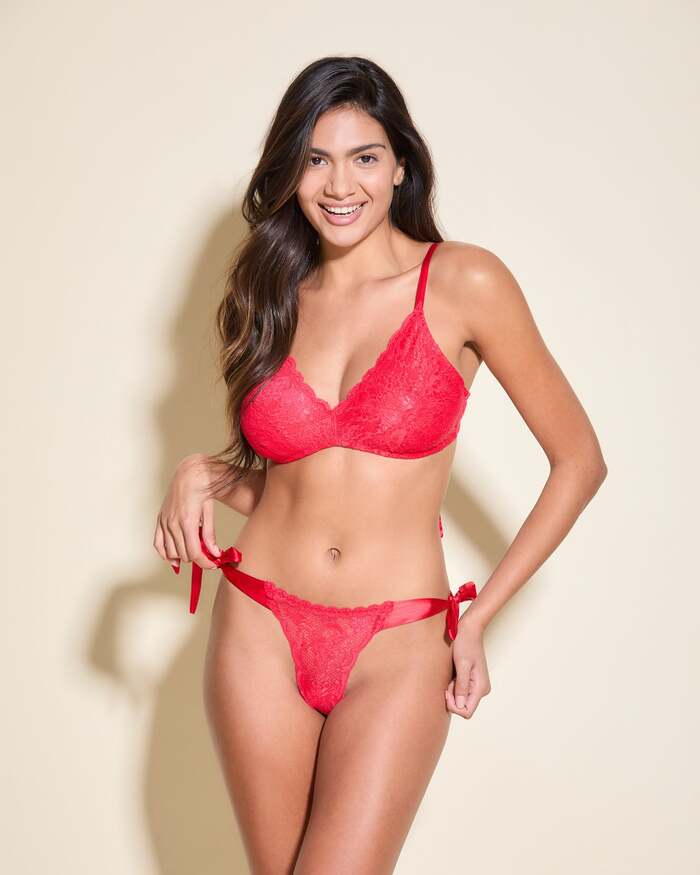 13. Black Bondage Bodysuit by Fleur Du Mal
Black is the new black with this sophisticated bondage bodysuit. It features gorgeous embroidery, sexy open cups, and rose gold nailheads, which we will be adding to all of our lingerie and DIY home projects going forward. We love the versatility.
Available at Fleur Du Mal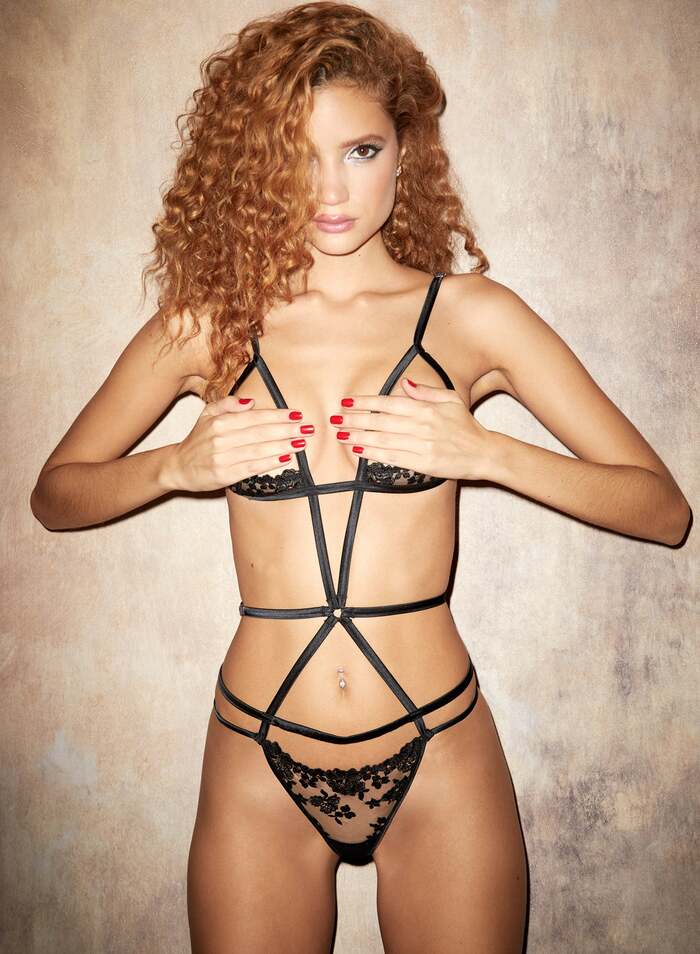 14. Roses & Thorns Demi Bra by Brooklyn Fox Lingerie
Roses are red and thorns are sharp, we love to wear this set while playing the…harp? Okay, we need to keep working on our poetry skills. But this classy demi bra and rose rose embroidered thong and garter needs no edits.
Available at Brooklyn Fox Lingerie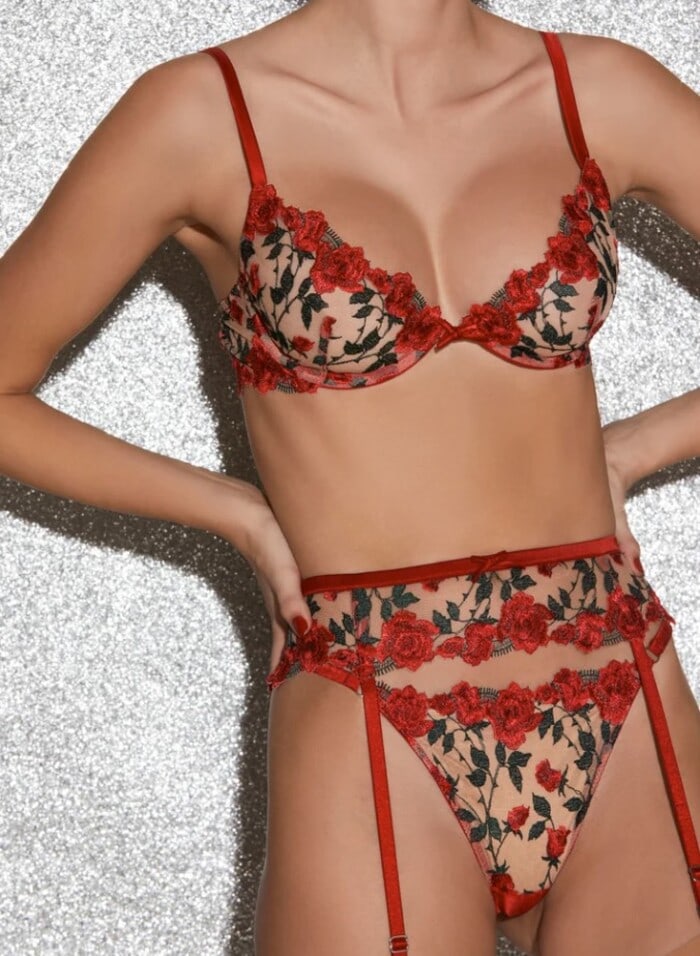 15. Black Sheer Catsuit by Maison Close
Tell us you have a Formula 1 kink without telling us you have a Formula 1 kink. Seeing you in this stunning black sheer catsuit will accelerate anyone's heart rate faster than Lewis Hamilton crosses the finish line.
Available at Maison Close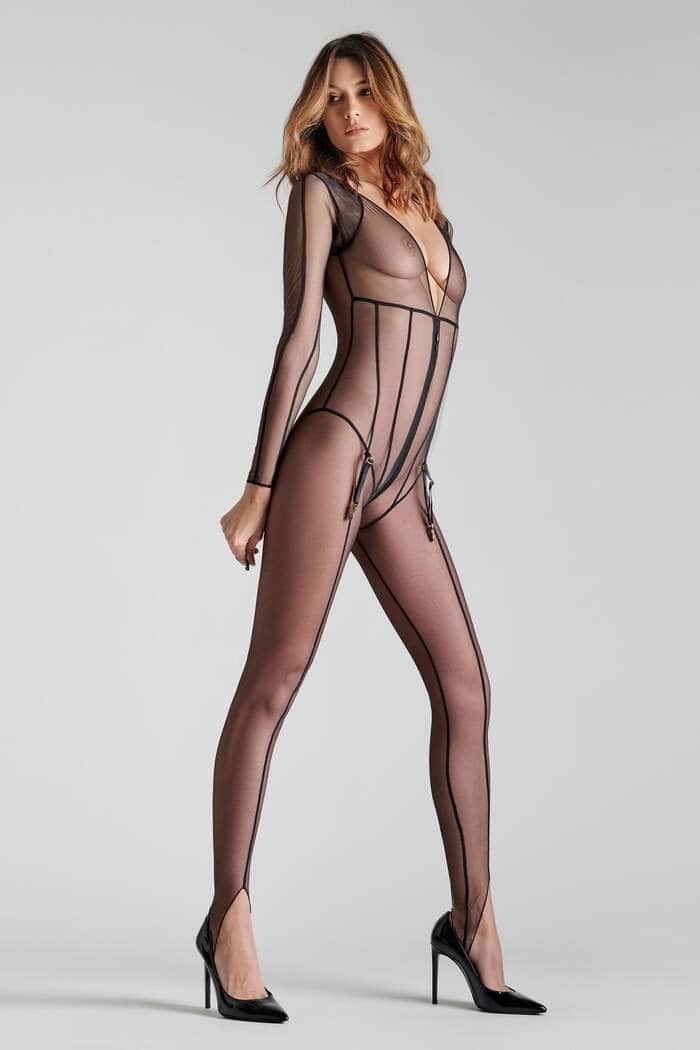 16. Red Garter Belt With Cuffs by Maison Close
And for a different Maison Close look, they're heating things up with a bondage fantasy. Garter belt? Check. Cuffs? Check. Anti-chafe cream? Not the sexiest thing, but you bet!
Available at Maison Close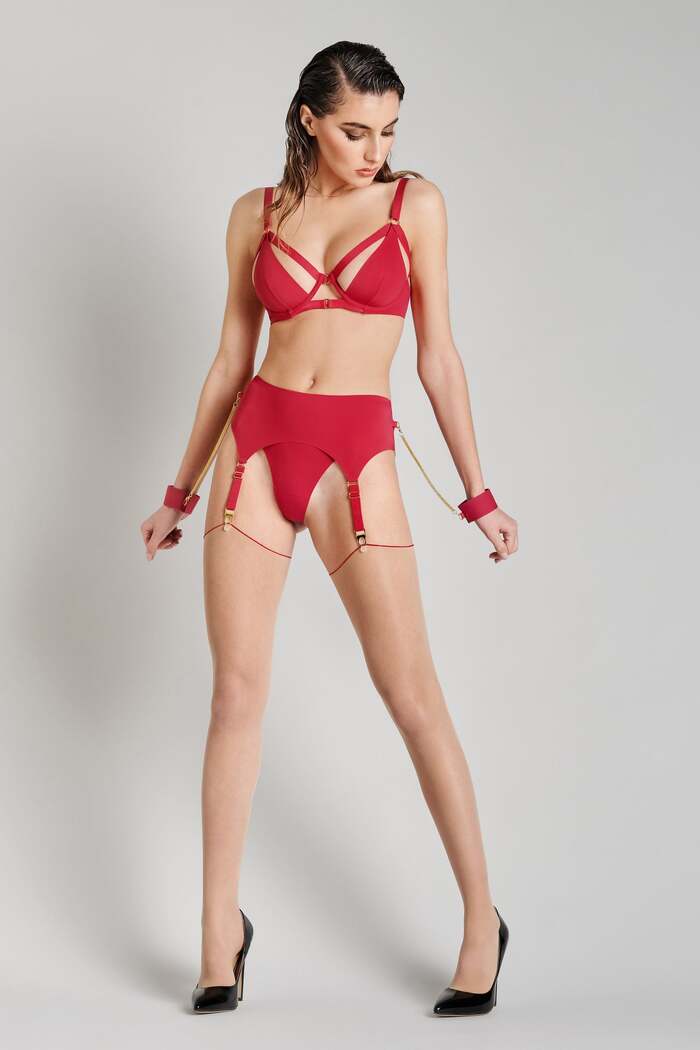 17. Pomegranate Plus Size Underwire Bustier by City Chic
This beautiful plus size underwire bustier with gel lining for a push up effect is irresistible. It gets bonus points since it can totally double as a going out top. You know…that you have on under the three layers of jackets to keep you warm in frigid February temps.
Available at City Chic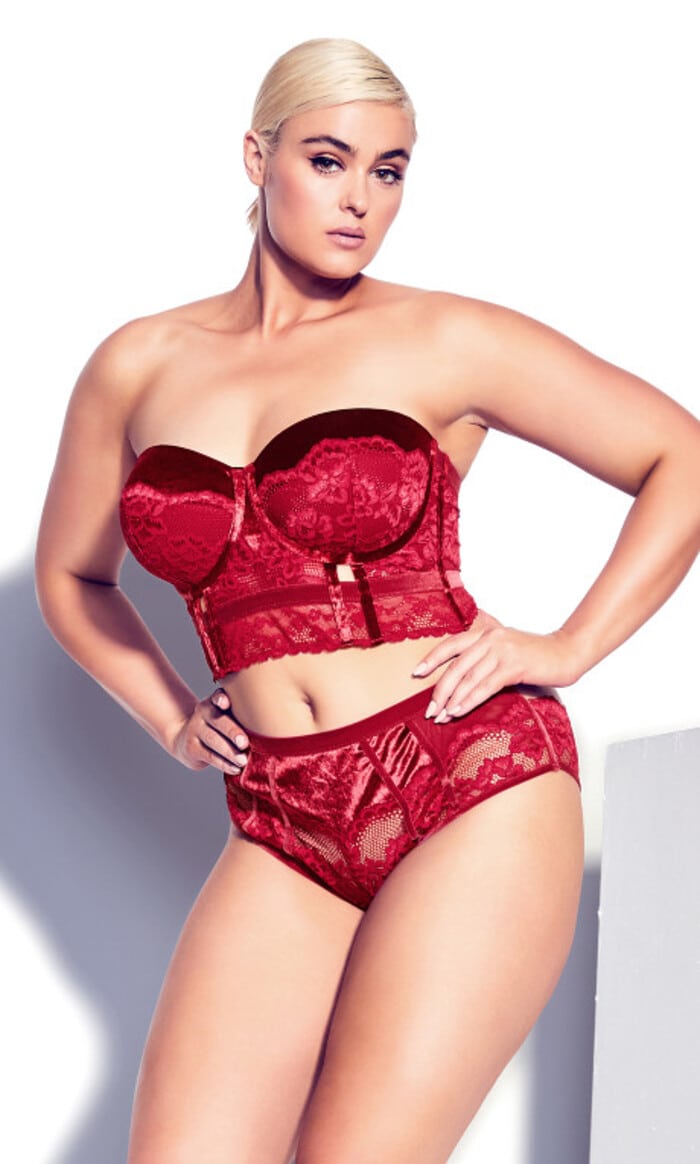 18. Bubblegum Pink Curvy Heart Three Piece Garter Set by Love, Vera
This pretty three-piece set by Love, Vera in bubblegum pink is cute, curve-contouring, and just what we were looking to wear to the upcoming Barbie movie premiere. We guess Margot Robbie could borrow it. But she'd have to ask nicely.
Available at Love, Vera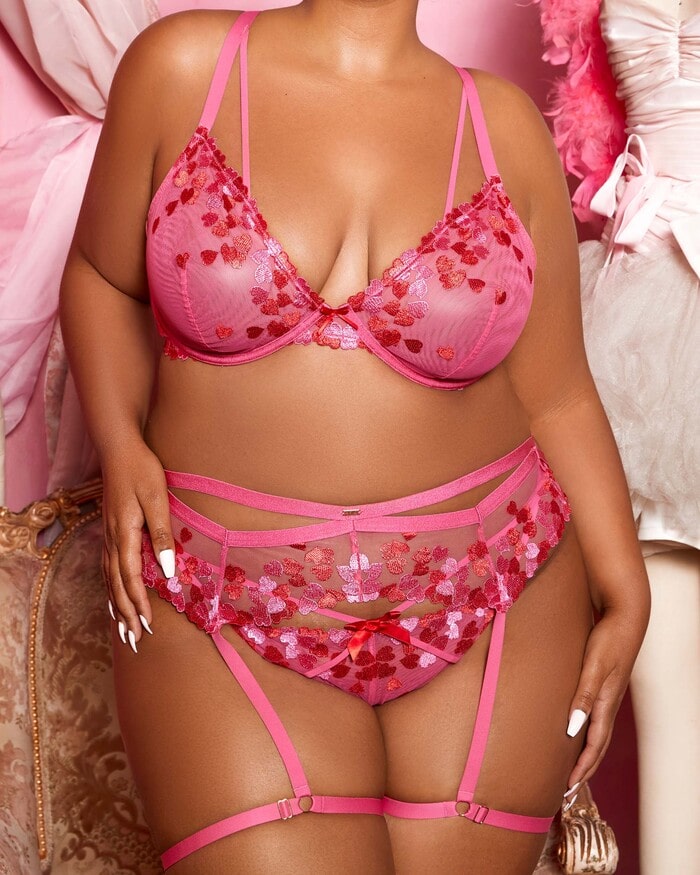 19. Black Velvet Slip by Savage x Fenty
This look is giving shy and reserved in the front, and cheeky and adventurous in the back. This black velvet slip designed by Savage x Fenty really confirms that mullets are coming back!
Available at Savage x Fenty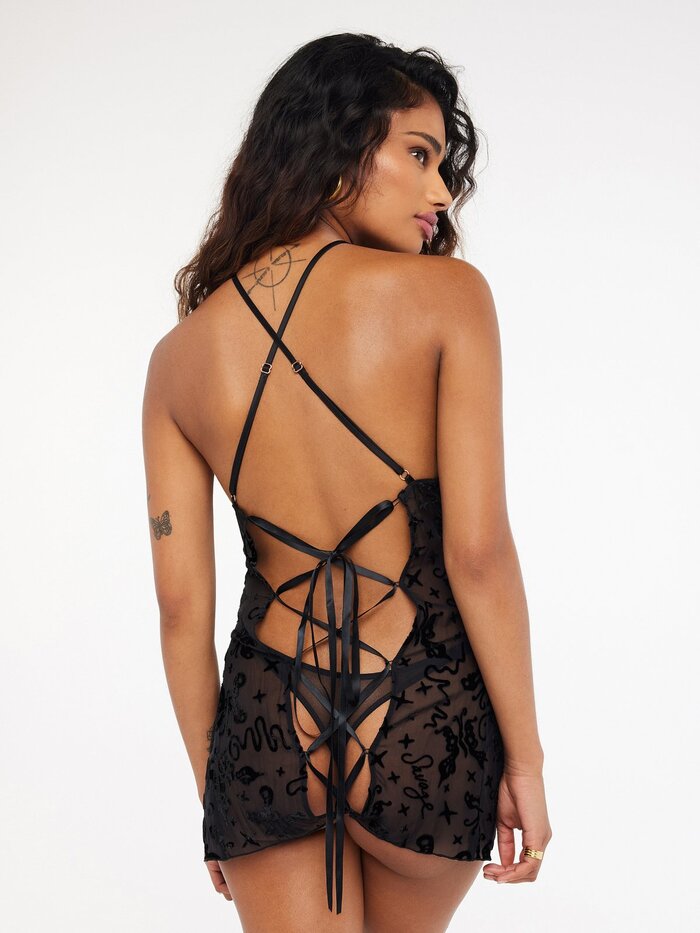 20. Red Strappy Mesh Bodysuit by Torrid
The only thing that this red strappy mesh bodysuit is stopping is heartbeats. Once you get that back? Full steam ahead!
Available at Torrid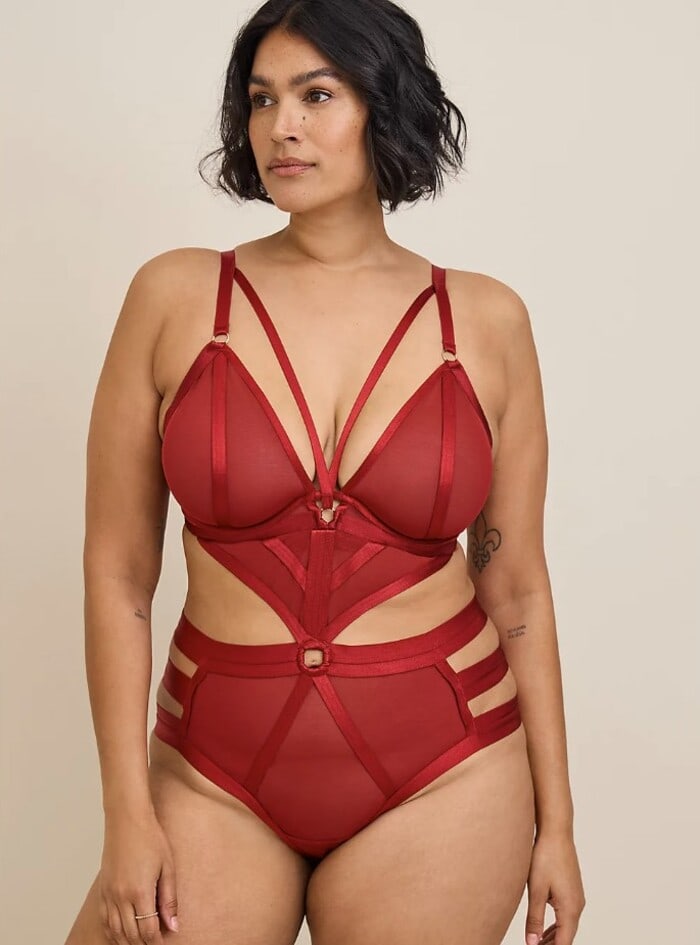 21. Purple Velvet Vixen Catsuit by Savage x Fenty
Go savage with this velvet catsuit by Savage x Fenty. Just don't expect to recreate those sexy movie scenes where the clothes are removed in five seconds.
Available at Savage x Fenty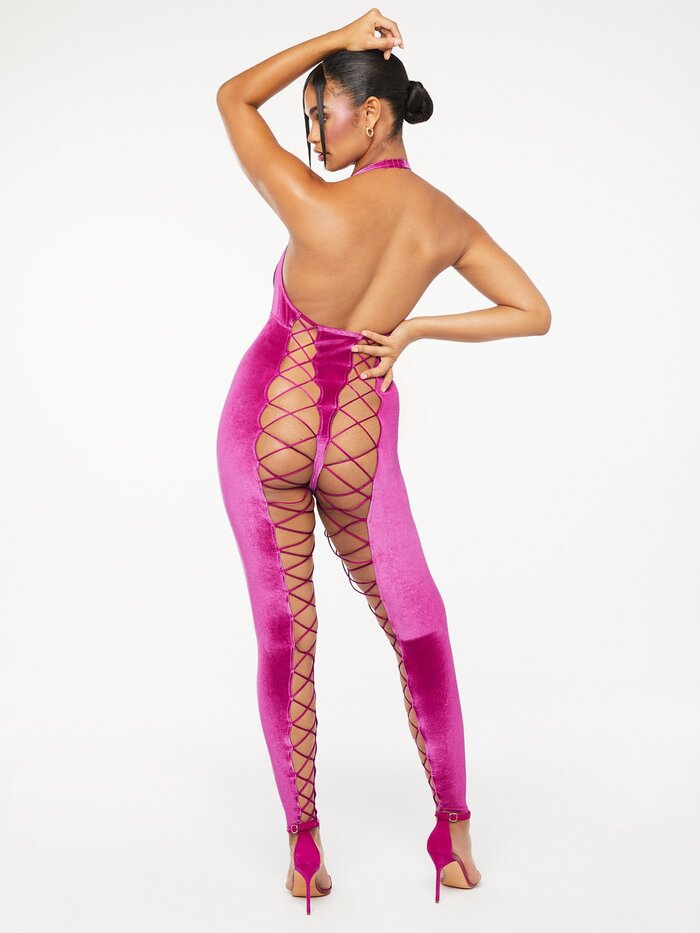 22. Red Mesh Thong by Cantiq Los Angeles
Cantiq Los Angeles focuses on producing handcrafted lingerie for all bodies, genders, and sizes. This handmade red mesh thong features a satin elastic trim with high waisted cut to shape every body and curve. Perfect for a recession, you can now start sharing lingerie with your partner!
Available at Cantiq Los Angeles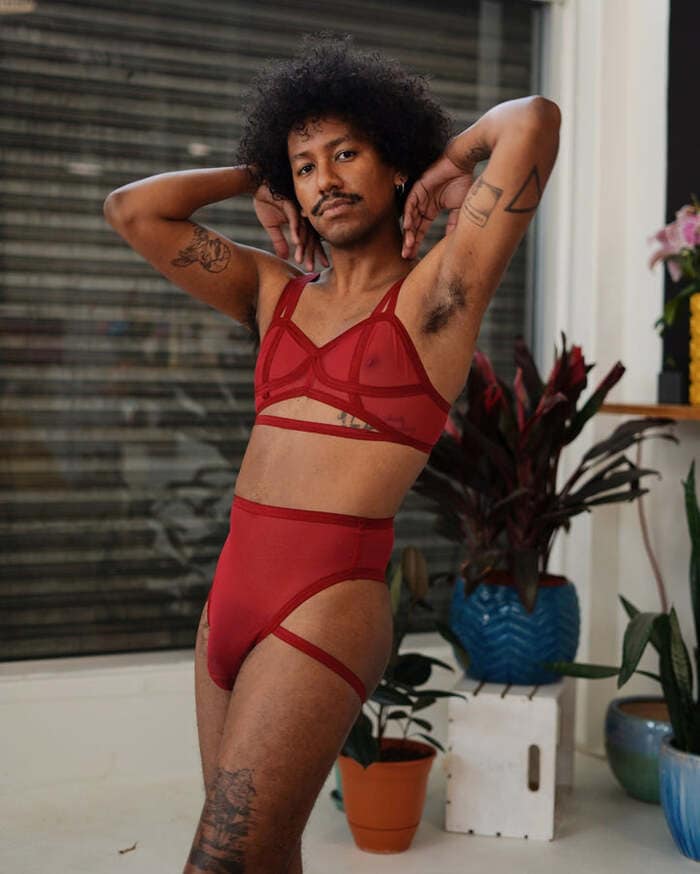 23. Blue Stretch Lace Bodysuit by Curvy Kate
Valentine's Day gives us plenty of things in red and pink. But we love to break from the norm, especially when it looks as good as this blue lace bodysuit by Curvy Kate. It'll really make your…eyes…pop.
Available at Curvy Kate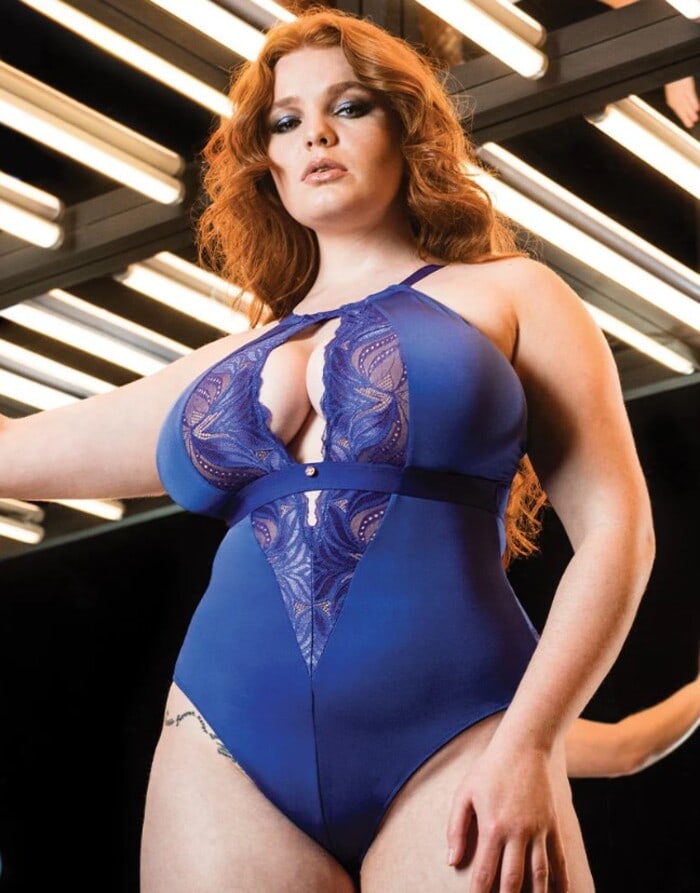 24. Black Sheer Bodysuit by Evgenia
Gothic fashion hit hard this year. So hard that it got to the refined world of lingerie. Happy Gothentine's Day to all!
Available on Evgenia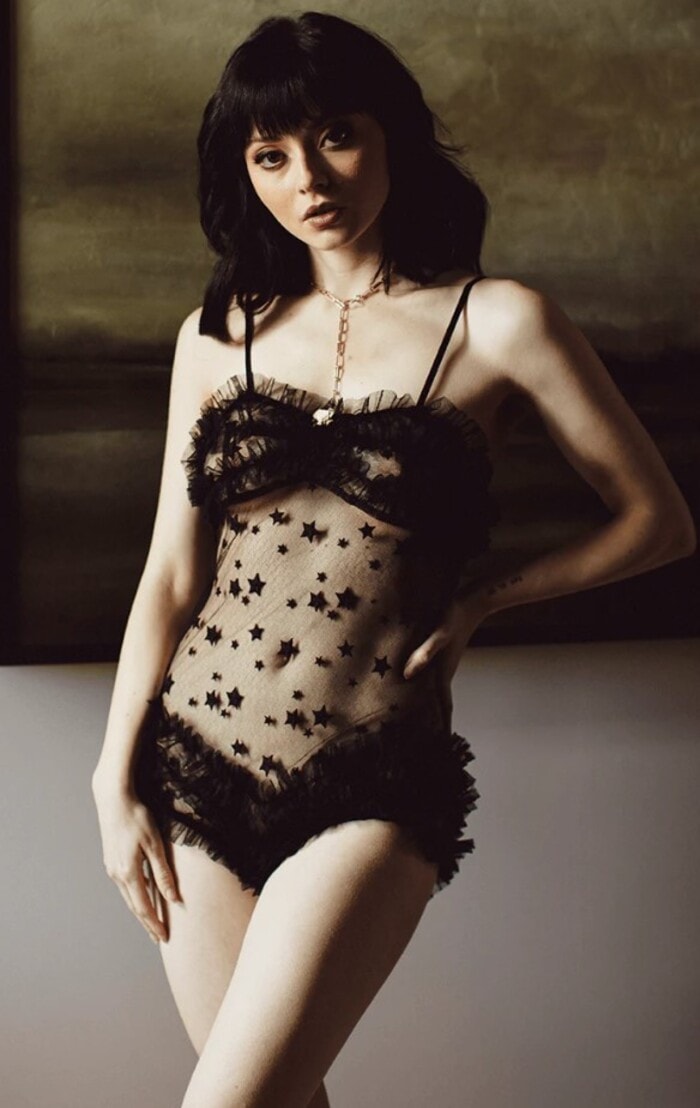 25. Pink Bralette and Lace Crotchless Set by Hanky Panky
Back hole, crotchless design, soft lace…is there possibly a lingerie set that can be more inviting than this one from Hanky Panky? This is one RSVP we won't forget to send in. The wedding of our great aunt's cousin twice removed is a different story.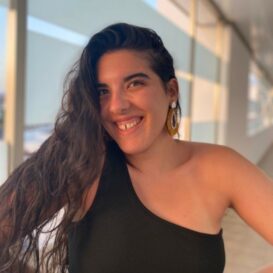 Latest posts by Nora Garcia
(see all)