We've been saving up for the Dyson Airwrap, but we may have to blow the budget on an even sexier device. Suction vibrators are the latest innovation in sex toy technology, and they're giving us a way more exciting blow out.
These clit stimulators are better time savers too. You'll be on your third orgasm before your Teams status turns yellow. We love a good work hack!
So, we asked the sex experts for their favorite clit sucking vibrators. After this list, you'll be too distracted to spend $600 on a hair curler.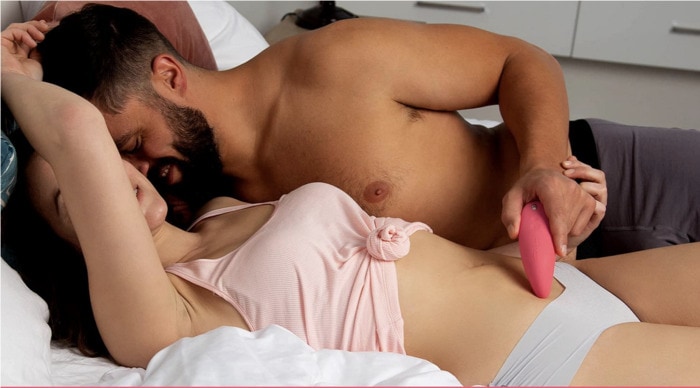 What Is a Suction Vibrator?
A suction vibrator, also called a clitoral suction toy or clit sucker, is a sexy toy that's designed to stimulate the clitoris using air and pulsation. The exposed part of the clitoris gets the most attention, because it's easy to find…for some. But the structure of a clitoris goes deeper, so it needs more pressure to stimulate the whole thing.
That's where the suction comes in. This pulsing action gives a deeper, more intense sensation to your whole clitoris. The bursts of air from suction vibrators make it feel like you're getting the best oral sex of your life from the Energizer Bunny of mouths.
"These suction toys work by encasing the clitoris and sucking. Or, in many cases, deploying air flow that feels like sucking," says Carol Queen, PhD, staff sexologist at Good Vibrations. "This, of course, might make them great for fans of cunnilingus. But they can be super-intense-feeling for those whose clits are particularly sensitive."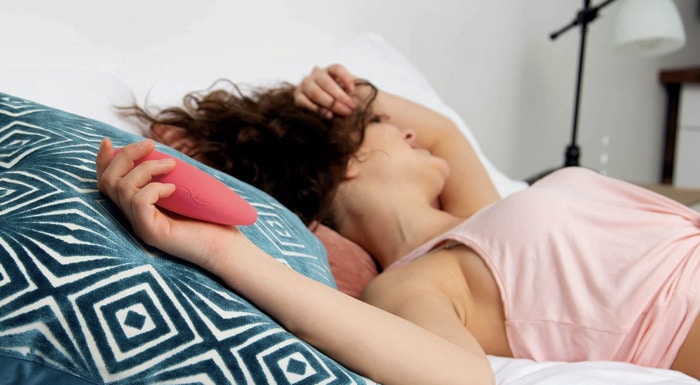 And you don't want to limit their potential! Suction vibrators can also be used anywhere you want some extra action: your nipples, your inner thigh, or a venomous snake bite.
Now that we have you convinced, we'll help you find the best clit suckers before the venom reaches your brain.
The 5 Best Suction Vibrators
1. Best Overall: Womanizer Premium 2
"Womanizer created the original clitoral suction toy, so they're good at what they do," says Sarah Melancon, Ph.D., sexuality and relationships expert for SexToyCollective.com.
"The autopilot feature allows you to lay back and relax. Simply select the intensity level – soft, medium, or intense. Then, the toy randomly switches between settings to keep you on your toes. The Smart Silence Technology means the toy only turns on when pressed against your body. So, it won't distract you or drain the battery while you explore in other ways."
Now, some suction vibrators only have one size for the suction opening. But there are multiple clit sizes! So ideally, you want to see if the toy you want comes with two "heads," Queen adds.
The Premium 2 comes with two sizes, so you can find the perfect match to ring your devil's doorbell.
Available on Amazon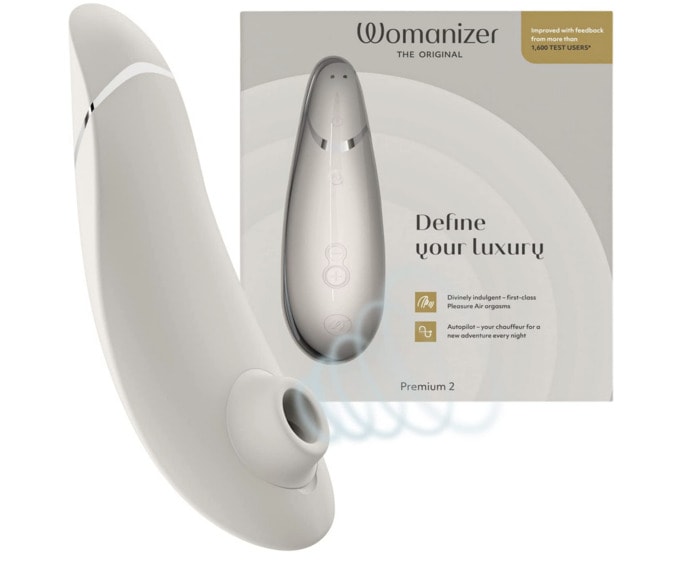 2. Best for Beginners: Satisfyer Pro 2
If you're not ready to have your soul sucked out of your body yet, start with some light nibbles on your soul. Try a warm-up with this air pulsing toy.
"If you are new to suction-style toys, the Satisfyer Pro 2 is the one for you! The suction isn't as intense as other toys on the market, making it perfect for beginners and first timers," says Amber Shine, ACS certified sex educator and media manager at XFans Hub.
This air suction toy has "an easy-to-grip handle and 11 different speeds. This intuitive waterproof toy can be used the next time you have a bubble bath." So long, rubber ducky.
You can upgrade to the Satisfyer Pro 2+ version for added vibrations that you can control along with the suction. "The two sensations can also be independently controlled. And, the toy is waterproof, making all kinds of stimulation and fun play possible," says Amy Julia Cheyfitz, sex therapist and BDSM educator at The Pincus Center.
Our experts highly recommended this toy. "I talk about it enough that my phone automatically suggests it when I start typing!" says Cheyfitz.
Available on Amazon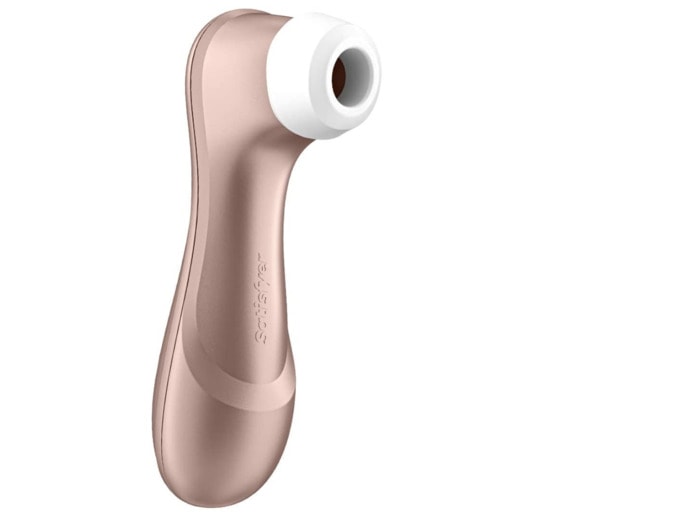 3. Best on a Budget: Sohimi Sucking Toy with Vibrating Egg
We don't normally recommend cheaping out on things that go in your body, because that's how we ended up sick from gas station sushi. But this BOGO deal of a suction toy and g-spot stimulator in one includes medical grade silicone instead of salmonella.
"The Sohimi Sucking Toy with Vibrating Egg is a bargain priced toy that is quiet, has amazing air pulse stimulation, and a vibrating egg that can be used for vaginal and g-spot stimulation," says Edwina Caito from Bedbible.com.
The extra egg helps to stimulate you internally and externally is a recipe for a blended orgasm. Note to self: we may need to find some new cookbooks.
Available at Sohimi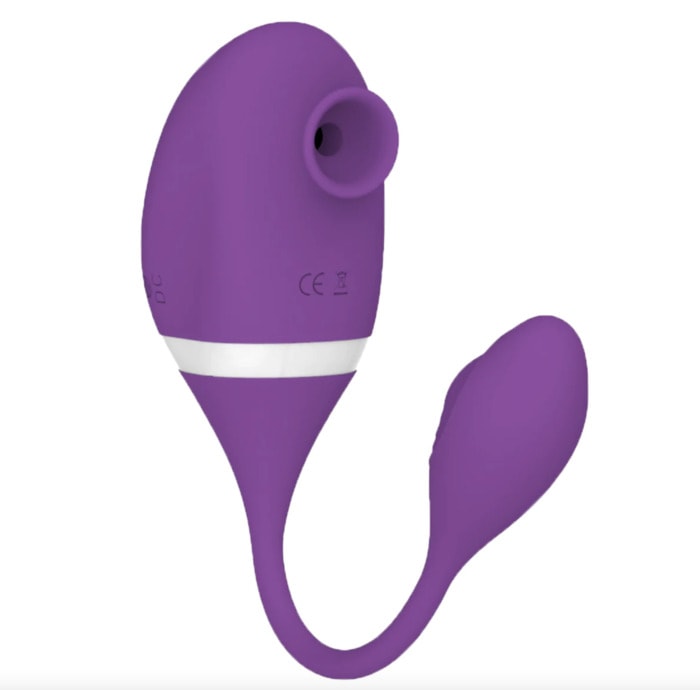 4. Best for LDRs: We-Vibe Melt
This air suction vibrator is great for couples. "Especially long distance couples, as this is currently the only long distance clitoral suction toy on the market." says Melancon. Don't worry, it's great in person, too, even without the video delays and freezes.
This toy is the perfect fit for partnered sex, because it's easy to hold in place and it'll actually fit between you.
"The curved shape makes it easier to accommodate during partnered sex. It works in most positions, and better in missionary than most suction toys. By contrast, many suction toys are larger, reducing the number of potential positions for partnered sex," say Melancon.
Available on Amazon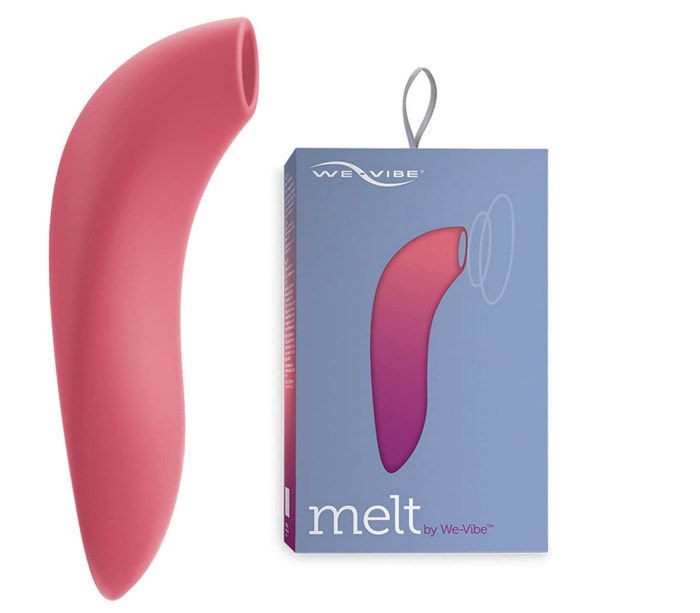 5. Best on the Go: Satisfyer Pro Traveler
When you're sick of long distance, hop on a plane to LAX with a dream, a cardigan, and this carry-on sized toy.
"The Pro Traveler is smaller, so it fits comfortably in the palm of your hand. That makes it perfect for taking along on trips and overnighters with that special person," says Caito.
"It features a magnetic dust cover, trimmed in beautiful rose gold. That keeps the toy dust-free and looks like a shaver of some sort, so it's extremely discreet."
Hopefully the TSA won't ask any questions besides, "Where can I get one?"
Available on Amazon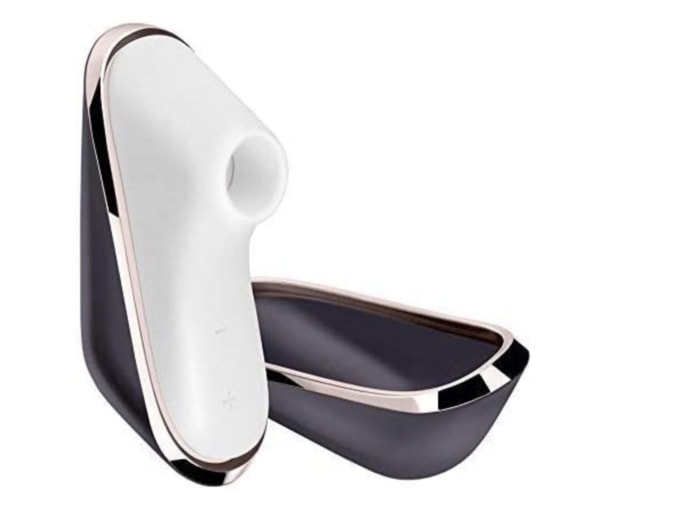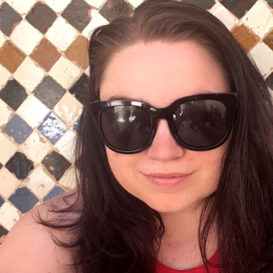 Latest posts by Madison Higgins Hwang
(see all)