We're pretty biased over here that fall is the best season, but summer holds a close second place. In the spirit of living in the moment (hear that, therapist?), we're going to embrace her until the bitter end. To aid us in this endeavor, we're looking to these summer gel nail designs to last us until the first autumn chill hits the air.
And these aren't just any summer nail designs – they're all created using gel nail polish. The main difference between gel polish and regular nail polish is that gel needs to be cured under a UV lamp. Sort of like how you have to be cured with Gatorade after you go too hard at the bar. Gel nail polish is so relatable.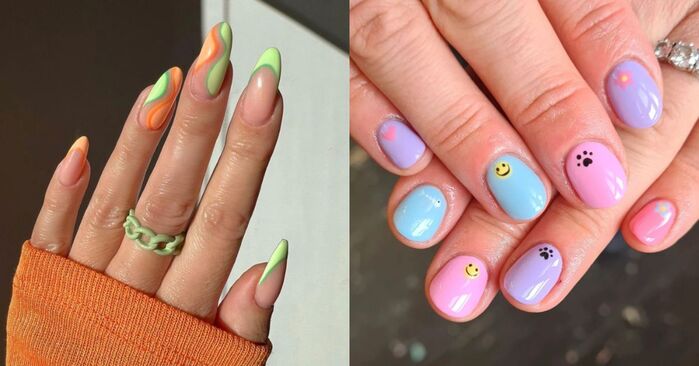 You can buy a UV light for your own home, or if storage space is an issue, you can go to a nail salon and have them do it there. Although, regarding storage, if we may: your underwear drawer could use some serious Marie Kondo-ing.
So hop to it and try out this fun gel nail art featuring summer-inspired designs like ice cream, neon colors, flowers, and rainbows. Try them all before it's too late. And by too late, we mean: spooky season.
21 Summer Gel Nail Designs
1. Hard Shell Mermaid's Tears Press-Ons
These 3D nails are made using Apres Gel X nail polish and come in any shape and size imaginable. Plus, we learned that mermaid tears are holographic, which is yet another reason to be bitter about being stuck in the human world.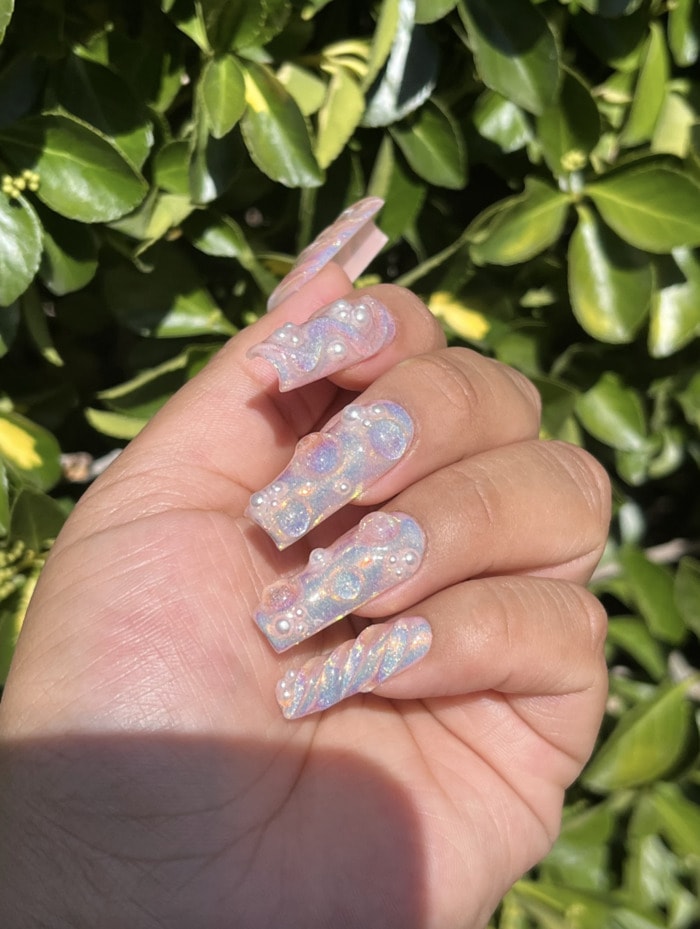 Available on Etsy.
2. Pastel Cat Nails
These nails are cat-inspired, and cat-approved, evidently. Our cat just came and sat on our keybo-ahkhcljbwdckjbsqljq;o.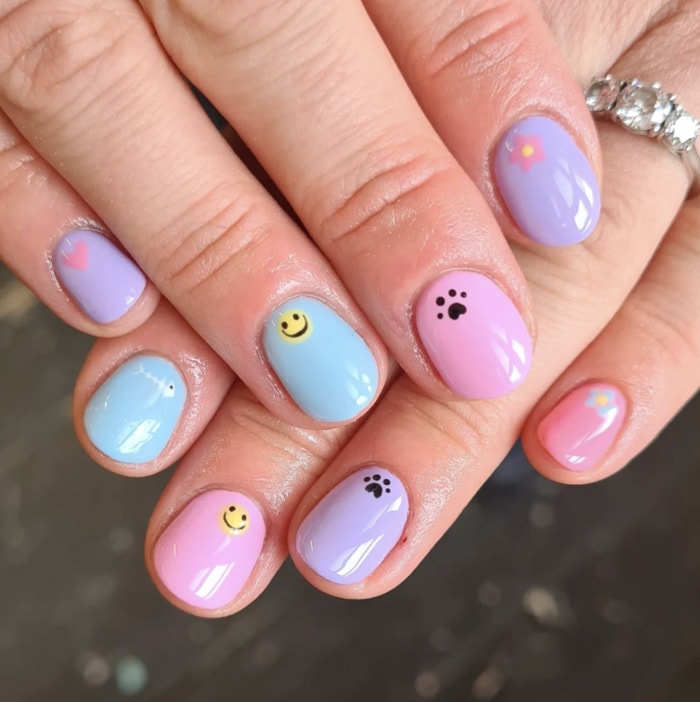 3. Disney Gel Press-On Nails
Prepare for your upcoming trip to Disney by getting this set of mouse ear gel press-ons. Or instead of a trip, watching Hocus Pocus on repeat in your living room. Same vibes, right?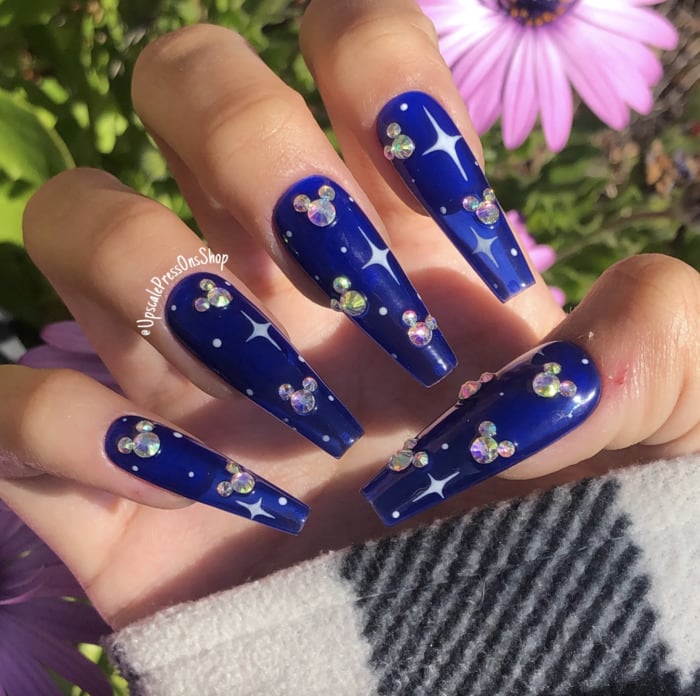 Available on Etsy.
4. Paisley Summer Nail Design
We'd say there's nothing we love more than bright colors. But our all-black wardrobe might disagree.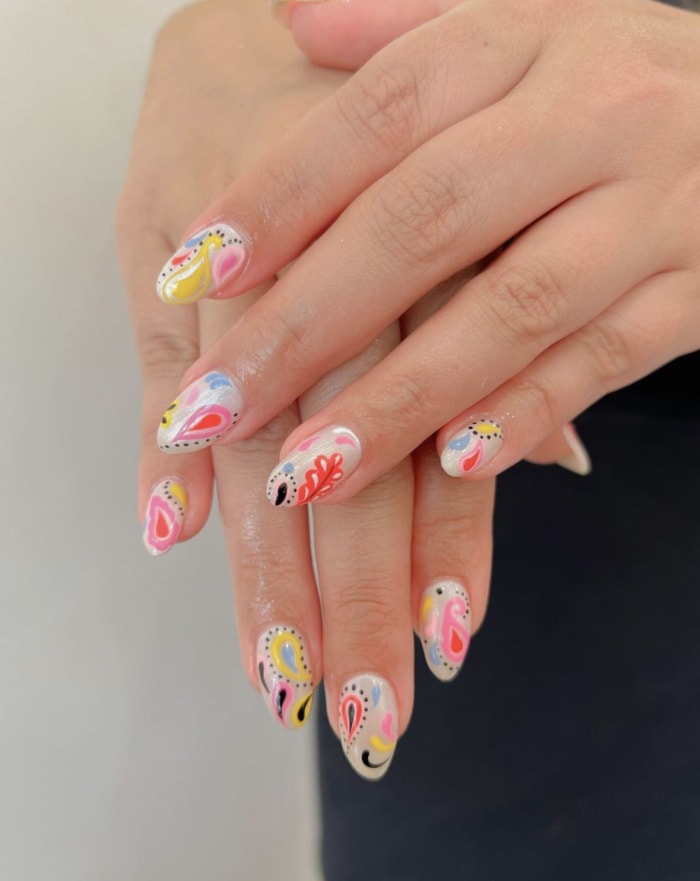 5. Ohora Semi-Cured Gel Nail Wraps
Ohora provides semi-cured gel nail wraps with a variety of pre-made designs to choose from. All you have to do is stick them on and cure them with a gel nail UV lamp. Nail art the easy way.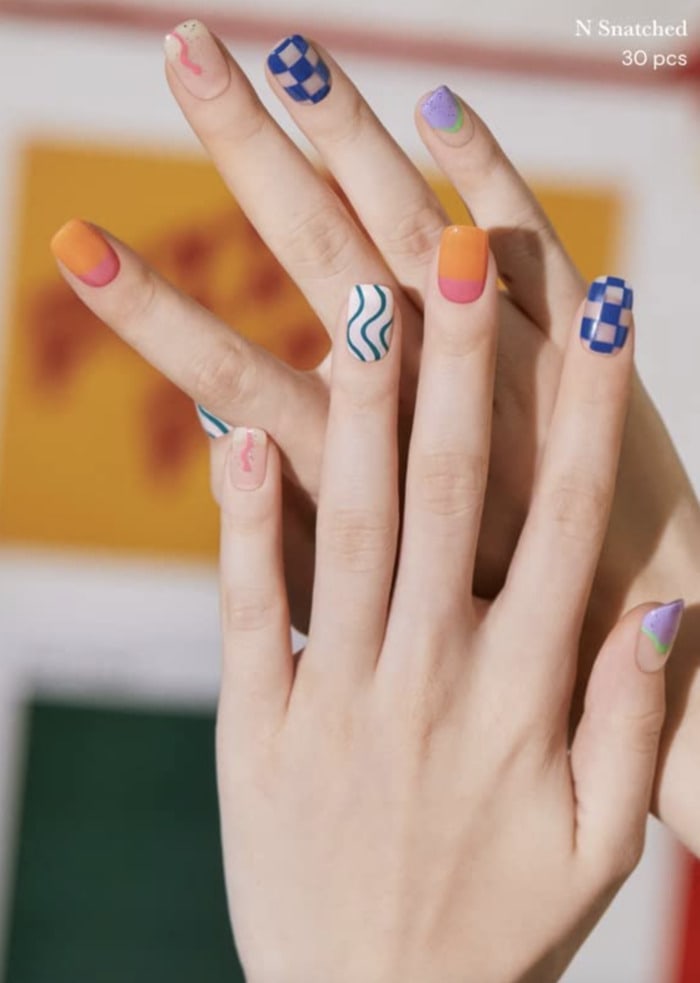 Available on Amazon.
6. Evil Eye Minimalist Nails
We always get the evil eye and the stank eye mixed up, but we're definitely experts at one of them.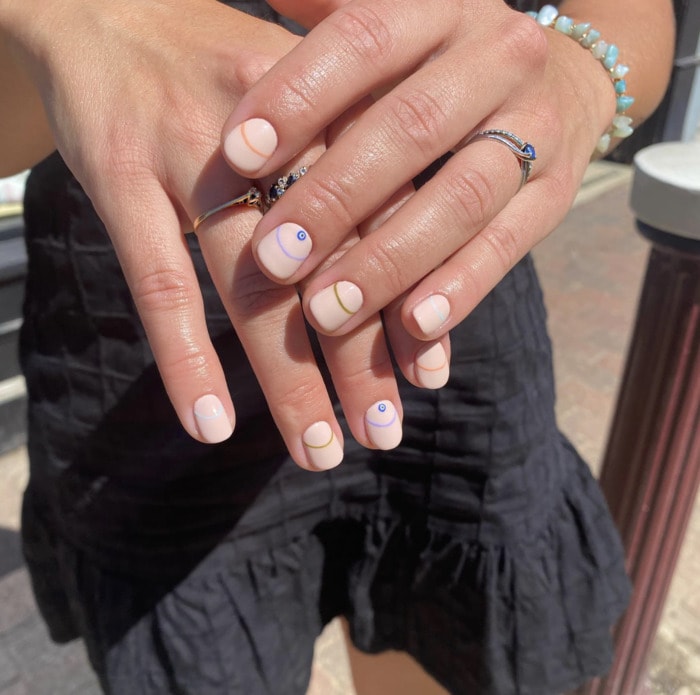 7. GLAMERMAID Bi-Color Flower Press-Ons
Why choose just one color for each nail when you could have two? That's the same logic that resulted in our freezer being stuffed full of every Trader Joe's frozen pizza available. So it's foolproof, obviously.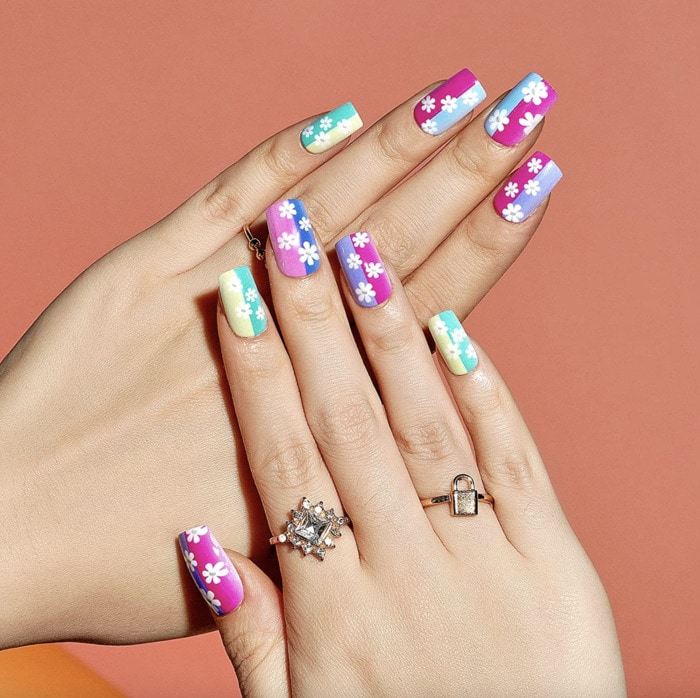 Available on Amazon.
8. Rainbow Nail Design
We're big fans of the accent nail in this rainbow set. Less nail polish and designing means less opportunity to morph into Hulk when our brush goes awry. And more time for binge-watching Stranger Things.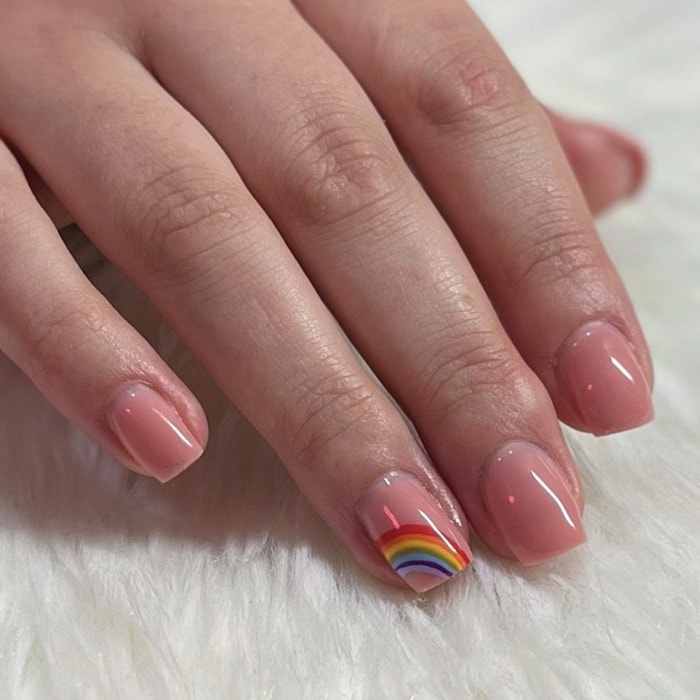 9. Ice Cream Nails
What's more "summer" than ice cream? Although if you're anything like us, it's also winter, fall, and spring.
10. Floral Gel Nail Design
As the real flowers wither away in this heat, your nails can immortalize them forever. Or, for two to three weeks until they start chipping.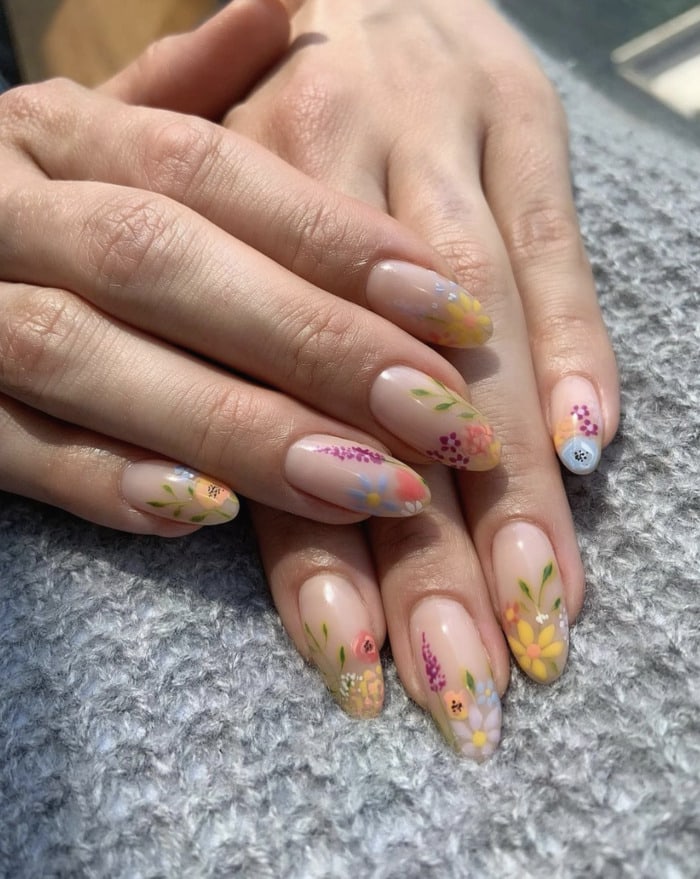 11. Green Gel Nails
It feels like green is having a moment right now, and these nails are the perfect way to celebrate that. Relegated to St. Patrick's Day no more!
12. Multicolor French Tips
Best for those with an extensive nail polish collection. Can we move in?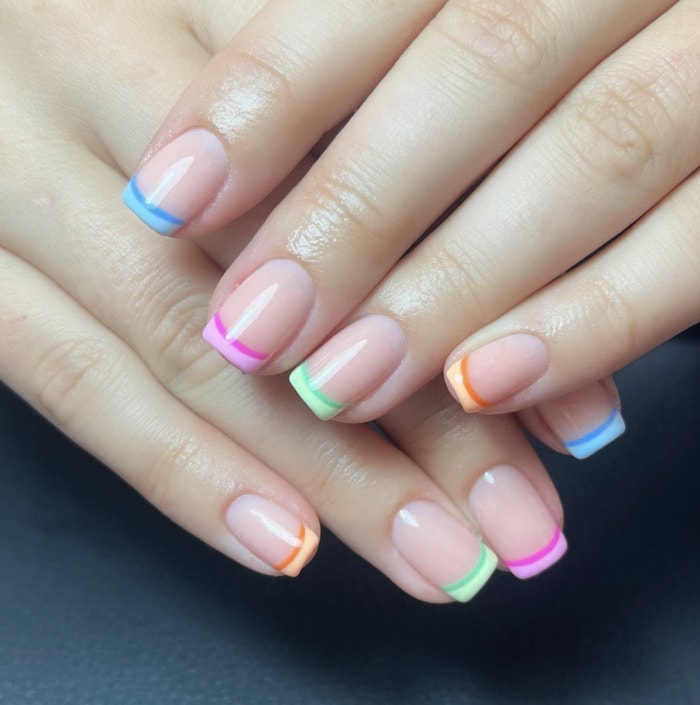 13. Checkered Nails
Bust out the mini checkers and you've got a makeshift board while you're waiting for your flight to take off. And then if you're losing, just fake a muscle spasm.
14. Marbled Ocean Nails
Get a piece of the ocean without even leaving your couch. You have some serious work to do on that DVR queue. HGTV ain't gonna watch itself!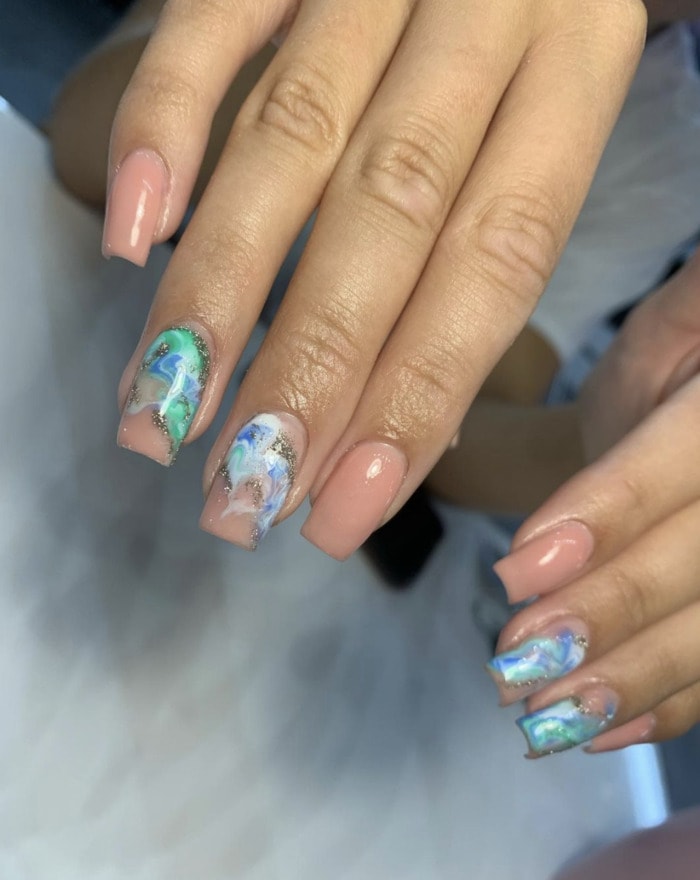 15. Orange and Green Wavy Nails
This is the level of color coordination that we aspire to. Unfortunately we don't even have matching pairs of socks. Listen, we didn't say that our underwear drawer was above reproach.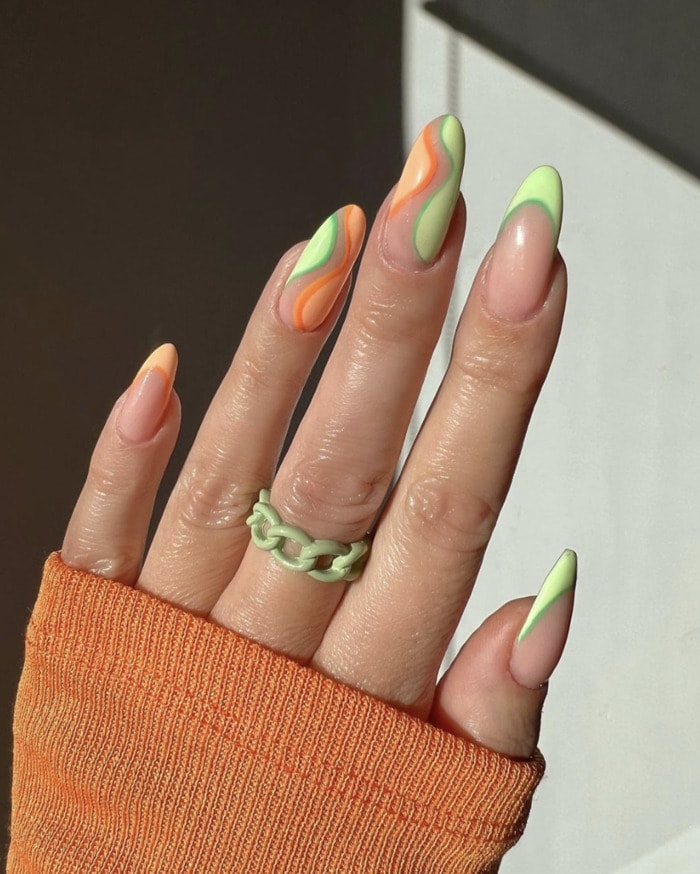 16. Rainbow Leopard French Tips
Boring white French tips or rainbow leopard print? If you saw our middle school notebook collection, you wouldn't even have to ask.
17. Simple Blue Nails
Simplicity is in, we say as we cram another Halloween decoration into our full-to-bursting cart at Target. Ah, the simple life.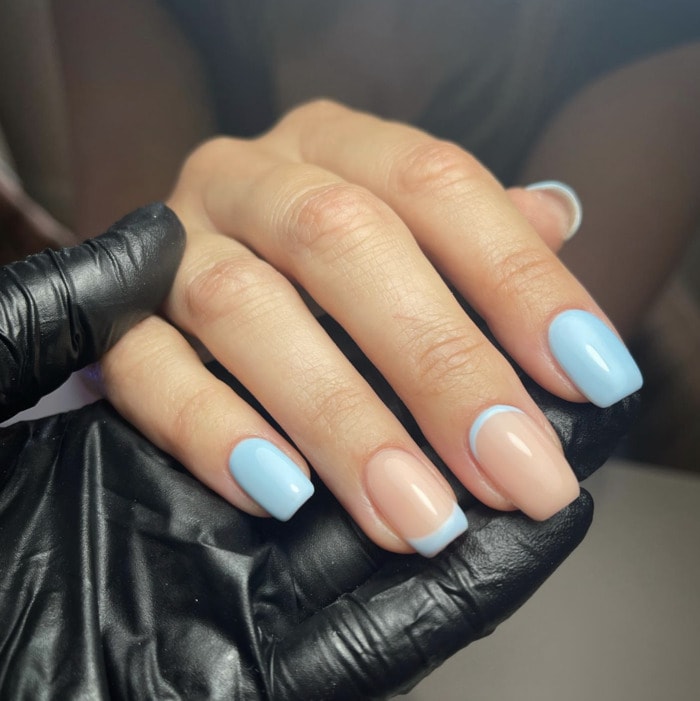 18. Spooky Gel Nails
Summer is really just pre-Halloween, so we're in full support of skipping a few nail sets. Wake us up when September ends, would ya?
19. Neon Stiletto Gel Nails
These stiletto nails are bright enough to use as a guide in the movie theater when you have to find the bathroom mid-film. Be prepared for a lot of "down in front" comments.
20. Lavender Gel Nail Design
The best thing about lavender is that you can wear it even after Labor Day. Some colors are just so pretentious.
21. Boho Gel Nail Designs
Another set with a mysterious eye, only this time, we're sure it's the stank one. Oue eyes only roll like that when a stranger tells us to "smile."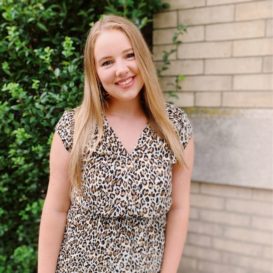 Latest posts by Laura Davis
(see all)