Thanksgiving is all about serving. Serving food, serving your friends and family, and most importantly, serving looks. Yet too many forget their nails when planning their turkey day outfit.
But, with this Thanksgiving nail art, you'll never fall into that trap again. And now you have something to do while everyone else is baking.
Your nails are your most important accessory on Thanksgiving day. You'll be showing them off as you handle all the side dishes, and then as you scroll through TikTok for the two hours between first and second dinner. Moral of the story: they best be looking sharp.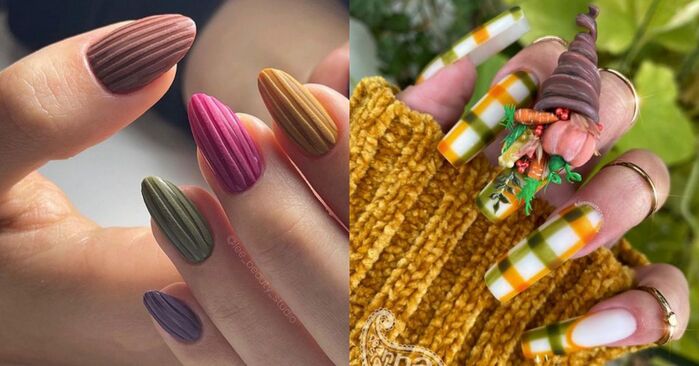 These Thanksgiving nail designs feature turkeys and pie, of course. But we also pulled in some more casual nail art that will last beyond dinner, in fall tones like browns, oranges, and nudes. They're a feast for your eyes. Hopefully someone else is handling the rest.
Gobble Up These 17 Thanksgiving Nail Art Ideas
1. Family Dinner Nails
If making it through Thanksgiving without getting embroiled in the family drama is a feat, then you'll love this nail art. We'll take all the excuses to ask someone pass the mashed potatoes again.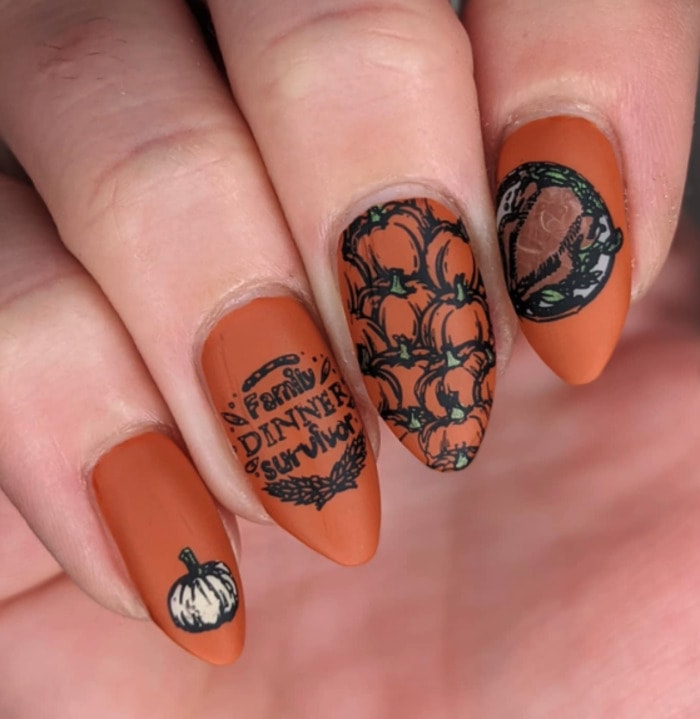 2. Pop Art Fall Nails
Thanksgiving nails don't have to be in your face to be on theme. This take on the new pop art nails trend showcases fall colors for the perfect turkey day mani. Here's to a poppin' Thanksgiving: nails, bottles, and pants buttons.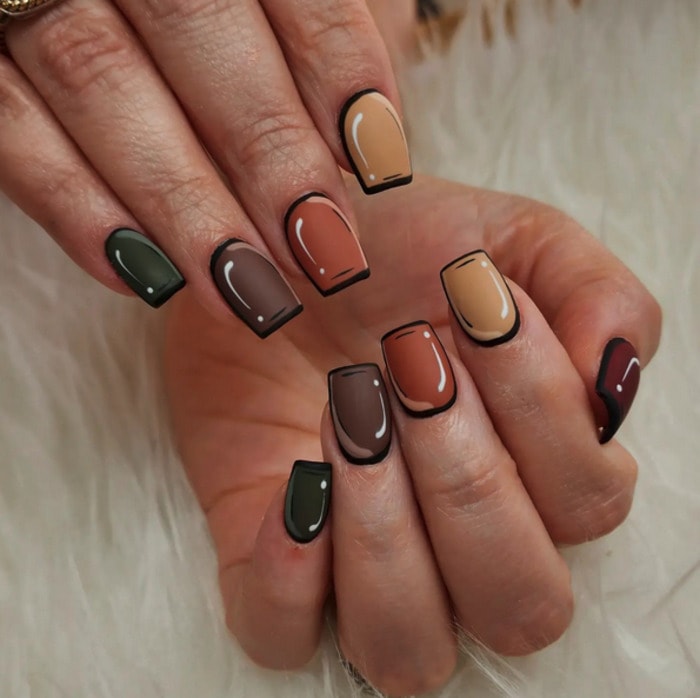 3. Pumpkin Pie Nails
This Thanksgiving-themed nail art take on the skittles manicure trend features browns, oranges, neutrals, and a pumpkin pie accent nail. We're gonna need about ten times the amount of whipped cream. But other than that, nailed it!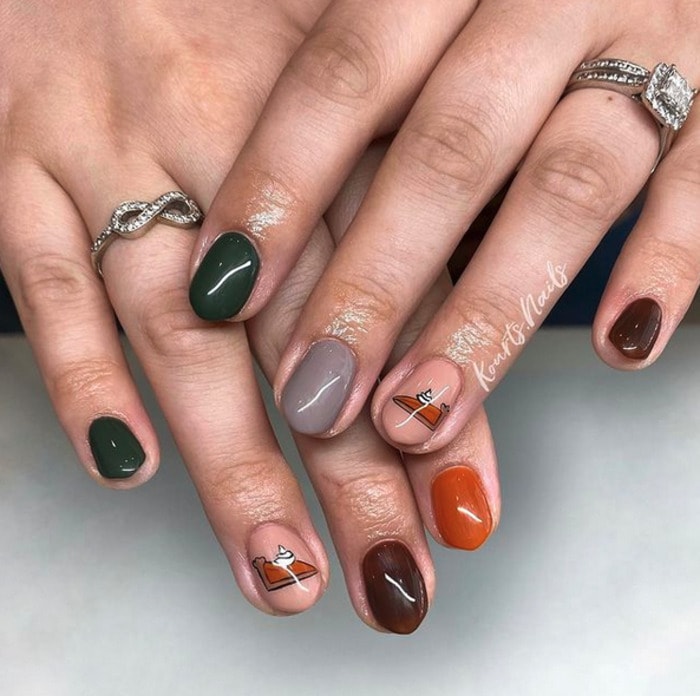 4. Thanksgiving Sides Nail Design
We appreciate that stuffing is not the easiest thing to make look aesthetic on French tip nails, but its absence is noted. Don't even get us started on the potatoes.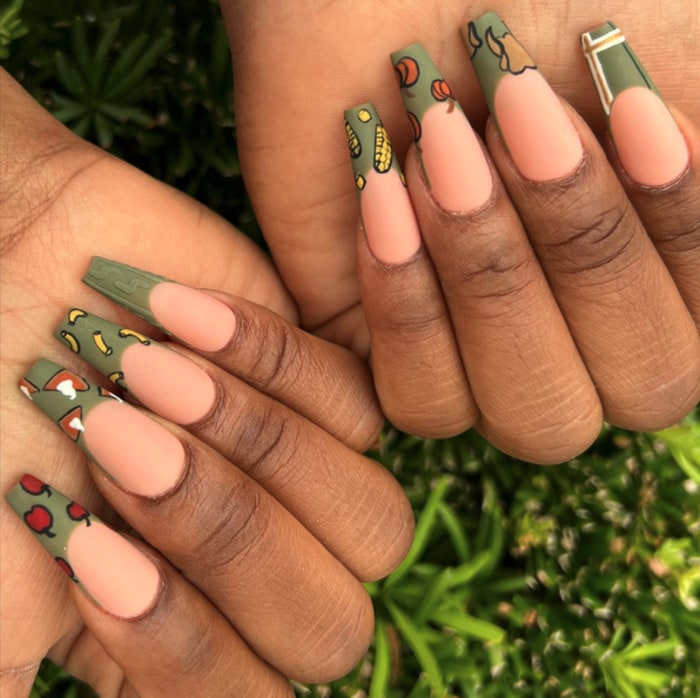 5. Scarecrow Nails
Use this nail art to see if scarecrows actually frighten people off. A second slice of pie, Aunt Jeanine? Before we've even had our third?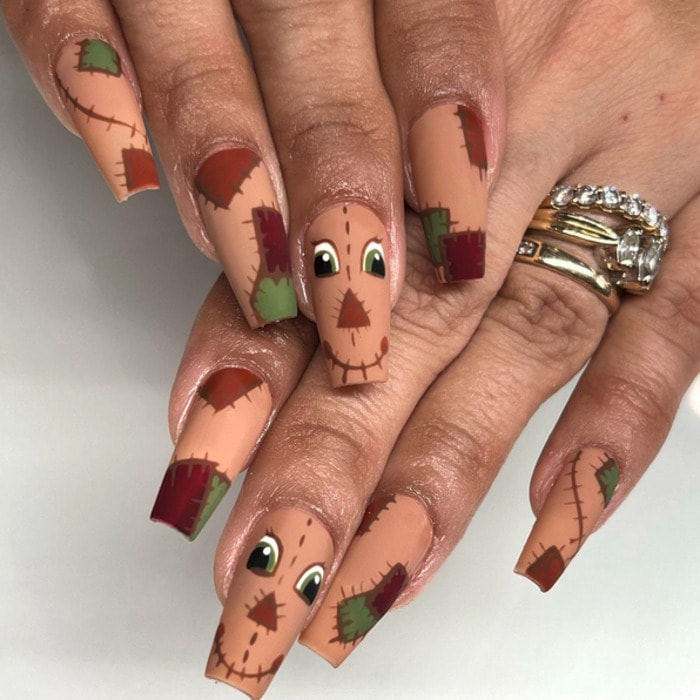 6. Cornucopia 3D Nails
We're all about being extra on the holidays. Extra gravy, extra decorations, and extra Thanksgiving nail art designs. So these 3D nails are super on brand for us. And they double as a toothpick!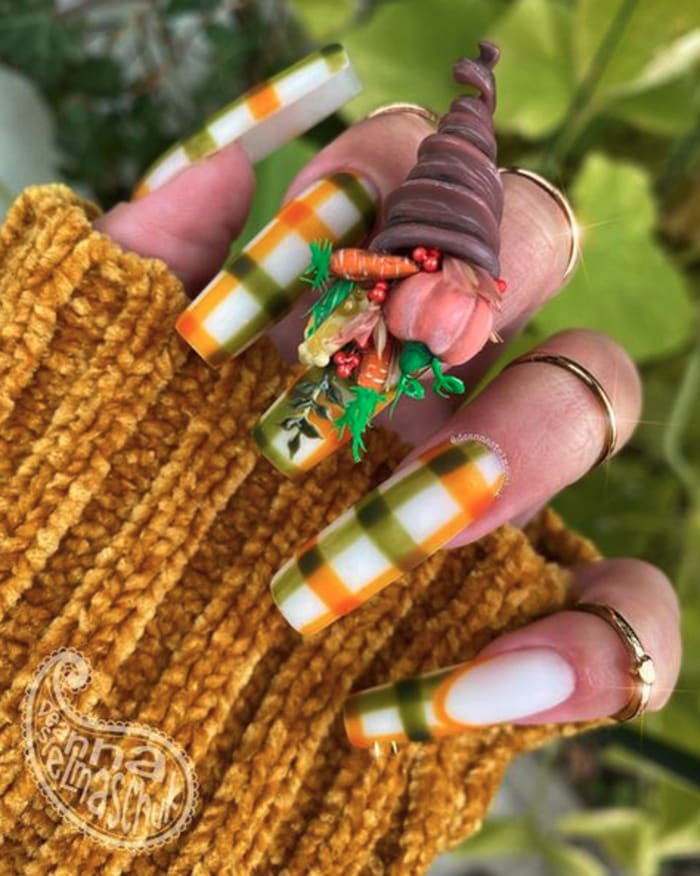 7. Cute Thanksgiving Nails
We strive to be as happy as that satiated cat on Thanksgiving. And any time someone throws glitter in the mix, we're sold. This does not apply to our green bean casserole.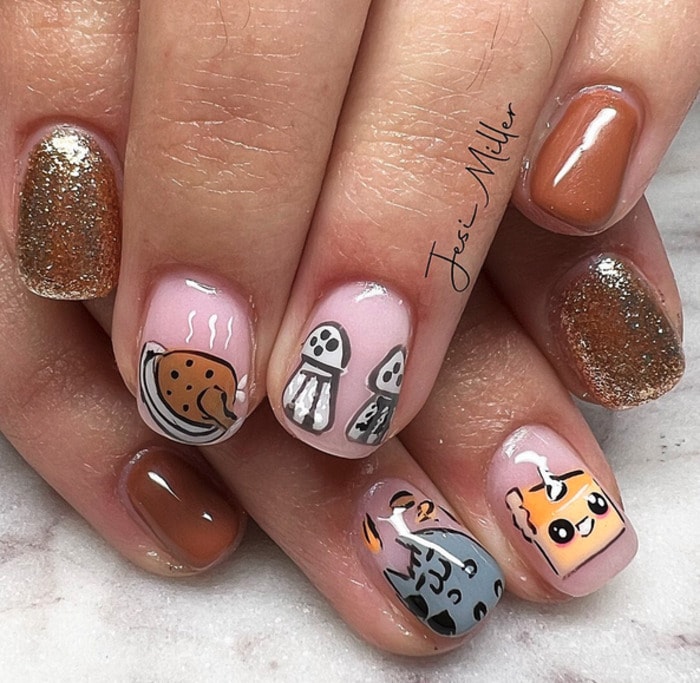 8. Corduroy Nail Art
No idea how to recreate this ribbed mani, but we do know how to cut up our old corduroy pants and we happen to be pretty handy with glue. There's no way this could go wrong.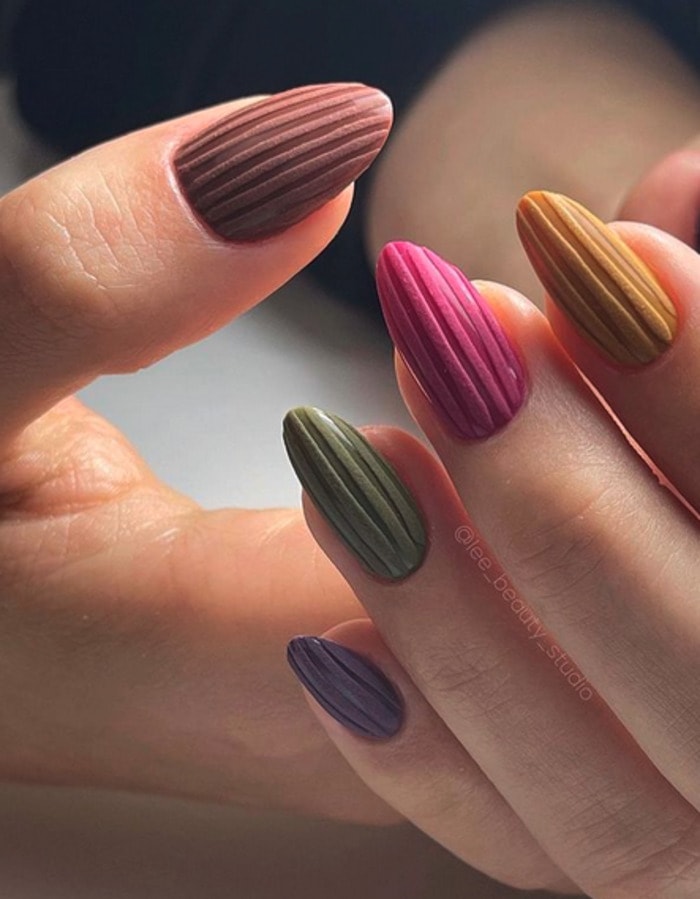 9. Modern Turkey Nail Art
Never has a turkey carcass ever looked so cute. We would totally swipe it right onto our plate.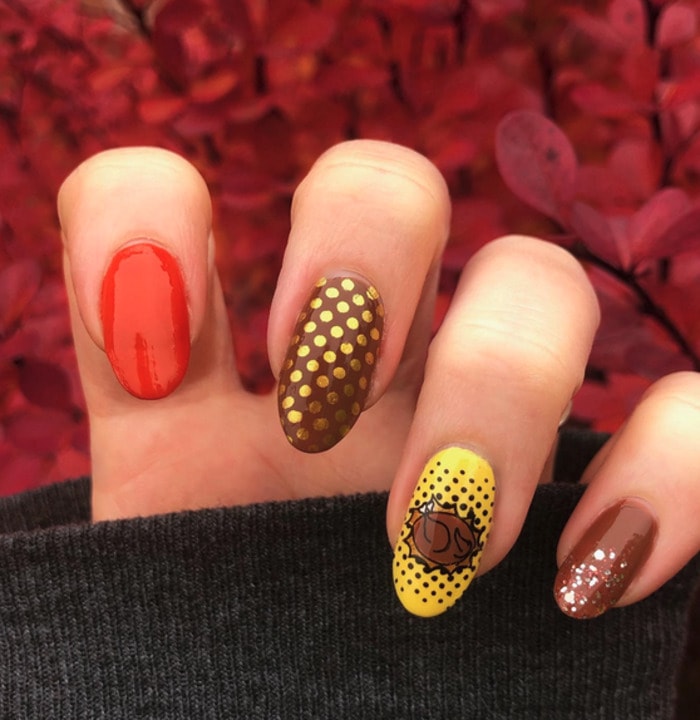 10. Minimalist Fall Nails
These fall nails are minimalist in style, but maximalist in length. It's all about balance on Thanksgiving. You know, equal parts dinner foods and dessert foods, sitting and laying down. That kind of thing.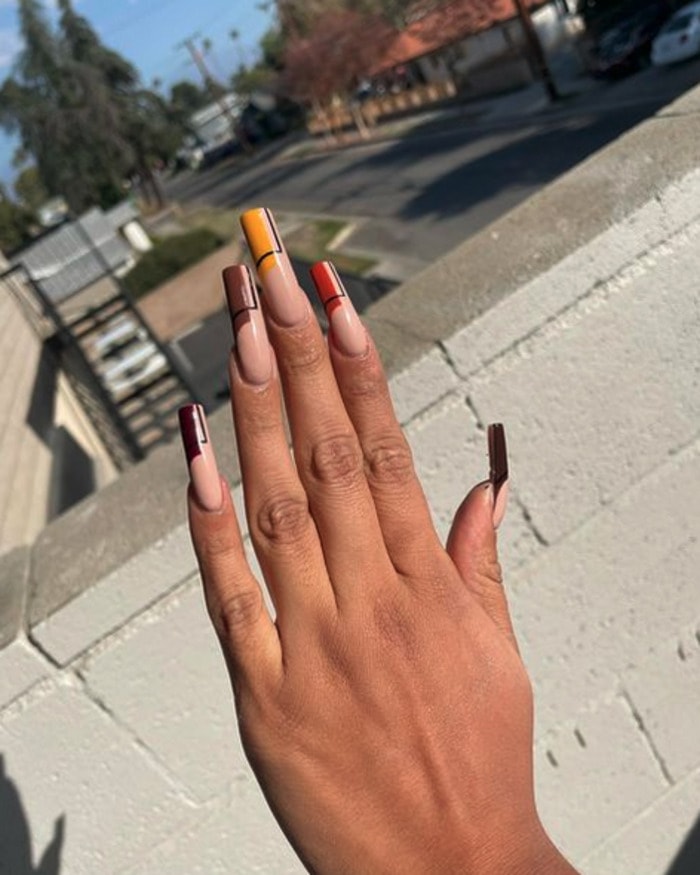 11. Woodland Creature Nails
Cottagecore, meet our nail art. We just knew you'd hit it off. Now please pass the focaccia.
12. Abstract Cornucopia Nail Design
Painting on canvas is already hard. Painting on a tiny rounded nail? Even harder. Literally.
13. Give Thanks Nails
You can recreate this pumpkin design with these Thanksgiving nail stamping plates. The unbitten cuticles will require more advanced planning.
14. French Tip Fall Nails
This minimalist Thanksgiving nail art makes it look like they were each dipped in a different sauce. Aioli, gravy, barbecue. Can you tell we haven't gone for seconds yet?
15. Maple Leaf Nail Art
We can't be-leaf how cool these are. And how warm it is outside. Has anyone checked on that groundhog?
16. Thanksgiving Pie Nail Art
The best part of a pie is its ooey-gooey filling. The best part of these nails is how perfectly they recreate that. The flavor's off, though. More whipped cream?
17. Thank You Nails
Skip the whole dinner and just paint your nails like this and wave at everyone you know. It's cheaper, plus you'll feel like Princess Mia.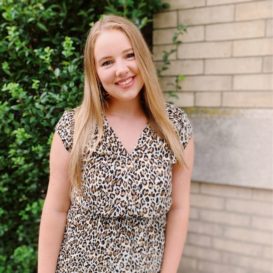 Latest posts by Laura Davis
(see all)