The Try Guys released a video addressing the removal of Ned Fulmer from the group after his alleged affair with a coworker. Honestly, it deserves an Oscar nomination.
As do the Tweets and memes in response to Eugene's seething anger.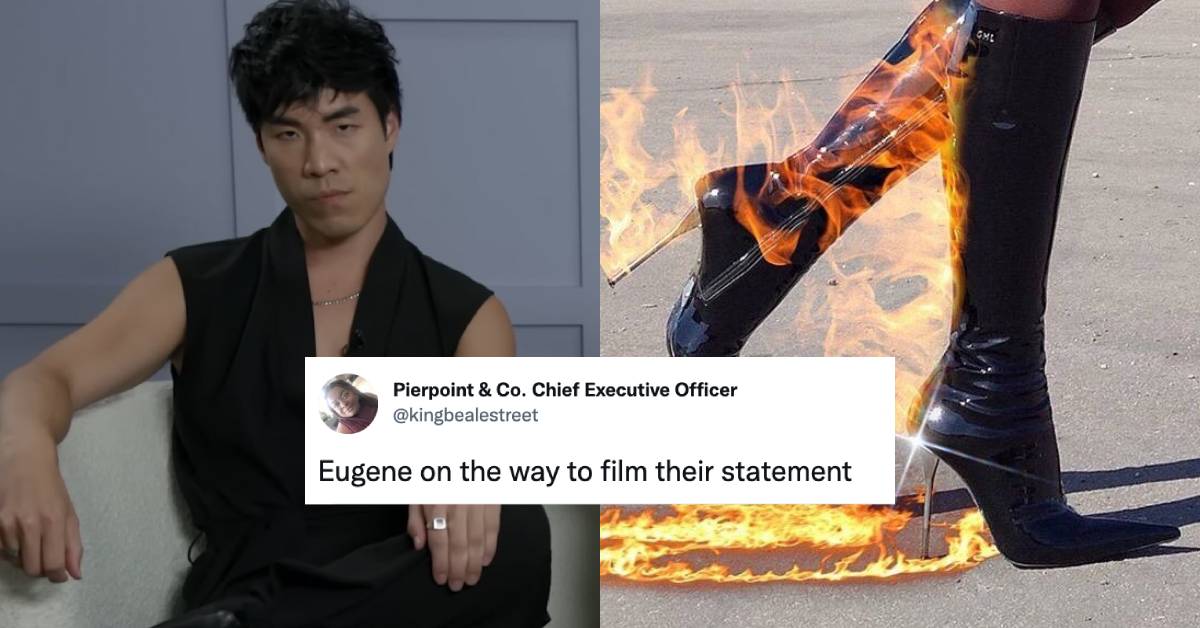 If you have no idea what we're talking about, we'll back up for a quick recap. The Try Guys – which originally included Keith Habersberger, Ned Fulmer, Zach Kornfeld, and Eugene Lee Yang – began as a BuzzFeed video project in 2014. People loved them, so in 2018 they branched out to create their own YouTube channel and production company, 2nd Try LLC.
They're known for, well…trying things! Each member has their own unique personality, with Ned Fulmer claiming his as "the wife guy." But on September 26th, rumors began circulating that Fulmer was cheating on his wife, Ariel. Not only that, the affair was allegedly with the Try Guys producer, Alex Herring.
Between the infidelity and the workplace romance, the other three Try Guys swiftly jumped into action to address the situation. According to their response video, they launched a full investigation, "refused to sweep things under the rug," and removed Ned from literally everything.
He's no longer in a part of the company, he's been edited out of future videos, and previously taped segments featuring him have been scrapped.
So…that's a lot. And obviously, the situation is pretty terrible for everyone involved. But as the Internet does its Internet thing, Twitter exploded with responses to the response video.
Mainly, Eugene's intense, simmering anger. His jaw clinch rivals Chris Pines' from the Don't Worry Darling press tour. And despite the intense rage he's clearly processing, he keeps his composure. You know, for legal reasons.
All of this has led to some top quality Twitter reactions and memes. Enjoy the best ones below.
The 21 Best Tweets About the Try Guys Response Video and Eugene's Pure Anger
1. Life imitating art.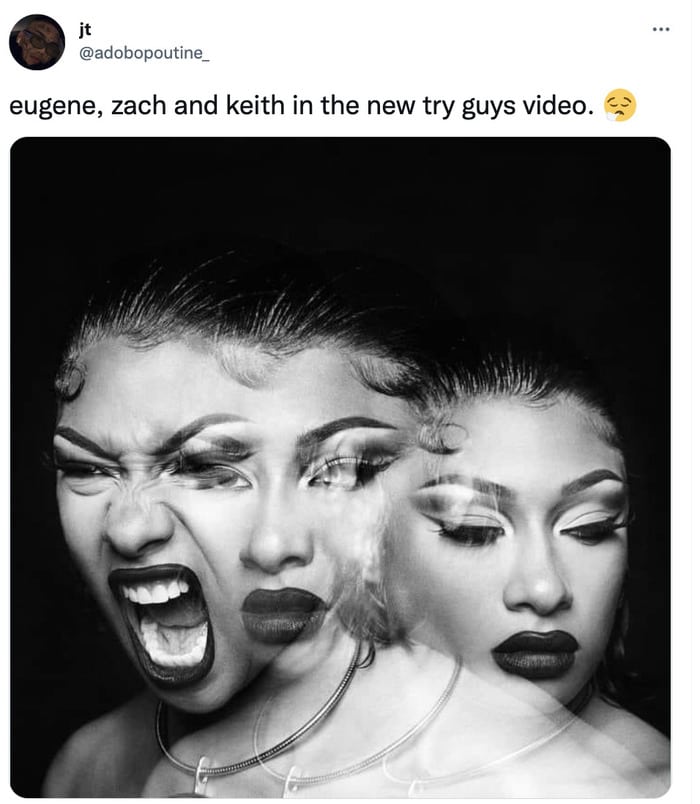 2. And that curtain is the lawyers.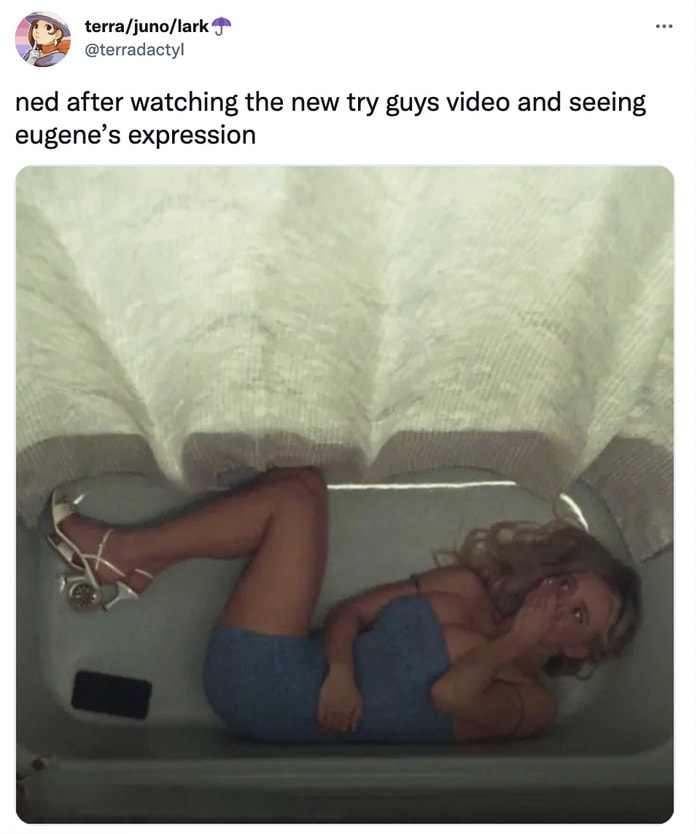 3. Why is this so accurate?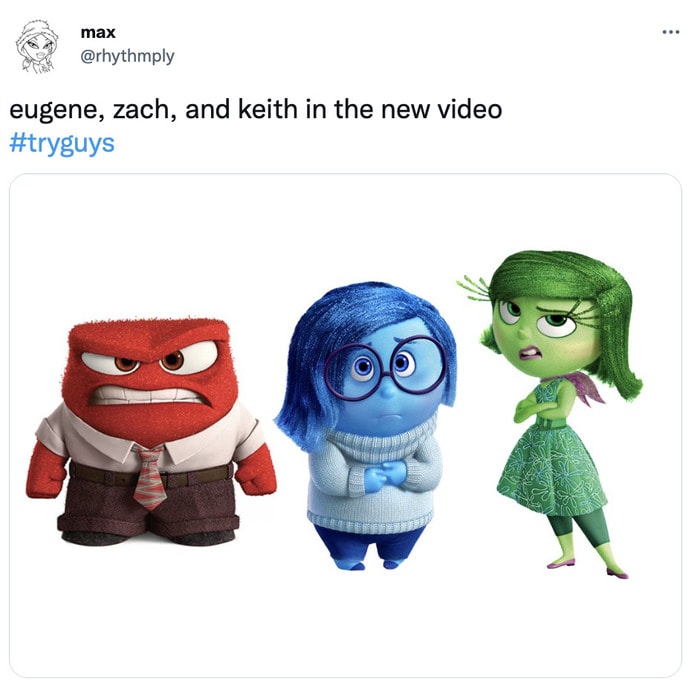 4. Checks out.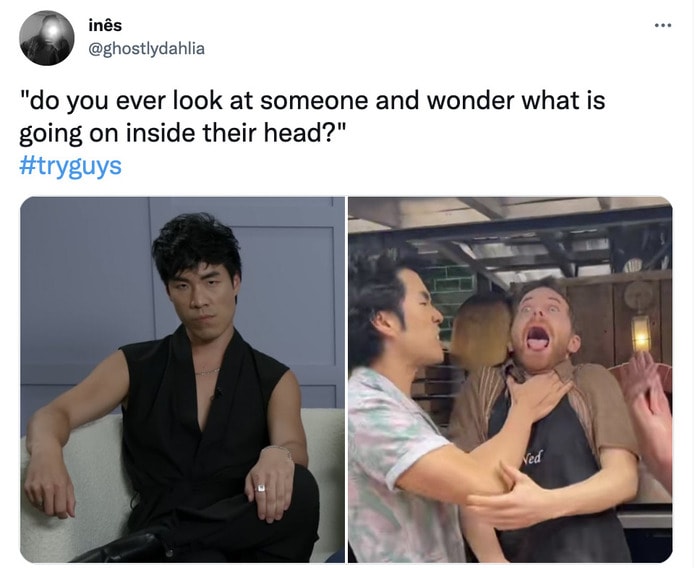 5. The revenge look does it again.
this whole situation is heartbreaking but eugene expressing his thoughts even though he legally can't use its words was perfect. poor try guys 🙁 pic.twitter.com/KdEDc0hcRH

— lucy layne 🖤 (@lucylayne_) October 4, 2022
6. We know, Eugene. We know.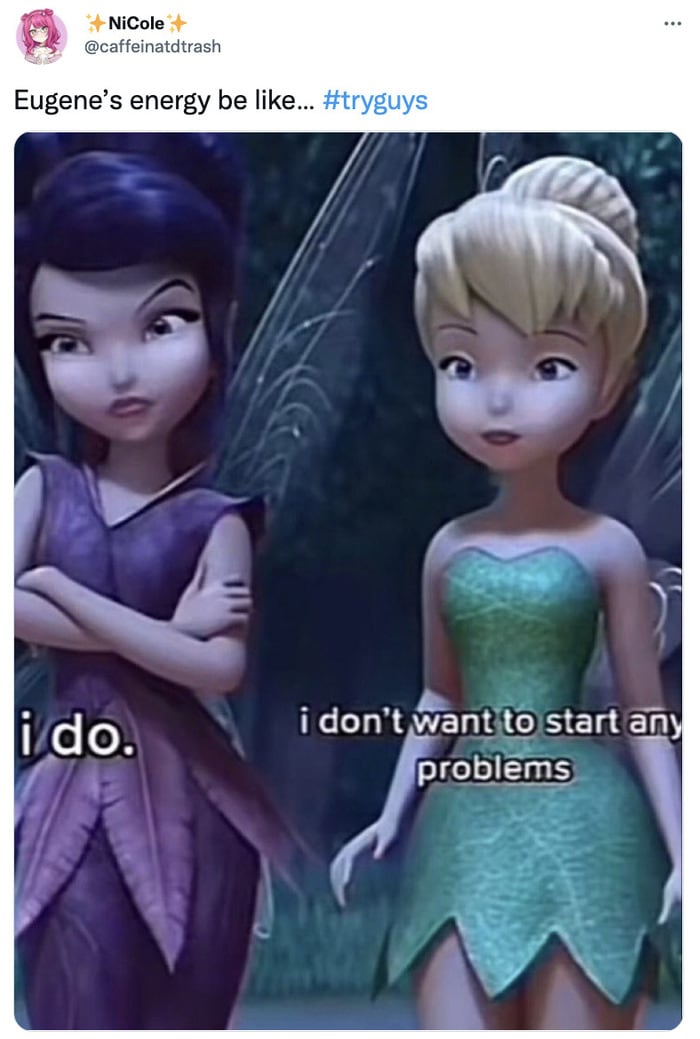 7. Hell hath no fury like Eugene.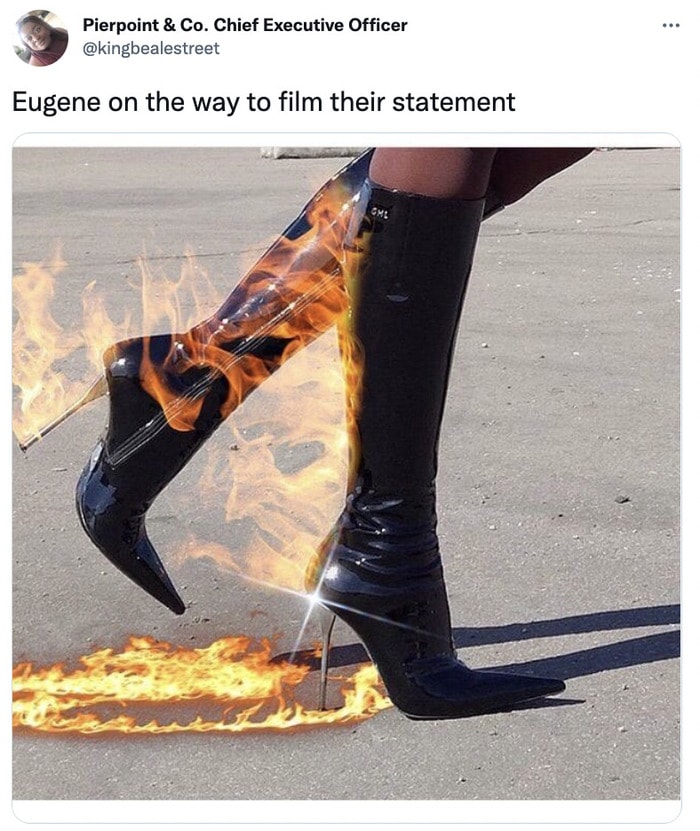 8. They have a very nice vacation in their future.
The Try Guys editor having to edit that one guy out of all their shit: pic.twitter.com/eNc36oopb6

— Joshua (@1stOr3rdPlace) October 4, 2022
9. *blinks*
Need a Try Guys: Try Letting Eugene Do What He Gotta Do pic.twitter.com/8t4aXsgfts

— Abbott Elementary's Receptionist (@ZendayasDriving) October 4, 2022
10. We feel this in our soul.
eugene's face journey… the man is TRYing to feel anything other than blinding fury rn and it's not working pic.twitter.com/uGksJuLv9e

— aj mcdougall (@oldmcdougall) October 4, 2022
11. In the distance, a tree bursts into flames.
eugene was really like "i can't say how pissed i am with words for legal reasons so let me just say it with my face" pic.twitter.com/DwjgmD32Yz

— #ravimains6 (@bwayjuIes) October 4, 2022
12. Never not looking good.
if nothing else eugene's commitment to serving looks no matter the circumstance is so inspiring pic.twitter.com/V9OsXKBTZc

— kathleen (@fordhoIden) October 4, 2022
13. It's true, we saw it in the dictionary.
Eugene is literally the definition of "if looks could kill" 😬 pic.twitter.com/c1qrCkhTV5

— Hannah ♡⁷ 🗝✨| 아포방포 (@jm_bby_) October 4, 2022
14. Our heart…it's breaking…
everyone saying they're eugene in that try guys video, I'm keith pic.twitter.com/n8KdaRz4rU

— Beccy Lewis (@becc_ys) October 4, 2022
15. They are about trying things, right?
i think ned should be in one more try guys video where eugene slaps the shit out of him

— veró 🔮 (@romancestarved) October 4, 2022
16. "So at mark 3:05…"
Dissecting the Try Guys explanation video pic.twitter.com/FIUAMLMfiw

— Olivia McCormack (@finalformolivia) October 4, 2022
17. Ned might want to try…running?
the way eugene sitting with his legs crossed mad as hell..ned watch out pic.twitter.com/jBhCPlFYbO

— andie (@hansolmeal) October 4, 2022
18. Anxiety inducing.
Eugene looks mad as hell i know Ned Fulmer was hiding in the office like this when the news came out pic.twitter.com/uTN3HE7AIZ

— GARB (@mynamegarb) October 4, 2022
19. A tough day to be a lawyer.
the try guys lawyers vs literally everyone else talking to eugene#tryguys pic.twitter.com/s91a4JqK3q

— o (@ateenytinyolive) October 4, 2022
20. Take notes, everyone.
Not #tryguys putting out a better apology for something they didn't do, than most of the creators that have done one.

— Paigerk (@Paigerkismyname) October 4, 2022
21. And finally:
if i watched the try guys video with no context i would have thought ned killed someone

— oatmeal influencer (@acechhh) October 4, 2022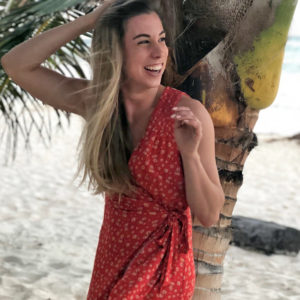 Latest posts by Hannah Rex
(see all)