Want to buy a Christmas tree, but have no idea what the different types of Christmas trees are or how to choose between them?
While any green thing found at the shady parking lot Christmas tree shop will do, arming yourself with a little tree knowledge will help you make the right decision that will impress your family, friends, and most importantly, Santa.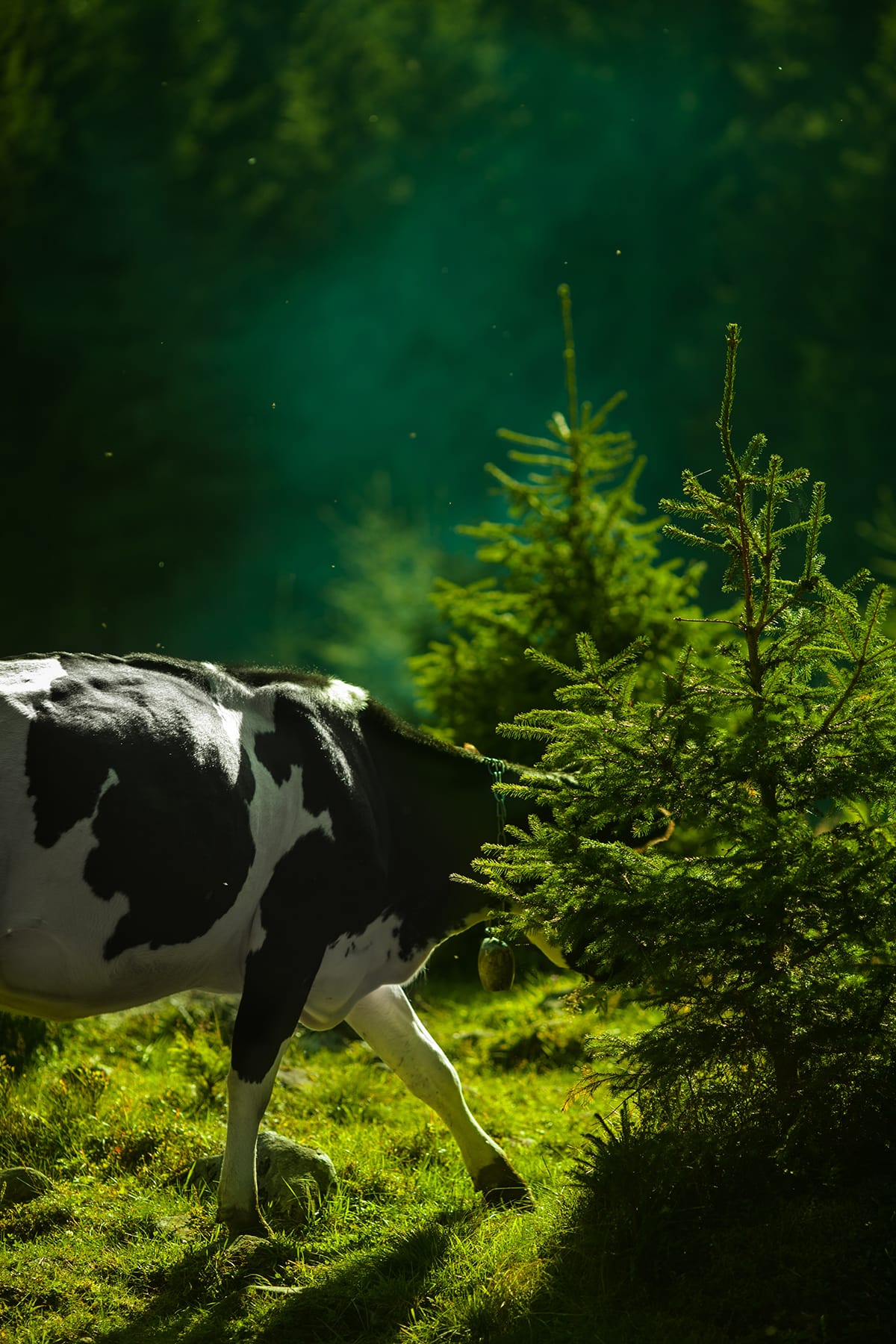 Types of Christmas Trees
1. Fraser Fir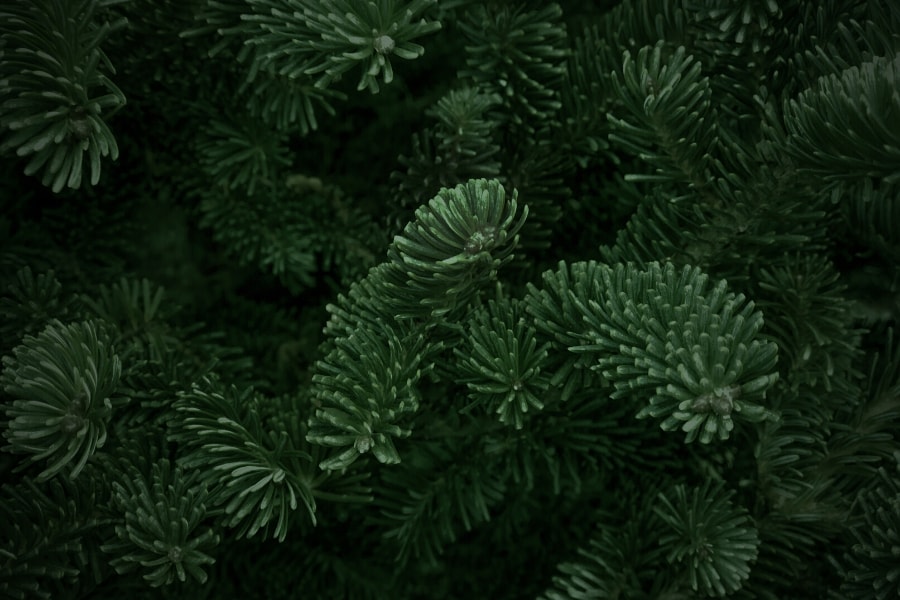 Color: Silvery green
Needles: Soft needles that stay on the tree, strong branches that angle upwards
Scent: Just like Christmas!
A classic shape. A classic color. A classic look. There are many reasons why the Fraser Fir is in the running to win our "Best Type of Christmas Tree" award. From its sturdy branches (able to hold even the heftiest "I Believe in Wine" ornament) to its soft needles that won't feel like a porcupine when you run into it later after you've had three glasses of the red stuff.
But the big reason Fraser is popular? It's an uptight prude. This tree won't go dropping needles and revealing its sexy naked trunk at the slightest gust of wind. When watered and cut properly, the tree should remain full well past Christmas day.
And as a bonus, you can let everyone know that the Fraser Fir was named after 18th century botanist John Fraser.
2. Colorado Blue Spruce

Color: Silvery blue
Needles: Short, sharp needles that tend to drop. But, hey, sturdy branches!
Scent: Depends on individual tree
It's okay to have a blue Christmas. This tree's bluish tint will make the room feel chillier and help you forget you chose to wear a thick, wool turtleneck sweater to a crowded, warm party.
The Colorado Blue Spruce is a great choice for a Christmas tree. Its hearty branches and the perfect pyramid shape (it's our fancy way of saying it looks like a triangle from the front) that looks so good you may even think it's fake. Not at all like when you Facetune things for Instagram. Speaking of… here's our comprehensive list of winter hashtags.
And, if you don't chop down the tree, it can grow for up to 200 years! So, be eco-friendly and buy a live one at your local gardening or hardware store and plant it outside after Christmas! It grows well in USDA hardiness zones 2-8. (Sorry, Florida, none for you.)
The Colorado Blue Spruce is the state tree of Colorado (duh!) and was also the state tree of Utah until 2014 when Utah realized it was just stealing Colorado's style. The Utah state tree is now the Quaking Aspen, which sounds like it could be a tree, a snowboard trick, or the name of a pet stricken with palsy.
3. Balsam Fir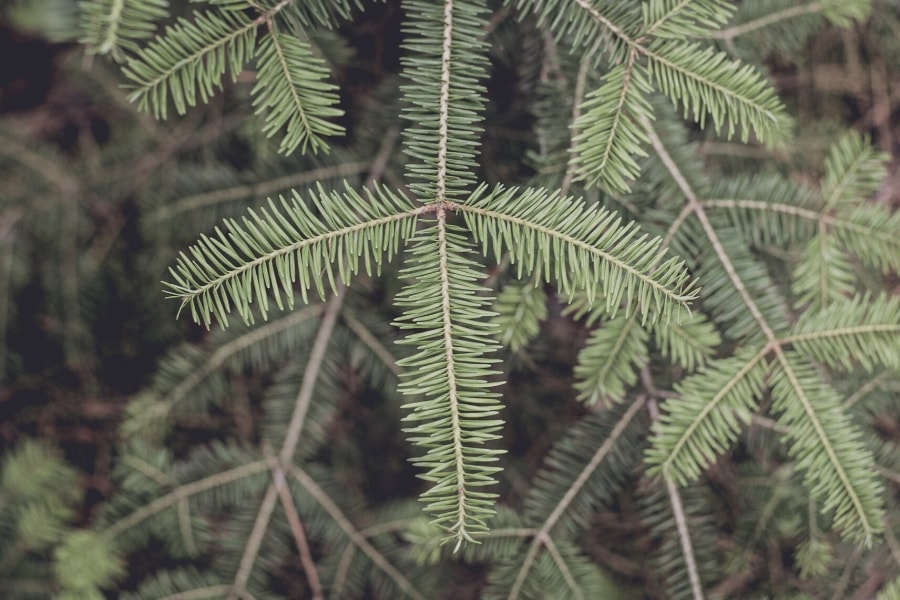 Color: Dark green
Needles: Soft, two-toned needles that have good retention, strength of branches depends on tree
Scent: Smells like a Christmas tree!
Balsam Firs have a rich, dark green color and smell like rich mahogany. Er, Christmas. They have a conical shape, a lovely odor will fill you with Christmas cheer, and make every day feel like a Hallmark Christmas movie starring some actor you vaguely remember from that other thing!
But don't you dare say it smells like a pine tree.
Firs and pines are different. Just like a turtle is not a tortoise, a monkey is not an ape, and a kangaroo is not a "doggie" no matter what your niece shouts. To tell the difference between a pine and a fir, look closely at the needles until someone shouts, "Who are you? Get away from that pine [or fir] tree!" (Or just scroll to the bottom of this post to find out.)
4. White Pine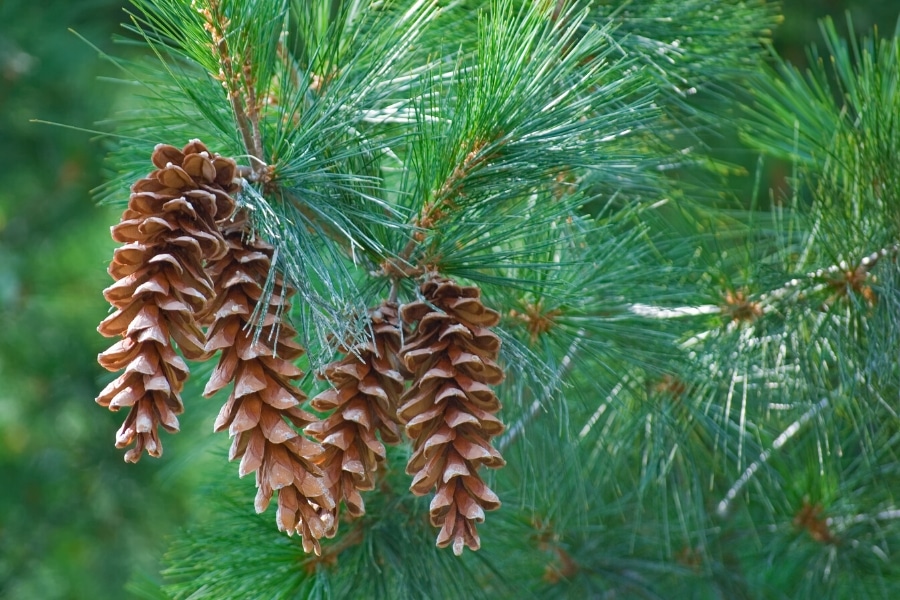 Color: Light green
Needles: Long, thin, soft needles that should stay on tree throug Christmas. Flexible branches best for light ornaments
Scent: What tree?
At first, you may think the beautiful White Pine would be an ideal type for Christmas. It is the largest of the pine trees.
However, the branches are a little flimsy, and heavy ornaments will droop and look sad. But all is not lost! They're one of the best trees for making wreaths and other holiday crafts.
5. Scotch Pine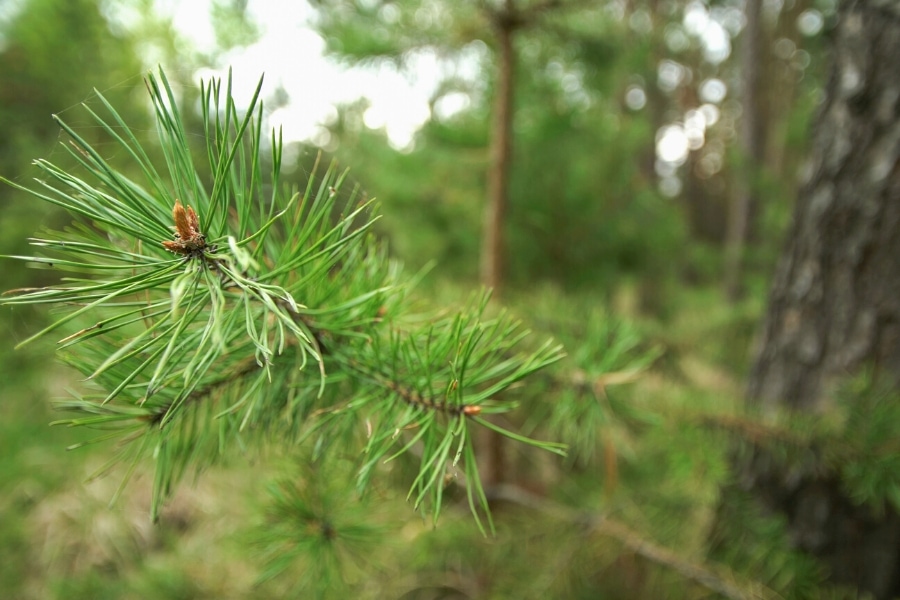 Color: Dark green
Needles: Sharp AF needles, but has good needle retention and sturdy branches
Scent: Now you smell it, now you don't.
If the Scotch Pine were a movie, the tagline would be: "If looks could kill (or at least scratch)." Scotch Pines are gorgeous trees… in the wild.
But handling the sharp, dagger-like needles requires thick gloves and cup of Christmas cheer. It's a shame the tree is so defensive and prickly, as the needles are great at staying on the tree even after you forget to water it for a week. Oh, and also it's real name is a Scots Pine. Because why not.
6. Douglas Fir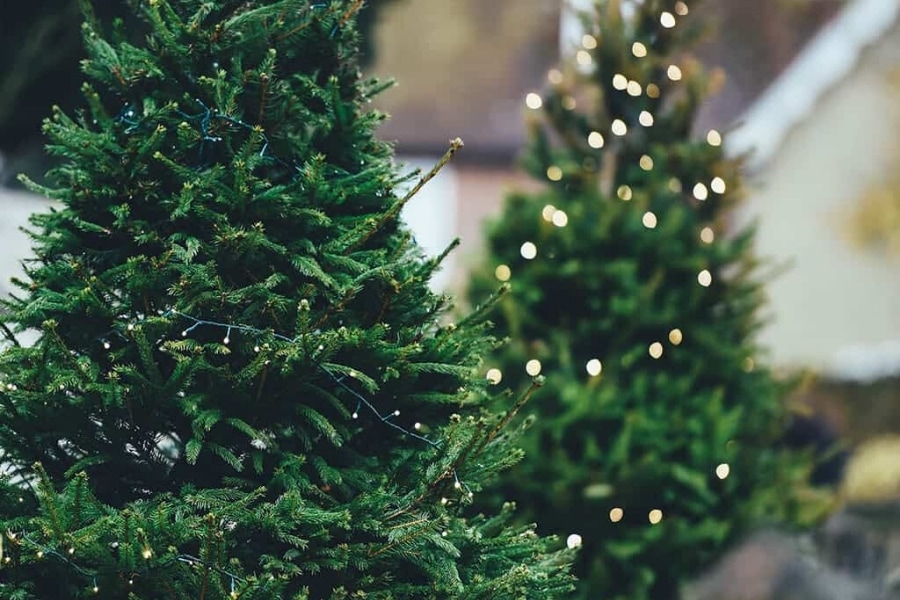 Color: Dark green
Needles: Soft needles that stay put pretty well and strong branches
Scent: Smells like a Christmas tree!
The Douglas Fir is the most popular Christmas tree, due to its shape, size, color, and availability.
The Douglas Fir needs a lot of water to keep its needles, but if you want a traditional tree for a traditional Christmas this is your conifer. It's simple. It's good.
That said, some of the branches may be too closely packed to fit your entire Star Trek collection. So you'll need to pick a different tree or come to terms with the fact that your dying Spock Hallmark ornament has to stay in its box.

7. Fake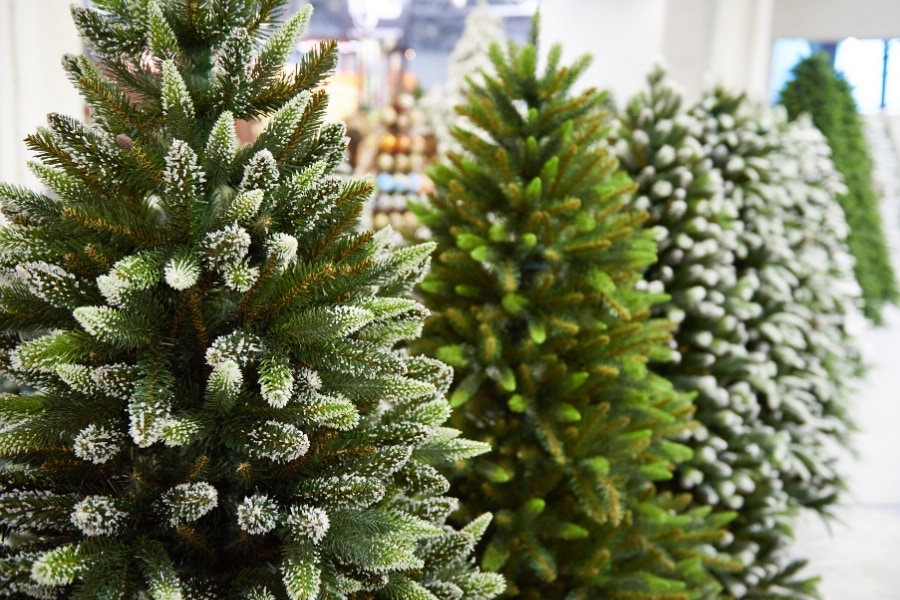 Today's artificial trees use state of the art manufacturing processes to mimic the look of genuine Mother Nature. The downside, there's no piney scent, and the more lifelike they look, the more they cost, with top-of-the-line fake trees costing more than $5,000.
On the plus side, they will outlast a standard tree and you won't need to vacuum the needles. Also, the metal and synthetic materials used these days are less likely to go up in flames should your lighting get a little… excessive.
8. Trendy Tree Types
We never thought we'd actually prefer inverted trees, but then 2019 came with the new trend of Pallet trees.
If you really hate the smell of Christmas trees, sweeping needles, and how trees actually look, maybe reconsider if Christmas is right for you. Because while these pallet trees are sure to make a statement, those statements are "You hate Christmas, don't you?" and "Ugh. Really?"
How Can You Tell the Difference Between a Fir Tree and a Pine Tree?
While Fir trees, Pines, and Spruces are all members of the plant family, Pinaceae, they belong to different plant genera. Fir trees belong to the genus Abies, pine trees belong to the genus Pinus, and spruce trees belong to the genus Picea.
But since the trees don't answer by name — Hey Pinus! Where you at?! — here's hwo to actually tell the difference when you're shopping for a Christmas tree.
Pine tree needles range in length from shorter than an inch to over a foot long. They come in clusters of 2 to 5 that attach to the branches. The needles are glossy, soft, and thin.
Fir tree needles are usually less than 2 inches and attach directly to the branches. The needles are flat, soft, and have a notch at the tip.
Spruce tree needles also attach directly to the branches, but their needles are square, sharp, and can be rolled between your fingers.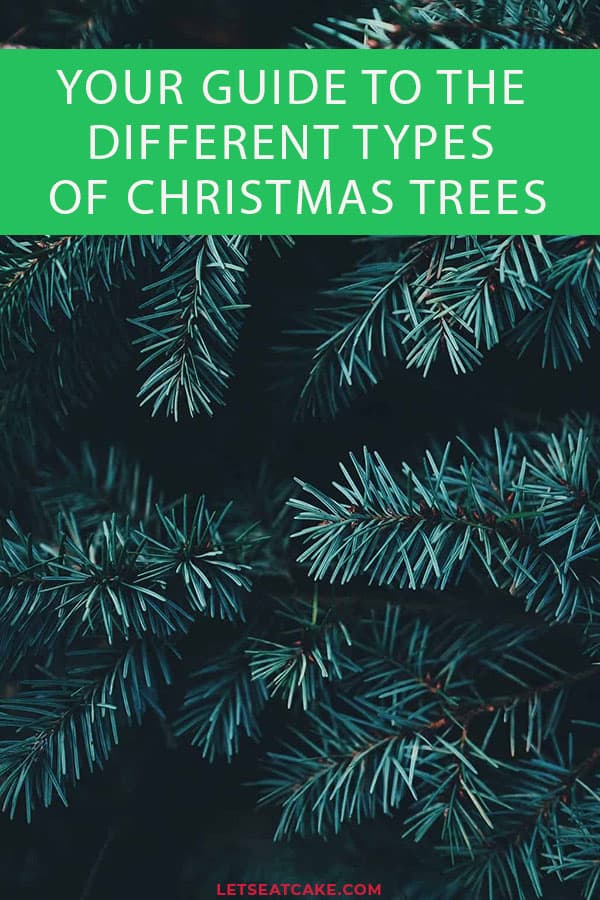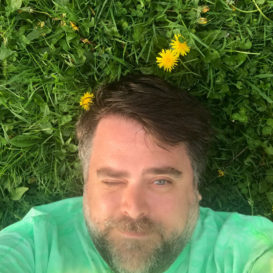 Latest posts by Dan Bergstein
(see all)