Love is in the air, and it smells like chocolate and expensive dinner reservations. Which is oddly very similar to popcorn? Whether you love Valentine's Day or wish the holiday never existed, we really think you'll get a kick out of these Valentine horoscopes for 2023.
To find out what's in store for each zodiac sign this February 14th, we turned to our most trusted astrology advisor: ChatGPT. What, did you think we had an in with the Long Island Medium?
Okay we might. But the chatbot could fit us in their schedule without crossing realms.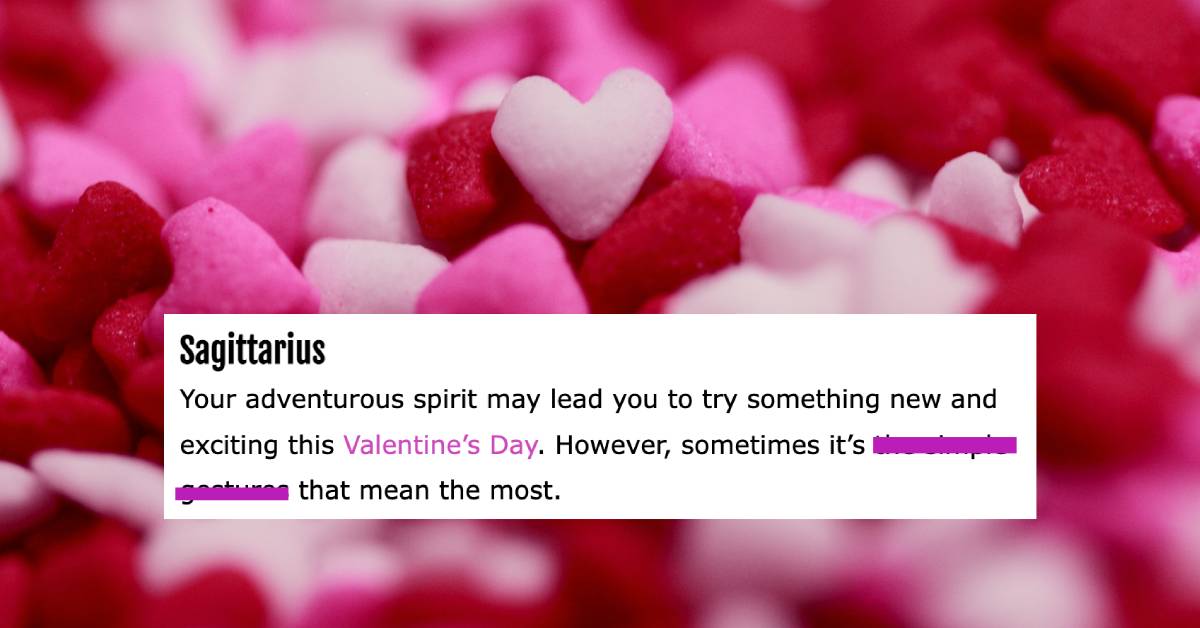 Now, we asked it for funny Valentine's Day predictions. But apparently, it's still learning what a sense of humor is. So to make up for ChatGPT's clear need to go to comedy school, here are 100 Valentine's Day jokes to send to your crush, long time lover, or DoorDash delivery person.
As for the horoscopes? Take the bot's thoughts with a grain of salt. And a shot of tequila, if your day is looking really rough.
Valentine's Day Horoscopes for All Zodiac Signs
1. Aries (March 21 – April 19)
Your romantic side is about to ignite like a wildfire, so be prepared for a wild ride of passion and adventure. Just remember, not all love stories end with a happy ending.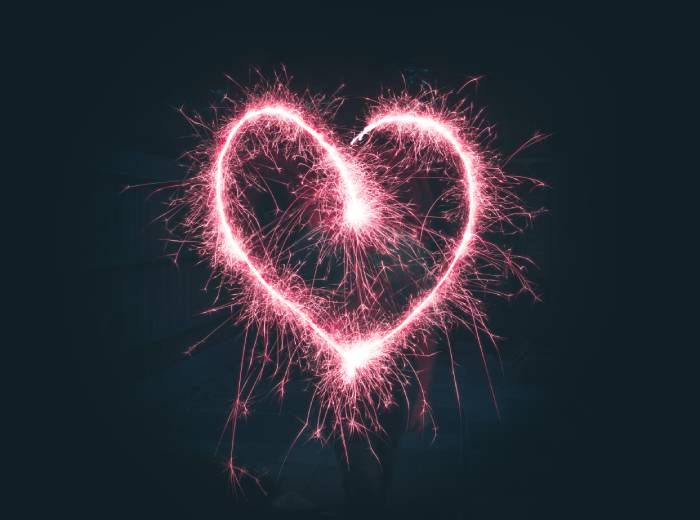 2. Taurus (April 20 – May 20)
Your stubbornness may get in the way of your love life this Valentine's Day. But don't worry, a little compromise and a box of chocolates can go a long way.
3. Gemini (May 21 – June 20)
You may be feeling a little indecisive when it comes to matters of the heart. But the heart wants what it wants and it's better to follow your instincts.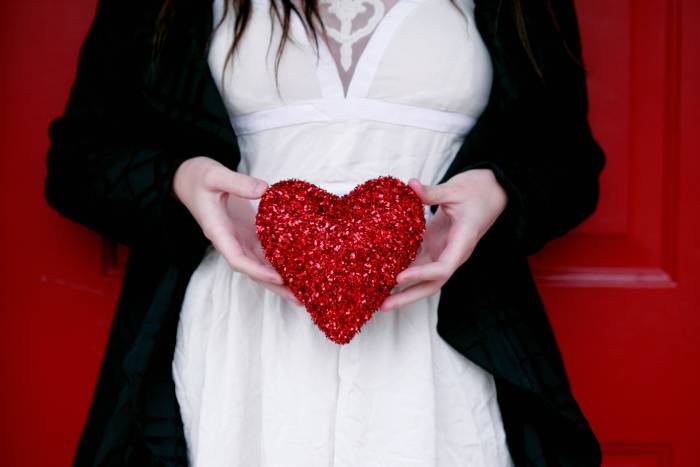 4. Cancer (June 21 – July 22)
Your emotional nature may be on overdrive this Valentine's Day, but that just means you're capable of experiencing even more love and happiness.
5. Leo (July 23 – August 22)
Your confidence and charisma will attract plenty of admirers, but just be careful not to break too many hearts in the process.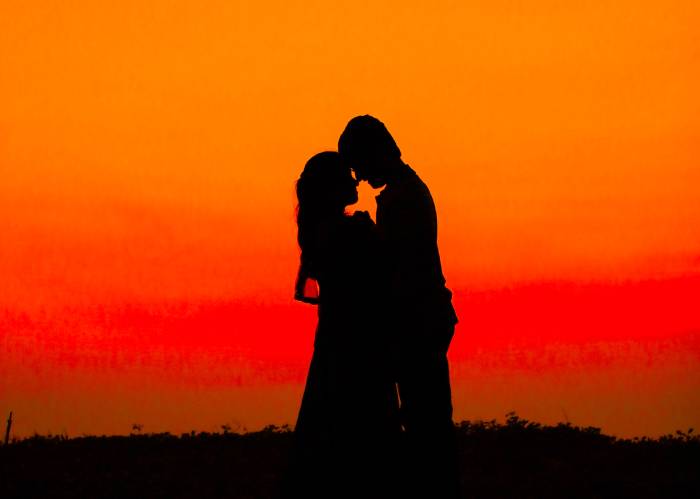 6. Virgo (August 23 – September 22)
Your attention to detail may make you a little overly critical when it comes to matters of the heart. Just remember, love is about acceptance, not perfection.
7. Libra (September 23 – October 22)
Your charming and diplomatic nature will help you navigate the ups and downs of love this Valentine's Day. But don't forget to balance your own needs with those of your significant other.

8. Scorpio (October 23 – November 21)
Your intense and passionate nature may lead you on a rollercoaster of emotions this Valentine's Day. Just remember, love can be both a blessing and a curse, so hold on tight.
9. Sagittarius (November 22 – December 21)
Your adventurous spirit may lead you to try something new and exciting this Valentine's Day. However, sometimes it's the simple gestures that mean the most.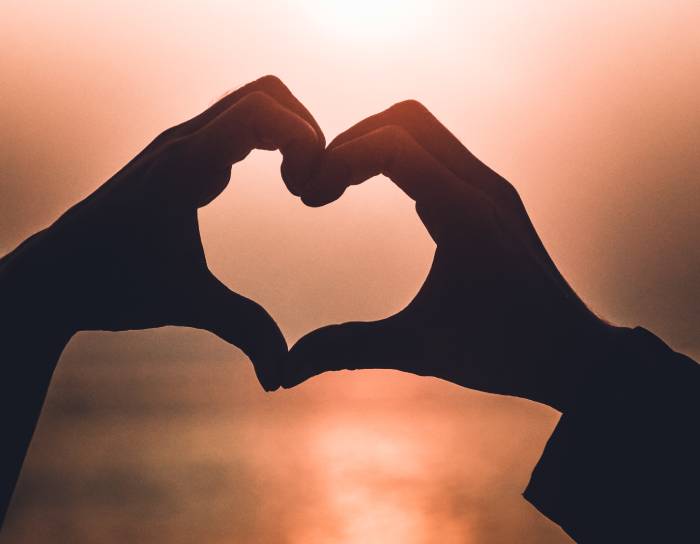 10. Capricorn (December 22 – January 19)
Your practical and down-to-earth nature may make you a little hesitant when it comes to matters of the heart. Sometimes taking a leap of faith can lead to unexpected happiness.
11. Aquarius (January 20 – February 18)
Your unique and unconventional nature may make you a little resistant to traditional romantic gestures this Valentine's Day. Just remember, love comes in many forms and sometimes the most memorable moments are the ones that break the mold.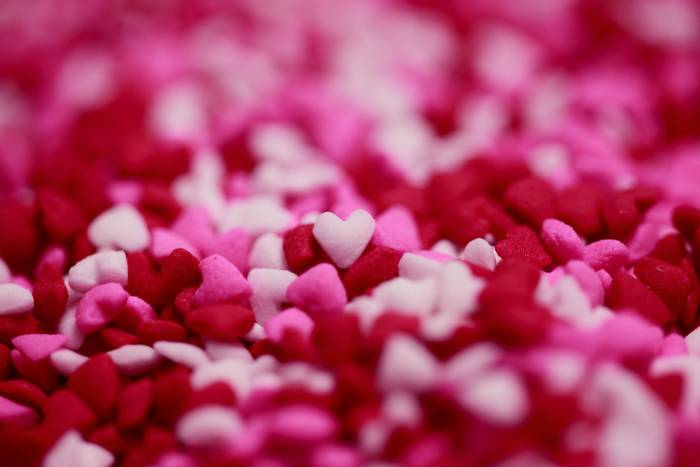 12. Pisces (February 19 – March 20)
Your intuitive and compassionate nature may lead you to make a deep emotional connection this Valentine's Day. But don't forget that love is a two-way street and it's important to communicate and listen to your partner's needs.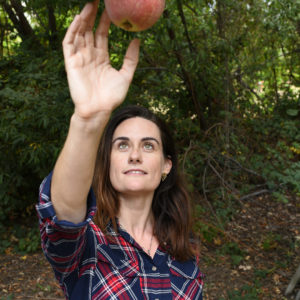 Latest posts by Rebecca Swanner
(see all)