Whether you're going on a date, spending the day with your best gals, or even just binging every sappy romance movie you can find, there's really no better time of year to break out the bold reds and bright pinks than on February 14th. So, we've found Valentine's nail design ideas to suit every type of personality.
If you want to think outside of that heart-shaped box or want something more subtle to match your all-black wardrobe, there's an adorable design to suit you. These nail designs are full of simple hues, glitter polish, geometric designs, and candy hearts just as edible as the ones at the grocery.
23 Valentine's Day Nail Ideas
1. Wavy Red and Pink Striped Valentine's Day Nails
These pink and red waves by nail artist MEI are a fun and funky take on traditional stripes.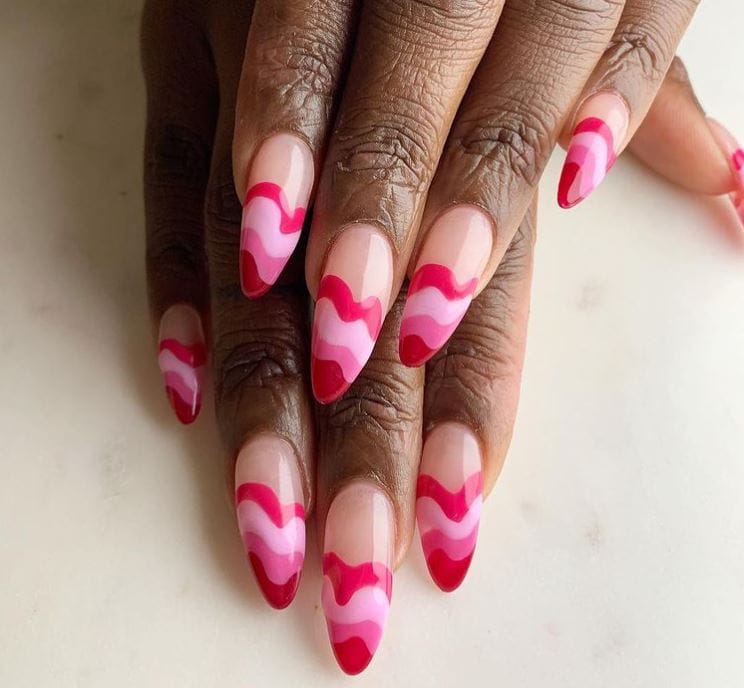 2. Red Diagonal Press-On Valentine Nails
If at-home nail art isn't in your skill set (hi, same), then you'll love these press-on nails by Wonderlies. They combine a bright bold red polish with negative space to create this charming diagonal look.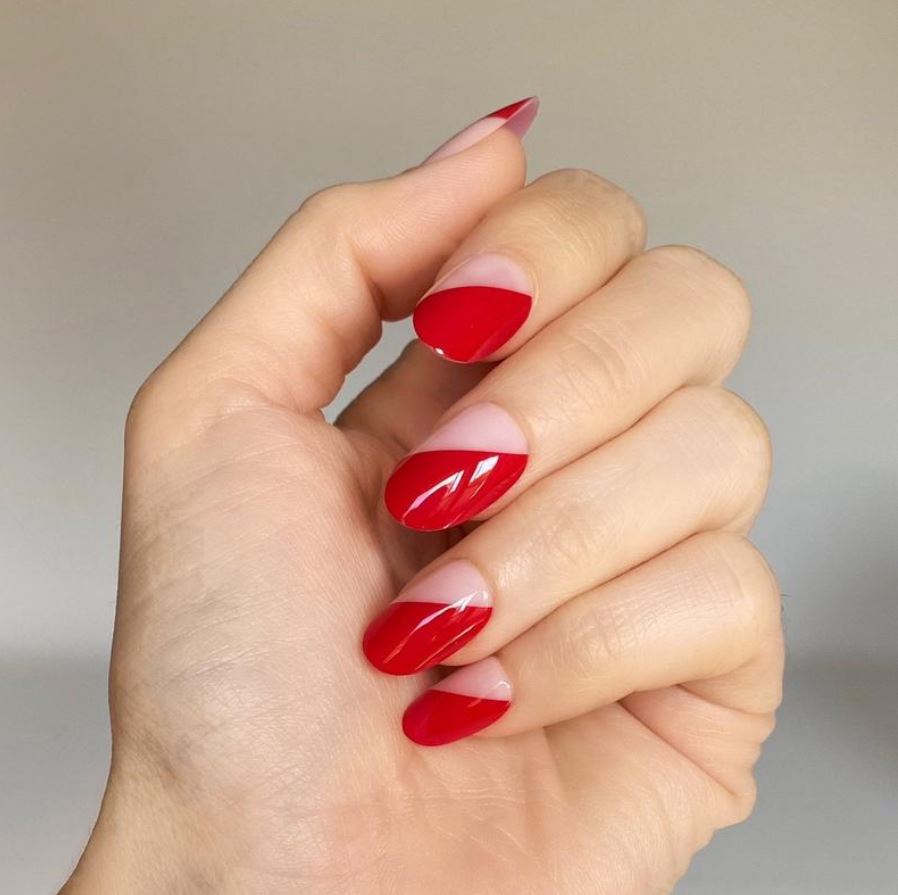 3. Red French Tips
French manicures are back. Truth be told, we were so busy we didn't realize they left. These low-maintenance nails by benimelim are a bold Valentine's twist on your classic French manicure.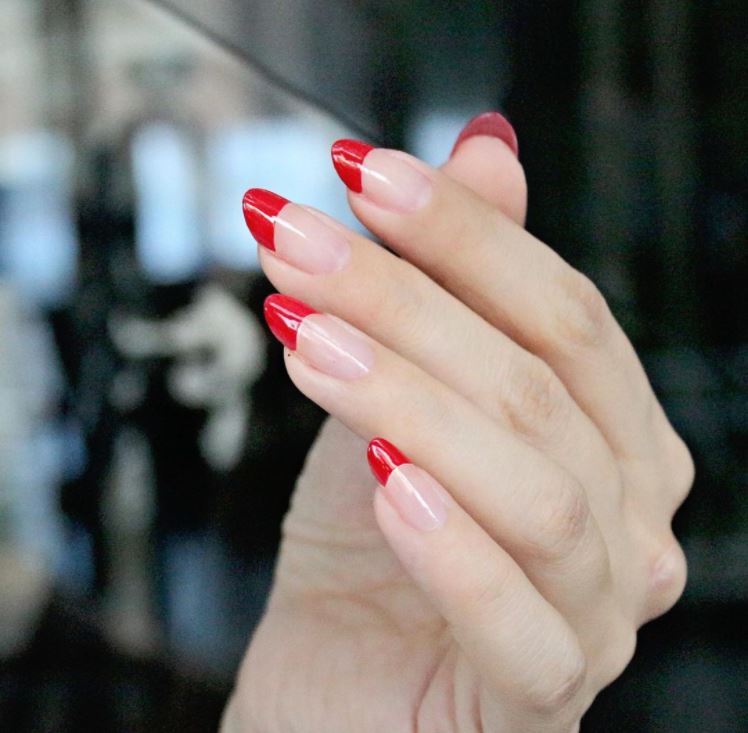 4. Candy Hearts Press-On Nails
These press-ons by Enchanted Nail Design create a pastel rainbow of hearts with heart tips across your nails. Additionally, these are reusable just like that cute dress only your cat saw last Valentine's Day.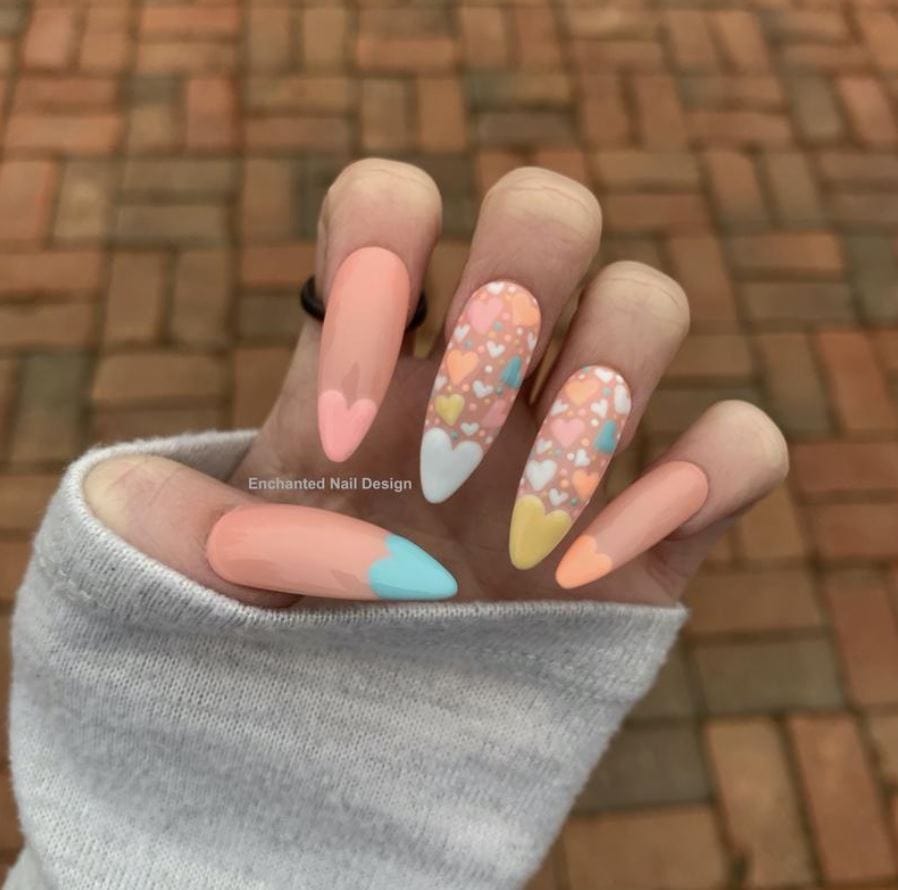 5. Strawberry Valentine's Nails
This fun and creative Valentine's Day nail design by Gracie includes hand-drawn heart-shaped strawberries, a Powerpuff Girls-inspired heart, and glittery red polish. See the tutorial video for directions on how to re-create this delicious design then order some press-ons.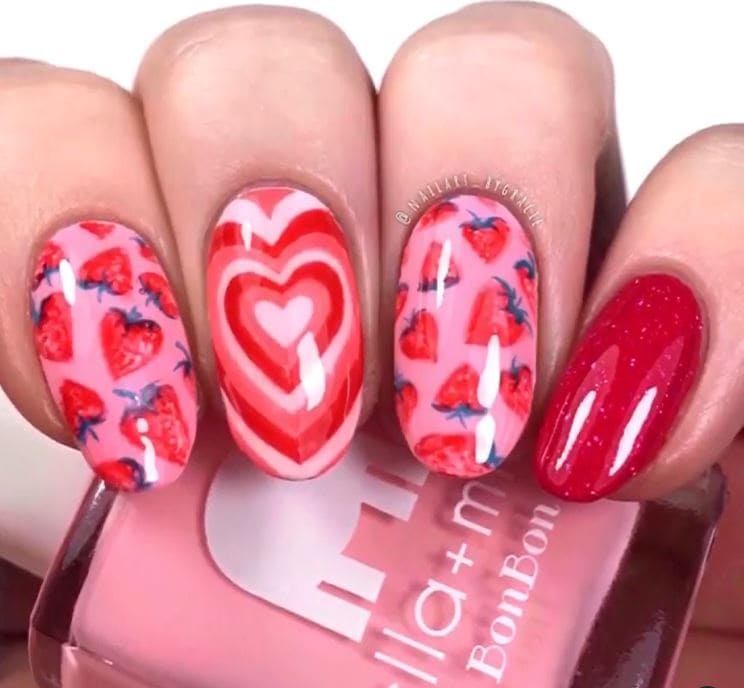 6. Love Manicure
Try your hand at hand-drawing these heart ornaments to spell out love or any other four-letter word you desire. Like Jello! Oh, wait, that's five.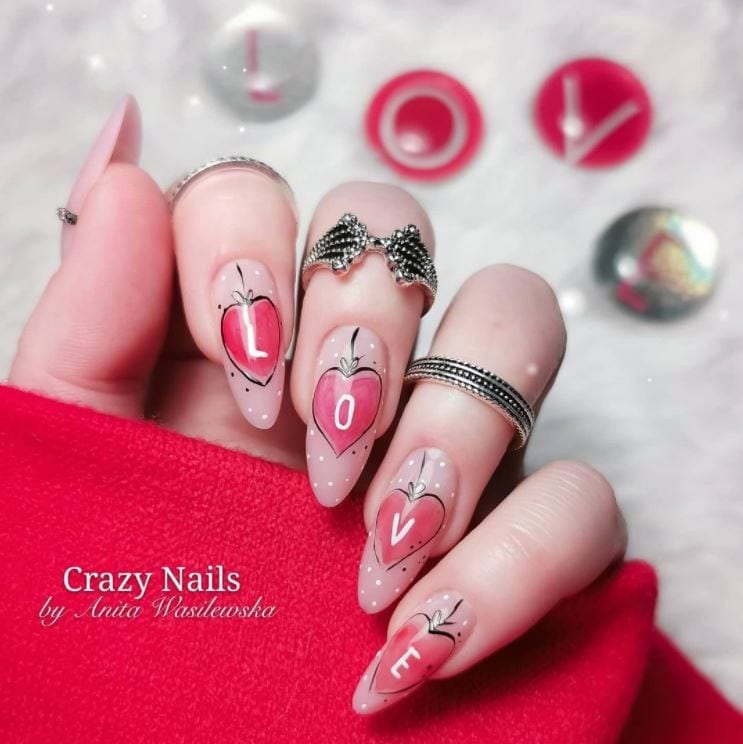 7. Simple Heart Valentine Nails
Pair your favorite pale pink shade with a natural nail covered in heart stickers like these Olive & June ones that you can find at Target.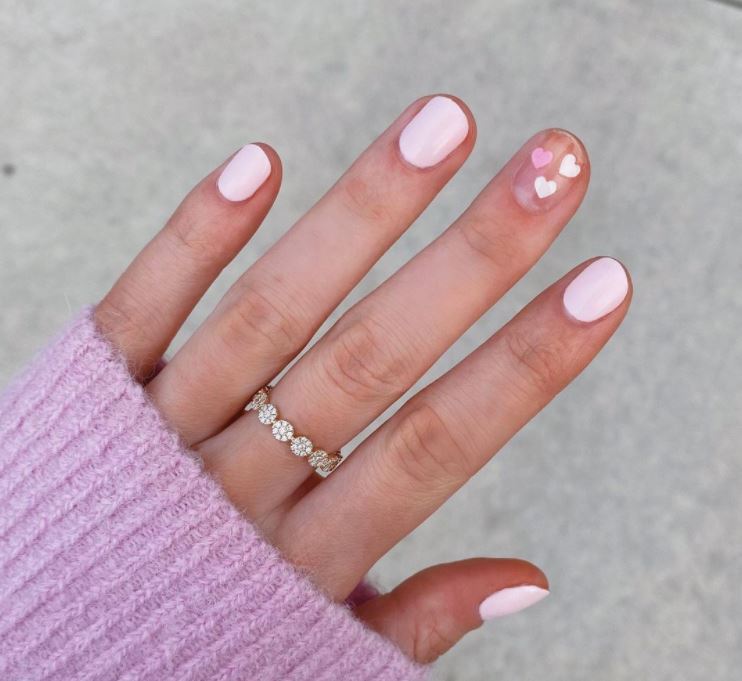 8. Black Heart Valentine Nails
These simple black heart nails by Ever Pretty Nail Studio will let you celebrate Valentine's Day while also celebrating your favorite color. Or while hating V-Day. Or both!
9. Glittery Valentine's Nails
What says Valentine's Day more than red, white, and pink shades mixed with glitter and hearts? This article, probably. Check out the tutorial for these nails if you want to recreate them.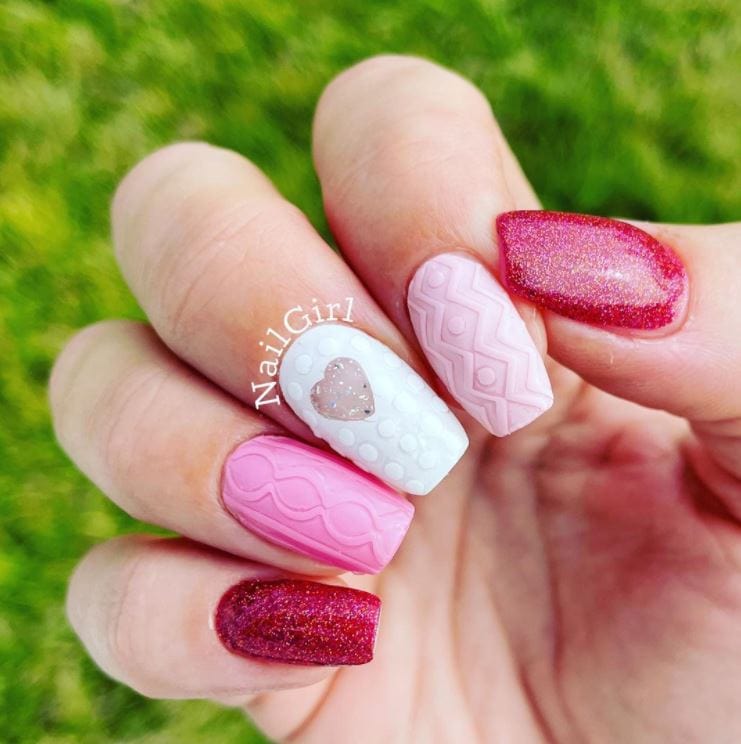 10. Bright Pink Valentine Nails
Chelsea Deview shows her love for Valentine's Day with these Elle Woods level pink nails using ManiBoss's Pinky Promise and Heart and Soul. And, it's probably easier than a law degree even.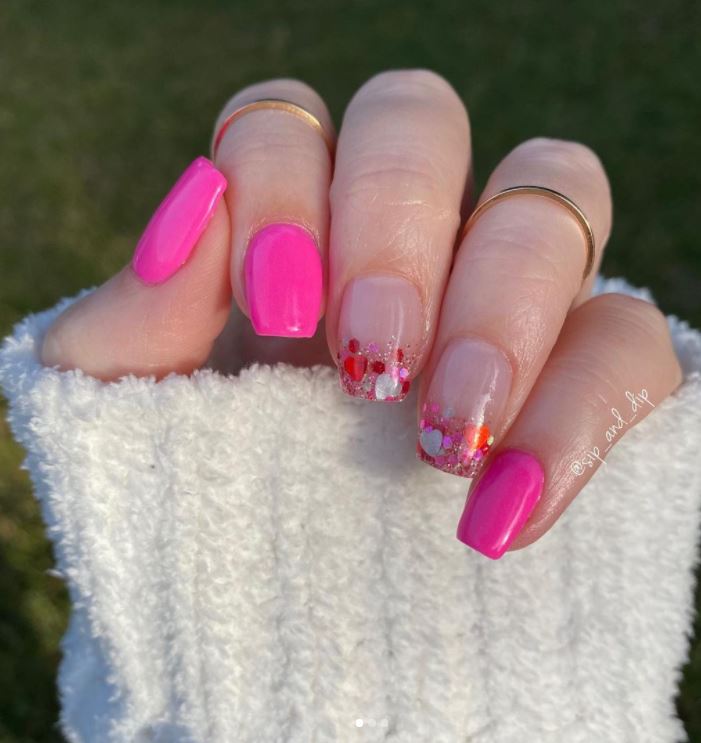 11. Tic-Tac-Toe Nails
These fun nails will hopefully be the only game you're playing this V-Day. Pair a detail brush and/or a heart stencil with a lot of patience to recreate this playful look. On second thought, anyone up for a round of Settlers of Catan?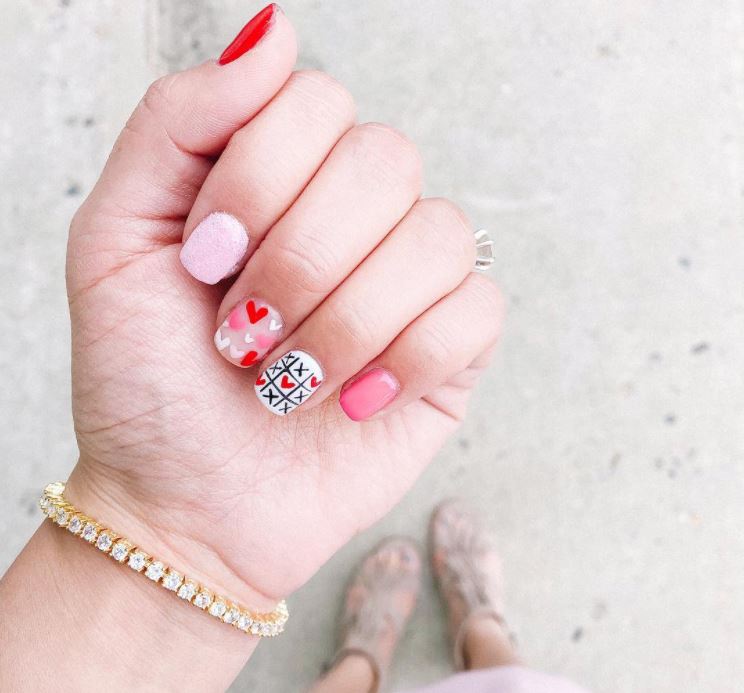 12. Instagram Love Nails
Double tap if your one true love is Instagram. Recreate this look by Lauren Yavor by painting your nails with a light color. Then draw on a bubble using a detail brush, wait for it to dry, and use the same stencil you used on the tic-tac-toe nails to draw the heart.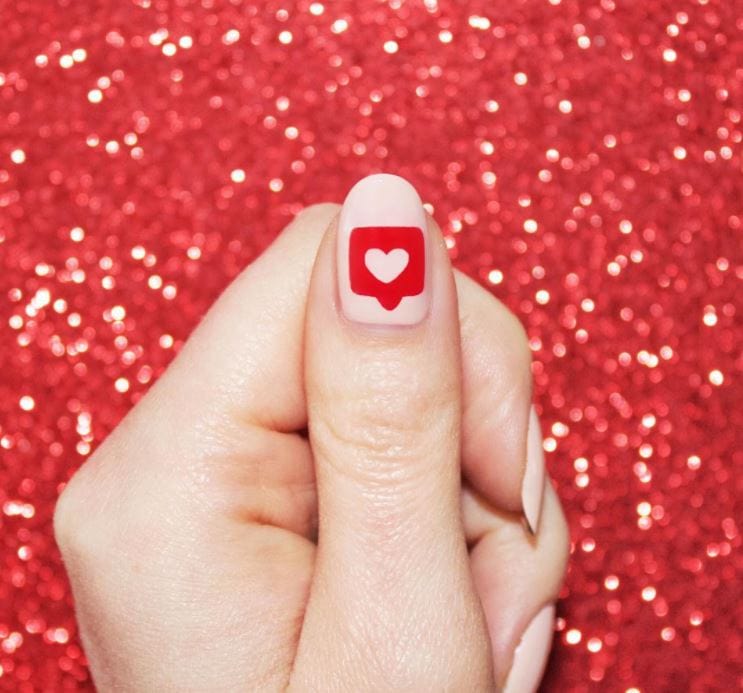 13. Pastel Rainbow Valentine Nails
Give us conversation heart candy, but hold the conversation. Suleyma Andrade knows what we're talking about with this adorable design.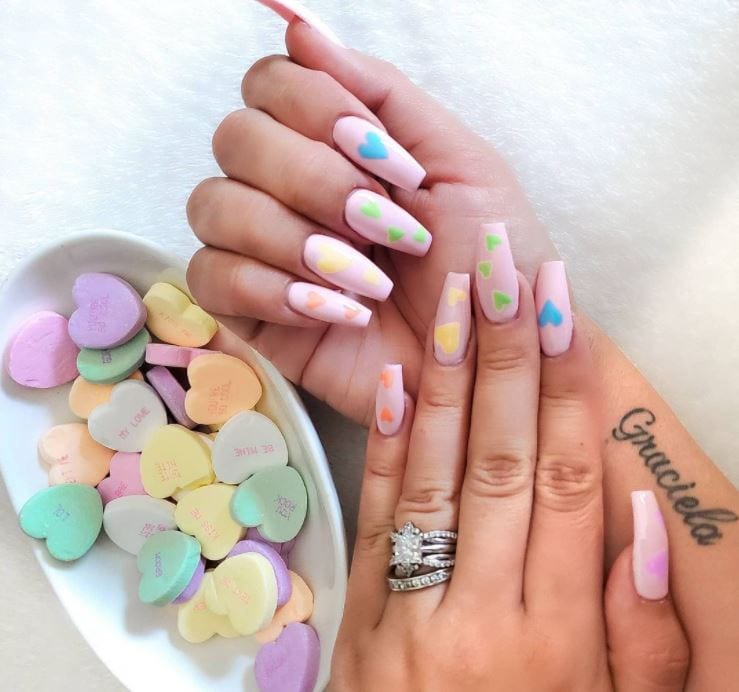 14. White Heart Tips
Using The Gel Bottle Inc in Baby and Daisy, Lucy created this dainty design allowing you to wear your heart on your nails. Just the tip, though.
15. Pink and Red Pinstripe Nails
Grab all those different shades of reds, pinks, and nudes, some nail tape, and several hours because this design by Nargis Khan is probably going to take patience. And a mimosa.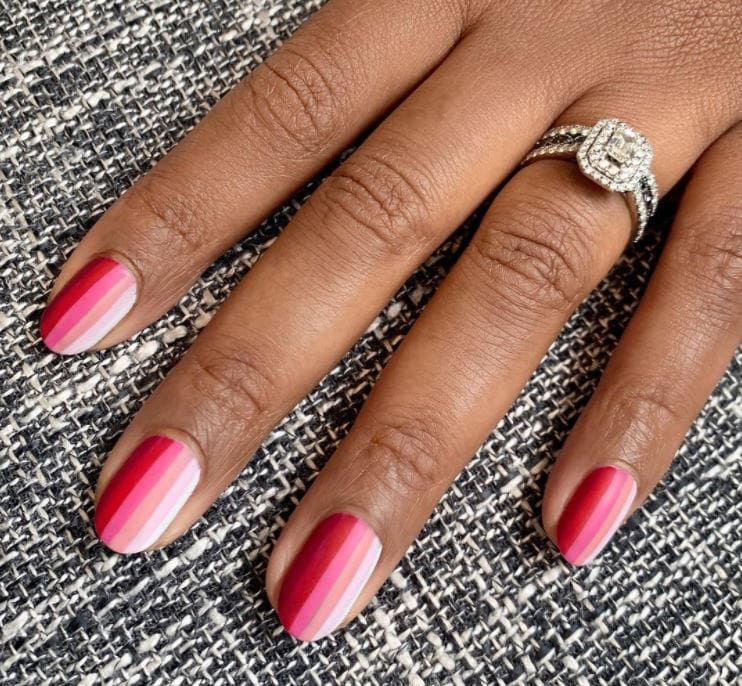 16. Red Lips Nails
The second most popular Valentine's Day symbol has to be red lips. We're not sure what the first is but, probably some kind of vegetable. Possibly purple.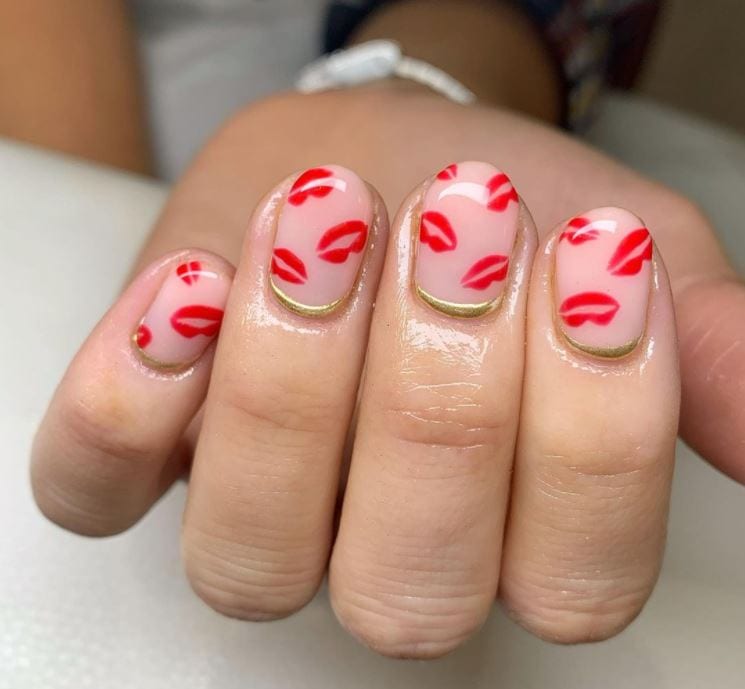 17. Powerpuff Heart Nails
Invoke Buttercup, Bubbles, and Blossom with this bold heart design. Or, just paint your nails and watch old episodes if you're not feeling quite as adventurous.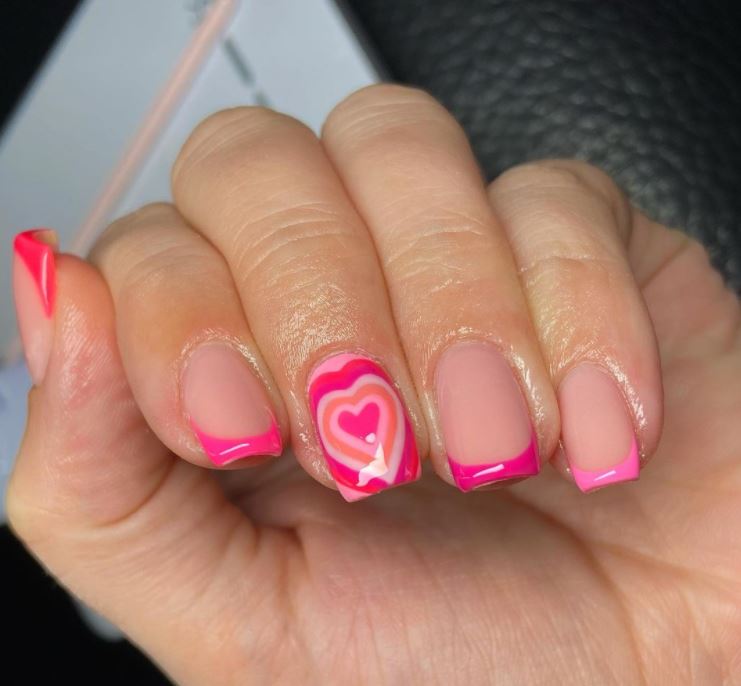 18. Red Glitter Valentine Nails
Did you go a little crazy buying all the reds and glitter for your Christmas nails? Good thing red is always in style. Use a detail brush to draw those perfect red hearts just like nail artist Hannah.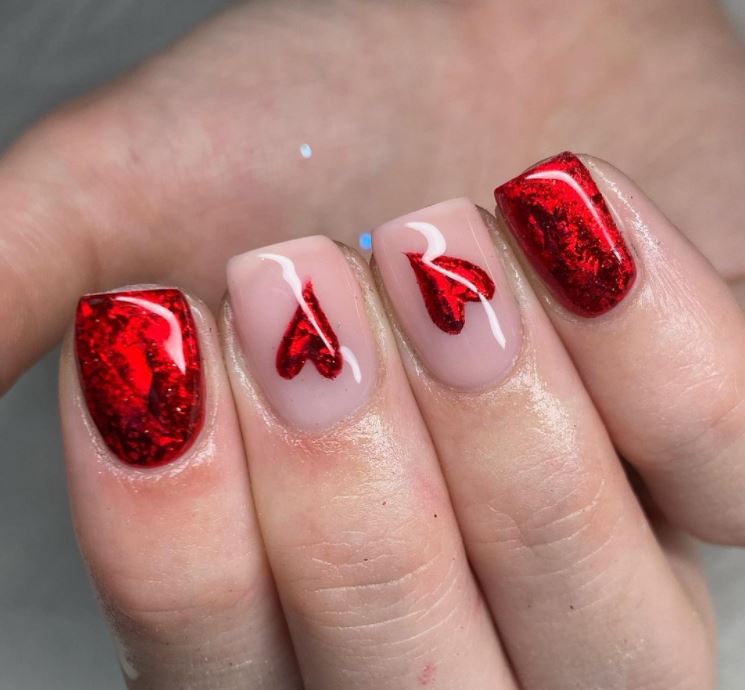 19. Candy Hearts Nails
These nails by Devan take everyone's favorite Valentine's candy that tastes like sidewalk chalk. No limits on what you can say – except space, of course.
20. 8-Bit Heart Nails
This retro nail design reminds us of our favorite Valentine cookies, which we're going to go make a batch of right now. Just as soon as these dry.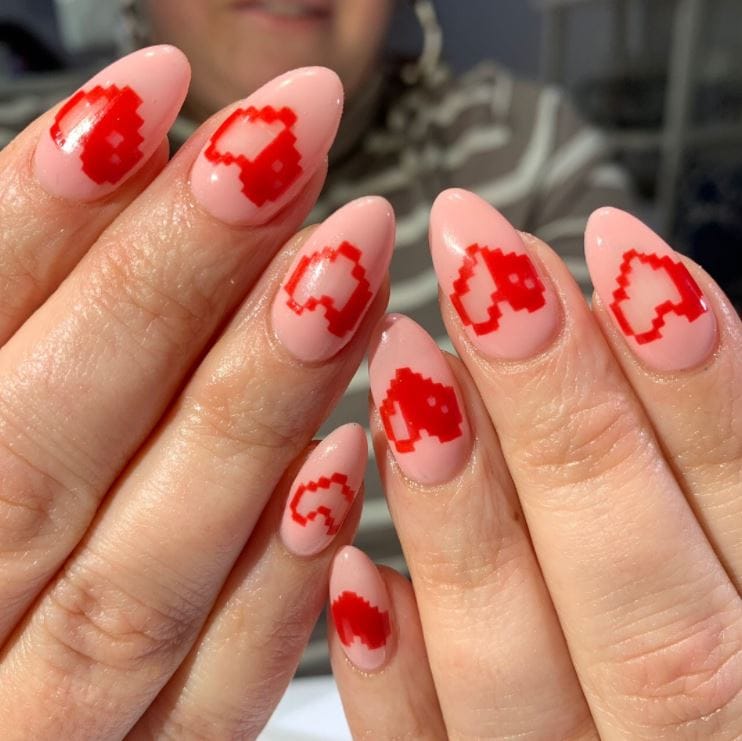 21. Unique Valentine's Nails
For a more unique take on holiday designs, these bright and cheerful nails by Nick Tran feature a rainbow, glitter ombre, and some hot pink lips.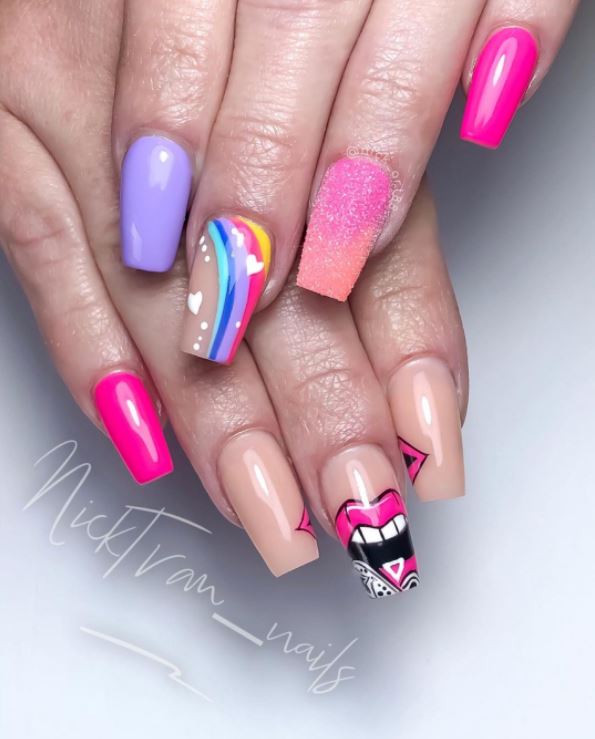 22. Multicolored Manicure
LA nail artist Amy Le knows the way to our indecisive heart with this multi-colored mani. Recreate the look with an assortment of reds, pinks, and nudes, then line your cuticles with a touch of gold polish.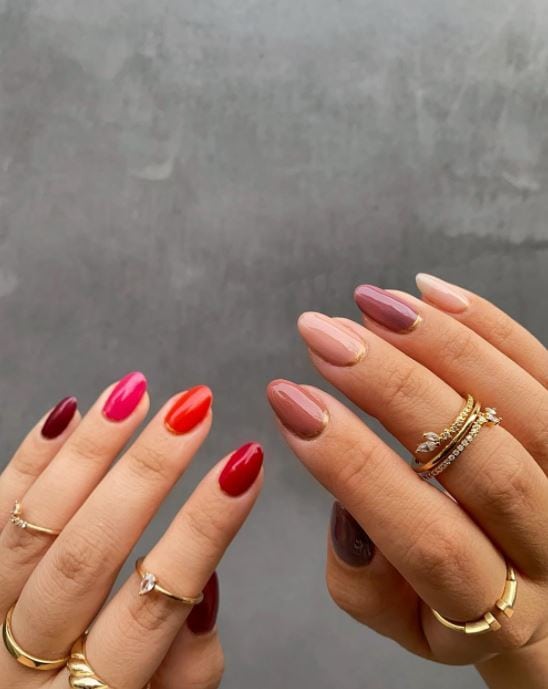 23. Pink Cloud Nails
Are you so in love you're floating on cloud nine? Then these pink clouds by Imarni Nails are perfect for you.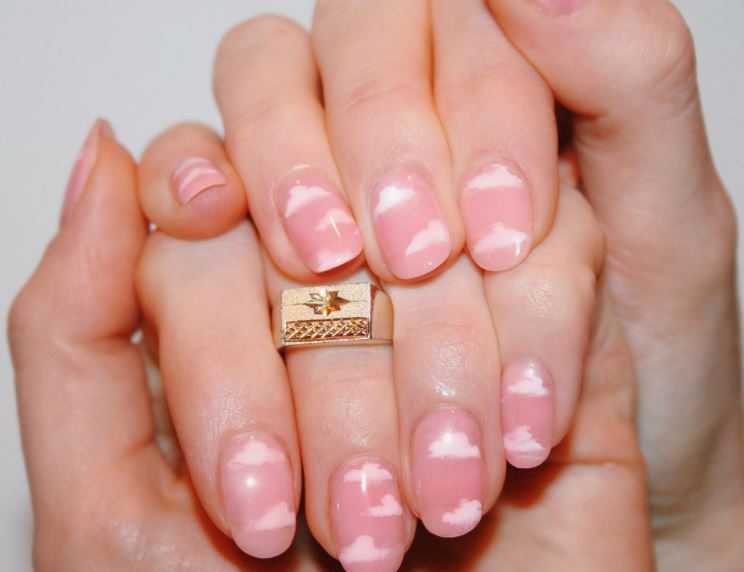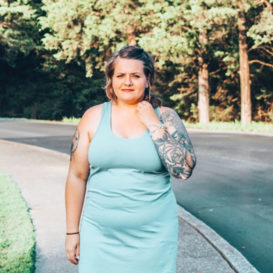 Latest posts by Ashley Hubbard
(see all)