Between the cold weather and early sunsets, the months of November to February can be rough. So, that's all the more reason to treat yourself to a nice manicure! Especially one that features cool winter nail designs. Pun very much intended.
Even if it's not cold where you live (no, Los Angeles, 65 degrees is not cold), a winter manicure can be a great reminder of what season it actually is. Plus, these snowflakes won't melt! Or, make you have to shovel for three hours.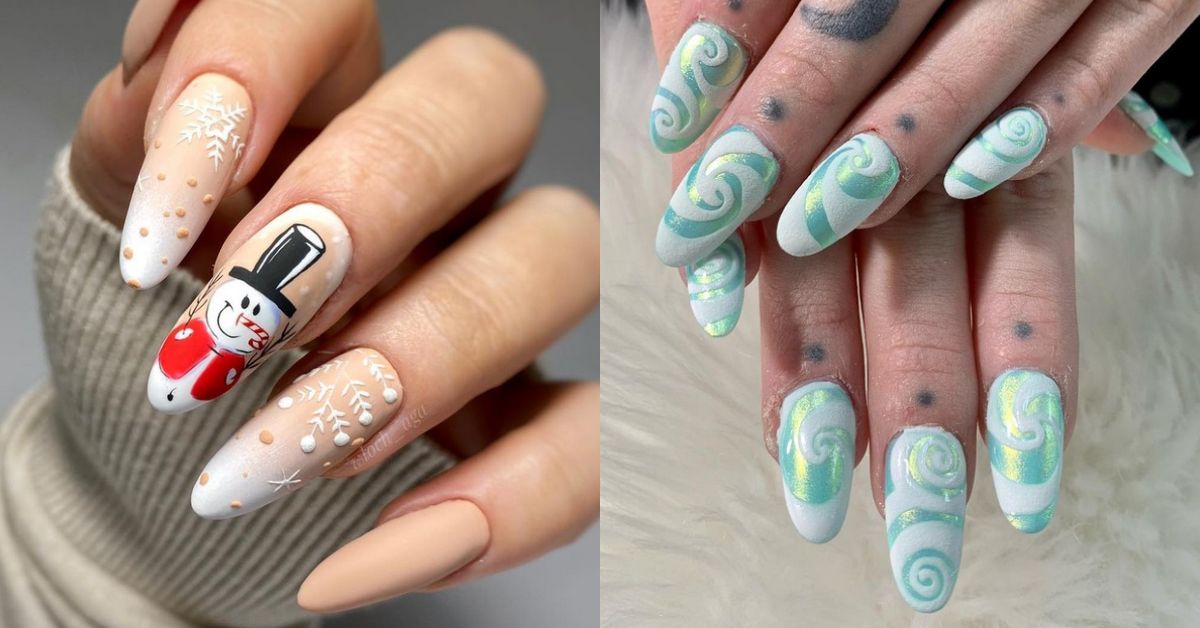 If you're looking for some inspiration for the early months, the holidays, or the later months when you can believe it hasn't turned into spring yet, we've got you covered. Because if pillowy, freshly fallen snow and twinkling Christmas lights don't tug on your heart strings a bit, maybe these nail designs will show you the beauty of winter.
For at least a few minutes before the fear of frostbite sets in.
22 Winter Nail Design Ideas
1. Snowflakes and Sweaters Nail Design
One nail stays cool with a snowflake design, and one nail stays cozy with a sweater pattern. And the rest of the nails go whee whee whee, all the way to France!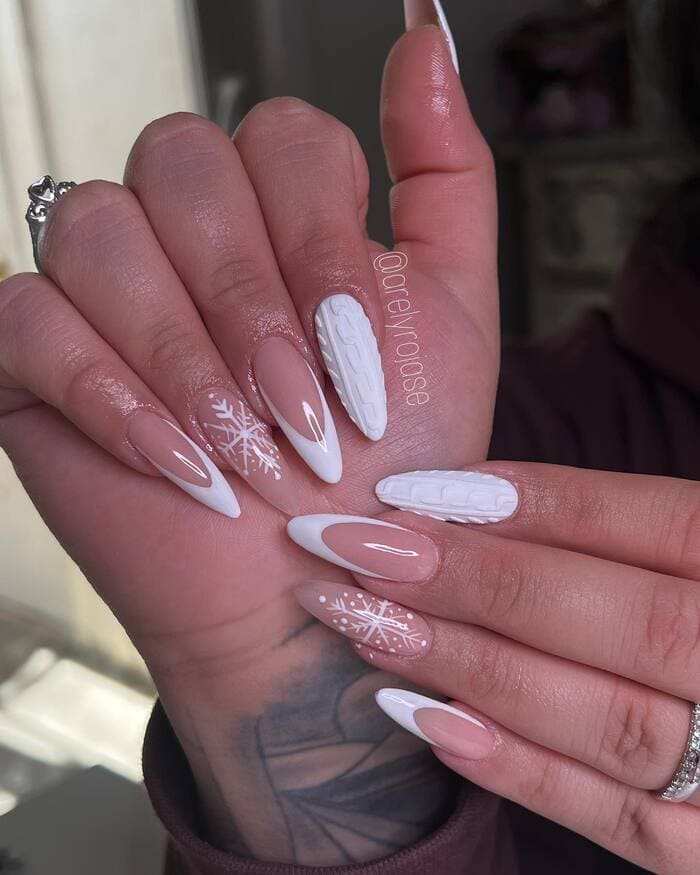 2. Penguin Design on Red Nails
Happy Feet? More like happy hands! Especially after you cleaned up those cuticles.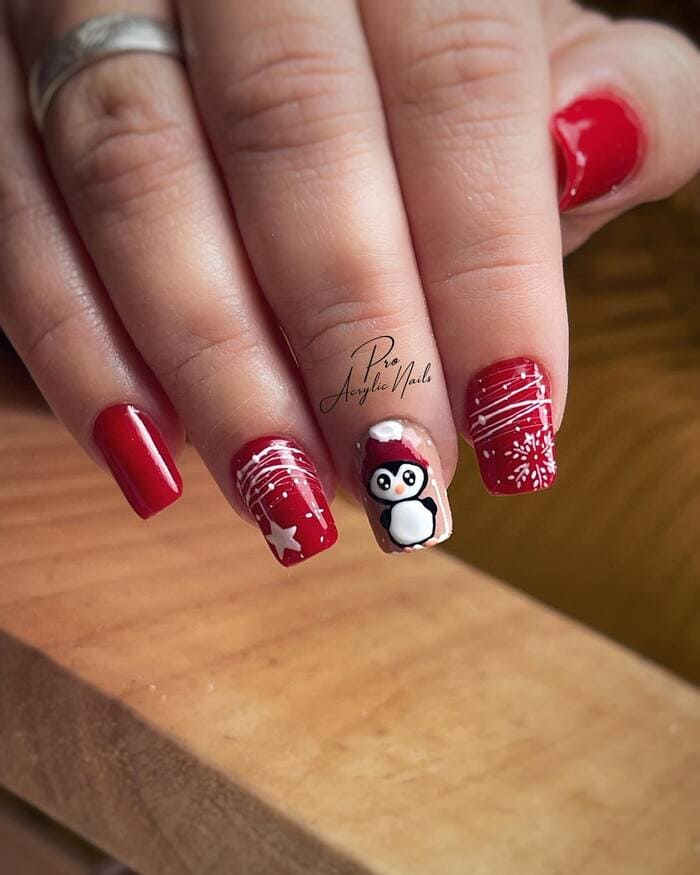 3. Purple Polar Bear Nail Design
The polar bears were happy to take a break from shooting Coca-Cola commercials to model for these nails. They were less happy about global warming.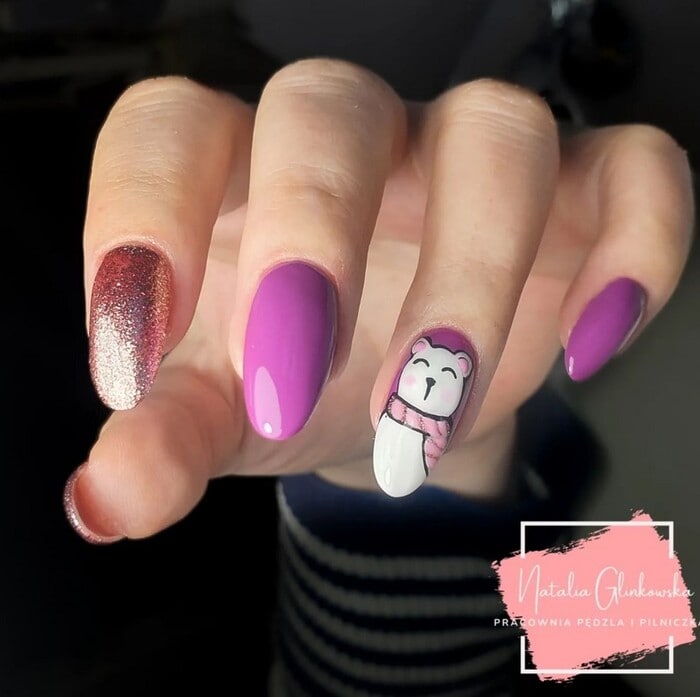 4. Matte Snowman Nails
It's refreshing to see a beige take on a snow scene, instead of the normal soft blues. Or, if you're in NYC, disgusting sludgy brown.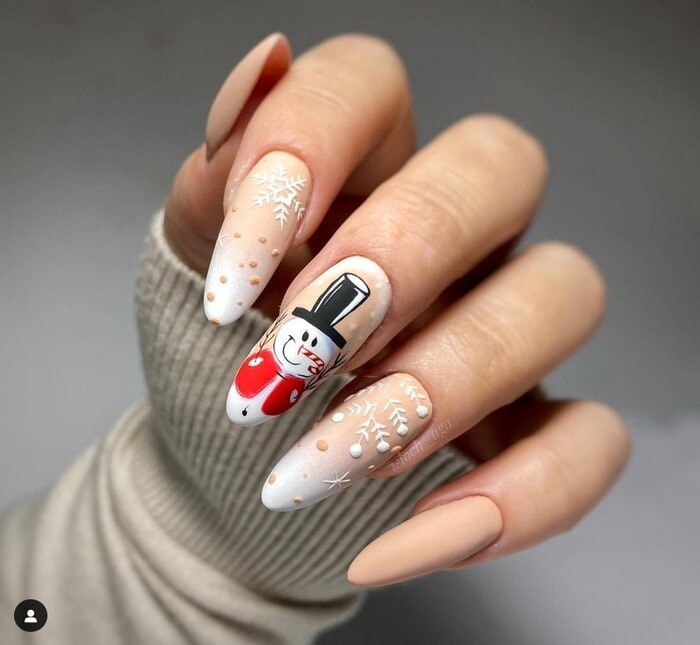 5. Winter Night Nails
Wow, night time already? 3PM comes quick!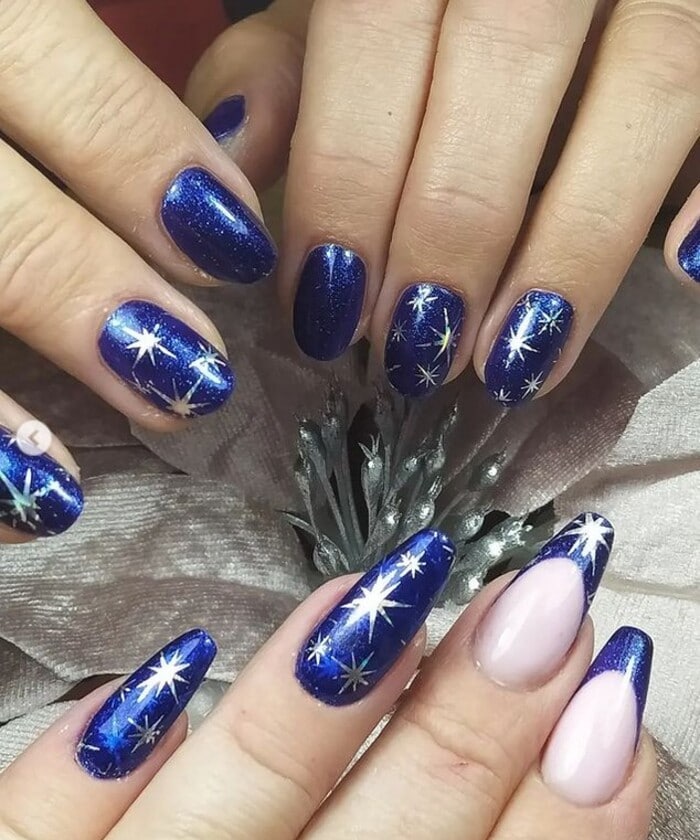 6. White Winter Detail Nails
Who says a manicure can only be fun if it features a lot of color? Answer: not this design! Or, any one who's colorblind.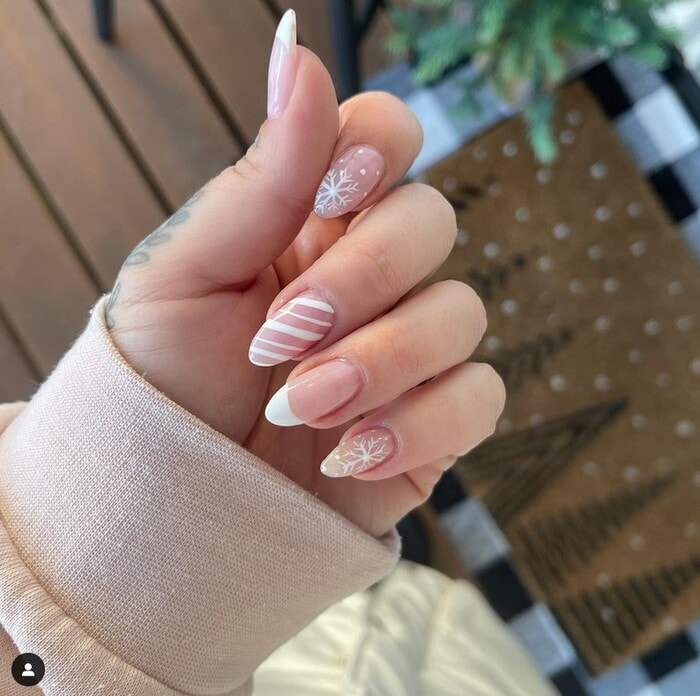 7. Glittery Swirl Nails
When Taylor Swift sings "Snow on the Beach," this is definitely what she's talking about. Oh, and Lana, too!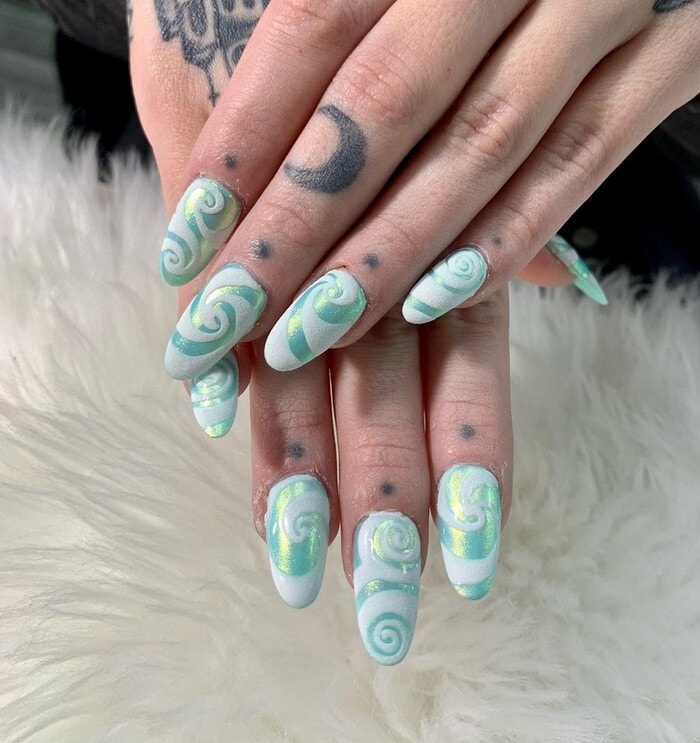 8. Black and Gold Snowflake Nails
If these nails were a playlist, they'd be "Let It Go" sandwiched between two Slipknot albums.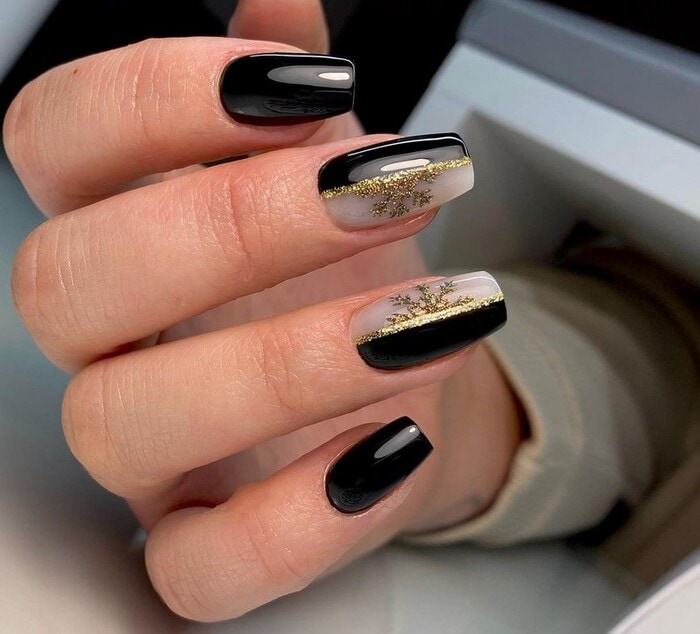 9. Winter Snow Scene Manicure
You know the winter blues have really set in when old Frosty here starts talking back to you. He always spoils the ending of movies!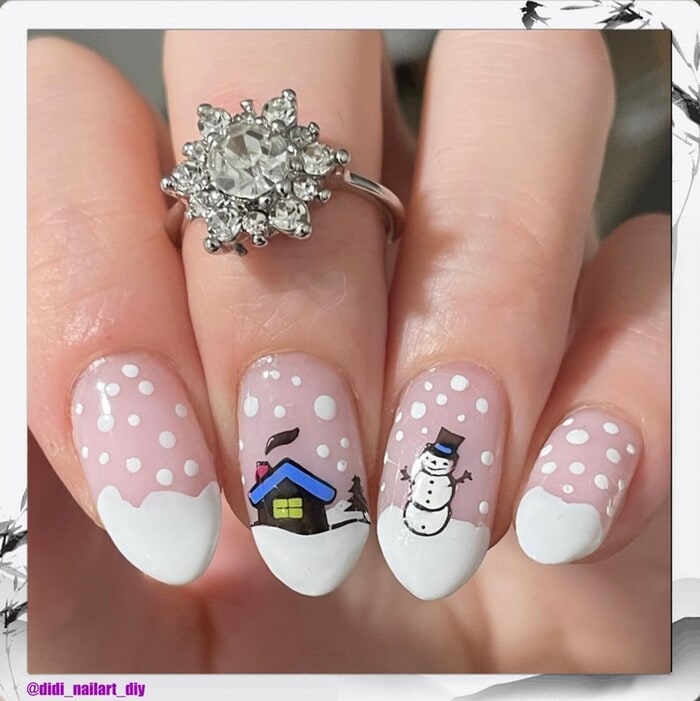 10. Cozy Plaid Nail Design
Look at those nails, then look us in the eye and tell us you don't feel the urge to put on your flannel jammies and crawl into bed. More than you normally do, we mean.
11. Mismatched Winter Nails
These nails are like the ingredients of a peanut butter, banana, and bacon sandwich: totally different, but they somehow come together.
12. Minimalist Winter Nail Design
This simple design gets the point of winter across with few perfectly executed elements. 10/10 for efficiency!
13. Teal and Gold Winter Nails
The divides in this design adds refreshing intrigue, and keeps the sections segmented. Like your family at Christmas dinner. Or an orange. Similar things.
14. Purple Patterned Teddy Bear Nails
We love the way that each nail is different, and it draws the eye across the manicure. So much more fun than regular old reading!
15. Happy Snowman Nails
This is proof that snow people have feelings, too. Think of that next time you drink water, vegans.
16. Gingerbread Man Manicure
Just a friendly gingerbread man popping in to say hello! And that he's really looking forward to the present you got him this year. You did get him one…right?
17. Dirty Winter Nails
These speak for themselves.
18. Deep Red Winter Nails
This winter nail design works for the whole season, from Christmas to New Year's Eve to Valentine's Day. After that, tell mother nature that it's time to defrost. We're sure she'll listen if you ask nicely.
19. Joyous Deer Nail Design
They say "joy" for when you need a reminder of what life was like before it took 50 layers and an hour to get ready to go outside to get your mail.
20. Winter Tree Nail Design
Even when the trees die in the winter, they still look beautiful! Our rotting pumpkin from Halloween, on the other hand, doesn't quite have that same skill.
21. Sweater Nail Design
We're not really sure how this person managed to exactly replicate our closet, but the nails are cute!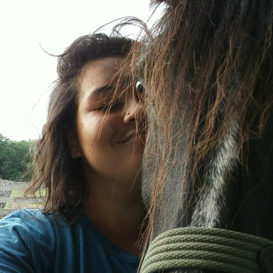 Latest posts by Hebba Gouda
(see all)