Zendaya the "It" girl of the century (unless Cher has anything to say about it). Her crown was securely fastened to her head last night when she won the Emmy for Outstanding Lead Actress in a Drama series for her performance as Rue in Euphoria…again.
And of course, plenty of memes and tweets about Zendaya rolled right on in.
If you're experiencing déjà vu, that's because she did this back in 2020 for the same role. You know what they say: if it ain't broke, don't fix it. We're not sure exactly how that applies to this situation, but just go with it.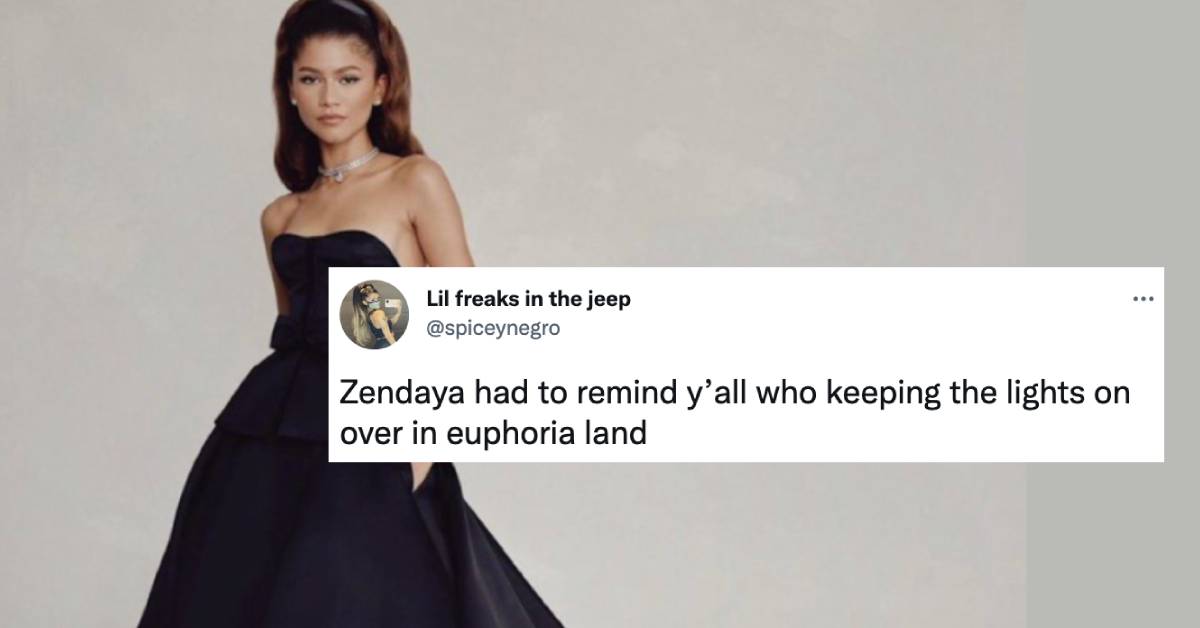 The win was history-making. At 26, Zendaya became the youngest person to win two Emmys for acting. Not only that, she's also the first Black woman to win an Emmy for lead actress in a drama series twice.
Meanwhile, we're proud of mastering the art of stopping the microwave before it beeps while we're heating up our midnight pizza bagels.
Naturally, Twitter is abuzz. And this time, it's for something positive. Good job, Internet! For your daily dose of serotonin, here are the best Zendaya Emmy memes and tweets celebrating her historic win.
The Best Memes and Tweets About Zendaya Winning Her Second Emmy
1. Icons supporting icons.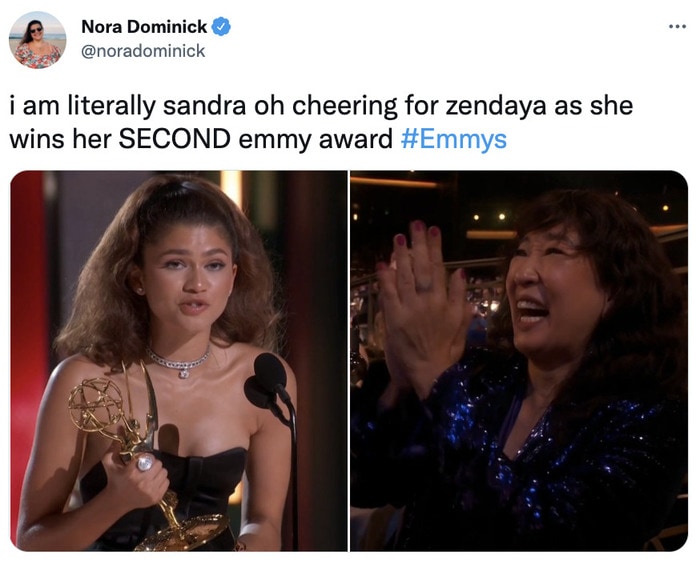 2. You read that right!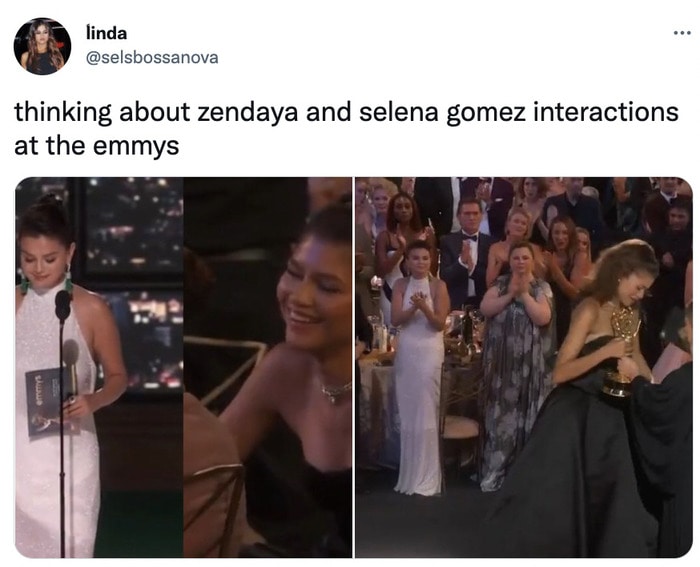 3. The world might not, but the Emmys sure do.
"the world doesn't revolve around zendaya"
the world: pic.twitter.com/sKSI6ezAEj

— amany (@TOMSLUVV) September 6, 2022
4. Your day will come. Alternatively, Zendaya's day will come. Again.
sydney sweeney watching zendaya walk up stage to collect her 2nd emmy pic.twitter.com/602K4GTcBL

— robert pattinson's stylist 🍷 (@BATMANFANCAM) September 13, 2022
5. We are so easily entertained. Squirrel!
zendaya laughing at selena's joke STOP pic.twitter.com/LWz9CMR6oA

— penelope (@SLAYLLENA) September 13, 2022
6. Our blog of Zendaya facial expressions launches next week.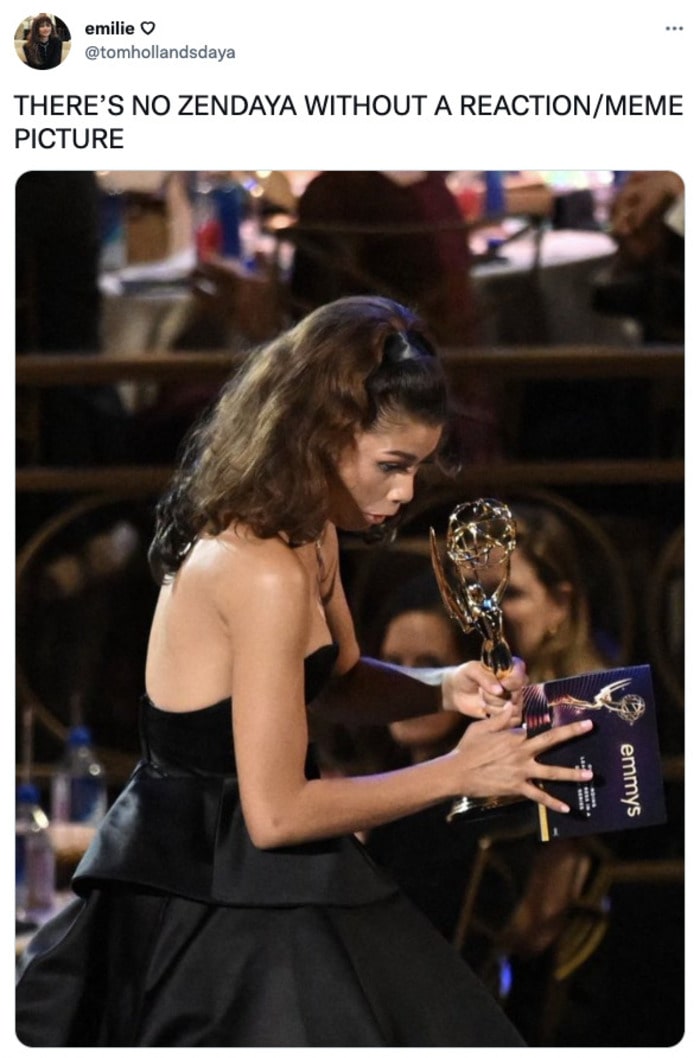 7. We're crying. You're crying. Our neighbor's cat is crying. It's fine.
Watching Zendaya go from Shake It Up to winning two Emmys pic.twitter.com/ZoiRDy49Mu

— peter danvers-wu💄 (@chewiedanvers2) September 13, 2022
8. So that's why we felt an earthquake last night!
"and the emmy goes to….ZENDAYA" pic.twitter.com/ScUIFNIQ6h

— bell⋆ 🪐 Z EMMY TAKEOVER (@spiderlingdaya) September 13, 2022
9. *shivers in admiration*
Zendaya 2X Emmy award winner speak to her right pic.twitter.com/oCYSsCRxbe

— Nicolas is in renaissance (@niggaolas) September 13, 2022
10. "Hacks" star Hannah Einbinder took her moment on stage to shoot her shot, and we're obsessed.
hannah einbinder hitting on zendaya she's for the people.

— lex (@gretagerwigflew) September 13, 2022
11. Everyone was obsessed.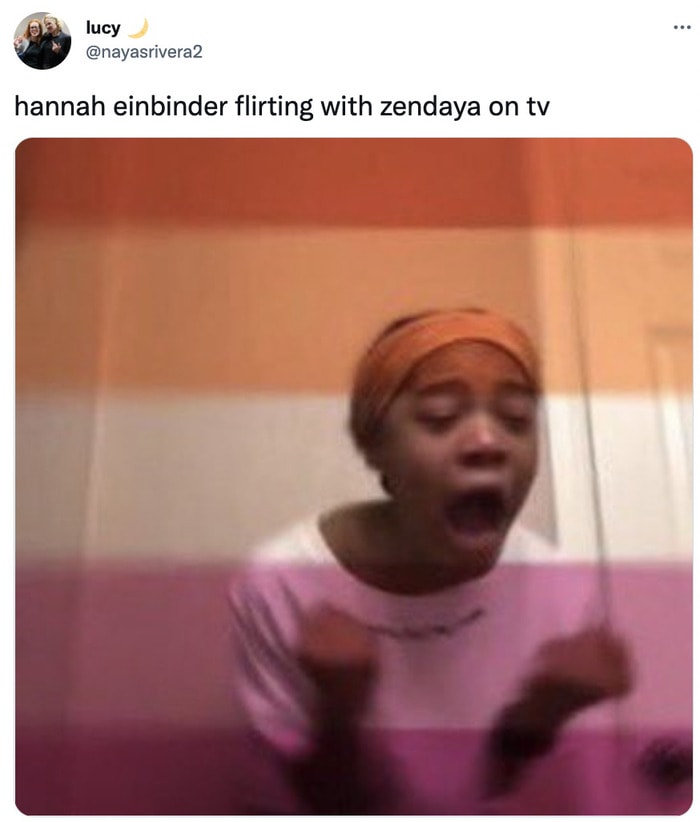 12. We have truly never felt more like a celebrity.
listen. hannah einbinder being shy around @Zendaya even as a BIT is highly relatable. #Emmys #Emmys2022

— Jenny Yang (@jennyyangtv) September 13, 2022
13. We love a good strategy.
hannah einbinder was so real for saying she's only presenting so she can see zendaya better #Emmys2022

— scarlett 🕯 (@kurtmaximoff) September 13, 2022
14. You know what Beyoncé said? Pretty sure she was talking about Zendaya.
the cast and crew when zendaya steps foot on the euphoria set pic.twitter.com/taQPD7lJjS

— james. (@cinecomical) September 13, 2022
15. As if the Internet wasn't dying over Zendaya already, she dropped in this little bit…
me freaking out that zendaya called tom her boyfriend as if we didn't already know they're dating pic.twitter.com/Ih5jcvNFWn https://t.co/rWAiW6RudT

— daniela⁷✘༄ (@HOBlSBEANER) September 13, 2022
16. Take that, melatonin!
how im sleeping knowing zendaya is a two time emmy award winner pic.twitter.com/R3hC1YyVEo

— ZENDAYA WINNER (@mjscurl) September 13, 2022
17. And finally, while Zendaya made history, so did a number of other Black women. Can all Mondays be this good?
Quinta won an Emmy.
Lizzo won an Emmy.
Sheryl won an Emmy.
Zendaya won an Emmy #Emmys2022pic.twitter.com/QhnC2RsBD4

— Spicy Sprite (@lovitaalize) September 13, 2022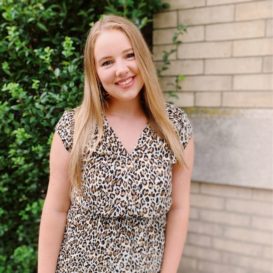 Latest posts by Laura Davis
(see all)