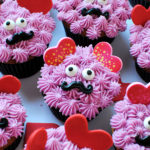 Print
Love Monster Cupcakes
Make these Love Monster Cupcakes for your Love Monster this Valentine's Day

1. Bake your favorite cupcakes. Let cool.


While the cupcakes are cooling, roll out the red fondant and cut out hearts with the cookie cutter. Set aside and let dry until hard.


Make frosting. Dye purple or preferred monster color.


Place in piping bag fitted with coupler and star tip. Pipe stars all around edge of cupcake then fill in middle with stars.


Insert hearts into cupcake. Add two eyes and mustache.