In my Valentine Donuts recipe, I gushed about how much I love Valentine's Day. So, this year, I made Love Monster Cupcakes and a Valentine Dragon inspired by the Google Doodle of the Valentine's Day pangolin.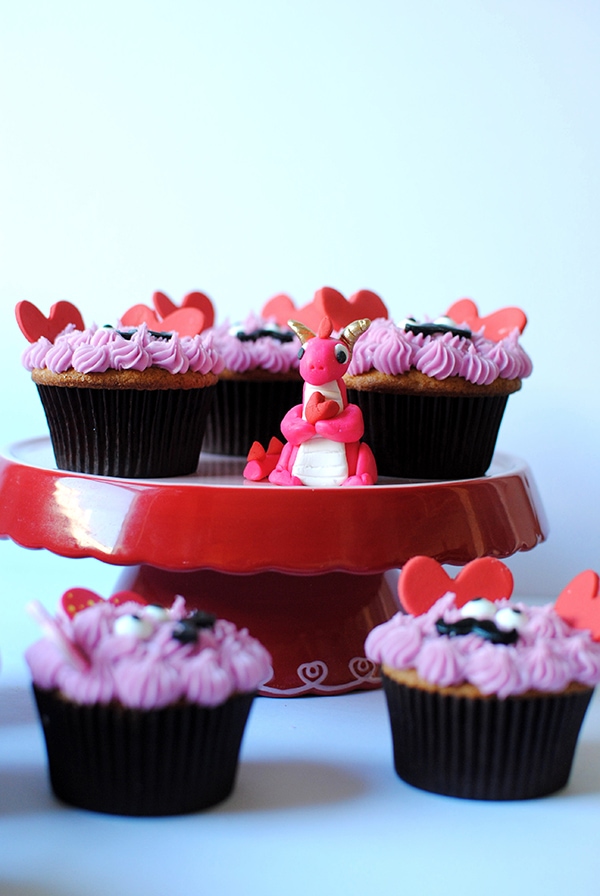 I've got to admit, the dragon came first. But then I had to make the Love Monster Cupcakes because I wanted something edible for Valentine's Day and there was no way I was going to eat my Valentine Dragon! (Tutorial on him coming tonight!)
How to Make Love Monster Cupcakes
These cupcakes are so easy. They're inspired by The Cake Blog's Love Bug Cupcakes but as I was having a heck of a time making frosting hair, I went in another direction!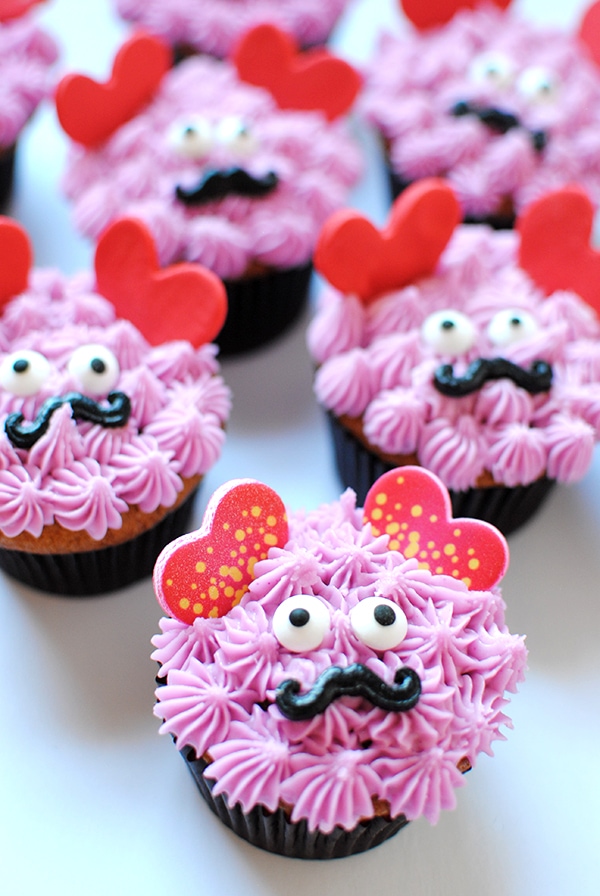 Materials Needed:
* Cupcake ingredients
* Frosting ingredients
* Red Fondant
* Piping Bag
* Star Tip
* Pink or purple food dye
* Edible eyes
* Edible mustaches
To make the Love Monster Cupcakes, bake your favorite cupcakes. Any flavor is ok since we'll be hiding the cake with frosting. While the cupcakes are cooling, make the heart-shaped ears. Roll out some red fondant and cut out hearts using a heart-shaped cookie cutter. The reason you want to make these early is so they'll dry and harden up so they don't flop over when you put them on the cupcake!
Make your favorite light-colored frosting and dye it purple. Then fit a bag with a star tip (I used #32) and pipe all around the cupcake. To get the spiky look, hover just over the cupcake, pipe for just a moment and let go, pulling straight up as you do. It might take a few tries but you'll get the hang of it!
After you're piping, add the ears! They should have hardened by now, but if not, just wait until they do. Then add two little eyes and a mustache, and you're done! Easy peasy.
If you're a visual learner like I am, this video shows how to pipe the fur on with the star tip.

Love Monster Cupcakes
Print Recipe
Make these Love Monster Cupcakes for your Love Monster this Valentine's Day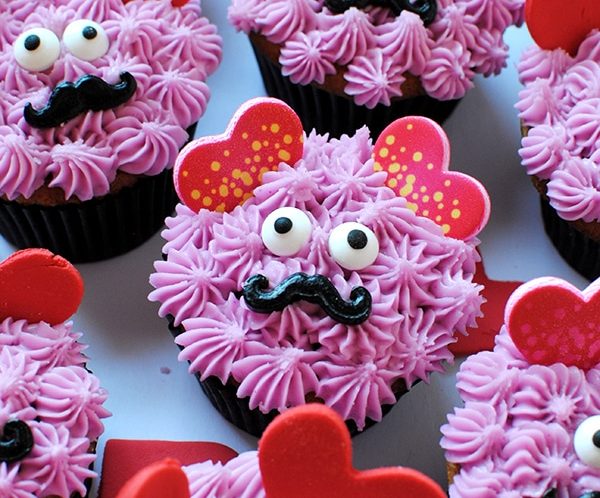 Servings: 12 cupcakes
Ingredients
red fondant
1 heart-shaped cookie cutter
piping bag
1 star tip and coupler
edible eyeballs
edible mustaches
Instructions
1. Bake your favorite cupcakes. Let cool.


While the cupcakes are cooling, roll out the red fondant and cut out hearts with the cookie cutter. Set aside and let dry until hard.


Make frosting. Dye purple or preferred monster color.


Place in piping bag fitted with coupler and star tip. Pipe stars all around edge of cupcake then fill in middle with stars.


Insert hearts into cupcake. Add two eyes and mustache.

Did you make this recipe?
Leave a review below, then take a photo and tag @letseatcakeblog on Instagram so we can see it!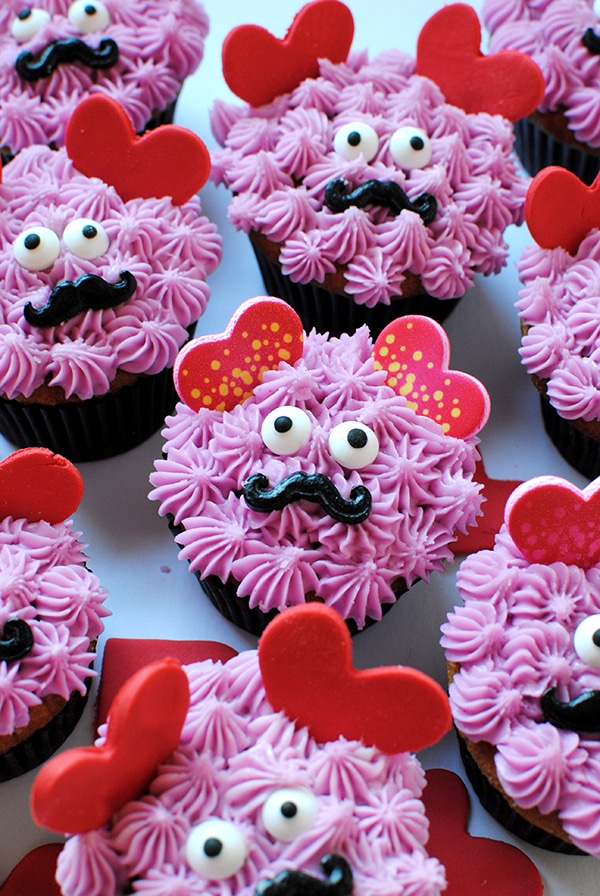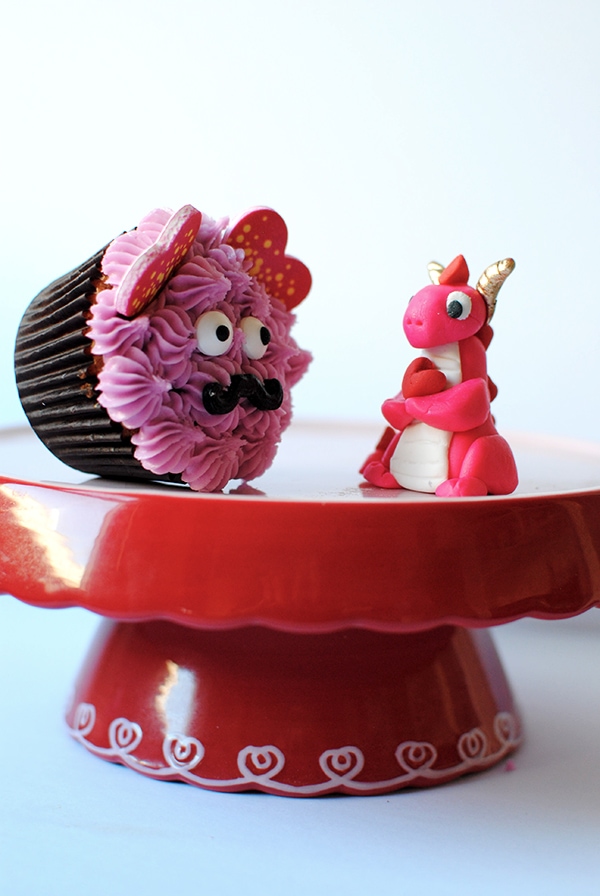 Let's Eat Cake, Valentine: Valentine's Day Giveaway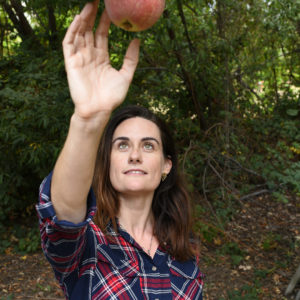 Latest posts by Rebecca Swanner
(see all)