Looking for an easy dessert this summer? These customizable waffle ice cream sandwiches will be a hit with your kids or at any summer party!
Also, for full disclosure, I have been compensated by The Kroger Co. and Breyers for this post, but the opinions are mine and mine alone. Cool? Cool. Keep reading for the recipe and the how to and check out more Freezer Fresh Ideas here!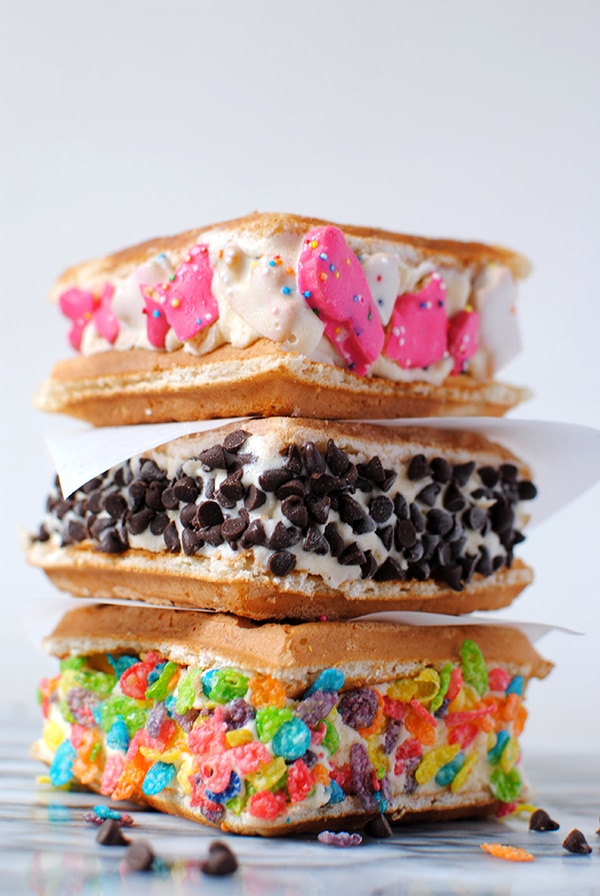 When it comes to summer, there's one phrase that immediately comes to my mind: pool party. But, right after that comes a second phrase, and that, friends, is ice cream. Specifically, ice cream sandwiches. Because what is summer without ice cream? Don't answer that. It's rhetorical.
I mean, the Museum of Ice Cream is here in LA to celebrate the beginning of summer. Oh, it was around before? In New York? During winter? ::sticks fingers in ears:: La la la la nope, it's here to celebrate the arrival of summer! There is a sprinkle pool. And I am going tonight! I AM SO EXCITED. I need to stop shouting. Sorry about that. I'm just really excited.
I am also super excited to share with you these ice cream sandwiches! It's not an ice cream sandwich recipe per say, but if you're in a pinch and you have hungry guests or want a fun easy dessert kids will love, these waffle ice cream sandwiches are it….