It's summertime, and the living is easy…unless you're stuck with boring nails. Okay, even then, this season is still pretty great. But there's no reason to have a lame manicure when you have all these summer nail designs for 2023 at your fingertips.
See what we did there? Fingertips, because, like…nails are at your…oh you got it the first time? Okay cool.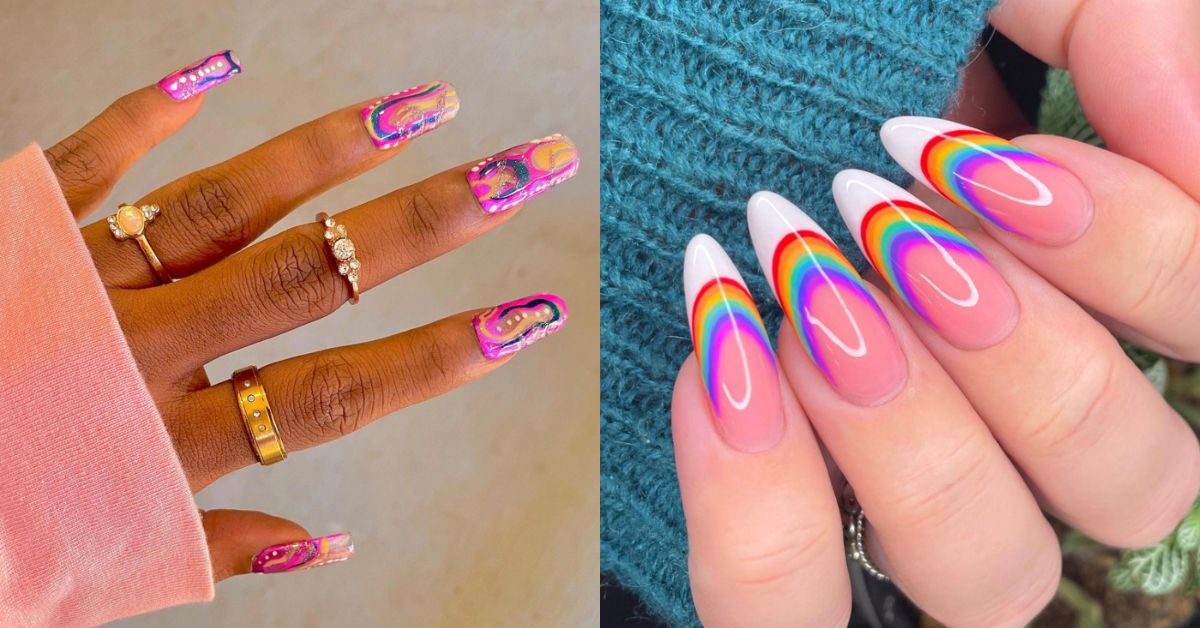 Whether you're a bold and bright color lover or a fan of more subtle patterns, there's a nail design out there for you. We've got pops of neon, fruity accents, and tropical prints , and more. From beach days to BBQs, your nails will be the star of the show.
Alongside your aunt's potato salad, of course. Nothing can outshine that bowl of carby goodness.
The 41 Best Summer Nail Designs for 2023
1. Floral Painting Nails
Museums are a safe haven in the summer thanks to a steady stream of AC. Blend in with these abstract artsy nails and maybe they'll let you stay all night. Nothing weird happens during a night at the museum, right?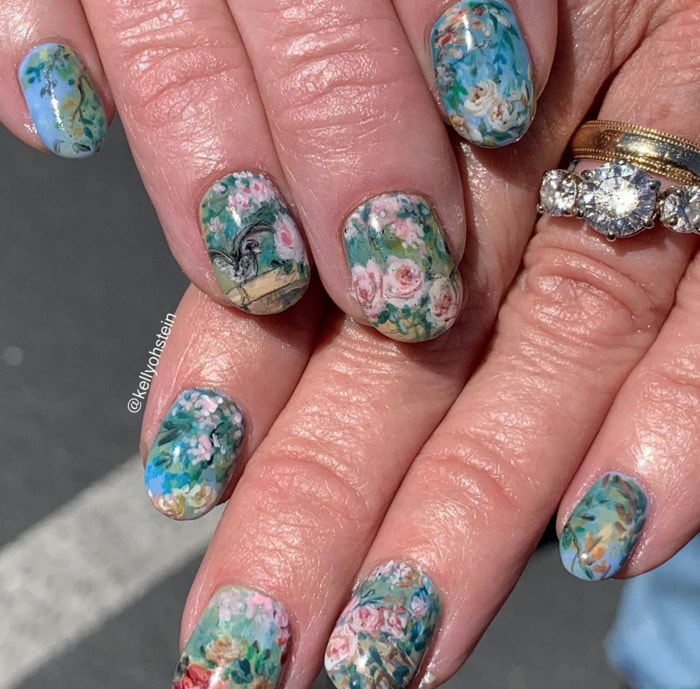 2. Rainbow and Smiley Face Nails
These nails are all smiles during Pride Month. And every other month. Because, you know…they're painted on…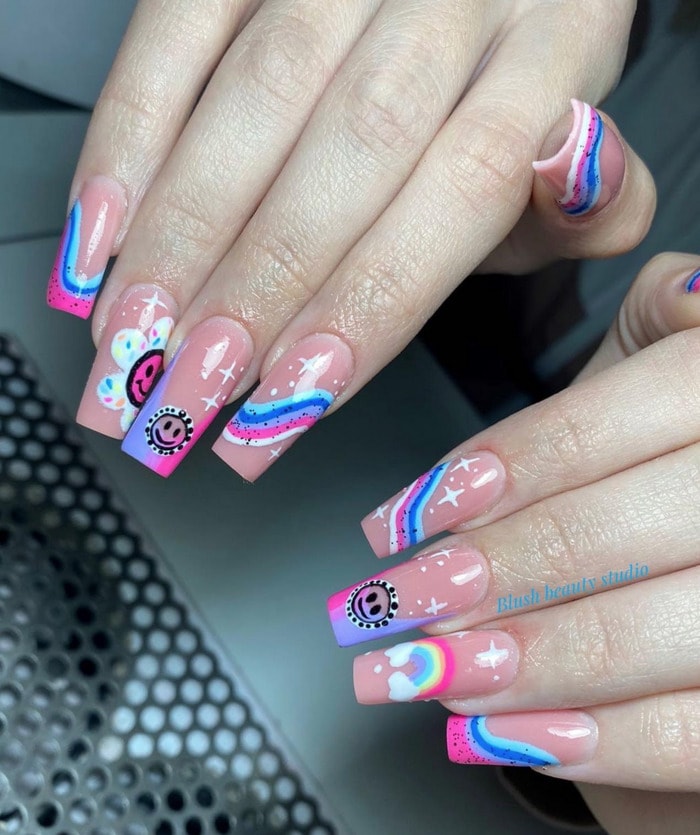 3. Pride Month Nail Art
Pride Month may only technically be in June, but you can definitely rock these rainbow nails all summer long. Or at least they grow out and you lose the RO part of ROYGBIV.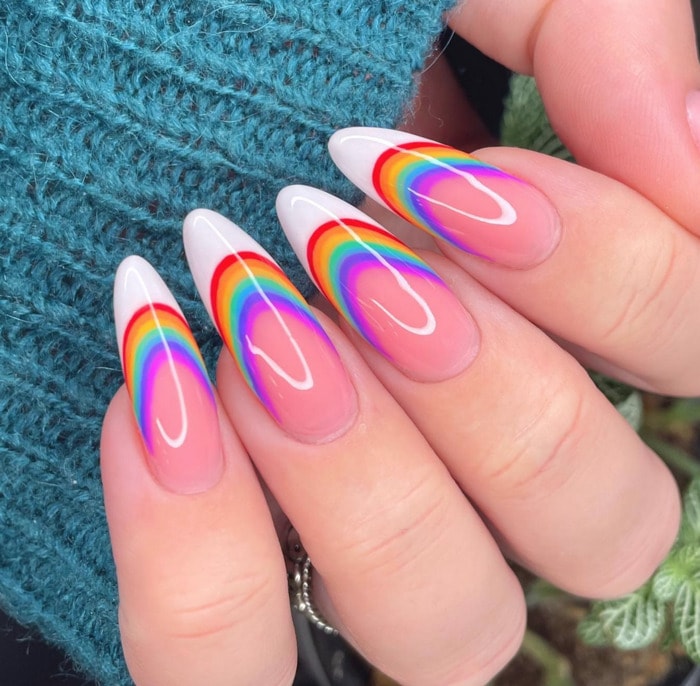 4. Multicolored Abstract Nails
You know when you go to a store and try a bunch of different polishes to see which you like best? Well, that's "art" now. You're welcome.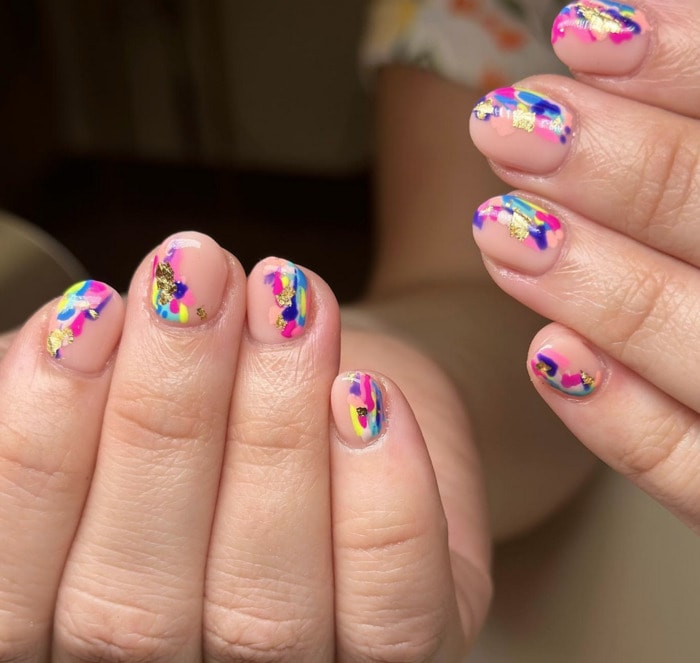 5. Strawberry Nail Art
Is this couture? Because these strawberry nails are looking Juicy!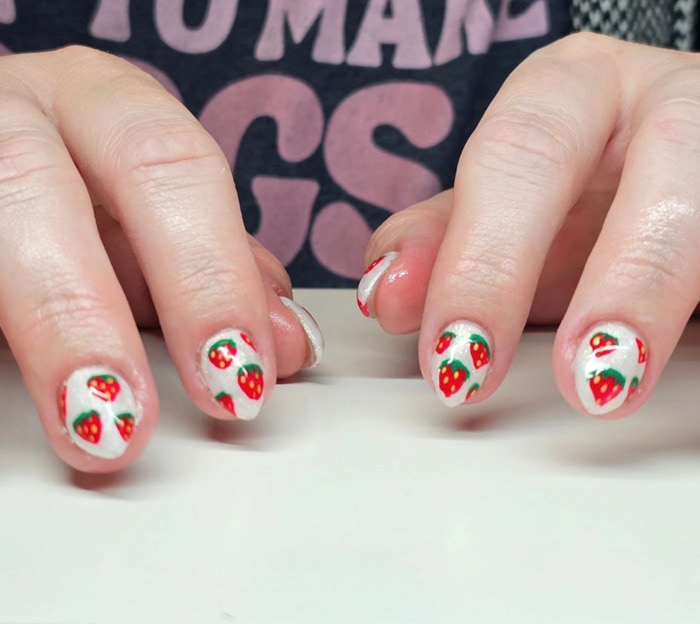 6. Groovy Pink Nails
We're one step closer to Barbie Land with these swirly pink nails. Thankfully we left the heels at home for this journey.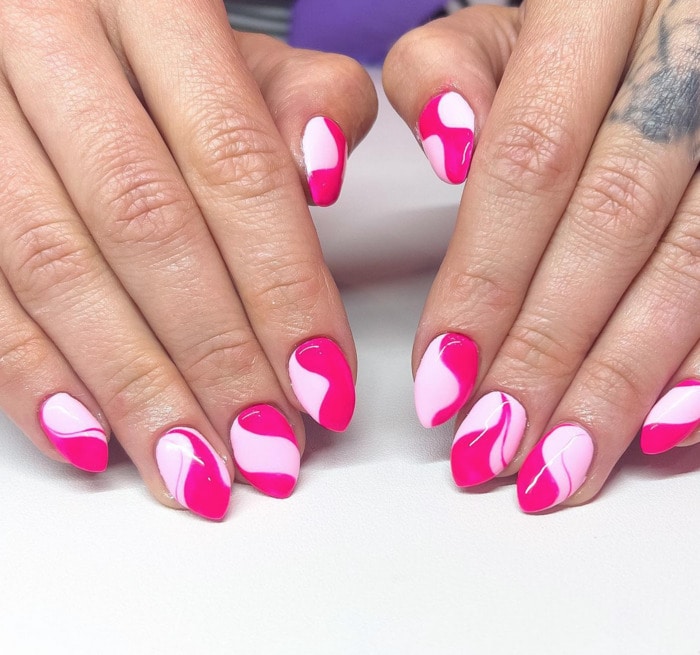 7. Neon Swirl Stiletto Nails
Who needs to grow a garden of flowers when your manicure can look like a whole bouquet? Now if only we could figure out that whole scratch and sniff thing.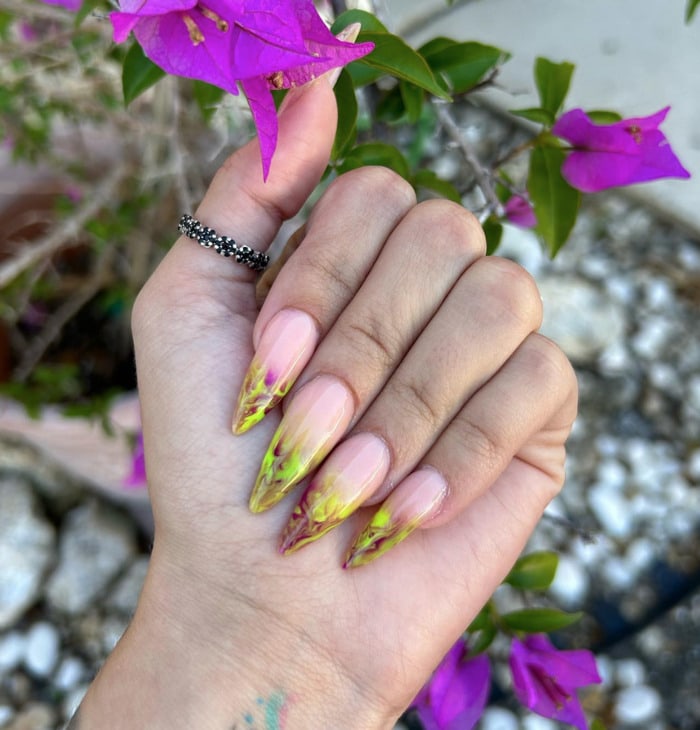 8. Ombré Nails with Silver Swirls
These silver swirls remind us that there's AC blowing somewhere over the rainbow. If only it was blowing in our apartment, too.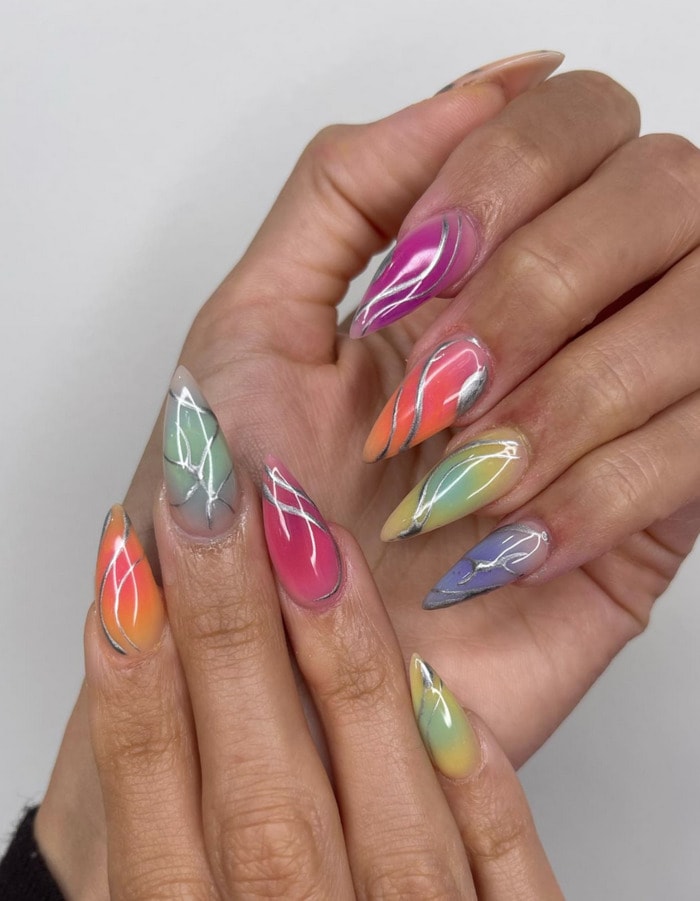 9. Yellow French Tips with Flames
These highlighter flames will make your mani look hotter than the sun. Especially if you forget an umbrella for your beach day.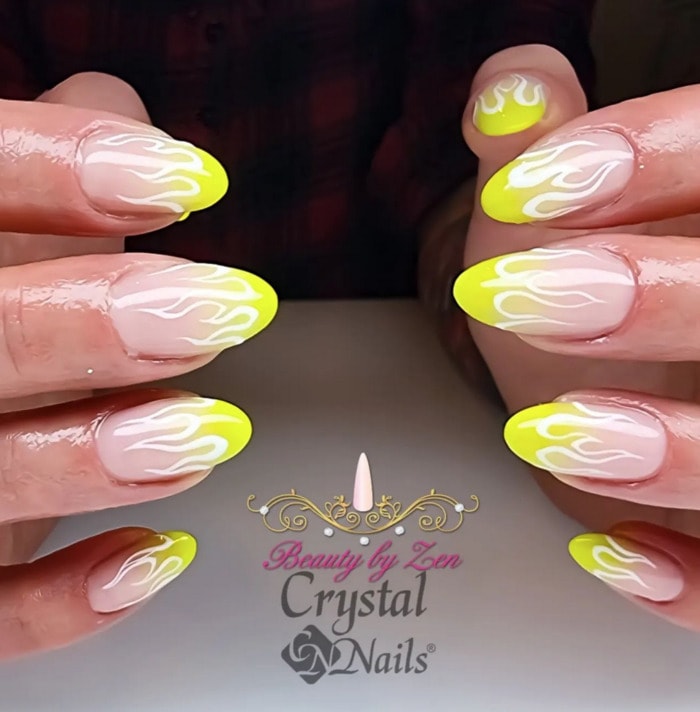 10. Bright Contemporary
Take your doodles from the page to your nails with this cool summer nail design idea. Is it just us, or does that look exactly like Susan from accounting?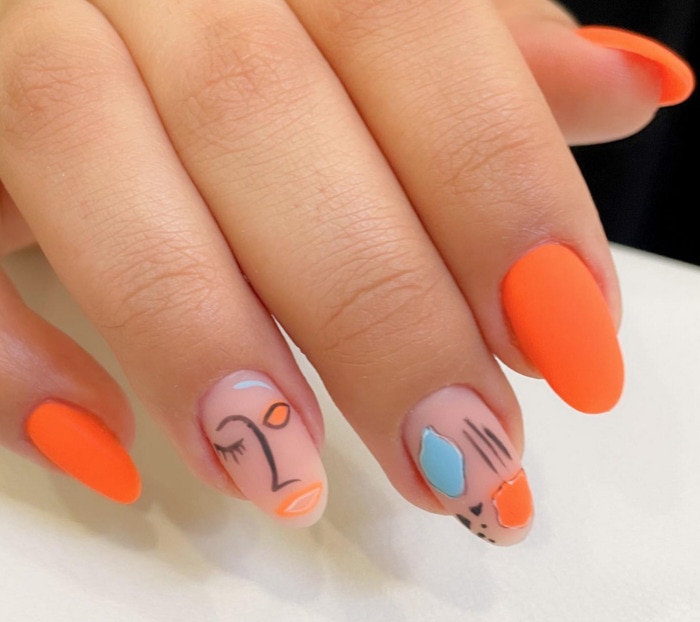 11. Pink Nails with Gold Flakes
Manifest richness this summer with these gold flake nails. Or, just some really fancy food decoration.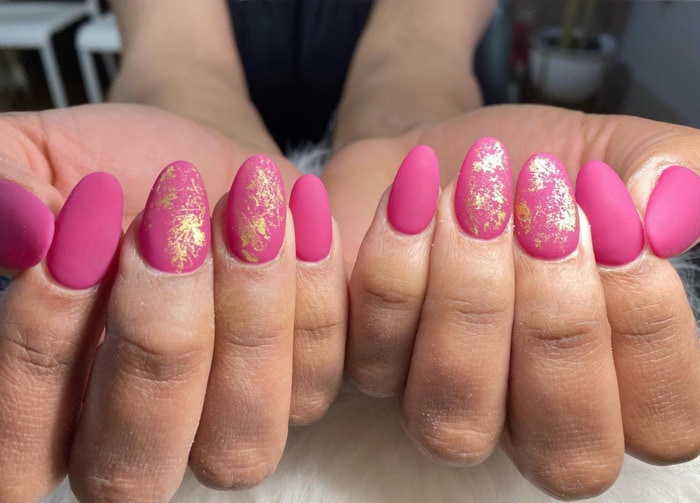 12. Colorful Coffin Nails
These summer nails combine all the colors and all the patterns to create one eye-catching look. Ugh, a ripped contact again!?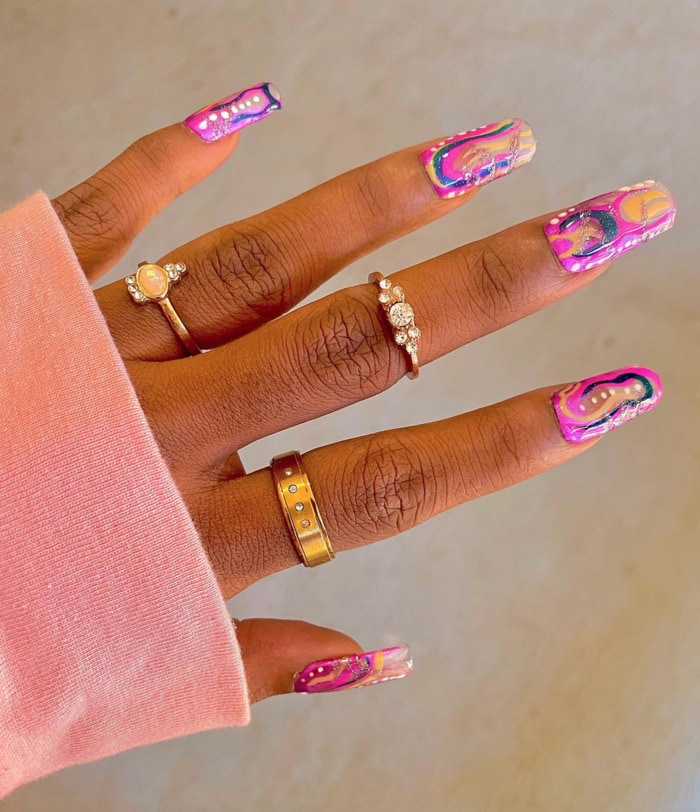 13. Color-Change Queen
This thermal nail polish gives you two looks in one! Is this the "day to night" attire that we heard so much about when we were younger?
14. Tortoise Nails with 3D Silver Lines
Tortoise, but make it edgy. Just make sure the actual tortoise doesn't get too close to the edge. He's scared of heights.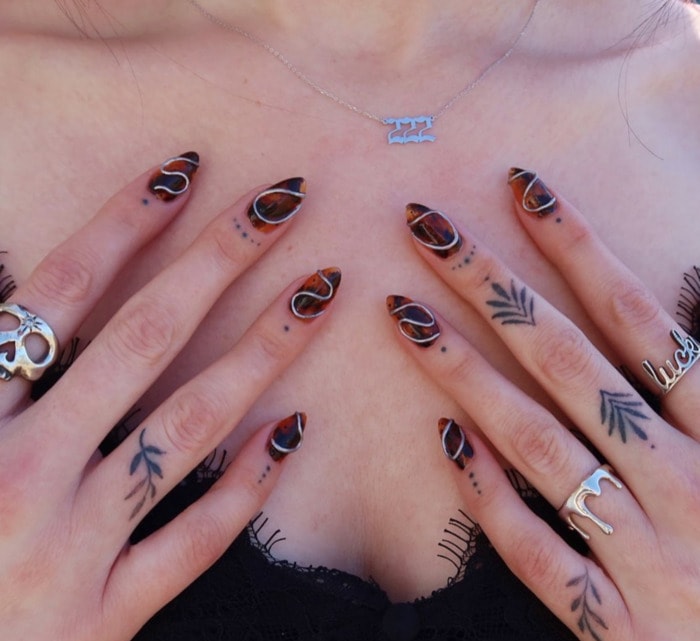 15. White Nails with Bold Patterns
This is proof that we should have majored in Art. Yes, our nail tech did this manicure. And?
16. Orange Gradient
Orange you glad you bought all these different shades of orange? And then totally forgot to return them?
17. Poppy Tips
Florals? For summer? At least it's more groundbreaking than florals for spring!
18. Ice Cream Cone Nails
Don't worry, these won't melt in the hot summer sun. Unless you're on the hot summer sun. But then we have some questions.
19. Solids and Prints
Could you not decide on what you wanted to do with your nails? Or did you just run out of polish? The world will never know!
20. Bright Patterns
Nothing says hot, hot summer like bright reds and oranges. Other than saying "hot, hot, summer." But who says that anyway?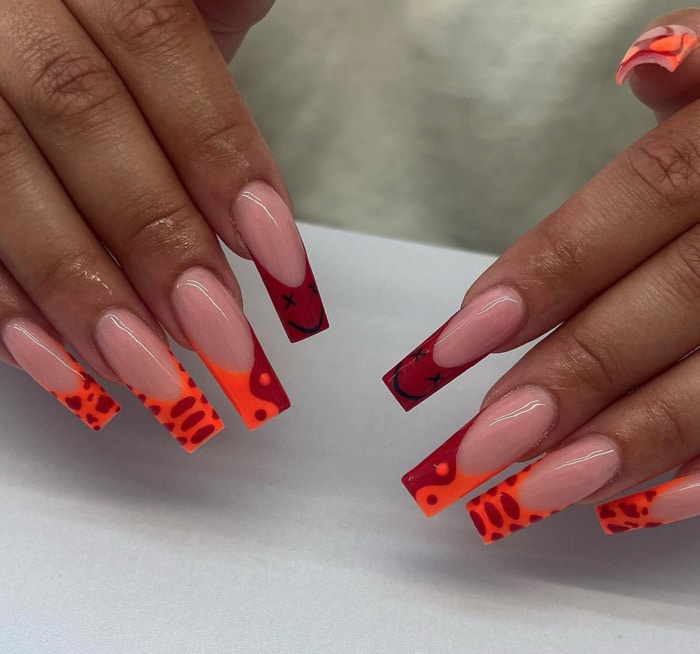 21. Pool Ready Blue Nails
Don't mind us as we recreate all the underwater scenes from Little Mermaid.
22. Red and Pink Summer Print Nails
Sweet, spicy, swirly, and soft. That describes these nails, and our preferred type of ice cream.
23. Lemon Lime Nails
We were going to call these "Sprite Nails" but our lawyers said we couldn't.
24. Natural Nude Nails
You'll blend into the sand with this neutral polish. It's the latest in skin exfoliation techniques. Somewhere, we're sure…
25. Tropical Tips
Even if you don't have a tropical vacation booked this summer, you can still pretend like you're on one with this summer nail design. Hey Siri, play the Beach Boys.
26. Pink and Purple Chrome Nails
Tell Hailey Bieber there's a new nail influencer in town. (You. It's you. When you get this manicure. You're the new nailfluencer.)
27. Orange Nails with a Pink Stripe
We're suddenly craving those Flintstone Push Pops. BRB while we find a time machine back to 1998.
28. Ocean Blues and Seashells
Sally may sell seashells by the sea. But we have them on our fingers. And you tell us – which one is easier to say, huh?
29. Red Animal Print
Even Cruella de Vil likes summer!
30. Sparkly Blue Nails
You'll leave a trail of sparkles wherever you go with these nails, but it'll be worth it. And, worth investing in a good vacuum.
31. Butterfly Princess Nails
Forget about the real world. We're going to spend all summer in the forest hanging out with woodland creatures. We'll send a postcard.
32. Green Leaf Nail Art
With these nails, you can bring the tropics with you, wherever you are. Except for the dentist. Then you'll want to leave them at home.
33. Peace and Flowers Nail Art
If you still have your lava lamp from the '90s, then these nails are for you. And probably some eye cream.
34. Sparkle Neon Nails
Need a mani for a Tropical Disco? No? Well this design looks great no matter where you are. Even if it's just on your couch watching reruns of Friends.
35. Sunflower Nail Art
Crunchy seeds for a snack are unfortunately not included with this manicure.
36. 3D Seashells
Tell us you just came back from a trip to Cape Cod without actually telling us.
37. Neon Animal Print
We've been to the zoo a million times but we still haven't found the animal with this print. Guess it's time to book a jungle cruise.
38. Ombre Palm Tree Nail Art
The next time you're late to something, just say you're on island time. Or at least your ring finger is. And man, is she bossy!
39. Negative Blue Nail Art
Don't be blue, it's almost Summer Friday! And technically these shades are more "arctic" and "azure."
40. Black and Gold Sparkles
Just because it's summer, it doesn't mean you can't rock a black nail design. Rules don't exist and everything is made up, anyway. Call us for more legal advice.
41. Sunglasses and Sun Nail Art
If we had to create a moodboard for our summer vacation, this would be it. Plus some margaritas and a winning lotto ticket.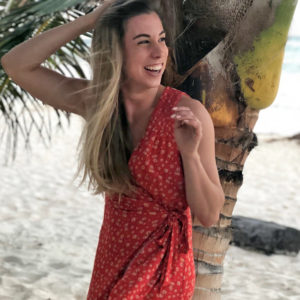 Latest posts by Hannah Rex
(see all)