June is typically the time for rainbows, love, and for showing off your Pride nails as members or allies of the LGBTQIA community. So, we've gathered a diverse selection of manicures that represent some of the different Pride flags.
This year is a different, though. There's a larger movement that we all need to take part in: Black Lives Matter. We urge you to support the movement in any way you can. At Let's Eat Cake, we will be listening, learning, and supporting. We hope you do the same.
21 Pride Nails to Rock This Month
1. Graphic Negative Space Rainbow Nails
With crisscrossing rainbow hues on one side of the nail and blank space on the other, this Pride manicure is chic and festive. This design requires more precision than Ariana Grande's winged eyeliner, so unless you have a super-steady hand, use some Scotch tape to get those sharp lines.
2. Bisexual Flag Gradient Nails
With a pretty gradient inspired by the bi flag and a lyric pulled from a Panic! At the Disco song, this mani is the perfect way to put your Pride month mantra on display.
4. Chrome Rainbow Nails
For a holographic look, these chrome rainbow nails are just the thing. Simple, sparkly, rainbow — do you need any other adjectives? Fine, we'll go find the dictionary.
5. Blank Space Rainbow Nails
This manicure pairs primary and secondary colors — see, we totally paid attention in third grade art class! — with trendy blank space to create a diagonally striped rainbow.
6. Neon Glow Pride Nails
With this neon-tipped French manicure, your nails will shine as bright as your pride. Glow on with your bad self! (If you thought we were above neon puns, do you even know us?)
7. Rainbow Almond Pride Nails
Don't try to snack on these almond-shaped nails. Apparently they have no omega-3s. What they do have is a sparkly, cotton-candy-pink base coat and wavy ribbons of rainbow. Roy G. Biv would approve!
8. Glitter Rain
These nails feature a cute rainbow cloud design, but those sprinkles of glitter rain are perfect. Until you try to get it out of your clothes in the morning.
9. Pansexual Pride Nails
These blue, yellow, pink, yellow, nails are an easy DIY way to celebrate your pansexual pride.
https://www.instagram.com/p/Byc0Mvugip2/
10. Bisexual Flag Stripes
Wear your heart on your sleeve and your flag on your nails with this diagonally striped Bisexual pride flag. We love the slightly futuristic vibe of the glitter on the other nails edging — now where's our robot bartender?
11. Curvy Trans Flag Nails
Celebrate trans identity with this mani that features curving graphic lines in the pink, white, and blue colors of the Transgender Pride flag.
12. Trans Pride Stiletto Nails
This pink, white, and blue manicure has it all — clear acrylics, ombre looks, nail art, stickers, and subtle florals. And if the stiletto shape is a little too savage for you, this design would look just as rad on coffin nails.
13. Pansexual Stars
A star is born — er, painted on — in this dreamy celestial manicure inspired by the colors of the pansexual flag. (Sorry, left hand, we love those cute little clouds too, but right now we're here for the starry-eyed vibes.)
14. Rainbow Accent Nail Art
If you just don't have the patience to paint 10 fingers with pure Rainbow Brite realness, do an accent nail!
15. Ombre Rainbow Tips
Ombre nails have long outlasted the ombre hair trend, and it's probably safe to say this minimalist look is here to stay for a while. Try this creative spin on the trend — paint a neutral base coat, then add a subtle sweep of ombre in Pride colors to the tips.
16. Rainbow Paint Drip Nails
This rainbow drip nail art is a good way to show off your artsy side. Even if you're still working on perfecting stick figures.
17. Rhinestone Cuticle Nails
Keeping these sparkly beauties clean may be work (and not the good kind of werk), but we can't stop saying yes please to these.
18. Just The (Rainbow) Tip
In this fresh take on the French manicure, all the hues of the rainbow are painted in a tiny space at the top of the nail. The result: a pride manicure makes a big impact with just the tip.
19. Expanded Pride Flag Nails
Celebrate all members of the LGBT community with this divine representation of the inclusive rainbow flag. Oh, and glitter. All the glitter.
20. Unicorn Galaxy Pride Nails
These star-studded nails with a "do me on the rainbow" path are another spectacular way to show your pride.
What Are the Pride Colors?
If celebrating Pride is new for you and you're not sure what colors you should paint your nails to celebrate your identity, here's a quick guide to some of the colors. If you love one of the designs above, but it's not in your colors, just change it to match!
LGBTQ pride and gay pride: red, orange, yellow, green, blue, purple (the rainbow flag)
Bisexuality: magenta, lavender, blue
Lesbian: red, orange, white, pink
Transgender: light blue, light pink, white
Pansexuality: pink, yellow, blue
Intersex: yellow and purple
Genderfluid: pink, white, purple, black, blue
Genderqueer: lavender, white, green
Nonbinary: yellow, white, black, purple
Agender: black, white, green
Asexuality: black, grey, white, and purple
Bear brotherhood: brown, orange, yellow, tan, white, grey, black (and a bear print)
Polysexual: pink, green, blue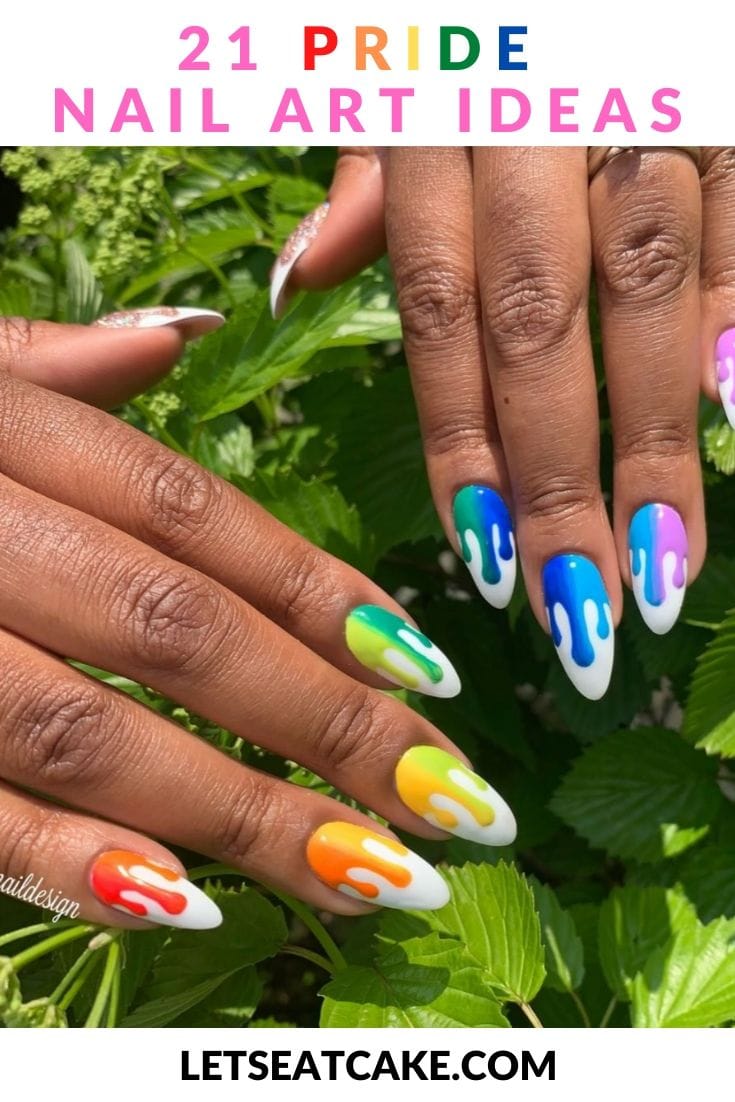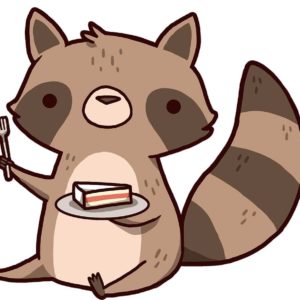 Latest posts by Shea Simmons
(see all)