Looking for an easy way to add some variety into your routine? Try out some of these Dunkin' Donuts secret menu drinks. Sure, we wish we could book a spontaneous trip to Santorini. But a Frozen Cookie Dough Coffee is practically the same thing…right?
Okay, we're not that delusional from all the caffeine we've had today. These secret menu recipes may not give you that same island glow, but they are extremely delicious. We found a whole list of creative drinks that'll satisfy any craving you have, whether that's for something rich and chocolaty, fruity and refreshing, or sweet and decadent.
And remember, just like any secret menu Starbucks drinks you might order (if you dare to cross over to the other side), the Dunkin' baristas probably won't know what these drinks are if you order them by name. So we listed out the steps to order each of these recipes, so you can look like a pro and not make the barista's day any harder. That organic chem test they have this week is making life difficult enough.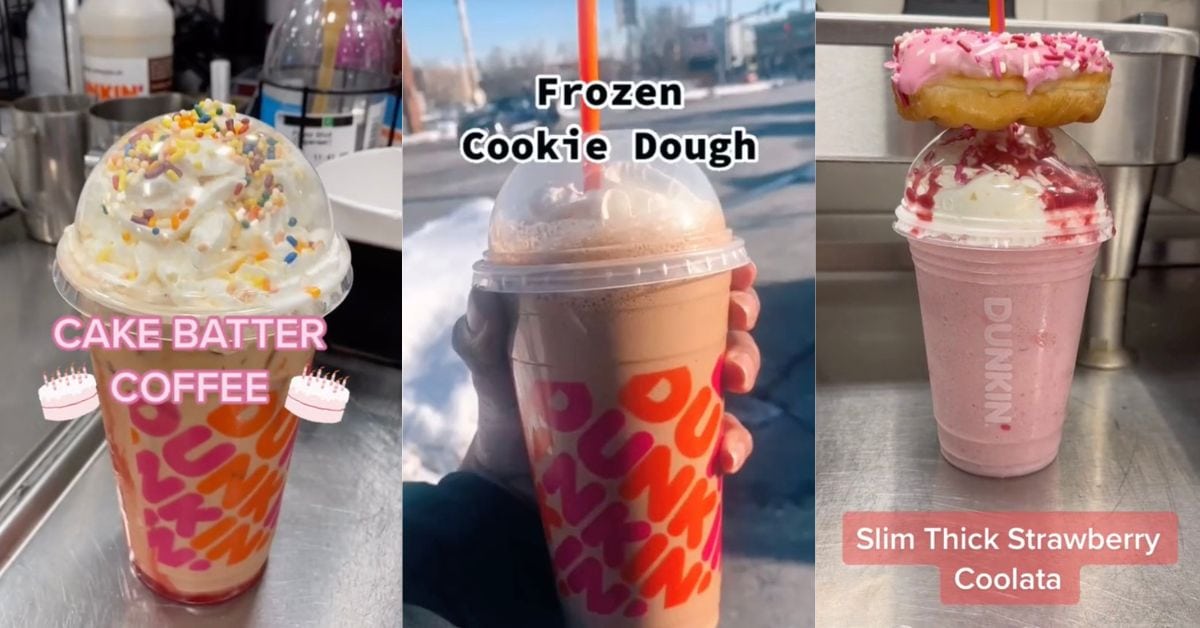 23 Best Dunkin' Donuts Secret Menu Drinks
1. Vanilla Latte with Cold Foam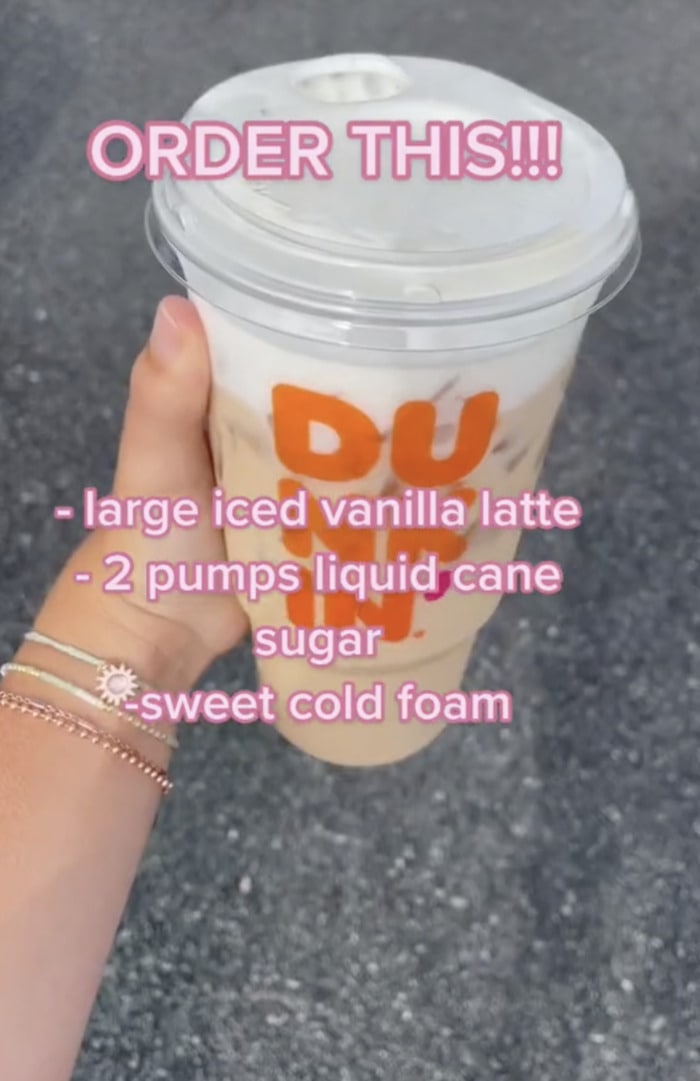 2. Cotton Candy and Cream Coolatta
Order a Vanilla Bean Coolatta
Add one pump blue raspberry syrup
Ask for whipped cream and blue raspberry drizzle on top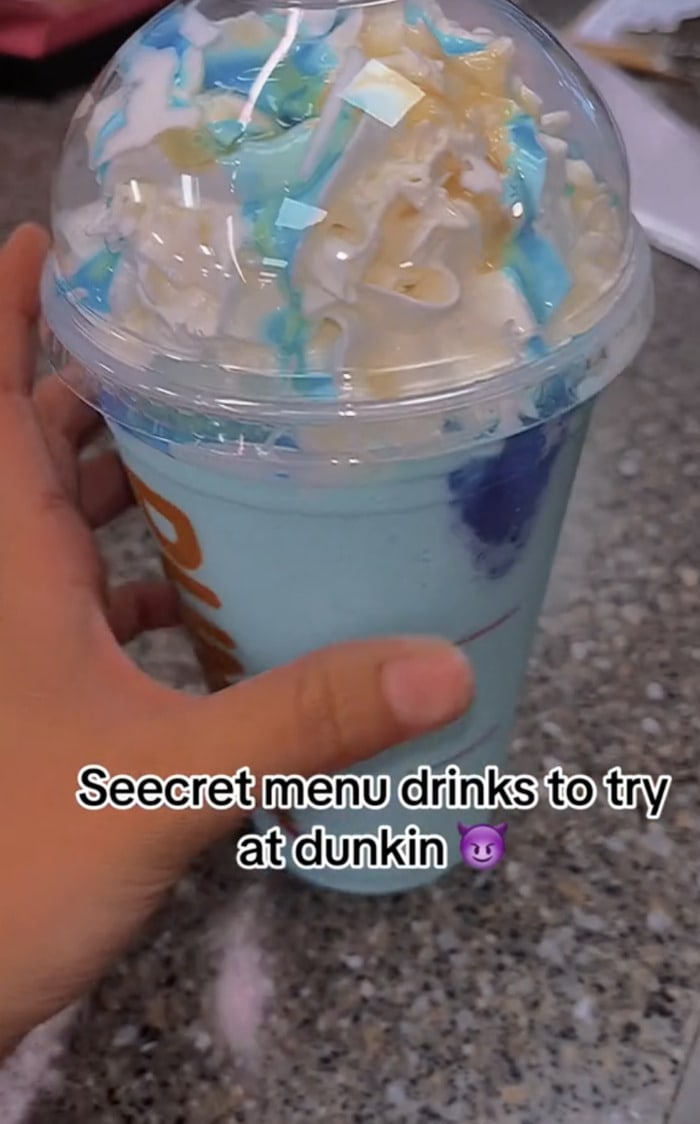 3. Oreo Coolatta
Order a medium Vanilla Bean Coolatta
Add 2 pumps of mocha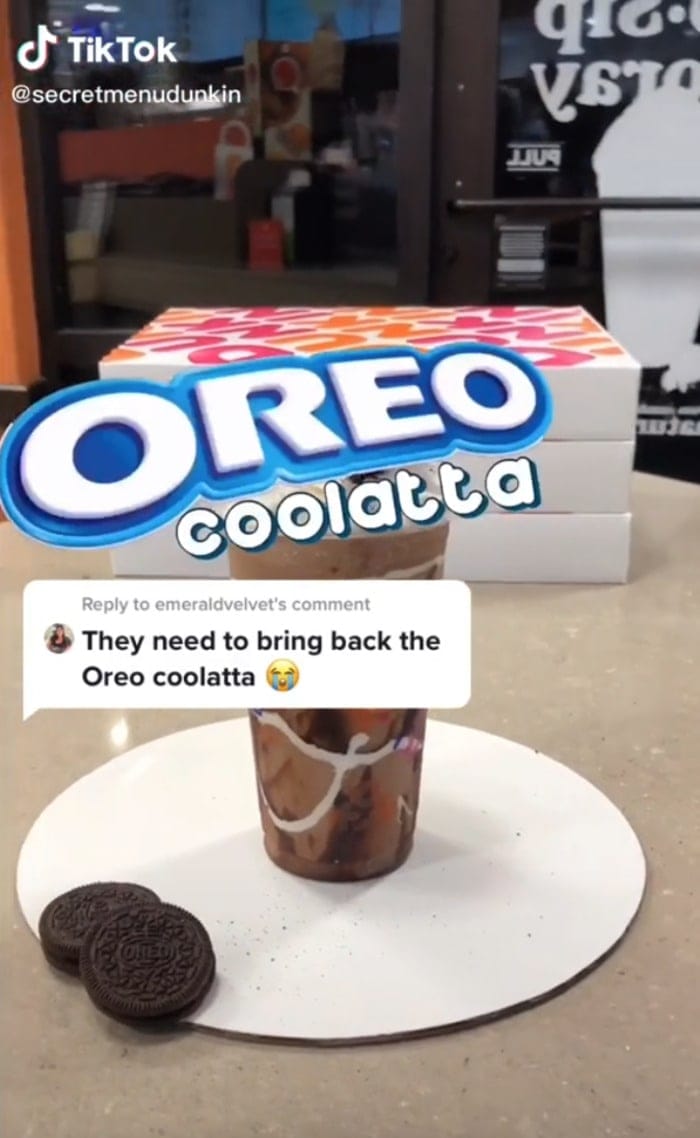 4. Slim Thick Strawberry Coolatta
Order a Vanilla Bean Coolatta
Add one pump strawberry syrup
Ask for whipped cream and strawberry drizzle on top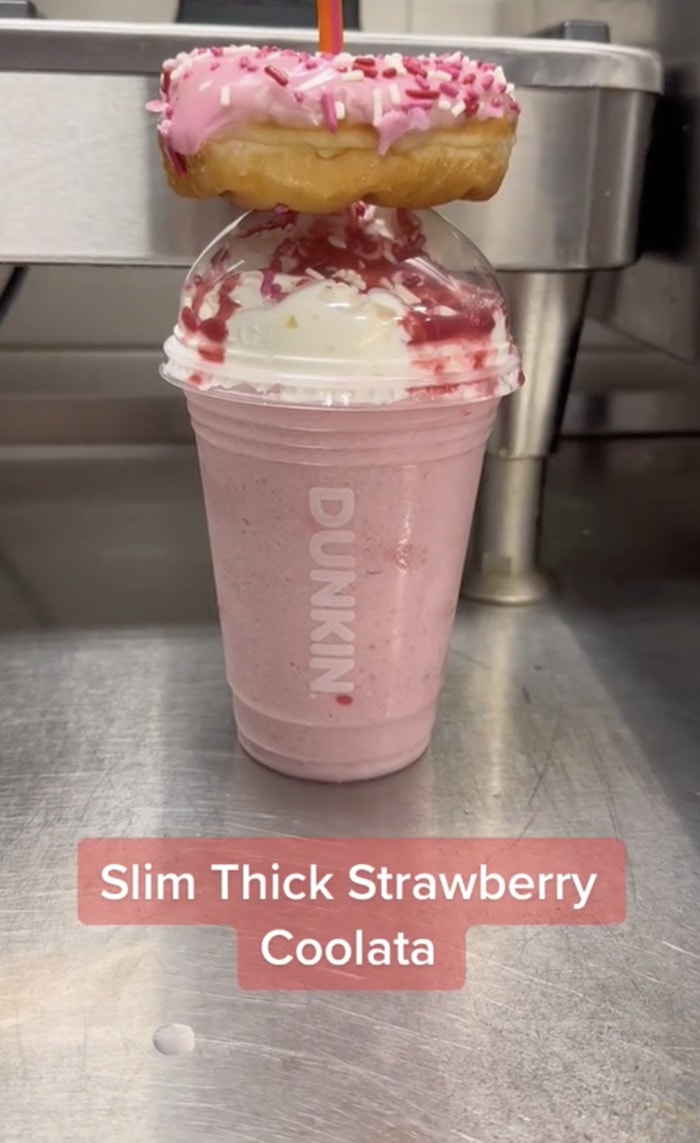 5. Raspberry Hot Chocolate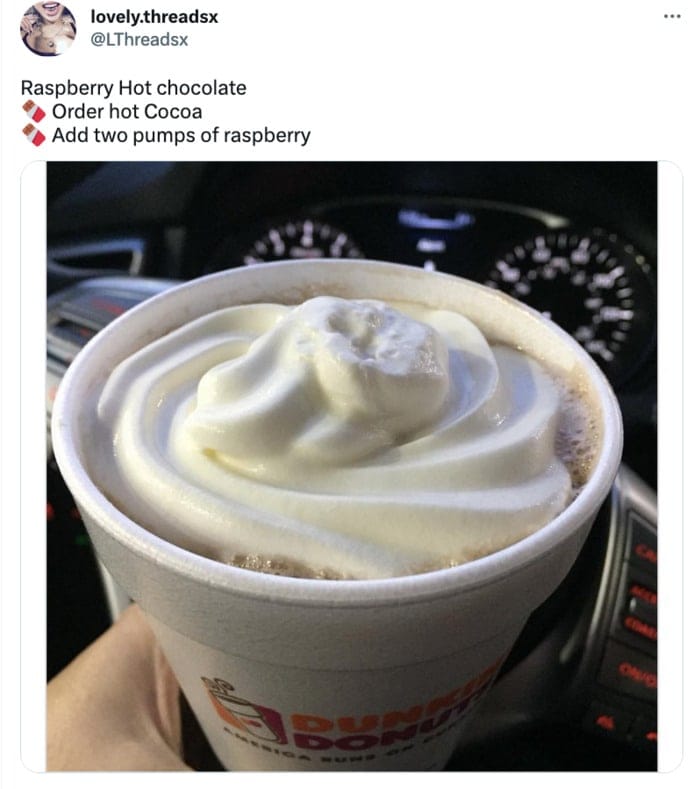 6. Cinnamon Toast Crunch Iced Coffee
7. Nutella Iced Coffee
Order an Iced Coffee
Add 1 pump of hazelnut swirl
Add 2 pumps mocha swirl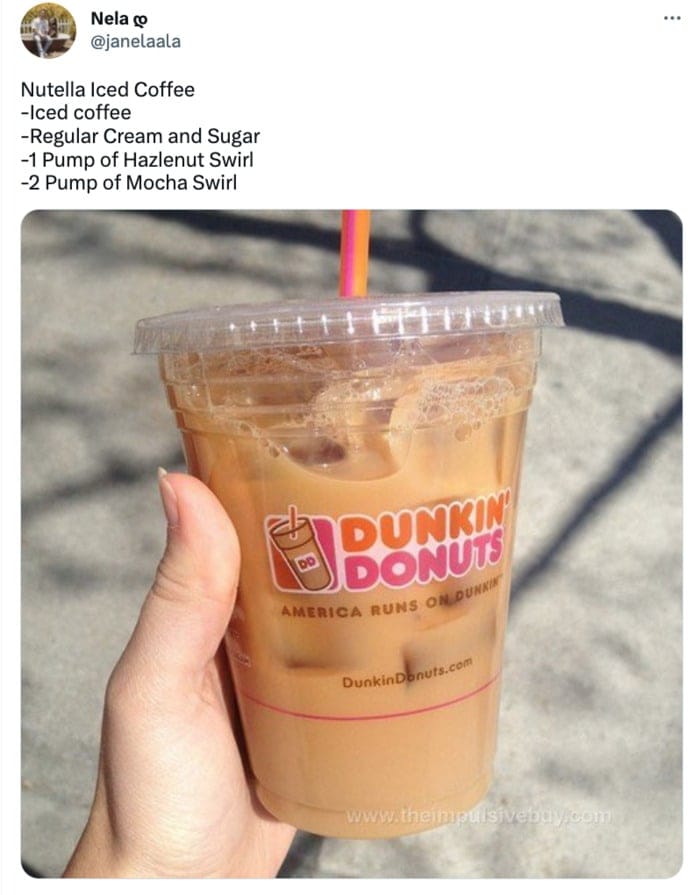 8. Chocolate Raspberry Cold Foam
Order a Chocolate Stout Cold Brew with Sweet Cold Foam
Add one sugar free raspberry shot
Top with hot cocoa powder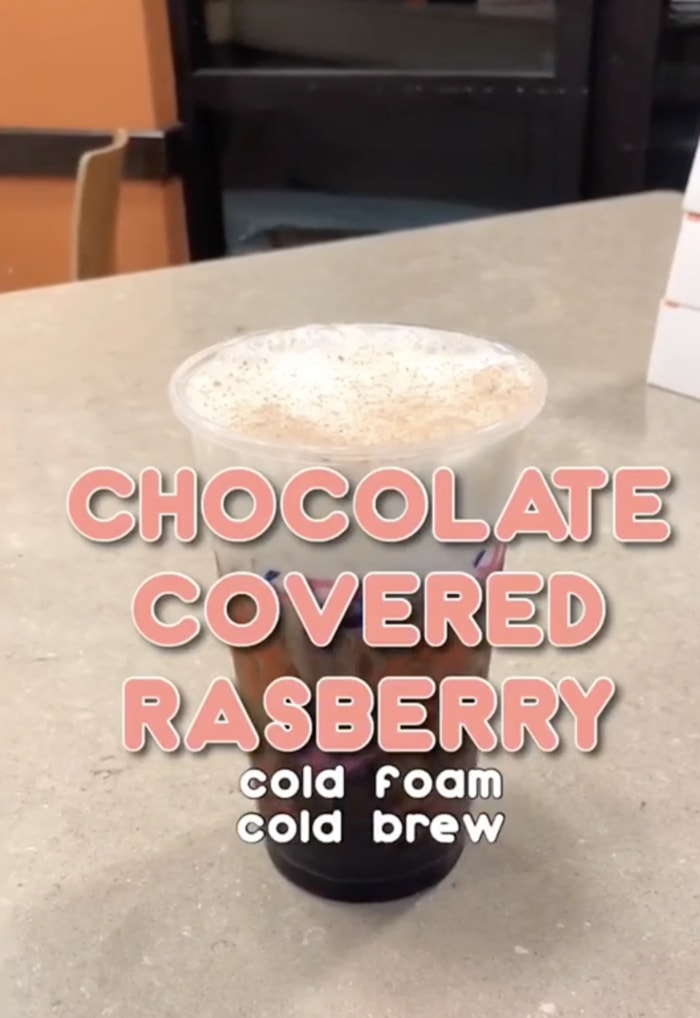 9. Frozen Cookie Dough Coffee
Order a medium Frozen Coffee
Add two pumps of caramel syrup
Add two pumps of mocha syrup
Add two pumps of french vanilla syrup
Ask for whipped cream on top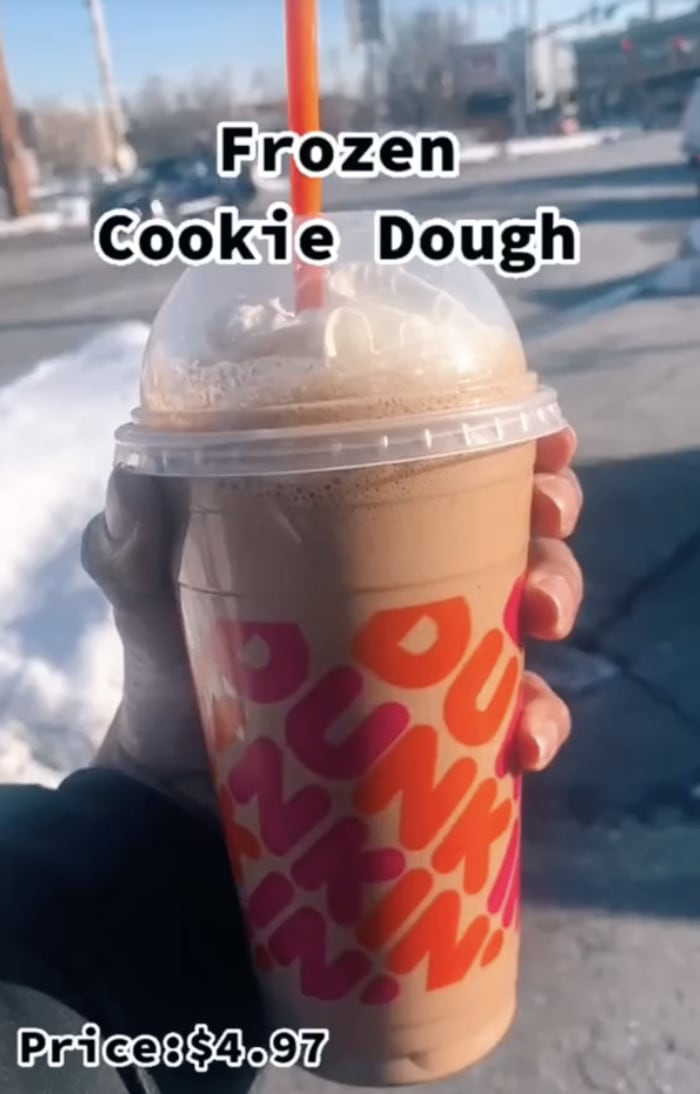 10. Chips Ahoy Iced Coffee
Order a Medium Iced Coffee
Add 3 pumps of cream
Add 2 pumps of liquid cane sugar
Add 2 pumps of chocolate stout syrup
Add 3 pumps of sugar-free vanilla
Add 1 pump of French vanilla syrup
Add 1 pump of caramel syrup
11. Cake Batter Iced Coffee
Order an Iced Coffee with cream and sugar
Add 1 and a half pumps of pink velvet syrup
Add 1 and a half pumps of French vanilla syrup
Add 1 and a half pumps of hazelnut syrup
Ask for whipped cream and sprinkles on top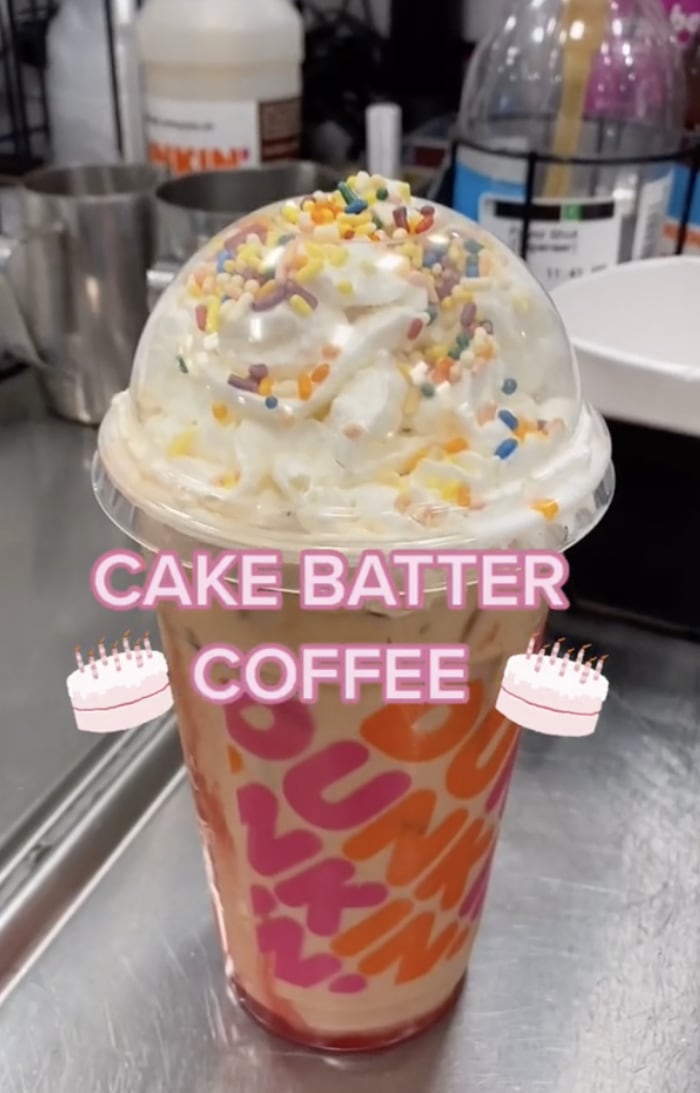 12. Peaches and Cream Coolatta
Order a Vanilla Bean Coolatta
Add 3 pumps of peach syrup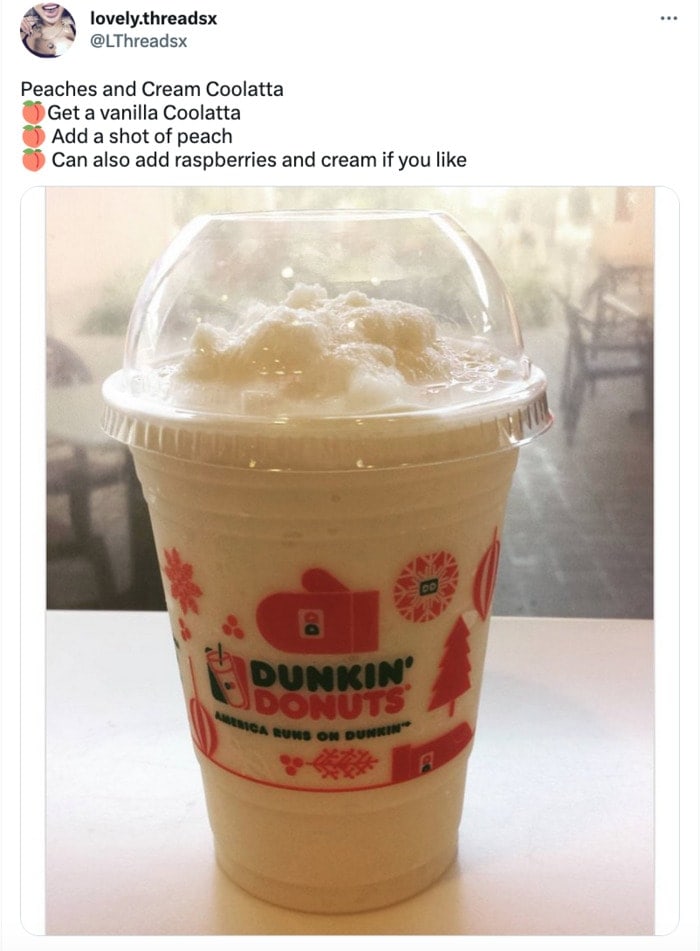 13. Snickers Iced Coffee
Order a medium Iced Coffee with cream
Add 2 pumps caramel syrup
Add 1 pump mocha syrup
Add 1 pump hazelnut syrup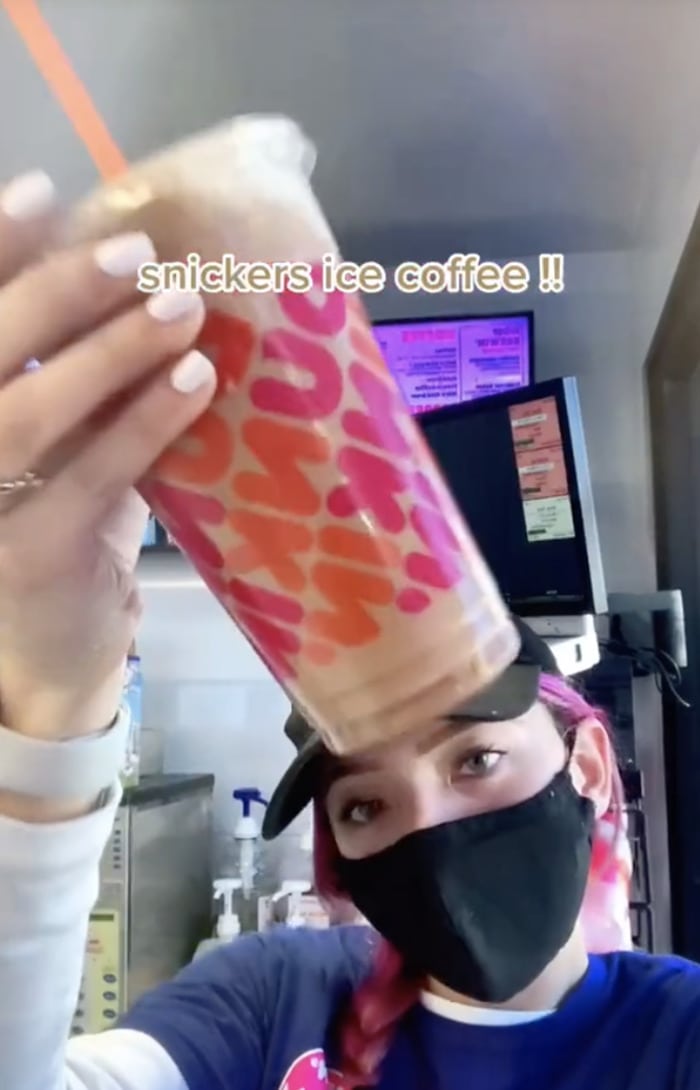 14. Milk Tea
Order an Iced Black Tea
Add 2 pumps of milk
Add 1 pump of liquid cane sugar
Add 2 pumps of caramel swirl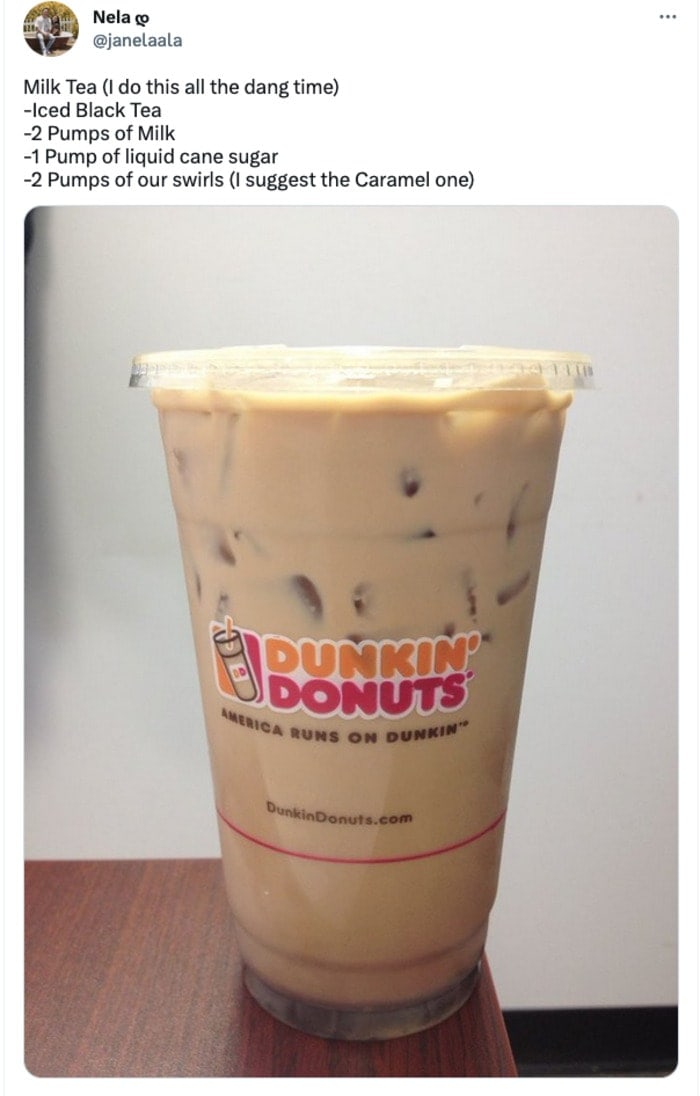 15. Nutty Pumpkin Iced Coffee
Order a medium Iced Coffee with cream
Add 2 pumps of pumpkin syrup
Add 3 pumps of hazelnut syrup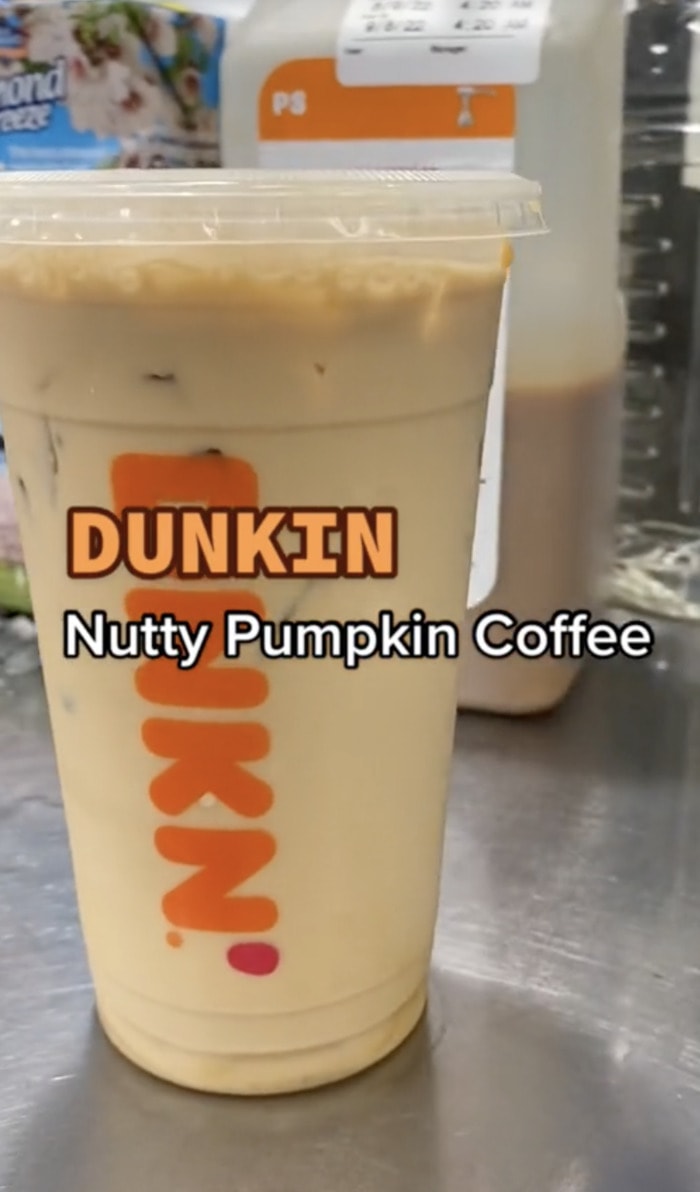 16. Captain Crunch Coolatta
Order a Strawberry Coolatta
Add blueberry and raspberry syrup
Add cream
17. Mango Pineapple Frozen Refresher
Ask for it blended with ice
Top with whipped cream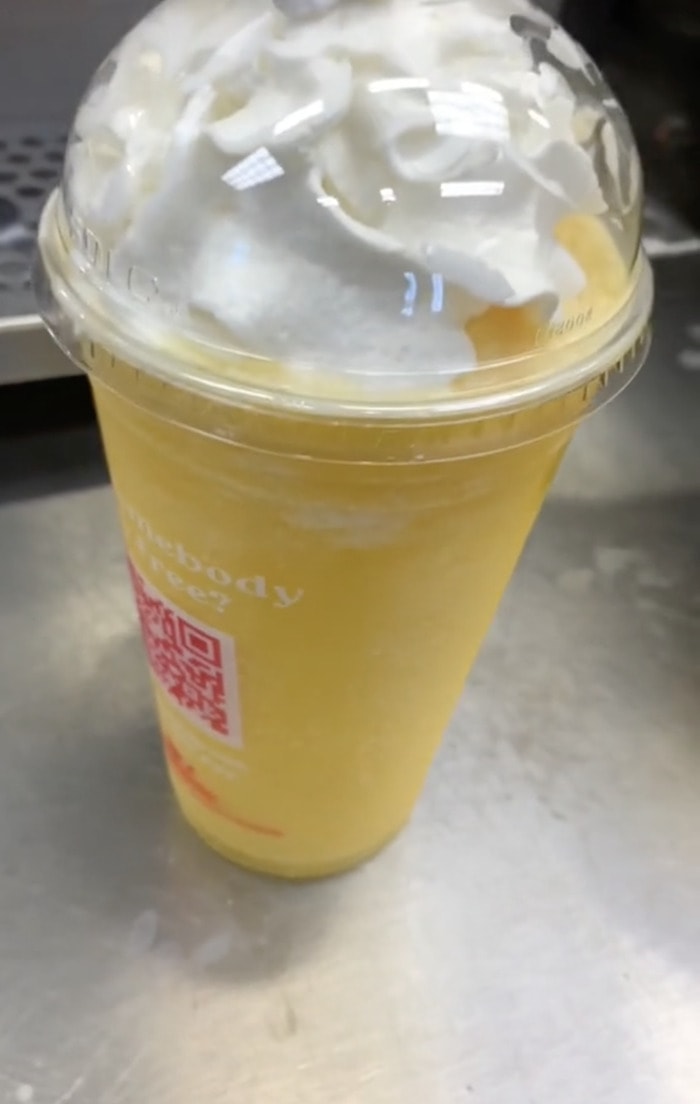 18. The Hulk Drink
Order a medium Mango Pineapple Refresher
Add 1 pump of blue raspberry syrup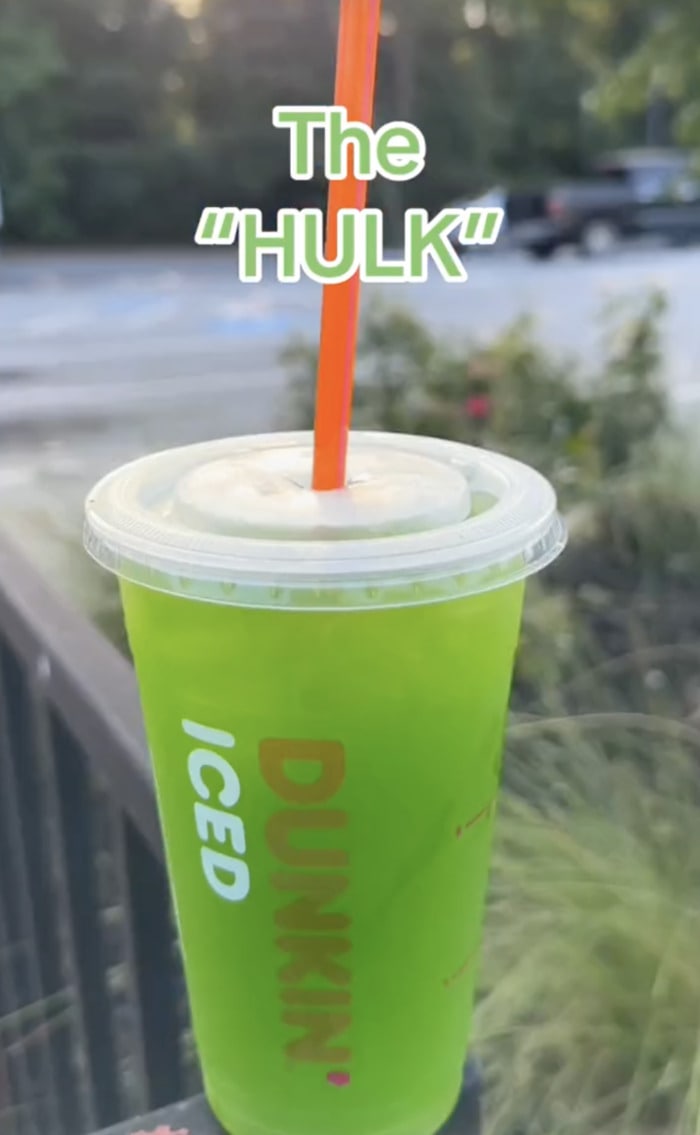 19. Frozen Chocolate Covered Strawberry Drink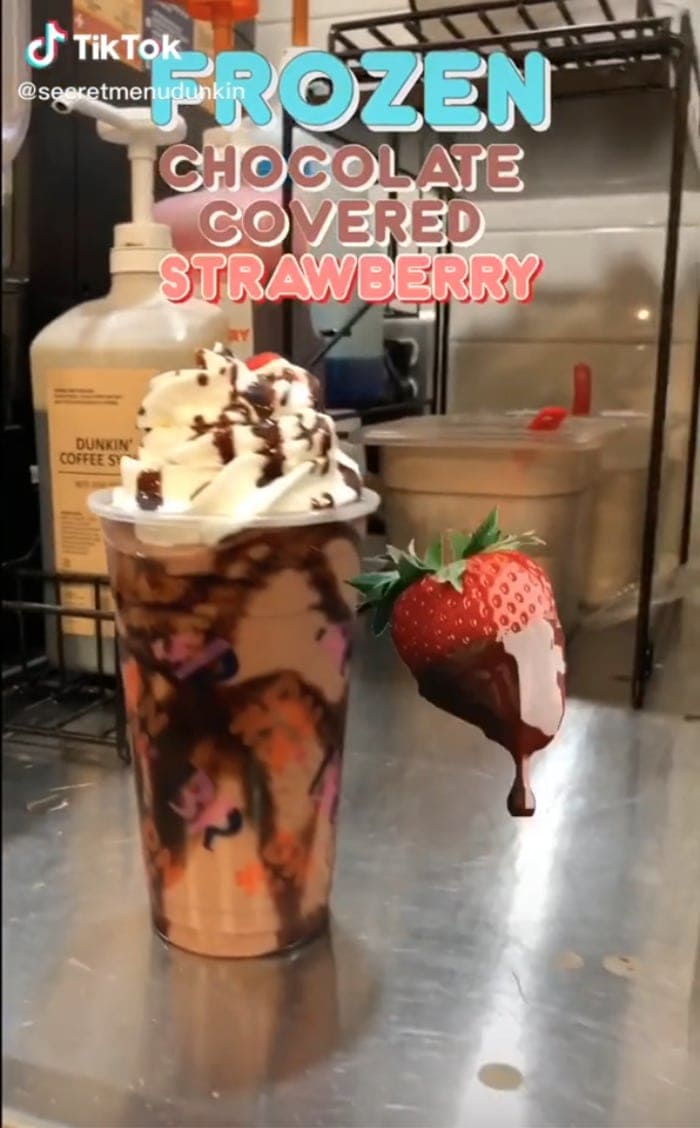 20. Sour Patch Kids Drink
Ask for 2 pumps of blue raspberry syrup
Then ask for them to fill the rest of the cup with Sprite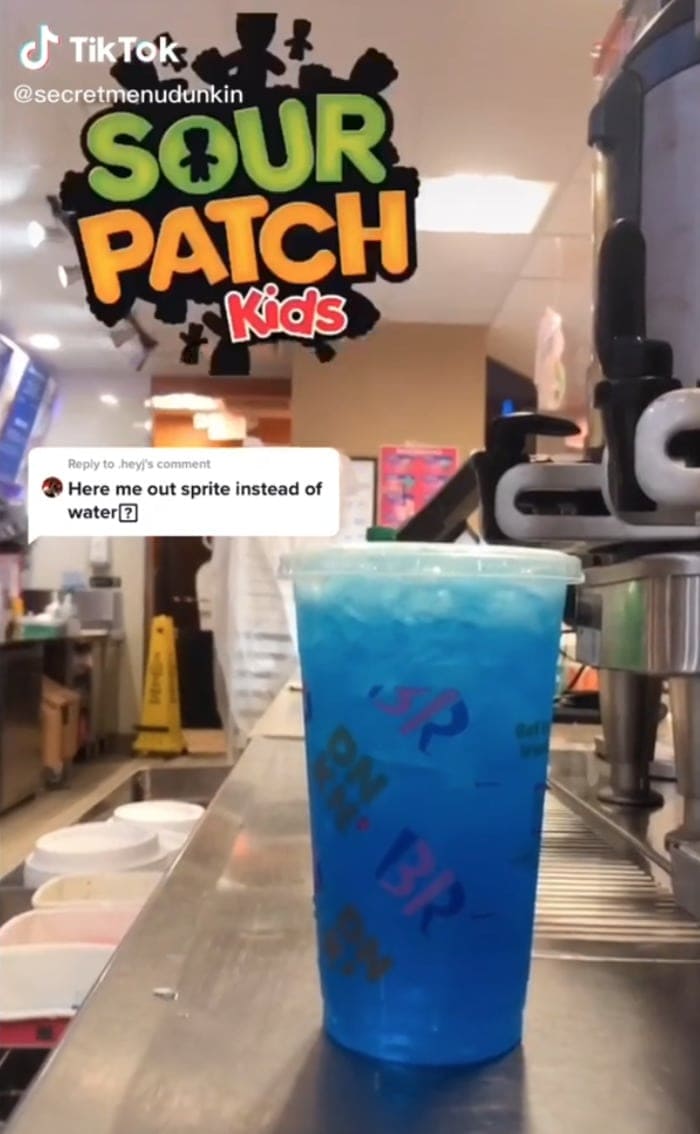 21. Caramel Kettle Corn
Order a medium iced coffee
Add 3 pumps of creams
Add 3 pumps of liquid sugar
Add 1 pump of hazelnut swirl
Add 2 pumps of caramel swirl
Add 3 pumps of sugar-free toasted almond swirl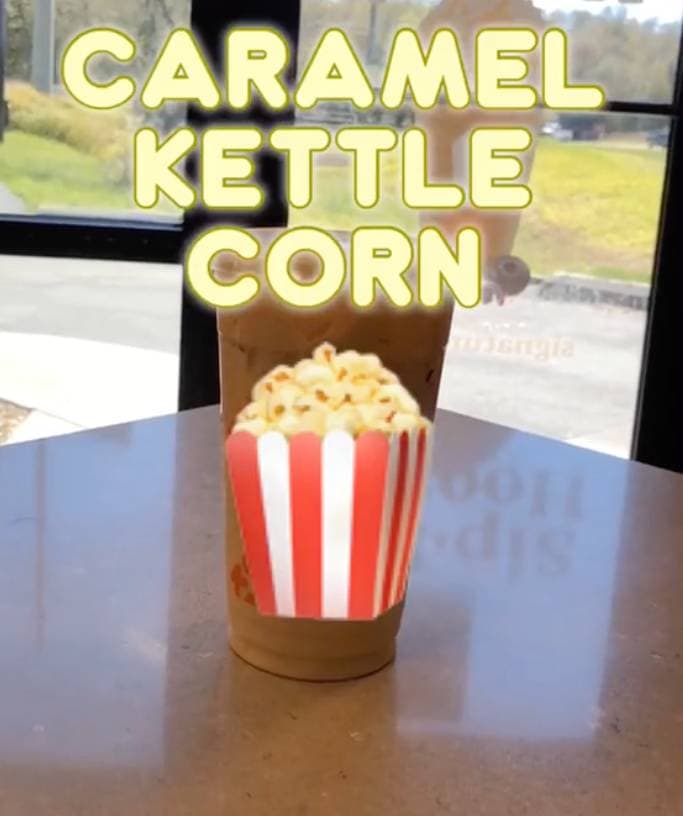 22. Girl Scouts Samoas Cookie Iced Coffee
Order a medium iced coffee with 3 creams and 3 sugars
Add 1 pump of mocha
Add 1 pump of caramel
Add 1 pump of toasted coconut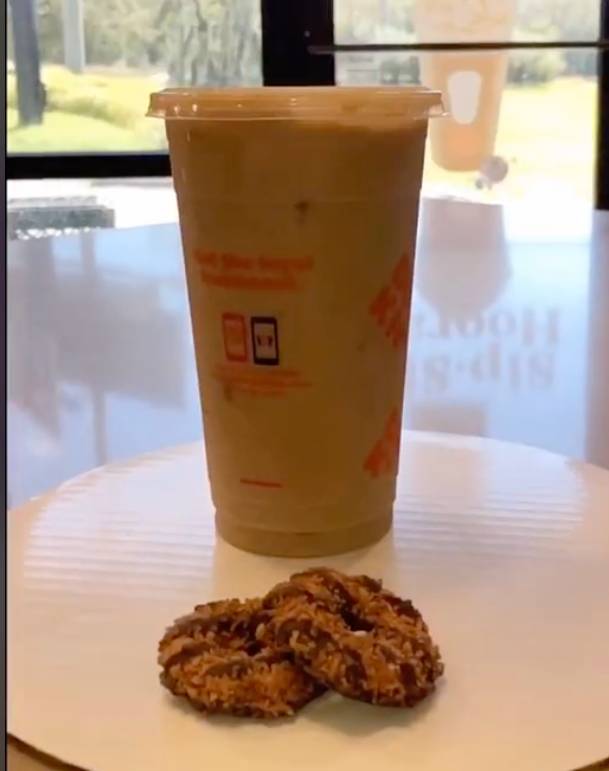 23. Strawberry Lemonade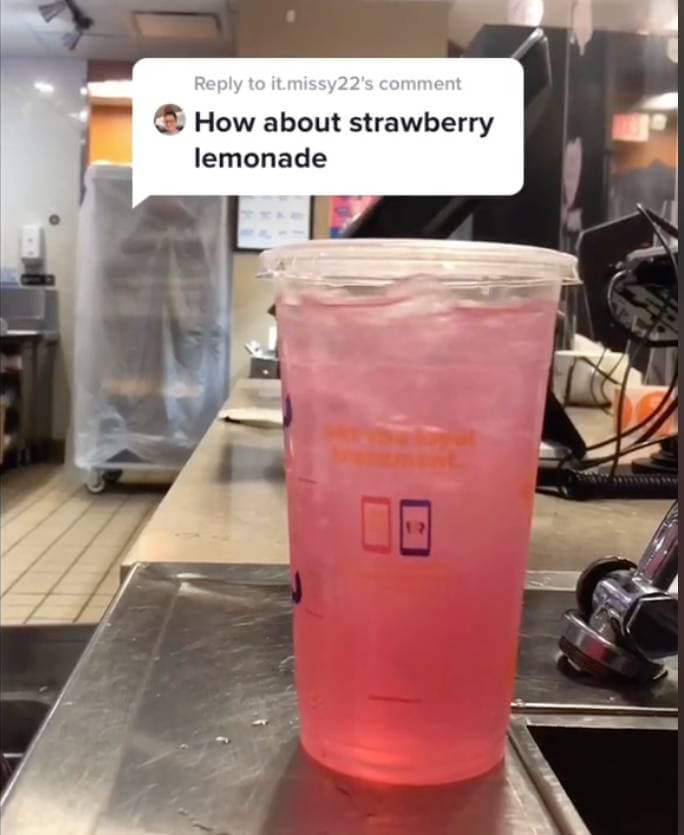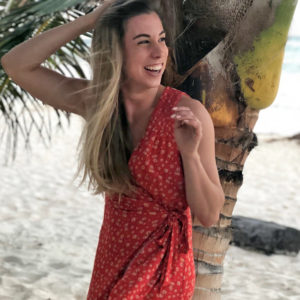 Latest posts by Hannah Rex
(see all)