The Starbucks Mocha is one of the coffee chain's most popular drinks. Considering that its two main ingredients are chocolate and coffee, we can't say we're surprised. We haven't been this excited since peanut butter and chocolate got together. And Bennifer round two.
The drink, officially known as a Caffè Mocha debuted in 1987, long before the now beloved Frappuccinos took over. If the Mocha is your Starbucks drink, here's a little about it, a look at what each kind of regular menu drink tastes like, and some secret menu mocha drinks you can order.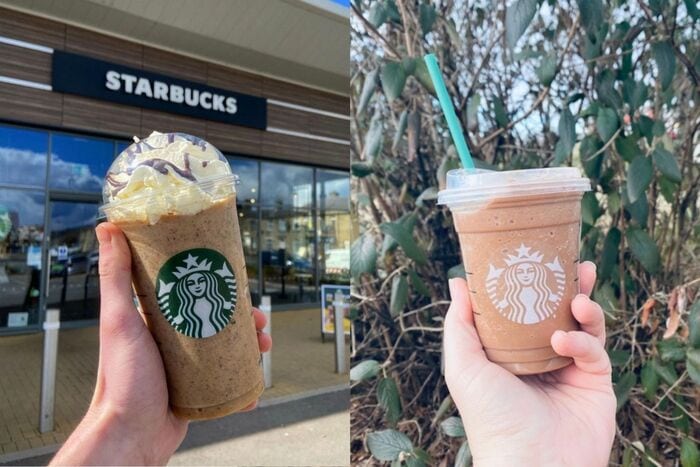 What Is the Starbucks Mocha?
The Caffè Mocha is a "rich, full-bodied espresso combined with bittersweet mocha sauce and steamed milk, then topped with sweetened whipped cream." This drink definitely vacations in Aspen.
It's available hot, iced, and as a Frappuccino. But, no matter what temperature you get it, all of them start with the same basic ingredients:
Espresso
Mocha syrup
Milk
Whipped cream
If you want to skip the dairy or make it vegan, replace the milk with a non-dairy option (almond, soy, oat, and coconut milk) and skip the whipped cream.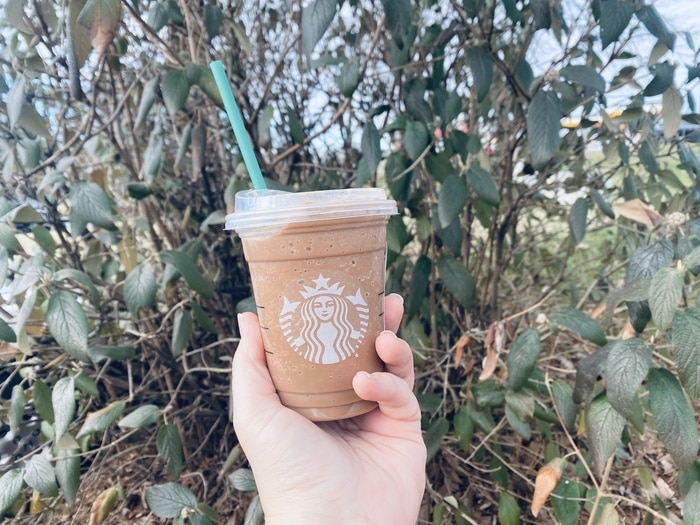 Official Starbucks Mocha Drinks
1. Caffè Mocha
Affectionately known as just a Mocha, this drink is a fusion of espresso, mocha sauce, and steamed milk. While chocolatey, it can be a little bittersweet for some, so you can always add a little vanilla syrup to it. And if that doesn't do it, try giving it some of your signature bedtime sweet talk.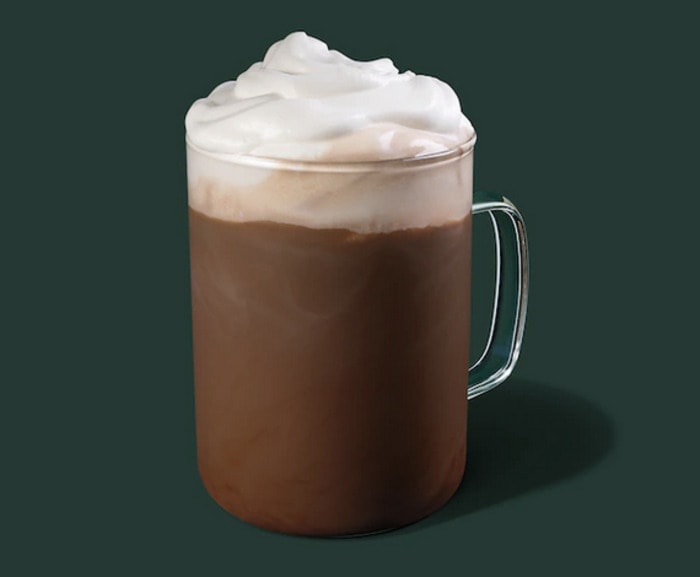 2. Iced Caffè Mocha
The Iced Caffè Mocha is is just the cold version of the standard one. So if you tend to forget about your coffee until it's cold, you can order this and be one step ahead for the first time in five years. The iced version also comes with whipped cream.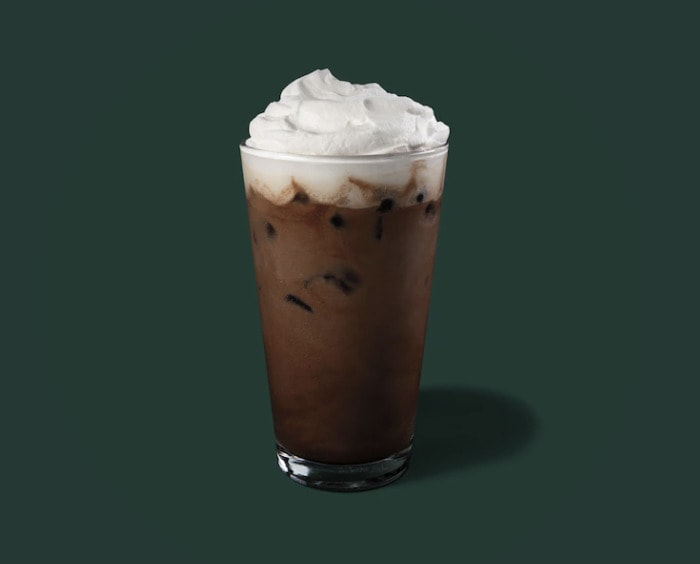 3. White Chocolate Mocha
The White Chocolate Mocha doesn't have the bitter, or even chocolate, flavor like the regular Mocha. It is made with a white mocha sauce instead. Many people agree that the white chocolate syrup tastes like sweetened condensed milk. The rest think it tastes like an Ariana Grande concert melted into a cup.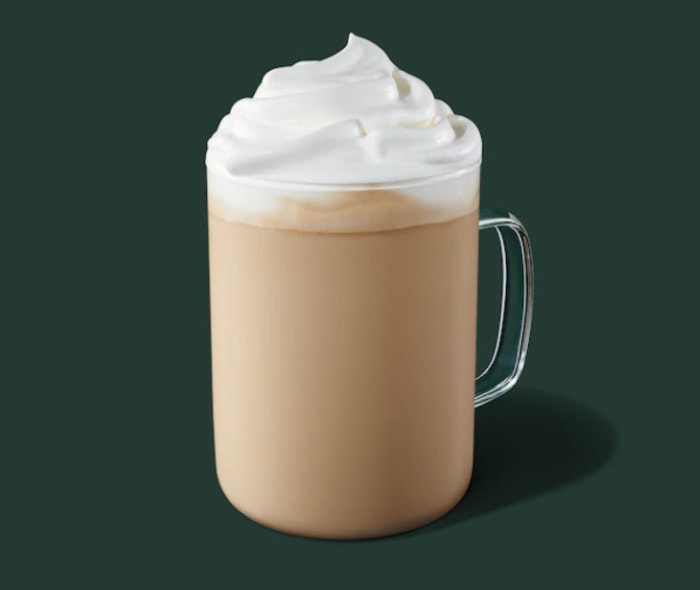 4. Starbucks Reserve Dark Chocolate Mocha
This specialty drink is for people who have coffee bucket lists. No, not a bucket filled with coffee grounds that you swear you going to compost one day. A bucket list of coffee you want to drink and places you want to drink it.
If you're visiting a reserve store, Starbucks has specially trained baristas who can make this drink with their single-origin beans. You can also get it iced. None of the reserve drinks automatically come with whipped cream so make sure to ask for it if you need that sweet sweet cream.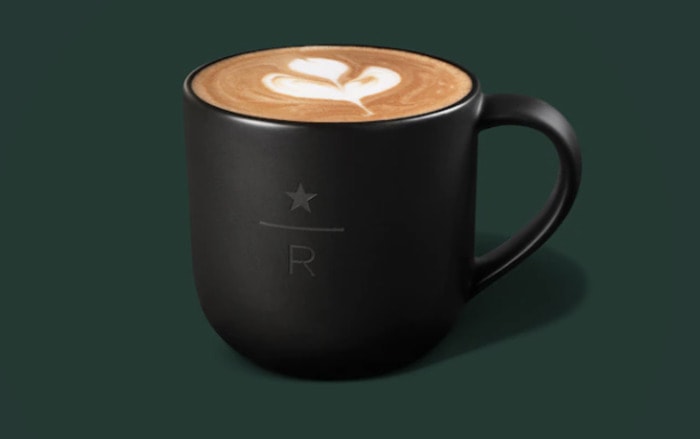 5. Mocha Frappuccino
The Mocha Frappuccino tastes like you slightly blended fudgesicles and added a straw. And our description is precisely why we pay someone else to make our coffee for us.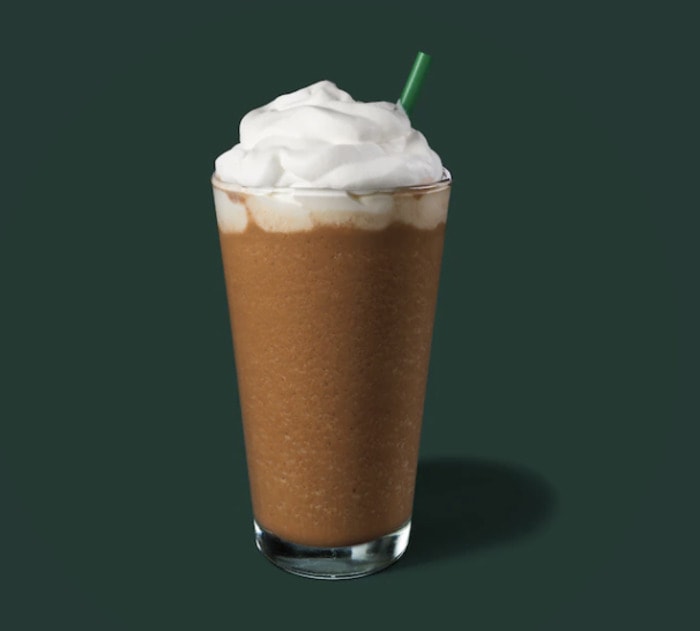 6. Mocha Cookie Crumble Frappuccino
This Frappuccino is like combining chocolate chips and coffee, but not quite as rich as a chocolate milkshake. But it has caffeine. Well, there goes that nap. We really need to stop giving our cats coffee.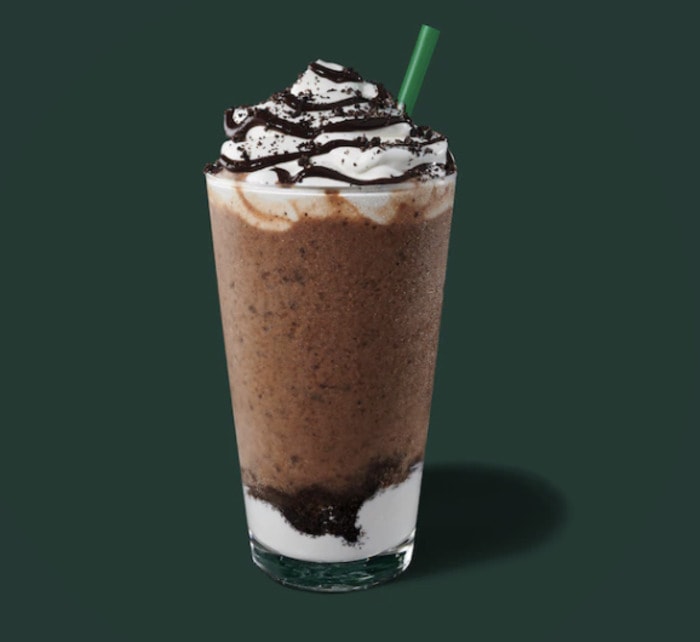 7. White Chocolate Mocha Frappuccino
The White Chocolate Mocha Frappuccino may not taste as memorable as the Mocha Cookie Crumble, but it's still creamy and sweet. What else do you want from a Frappuccino? World peace?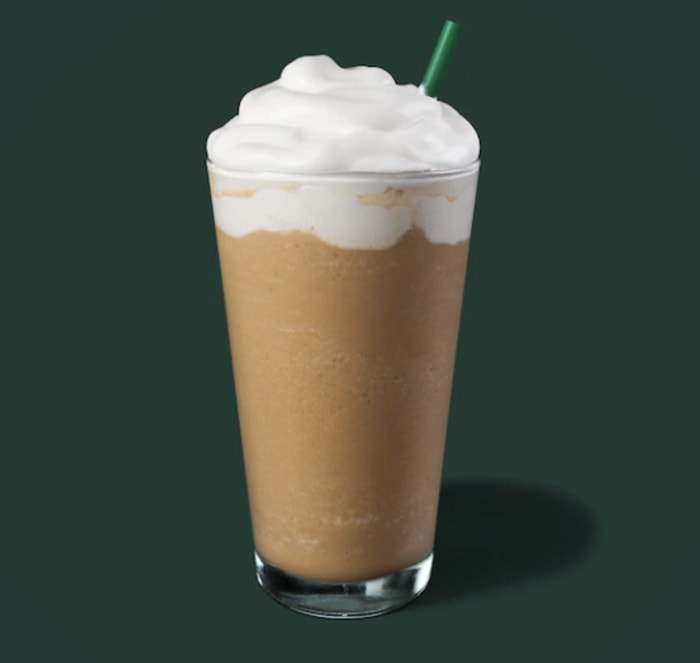 Seasonal Starbucks Mocha Drinks
1. Peppermint Mocha
Before there was the season of the PSL, there was the Peppermint Mocha. The Peppermint Mocha debuted in 2002 and you can think of it as a Thin Mint in liquid form. There we go with the blender again.
It quickly became the most loved holiday drink and for a long time you could still get it year-round by adding peppermint syrup to your Mocha. However, Starbucks *quietly* discontinued carrying peppermint syrup year-round. Who knew the Grinch started working in Food and Bev?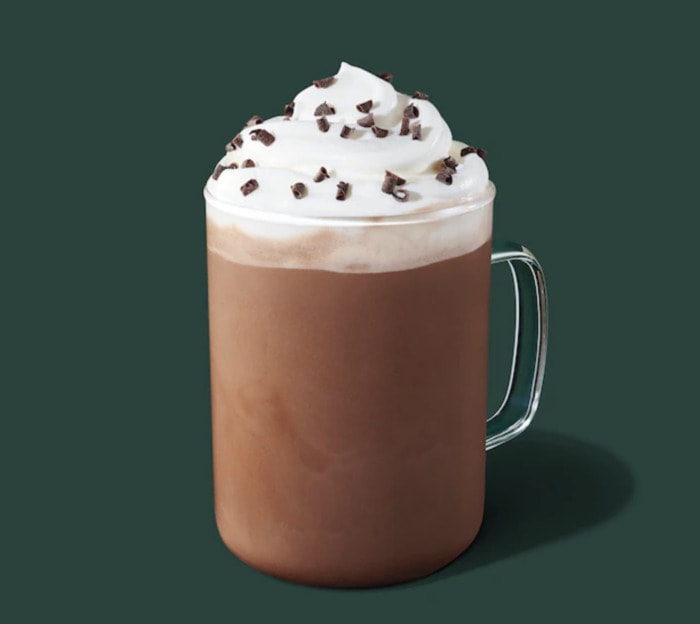 2. Peppermint White Chocolate Mocha
This holiday drink is a little bit less coffee-flavored and a little bit more sweet. It tastes kind of like a candy cane without the risk of breaking your teeth or getting your keyboard all sticky.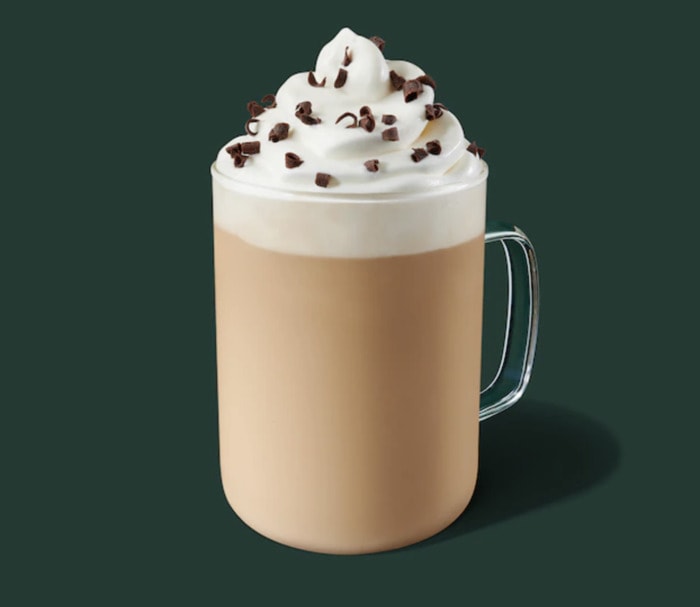 3. Toasted White Chocolate Mocha
The Toasted White Chocolate Mocha is made with espresso, steamed milk, "and flavors of" caramelized white chocolate. It's then topped with whipped cream, holiday sugar sparkles, and crispy white pearls.
If you don't actually enjoy the flavor of coffee but want the boost, this is a good option for you as the syrup pretty much masks any coffee flavor. In fact it tastes closer to a toasted marshmallow. Even more so if you stick it in the fireplace first.

4. Peppermint Mocha Crème Frappuccino
Fair warning – anything 'crème' based does not have espresso in it. So it gives you all of the holiday flavor without any chance of the caffeine kick. Making it perfect for people who "only drink decaf after 2pm."
5. Peppermint White Chocolate Mocha Frappuccino
The difference in flavor between this and the non-Frappuccino version is it's cold. How about that. Science! Bill Nye would be so proud of us.
6. Toasted White Chocolate Mocha Frappuccino
This tastes like a toasted marshmallow placed in the freezer. Until you've had five of them and we have to come pry your caffeine and sugar-addled self off the ceiling. Actually, could you get that dust bunny up there first?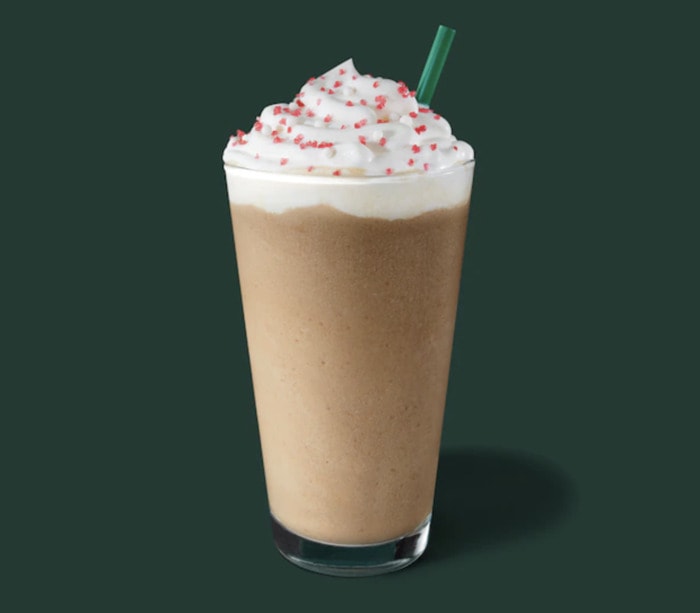 How to Customize Your Starbucks Mocha
Add an extra shot of espresso. You can do this to any size drink. Here is the amount of espresso that automatically comes in a Starbucks Mocha.

Short (8oz): 1 shot (only available for hot mochas)
Tall (12 oz): 1 shot
Grande (16 oz): 2 shots
Venti Hot Mocha (20 oz): 2 shots
Venti Iced Mocha (24 oz): 3 shots

Make it skinny. At Starbucks, skinny means no sugar, non-fat milk, and no whipped cream. We're not saying it's no fun, but it probably wouldn't get invited to that ski trip in Aspen.
Make it decaf. Not all stores have decaf espresso, so this won't be an option everywhere. If you want a completely caffeine-free mocha, make sure to order it with white chocolate mocha syrup instead, as chocolate naturally contains caffeine. We're pretty sure Bill Nye also snuck that tidbit into a video we watched in fourth grade.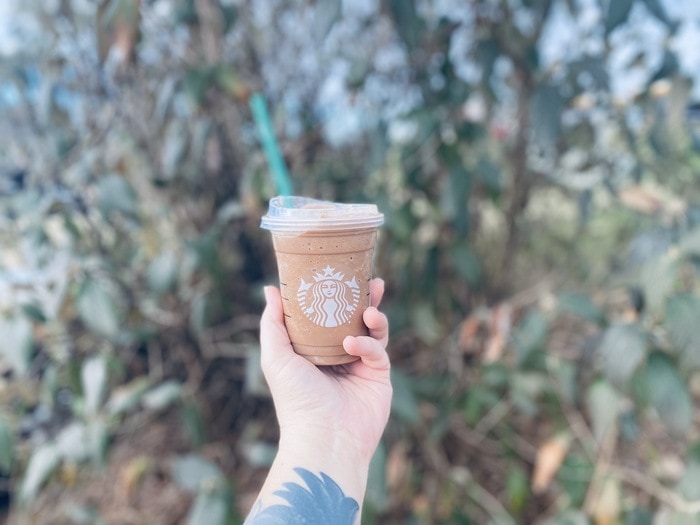 5 Starbucks Mocha Secret Menu Drinks
1. Strawberry Shortcake Frappuccino
Order a grande White Chocolate Mocha Frappuccino with one pump of toffee nut syrup.
Ask for strawberry puree in the bottom of the cup.
Top with whipped cream and caramel crunch topping.
2. Red Velvet Frappuccino
Order a Mocha Frappuccino with half regular mocha and half white mocha.
Add cinnamon dolce syrup.
Add raspberry syrup.
3. Kinder Bueno Frappuccino
Order a White Chocolate Mocha Frappuccino.
Ask to be made with nut milk.
Add hazelnut syrup.
Add chocolate chips.
Top with whipped cream and mocha drizzle.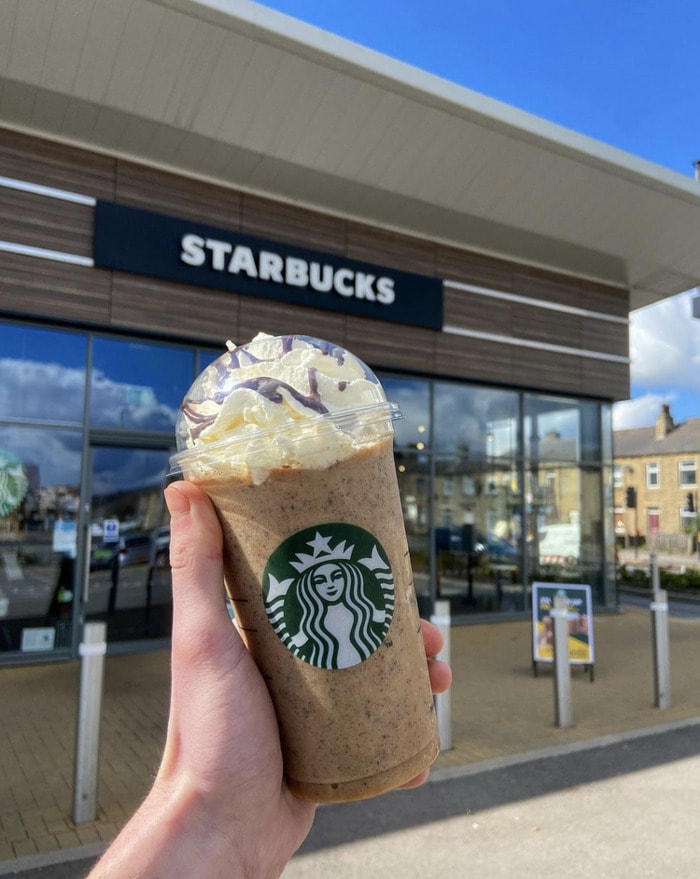 4. Cinnamon Bun Frappuccino
Order a White Chocolate Mocha Frappuccino.
Add cinnamon dolce syrup.
Top with whipped cream, extra caramel drizzle, and cinnamon dolce sprinkles.
5. Frozen Hot Chocolate
Order a Grande Mocha Frappuccino.
Add white mocha syrup.
Add cinnamon.
Ask to be blended with heavy cream (or whipped cream).
Top with whipped cream and chocolate drizzle.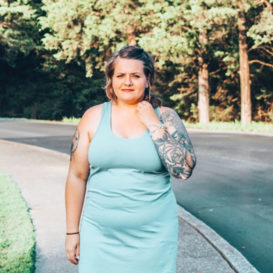 Latest posts by Ashley Hubbard
(see all)