The Starbucks White Chocolate Mocha is one of the coffee chain's most popular drinks. The drink, also known as just the White Mocha, is a sweeter variation of the regular Mocha. Kind of how Tom Holland is the sweeter variation of Spider-Man.
If the White Mocha is your go-to Starbucks order, here's a little about it, a look at each of its variations on the regular menu, and some secret menu white mocha drinks you can order.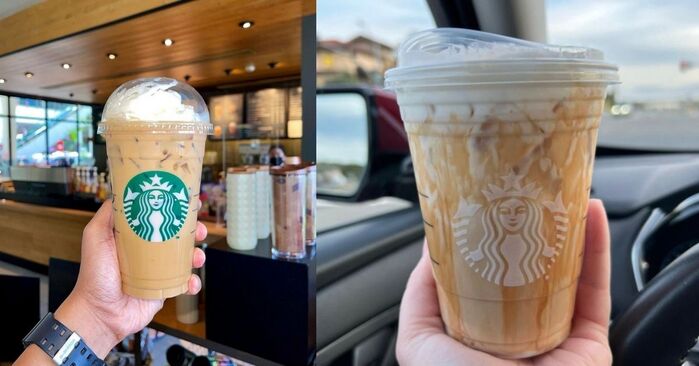 What Is the Starbucks White Mocha?
According to the Starbucks website, the White Chocolate Mocha is their "signature espresso [with] white chocolate sauce and steamed milk, and then finished off with sweetened whipped cream to create this supreme white chocolate delight."
If you have a sweet tooth, you've probably already tried this drink. And if you have an overactive toddler, you've kept it very, very far away from them.
The White Chocolate Mocha actually comes in a hot, cold (iced), and Frappuccino version. They all start with the same basic ingredients:
Espresso
White chocolate mocha sauce
Milk
Whipped cream
Official Starbucks White Mocha Options
1. White Chocolate Mocha
Unlike the regular Mocha, this drink itself doesn't really have a chocolate flavor to it. It's made with a white chocolate mocha sauce, which many people agree tastes like sweetened condensed milk.
That is, if that can of sweetened condensed milk went to arts school and cultivated a personal style that combines lace detailing and chain mail. Complex, a little weird, but still sweet!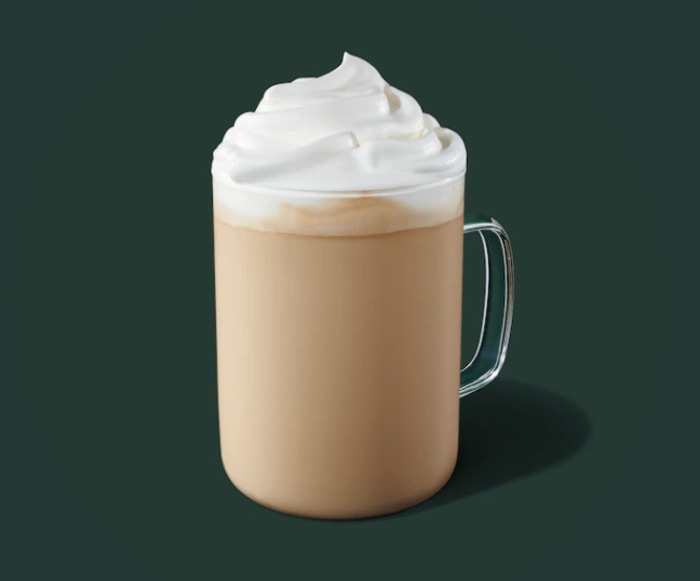 2. Iced White Chocolate Mocha
Same as the original, but made over ice. Sometimes names can be misleading (looking at you, jumbo shrimp). But in this case, what you see is what you get. Try it with blonde espresso for a slightly smoother coffee taste. But when you start seeing stars, it means you've gotten a few too many.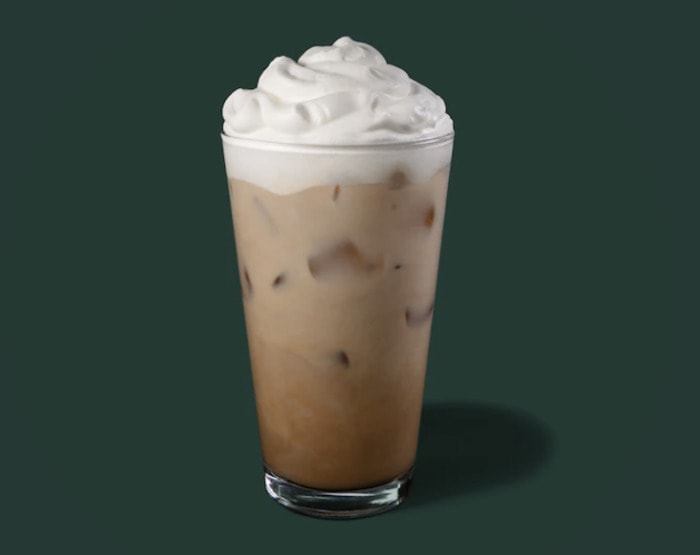 3. White Chocolate Mocha Frappuccino
The White Chocolate Mocha Frappuccino takes the iced version and throws it into a blender. While we never advocate for violence, this tactic works pretty darn well. Will Smith agrees.
It's sweet, cold, and topped with whipped cream. What more could you need on a hot summer morning? Ok, yes, and your neighbors to stop with the weed wacker.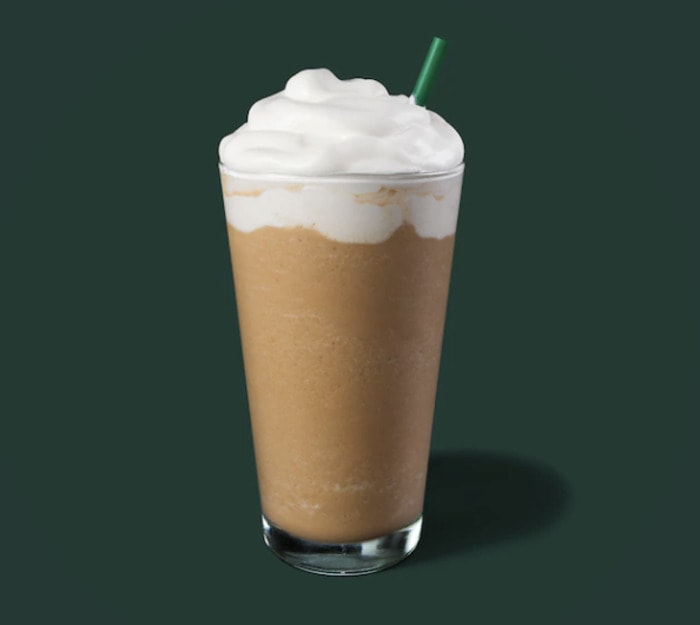 4. White Chocolate Crème Frappuccino
This crème frappuccino is the caffeine-free version of the White Chocolate Mocha Frappuccino from above. But don't worry – there's enough sugar in it to have you jumping off the walls for at least an hour. Please take off your dirty shoes, first.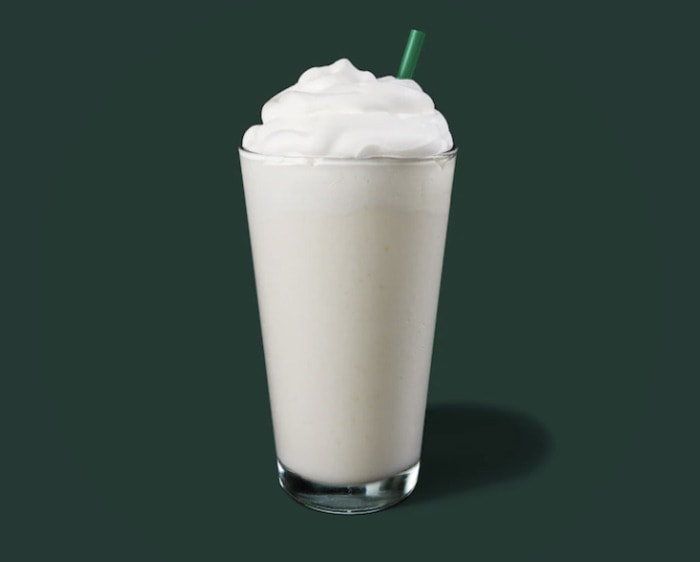 Seasonal Only Mocha Drinks
1. Peppermint White Chocolate Mocha
This holiday coffee drink is somehow even sweeter than the original white mocha drink, as it adds in the perfect level of peppermint.
It's just as tasty as peppermint bark candy, but you can drink it! And you don't have to worry about sharing it with everyone at the cookie exchange.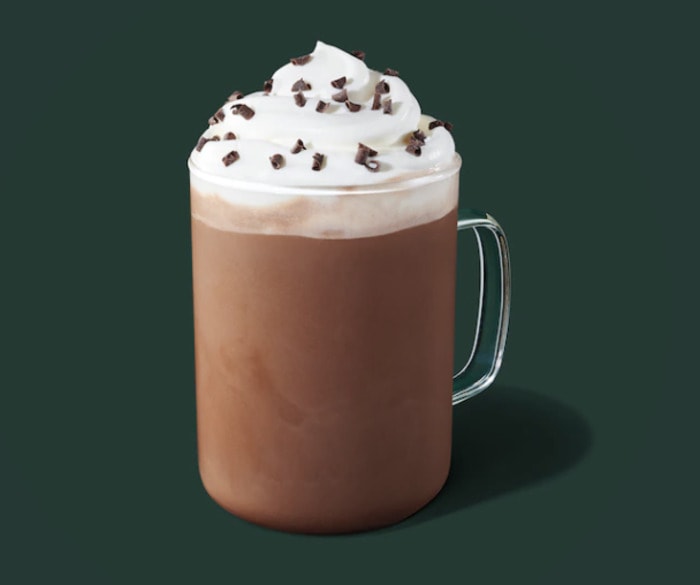 2. Toasted White Chocolate Mocha
The Toasted White Chocolate Mocha is made with espresso, steamed milk, "and flavors of" caramelized white chocolate. While it may not sound like the most organic ingredient, actual toasted marshmallows really aren't much better.
The drink is topped with whipped cream, holiday sugar sparkles and crispy white pearls. Even the Grinch is getting thirsty thinking about it.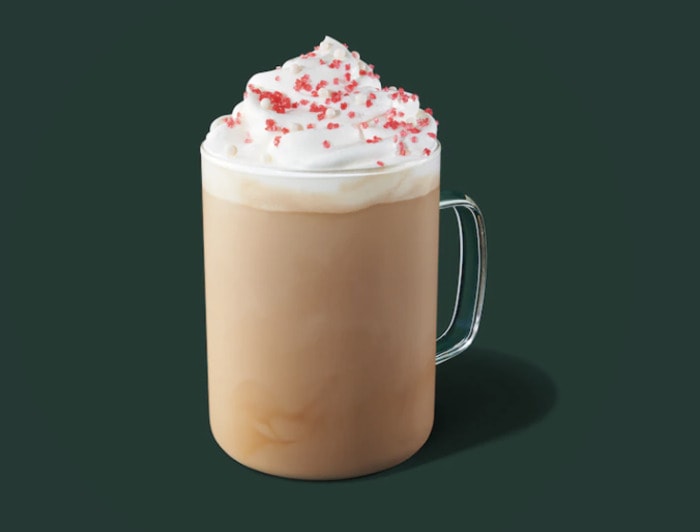 3. Peppermint White Chocolate Mocha Frappuccino
The difference in flavor between this drink and the non-Frappuccino version is that this one is going to melt a little bit faster as you sit by the fire. Hey, you were the one who insisted on drinking cold coffee during the winter.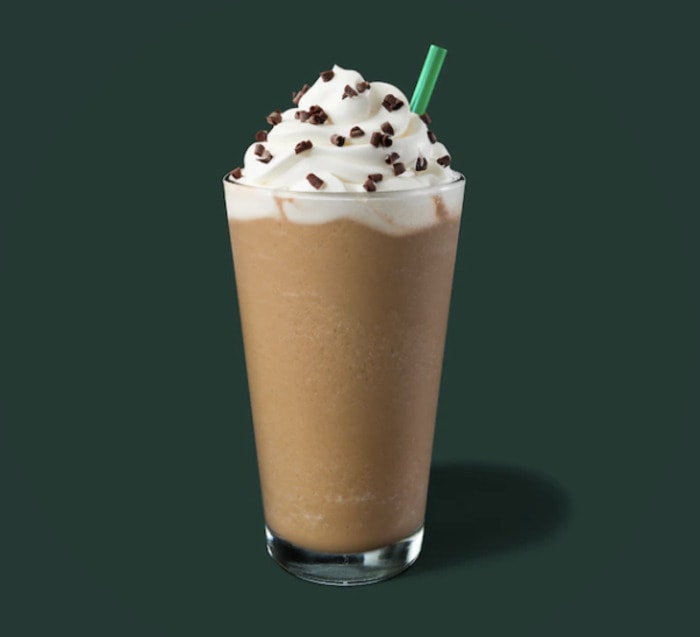 4. Toasted White Chocolate Mocha Frappuccino
If drinking your toasted marshmallow isn't enough for you, try freezing it, and then drinking it? Thankfully, no snow is involved in the making of this. Starbucks put a stop to that after the yellow snow incident of '04.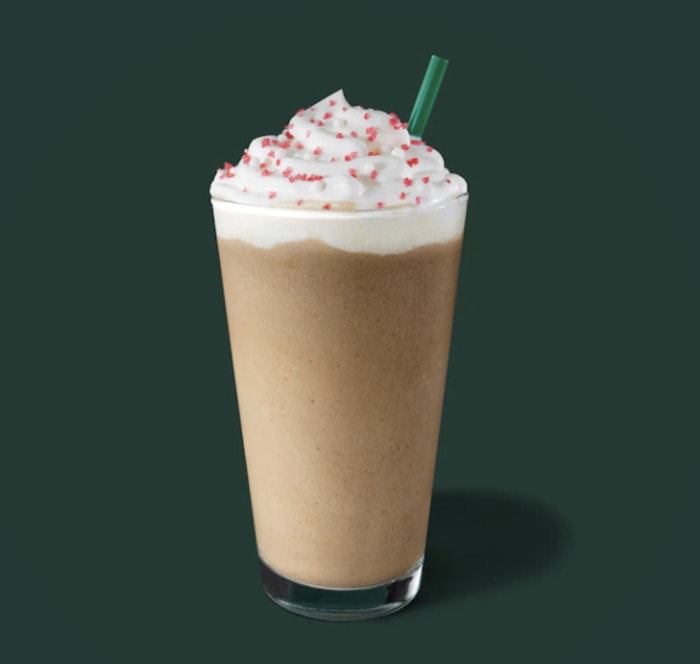 Starbucks White Chocolate Mocha Customization Ideas
There are a ton of ways to customize the White Chocolate Mochas. Here are a few ideas:
Add an extra shot of espresso. You can do this to any size drink. Here is the amount of espresso that automatically comes in a Starbucks White Mocha.

Short (8oz): 1 shot (only available for hot drinks)
Tall (12 oz): 1 shot
Grande (16 oz): 2 shots
Venti Hot Mocha (20 oz): 2 shots
Venti Iced Mocha (24 oz): 3 shots

Make it skinny. At Starbucks, skinny means no sugar, non-fat milk, and no whipped cream. And no fun. What? Did we say that out loud?
Make it decaf. Not all stores have decaf espresso so this won't be an option everywhere. But the white chocolate syrup doesn't contain any caffeine, so if you can get a decaf shot, then you'll be caffeine-free! Which we haven't experienced since our freshman year of college.

Can I Get a Vegan White Chocolate Mocha?

The white mocha can never be made vegan because the white chocolate sauce is not vegan. But, if you use non-dairy milk, their regular mocha can be vegan.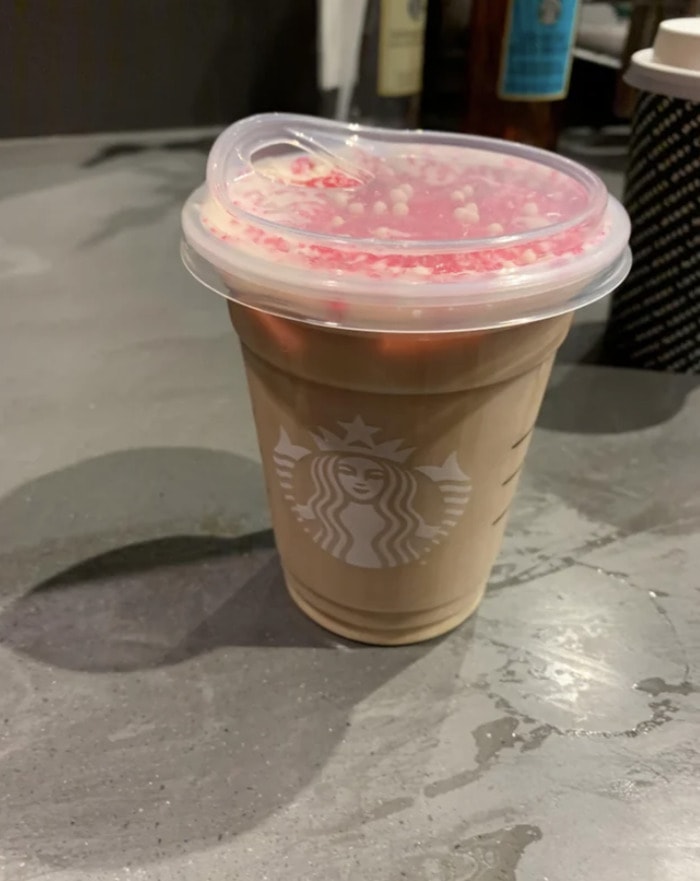 Some Starbucks White Chocolate Mocha Secret Menu Drinks
1. TikTok Iced White Mocha
Order a grande Iced White Chocolate Mocha
Ask for it with vanilla sweet cream cold foam
Ask for caramel drizzle on the sides of the cup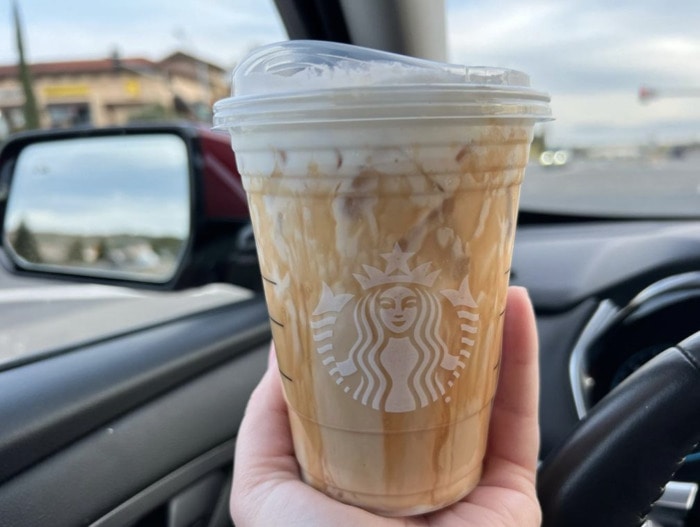 2. Cinnamon Toast Crunch Frappuccino
Order a White Chocolate Mocha Frappuccino
Add 1 pump of cinnamon dolce syrup
Add 1 pump of hazelnut syrup
Top with cinnamon dolce powder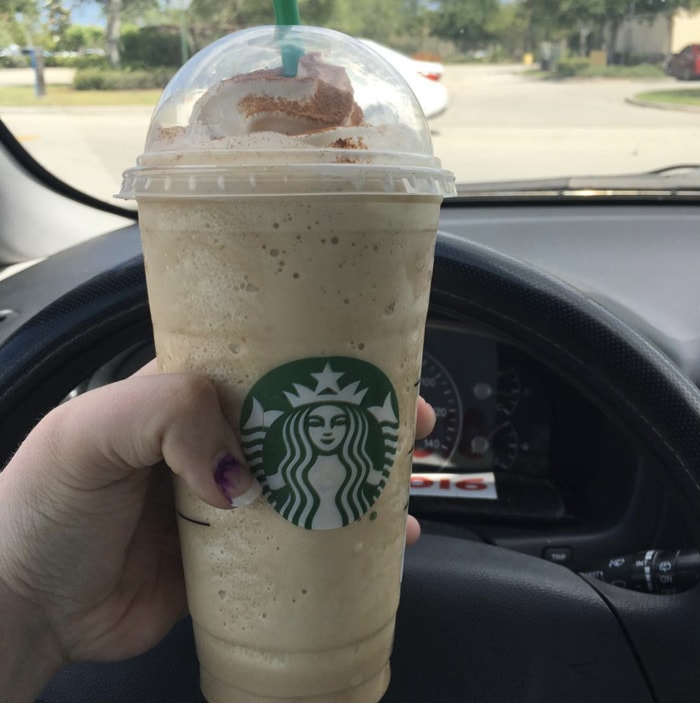 3. Cookies and Crème Cold Brew
Order a grande Vanilla Sweet Cream Cold Brew
Ask for 1 pump of vanilla instead of 2
Add 3 pumps of white mocha sauce
Top with cold foam with 2 pumps of mocha blended in
4. Salted Caramel White Mocha Cold Brew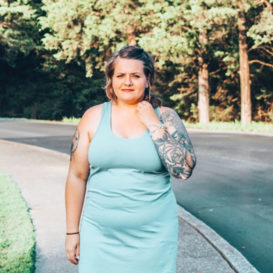 Latest posts by Ashley Hubbard
(see all)