When you hear Mariah Carey echoing through the air, it can only mean one thing: the winter holiday season is here! There's no better way to ring in the festivities than by sipping on a Starbucks holiday drink out of their classic red cups or seasonal tumblers. This year, they released a batch of new drinks, including the Sugar Cookie Frappuccino.
We know what you're thinking – a frappuccino in the middle of winter? To that we say: It's technically not winter yet, and living in California is really confusing. Mostly because of the parking signs.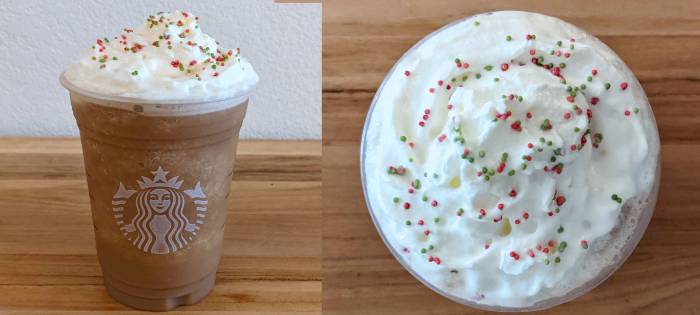 Now, if a cold drink doesn't tickle your fancy, you do have the option of getting the standard hot Sugar Cookie Latte. If you really want to get creative, you could get the Chocolate Cookie Latte, and add mocha to your base drink.
And if you don't want to sleep for the next 48 hours, get all three! Being an adult is fun.
What Is the Sugar Cookie Frappuccino?
This Starbucks holiday drink starts with a base of plant-based almond milk, layers of coffee syrup and the brand new Sugar Cookie Syrup, and is topped of with whipped cream and green and red sprinkles. We think it's also serenaded by Buddy the Elf, but we haven't been able to confirm that with corporate.
The exact drink is listed on the menu, so you don't have to go into the dark depths of the secret menu to find it. And for anyone with better time management skills than us, you can order it right off the mobile app for pick up.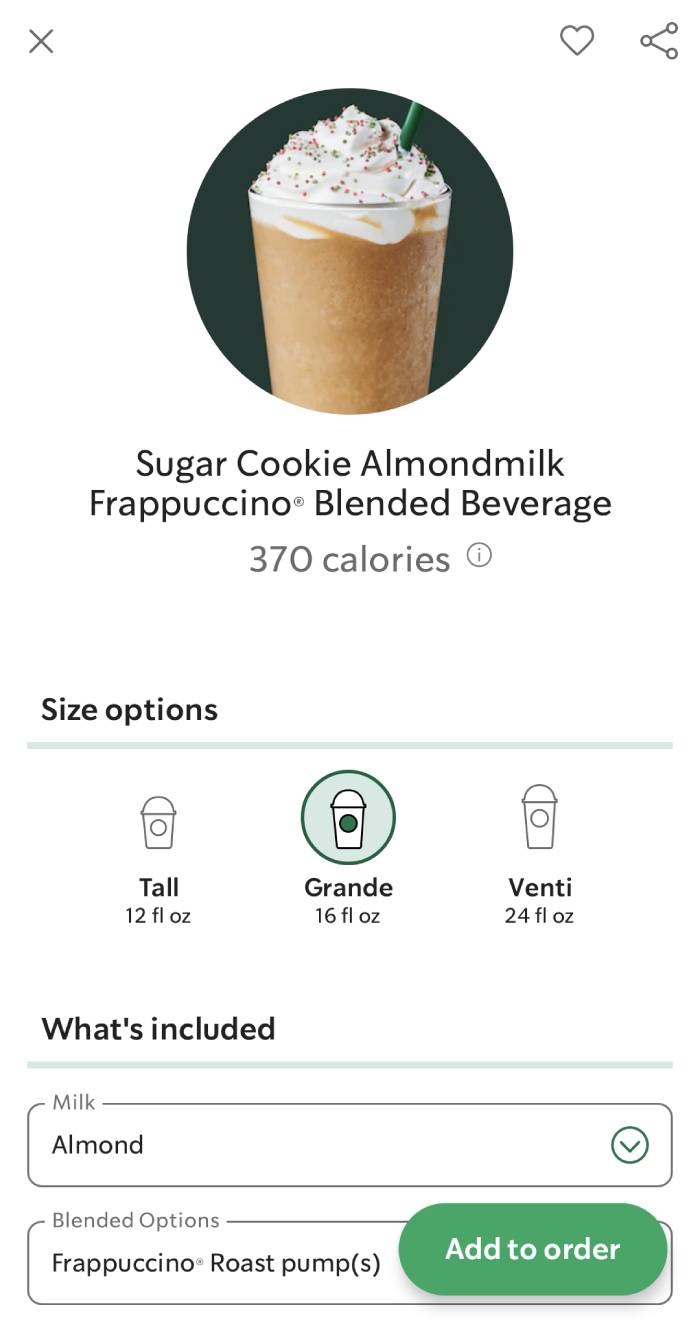 What Does It Taste Like?
After my first sip of the Sugar Cookie Frappuccino, I really thought I was going to hate the drink. It tasted pretty bland. There weren't any distinctive flavors. And someone had taken my favorite seat in the coffeeshop. But after a few more sips, it began to grow on me, and I realized it tasted exactly like what it should: like a sugar cookie.
Sugar cookies are very light in flavor! They're like a milquetoast version of a cookie that would only get more flavorful if you dip it in milk. But people love them for that exact reason, and this frappuccino will give sugar cookie-lovers exactly what they want. Plus some festive green and red sprinkles! That's not too wild, is it?
I honestly don't know how Starbucks managed to produce such an exact replica of how a sugar cookie tastes, but I guess that's what makes them the biggest name in the coffee game.
I imagine the almond milk base helps create the flavor in some way, but I don't want to get too close to figuring out the secret. Once we do, we'll be tempted to think David Copperfield can't really fly.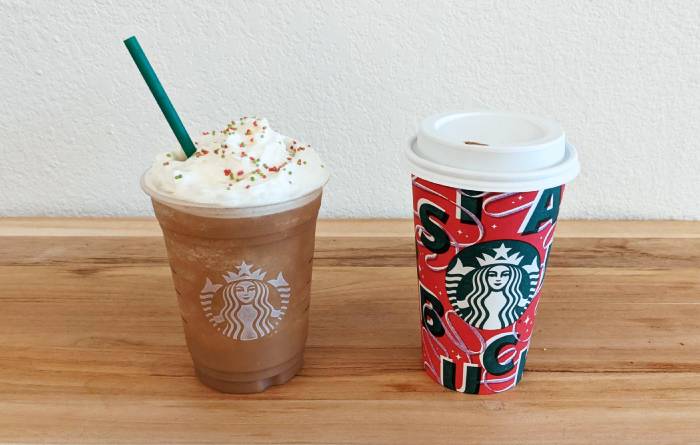 What Does the Chocolate Cookie Latte Taste Like?
If you're a chocoholic who wants to try out this new Starbucks holiday drink, put your own twist on the Sugar Cookie Latte by adding in a few pumps of mocha. The result? A coffee drink that tastes…a whole lot like mocha.
There's something comforting about the simplicity of the regular Sugar Cookie Frappuccino and Latte, but it got overpowered by the mocha. Don't get me wrong – it didn't taste bad. It's coffee, sugar, and chocolate! But a regular Caffè Mocha is a dollar cheaper, and it tastes pretty similar.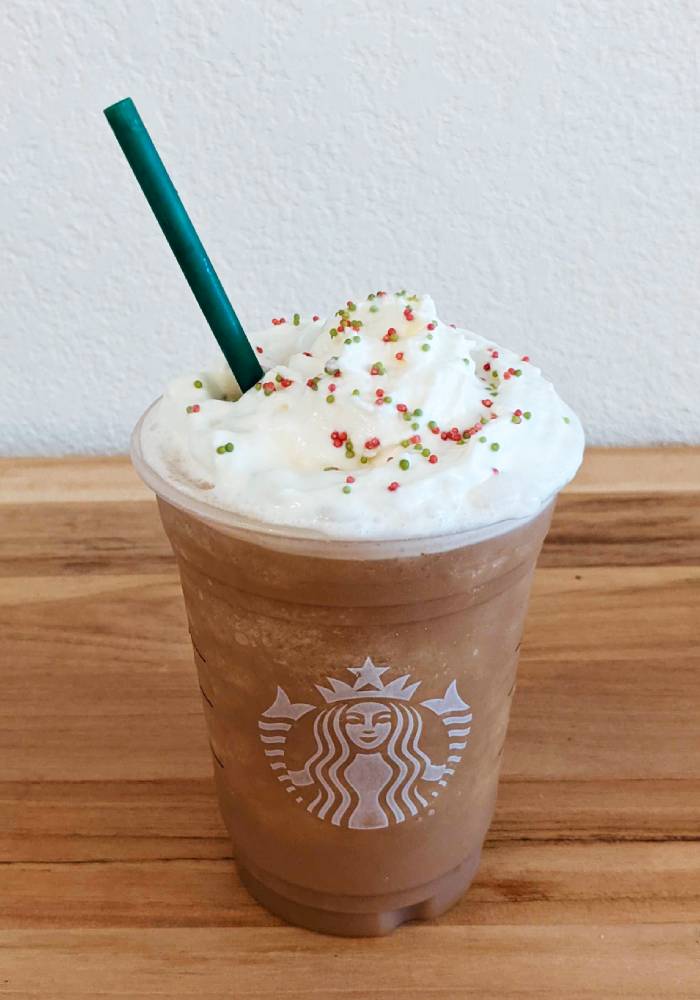 Is It Worth Trying?
If you're looking for a light holiday coffee drink to balance out all the peppermint and gingerbread flavors, the Sugar Cookie Frappuccino or Sugar Cookie Latte is perfect. Will it blow you away? Probably not. Will you remember it for years to come? Unlikely. Will it keep you from falling asleep on your third round of gift shopping? Definitely.
After I came around to the delightful subtlety of the sugar cookie flavor, my main (and only) disappointment was with the sprinkles. You can call me greedy, but you can't call me the Grinch – I wanted more!
Of course, the amount of sprinkles probably depends on who's making the drink and how much you beg them to use the entire container. But I was hoping for something that would suffocate me with holiday cheer, even in 80 degree weather.
Thankfully, the overall flavor was lovely, and it's way easier than baking a sheet of sugar cookies yourself. And, somehow even at 370 calories for a grande, probably healthier than just eating the cookie dough.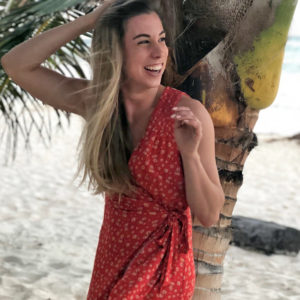 Latest posts by Hannah Rex
(see all)