Sugar Cookie Bars? Sugar Bars? Mounds Bars? Sugar Bites? Delicious dangerous chocolate and coconut-covered things that I had to share immediately with friends? I really have no idea what to call these, but the last one sounds about right.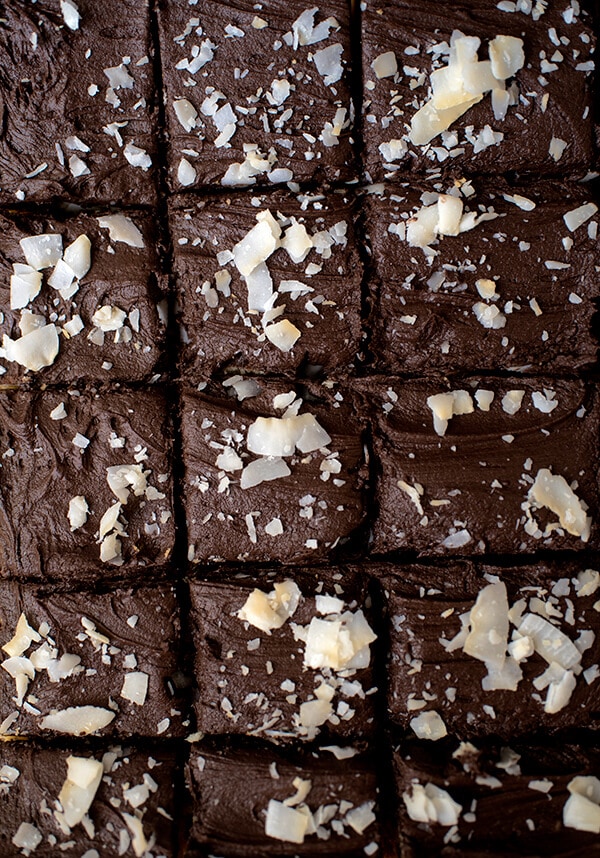 Here's what happened. I wanted to make sugar cookie bars for the holidays. You've seen them – they're basically a giant sugar cookie that's been spread into a baking pan and the result are thick cookie bars that you can slather with frosting and sprinkles. So, they're delicious. I know I should be modest, but I'm sorry, you really do need to make these.
Sugar Cookie Bar Recipe Testing
In trying to come up with the best sugar cookie bar recipe, I tested three different approaches. I know I shouldn't be surprised how different the final product for each recipe was from the next, but, I was! Each recipe used the same amount of butter, vanilla, salt, baking powder, and baking soda. Their flour and sugar amounts different slightly (1/4 cup difference), but the real difference was in the use of cream cheese (or not) and eggs. I baked sugar cookie bar for the same amount of time in the same pan at the same temperature (350°F).
Sugar Cookie Bar Recipe #1:

In this recipe I used 4oz. of whole fat cream cheese, 2 whole large eggs, 1 1/2 cup sugar, and 2 1/4 cup flour. This resulted in a soft, chewy sugar cookie that tasted the same just after cooling as it did three days later. It wasn't too sweet or too floury.

Sugar Cookie Bar Recipe #2:

Though I was a fan of recipe #1, I wanted to see what happened if I removed the cream cheese. In this recipe, I still used 2 whole large eggs, but eschewed the cream cheese, decreased the sugar by 1/4 cup, and increased the flour by 1/4. The result was a dry, floury cookie bar. That should have probably been obvious before baking, but eh.

Sugar Cookie Bar Recipe #3:

Since the cream cheese gave the sugar cookie bars such a great texture in recipe #1, I looked to Stella Parks for help. In her Cookie Science: How Do Eggs Effect My Cookies post, she tested the crud out of sugar cookie recipes and found that one of the recipe adjustment that "worked" was adding two egg whites instead of two eggs. So I tried it. Starting with recipe #1, I swapped two whole eggs for two egg whites. I also added a pinch of nutmeg for flavor. In Parks's test, the double white cookie resulted in a "wonderfully chewy, moist, and mild [cookie], making it a fantastic adjustment to any dough in which you'd like to highlight a more delicate flavor." Mine did too… except that my taste testers remarked that it didn't really taste like a cookie bar. More like a cake bar. So, that was that.

The winner? Recipe #1! A little bit chewy, not too sweet, and it had that classic sugar cookie taste. I was all ready to frost it with vanilla buttercream when my roommate said, hey, I bet that would taste good with chocolate on top. Oh. Yes. Maybe it would. So that's what I did. And then I threw some coconut on top. Because, why not. And, oh wow. You have to make these ASAP.
How to Make Sugar Cookie Bars
One of the things I love most about this sugar cookie recipe is how incredibly easy it is to make! Seriously, it's the easiest. First, combine all of your dry ingredients (flour, baking powder, baking soda, and salt) in a medium bowl. Just whisk them together (or use the back of a knife or teaspoon (that's totally what I do sometimes). Set this aside. Preheat the oven to 350°F and put a rack on the middle shelf. Line a 9×13 pan with parchment paper.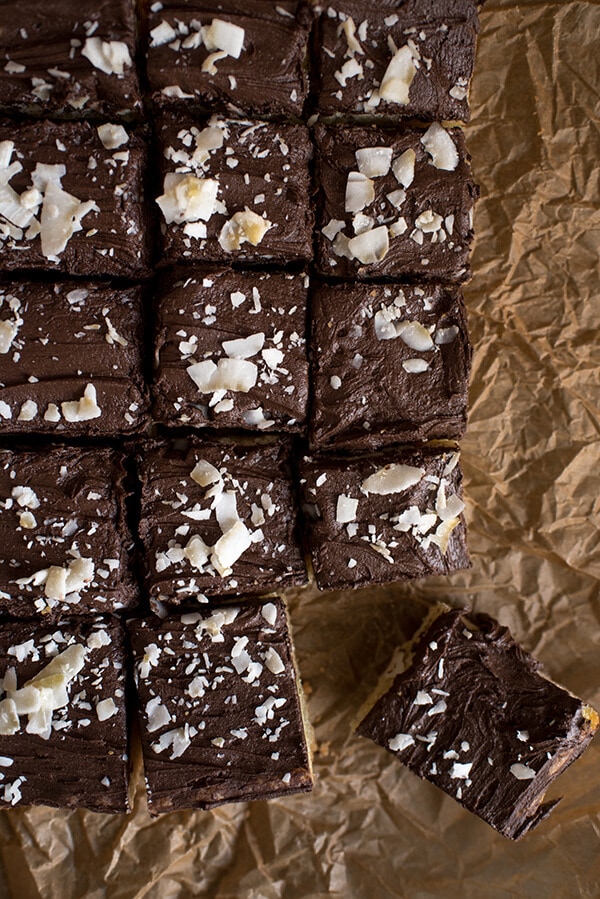 Then, use a mixer to cream the butter and cream cheese until they're fully combined. Add the sugar, and blend for 3 minutes on high to fully combine the ingredients aerate the mixture. Add the first egg, then wait 30 seconds before adding the second. Wait another 30 seconds, then add the vanilla. Finally, slow down the mixture and add the dry mixture you set aside at the beginning. Pour the mixture into the prepared pan and spread it until it's an even layer. You probably have to use your hands to do this. Bake for 20-25 minutes until the edges are just a light golden brown. Remove and let cool fully.
Once cool, you can enjoy the sugar cookie bars as is, or you can take them to the next level and frost them with chocolate buttercream and top them with unsweetened coconut flakes. Cut into 2″ square bars and let me know what you think.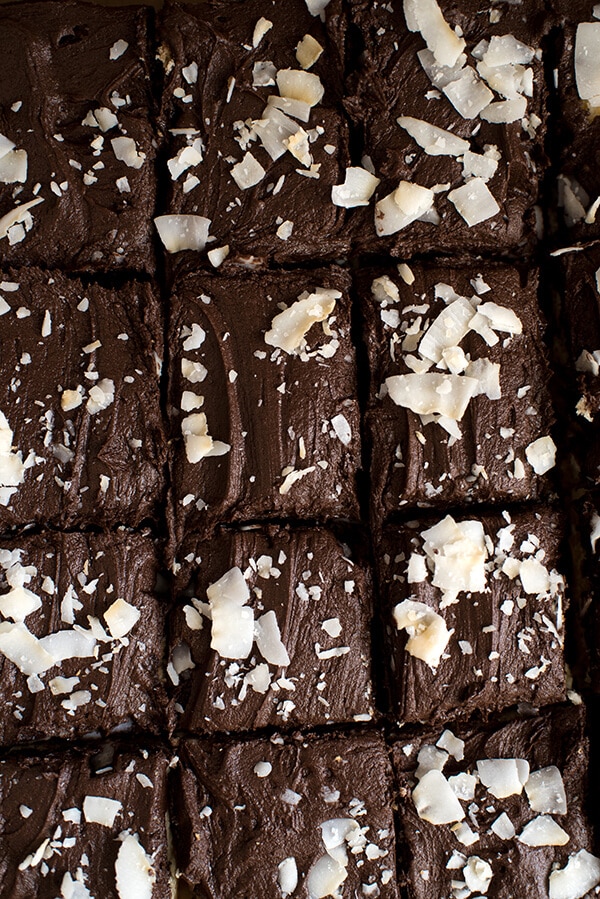 Check out the recipe below and tag me with @letseatcakeblog and #letseatcake on Instagram if you make it!
Sugar Cookie Bars with Chocolate Frosting
Print Recipe
These sugar cookie bars are going to be your next favorite dessert!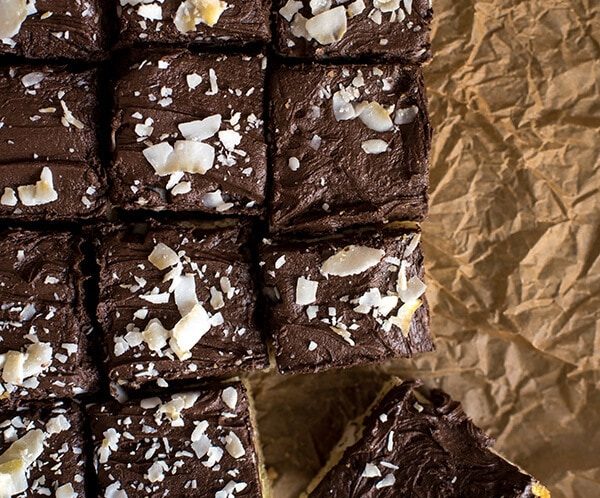 Servings: 24 cookie bars
Ingredients
Cookie Bars
2¼ cup all-purpose flour
½ tsp. salt
1 tsp. baking powder
½ tsp. baking soda
¾ cup unsalted butter
4 oz. cream cheese
1½ cup sugar
2 large eggs
1 tsp. vanilla extract
¼ cup unsweetened coconut flakes
Chocolate Buttercream
2¾ cup confectioner's sugar
1 oz. cocoa powder ((about 1/4 cup))
1 tsp. vanilla extract
6 Tbsp. butter (room temperature)
1 Tbsp. whole milk (add 1-2 more Tbsp. as needed)
Instructions
Sugar Cookie Bars
Preheat oven to 350°F. Line 9 x 13 baking pan with parchment paper. Set aside.


Combine flour, salt, baking powder, and baking soda in a medium bowl. Set aside.


Cream butter and cream cheese until combined. Add sugar. Combine for 3 minutes on high.


Add egg, let mix for 30 second. Add second egg. Let mix for 30 seconds.


Add vanilla.


Reduce mixer speed to slow and add flour mixture. Mix until just combined.


Pour sugar cookie bar batter into prepared pan and spread mixture until there is one even layer.


Bake for 20-25 minutes on middle rack until edges are a light golden brown. Remove and let cool on cooling rack.

Chocolate Frosting
Combine confectioner's sugar, cocoa powder, vanilla, and butter in mixer on medium speed.


Add milk, one tablespoon at a time until buttercream reaches a spreadable consistency.


Once cookie bars have fully cooled, frost with chocolate buttercream frosting. Top with coconut flakes.

Did you make this recipe?
Leave a review below, then take a photo and tag @letseatcakeblog on Instagram so we can see it!

This post contains affiliate links. Thank you for supporting Let's Eat Cake!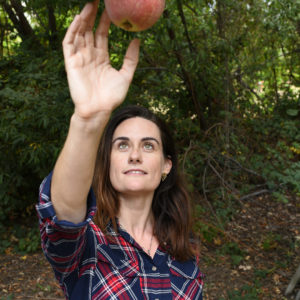 Latest posts by Rebecca Swanner
(see all)