As if Starbucks doesn't give us enough to choose from on their regular menu, the Starbucks secret menu offers seemingly endless possibilities.
There are secret menu drink creations for anything you can imagine. From Hocus Pocus frappuccinos to Girl Scout cookie-inspired frappuccinos to Cookie Butter Lattes, there's always something new to try.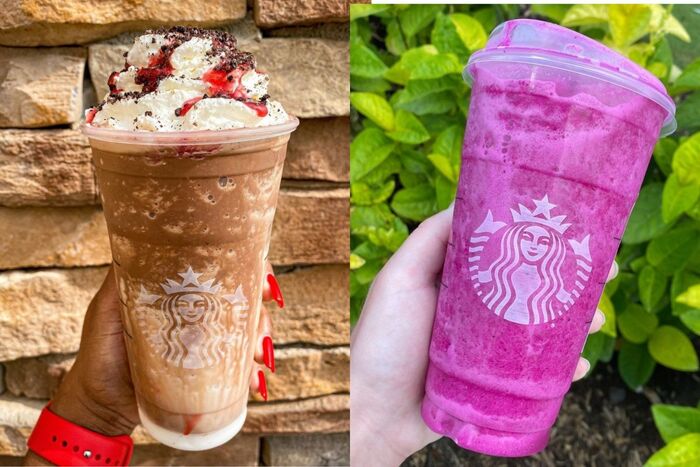 What is the Starbucks Secret Menu?
The not-so-secret Starbucks secret menu is only official in the way that we're officially qualified for all those things we put on our resume. The ingredients are there, but someone is gonna have to help us put it all together.
While a Starbucks barista here and there may be the originator of a recipe, these aren't drinks that you'll find in the Starbucks training manual. Showing up and ordering a Shamrock Tea isn't going to get you very far. Instead, you'll have to order it using the specific directions that come with each recipe.
25 Starbucks Secret Menu Drinks to Try
1. Christmas in a Cup
Have you wondered why your pets insist on drinking the water out of the Christmas tree? Now you'll know. See ya at the watering hole, Rufus!
Order a Venti Passion Tango Tea Lemonade
Ask for no liquid cane sugar
Add 6 pumps of chai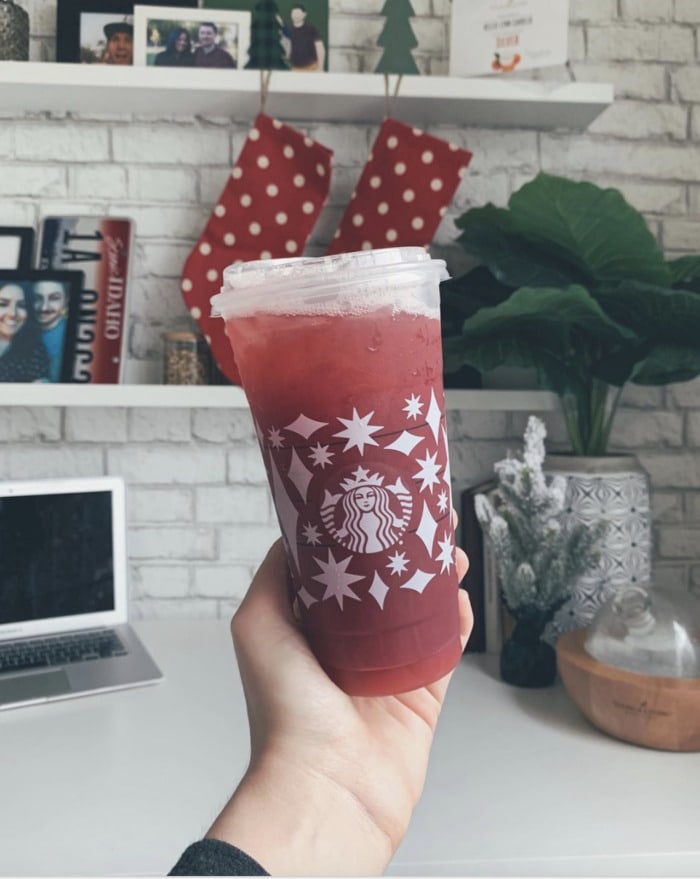 2. Witches Brew Iced Tea
This is a much tamer recipe for witches brew than others we've seen. We're looking at you Sanderson sisters.
Order an Iced Passion Tea
Add liquid cane sugar
Ask for soy milk instead of water
Top with matcha foam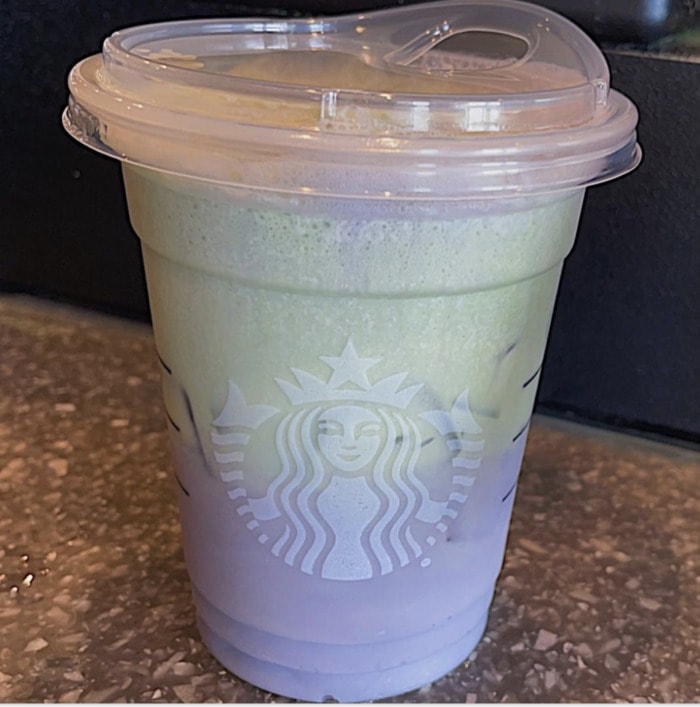 3. Sundae Fundae Frappuccino
This is quite literally dessert in a cup. Unlike all the other frappuccinos.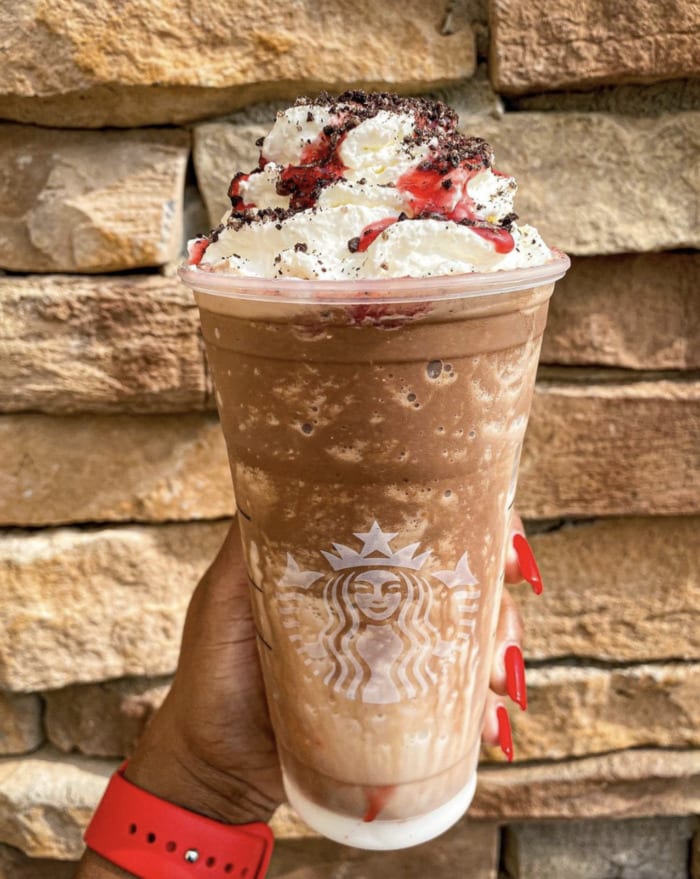 4. Cinderella Latte
We may lose our shoes daily, but we don't forget our latte. Cinderella clearly understands priorities.
Order a Grande Pumpkin Spice Latte
Sub ½ of the pumpkin spice syrup with white mocha syrup
Can ask for this as hot, iced, or Frappuccino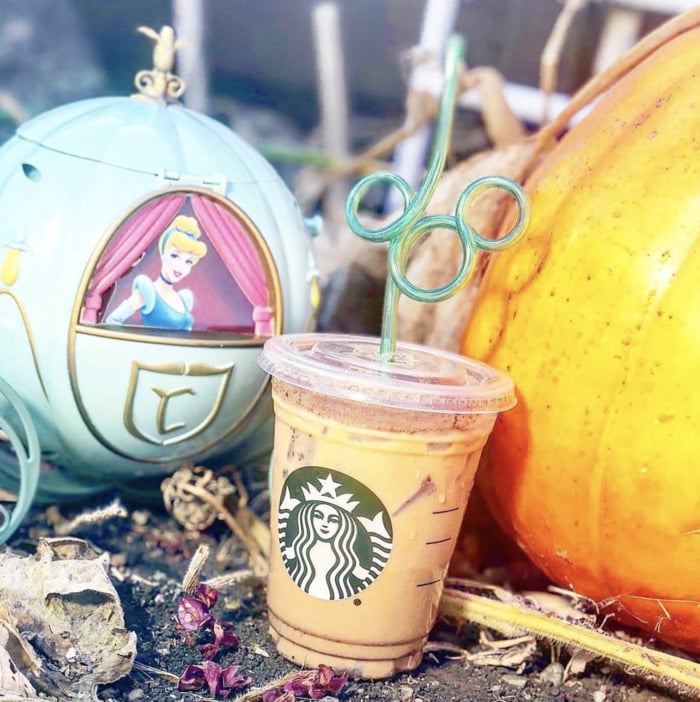 5. Narwhal Frappuccino
Leave it to Starbucks to reach even the arctic waters. Capitalism knows no boundaries.
Order a Blended Strawberry Lemonade
Add vanilla bean powder
Top with matcha foam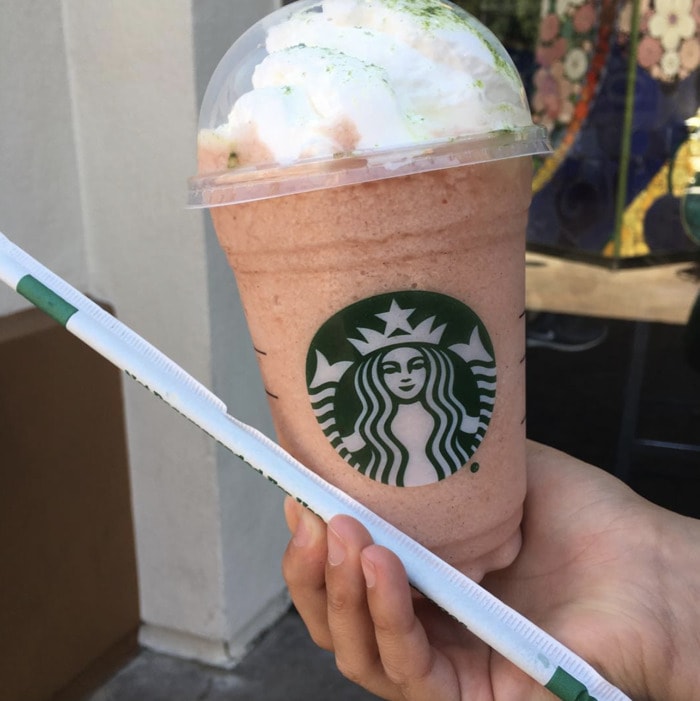 6. Dragonfruit Breeze
The secret to this drink is rather scandalous – just add ice and blend it. Then blend it again. No actual dragons required.
Order a Venti Mango Dragonfruit Lemonade
Ask for extra ice
Ask to be double blended
7. Raspberry Caramel Macchiato
If you're feeling a bit shy about ordering from the secret menu, this variation of a caramel macchiato is a great place to start.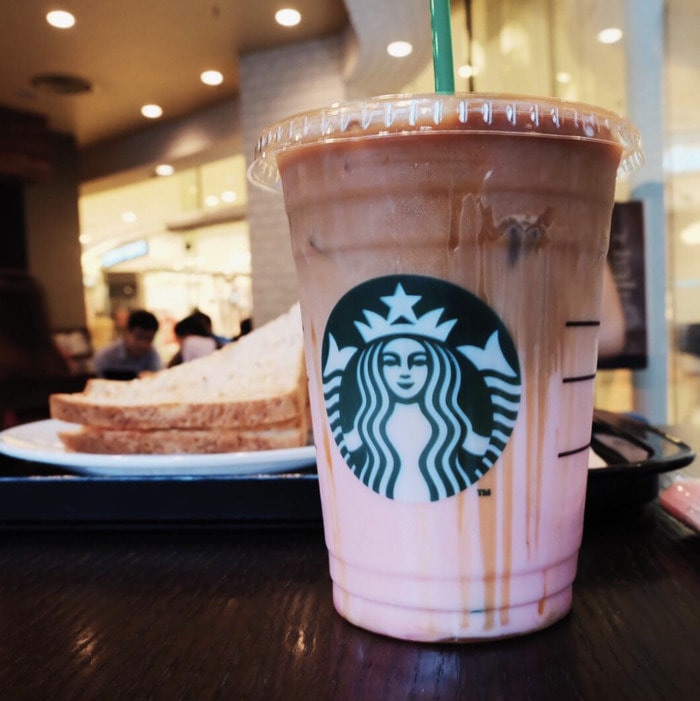 8. Iced Matcha Chai Latte
This latte combines two power flavors into one. We can't help but think how delicious it would be with a chai donut.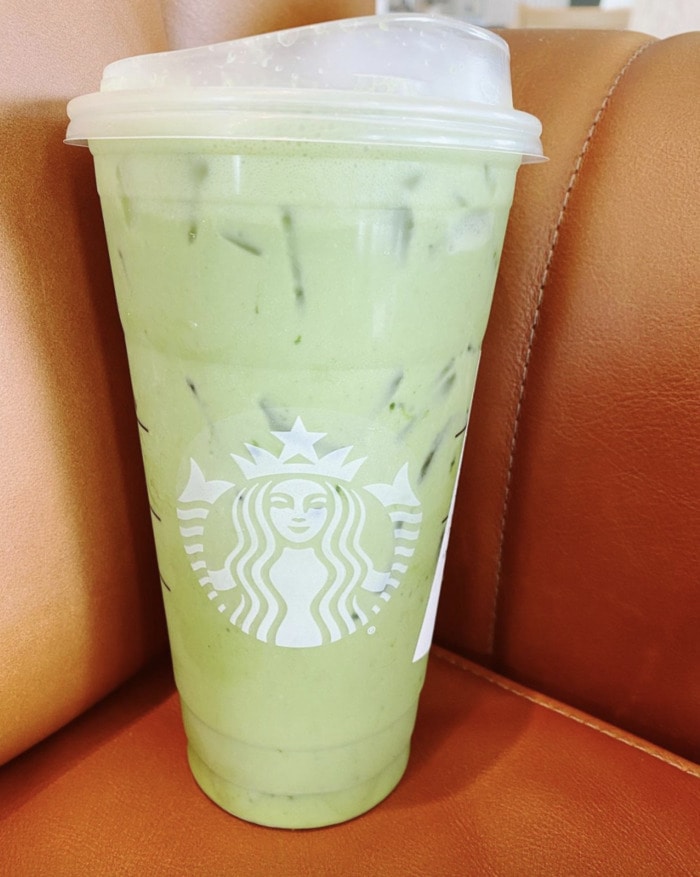 9. Charmander Drink
The drink we sip while playing Pokémon Go. That's right, we're still playing. You're meeting us in the park at 9, right?
Order a Venti Black Tea Lemonade
Add 10 pumps of classic syrup (all teas are naturally unsweetened)
Add peach juice
Add splash of soy milk
Top with strawberry purée
10. Red Drink
Some secret menu drinks have 10 names and some just get stuck with a name like "Red Drink." We too know what it's like to be the youngest child.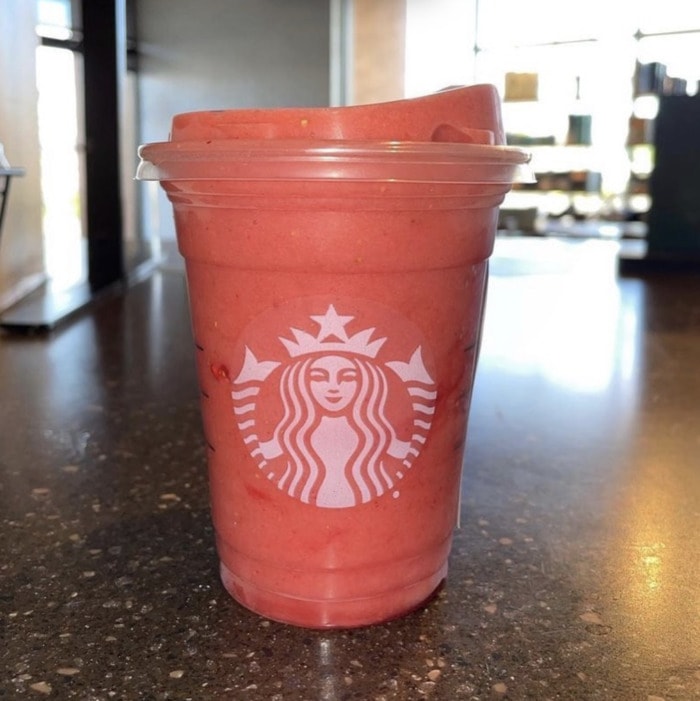 11. Purple Drink
The Pink Drink was every secret menu drink's dream come true – it made it to the official menu. The Purple Drink is just trying to follow their footprints. Not to be confused with the official Violet Drink. Especially if you're colorblind.
Order a Venti Passion Iced Tea
With no water
Add coconut milk
Add vanilla syrup
Top with 1 scoop of blackberries
12. Candy Cane Cold Brew
This peppermint-flavored drink is just the right thing to get your day started. And it has nothing to do with the peppermint schnapps we added.
Order a Venti Sweet Cream Cold Foam Cold Brew
Ask for no vanilla
Add 4 pumps of white mocha syrup
Add 2 pumps of peppermint syrup
Ask for 2 pump of peppermint in the cold foam
Ask for holiday topping (seasonal)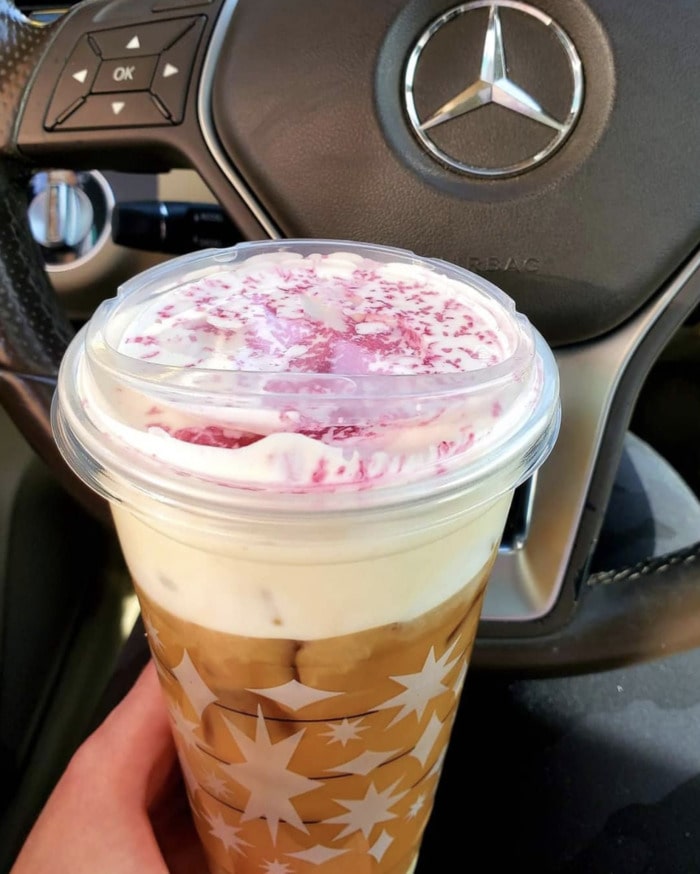 13. Olaf Frappuccino
Olaf may say some people are worth melting for, but that sounds messy. We prefer this instead.
Order a Venti Vanilla Bean Crème Frappuccino
Add java chips blended in
Top with whipped cream
Top with caramel drizzle and extra cinnamon dolce sprinkles
14. Salted Caramel White Mocha Cold Brew
We love that coffee makes words like caramel and mocha and sweet cream sound perfectly acceptable for breakfast. It also makes our boss sound perfectly reasonable too…mostly.
Order a Venti Cold Brew
Add 4 pumps of mocha syrup
Ask for a caramel drizzle in cup (before drink)
Top with salted sweet cream cold brew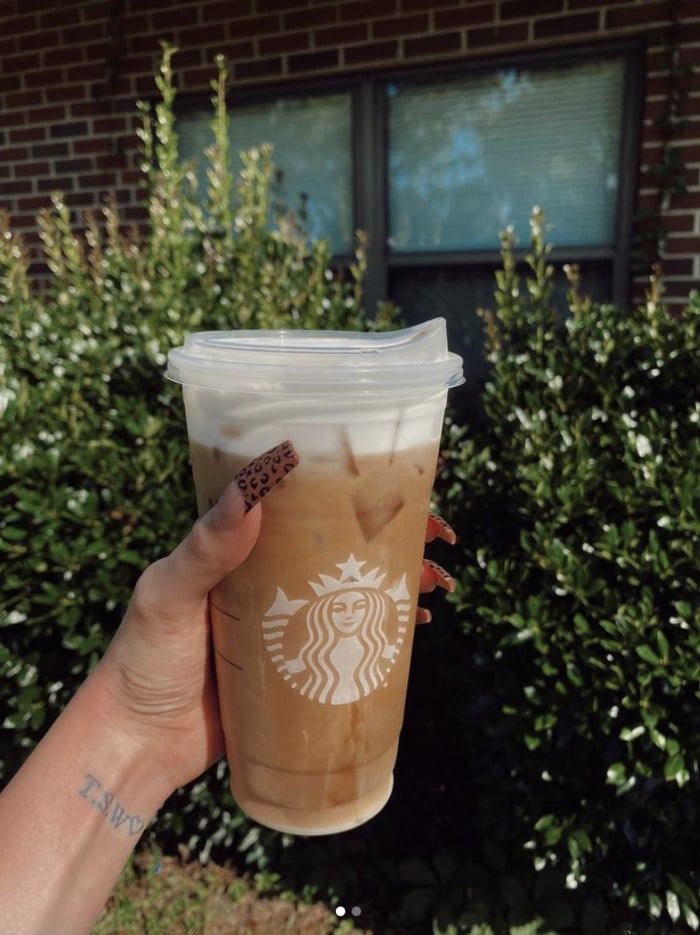 15. Chocolate Pink Drink
Just when you thought it couldn't get better, Pink Drink said "give me chocolate." And that's when you know you went too hard on the espresso shots this morning.
Order a Venti Pink Drink
Add vanilla sweet cream cold foam
Ask for 2 pumps of chocolate mocha syrup in the foam
16. Strawberry Cheesecake Frappuccino
As we all know, cheesecake is the cake of all cakes. Add some strawberries, throw it in a blender, give us a straw and we're happy.
Add hazelnut syrup, 1 pump
Add strawberry inclusions blended in
Ask for graham cracker topping in the bottom of cup (seasonal item)
Top with whipped cream and strawberry inclusions
17. Bubble Gum Frappuccino
If we've learned one thing, it's really hard to blow decent size bubbles with this.
Order a Grande Vanilla Bean Crème Frappuccino
Sub with nonfat milk
Add 1 pump white mocha syrup
Add 1 scoop of strawberries blended in
Top with whipped cream
18. Cookies and Cream Cold Brew
There's not much that beats the flavor of cookies and cream, but let's just hope no one ever thinks Swedish Fish cold brew sounds like a great idea.
Order a Venti Sweet Cream Cold Foam Cold Brew
Add 2 pumps of vanilla
Add 4 pumps of white mocha
Ask for 2 pumps of mocha in the cold foam
Top with mocha cookie crumbles
19. Butterbeer Frappuccino
Our patronus is a frappuccino. And butter. And beer.
Order a Grande Caramel Frappuccino
Ask for only 2 pumps of caramel
Add 2 pumps of toffee nut syrup
Add 1 pump of cinnamon dolce syrup
Top with whipped cream and caramel drizzle
20. Toasted Cinnamon Cream Cold Foam Cold Brew
Fall may scream pumpkin spice. Go against the grain and scream cinnamon. Maybe not out loud though.
Order a Grande Vanilla Foam Cold Brew (not salted foam)
Ask for no vanilla
Add 2 pumps of cinnamon dolce syrup
Add 1 pump of toffee syrup
Add 3 shakes of cinnamon powder
Top with cinnamon dolce powder
21. Fuzzy Peach Refresher
Did someone order a fuzzy navel? Mom, is that you?
Order a Venti Mango Dragonfruit Refresher
Ask for no water and no inclusions
Ask for ½ peach juice
Add 2 pumps of vanilla syrup
Add a splash of coconut milk
22. Cotton Candy Frappuccino
This secret menu frappuccino was a temporary official item as part of a contest. Lucky for you, we got the recipe. Unlucky for you, it no longer looks like cotton candy due to Starbucks removing the artificial coloring in the raspberry syrup.
Order a Vanilla Bean Crème Frappuccino
Add raspberry syrup
23. Puppuccino
This is about the only secret menu item you can order by its name. It consists of whipped cream in an espresso or sample size cup for your… dog.
24. Liquid Coke
On the plus side, you can move from evening to morning effortlessly. On the con, your friends have mentioned you can't stop talking. Or cleaning the den.
25. Orange Lemonade
Sipping on your neon drink from your neon tumbler while holding it with your neon nails is a level of commitment one step shy of a neon intervention. (We think they call that Bonnaroo.)
Order a Venti lemonade
Add 2 pumps raspberry syrup
Top with strawberry acai base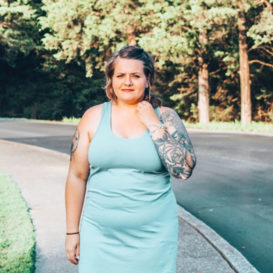 Latest posts by Ashley Hubbard
(see all)