There's reportedly still a few more weeks until Starbucks fall cups for 2021 hit store shelves (the rumored date is August 24). But, that doesn't mean we haven't already seen a few of the cups on the Internet. And you know what they say about what you read on the Internet.
While Starbucks hasn't officially confirmed these new designs, we love what we're seeing so far. The designs feature darker shades of purple and green for the witchy folks, along with some neon cold cups for people don't want to give up on summer and drink iced coffee year-round.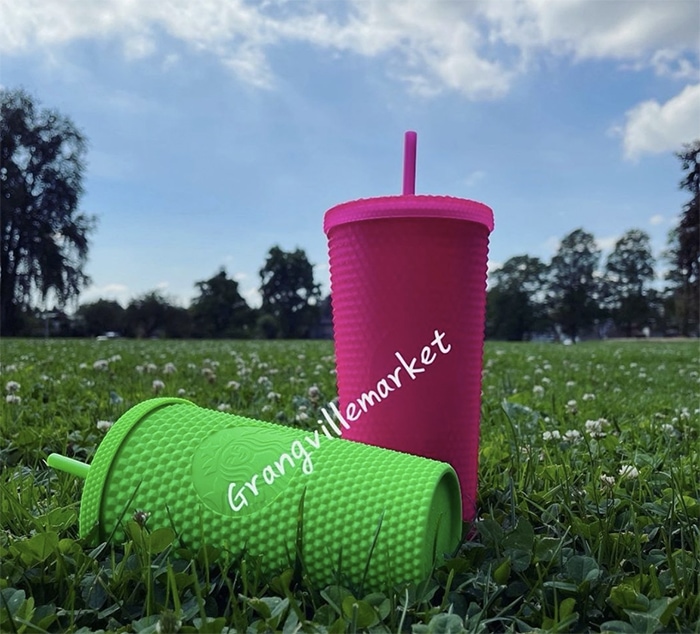 Based on the sneak peeks we saw for the spring and summer cups, these will probably be the first batch of fall cups and tumblers. (The Halloween ones come in September.) Here's a preview of what you can expect.
Starbucks Fall Cups and Tumblers for 2021
1. Hot Pink Dome Tumbler
We stan hot pink anything. Yes, even cereal. Which can conveniently also go in this cup!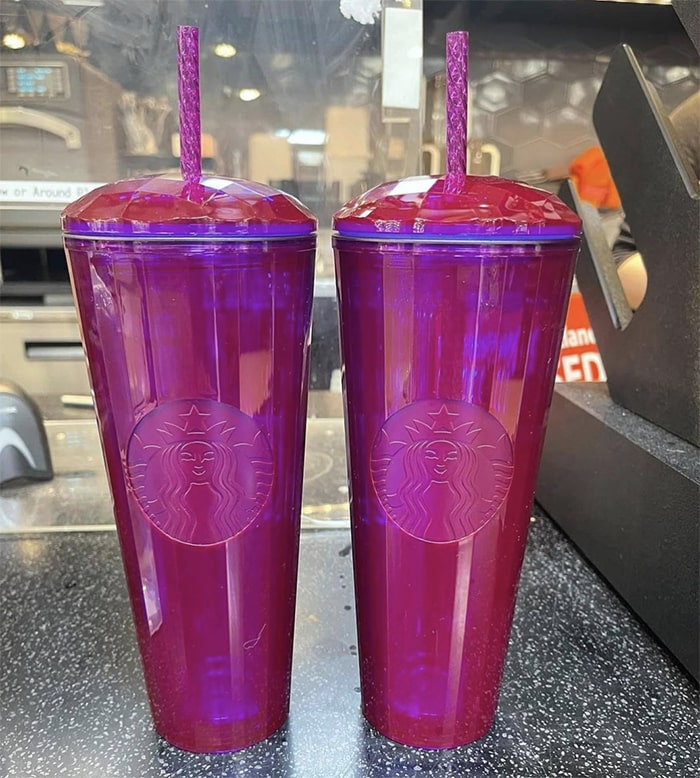 2. Neon Pink Studded Cold Cup
If studs can make the jump from emo belts to Starbucks cups, then you bet that neon colors can jump from summer to fall.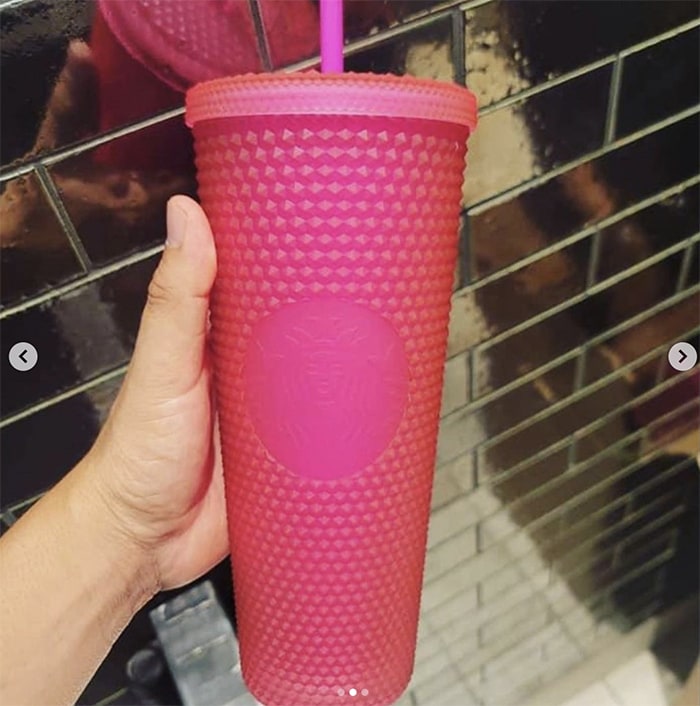 3. Yellow and Purple Ombre Cup
We're pretty sure this design came after watching too many Minion movies. As long as the cup doesn't start throwing bananas at us, we're not mad about it. (Although, we could use a snack.)
4. Dark Floral Tumbler
Perfect for a walk though your dark garden in the moonlight. Or Home Goods.
5. Purple Roses Stainless Steel Tumbler
Sip this one while watching the sunset…which now happens at 5pm.
6. Black and Green Floral Tumbler
Become a caffeinated glow stick ninja with this ghostly dark green and black design. It might even glow in the dark! And if you use it to house fireflies, it definitely will. Just remember to leave a hole this time?
7. Neon Green Studded Cold Cup
Works for iced coffee or melted Fla-Vor-Ice. Both of which will make you feel like you're bouncing off the ceiling.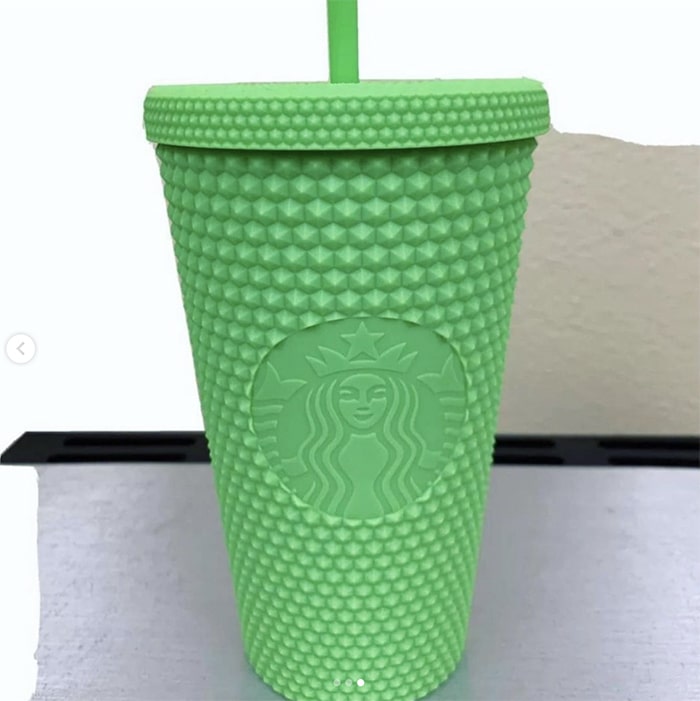 8. Metallic Reusable Hot Cups
These reusable hot cups in dark teal, burnt orange, and other colors that make us want to repaint our car. Where's our leasing agreement, anyway?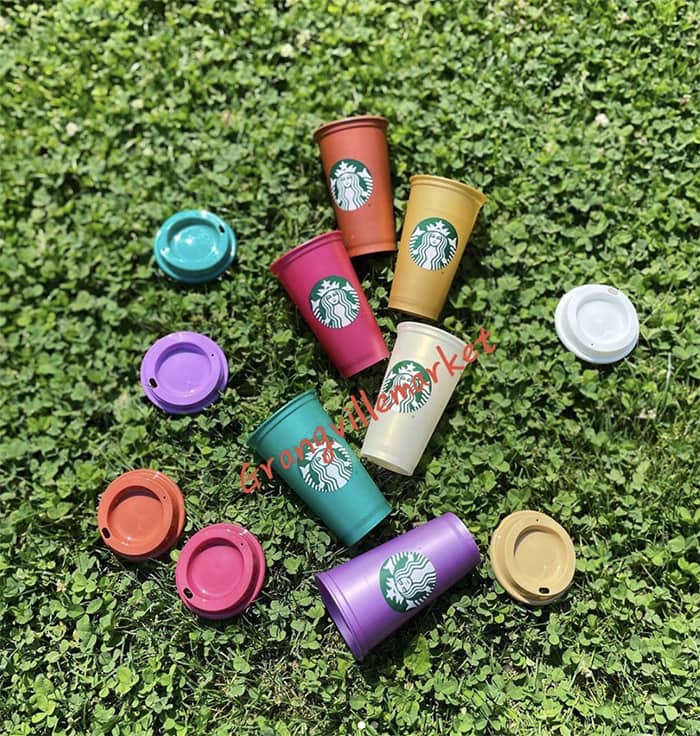 9. Purple Dome Tumbler
You can never have too many shiny purple things! Our middle school wardrobe was the perfect example of that. Yes, we had a lot of friends, why do you ask?
10. Black Tumbler
Live shot of our stress ball after a meeting with our landlord.
11. Dark Pink Dotted Mug
When you're wearing all black, but you really are just a girl a Barbie World.
12. Dark Green Shimmery Ceramic Mug
Is that a face? A shadow? A sign we should maybe have more coffee? Yes.
13. Gold Tumbler
When you want the look of gold, but not the real thing. (Because that's too heavy to lug around. Not because we're broke, just so we're clear.)
14. Plastic Floral Water Bottle
We love all these blooming designs, but we're starting to wonder if Starbucks knows how fall works.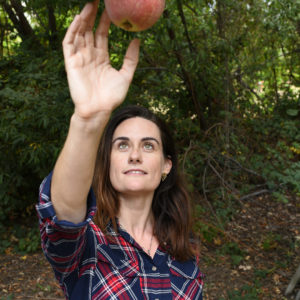 Latest posts by Rebecca Swanner
(see all)