We realize it's August, but if we've learned anything from watching hours of fantasy shows it's that time is irrelevant. Especially when it comes to anything fall or Halloween-related. All the big box stores have their Halloween merch out, and the Starbucks Fall cups and tumblers for 2022 arrive on August 30.
(Along with their new fall menu which you can peep here.)
For this fall season, the coffee chain is focusing on earthy designs in pinks, greens, and oranges that feature ferns and, everyone's current favorite plant: the mushroom. These tumblers and water bottles are perfect for helping you stay hydrated the next time you get lost in the forest. Or at least caffeinated.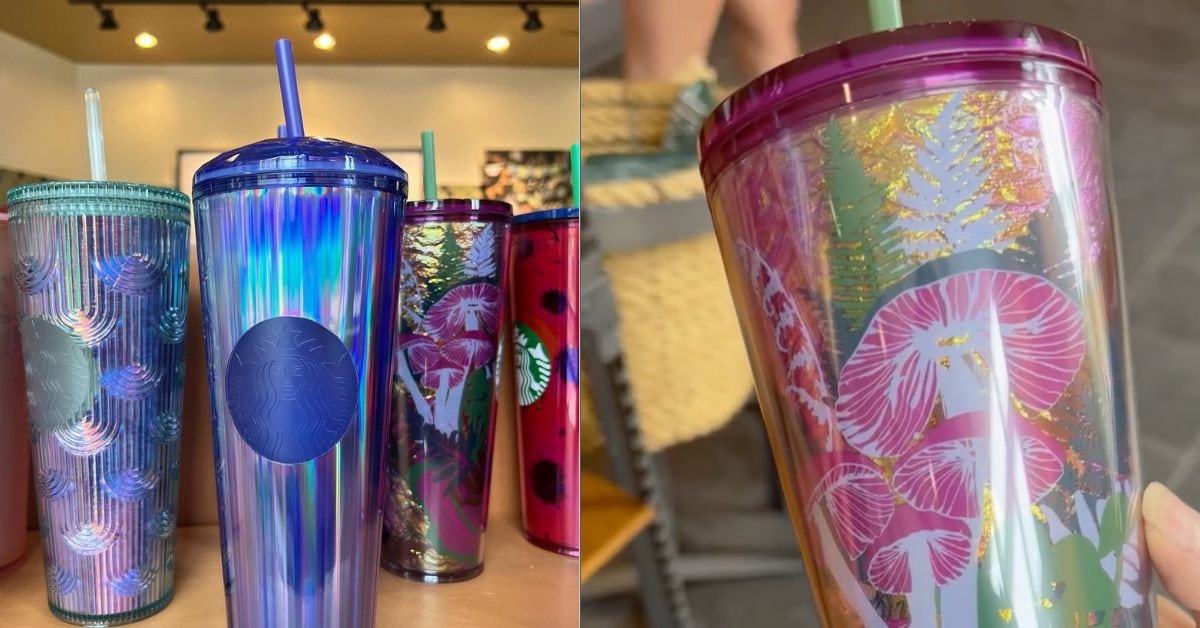 According to one post we saw, there are four fall cup launches this season. The Halloween cups for 2022 will arrive on September 13 and will feature a conspiracy of ravens. Sorry, budget.
If you can't wait that long, here are some Halloween mugs to hold you over until that flock of corvids arrive.
Here are all the rumored Starbucks cup release dates for Fall:
August 30
September 13
September 27
October 11
1. Periwinkle Kaleidoscope Cold Cup (24 oz.)
You say Periwinkle Kaleidoscope we say how do you spell kaleidoscope?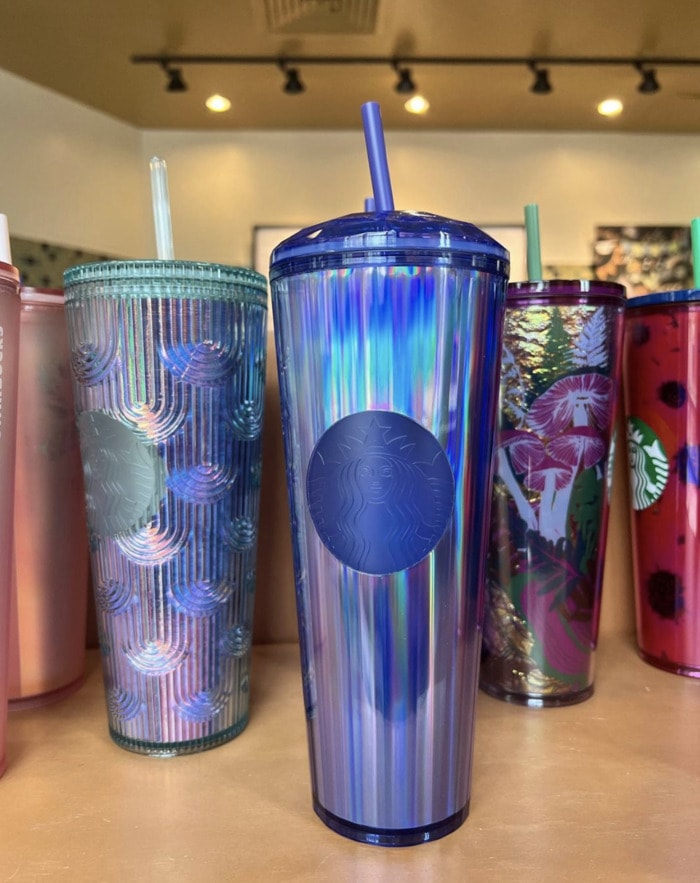 2. Orange Pearlized Bling Cold Cup (24 oz.)
When you want to be matchy matchy with your PSL.
3. Berry Woodland Cold Cup (24 Oz.)
For this pink mushroom mug our set and setting is Starbucks first thing in the morning.
4. Double Walled Rainforest Mushroom Tumbler (12 oz.)
We'll take things we would break within two minutes of walking in the rainforest. Hey, who put that log there?
5. Stainless Steel Cold Cups Berry Gradient (24 oz.)
Keep that Barbiecore vibe rolling all year long with this fall twin of summer's yellow and hot pink ombre tumbler. And a Corvette.
6. Berry Striped Fern Stainless Steel Tumbler (12 oz.)
Well, if there's one thing we've learned, it's that ferns aren't berry flavored. And if there's a second thing we learned it's that a rectangle is not a square.
7. Berry Woodland Glass Water Bottle (20 oz.)
When did berry become synonymous with pink? Asking for ourselves.
8. Periwinkle Fern Stainless Steel Tumbler (12 oz.)
What you might see if you let your eyes adjust at night. Doomscrolling, you'll have to wait.
9. Textured Rainforest Water Bottle (20 oz.)
When you're more of a tree petter than a tree hugger.
10. Ombre Ocean Mug (14 oz.)
When you need a new manicure, inspiration can come from anywhere.
11. Rainforest Fern Shimmer Mug (12 oz.)
This one glitters in the sunlight. It's probably not a vampire, but throw a little garlic into your coffee just to be sure.
12. Ocean Fern Cold Cup (24 oz.)
Giving us all sorts of Pacific Northwest vibes without the why is it dark at 3pm part.
13. Hammered Begonia Tumbler Glass Cold Cup (18 oz.)
Or, you, if you don't fill this with coffee.
14. Stainless Steel Ombre Rainforest Tumbler (20 oz.)
This pretty gradient tumbler is only available at Kroger. Road trip!
15. Periwinkle Drip Mug (14 oz.)
You've got blue on you.
16. Stainless Steel Oak Tumbler (12 oz.)
We're guessing this one is an homage to all of Starbucks' painfully cute acorn-themed cups and mugs coming out in China this fall.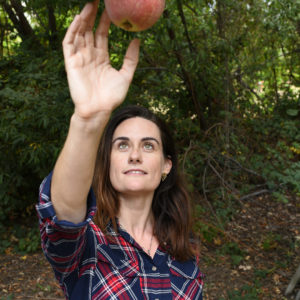 Latest posts by Rebecca Swanner
(see all)