It's not just the beloved siren logo and straws that are matching at Starbucks. There are plenty of green Starbucks drinks that expertly blend blue and yellow into a vibrant, earthly color. Our third grade art school teacher is beaming.
Whether its specifically for St. Patrick's Day — like this Shamrock Tea — or just because it's your favorite color, there are plenty of green-hued concoctions to enjoy. Ones that aren't moldy, anyway.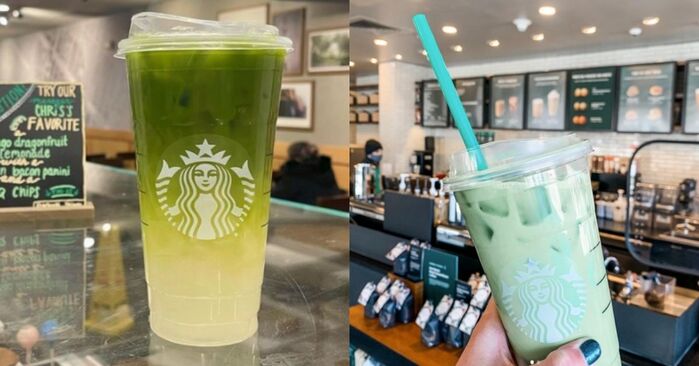 Most of the green drinks at Starbucks don't involve coffee because that's just not how colors work. So if you want to make everyone else green with drink envy, try some matcha drinks, refreshers, or crème-based Frappuccinos.
Official Green Starbucks Drinks
1. Matcha Tea Latte
The grass is definitely greener over at Starbucks. That's how they make this creamy matcha latte, which you can get hot or iced.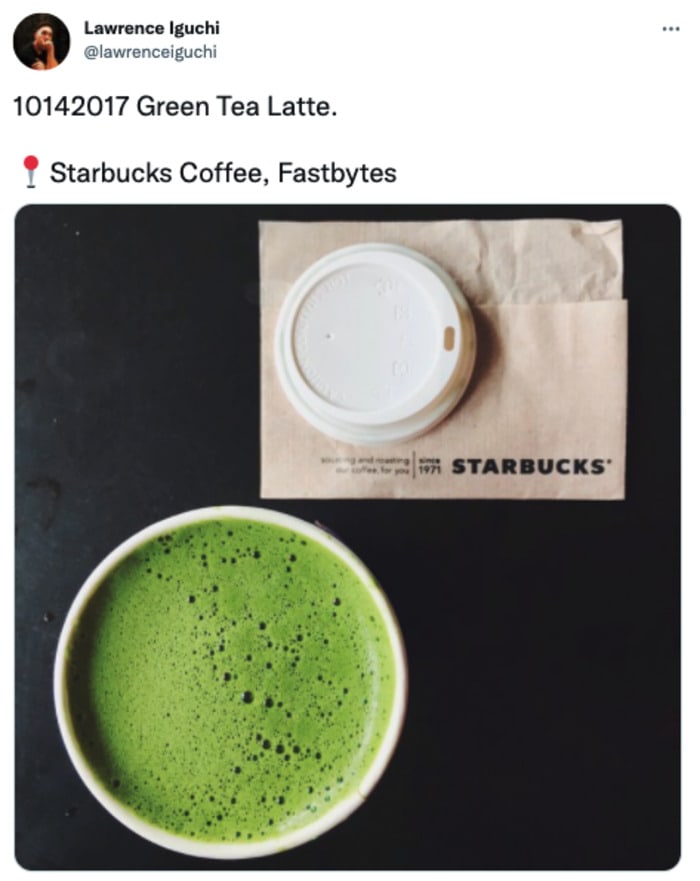 2. Iced Matcha Lemonade
If you want something a bit more citrusy, the matcha lemonade combines their matcha green tea with crisp lemonade. It transforms into a color that should be startling in any other food scenario.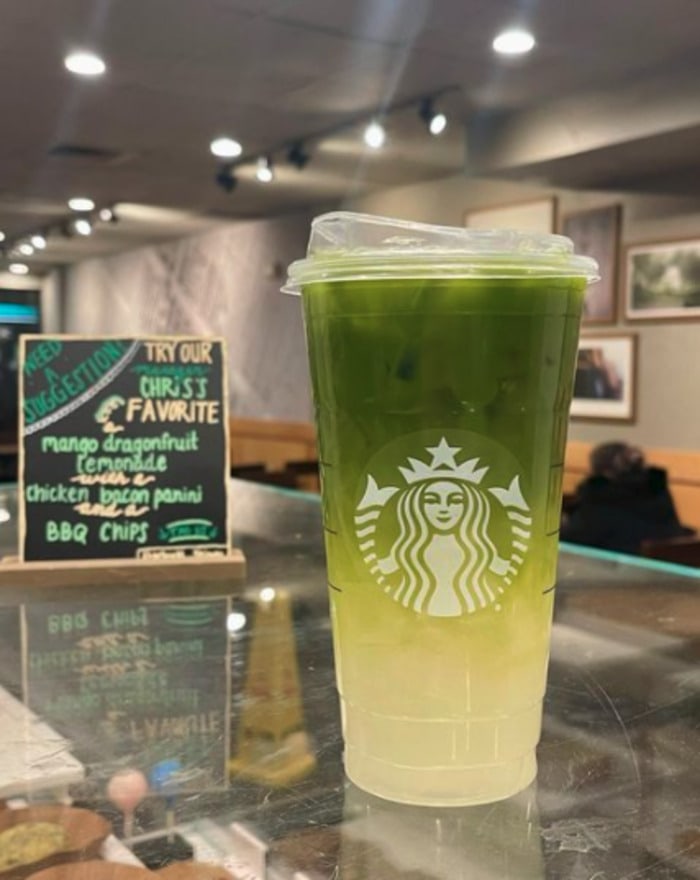 3. Matcha Crème Frappuccino
Just like the matcha tea latte, but with ice, blended, and topped with whipped cream. All greens are best with whipped cream on top. Trust us, we started a revolution at Thanksgiving with our green bean casserole.
4. Star Drink
It's like summer in a cup when you get this drink that combines starfruit and kiwi-flavored juice, real kiwi fruit pieces, and coconut milk. All you need to add is the tanning oil.
5. Kiwi Starfruit Refresher
This is the same thing, but without the coconut milk. It really just depends on the level of green hue you're looking for. And if you're allergic to coconuts.
6. Kiwi Starfruit Lemonade Refresher
And finally, one more variation. This is just like the Star Drink, but it uses lemonade instead of coconut milk. Better pack your sunglasses for this tropical Starbucks trip!
Secret Menu Green Starbucks Drinks
1. Lucky Leprechaun Frappuccino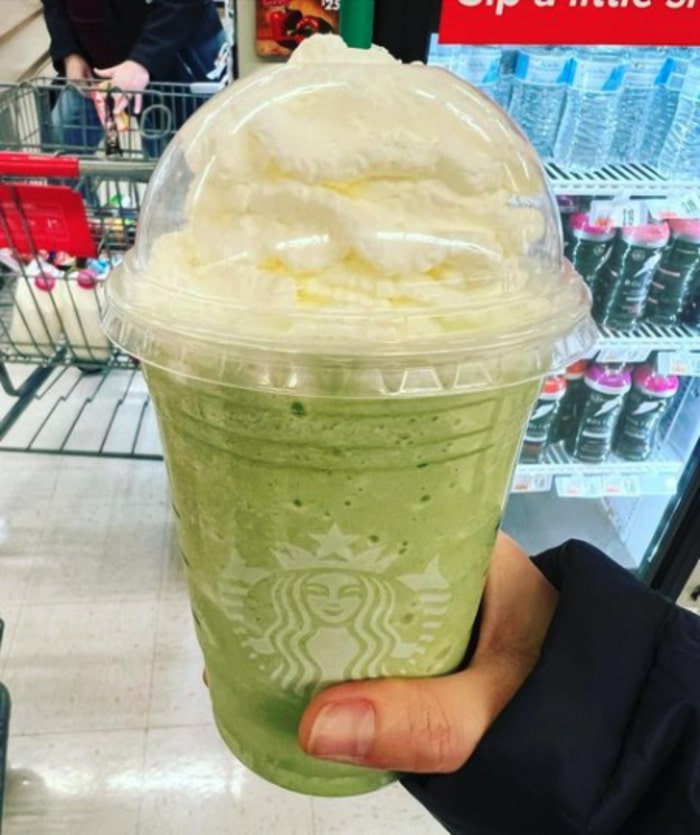 2. Starbucks Green Drink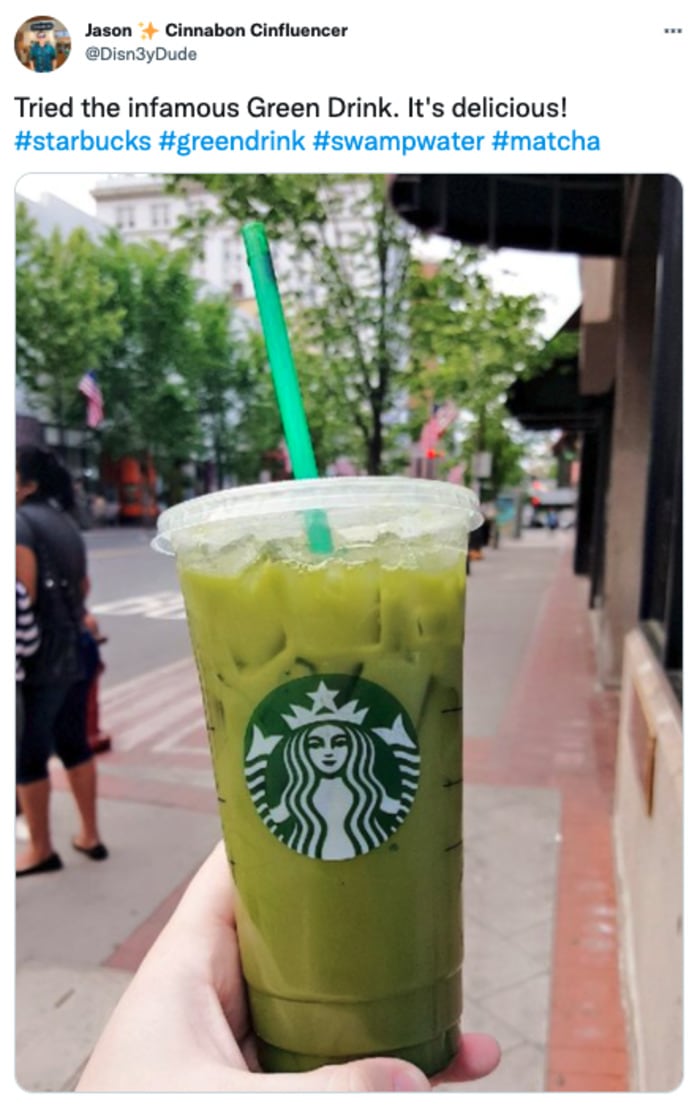 3. Baby Yoda Frappuccino
Order a Grande Matcha Crème Frappuccino
Add 2 pumps of caramel syrup
Ask for caramel drizzle around the cup and on top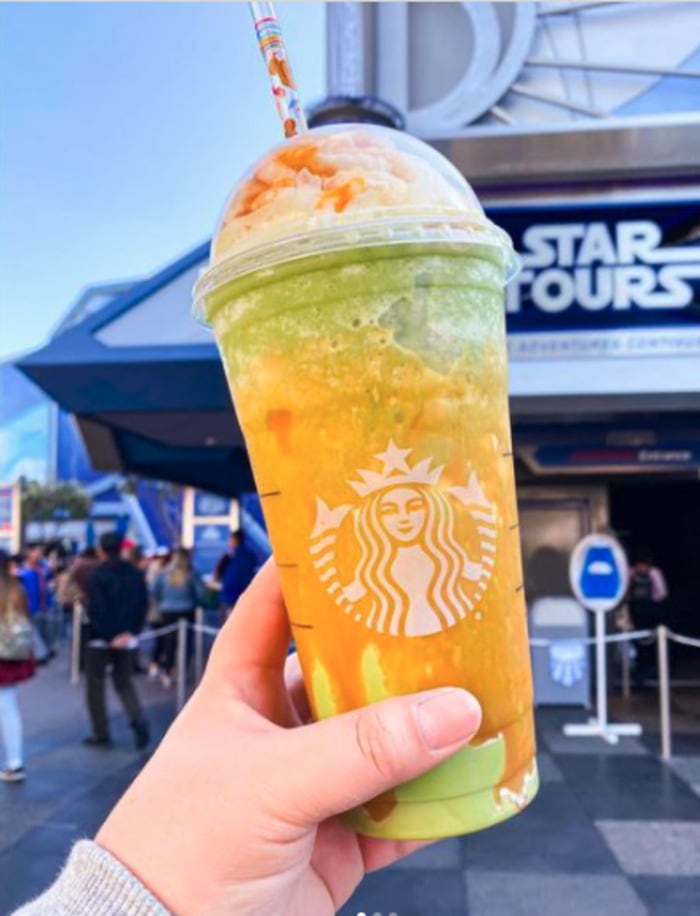 4. Shamrock Frappuccino
Order a Vanilla Bean Crème Frappuccino
Add peppermint syrup (1.5 pumps tall, 2 pumps grande, 2.5 pumps venti)
Add classic syrup (½ pump tall, 1 pump grande, 1.5 pumps venti)
Add matcha powder (2 scoops tall, 2.5 grande, 3 venti)
5. Shamrock Shake (McDonald's Knockoff)
Order a Grande Matcha Crème Frappuccino
Add 2 pumps of vanilla syrup
Add 2 pumps of peppermint syrup
Add Frapp chips blended in
6. Green Goblin Latte
7. Grinch Drink
Order a Venti Cold Brew
Add 4 pumps of mocha sauce
Add 2 pumps of peppermint syrup
Add vanilla sweet cream foam with matcha powder and Irish cream syrup mixed in
8. Shamrock Tea
Ask for a venti Iced Matcha Tea Latte with coconut milk.
Also ask for a splash of lemonade and two scoops of vanilla bean powder.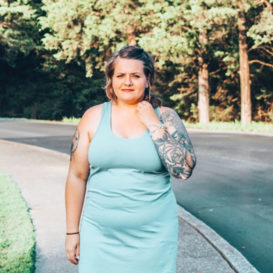 Latest posts by Ashley Hubbard
(see all)