Love croissants? Take them to the next level and create Matcha Croissants by dipping them in white chocolate and matcha!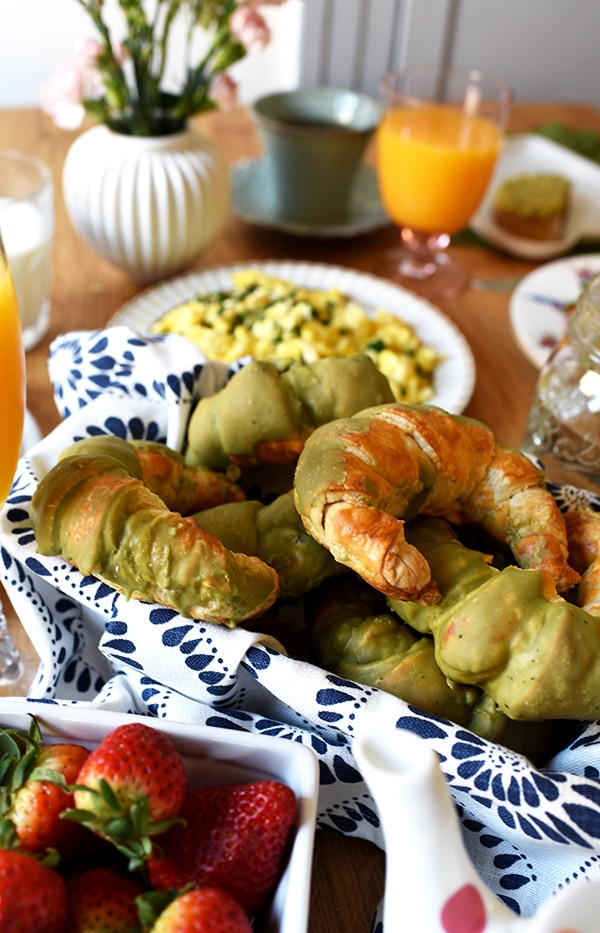 I'm so excited that it's almost spring. After a chilly, rainy winter here in LA, the trees are blooming and flowers are starting to sprout! Thanks to all their rain we were treated to this winter, it appears we'll have a very green spring and summer. And, we're also having a huge wildflower bloom, so I know where I'll be this coming weekend!
Spring is just made for entertaining. The flora and fauna (us included) are ready to shed our winter coats and celebrate! And, whether that's on a sunny hike or over a brunch with friends (East Coast friends, I promise winter is almost done and you'll be right here with us in a few weeks!!!), you're going to need something to snack on while you do. That's where these matcha croissants come in. And, to make celebrating and entertaining that much easier, I made these with Pepperidge Farm® Puff Pastry Sheets.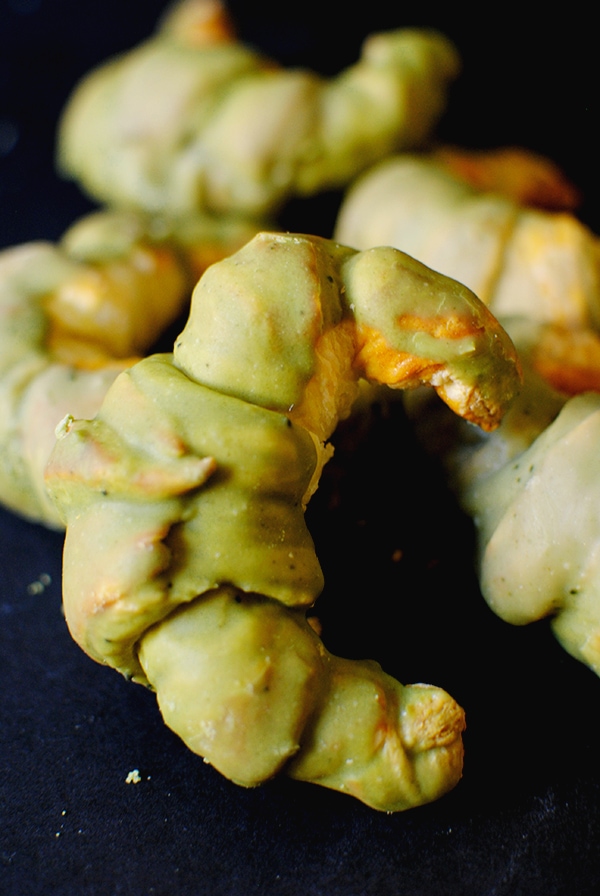 If you've been following my Instagram, you know that I've been on a matcha kick lately! From green tea lattes to matcha energy balls, I really cannot get enough. Matcha is simply powdered green leaves. The flavor is a bit more intense than regular green tea and it's said the benefits are too.
So to welcome the new season, I made these light and airy matcha croissants… and I made them in less than 30 minutes. I know. Croissants. That fast. Seriously, Puff Pastry Sheets make getting creative in the kitchen so easy. (You can also find lots more Puff Pastry recipe ideas here!)
Now, I should warn ya – if you haven't already noticed – matcha is GREEN. Like, really green. But don't be scared. It's delicious. Especially when you mix it white chocolate and eat it on a croissant! Nom.
How to Make Matcha Croissants
Before you read any further, take that box of Puff Pastry Sheets that's in your freezer and put it in the fridge.
Ok, done? Good. You'll want the Puff Pastry Sheets to thaw in the fridge before you start. You don't have to, but it does make the rolling step easier.
Once the Puff Pastry Sheets have thawed, set the oven to 400°F and flour your working surface. Place one of the Puff Pastry Sheets on top. Unfold the dough and use a rolling pin to roll it into a longer rectangle. The exact dimensions aren't really critical. Then, using a sharp knife, a pastry wheel, or a pizza cutter, start from one of the bottom corners and create four triangles. Separate the four triangles from each other and using your knife, cut a small notch in the top of each.
Grasp either side of the notch and gently bend the two flaps outwards. Once this is done, start at the top of the triangle and roll towards the bottom. You should now have a tube. Bend this gently into a crescent shape and voila! A croissant. Repeat with the remaining triangles and with the other Puff Pastry Sheet if you wish to make eight croissants.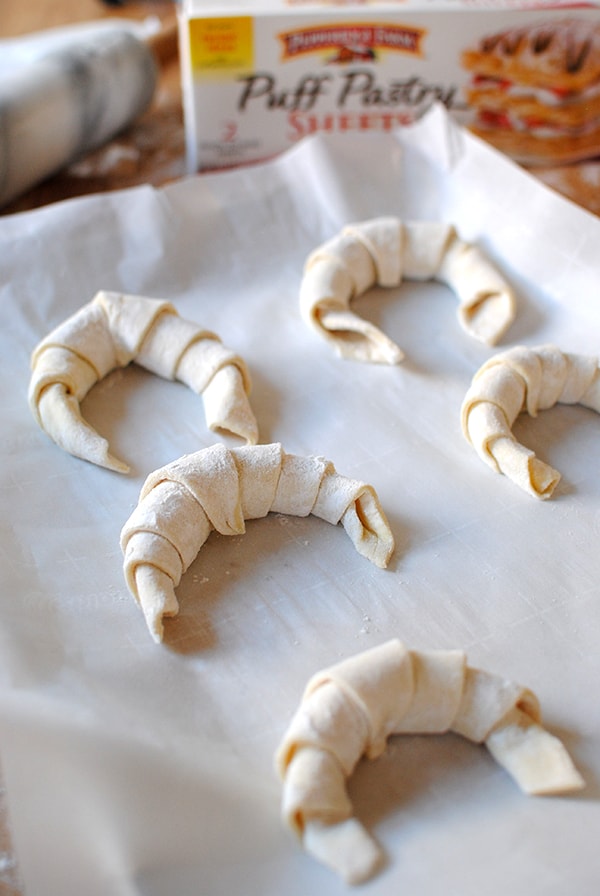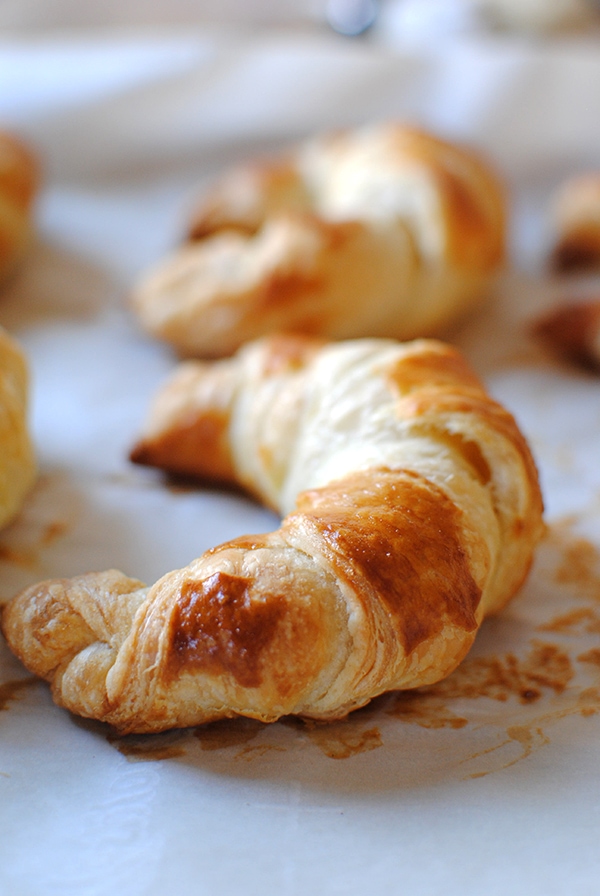 Brush each croissant with egg wash so they get that gorgeous golden brown color, place on a parchment-lined baking sheet, and bake for 20 minutes.
When the croissants are 5 minutes from done, make the matcha ganache. Ganache is simply a mixture of chocolate and cream. What a wonderful word. Anywho, to make the matcha ganache, you'll want to whisk the cream and the matcha together (1 teaspoon for a milder matcha flavor, 2 teaspoons for a richer matcha flavor), heat it so it's boiling, then pour it on top of the white chocolate. Let this sit for 30 seconds and then whisk until it's all the same smooth consistency. (If it's being weird and clumpy, just pour the mixture into a small saucepan and heat over medium-low, stirring continually, until it all comes together.)
Once you've removed the croissants from the oven and let them cool for about 5 minutes, dip them in the matcha ganache. I like to dip half and leave the other half bare, but get creative! Now, try and not devour all of them before the guests arrive!
Matcha Croissants
Print Recipe
These easy Matcha Croissants are perfect for a spring brunch!

Servings: 8 croissants
Ingredients
1 box Pepperidge Farm Puff Pastry Sheets
1 egg
2 tsp matcha
¼ cup heavy cream
¾ cup white chocolate chips
Instructions
Preheat the oven to 400°F.


Using a sharp knife, cut four triangles out of the rectangle and separate them from each other.


Cut a small vertical notch in the top of each triangle.


Bend the edges of the notch outward and roll the triangle from top to bottom. It should now be a tube. Bend this gently to create a crescent shape. Repeat with other sheet of Puff Pastry.


Brush each croissant egg wash and place on parchment-lined baking sheet.


Bake for 20 minutes or until golden brown.


When croissants are 5 minutes from being done, whisk the heavy cream and matcha together then heat in small saucepan until boiling.


Pour on top of chocolate chips and let sit for 30 seconds. Whisk until fully combined. If they do not combine, put all ingredients in small saucepan and heat over medium-low heat, stirring continually, until combined. Pour into small bowl and set aside.


When croissants have cooled for five minutes, dip into ganache and set to dry and cool on cooling rack.

Did you make this recipe?
Leave a review below, then take a photo and tag @letseatcakeblog on Instagram so we can see it!
For more great Puff Pastry recipes — including chocolate cream puffs — click here!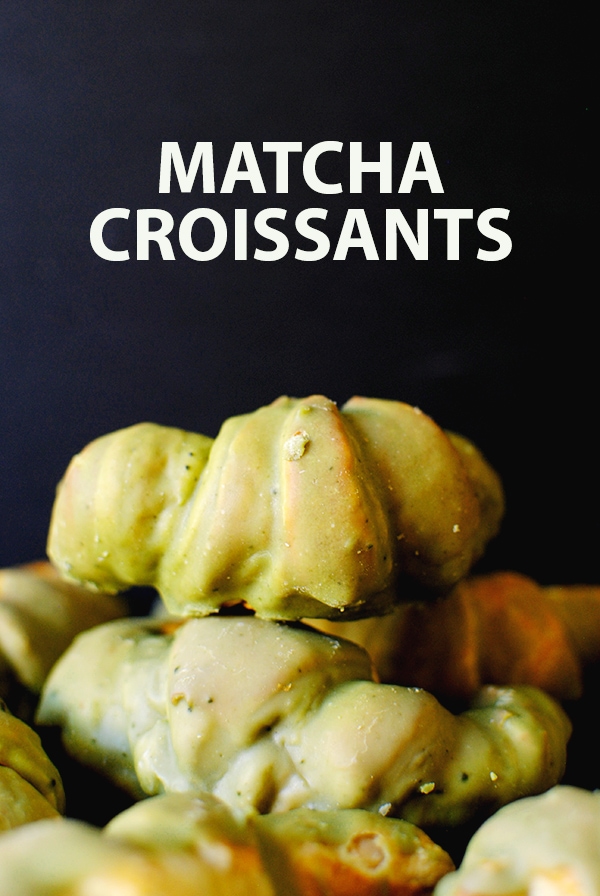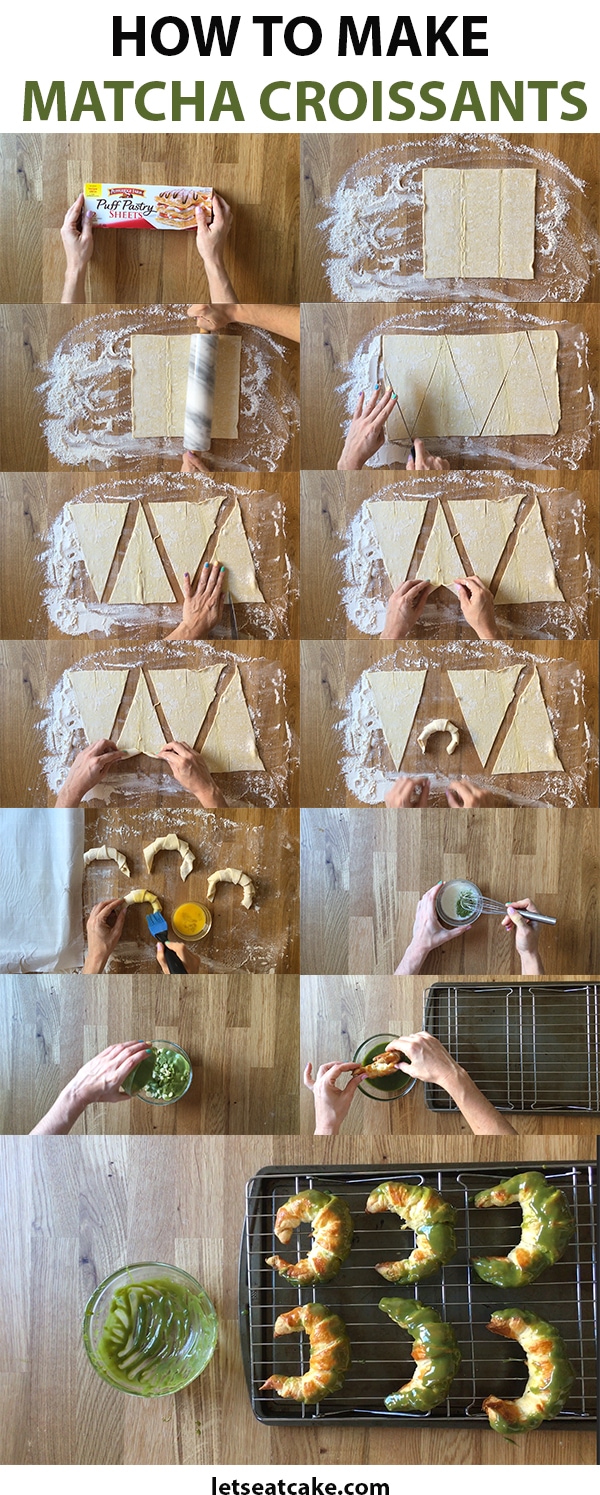 Save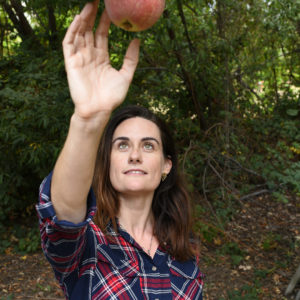 Latest posts by Rebecca Swanner
(see all)