These Matcha Energy Balls are a great healthy snack if you're looking for a little power-up. (Turns out banging your head on a block just gives you a headache, not the ability to spit fire.) Does anyone have any Tylenol?
If you love energy or protein balls, make sure to check out our collection of 25 energy ball recipes!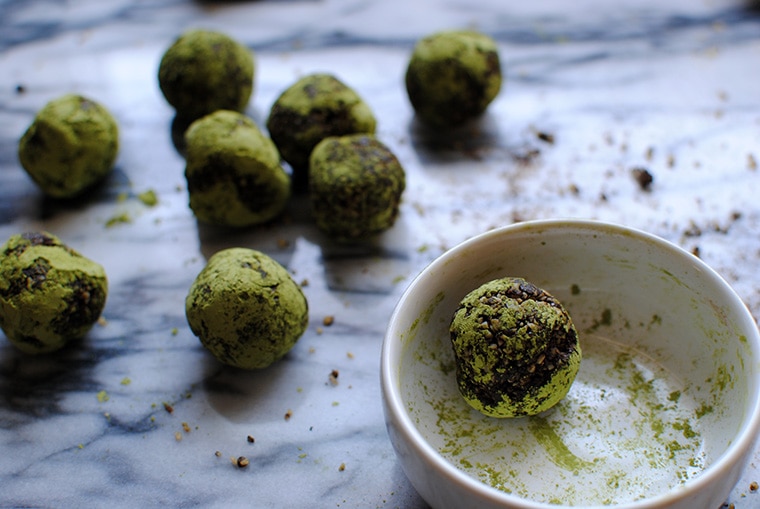 I don't think the first time I had matcha was in Japan, but the first time I remember drinking it, my friend Zac and I were staying at a guest house inside a temple complex in Kyoto.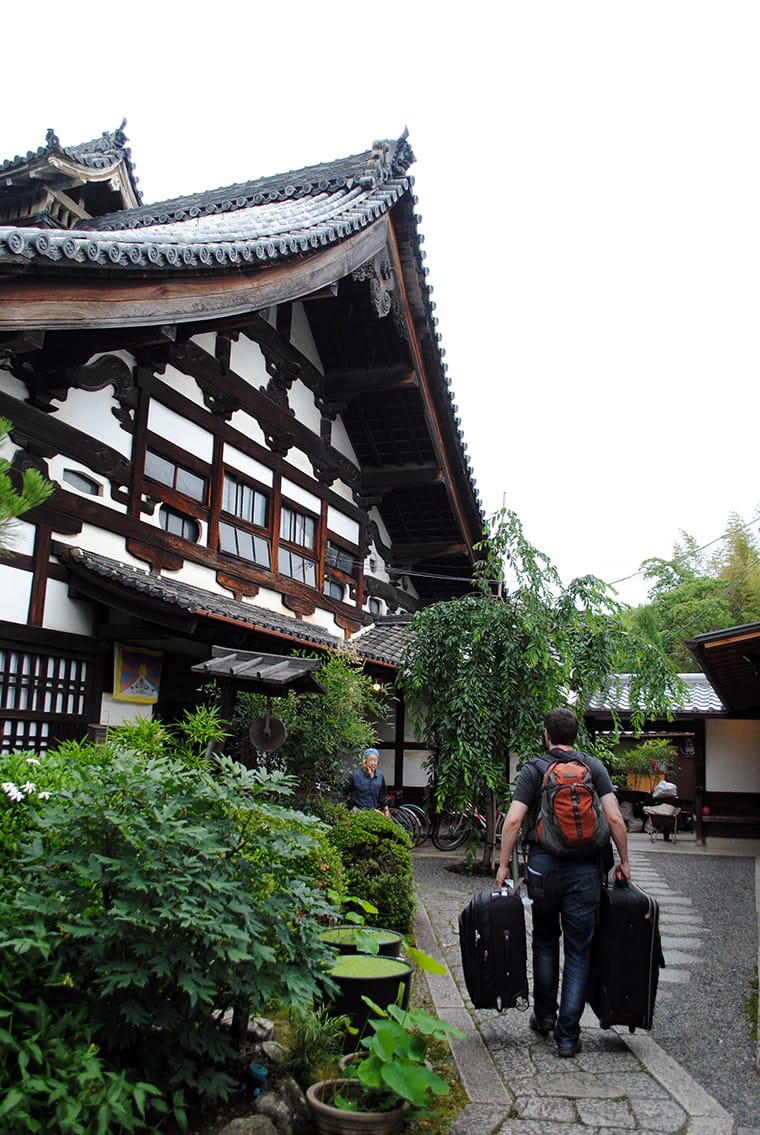 What Does Matcha Taste Like?
I find these chocolate matcha balls totally addictive, but my younger self would have certainly raised an eyebrow at them. That's because growing up, I hated anything that was even mildly bitter.
And matcha is a little sweet but also a little bitter.
If you're not into bitter things — for instance, for years, I refused to drink coffee or eat kale — I recommend not rolling the balls in matcha. The final coating is pretty, but it does make the balls taste a little dry and grassy… so skip the final step if you're not like dry grassy things are my favorite ever.
Does Matcha Contain Caffeine?
Oh yes. Matcha contains 30-35mg of caffeine per 1/2 teaspoon of green tea powder and 60-70mg per 1 teaspoon. To compare, here's how much caffeine is in some common drinks:
Red Bull (12 oz. can): 111mg
Brewed coffee (8 oz.): 95mg
Espresso (one shot): 64mg
Green tea (8 oz.): 35mg
Coca-Cola (12 oz. can): 34mg
Why is matcha more caffeinated than green tea? Because matcha is powdered green tea. In other words, it's concentrated AF. Instead of steeping the green leaves in hot water, you consume the whole leaf. Or, in the case of these matcha energy bites, you mix the powdered green tea in with the other ingredients.
After drinking matcha for the first time, I felt focused, but not on like I do if I have too much coffee. The monk warned us, however, not to drink more caffeine for four to six hours. Someone… (it might have been me) did not listen to the monk. I am not going to show you the photo Zac took of me that afternoon after I had a latte and another cup of matcha tea because I don't want to give you nightmares.
How Do You Make Matcha?
In June, the sun rises early in Japan — just before 5am — and I'd wake up with it. I'd quietly leave our room and tuck into a corner on the temple grounds and write. Or, I'd go on a stroll around the larger complex.
One morning, we had the pleasure of meditating with temple's monk. For more than thirty minutes, we meditated with him, focusing on our breath while the leaves of the trees whispered outside. Afterwards, we were treated to an intimate tour of the temple's rooms and a matcha tea ceremony.
During the tea ceremony, they taught us how to make matcha. In 1191 the Chinese Monk Eisai brought matcha tea, the matcha tea ceremony, and the Rinzai school of Zen philosophy to Japan. (All I brought was my jetlag.). Here are the basics.
To prepare matcha, you'll want a strainer, a whisk, and a ceramic bowl. Here's a whole set to get you started.
Use the scoop (chashaku) to place three scoops (or up to 1 teaspoon) of matcha in the ceramic bowl (chawan).
Add hot water to the bowl.
Use the bamboo whisk (chasen) to stir the mixture until it foams and is evenly combined. There should be no clumps of matcha powder in the bowl.
Add more hot water to make up to 8 ounces of matcha tea. Enjoy.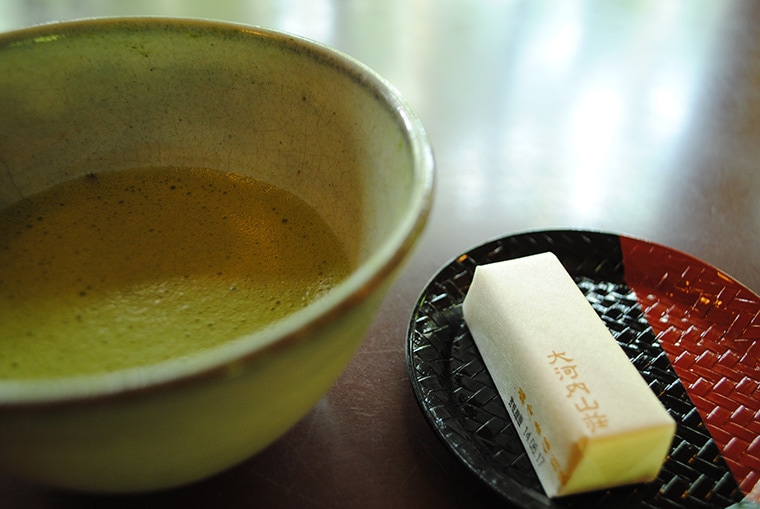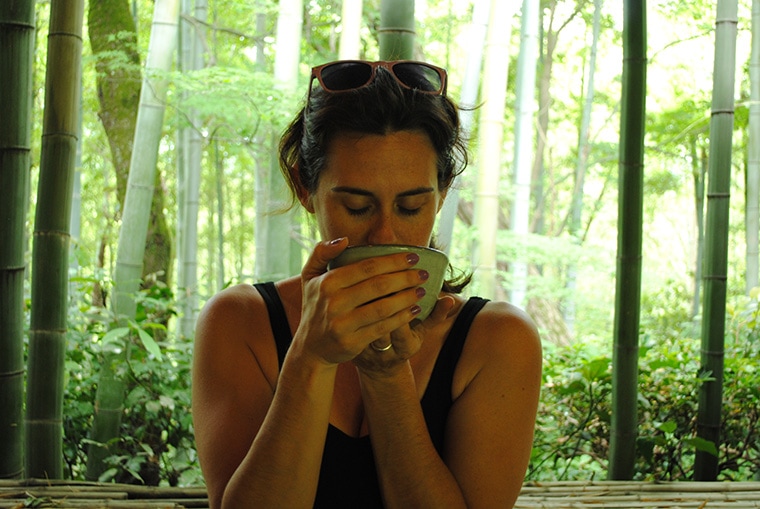 After my first matcha tea ceremony, I was in love. During our trip, we made sure to visit Ippodo, a 300-year-old shop in Kyoto that specializes in matcha. There, I purchased all the implements needed to enjoy a tea ceremony at home as well as some Ippodo matcha exclusive to Kyoto. I know. Fancy.
Then, when I visited New York last fall, I purchased some baking matcha from Palais des Thés and purchased some baking matcha. That's the matcha I used to concoct this Matcha Balls recipe.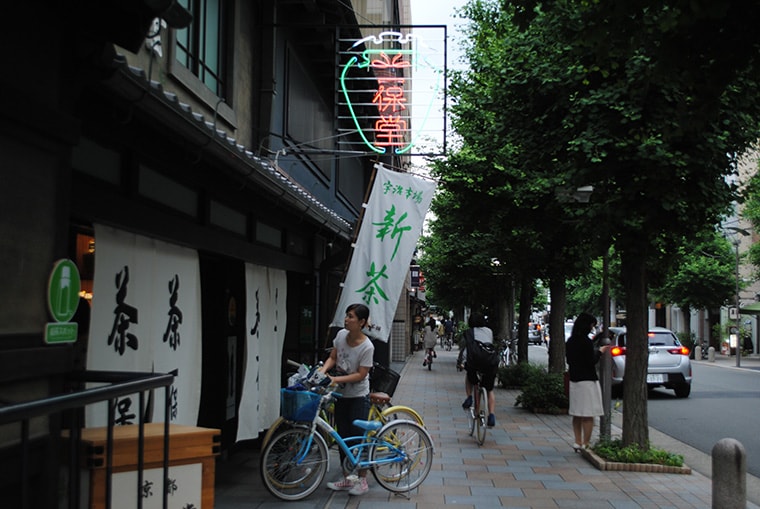 How to Make Matcha Energy Balls
Now that you know what matcha is, here's how to make the green tea balls.
It's easiest to make these using a food processor, but you might be able to make them with a very powerful blender. Place the pitted dates, almonds, matcha powder, cocoa powder in the bowl of your food processor. Pulse until the mixture is combined (If you look at the photo below, it should look like the image on the top right).
Stop the food processor and add vanilla extract and maple syrup. Pulse until combined. Carefully remove the blade and mixture and roll into 14 balls. Roll these in matcha if desired. (See comments above). Store the matcha energy balls in the fridge until you're ready to enjoy them.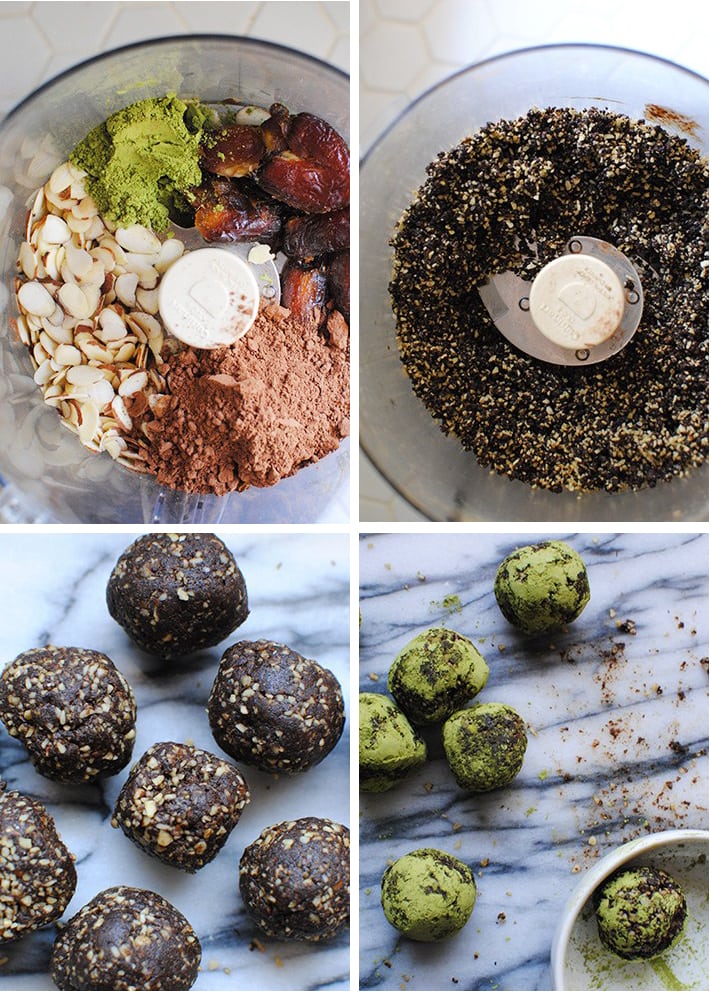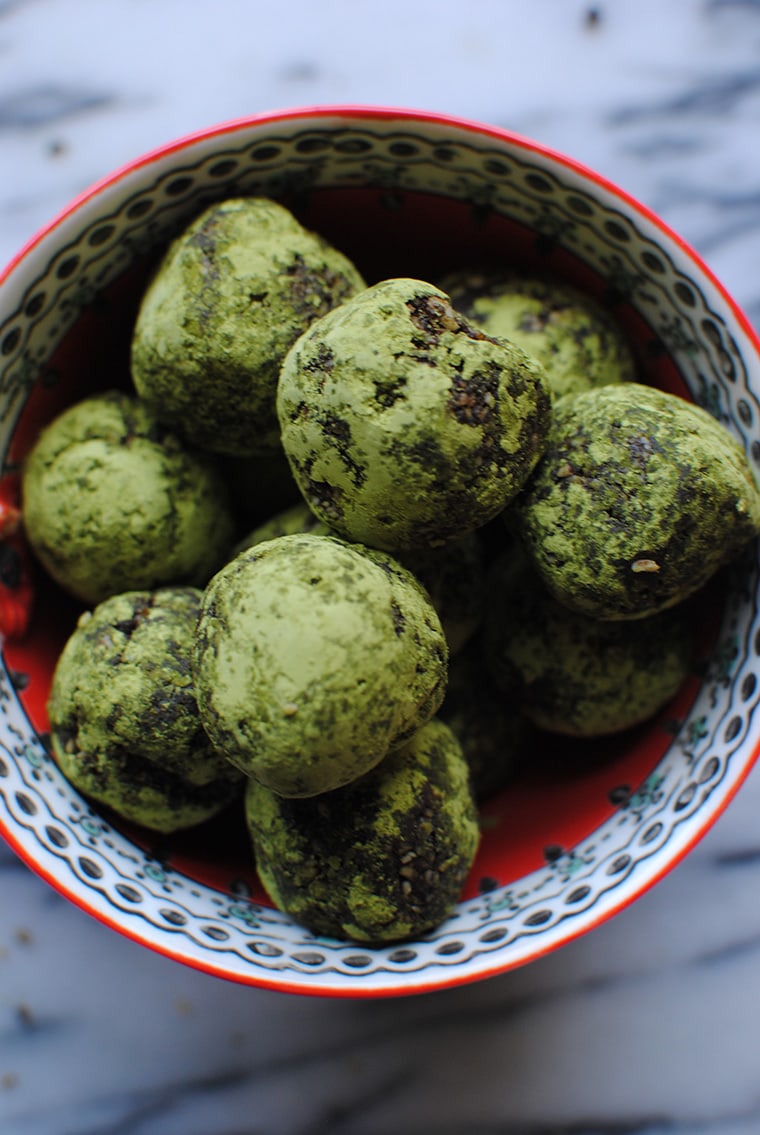 Chocolate Matcha Balls
Print Recipe
Chocolate Matcha Energy Balls are an easy healthy snack.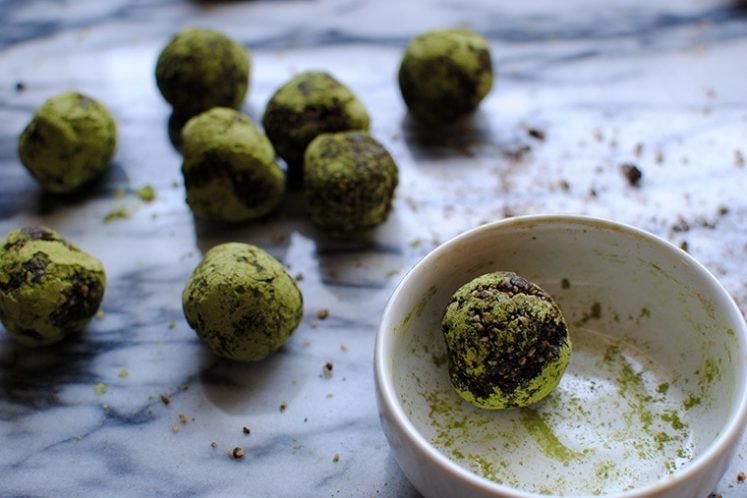 Servings: 14 balls
Ingredients
½ cup dates (pitted, approx. 4 ounces)
½ cup slivered almonds
¼ cup cocoa powder
1 Tbsp. matcha powder (plus more for rolling)
1 tsp. vanilla extract
1 tsp. 100% maple syrup
Instructions
Place dates, almonds, cocoa, and matcha in food processor. Blend until fully combined.

Add vanilla extract and maple syrup. Blend until combined.


Roll mixture into 14 balls.

Roll balls in matcha powder. (Optional)


Enjoy or store in refrigerator until ready to eat.
Notes
Some people find that matcha tastes grassy or bitter. To avoid this but still enjoy the energy balls' matcha flavor, only incorporate the matcha into the mixture and skip rolling the balls in matcha at the end.
Love energy balls? Check out these 25 recipes!
Nutrition Facts
Chocolate Matcha Balls
Amount Per Serving (1 ball)
Calories 53 Calories from Fat 18
% Daily Value*
Fat 2g3%
Carbohydrates 9g3%
Fiber 2g8%
Sugar 6g7%
Protein 1g2%
* Percent Daily Values are based on a 2000 calorie diet.
Did you make this recipe?
Leave a review below, then take a photo and tag @letseatcakeblog on Instagram so we can see it!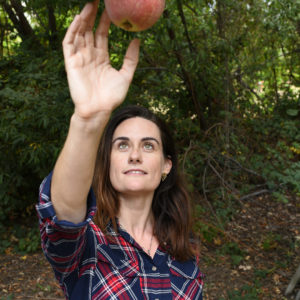 Latest posts by Rebecca Swanner
(see all)