Love energy balls? Learn how to make this easy, healthy snack at home with these tried-and-true tips. Below, you'll find 25 recipes for no-bake energy balls, including no-bake peanut butter balls, chai energy bites, and apple cinnamon energy balls!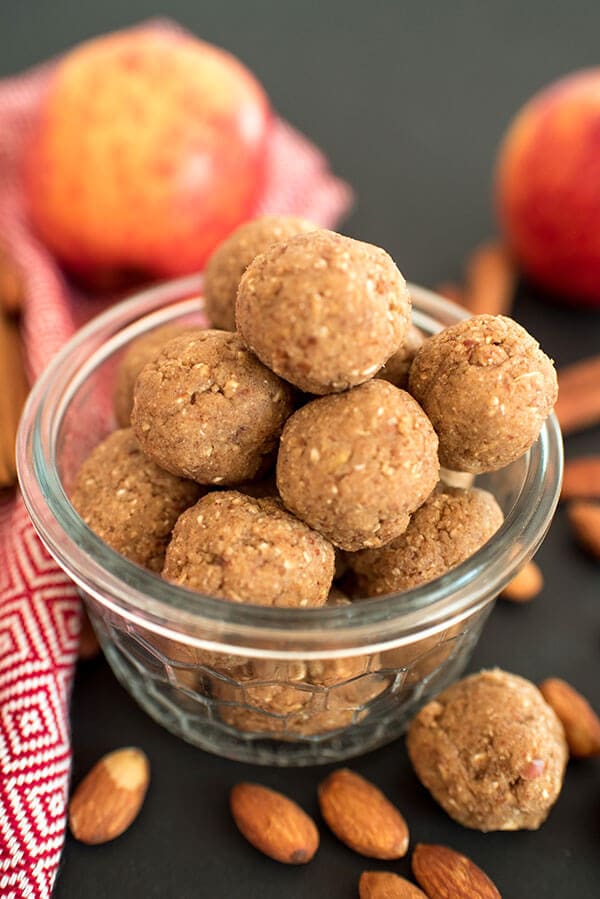 No Bake Energy Balls are easy to make – they're made (usually) with just a handful of ingredients and are so easy to customize to fit your favorite flavors and your dietary needs. They're a great healthy snack that you can grab on your way out the door or keep in your fridge at home (or at work if you can trust your coworkers) when you need a pick-me-up.
Before we dive into the recipes, I want to share with you some tips and tricks so you experiment and come up with your own recipe for no bake energy balls if you're so inclined. And, if not, that's ok too! Just click on the "Jump to Recipe" at the top of the page, and it'll take you down to the Apple Cinnamon No Bake Energy Balls that kicks off the recipe section.
How to Make No Bake Energy Balls
To create no-bake energy balls, you'll want:
• Nut or seed butter (such as peanut butter, almond butter, or sunflower seed butter)
• Sweetener (such as honey, dates, or maple syrup)
• Binder (oats, unsweetened shredded coconut)*
• Protein (such as whey, casein, pea, egg white) – optional
• Texture (such as chia or chocolate chips) – optional
• Spices – optional
* I have made no bake energy balls without using oats or coconut as a binder, such as in this recipe for Dark Chocolate Matcha No Bake Energy Balls. I added a combination of two very dry ingredients – in that case cocoa powder and matcha – to help hold the mixture together.

How much of each ingredient you should use in your no bake energy balls?
Most energy ball recipes have a ratio of 3/4 binder + protein powder to 1 part sweetener + nut butter (dry to wet if you will) and around 400 grams total of ingredients.
I know. Recipe development does involve a bit of math as you need to covert everything to grams to really know the ratio, but as an example (without converting), a recipe that calls for 1/4 cup of nuts, 1/2 cup almond butter, 1/3 cup of maple syrup, 1/2 cup oats, and 2 scoops protein powder has that ratio. If you're adding fresh fruit to your energy balls, count it in the "nut butter/sweetener" camp.
If your mixture has more than 3/4 binder/protein powder to sweetener, the final recipe will be drier. More nut butter/sweetener, and the final recipe will be more moist. The awesome part is that if you feel your recipe is too far in either direction while you're making it, just add more dates/nut butter or more oats/protein and blend. Just do it a little at a time so you can monitor the flavor.
When it comes to texture, one to two tablespoons is sufficient. Spice, up to a teaspoon and a half, but go slowly as spice is easy to overdo. I like to make up my spice mixture before adding them, taste them to make sure I've got the blend right, and then slowly add them to the mixture until it's enough.
What Kind of Protein Should You Use?
I spoke with Denis Faye, M.S., "The Nutrition Nerd" about this and how to choose the best one. "In a timing situation, when you're isolating nutrients, a specific protein is important." He continues, "But when you're creating a recipe that's just about getting protein in your system, you're also adding a bunch of other ingredients. This diminishes the unique qualities of the proteins, so you might as well pick the one that tastes the best."
Is it even worth adding additional protein to your energy balls? Faye says, "Adding the protein is nice because it contributes to the overall protein intake and it helps with satiety, so you're popping less balls."
Here's a very very short primer on the differences between whey, casein, and pea protein
All help with feelings of satiety (feeling full) and with muscle composition. These proteins aren't the only proteins to choose from, but they are the most popular. If you want me to add some basic info on another protein, or if you have more questions, let me know in the comments!
• Whey protein: Is fast-absorbing, so it's best just after a workout as it aids with post-workout protein synthesis. More on that here.
• Casein protein: Is slow-absorbing, so it's best about an hour before bed. It helps repair your muscles as you sleep and helps prevent you from waking up hungry.
• Pea protein: Most vegan protein powders (like the Minimalist Baker covered extensively here) use pea protein as a base. It's absorbed at a rate between that of whey and casein and, it's got the same muscle-building effects as whey.
Do energy balls actually give you energy?
I mean they taste good… but are energy balls really a healthy snack recipe? "That's the funny thing about energy balls and energy bars. They're useful for people exercising." Faye continues, "But, if you're tired in the afternoon, fast-absorbing carbohydrates (like candy) are going to give you pep, then a crash. A slower-absorbing snack with some fiber, fat, and protein is better. But honestly, if you have slumps in the afternoon, it probably means you're stressed or tired. Yes, food is energy, but looking to food to give you an energy boost is kind of an odd strategy. You probably need to sleep more."
If you want to use energy balls as a quick pre-workout snack, eat one or two a half hour to an hour before your workout.
How to Make No-Bake Energy Balls
Putting the No Bake Energy Balls together is the super easy part. Once you have your energy ball recipe, making them takes maybe 10 minutes. Drop everything into the base of a blender or food processor and turn on until everything is fully combined. Then scrape out the mixture into a small bowl and place this in the fridge for 30 minutes to an hour. This makes it easier to roll. Once they're ready, roll them into tablespoon sized balls and enjoy! I keep mine in the fridge and usually eat them within 5 days.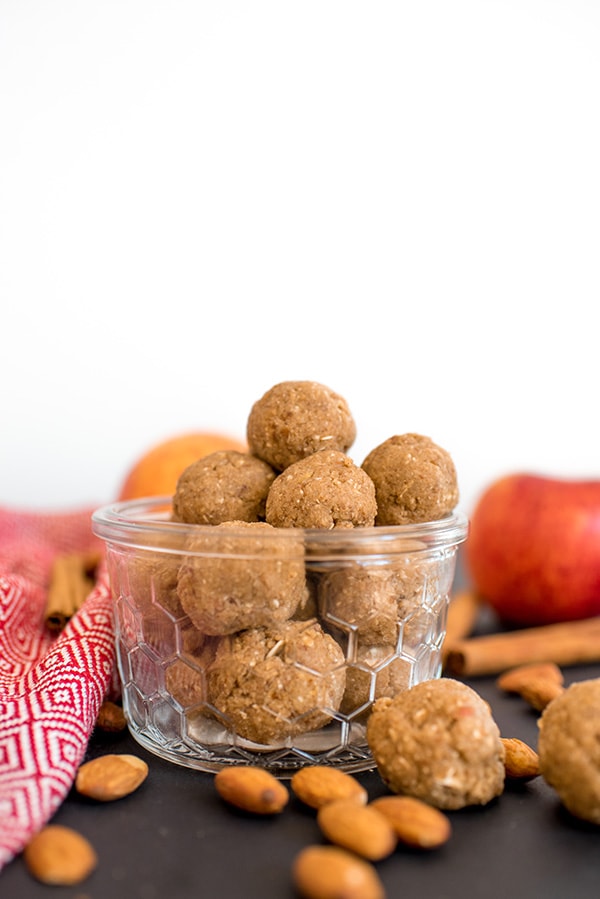 Apple Cinnamon Energy Balls Recipe
Print Recipe
This easy recipe for apple cinnamon energy balls taste just like fall! Try them and check out 24 other delicious energy ball recipes.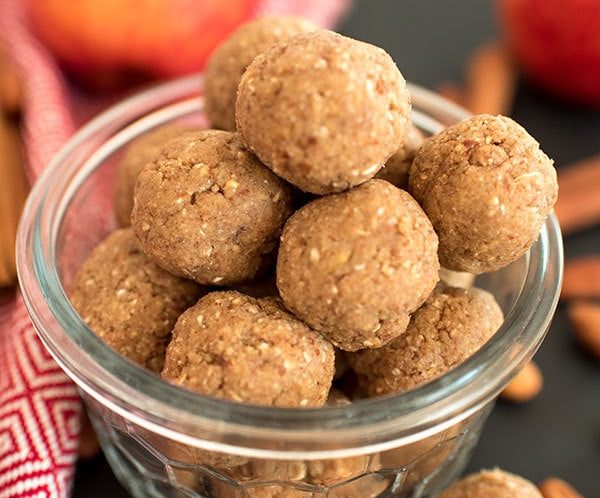 Servings: 20 servings, 1 energy ball each
Ingredients
6 dates (pitted, torn)
1/2 cup raw, unsalted almonds
1 scoop Beachbody Performance Recharge (or other protein powder)
1/2 cup rolled oats
1 medium apple (grated)
1 Tbsp. honey
1/2 tsp. ground cinnamon
Instructions
Add all ingredients to food processor.


Blend until fully combined and shape into balls. Each should be about the size of one tablespoon. If too hard to shape, refrigerate for 30 minutes.


Store in fridge for up to 5 days.

Nutrition Facts
Apple Cinnamon Energy Balls Recipe
Amount Per Serving (1 ball)
Calories 60 Calories from Fat 9
% Daily Value*
Fat 1g2%
Cholesterol 1mg0%
Sodium 4mg0%
Potassium 84mg2%
Carbohydrates 11g4%
Fiber 2g8%
Sugar 7g8%
Protein 2g4%
* Percent Daily Values are based on a 2000 calorie diet.
Did you make this recipe?
Leave a review below, then take a photo and tag @letseatcakeblog on Instagram so we can see it!


24 More No-Bake Energy Ball Recipes!
From the classic peanut butter energy balls to versions that taste like chai, matcha, and brownies, these 24 energy ball variations will keep your sweet tooth satisfied.
Peanut Butter Protein Bites
Peanut butter, oats, chocolate chips. 'Nuff said.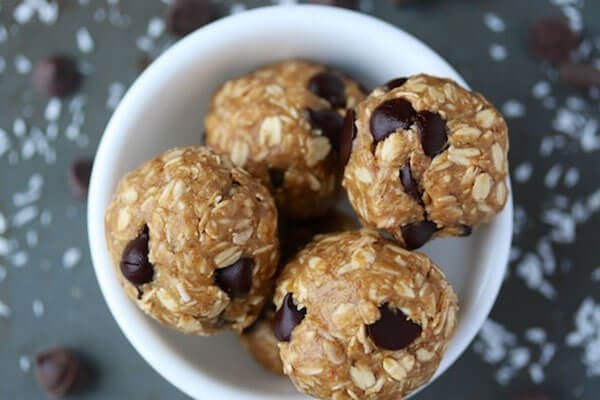 Chocolate Almond Balls
These power balls taste decadent, but are made from dates, almonds, coconut, and cacao.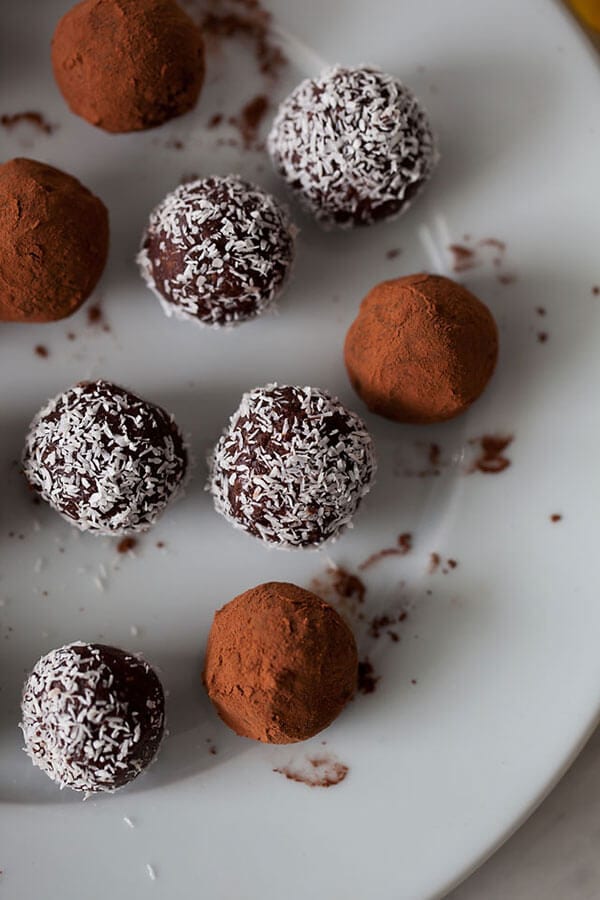 Chai Spiced Energy Balls
This cozy recipe is perfect for fall!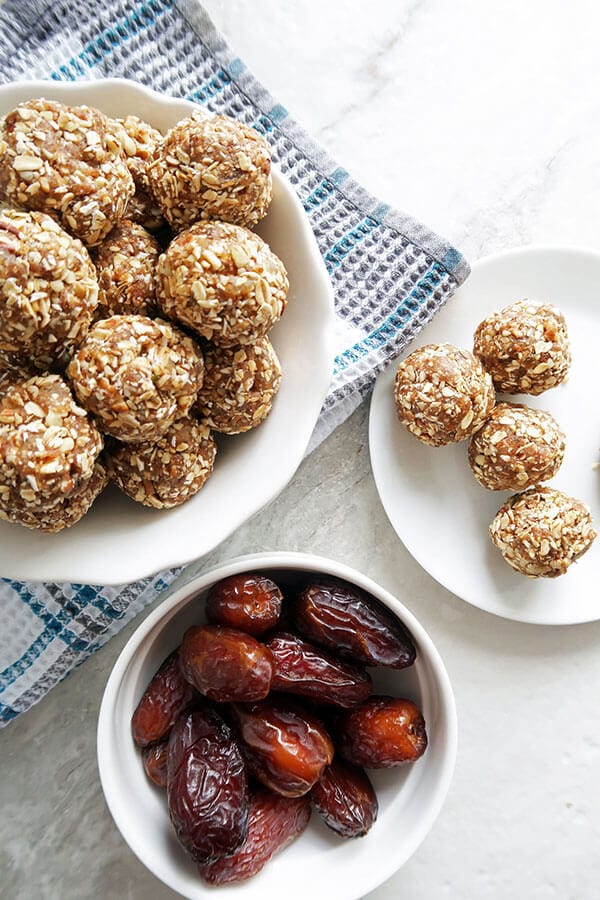 Raw Superfood Balls
These energy balls are packed with hemp seeds, cacao nibs, goji berries, and more!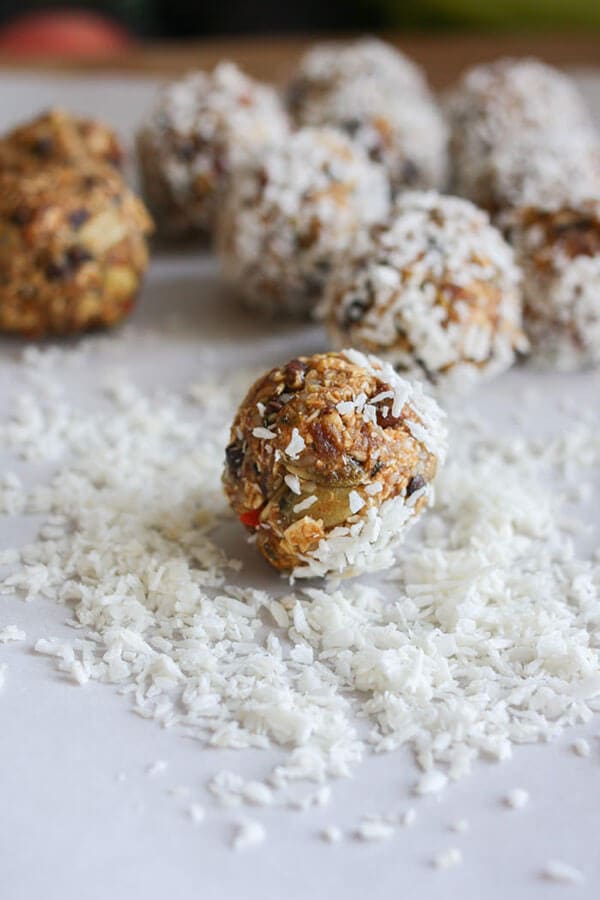 Cranberry Energy Bites
When the holidays roll around, you'll want a few of these to snack on.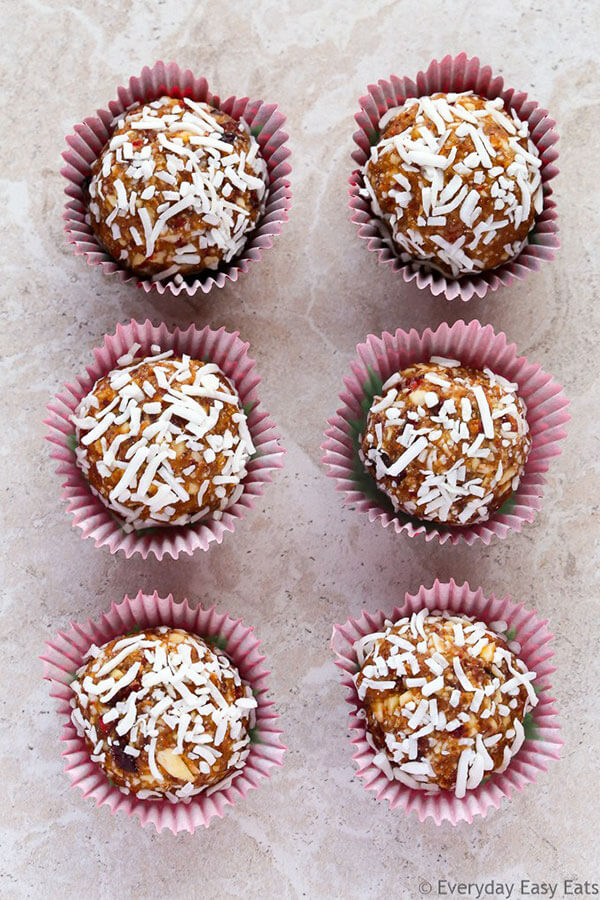 Chocolate Matcha Energy Bites
Dark chocolate and matcha come together in this rich, decadent, and totally easy-to-make recipe.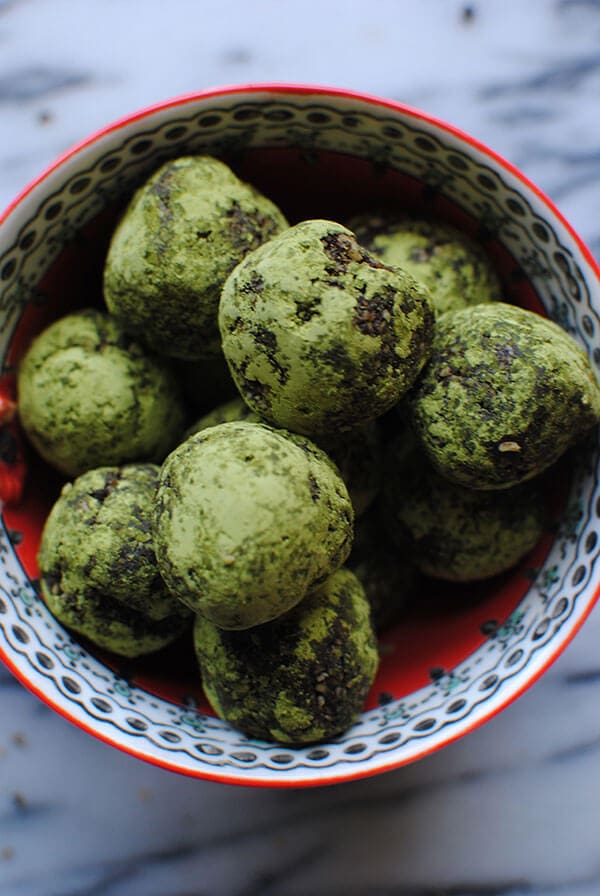 No Food Processor Peanut Butter Energy Balls
No Food Processor? No problem. Work those biceps by mixing this one with a spoon.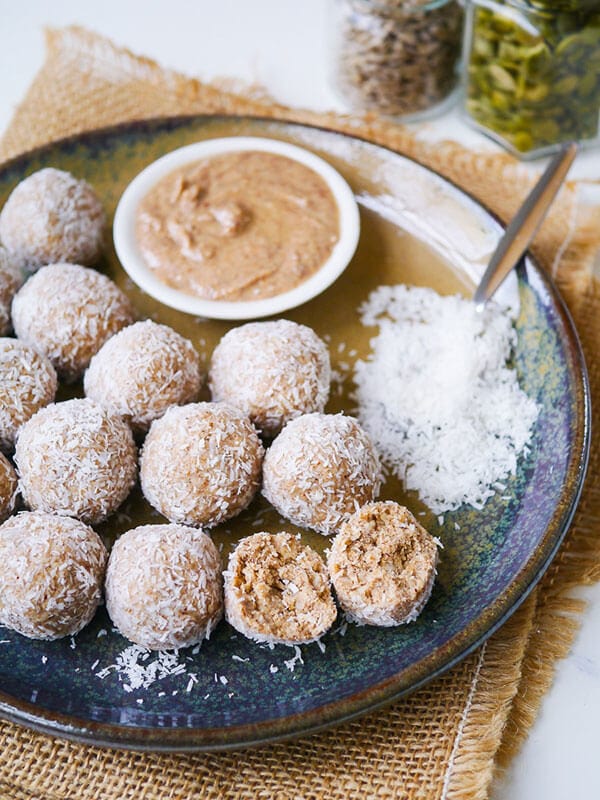 Oatmeal Cookie Energy Balls
I'm all about oatmeal cookies, so these are totally up my alley.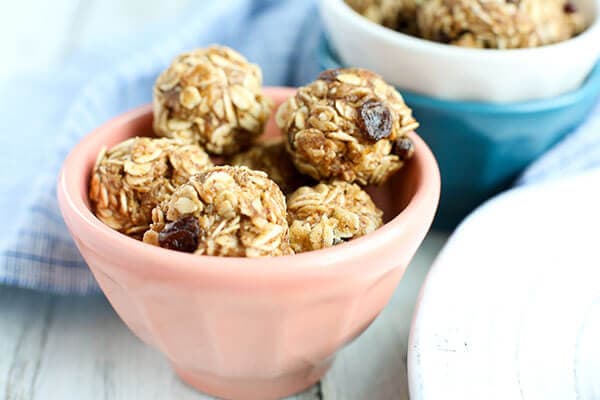 Golden Sesame Balls
Made with turmeric and tahini (sesame butter) and then rolled in sesame seeds, these vibrant energy balls sound — and look — delicious.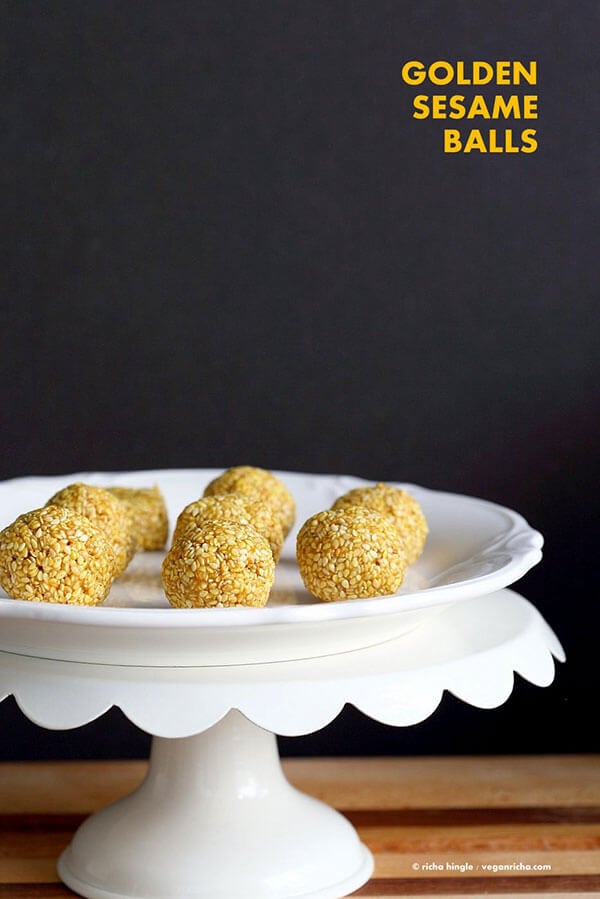 Apricot Bliss Balls
With just three ingredients, this vegan energy balls recipe comes together in no time!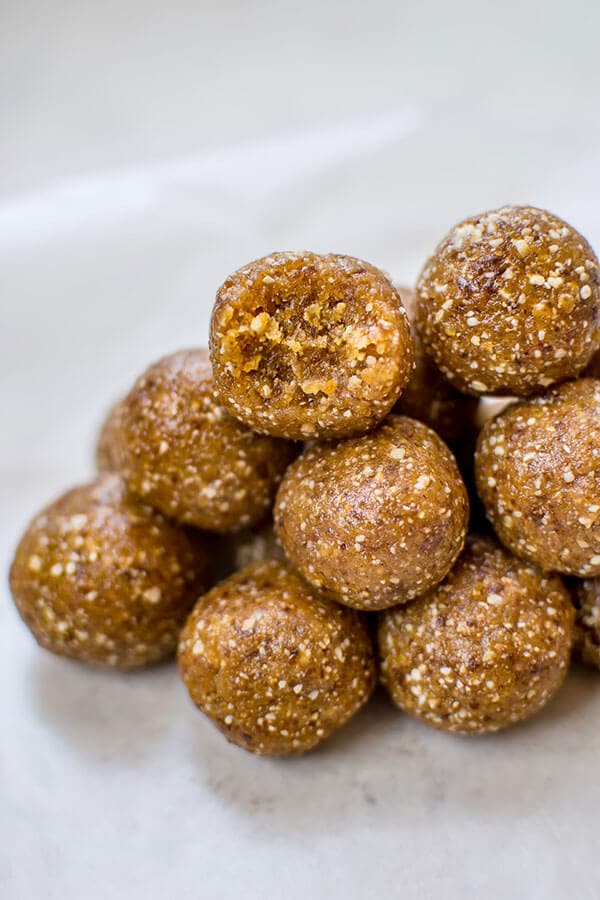 Chocolate Chickpea Truffles
Dark chocolate, cinnamon, and chickpeas combine to create a spicy, delicious, and secretly healthy snack.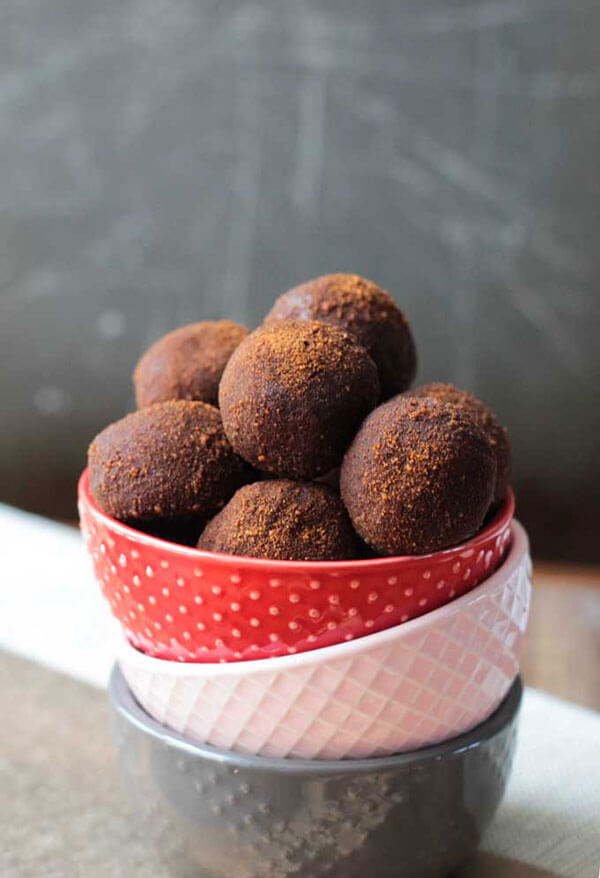 Lemon Turmeric Energy Balls
With their bright flavor, these are great for a mid-morning snack!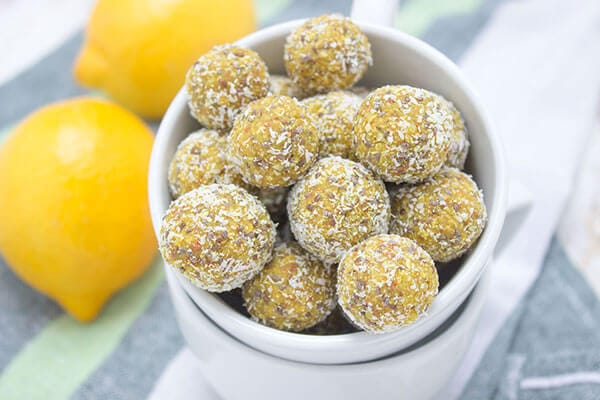 Black Bean Energy Balls
Not into nuts? Skip them with this recipe that uses black beans instead!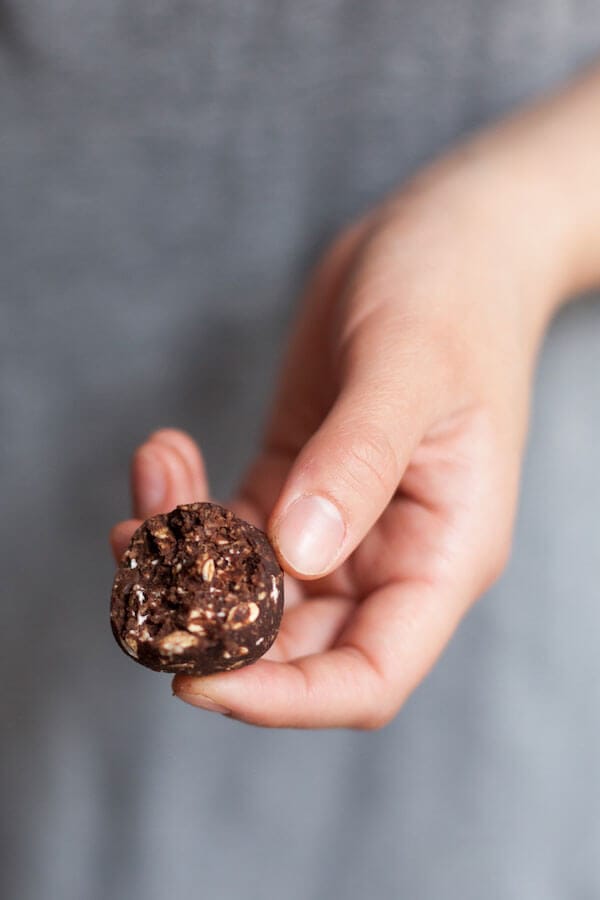 Sweet Potato and Ginger Energy Balls
For a more savory take, try this version made with sweet potato and a hint of spice.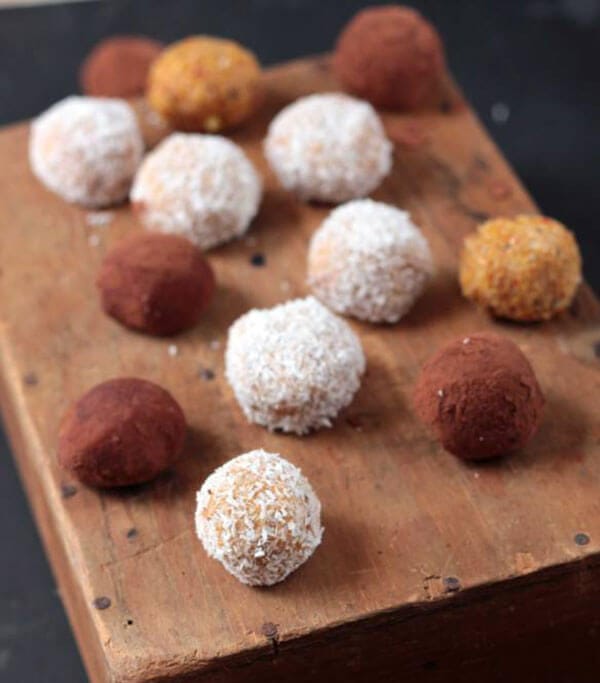 Cacao and Coconut Seedy Bliss Balls
With a boost of protein from Greek yogurt and fiber from chia and flax seed, these mini power balls are a great healthy snack.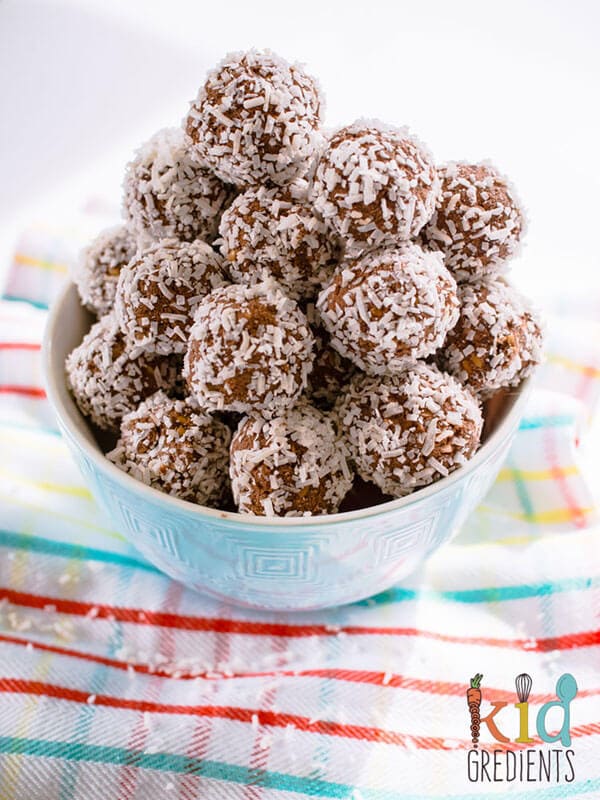 Dirty Chai Energy Bites
Warming chai spices and a touch of espresso combine in this yummy recipe!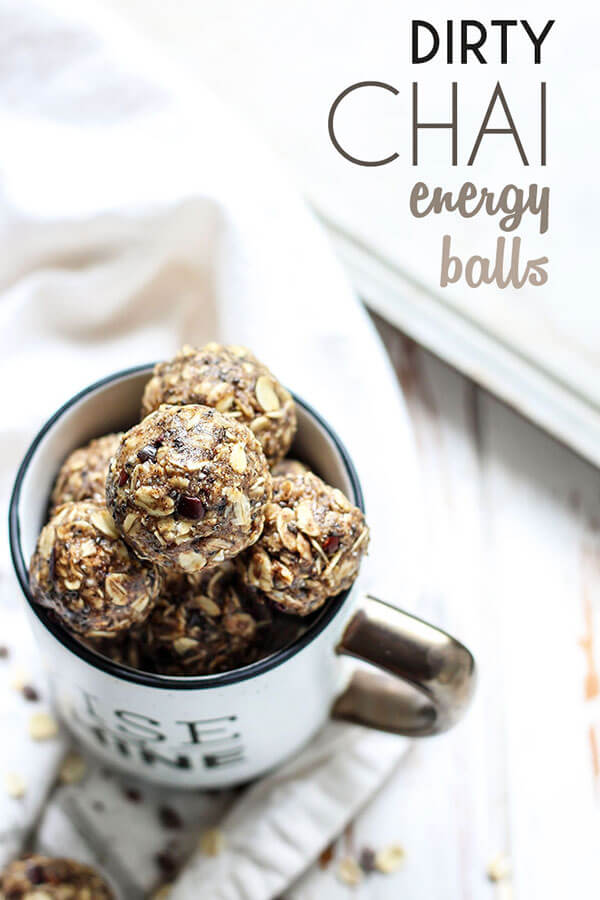 Butterscotch Energy Bites
Swap out chocolate chips for butterscotch and you've got a new twist on the classic energy ball recipe!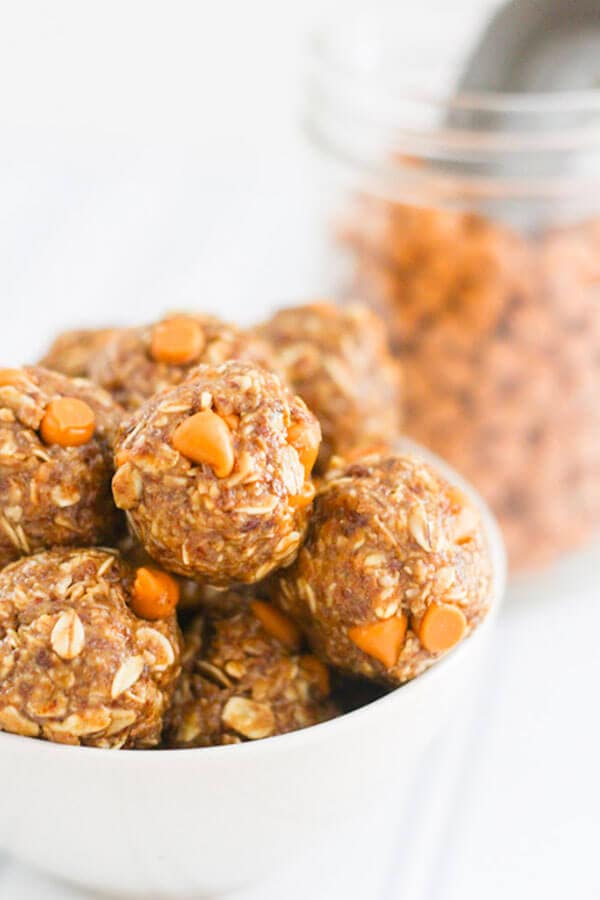 Matcha Red Bean Energy Balls
I love, like looooooooove red bean paste. The sweetness of the red bean paste blends beautifully with the bitter matcha in this recipe.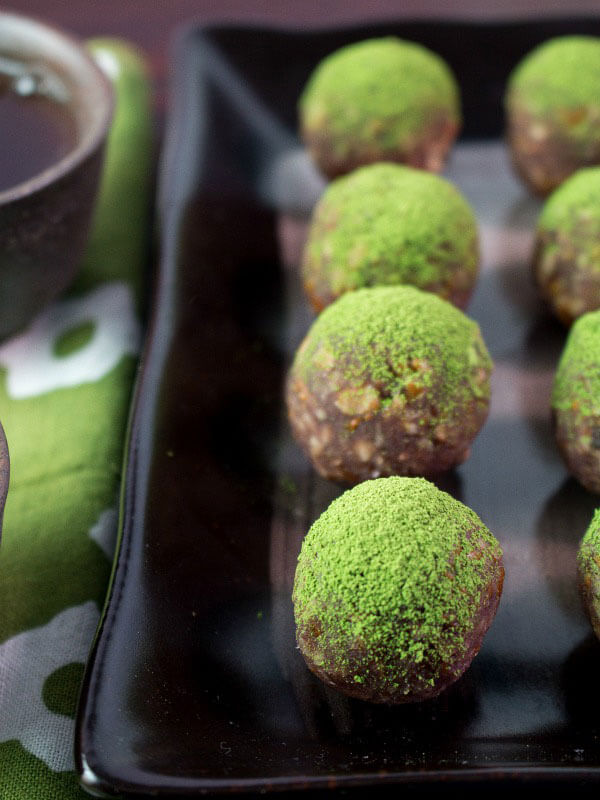 Lemon Coconut Energy Balls
Delicious in the summer and perfect in colder months to remind you of the warm season!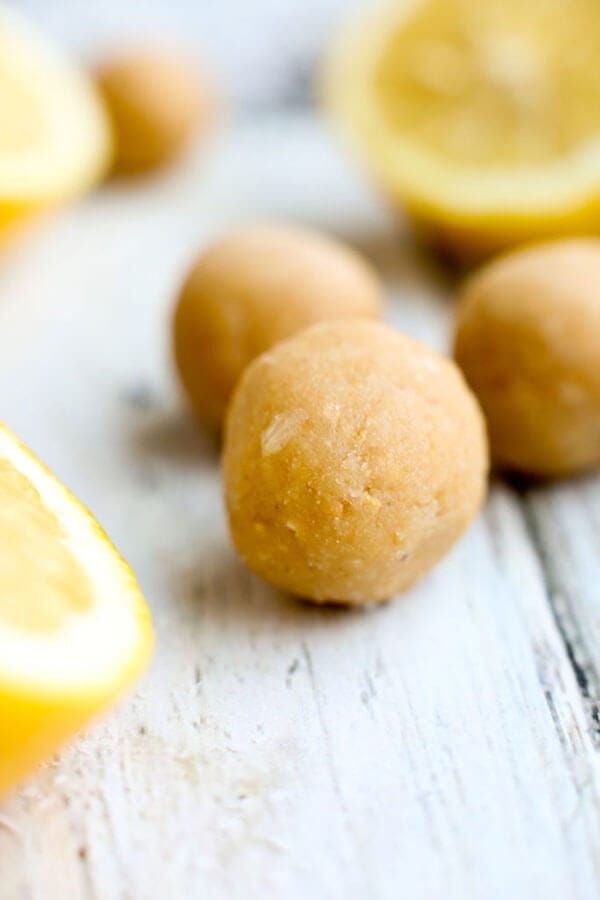 Mint Chocolate Truffle
Homemade Lara Bar? Don't mind if I do. Also, so perfect around Christmas.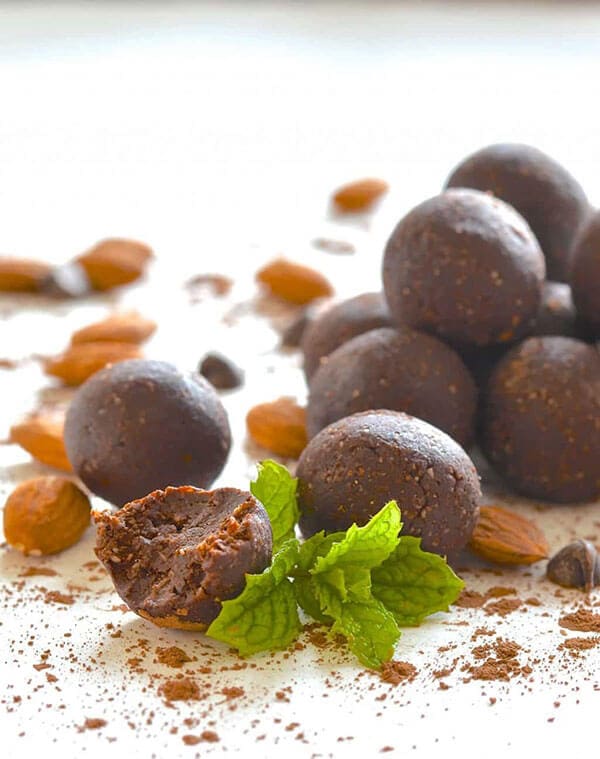 Brownie Energy Bites
Crunchy quinoa and cacao nibs give these dark chocolate brownie bites a fantastic texture.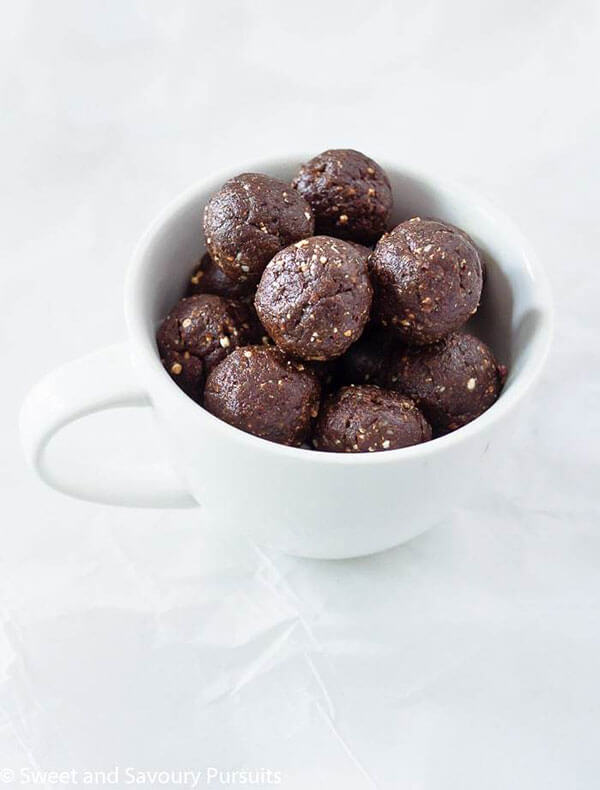 Chocolate Espresso Energy Bites
But first, coffee. No. Chocolate. No, coffee. No need to choose – this recipe has both.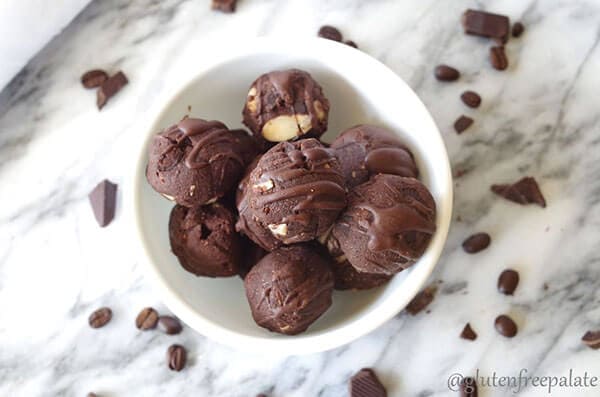 Cashew Apricot White Chocolate Energy Balls
If you're looking for an energy ball on the sweeter side, you'll love these!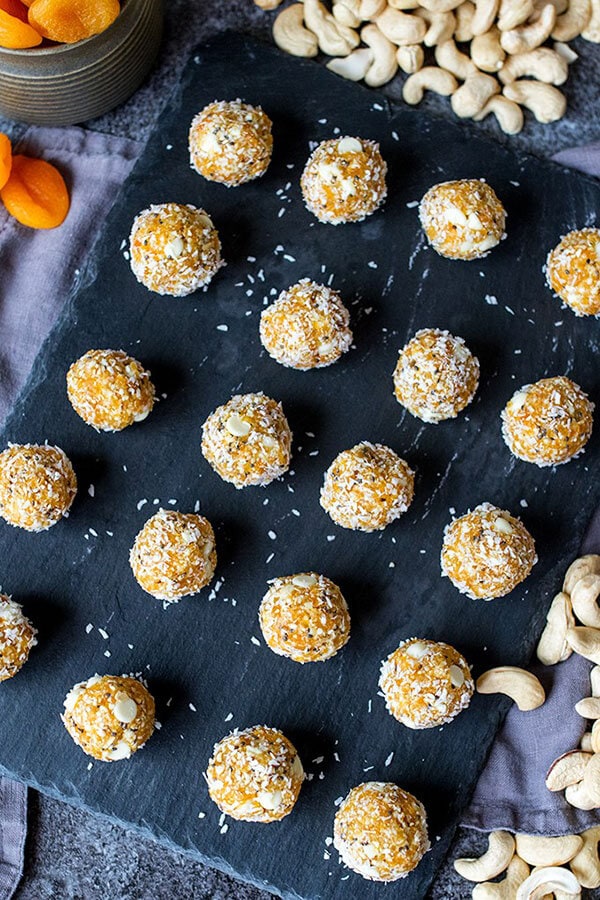 Caramel Peanut Protein Truffles
As soon as I saw these, my jaw dropped. Somehow coating energy balls in chocolate just takes them to the next level for me.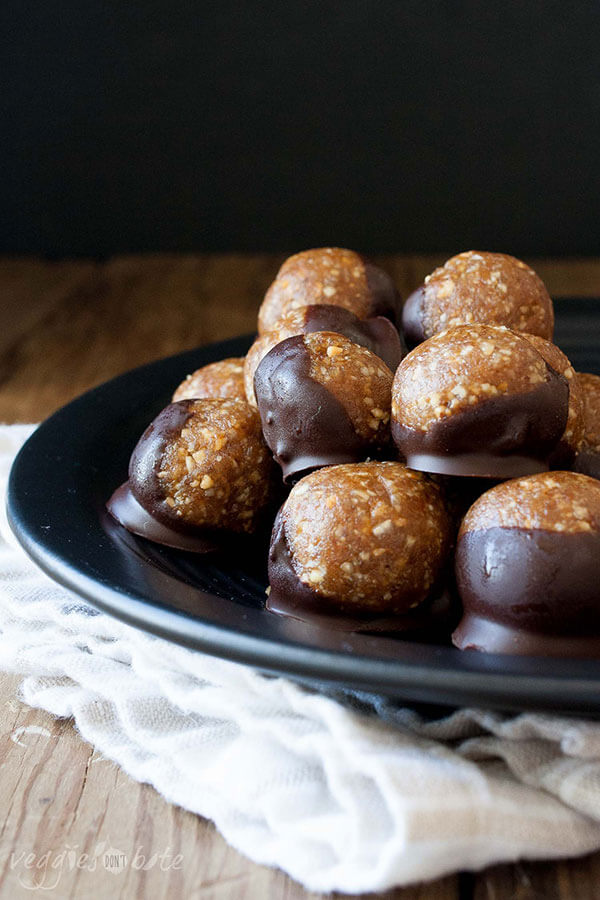 Save
Save
Save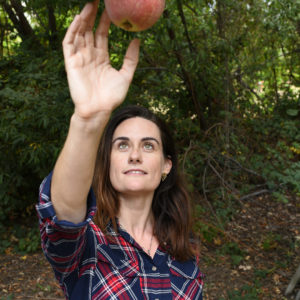 Latest posts by Rebecca Swanner
(see all)