If your day start by snoozing your alarm five times and running out of the house just eight minutes before you have to be at work, then we bet that a healthy morning meal isn't high on your priority list. But we have some exciting news: you don't have to follow a complicated "It Girl" routine to sneak a high-protein breakfast into your day.
Because as aesthetically pleasing as green juices may look, they aren't the be-all and end-all for AM fuel. In fact, starting your days with a solid dose of protein can help you stay fuller for longer.

And you don't have to be a Michelin star chef to whip up something tasty and filling. Heck, for some of these high-protein breakfasts you barely need to know how to cook at all!
So if you want to stop being haunted by the grumbles of your stomach at 10:30am every day, here are our tips to help you make a better morning meal.
The Benefits of Eating High-Protein Breakfasts
Protein is one of three macronutrient food groups, along with carbs and fat. It's often associated with gym bros who pound chicken like birthday cake, but even normal people can benefit from protein. And birthday cake. And probably, like, an extra $100 a month.
But unlike those last two things, our body actually needs protein to survive. And, unlike those gym bros, you don't have to only eat chicken. There are plenty of other protein sources, including plant-based ones.
Here's how incorporating a meal high in protein benefits your body:
Now, you can eat protein at any time of the day. Night cheese is a beautiful thing, after all. But it's recommended that adults consume 0.8 grams of protein for every 2 pounds of body weight. That comes out to about 55 grams for someone who weighs 150 pounds.
To take it a step further, your body can handle about 20 to 25 grams of protein in one serving. So using your breakfast to hack away at some of those protein points helps you consume enough overall, in addition to energizing your body with satiating nutrients.
The Best High-Protein Breakfast Foods
Now that we know protein is important, here are 12 protein-rich and yummy ingredients to add to your morning meals.
And before you balk at eating black beans an hour after the sun rises, remember that breakfast burritos exist.
Eggs: 6g per large egg
Peanut butter: 7g per 2 Tbsp.
Black beans: 7g per 1/2 cup
Chickpeas, boiled: 7g per 1/2 cup
Lentils: 9g per 1/2 cup
Tofu: 10g per 1/2 cup
Cottage cheese: 12g per 1/2 cup
Greek yogurt, plain, nonfat: 17g of protein per 1 container (170g)
Salmon: 17g per 3 oz.
Ham: 18g per 3 oz.
Turkey: 24g per 3 oz.
Chicken: 23g per 3 oz.
14 High-Protein Breakfast Ideas
1. Persimmon and Raspberry Oat Bowl
We got sidetracked by how pretty these star-shaped persimmons look, but the real star of this show is skyr, an Icelandic type of yogurt. It's got about 19 grams of protein per 6 ounce serving. And, it plays nicely with the oats and fruit in this breakfast bowl. It must have passed elementary school with flying colors.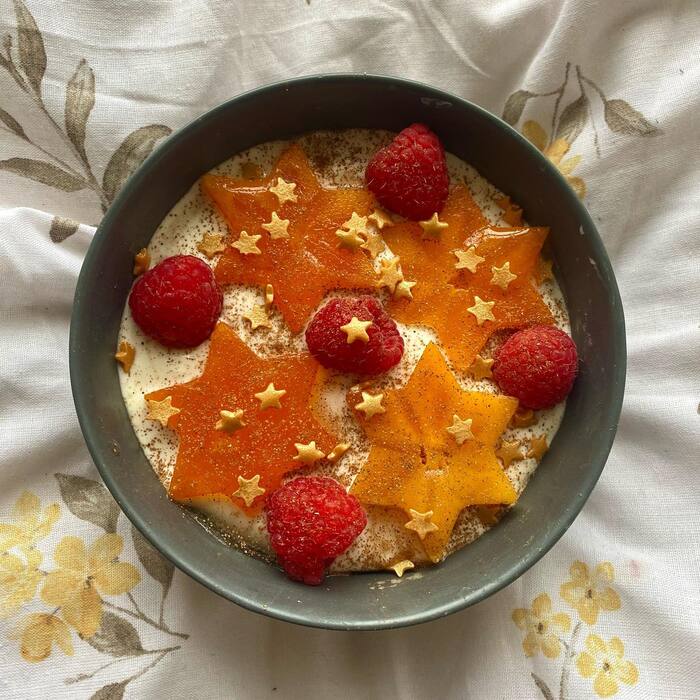 2. Mixed Berries and Oats
There are two things we love about this high-protein breakfast recipe: it only takes eight minutes to bake, and you can top it with whatever fruit, nut, or seed combo you want. And it said our outfit looked good this morning, so there's that, too.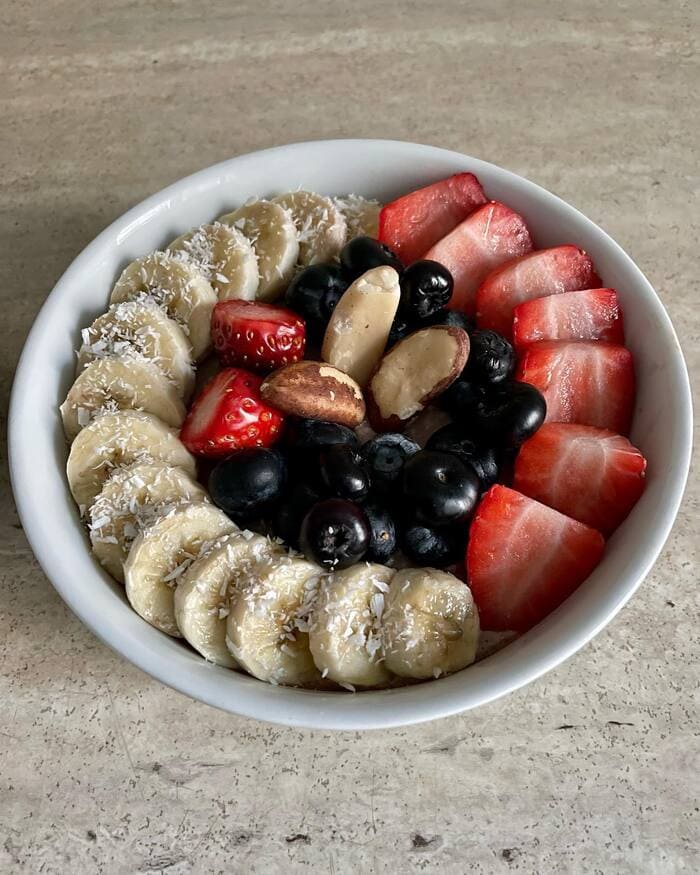 3. Breakfast Hash
We all know that potatoes can be boiled, mashed, or stuck in a stew. But we think that diced and served for breakfast is the best way to use this special spud. Pair them with eggs, ham, and everything bagel seasoning, and you've got yourself a meal to fuel you through a trek to Middle Earth.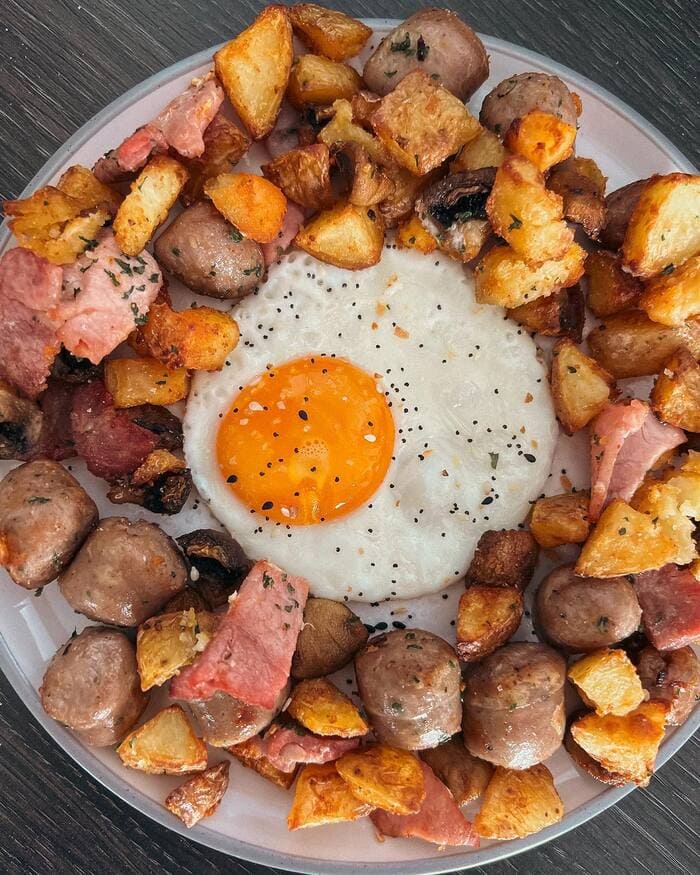 4. Protein Blueberry Loaf
Cake for breakfast? Don't tempt us with a good time. This cake-like Protein Blueberry Loaf can be prepared the night before and enjoyed throughout the week. The dough is made with oat flour, Greek yogurt, egg whites, and a whey blend.
Each slice offers 11 grams of protein, and a song for your taste buds. Our hearts will go on, thank you!
5. Lemon Cheesecake Protein Muffin
Craving dessert for breakfast? Try this Lemon Cheesecake Protein Muffin. It's made with protein powder, oats, milk, and the juice of one lemon. Top it off with a dollop of Greek yogurt for a total of 35.6g of protein in one serving. And the satisfaction that you're an adult and no one can stop you and your sweet tooth.
6. Spinach and Feta Pouch
Veggies? For breakfast? Our teenage selves would be so confused, until they realize that this breakfast also comes packed with cheese and 18 grams of protein. Did we mention that we love cheese? Our favorite's gouda, but feta will do.
The recipe below has instructions on how to make the dough, but we bet that pre-made Pillsbury crescent dough works just fine as a substitute. Especially before you've had your coffee.
7. Kefir Crepes
You've probably heard of kefir being good for gut health. Would you say 'no whey!' if we tell you it's high in protein as well? That's extra funny if you know that kefir is a fermented milk drink. And if you don't mind our lame puns.
Whip up these protein pancake lookalikes for the whole family using oat flour, spelt flour, protein powder, vanilla, egg, water, and of course, kefir. Or save them all for yourself. We don't judge. Not food, anyway.
8. Blueberry Pancakes
Is kefir not hitting the spot for you? Try these protein-ified blueberry pancakes instead. They're like your favorite pancake recipe, but with added egg whites, yogurt, and buckwheat flour. With all the toppings, the final protein count gets up to 35 grams.
Saturday morning cartoons not included. But highly recommended.
9. Ham, Cheese, and Garlic Bread
We love cold pizza for breakfast as much as the next person, but this recipe elevates the concept. It says, "I have a 401K, but still like to play Mario Kart on the weekends." Or, "I go to bed at a reasonable time, but haven't lost my touch in beer pong."
Anyway, mix some ham and bacon into the dough, then add protein powder, mozzarella, some spices, and garlic butter. Pop it in the oven for 10 minutes and enjoy it before your first Zoom meeting of the day. With or without pants.
10. Gingerbread Brownies
Another dessert-like, high-protein breakfast recipe? We know. We shouldn't have. But we did! And this one is for all the chocolate fiends out there. (Hi. It's us.)
Make these fudgy Gingerbread Brownies with buckwheat flour, almond flour, cocoa powder, plain Greek yogurt, gingerbread spice and Stevia. Bake for 30 minutes and you'll have six 89 calories treats with 6g of protein each ready for the week.
11. Zucchini Marzipan
Want to hide veggies from the kids? Want to hide veggies from yourself? Whip up this zucchini marzipan.
Along with spelt flour, almond flour, and zucchini, the base has protein powder, egg whites, and cinnamon. It does take 45 minutes to make, but you know you're going to be watching Love Island for at least that long on Sunday night, anyway.
12. Sausage and Hash Breakfast Burritos
No list of high-protein breakfasts is complete without a breakfast burrito. This one is filled with sausage, eggs, cheese, and potatoes, but you can tweak it to fit your burrito preferences.
Swap the sausage for plant-based soyrizo, add in some beans, triple the amount of cheese…the only limitations are your imagination and ability to process lactose!
13. No-Bake Chocolate Protein Bites
There are few food pairings better than peanut butter and chocolate, and this no-bake, bite-sized breakfast recipe proves it. You can make them with almond flour, oatmeal, or coconut flour as the base. Then, mix in protein powder and peanut butter powder and top with melted chocolate.
Each piece has just over 9.2 grams of protein. That is, unless you decide to mix this into one giant ball. Practical? Probably not. A conversation starter for your next blind date? Definitely.
14. Orange Cream Cheese Muffins
Add some sunshine into your mornings with these Orange Cream Cheese Muffins. They're made with peanut flour, protein powder, orange zest, cream cheese, water, and baking powder. Bake for 20 minutes and enjoy a 6g protein meal.
All the sunshine and cheer, none of the sunburn. You can't ask for more in a breakfast!
15. Protein Pancakes
If you're looking for a simple, basic protein pancake recipe, here's our own. It uses whey protein, but you can just as easily swap in a plant-based vegan protein powder. Then, load it up with oats, yogurt, and any fruit flavors you desire. Except maybe tomato.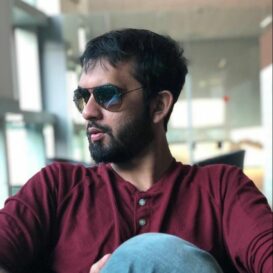 Latest posts by Safwan Azeem
(see all)