For those with a sweet tooth, chocolate is a necessary part of life. But sneaky advertising and an influx in choice has made it difficult to find chocolate companies that make ethical choices. If we're going to indulge, it can be difficult to do it responsibly. And not just because "one serving" always means the whole pint of ice cream for us.
From underpaid farmers and child labor to deforestation, the chocolate industry's practices often aren't as sweet as the final product. But, there are companies that are committed to following ethical practices and sustainably-sourcing their ingredients.
Here are six of our favorite bean-to-bar, plant-based, or otherwise sustainable chocolate brands. Let your sweet tooth run wild.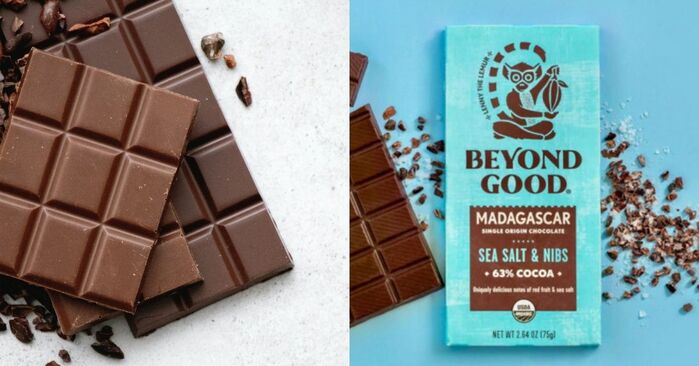 How to Tell If Your Chocolate Is Sustainable
When it comes to sustainable products, there's a lot of greenwashing (marketing something look greener than it actually is). Kind of like how delicious sugary cereal puts buzzwords on the box like "whole wheat!" and "almost as much fiber as your grandparents' prunes!" to make you think it's healthy.
And fun fact: organic doesn't always mean that it's more sustainable. Luckily, there are some terms and labels you can look out for if you're trying to make a difference with your food choices. But don't just look for the seals — wording might be sufficient.
Just because a brand doesn't have the official label doesn't mean they don't follow the practice. It just means they haven't paid to be officially certified. Hopefully unlike your gynecologist.
Fair Trade: If a chocolate bar says they are fair trader or they have the Fair Trade seal, this means workers or communities are provided with: "safe working conditions, environmental protection, sustainable livelihoods, and community development funds."
Direct Trade: If a brand says they are direct trade, this means they source their cacao beans directly from the farmers. This often means those growers are paid a higher than average wage. They might also be able to answer questions about the farming and labor practices.
Rainforest Alliance: The frog-shaped Rainforest Alliance seal means "The Rainforest Alliance seal means that the product or specified ingredient was grown on farms certified to the Rainforest Alliance Sustainable Agriculture Standard and/or the UTZ Code of Conduct." Their standards "promote responsible land management methods that increase carbon storage while avoiding deforestation, which fuels greenhouse gas emissions." They also, "provide robust strategies for assessing and addressing child labor, forced labor, poor working conditions, low wages, gender inequality, and the violation of Indigenous land rights."
That may seem like a lot of word salad. But like our mom always says, it's important to eat your vegetables. We may be mixing up some metaphors here, but the point is that it's worth your while to find sustainable chocolate, and broccoli tastes better with cheese on it.
Sustainable Chocolate Brands To Try
1. Alter Eco Foods
With transparent sustainability reports, fair trade growing practices, and a commitment to good ingredients, Alter Eco is at the top of the list when it comes to finding ethical and sustainable chocolate brands. They produce chocolate bars, truffle thins, and granola, making them the good kind of "crunchy."
They've been Fair Trade certified and they operate a climate neutral business with an intent to go climate positive next. Which is more than just being 75 degrees and sunny all year long.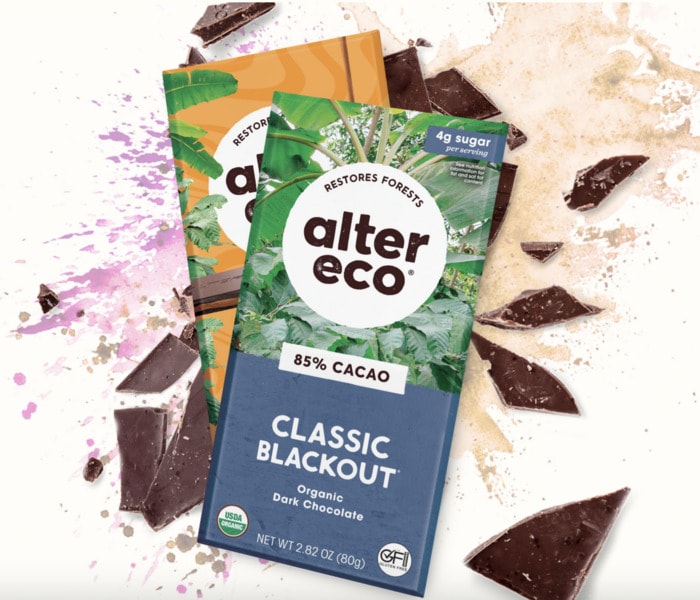 2. Endangered Species Chocolate
What do a Black Rhino, an Orangutan, and a Red Panda all have in common? They'd all lose against us in water polo, and they're are also on the endangered species list.
Fair trade-certified Endangered Species Chocolate fights against this by working with organizations include the National Forest Foundation to restore habitats and protect wildlife. Too bad they didn't exist in the 1600s or we'd all be playing with pet Dodos.
And they don't miss on their flavors, either. Not only are most of their bars vegan with chocolate sourced from small family-owned co-ops in West Africa, they also feature flavors like Oat Milk Sea Salt and Dark Chocolate, Forest Mint, Salted Peanuts, and Cinnamon, Cayenne, and Cherries. We'll take the lot.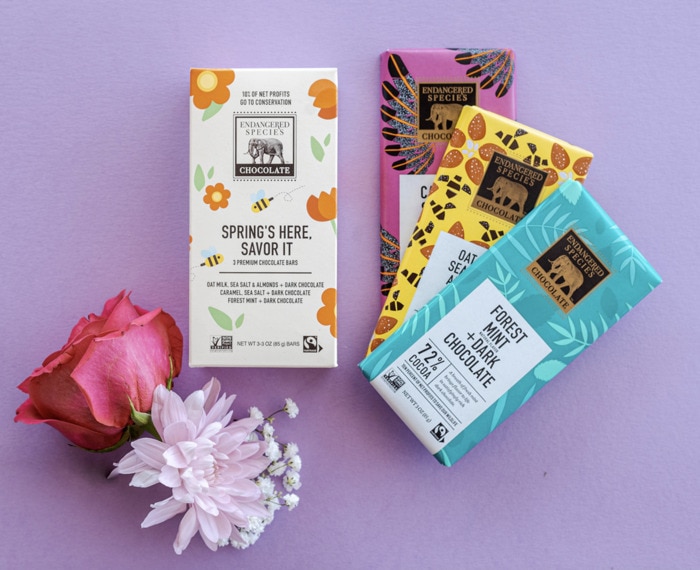 3. Beyond Good
One of the biggest issues facing cocoa farmers is poverty. Vegan chocolate company Beyond Good aims to help to change this.
The 93 farmers that work with Beyond Good live in Madagascar and Uganda and sell cocoa beans directly to the factory. And, as a result, the company says they're able to pay the farmers "significantly more than the industry average." Your antiquated corporate boss could never.
And you're able to enjoy single-origin chocolate bars with flavors like Toasted Hazelnut and Crispy Rice that can be used for everything from making chocolate-covered strawberries to concocting the ideal high-end hot chocolate. They are not certified free trade, but they are certified direct trade.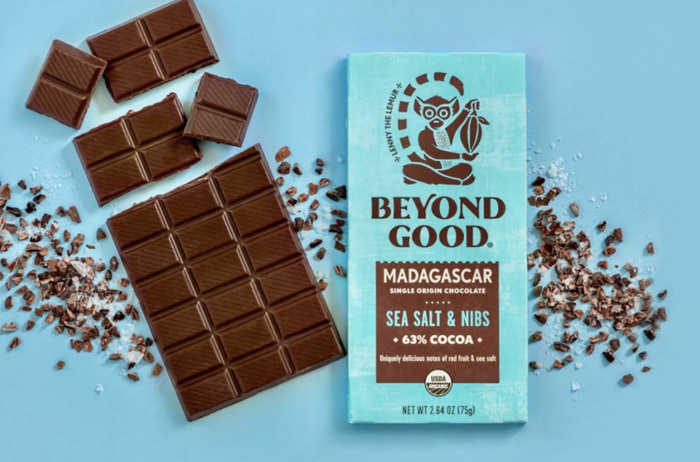 4. Divine Chocolate
The woman-owned chocolate brand Divine Chocolate prides itself on being vegan, eco-friendly, and all the while producing incredibly good chocolate. They're committed to empowering women and paying farmers a fair wage.
Kuapa Kokoo is a co-operative of over 100,000 cocoa farmers in Ghana, and they own a 20% stake in Divine Chocolate. The co-op helps to redistribute the wealth to the farmers in several ways:
One is in that their cocoa is bought at the guaranteed minimum Fair trade price to protect the farmers from the volatility of the market. When the world price is higher, Kuapa Kokoo receives the world price.
A second is that Kuapa Kokoo invests an additional premium into their own projects to improve the farmers' living, health and education standards, and farming productivity, as well as individual volume-related bonuses.
The award-winning fair trade chocolates come in everything from baking bars to truffles to "everyday bars," with flavors like ginger and orange. Those flavors will go perfectly with your "everyday gowns and Louboutins."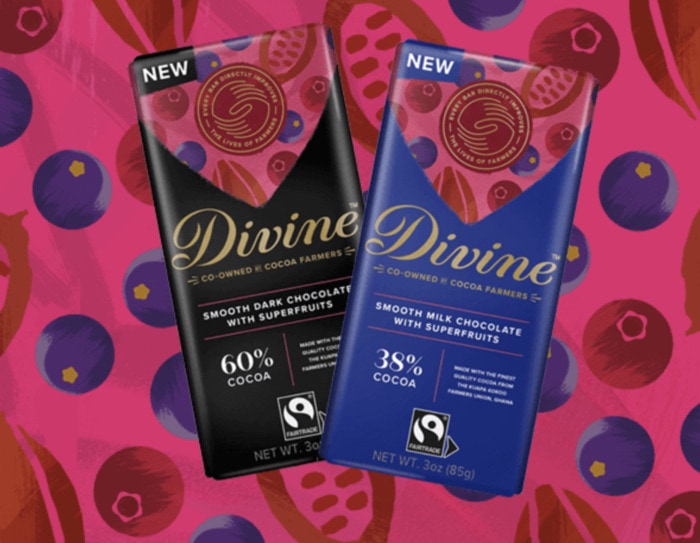 5. Theo
The Seattle chocolate company Theo produces artfully-wrapped Fair trade chocolates and "work directly with farmers and Esco-Kivu in the Democratic Republic of the Congo."
We think their flavors — which feature everything from Peppermint Crunch to Big Daddy chocolate-covered Marshmallows — taste pretty good, too. And with a flavor name like that, they're officially getting all our money.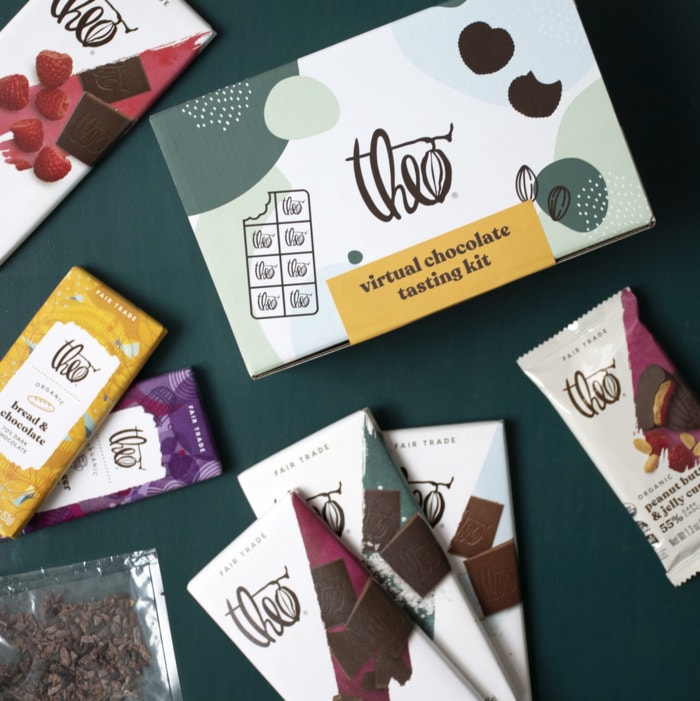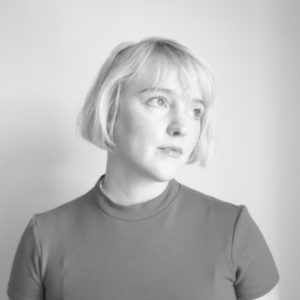 Latest posts by Kate Santos
(see all)